From time to time I've been sharing some of my favorite fashion trends and things that I think you just HAVE to know about. I have always been a fashion lover. My mom told me when I was a kid if she put me in pants I would just take them off. I always wanted to be in a dress. So funny that each of my outfits below are all pants now! I think I have a dressy casual style and I love a good bargain but will splurge for something timeless. There are also a few key pieces I wear over and over and those staples are things I think every girl needs in their closets. So here are 5 everyday outfit ideas I wore recently that will inspire you for your week ahead.
Outfit 1: Blue & White Buffalo Check
Oh friends this shirt was so meant to be mine. So when I originally saw it, it was during the Nordstrom Half Yearly Sale and it sold out quicker than quick. So I kept stalking it and hoping it might come back in the size I needed. Thank the heavens about a month later that it did and I snatched it up right away. If you are living in a colder climate right now then this is definitely for you. It is a heavier flannel material and so comfortable. My leopard sneaks are one of my favorites and especially during the week, I wear them a lot.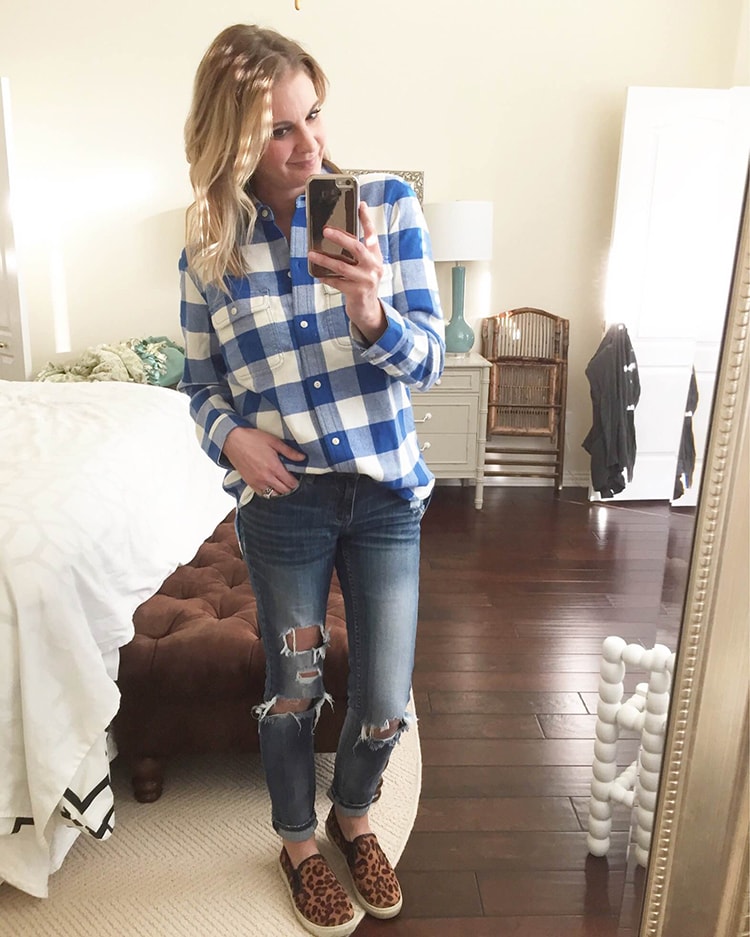 Blue & White Buffalo Check Shirt | Distressed Skinny Jeans | Leopard Sneakers
Outfit 2: All The Ruffles
The other week I shared my favorite trend right now. . . . ruffles! This off the shoulder sweater is in the palest blush color (and they have a cream!). I like that it is a looser fit on top too but has a fun cut out for your shoulders. I wasn't sure I was going to love that feature but even my husband liked this one when I wore it. Gotta have the husband approval! One of my favorite color combos is blush pink and grey and these stretch jeans are super comfy.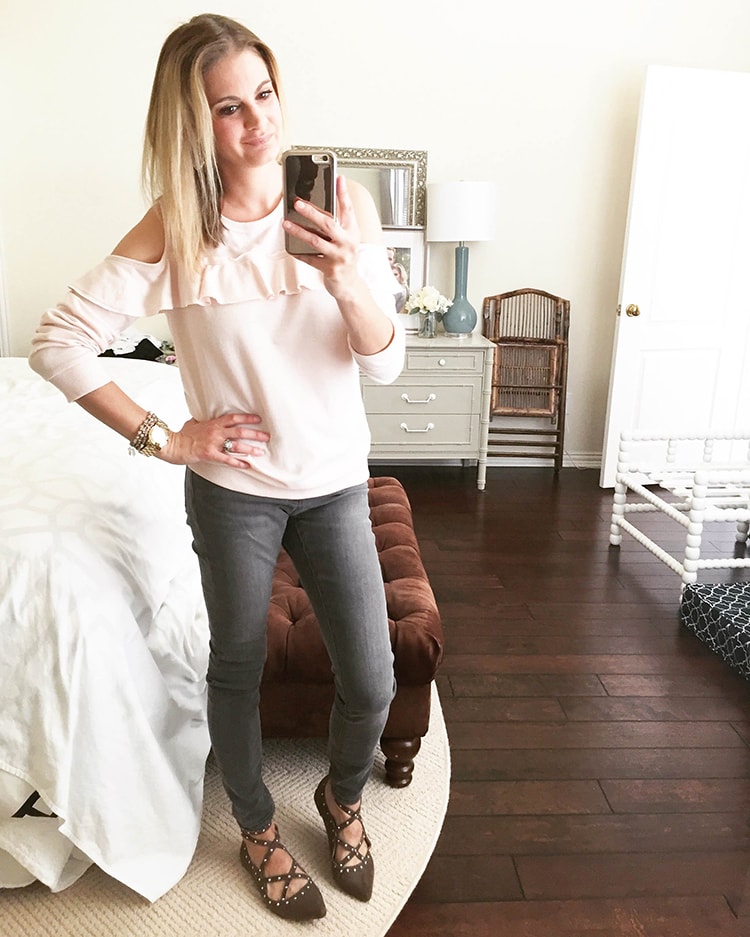 Off The Shoulder Ruffle Sweater | Grey Skinny Jeans | Studded Flats | Bracelet Stack | Watch
Outfit 3: Seersucker + Ruffles
Yep I did it again and wore more ruffles. I swear that is THE thing to add to your wardrobe right now. This time is was in this seersucker top (that is sold out but I found a similar one HERE) and I wore one of my favorite jeans and my camel booties that are on sale. I swear I wear these booties almost every day. They really are one of my favorites I got back in the fall. I paid full price so lucky you to be able to get them on sale!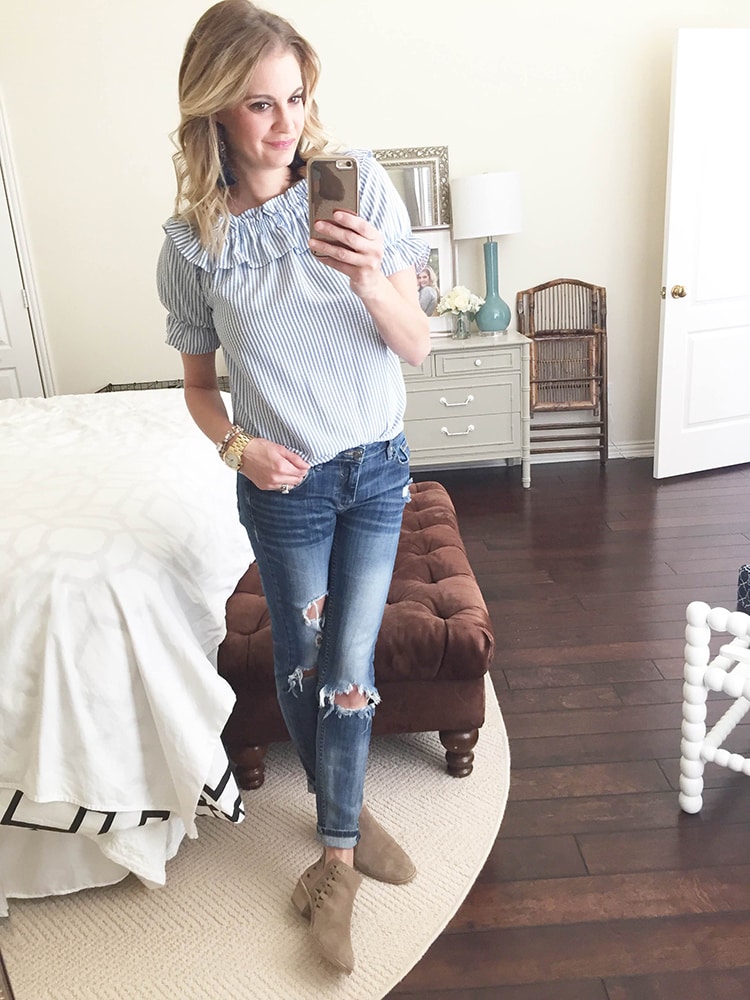 Searsucker Ruffle Top (similar) | Distressed Skinny Jeans (on crazy sale!) | Camel Booties | Bracelet Stack | Watch
Outfit 4:
I tend to love a more dressed up look. During the week I am juggling carpool and design clients so I need outfits that are versatile. This chiffon top (that sadly is now sold out but I found a similar one HERE) does just the job! It is flowy and girly. I paired it with my studded flats and my skinny jeans to dress it down a bit. I love tops like this that can transition from day to night too.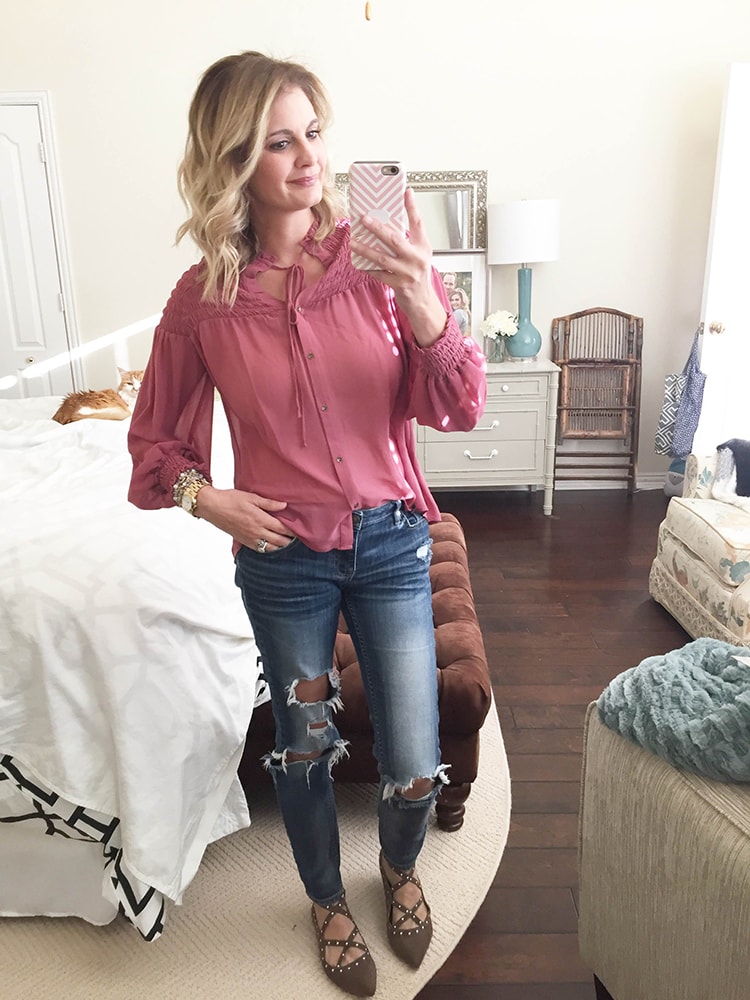 Chiffon Blouse (similar) | Distressed Skinny Jeans | Studded Shoes | Bracelet Stack | Watch
Outfit 5: Winter Plaid
At the end of the day, my go to outfit during the week is generally a plaid shirt and jeans if I am not going to be on a job site. I still am loving red even with Christmas gone and even layer this with a puffer vest like this one. As you can see the basics of this outfit are almost exact to outfit 1. i just switched out my leopard shoes this time for my booties. Oh and you can tell this is my little girl's favorite spot on the bed! So funny to see her in the same spot in these pictures.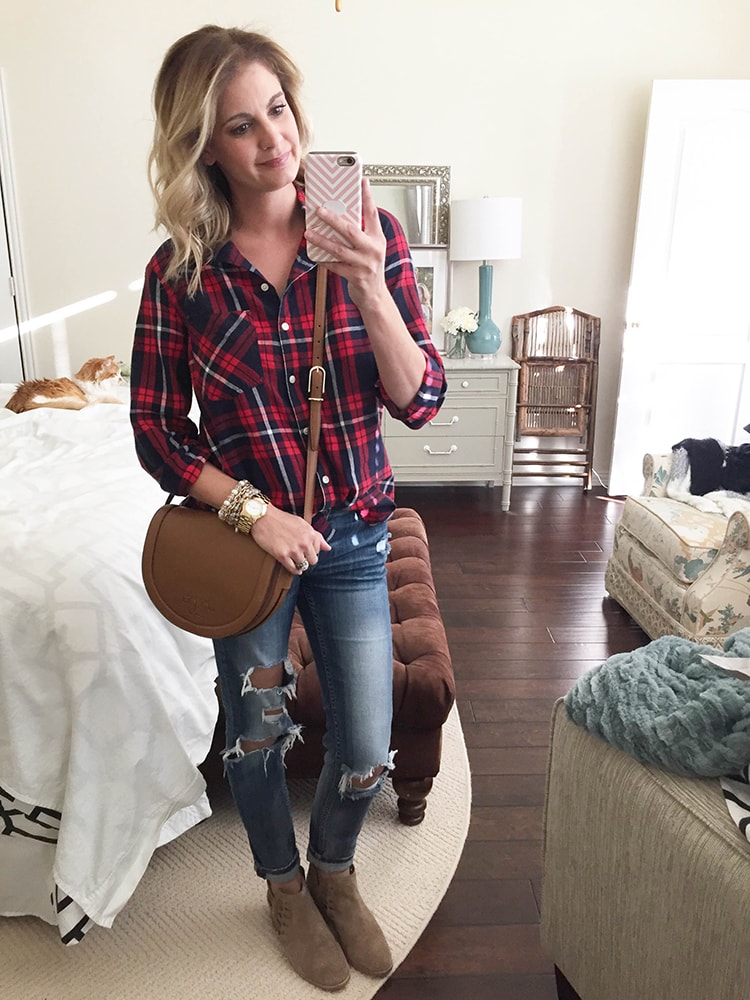 Red Plaid Shirt (and one similar) | Distressed Skinny Jeans | Camel Booties | Tan Crossbody Bag (similar) | Bracelet Stack | Watch
So after looking back at these photos there is definitely a trend with what I wear. I seem to always have on my favorite jeans, these booties and just alternate my tops. What staples do you have in your wardrobe that you can switch up a bit and add some of these favorite winter trending items too??
You can check out more of my What I Wore posts right HERE!