Classic Autumn Fall Front Porch Details
This post may contain affiliate links. Please read our disclosure policy.
Even though September is here and it is still hot in Dallas, there is just something in the air that says Fall is near.
This time of year there is a crispness that enters and the leaves start changing.
It is a magical feeling and I love watching my hydrangeas start to brown. Their golden color is what is inspiring all my Fall decor this year.
I love looking back on the previous years to see how my porches transition. I pull a lot of inspiration from them but they are also refreshers for me to remember what I have stashed away in the attic.
You can see the previous few year's Fall porches HERE and HERE .
This year (like every year lol!) my husband wants me to purge, purge, purge any Fall decor I have not used in the last couple of years. Ugh, it is SO hard for me to let any of it go because even though trends change, they are so cyclical. But alas I have promised I will condense!
This post contains some affiliate links for your convenience. Click here to read my full disclosure policy.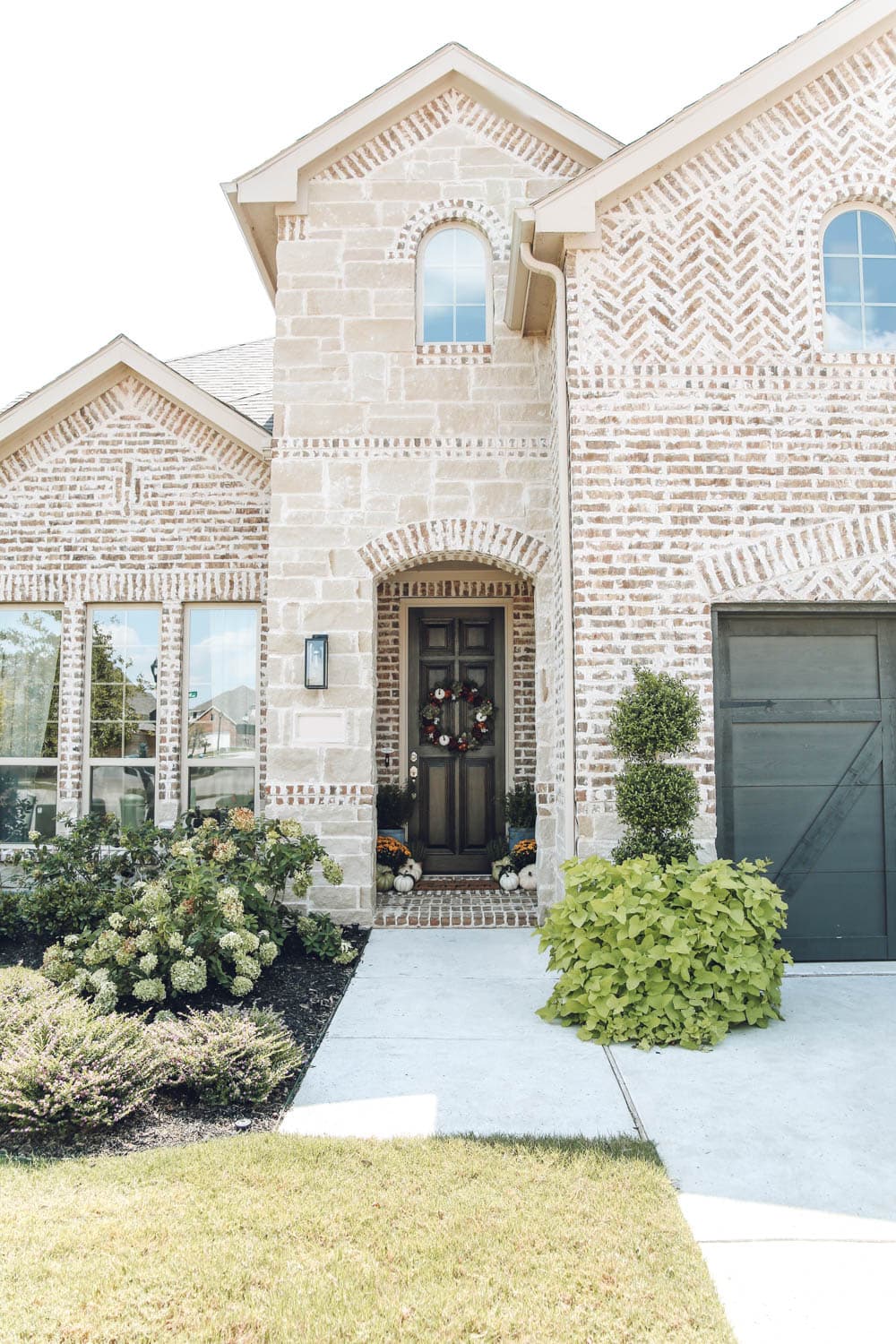 Autumn Fall Front Porch Inspiration:
This year my Fall porch was inspired by this incredible wreath from Style The Seasons. I love the rust-red, burnt orange and muted green colors in it.
In the past, I have loved making my own wreaths but they take time and cost me about the same as these gorgeous made ones from Latawnie from Style The Seasons, and mine are nowhere near as well made.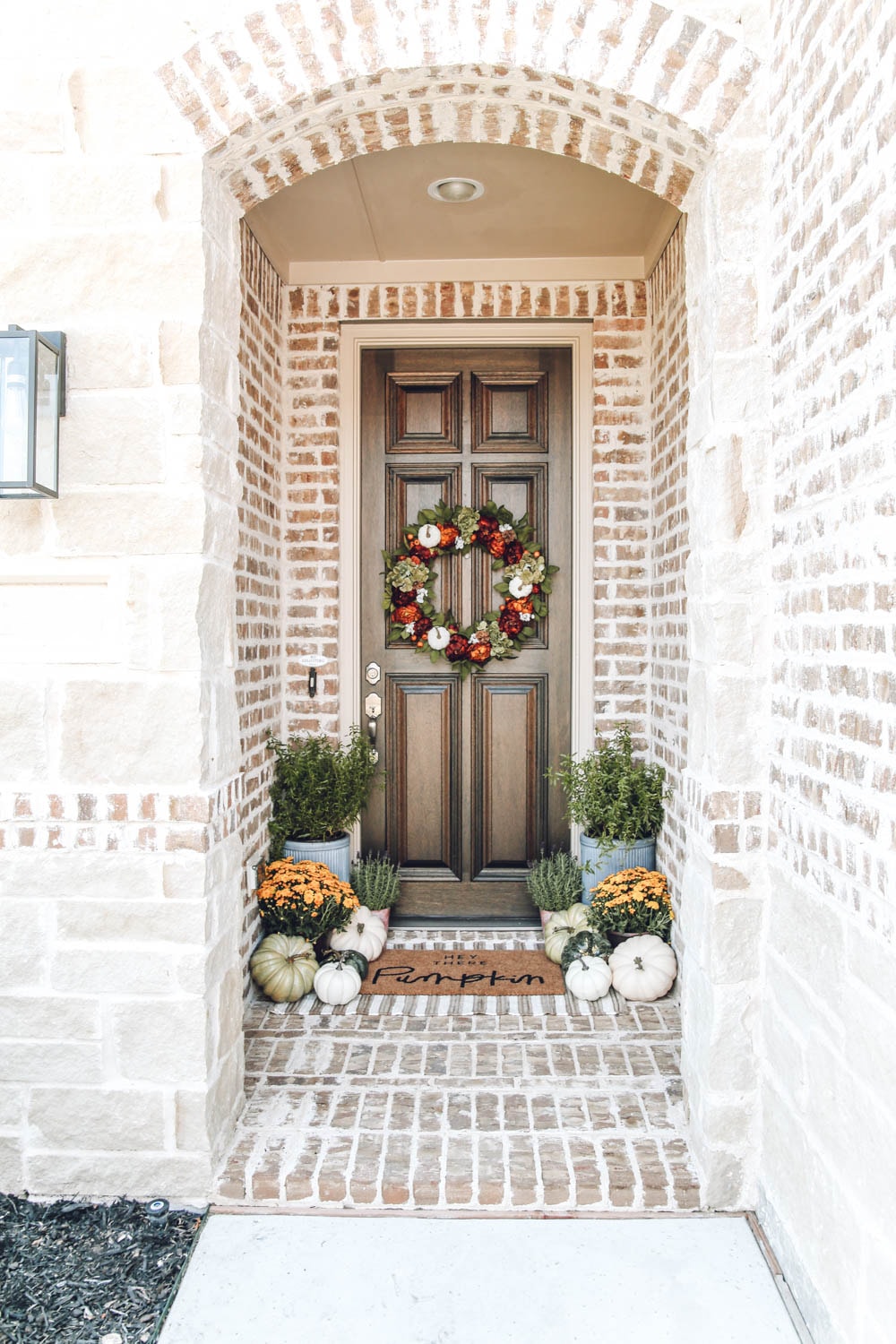 She intricately layers in faux florals, foliage, berries and in this wreath, white pumpkins. You can shop my wreath HERE.
I honestly gasped when I opened the box, it was so beautiful.
There is nothing like a gorgeous new wreath for your front door for the season.
You can check out Latawnie's full shop HERE.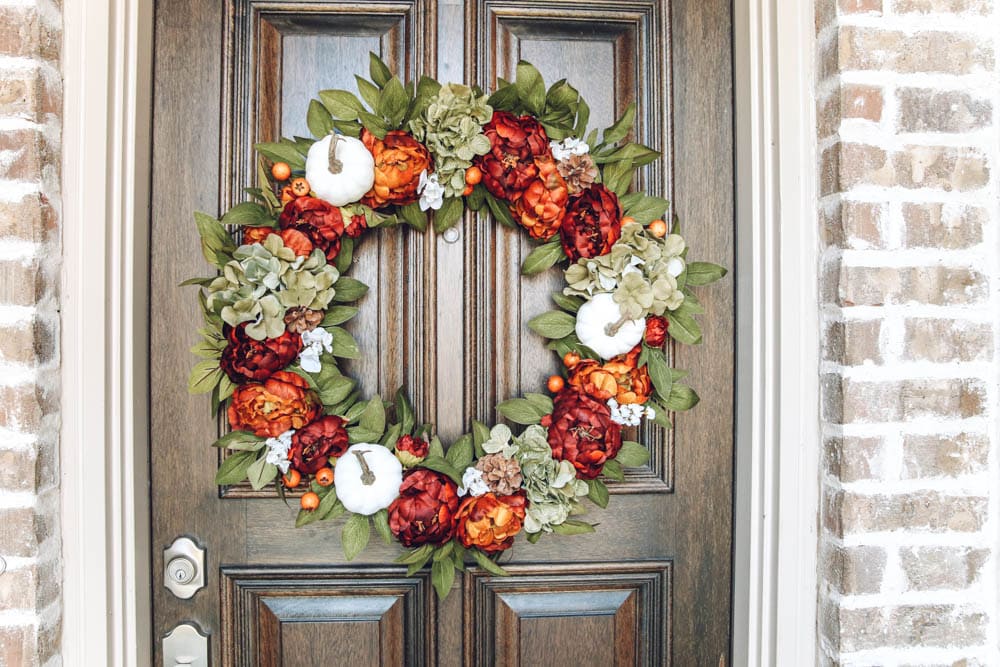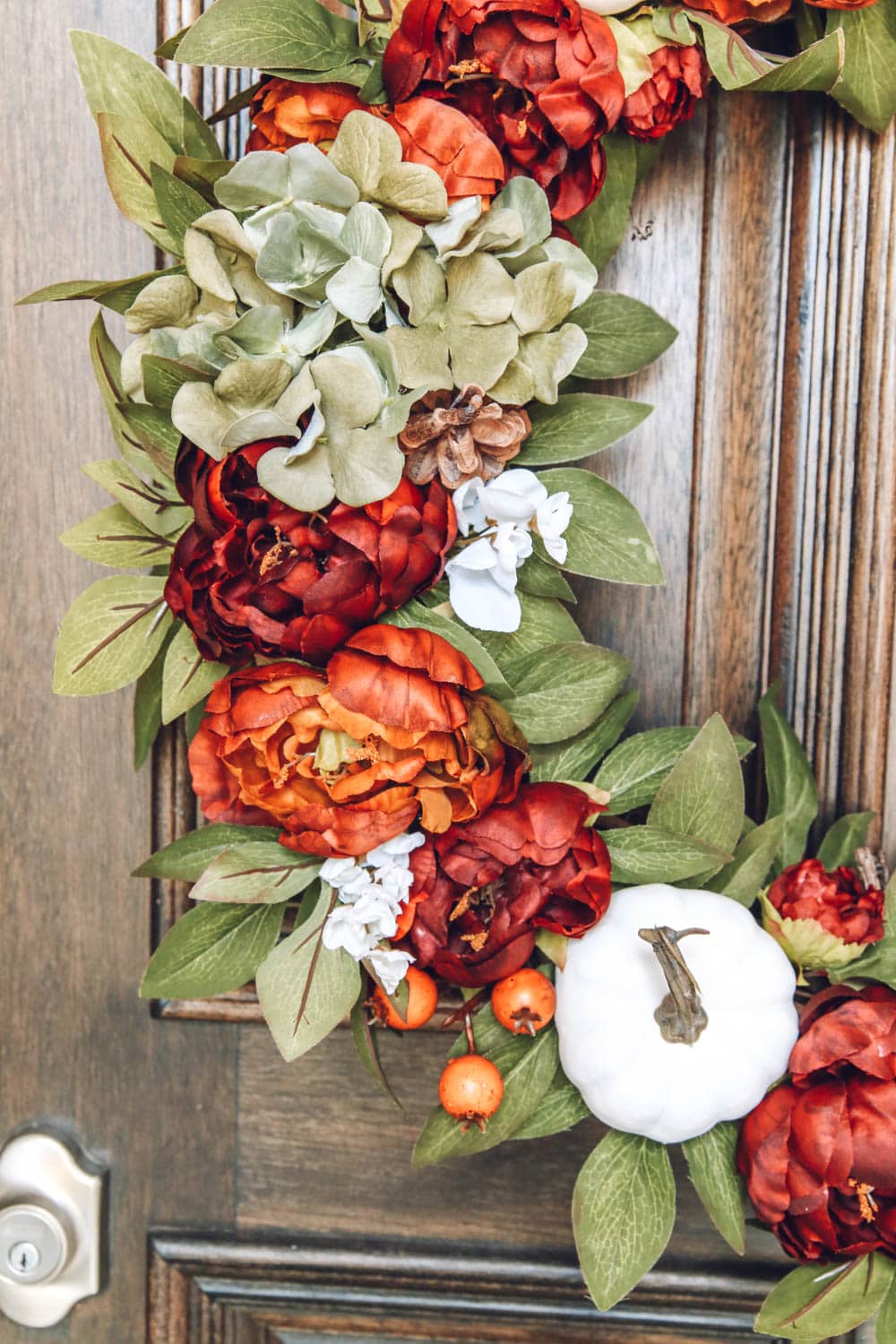 I swear I have looked at this fall doormat for the last few years and finally pulled the trigger this year. I am so happy I did!
Lauren loved it when I unboxed it and thought it was perfect. I think I held back for so long because I have always put one down that could generally go with any season but this year I really wanted something a little more fun.
I love this one and you can grab it HERE. Just be warned it may take a few weeks to get so grab one sooner than later.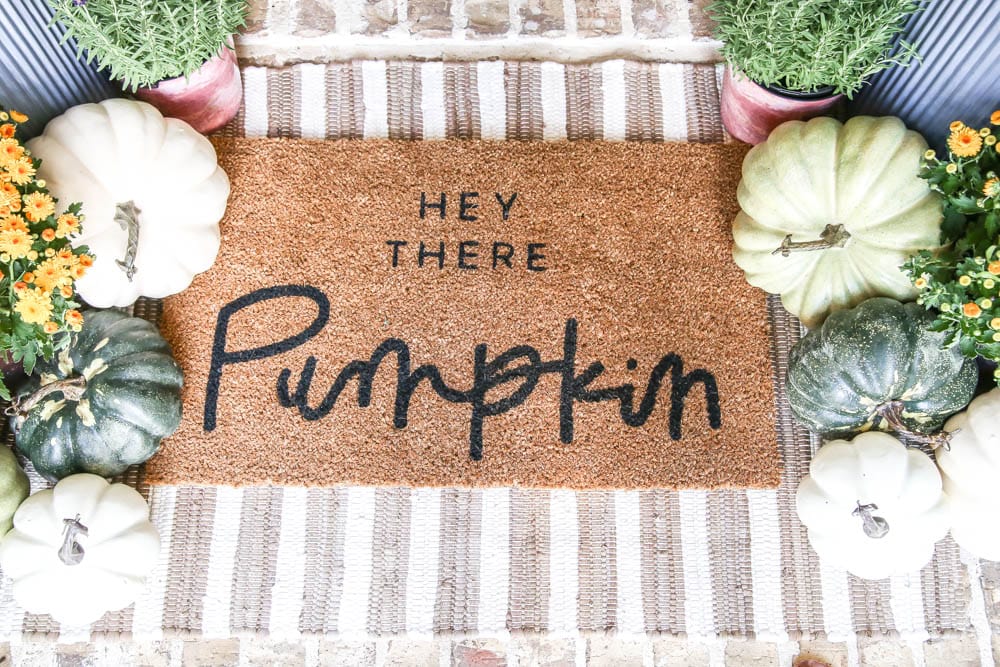 I found this fluted tall pots (similar ones HERE) earlier in the summer and had them stashed in the garage.
I just used the plants I had in them from the late summer for now and may switch them out for my ferns that I have on our back patio.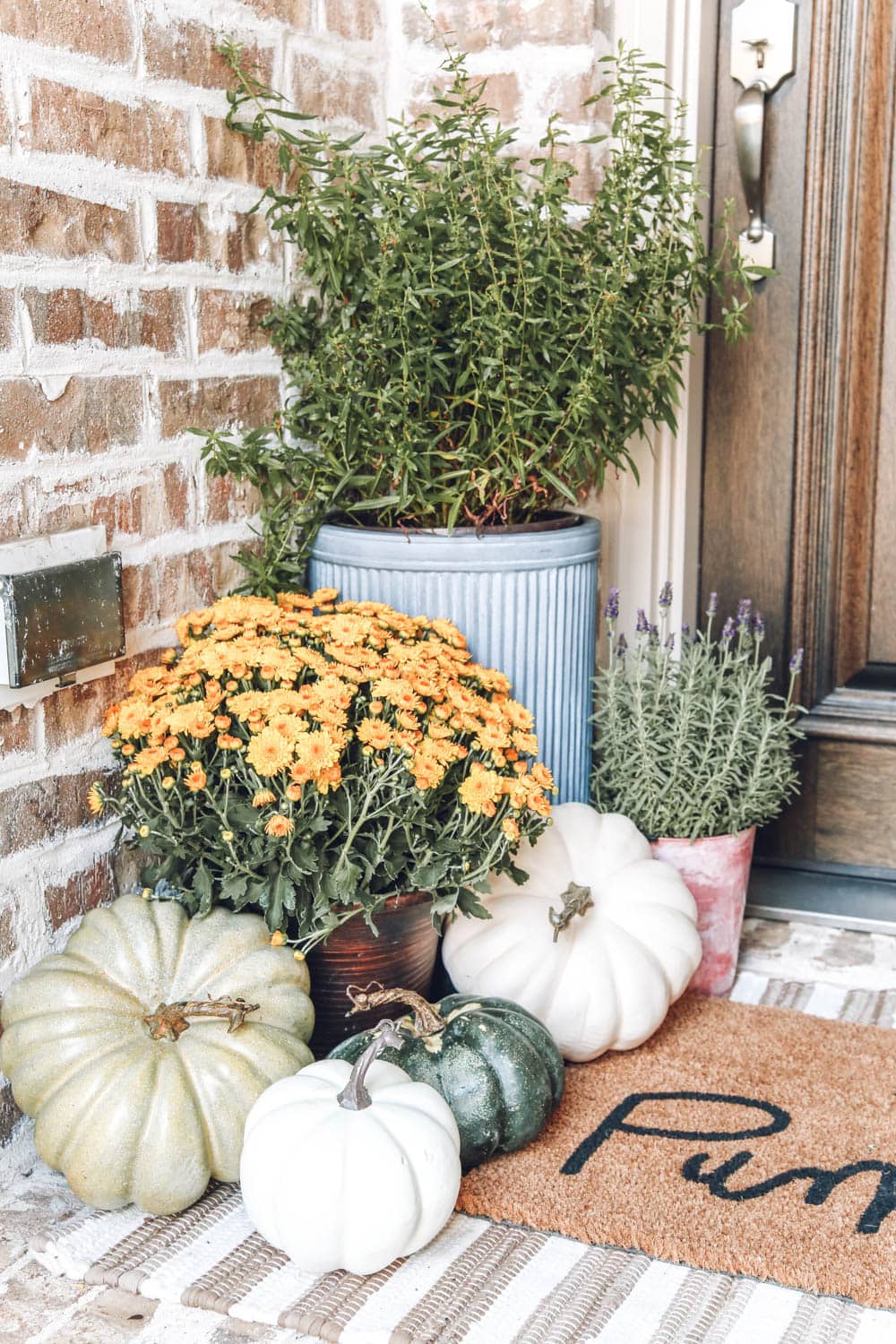 I grabbed some marigold mums from Walmart and loved the pots they were in since they would be slightly covered by my pumpkins.
I also found some late summer lavender plants at Walmart for $5 and just tucked them into the sides. I love the smell of lavender and it smells so good when you come in the door!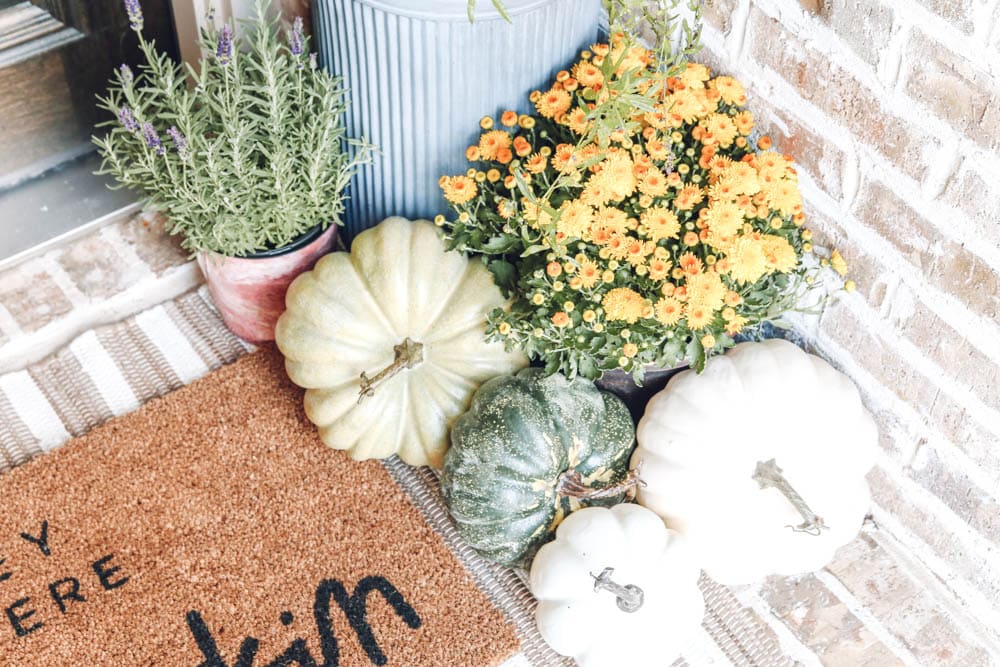 I have so many pumpkins from all the past years of Fall decor and clustered some of my favorites in white, lime green and darker green for a monochromatic look.
I think this lends to making the wreath and mums be the main pieces you see from the street.
When the fresh heirloom and cinderella pumpkins come into our local Calloways, I'll be sure to replace this with the real deal. There is just nothing quite like real pumpkins on your porch.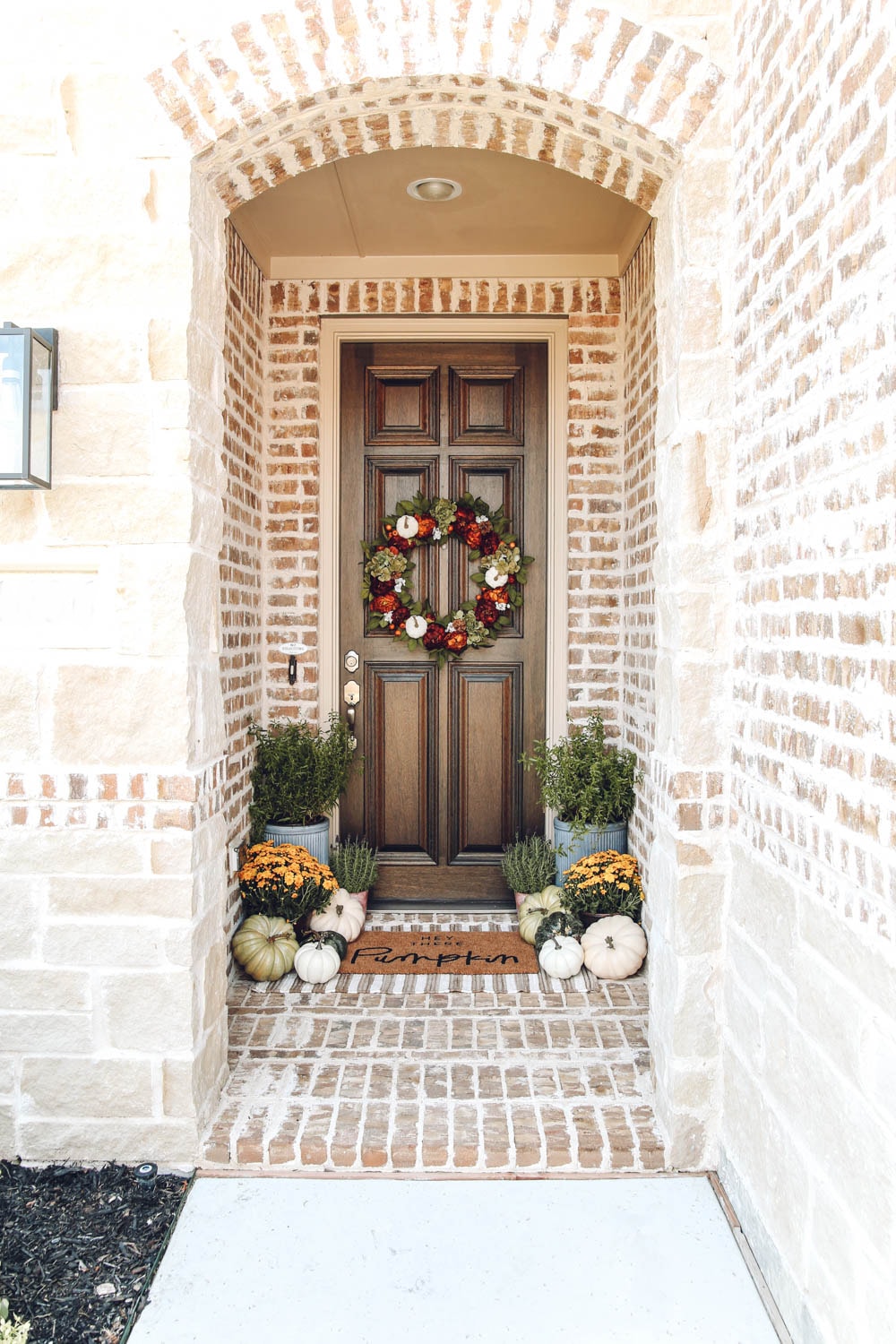 So there you have it!
It may be small but it is mighty which is a theme I talk about a lot.
What colors are you decorating for Fall with?
Stay tuned for my Fall entryway and living room home tour soon!!