Michelle from Little Miss Party Planner sent us pics of a 1st birthday party they recently created with a fun theme for summer – a Picnic Party indoors! These ladies always do a fabulous job creating "Big Events in Small Spaces" which is exactly what they've done for this party on the 30th floor of a New York apartment building. You may recall that we featured some of their past parties here on the blog, including the Legally 18 and Winter One-derland parties, which were both beautiful.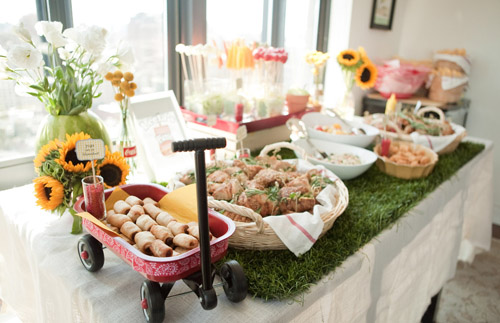 Their vision was to bring an outdoor picnic indoors using the traditional picnic color palette of cherry red, emerald green, sunflower yellow and pearl white. The food table setup was simple: a picnic on a sunny day in the park.  They began with an ivory burlap table cloth and onto this added a roll of fake grass from Home Depot, which we spread out on the table. For the kiddies, pigs in a blanket were displayed in a red mini Radio Flyer wagon and popcorn chicken bites served with homemade BBQ and Honey Mustard dipping sauces.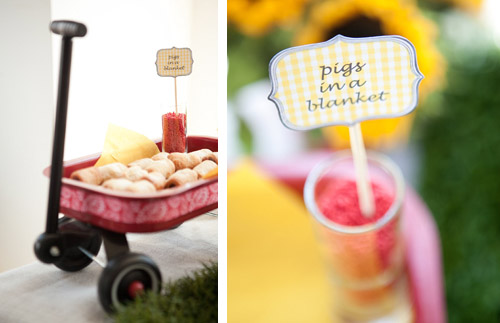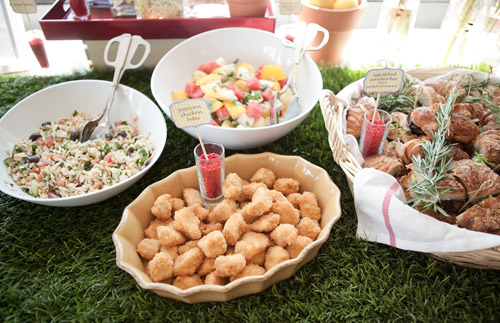 The adults were given a selection of delicious sandwiches and salads from which to choose.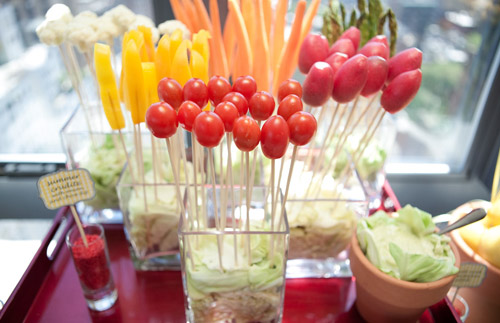 I love how they served the crudite – they decided to skewer each piece, and display it all in glass cubes.  To make this happen, they used foam cubes covered in lettuce leaves and cut so they fit snugly inside each glass cube.   The skewers were then stuck into the foam cubes and covered with more lettuce to complete the look.  Served with caramelized onion and chive dip in a classic terracotta pot, the modern crudite display was a huge hit!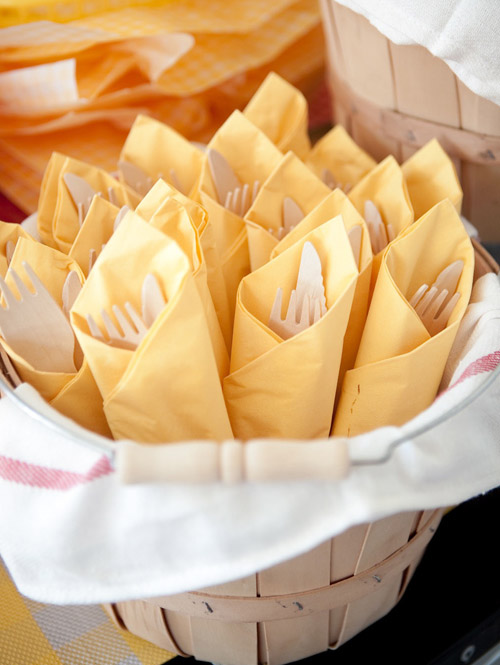 To stay with the picnic theme, they used red plastic burger baskets lined with red and white gingham liners for each guest.  Bamboo cutlery was wrapped in bright yellow napkins and stacked in wooden baskets, lined with red and white striped cloth napkins.  Ketchup and Mustard was served from nostalgic red and yellow squeeze bottles.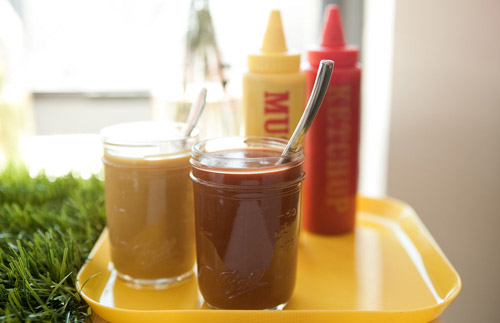 Another one of my favorite elements – the flower arrangements. They used a watermelon as a vase for pretty white lisianthus, a cherry red pail filled with bright yellow sunflowers and an old glass coke bottle containing yellow billy balls. This floral display is so fun and casual – just perfect for a summer picnic.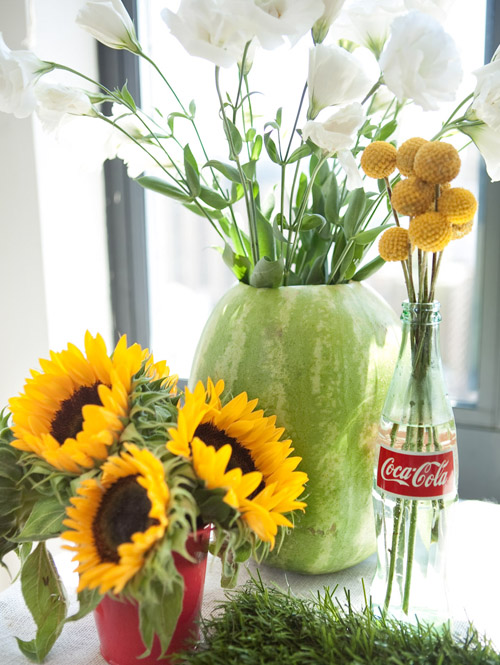 To create the backdrop for the food table and continuing the indoor picnic theme, they strung white tissue poms along the window to resemble clouds and bright yellow balloons for the sun.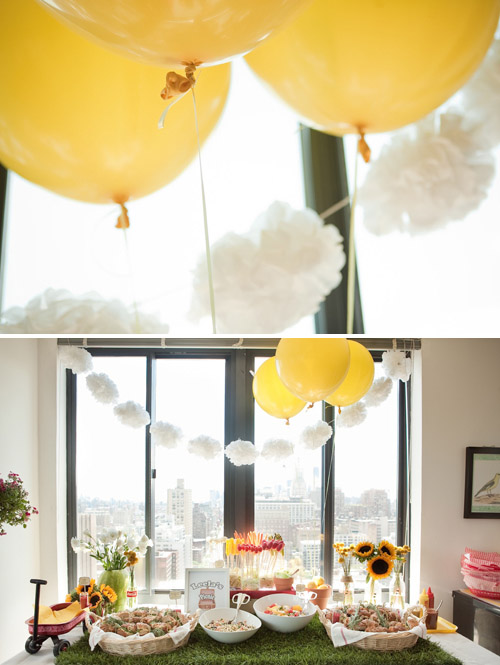 Sitting on the table next to the food display was a darling #1 board, which was created by covering a foam board with red gingham fabric and sunflowers attached to the board to create the #1 shape.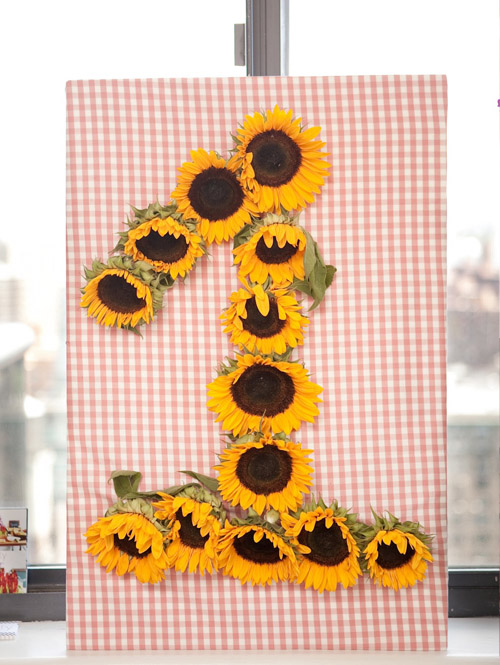 The party included a couple of different drink stations, including one for the kids and one for the adults. Lemonade was served in glass mason jars adorned with a fun yellow and white striped straw, a party flag and a lemon. Adults could enjoy a selection of beer, wine, Prosecco, Coke and water, all of which were displayed in galvanized buckets and coordinated just right. I love the addition of sunflowers to the drink buckets.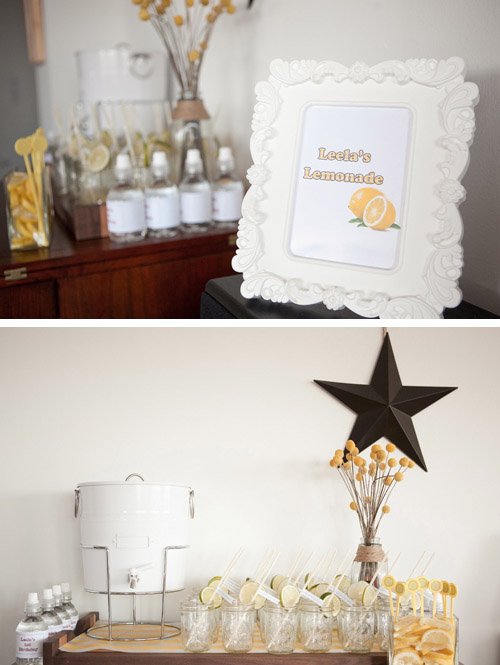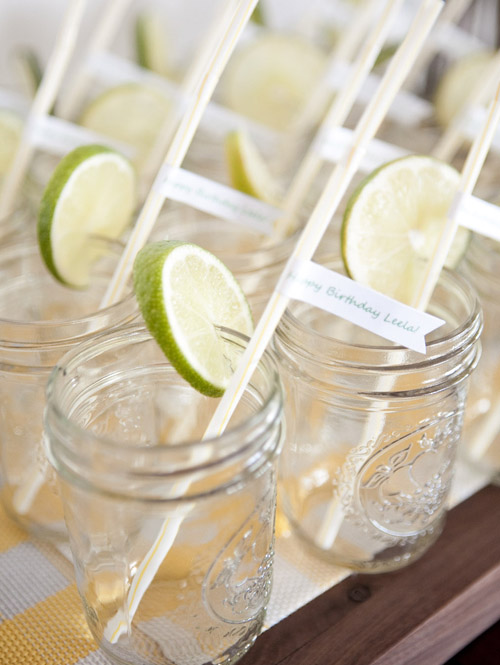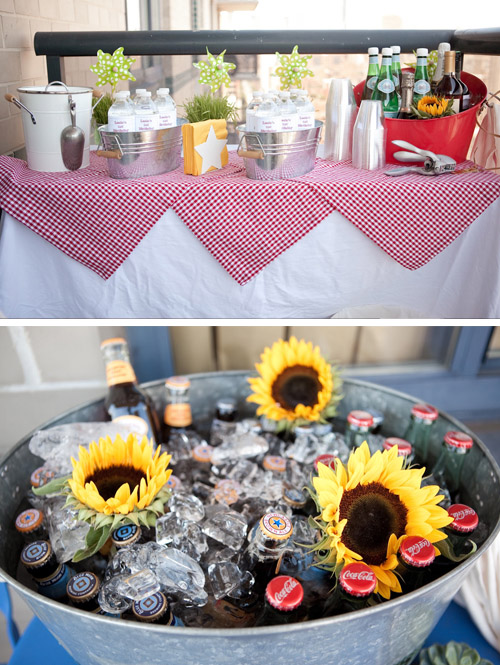 Desserts included oreo and strawberry cheesecake bites along with the darling corn on the cob cupcakes and a simple, but perfect vanilla cake with a beautiful sunflower on top.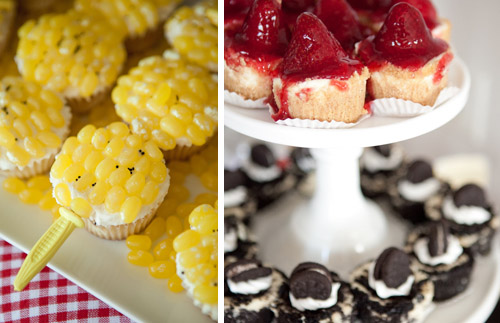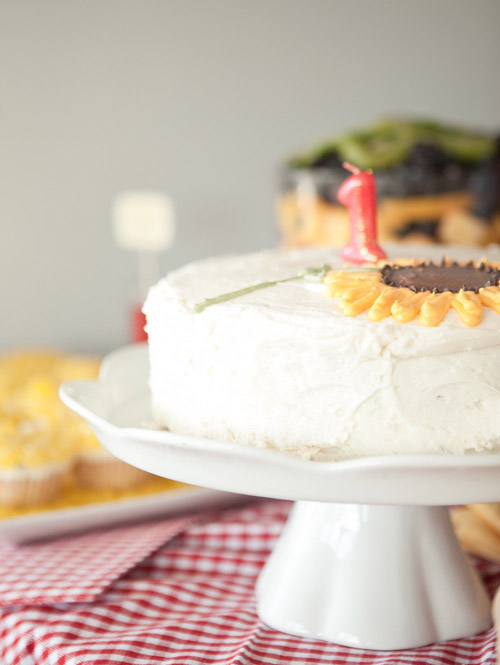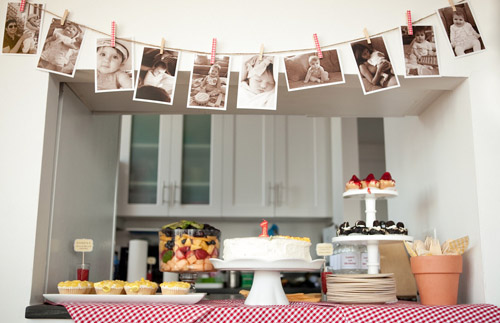 Little guests took home a container of bubbles placed inside a simple kraft bag filled with yellow and white tissue paper – a wonderful favor for small children!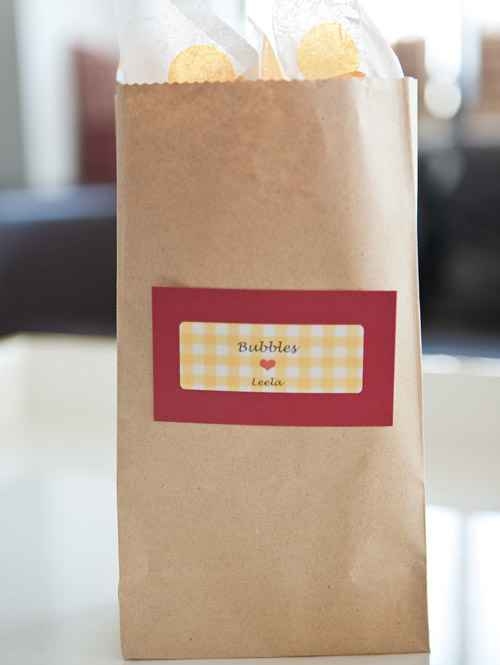 Another fabulous party created by the ladies at Little Miss Party Planner – they did such a wonderful job creating the look and feel of an outdoor picnic inside a Manhattan aparment. Thanks for sharing with us!
Vendors:
Event Styling – Little Miss Party Planner
Photography – Leigh Ann Thompson
Catering – Cobblestone Catering
Cake – Sugar Sweet Sunshine
Cupcakes – Kreated by K
Mini cheesecakes – Eileen's