We were so excited when Deanna at Mirabelle Creations sent us the pics from her son's recent birthday party and couldn't wait to feature it here for you all!  Her son chose to have a bowling party at the local bowling alley for his 6th birthday.  The bowling alley has been a fixture in their small town for decades, so Deanna wanted to reflect the retro, rustic feel throughout the party and incorporate some her son's favorite colors along with retro stripes and polka dots, which she did fabulously!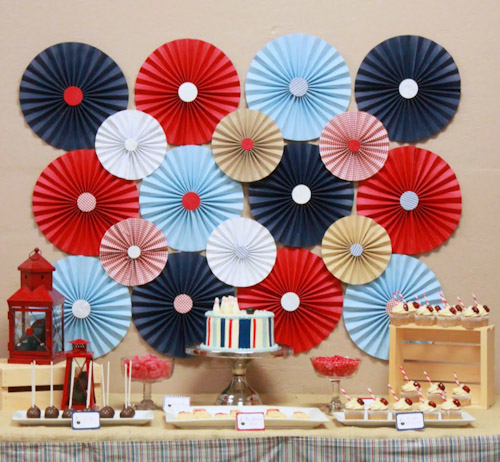 The party was held in the evening, so upon arriving at the party, the kids sat down at the table to eat pizza.  The table was decorated with a pale blue table cover and a striped table runner Deanna made out of a king size sheet she found on clearance.  Each child's place setting included a water bottle with a custom label and blue Gatorade in glass bottles.  Wooden balls were painted to look like bowling balls and tied to the tops of the bottles.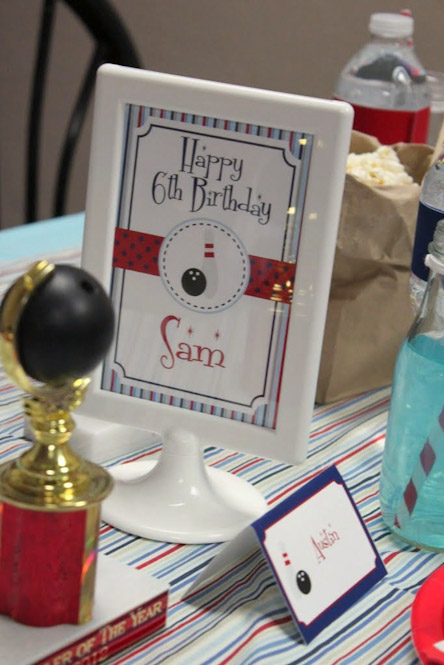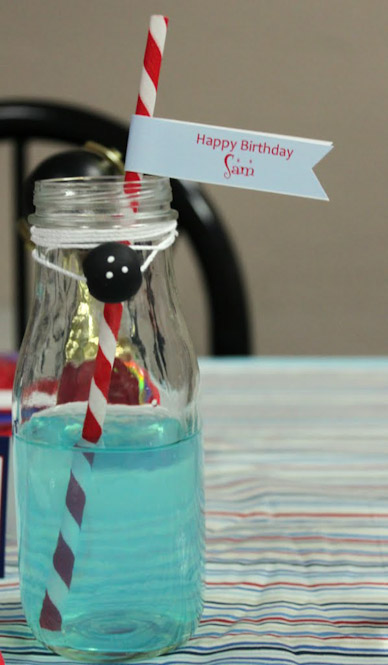 The kids could also much on some popcorn placed in decorated paper bags while waiting for their pizza to arrive.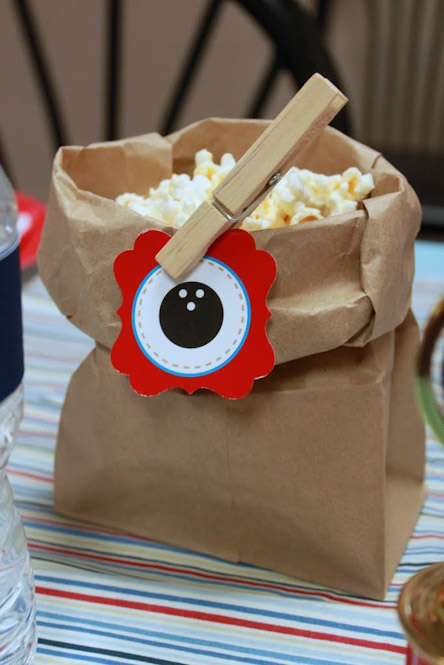 The party room at the bowling alley was pretty empty with painted cinder block walls, so to create the backdrop Deanna made paper fans out of scrapbook paper and was able to quickly and easily tape them to the painted wall. She again used the sheet she found on clearance for the fabric to make the dessert table skirt and then topped it with burlap.  Unfinished wooden crates, antique compote bowls, and red lanterns filled with mini "bowling balls" (Styrofoam balls painted black, with white dots) added to the rustic look.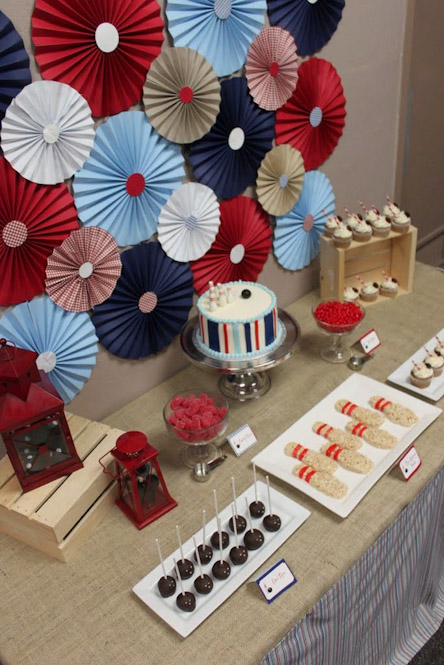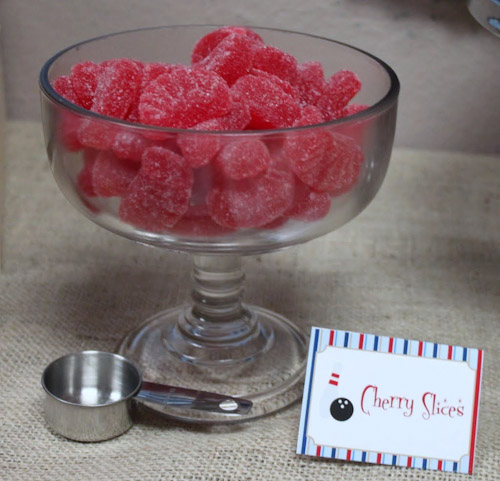 The birthday boy picked out Vanilla Cake with Chocolate Buttercream Filling.  I love how the stripes on the cake mimicked the invitation design, the stripes on the dessert table skirt and the table runners.  The cake was topped with fondant bowling pins and a bowling ball.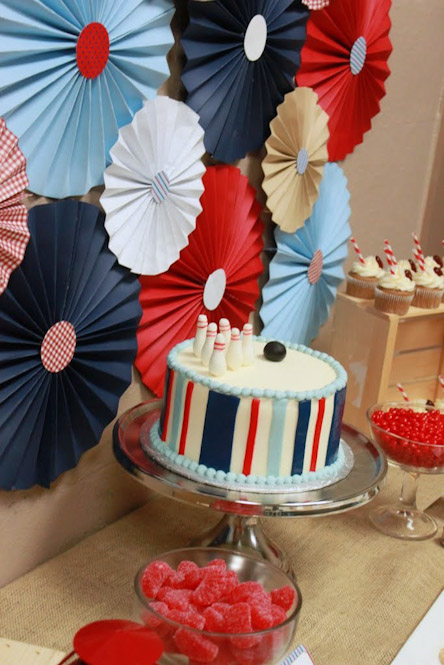 Desserts included Root Beer Float Cupcakes with Vanilla Bean Buttercream Icing topped with striped straws and root beer candy – love these!  Deanna also made Bowling Ball Oreo Pops and Bowling Pin Rice Krispie treats, which were made using a bowling pin cookie cutter and topped with sliced Fruit Roll-Ups.  Additional candy was served in antique compote bowls.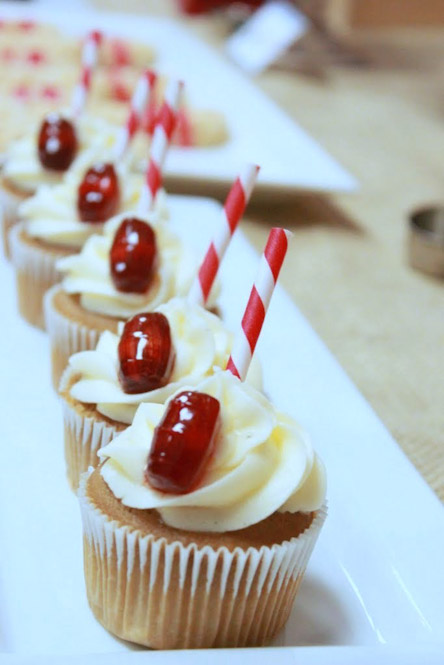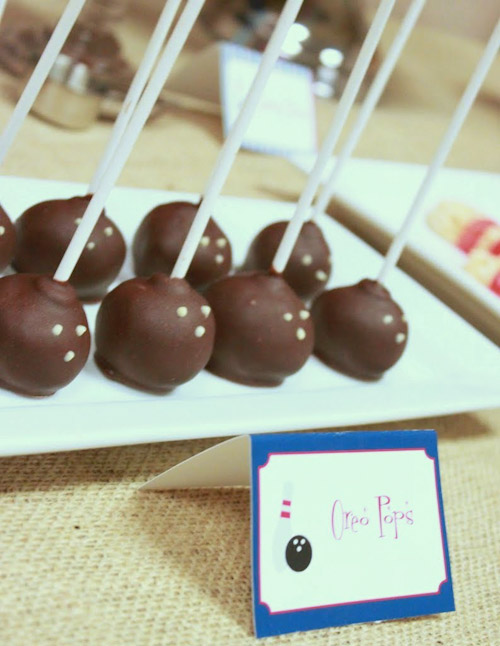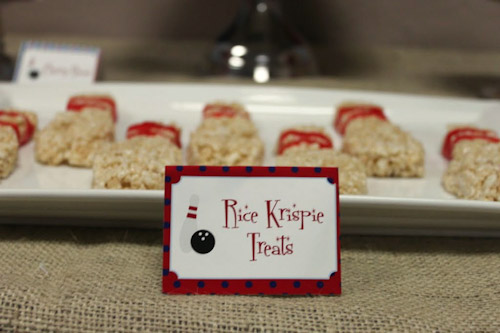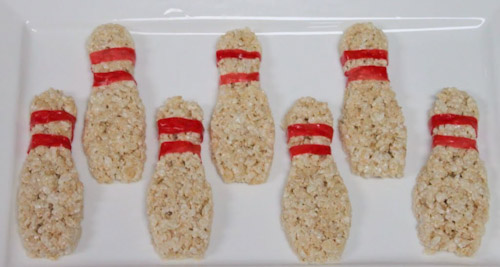 At the end of the night, each guest took home their own bowling trophy and candy bags that read "Thanks for SPARING the time to celebrate with me", which they all loved!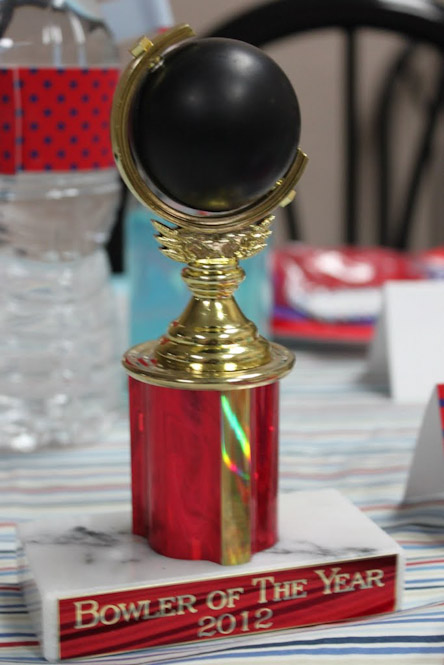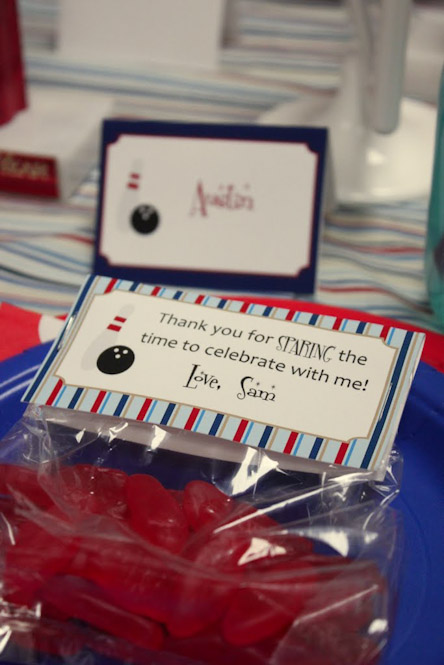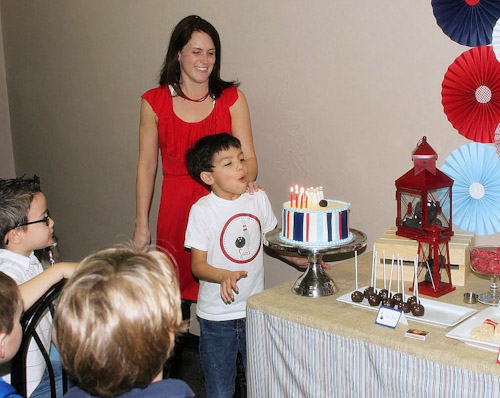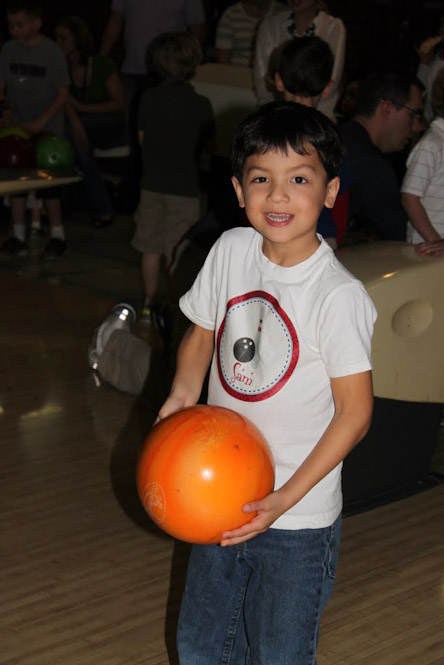 Everyone had a wonderful time at the party, especially the birthday boy, as you can see!  He's all decked out in his custom bowling shirt that Deanna made herself.  Wonderful Job Deanna, and thanks for sharing it with A Blissful Nest readers!
Vendors:
Printable Paper Goods, Styling, Photography – Mirabelle Creations website &  Etsy Store
Cake – The Twisted Sifter