I am so excited today to finally reveal what I've been working on! If you will remember, this is what our breakfast room looked like. Not that I didn't like it but it really reflected our family and tastes from a few years ago when I wanted a very Pottery Barn look – dark espresso table, tans and neutrals and a builder's light fixture.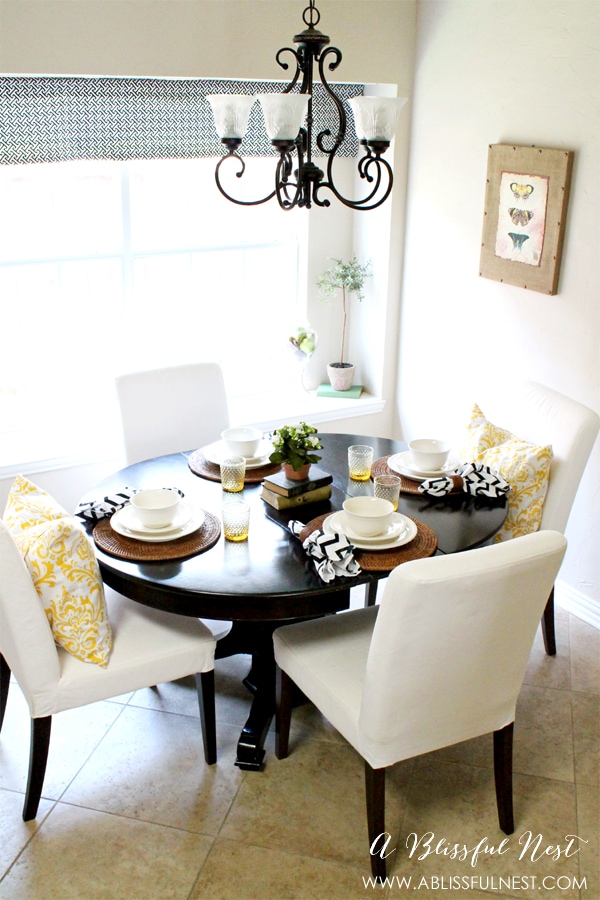 Well, here we are now!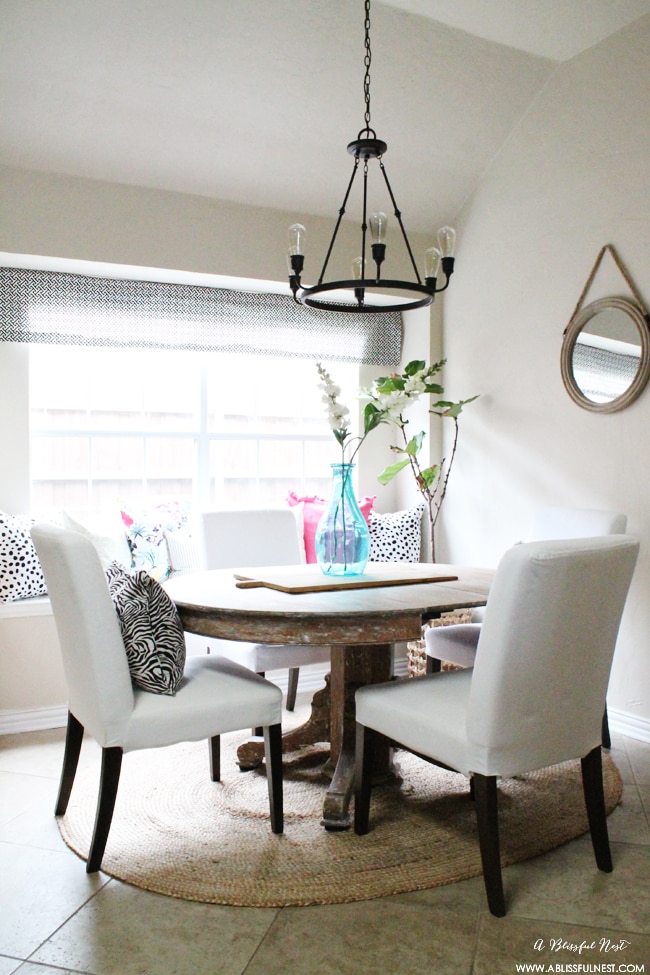 I love this look! It is a lot more industrial looking. It has bright pops of colors with still my layered neutrals that I love AND it was all inspired by this light fixture by Kichler Lighting from Del Mar Fans. It is the Del Mar Fans Kichler Lucien 42708oz fixture and it is gorgeous!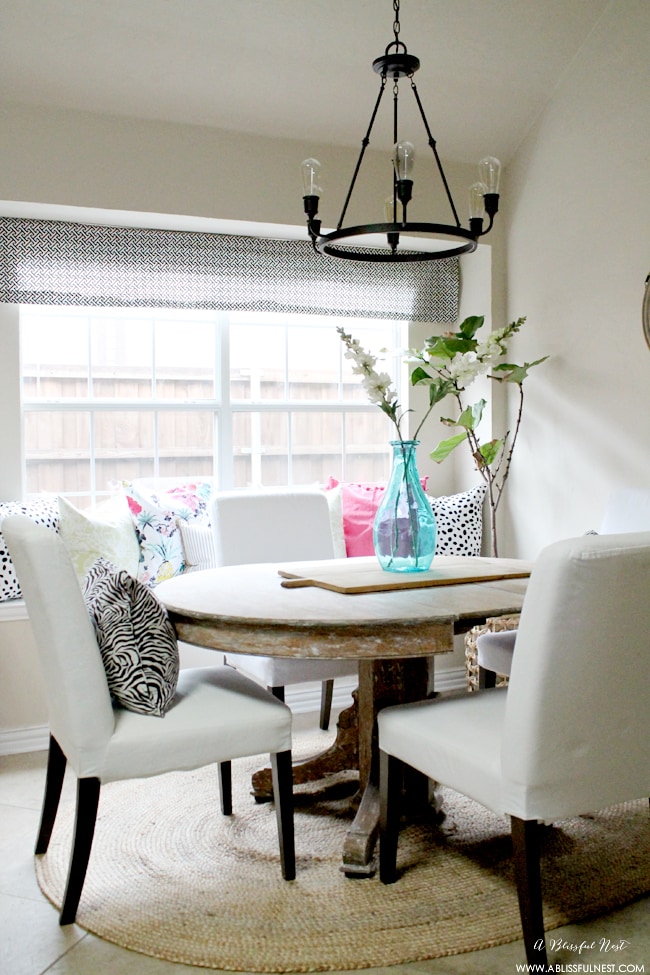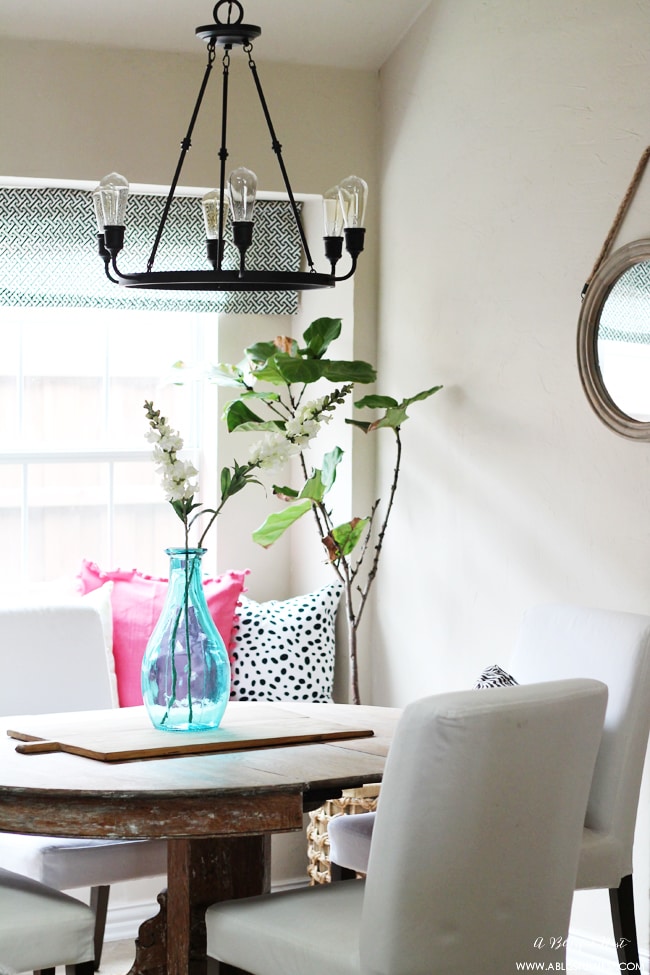 I love the oil rubbed bronze look and other items in our house have this too. This fixture seamlessly fit in with the rest of our home.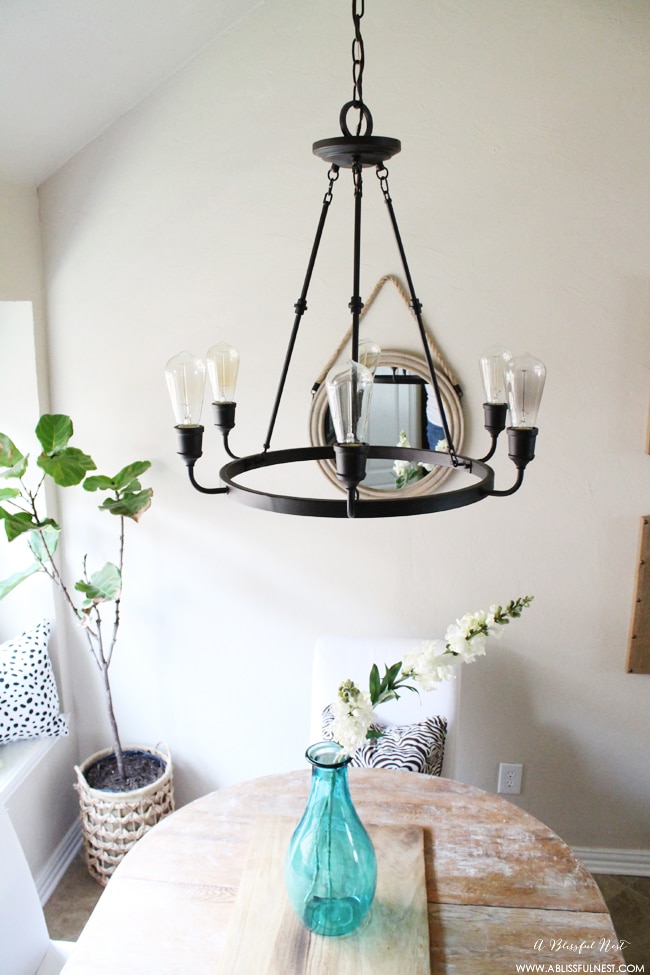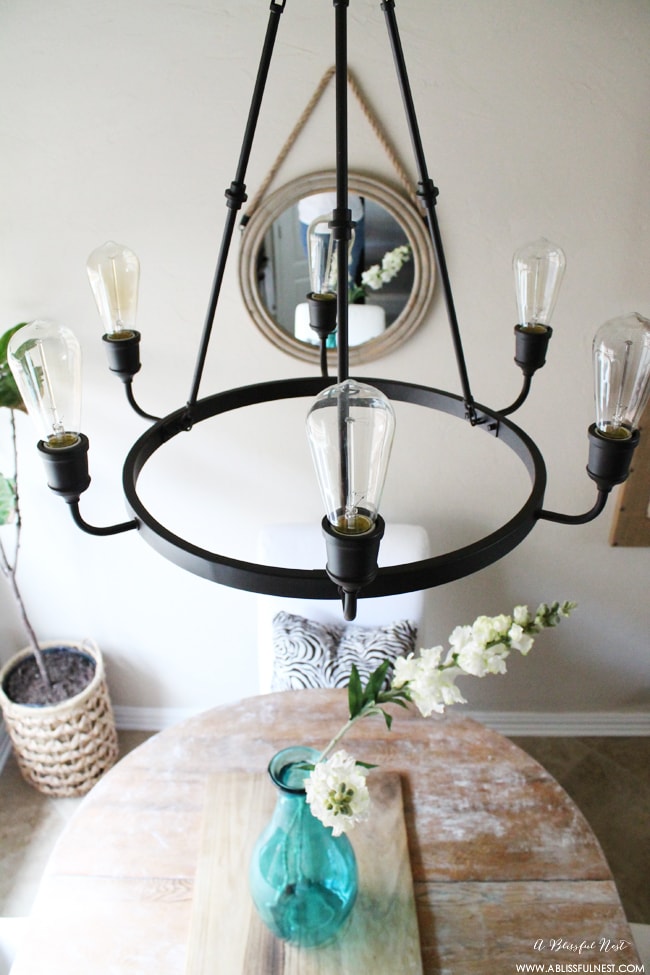 The vintage light bulbs really made this fixture feel more industrial and I love the bolt looking details up the 3 sides. It is actually a heavy fixture which gives it more stability. Love that!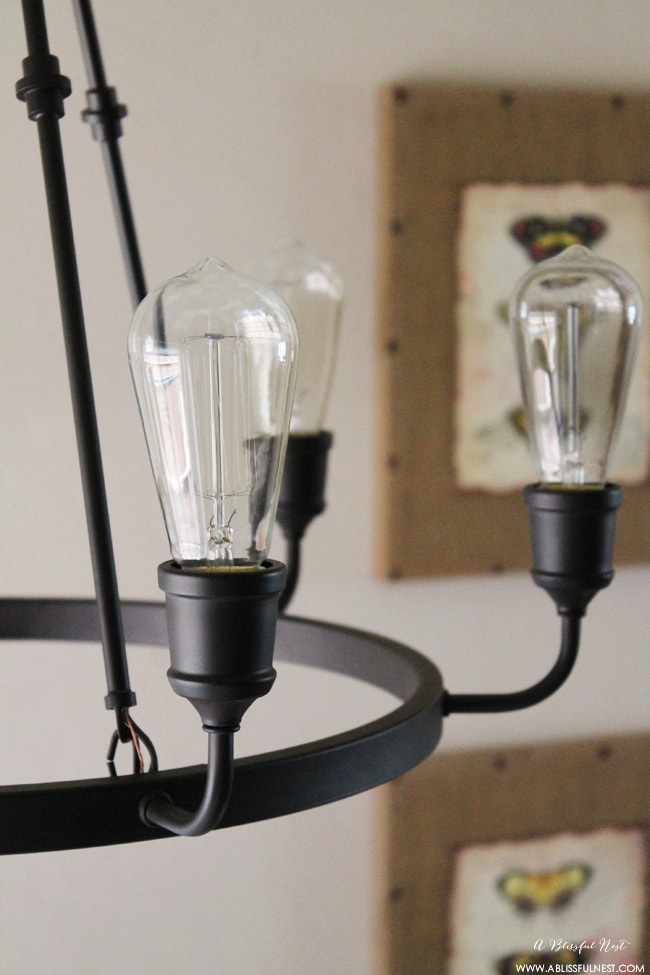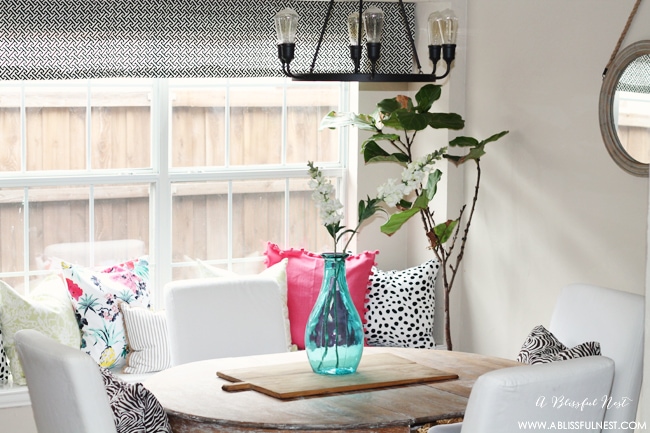 One of the biggest changes was also the table. It was too dark before and I really wanted a more Restoration Hardware look. This table has actually been in our family for 3 generations and it has been transformed many times. Good thing it was built so well! I had plans to use limewax on it but once I striped it, it already had the look I was going for. So I just used a matte clear polyurethane over the top to seal it.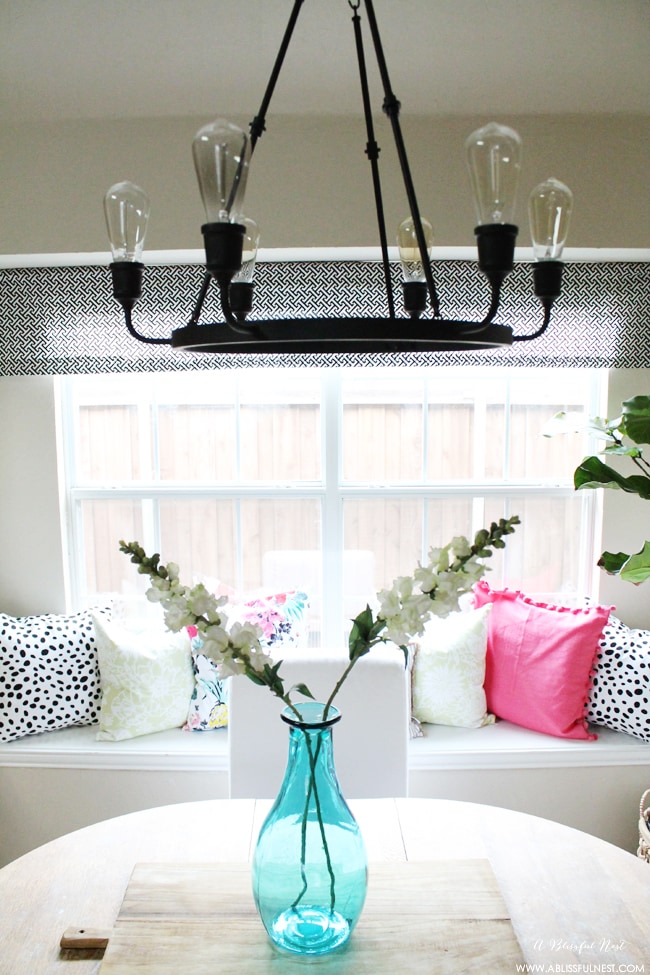 I decided to continue my spring color scheme I showed you and found this gorgeous vase that gives height to the center of the table. I love scaling up in my center piece in the middle of a table because it adds some height and doesn't make the light fixture above look like it is floating to high.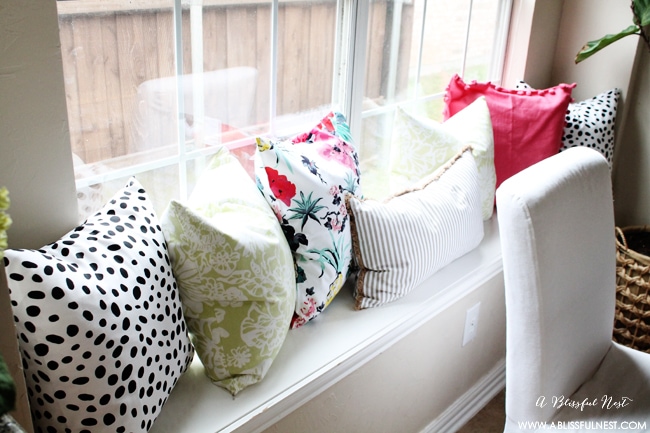 Of course I had some fun with our bench seat with some pattern play! You know I like being a little unexpected and my current favorite pattern is Dalmatian (which is in our Limited Edition collection right now). I found these gorgeous Dalmatian patterned pillows and knew they needed to be on our bench seat! They are the right amount of pattern to bring the others together.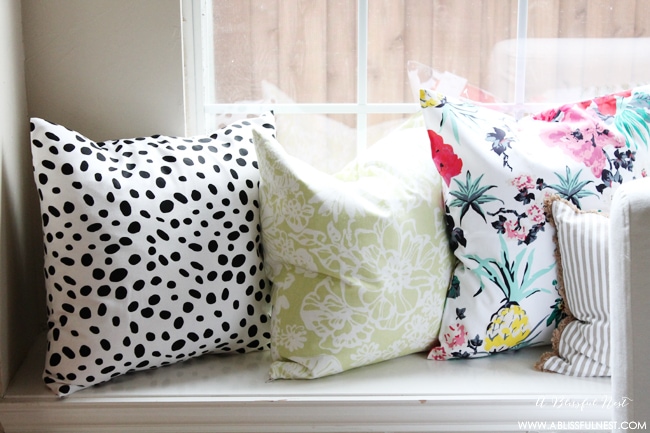 I found this pretty floral pillow and pink pom pom one from H&M. Their pillows are always such a steal for a price making it easy to swap them out. I leave the more bright colored pillows for the less expensive price points since those are the ones I play musical pillows with.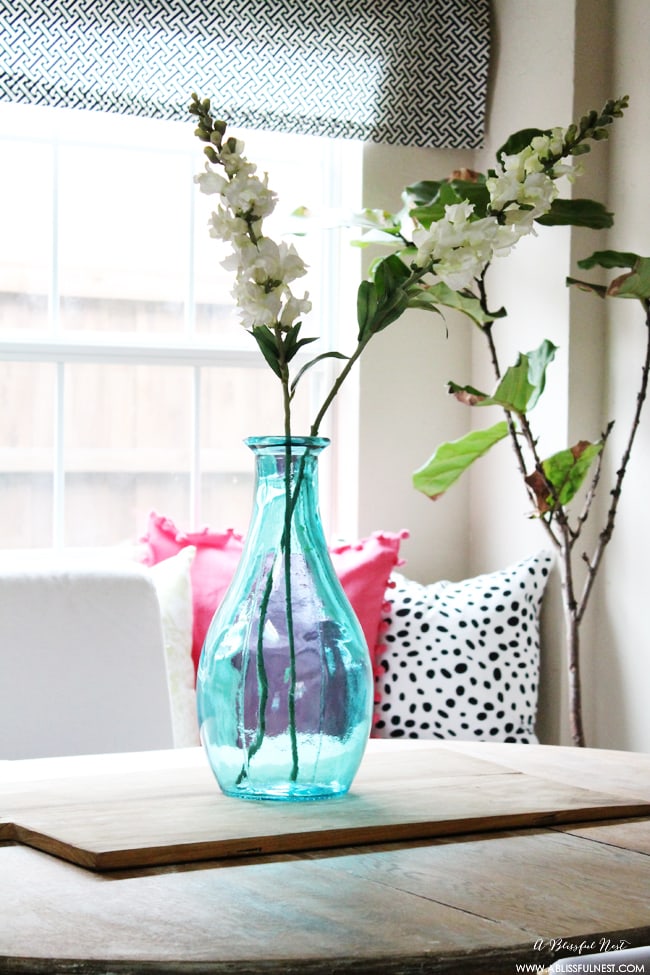 So what do you think? I could not be happier with the way it all turned out and I really love that this light fixture pulled it all together.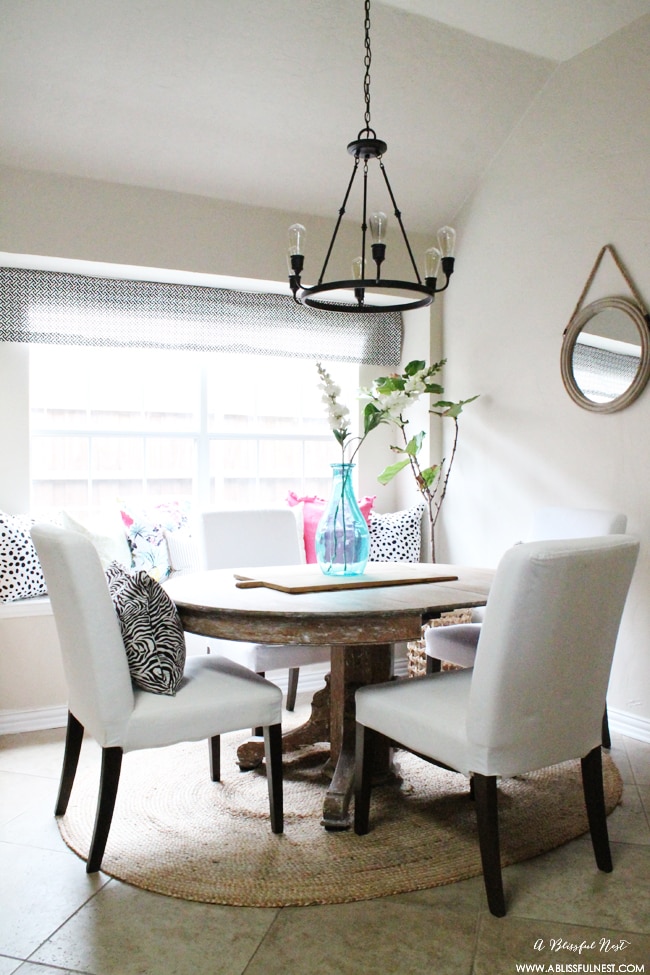 So here is the exciting part! You could win one from Del Mar Fans! Pop over to their Facebook page HERE and enter to win. Giveaway ends on 5/15/2015.
Shop This Post:

THIS IS A SPONSORED POST. A BLISSFUL NEST HAS RECEIVED PAYMENT, TRADE AND/OR PRODUCTS FROM DEL MAR FANS IN EXCHANGE FOR PROMOTING, HOWEVER ALL OPINIONS STATED ARE OUR OWN.