Tips for a Budget Christmas Tablescape
Happy Holidays!
It's Me, Cecilia (aka keki) from Home with Keki and I am so excited to be here today to hopefully help some of you get through the holidays. Usually, I have all my Christmas decorations out and completed by the first of December, but the days have been crazy and I am behind for the first time ever. Hate to put this out there, but my tree is still bare. Well, not true, it is has lights on it, but my dining room was simply empty! I started thinking… I need tips. A few tips to get my tablescape done and completed with what I had in the house. I want to share with you some of my tips to make a Christmas centerpiece on a budget.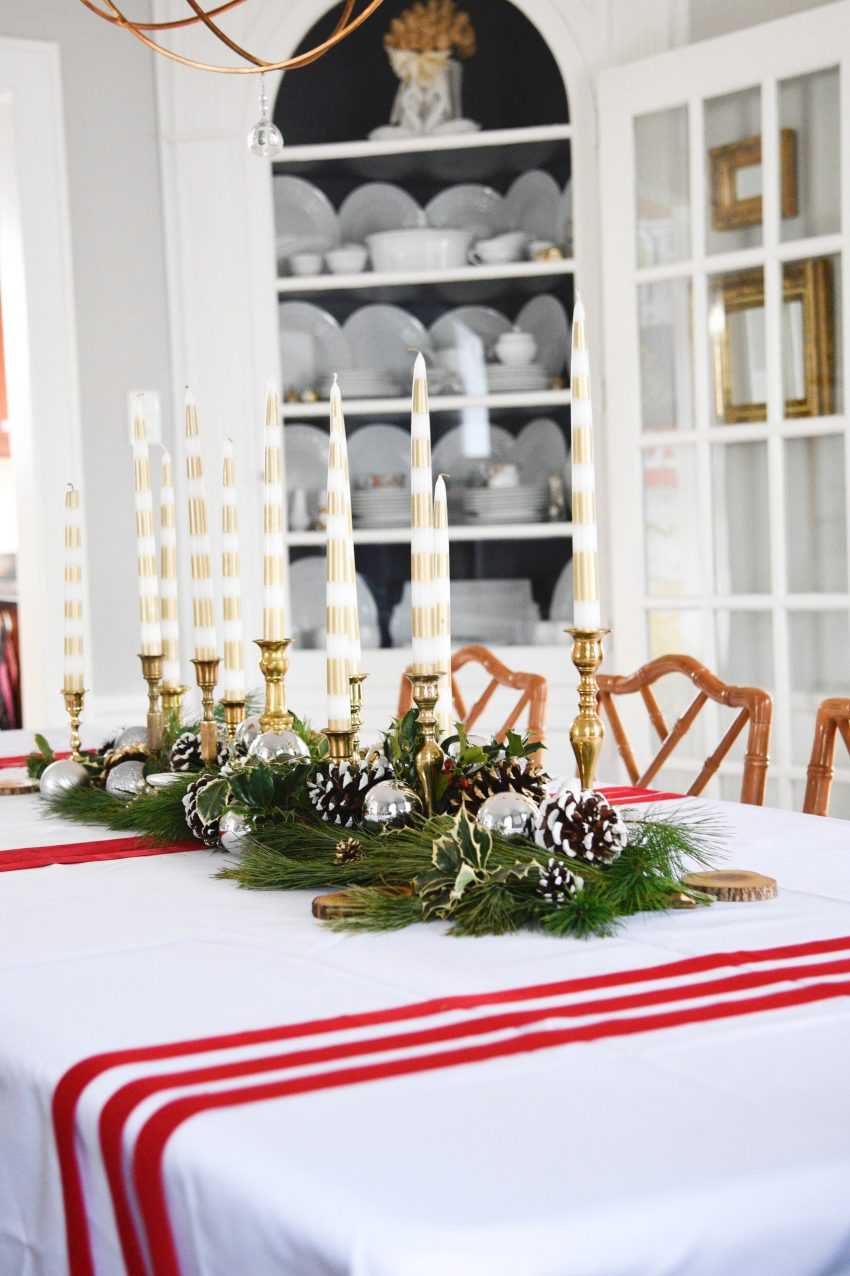 Tips for a Budget Christmas Centerpiece:
Tip 1 : Use Ribbons to Add Layers To Your White Tablecloth
I like to use a white tablecloth. I believe it is like a white canvas. You can add any style of plates, chargers, colors to a white tablecloth and give it a whole new life. Hey, and it's also super easy to clean. Throw it in the wash with a little bleach and done! I layered down my white tablecloth and usually start adding the chargers and plates, but I wanted to give it a little more pop of color. That was when I decided to use the CRAZY amount of red ribbon that I had purchased a couple of years ago from Costco. I think that this one roll will last you a lifetime! I added 3 stripes down the width of the table in three sections. When designing, you can't go wrong with the lucky #3. Total cost, for me zero! Total time, about 1o minutes.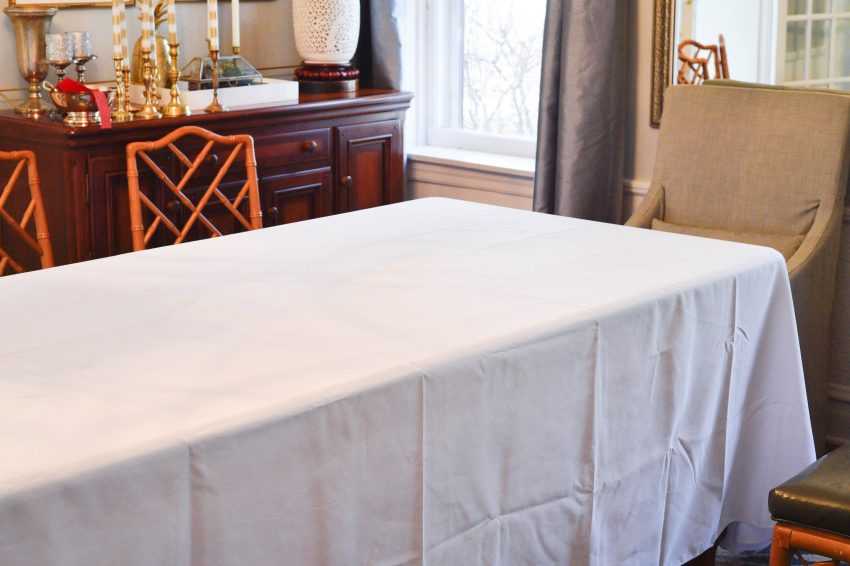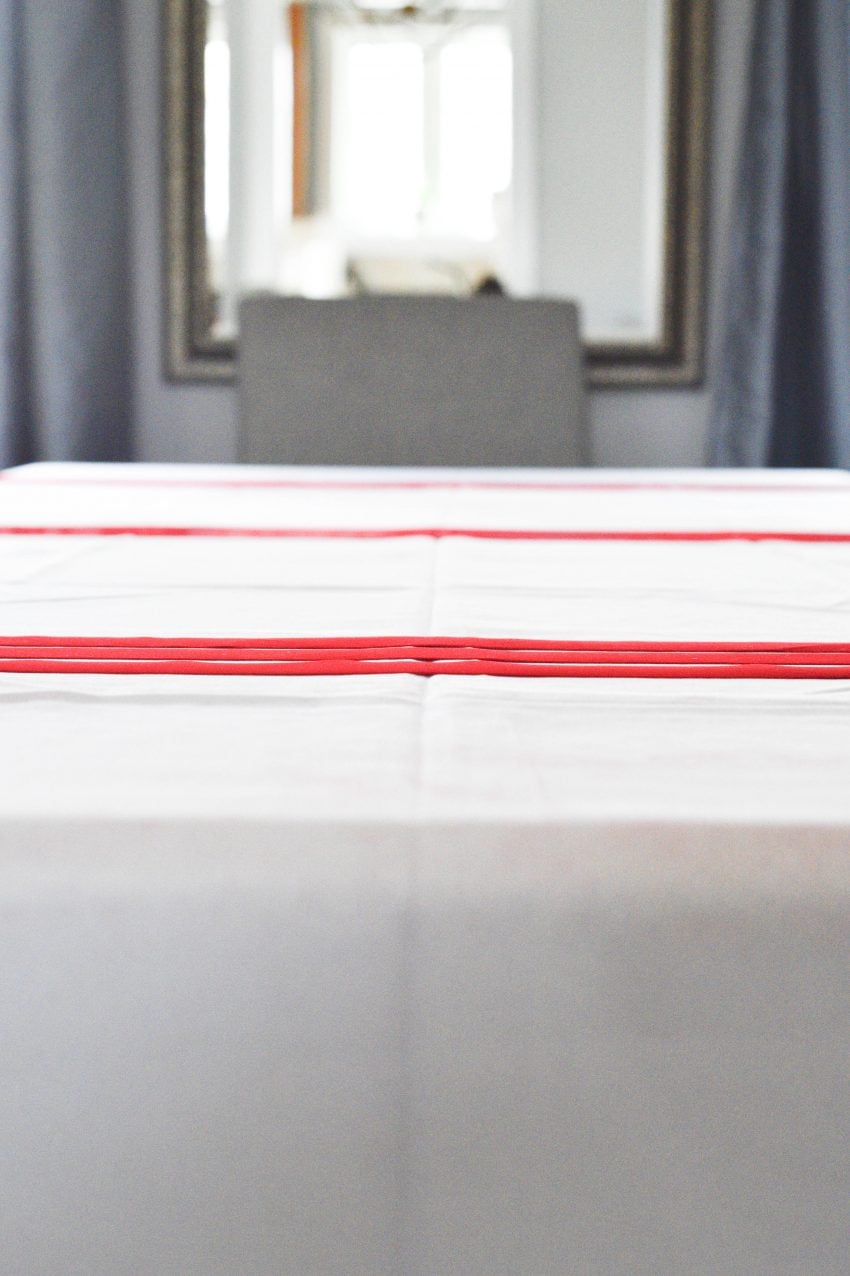 Tip 2 : DIY Striped Gold and White Candles
If you followed my last post here, you know I did multicolored Thanksgiving DIY Striped Taper Candles. I loved them so much, I grabbed my metallic gold spray paint and extra white candles and, well, did it again! For full directions on how to add these stripes, check out my last post here. Okay, I had a little spray paint left in the can and I hate putting an almost empty bottle back on the shelf, so I found two short pillar candles, and quickly sprayed the bottom half of the candles. For this method, the secret was to hold it far away so it just got a tint of gold and not a heavy coat.
Total cost for me $0   Total Time 25 minutes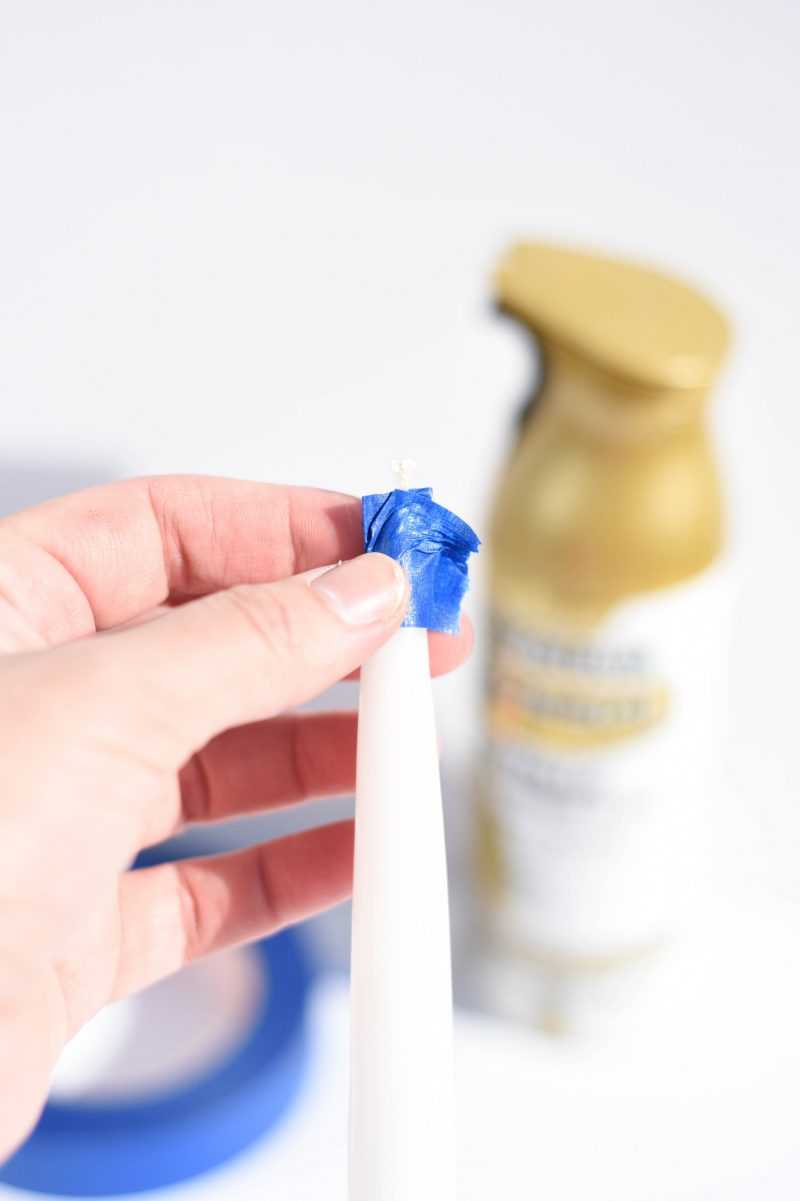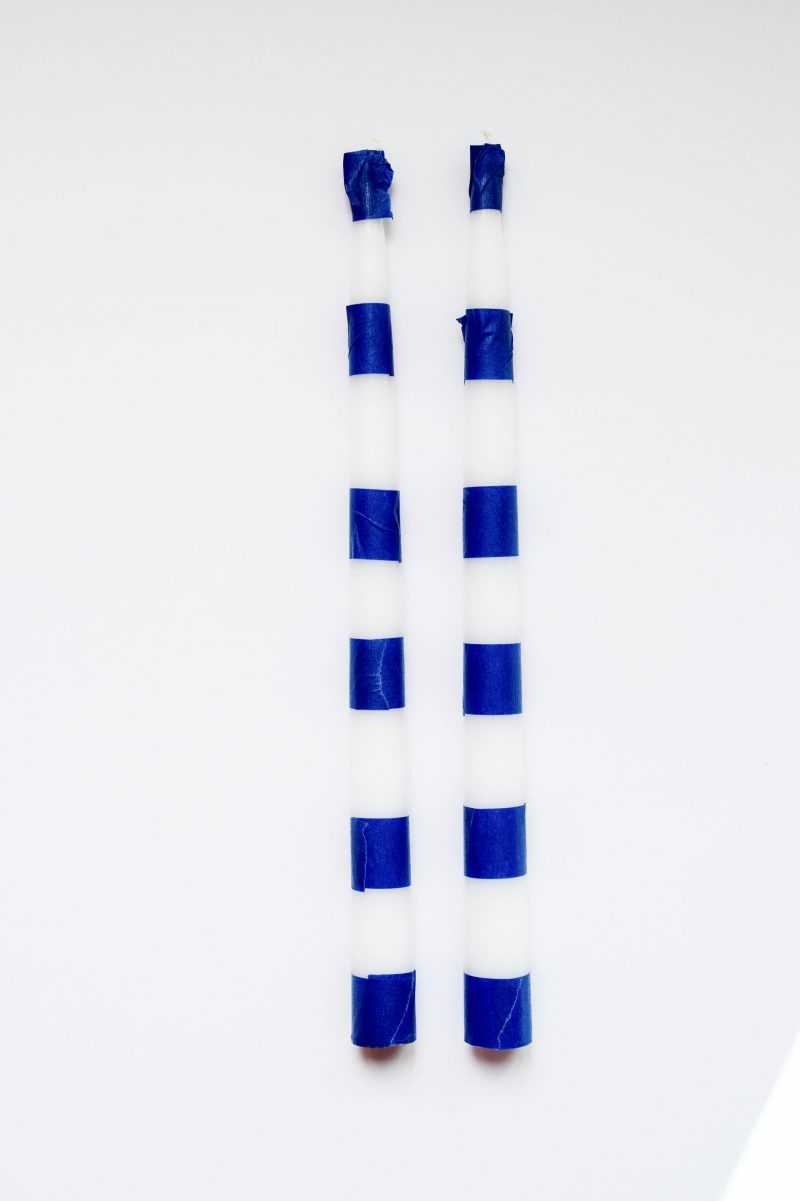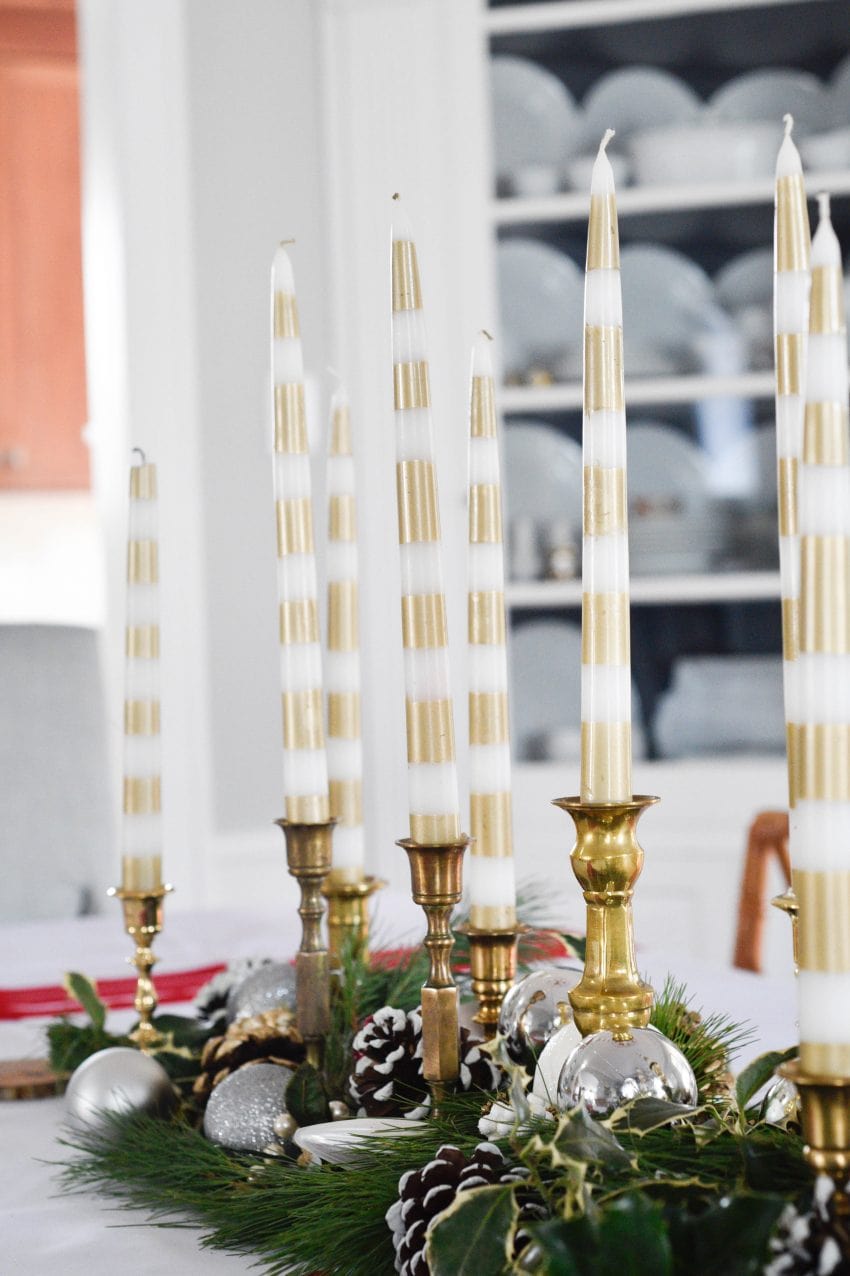 Tip 3 : Dipped Pinecones
I had a bag full of pinecones. Somehow I can't seem to never run out of pinecones during the holidays. Now, I did NOT purchase these. I repeat, do not buy pinecones. I promise you, one walk around your neighborhood or a nature walk with your kids and you will find enough pine cones to decorate your entire home. With my foraged pine cones, I grabbed my silver paint. I had already used up all my gold spray paint, but I had some cans of white and silver paint. I simply dipped the pinecones into the can, let the extra drip off then waited for it to dry.
Total cost $0, Total Time 20 minutes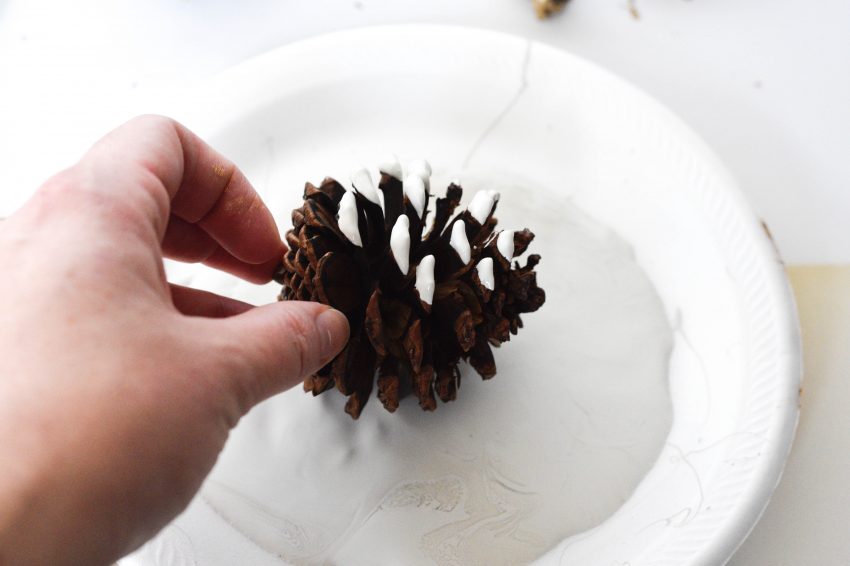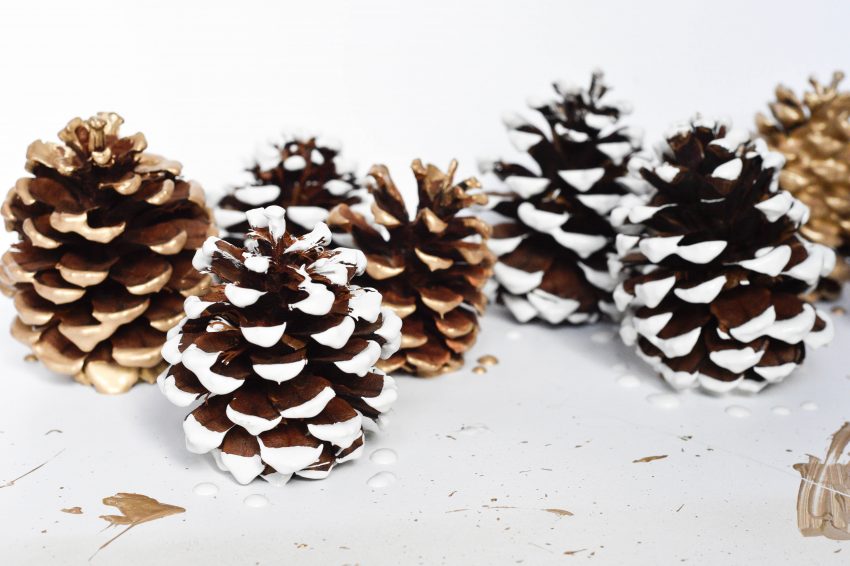 Tip 4: Cut Tree Stumps
When we get our tree, they cut the bottom of the tree stump and it just falls to the ground… all sad. I grabbed it and asked if I could also grab the others on the floor. They looked at me like I was crazy, but heck, they were just going to throw it out! Then at home I sanded them down just a little to get rid of the roughness, but not the grain. Then, I added a small layer of clear lacquer spray paint. YES, I had a can of clear spray paint. You can use these as wine coaster for the center of the tablescape.
Total cost $0, Total Time, 10 minutes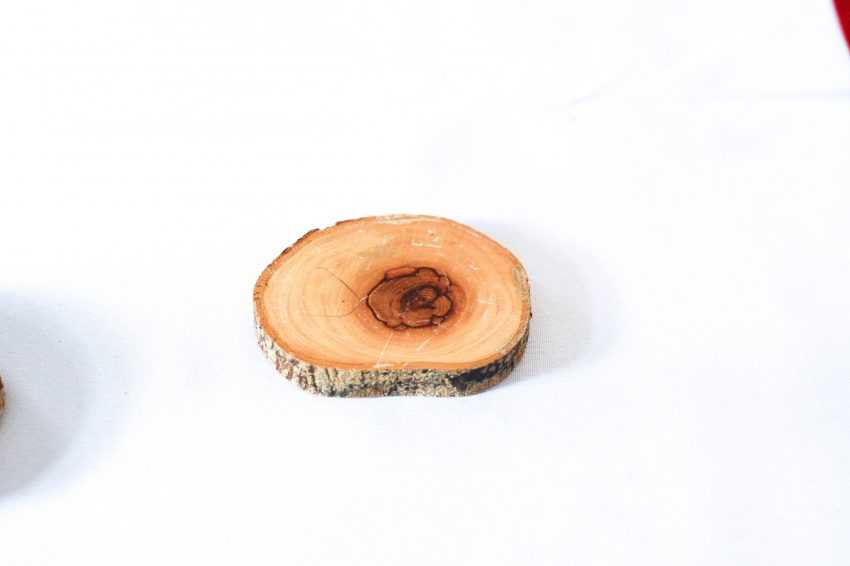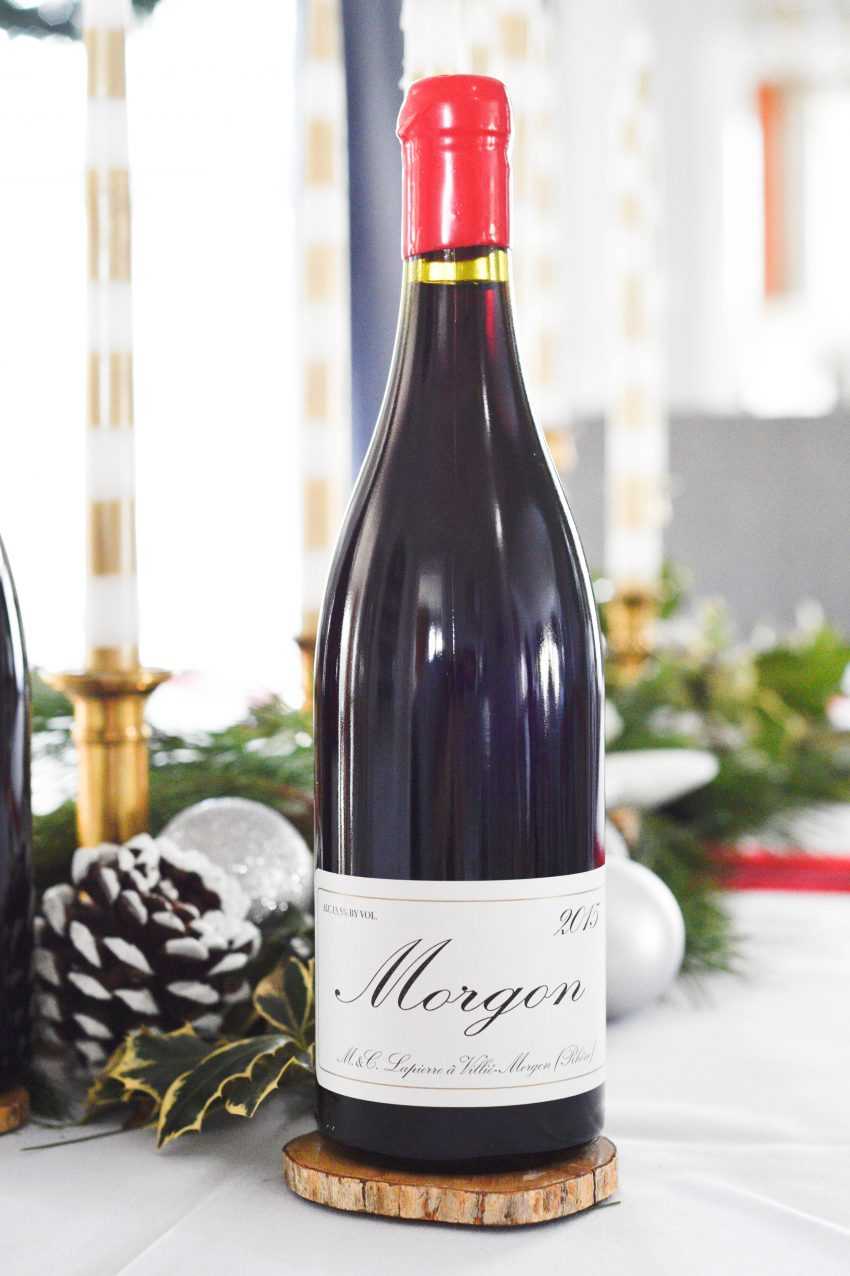 Well, of course, with the table set and adding the top 5 items, I can officially say… Happy Holidays! I wish you the best holiday season and a happy, healthy New Year! I have enjoyed being part of the ABN Holiday team and thank you Rebekah for blessing me with such a wonderful opportunity.