Call Me Maybe Valentine's Day Party – The Dessert Table
Yay! I am so excited to finally share the full details of our Call Me Maybe Valentine's Day Party we had a few weeks ago. I was just slightly obsessed with this song this last year and really loved when the Olympic swim team did their montage with the song. It really just cracked me up and I got thinking how cute a theme this would be for a Valentine's party. Of course I love hot pink and turquoise together (Lauren's room is in these colors) and an idea was born. I was SOO excited to team up with Mariah from Giggles Galore to design and style this party and enlisted a fabulous team of vendors.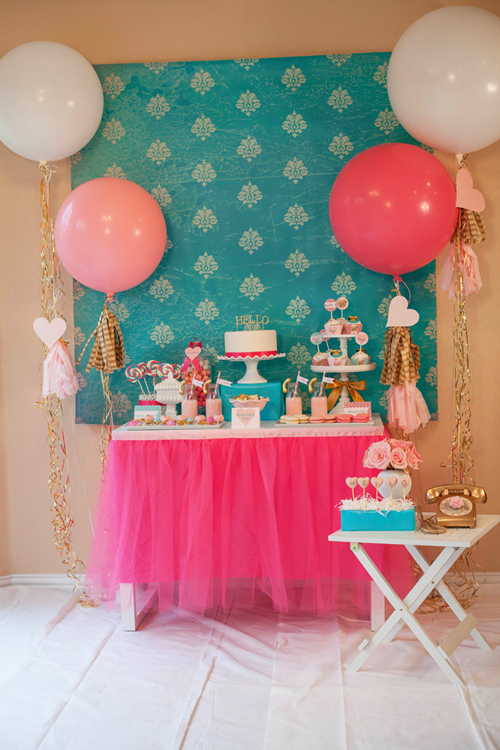 I have a serious love affair with tulle right now! I swear it is one of my most favorite fabrics to use for a party simple because of the full effect they can create and over the last few years I have loved how photography backdrops can really add visual depth to a table much like fabric backdrops. I buy them in small sizes that fit perfectly for behind the table I am using. This one by Swanky Prints had this great damask pattern in the perfect colors!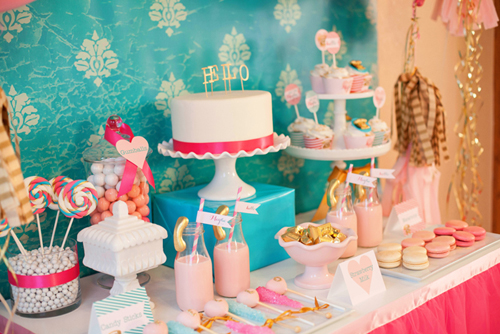 Though this may look like a decked out table, it really is simple in the desserts we served. A store bought cake and cupcakes and some special macaroons and cake pops from some of our favorite sources was all that we used with splashes of some candy for color.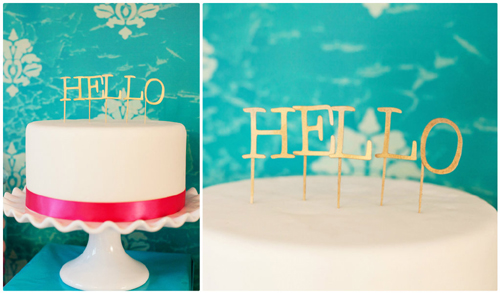 Our 3 layer white fondant covered cake was simple adorned with a hot pink band of ribbon and this cute "Hello" on top. The "Hello" was created using cut out letters on gold card stock and glued to gold spray painted toothpicks.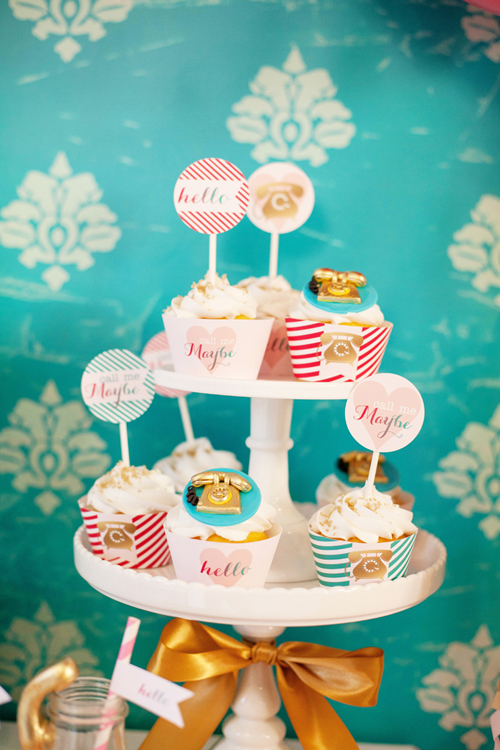 Our store bought cupcakes got some royal treatment too! Dressed up in our cupcake wrappers with matching cupcake toppers and the most ridiculously cute fondant coordinating cupcake toppers by Brittney of Edible Details. At the last moment I decided to sprinkle the cupcakes with some edible gold sprinkles. It truly glammed them up!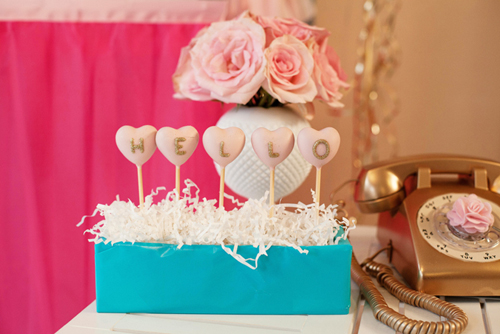 The cake pops were a work of art. They are so simple yet really packed a punch in flavor and in sprucing up the table. Made by Kris of Goods by kCreative, she sent us her newest flavor, Chipotle, and decorated the heart pops with edible gold glitter frosting; spelling out "Hello". Oh how we had too much fun figuring out what to do with them and ended up using them in 2 places. Here next to our gold phone popping out of a paper wrapped box and laid out on a platter with rock candy sticks.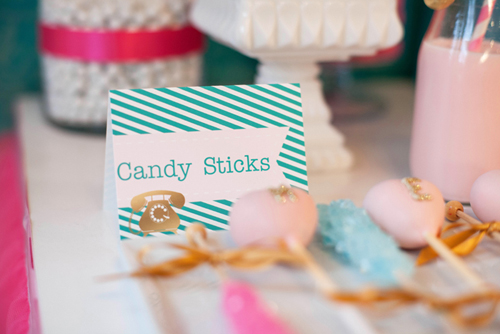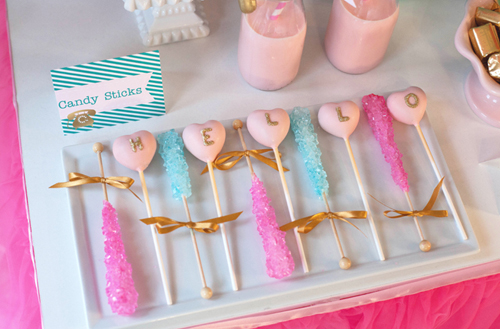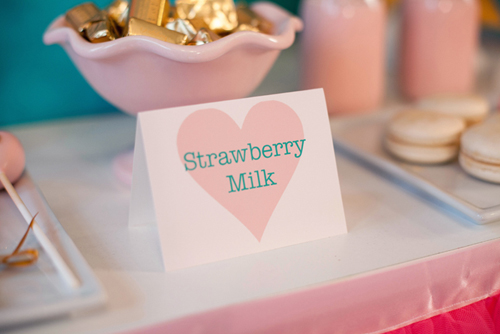 Even our strawberry milk glasses had to be off the hook! Fondant gold phones by Edible Details hung from the rims with striped straws with coordinated flags from our printable collection.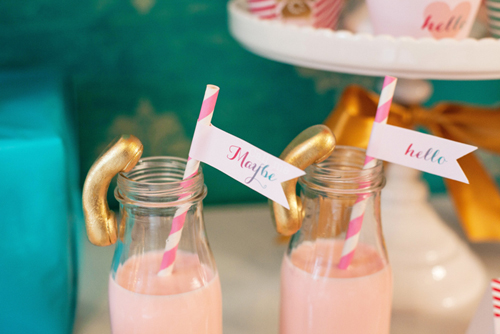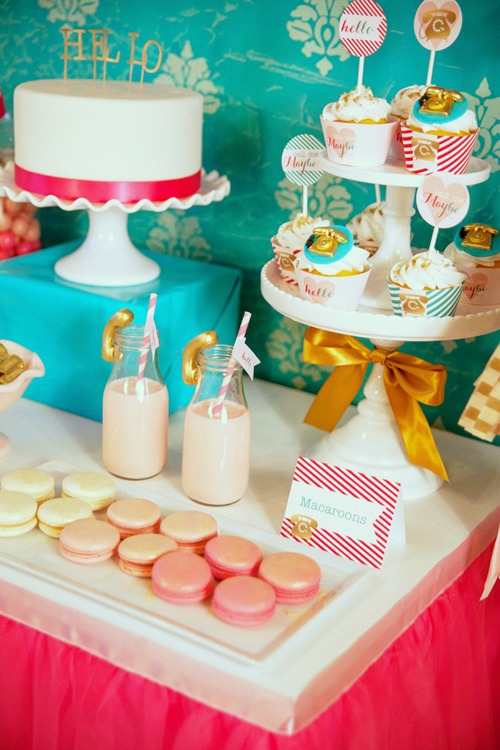 My favorite dessert is macaroons. I swear I could sit there and eat a dozen of them before you could blink an eye!! Mariah had these made in a strie of colors. Then we sprinkled them with edible gold dust I purchased at Michaels.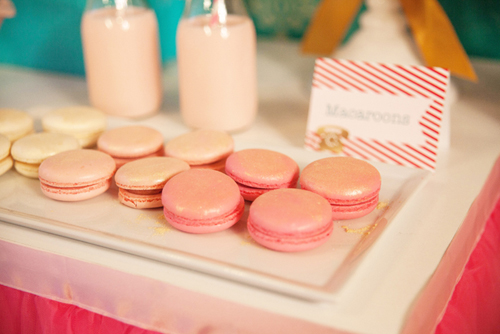 We had such a fun time planning and enjoying this party and next up is the activities and games the kids played! Stay tuned. . . .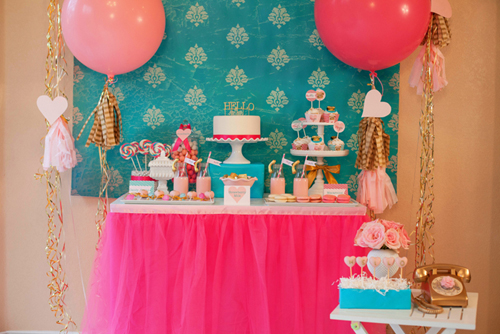 1 week left before Valentine's Day so snag your Call Me Maybe Party decorations and recreate this fun party theme for all those little Valentines HERE: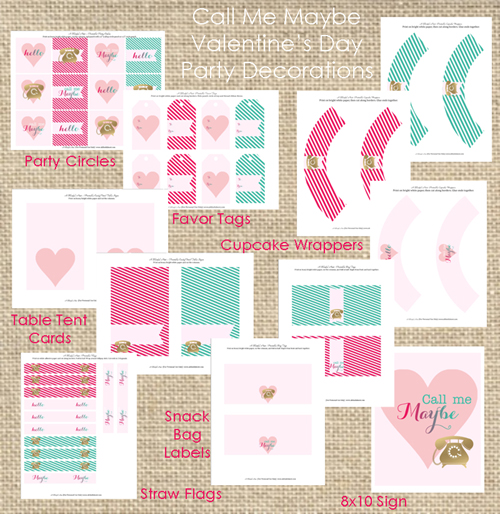 Amazing Vendors:
Styling: Giggles Galore & A Blissful Nest
Party Printable Decorations: A Blissful Nest
Photography: Alyssa Maisano Photography
Fondant Cupcake Toppers, Phone Receivers & Lollipops: Edible Details
Cake Pops: Goods by kCreative
Girl's Shirt: Sweet Threads Clothing Co.
Girl's Necklace: Dress It Up Shop
Balloons: Whimsically Detailed