Coastal Kitchen Cabinet Colors
Coastal kitchen cabinet colors are a popular design trend that exudes a fresh, airy, and relaxing vibe.
It's no surprise that many homeowners have embraced this seaside-inspired design and brought it into their homes by using kitchen cabinet colors.
When it comes to Coastal Kitchen design, the color of the cabinets is one of the most important aspects to consider.
The key to a successful Coastal Kitchen is to choose the right color palette that reflects the natural surroundings of the home.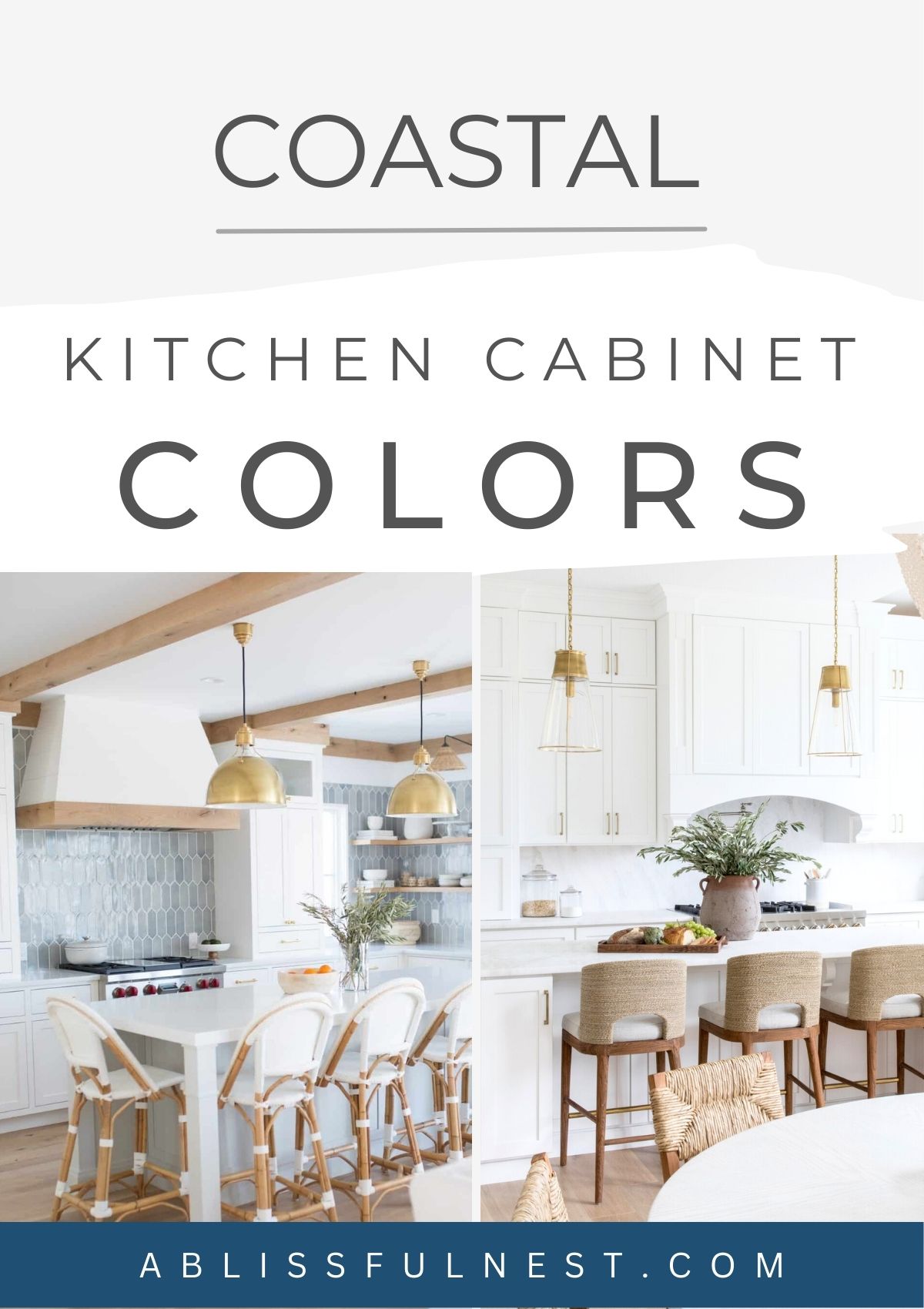 Choosing the right color will make all the difference in creating a breathtaking coastal vibe and set the mood for the rest of the decor.
There are some pros and cons of coastal kitchen cabinet colors to keep in mind, some tips on how to select the perfect color for your kitchen cabinets, and I'll share some of the best coastal kitchen cabinet colors that I know you will love.
I'll also give you some ideas and decor tricks on how to bring the coastal ambiance to life in your kitchen.
So are you ready to take a look at some coastal kitchen ideas?
This site contains affiliate links. Please read our disclosure policy. As an Amazon Associate, I earn from qualifying purchases.
What Is Coastal Kitchen Style
Have you ever walked into a beachfront restaurant and instantly felt relaxed? That's the essence of coastal kitchen style.
It's a design aesthetic that's inspired by the ocean and its natural surroundings.
Think sandy hues, soft blues, and crisp whites.
Coastal kitchens often feature natural materials like wood and wicker, and they're filled with light and airy textures.
It's a style that can make any kitchen feel like a relaxing vacation spot, even if you're not by the coast.
Whether you live in a beach house or a city apartment, you can bring a bit of that coastal charm into your kitchen with the right design choices.
What Makes A Kitchen Look Coastal
When it comes to creating a coastal-inspired kitchen, there are a few key elements that can really make a big impact.
The first thing that comes to mind is color – think soft blues, greens, and sandy beiges.
These shades instantly transport you to the beach and create a calming, serene atmosphere.
Additionally, incorporating natural materials like woven baskets and rattan chairs can add a touch of beachy texture to the space.
And finally, lighting is important in creating a coastal kitchen ambiance. Large windows and plenty of natural light will make a kitchen feel more open and airy.
Overall, it's all about combining these various elements in a thoughtful way to create a space that feels light, bright, and breezy – just like a day at the beach.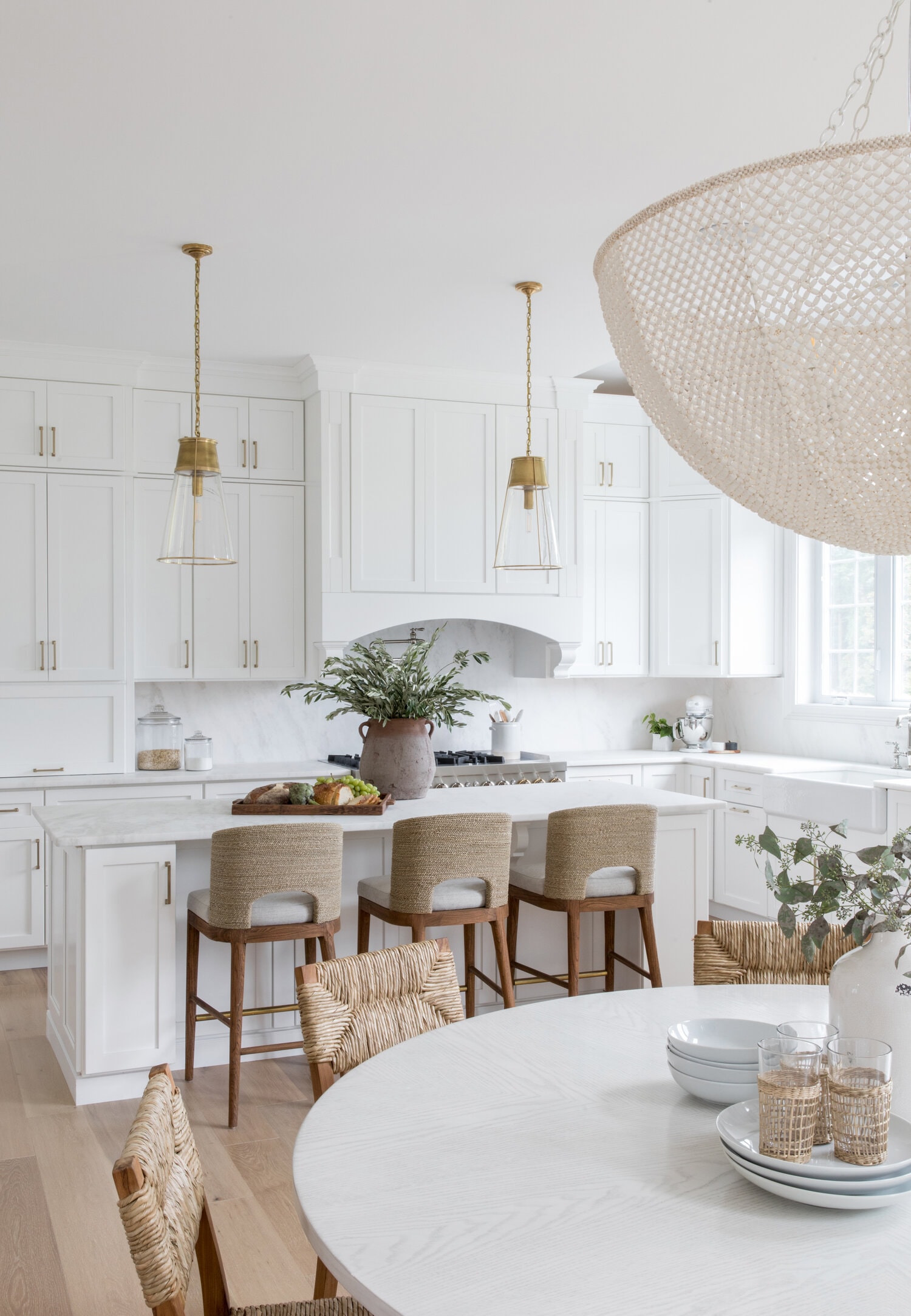 How To Pick A Coastal Paint Color For Cabinets
Choosing a coastal paint color for your kitchen cabinets can be an exciting yet daunting task.
With so many shades of blue and green to choose from, it's important to consider the overall vibe you want to create.
Are you aiming for a bold and vibrant look, or something more relaxed and calming?
For a nautical feel, consider a deep navy or a crisp white with hints of blue or green.
If you want to bring in a more subtle coastal vibe, sandy beige or light seafoam can do the trick.
Whatever your style may be, remember to test your chosen colors in different lighting conditions to ensure that they work well with your kitchen's natural light.
Best Coastal Kitchen Cabinet Colors
Pure White
White is a classic and versatile color that can provide a bright and fresh look to your kitchen. It can also help create a spacious and airy feel.
Soft Blue
Soft blue is a popular coastal kitchen cabinet color that can evoke the calm and soothing colors of the ocean. It can provide a relaxed and serene atmosphere in your kitchen.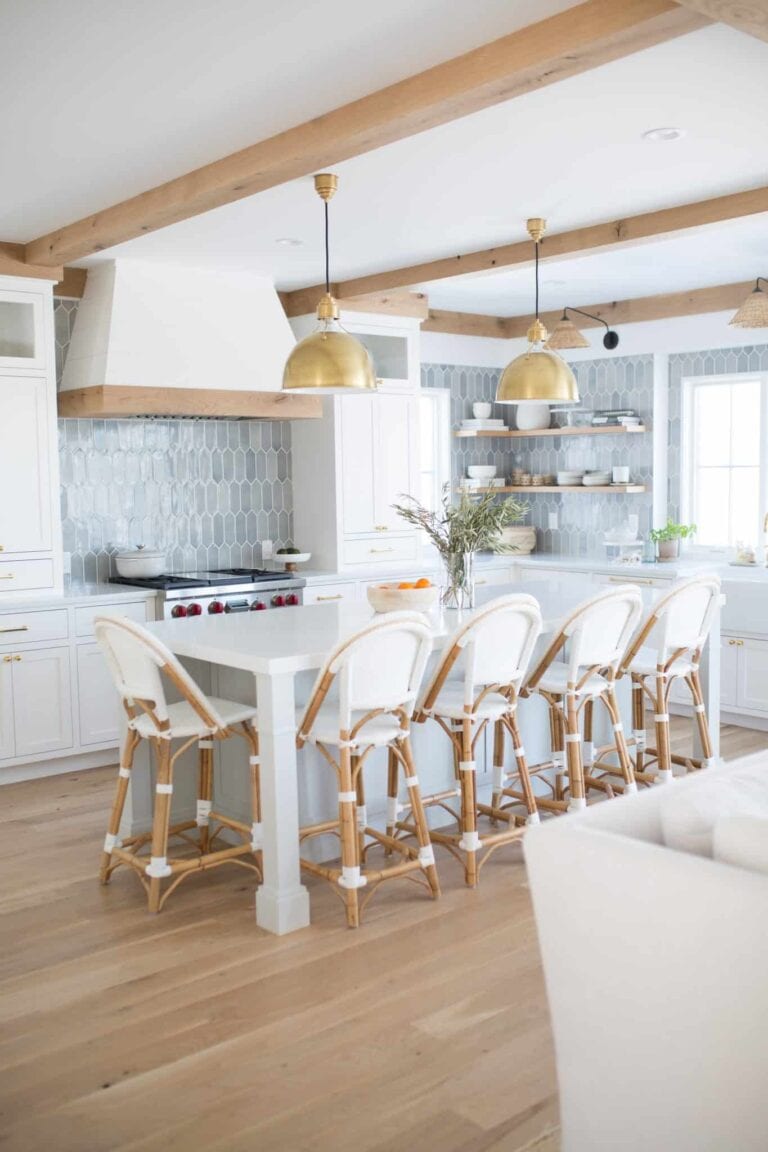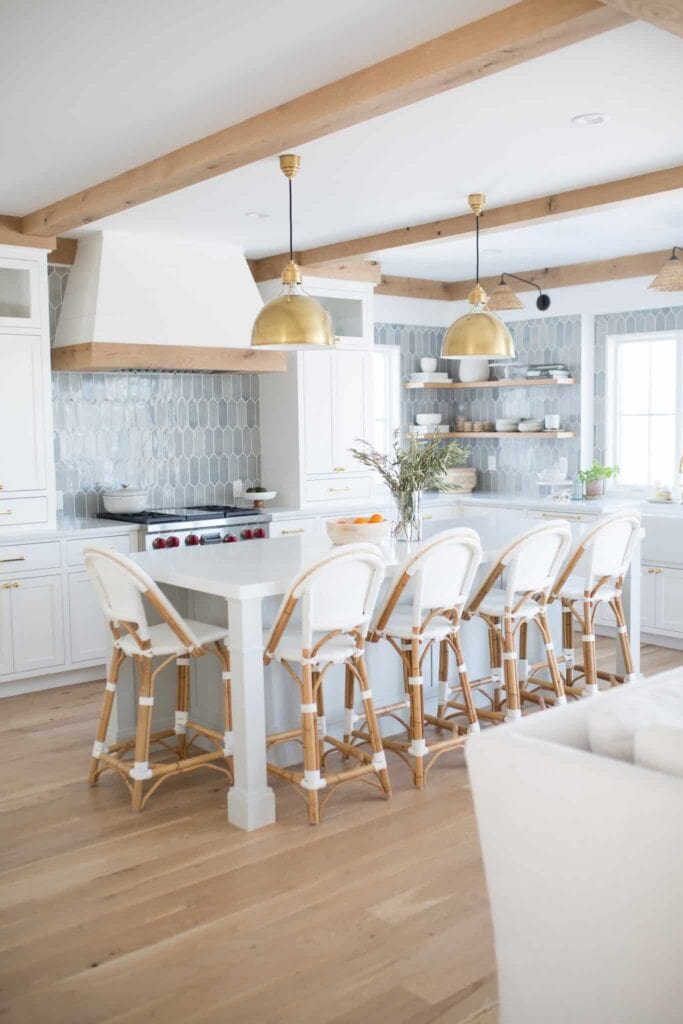 Navy
Navy is a timeless color that can provide a classic and sophisticated look to kitchen cabinets.
Navy can create contrast with lighter colors like white or light gray, making your kitchen cabinets stand out.
Seafoam Green
Seafoam green is another popular coastal kitchen cabinet color that can add a subtle pop of color to your space. It can help create a refreshing and beachy vibe.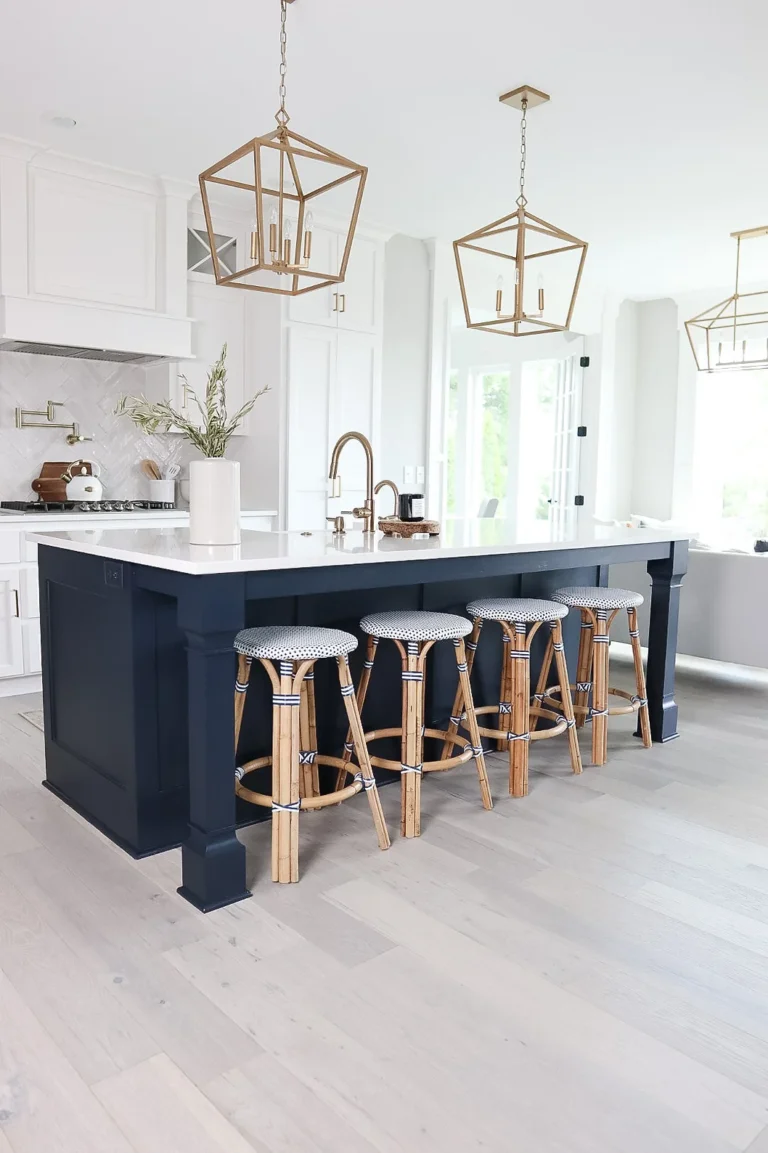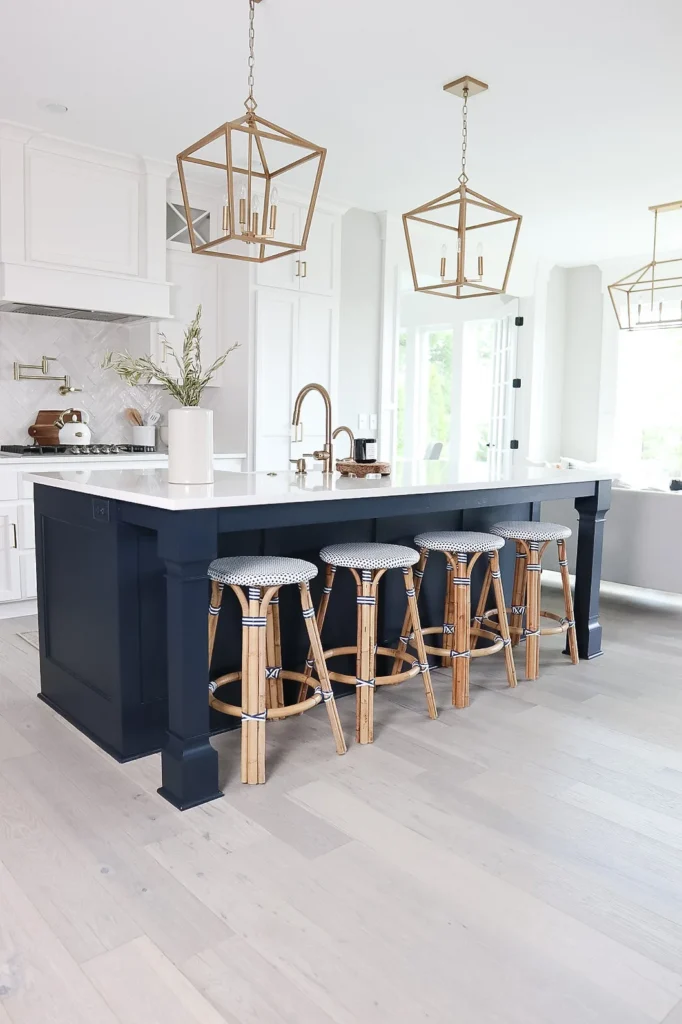 Light Gray
Light gray is a neutral and sophisticated color that can add a subtle coastal touch to your kitchen. It can help create a serene and calming atmosphere.
Natural Wood
Natural wood can add warmth and texture to your coastal kitchen. It can provide a rustic and beachy vibe that evokes the seaside environment.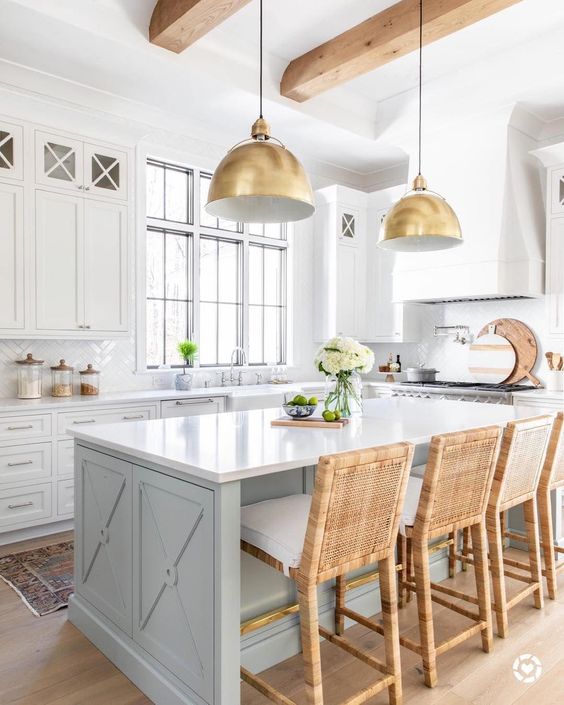 How To Decorate A Coastal Kitchen
A coastal kitchen typically features light and breezy colors, natural materials, and elements that reflect the seaside environment.
Here are some key features that can help make a kitchen look coastal:
Color scheme

: Coastal kitchens often use a light color palette, including shades of white, beige, light blue, and seafoam green. These colors reflect the calming and serene vibe of the beach.

Natural materials

: Coastal kitchens tend to incorporate natural materials like wood, stone, and rattan. You can use these materials for the flooring, countertops, cabinets, and accessories.

Texture

: Incorporating different textures like woven fabrics, jute, or rattan can add a coastal touch to the kitchen.

Add greenery

: Consider adding some indoor plants or fresh flowers to your coastal kitchen. Greenery can help add a pop of color and make the space feel fresh and inviting.

Lighting

: Choosing light fixtures that have a nautical or beachy feel can help enhance the coastal vibe in your kitchen.
I've shopped a few items for you below to help you decorate and elevate your coastal kitchen.
Tap Photos To Shop

The coastal kitchen style has gained immense popularity in recent years, and it's not hard to see why.
The bright and airy atmosphere that it brings into the home, combined with natural materials and soothing palette, is a recipe for relaxation and comfort.
But when it comes to selecting the right coastal cabinet color, there are a few factors to keep in mind.
Regardless of your preferences, always remember to consider the pros and cons of each color and select shades that complement the existing elements within your kitchen.
From classic pastels to modern shades of gray and blue, there is a wide range of hues to choose from.
With the right combination, you can create a coastal kitchen that exudes relaxation and style and becomes a welcoming retreat for all who enter.