Hello friends! I'm Sandy, the creative soul behind the blog Whimsical Blue Living. I share our journey of restoring our historic home, affectionately called "The Castle", all while raising three adorable kiddos. I'm so excited to be back at A Blissful Nest today with one of our family's favorite Christmas cookie recipes! This is one recipe that has been made for years and years in my family and I really hope that you will like it.
If you are anything like us, the holidays are a wonderfully busy time full of traditions, parties, and gift giving. This recipe is so easy and we love giving these cookies as presents and taking them to parties. Making our Cranberry Cookies for Christmas is a tradition that our kids look forward to each year, and because it is so quick and easy it is the perfect holiday activity for young kids or really kids and adults of any age. I actually made a version of these cookies every Christmas when I was growing up, and it's a special tradition that I enjoy sharing with my own kids. I love how it has come full circle and I can pass on these treasured memories with my own children. I'm also thankful to have had people in my life to create these traditions and cranberry masterpieces with me. So lucky!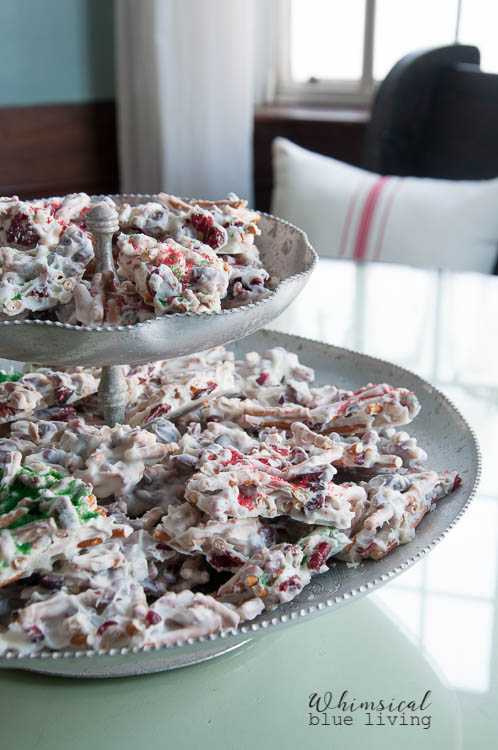 Quick and Easy Cranberry Cookies Recipe for Christmas:
Ingredients:
Vanilla flavored Almond Bark (24 oz)
Approximately 3 cups of pretzel sticks
Approximately 2 cups of dried cranberries
Sprinkles (optional- unless you are my three year old daughter who considers sprinkles MANDATORY)
Instructions:
Step 1: Melt the Almond Bark according to the instructions on the package.
Step 2: I like to let my kiddos break the pretzel sticks in half before mixing everything together because it makes the cookies a more manageable size at the end. Combine the pretzel sticks, dried cranberries, and melted Almond Bark into a large mixing bowl and stir until everything is evenly coated.
Step 3: Pour the mixture onto a cookie sheet that has been covered in wax paper. Spread the mixture using your spoon or spatula so it fills the cookie sheet and is relatively flat. Sprinkle the optional/mandatory sprinkles on top if desired.
Step 4: Place the cookie sheet in the fridge until the Almond Bark is cool (usually about 30 minutes or longer if you need to).
Step 5: Use your hands to break the large pretzel cranberry coated piece into cookie size chunks. Doesn't it look amazing. Now, try to hold off as long as you possibly can before you eat them. In my case, this doesn't last very long. Enjoy!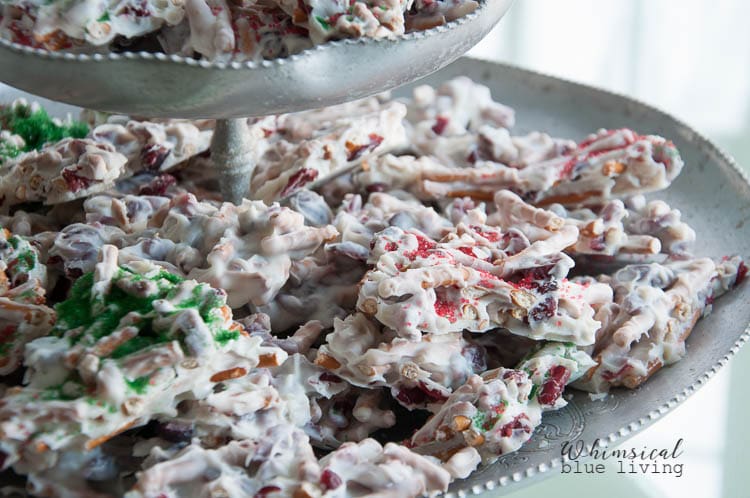 Are you drooling yet?  They are that good… I promise!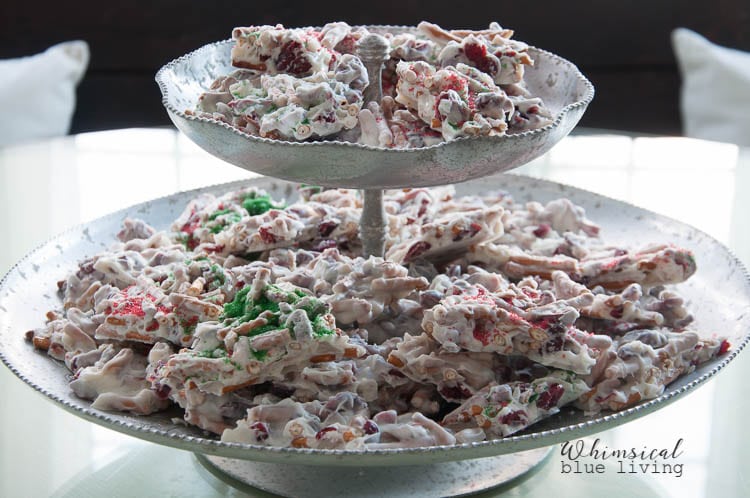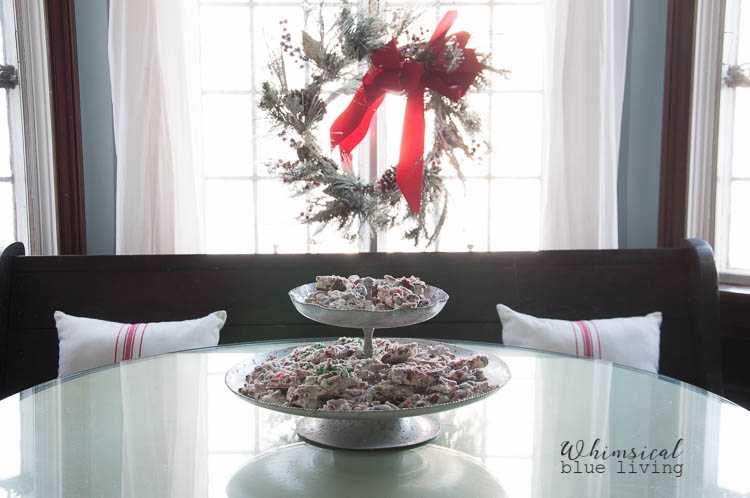 Hope you enjoy these delicious cookies! The wonderful thing about this recipe is you can change it to include some of your favorite ingredients. I've made it in the past with peanuts and M&Ms instead of dried cranberries. The sky's the limit when it comes to melted chocolate and goodies. Get creative and enjoy! What are some of your favorite holiday traditions?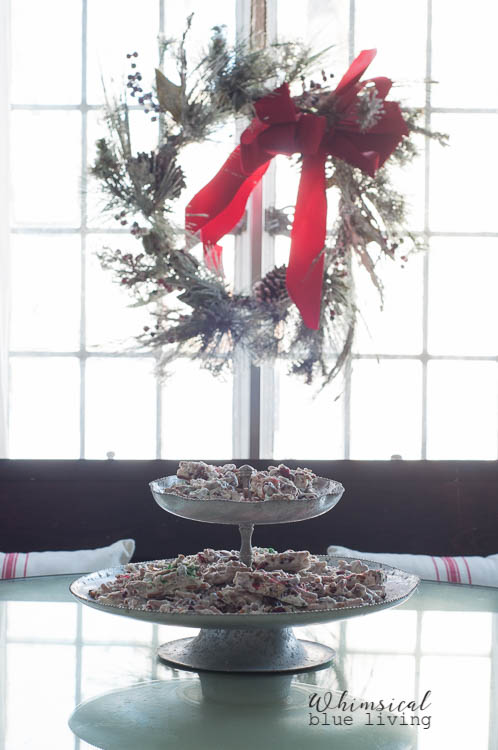 I'd love to hear about them. Find me on Facebook, Instagram, and Pinterest. And be sure to check out our Christmas Tour at The Castle! For more beauty and inspiration from life in The Castle visit Whimsical Blue Living.
Have a beautiful day and a wonderful holiday season!
Sandy