Creating a Safe and Secure Home
This post is sponsored by VTech.
As you know we recently moved into a new home. Now it has two stories and it is harder to keep tabs on everything going on with my daughter and animals. Especially since our kitten is 9 months old, I worry about her with the staircase. She has been getting quite gutsy and hanging over the edge. Absolutely scares me but she thinks it is so much fun to have a birds eye view from up above. So recently we installed the VTech VC931 HD Pan & Tilt Camera to help me get a grasp on everything going on in my home. My anxiety level has definitely come down and I feel like I have an extra pair of eyes helping me out. And I thought you also could use an extra pair of eyes, since I know all of us moms need all the help we can get!
For me with the second story, I don't feel I can always hear when my daughter calls me and like I said keeping my eye on little Sasha so that she doesn't get too risky with the upper staircase is a struggle. So for me, it is the game room that overlooks the lower entry area that I really need the help in. This space is nowhere near being designed and finished and truly has become the hangout spot for everyone in the evenings. But during the day, no one is upstairs except Lauren and the animals chasing each other. This really has become a spot I am having a hard time monitoring. I'm loving that I have a new set of "eyes" to help me out!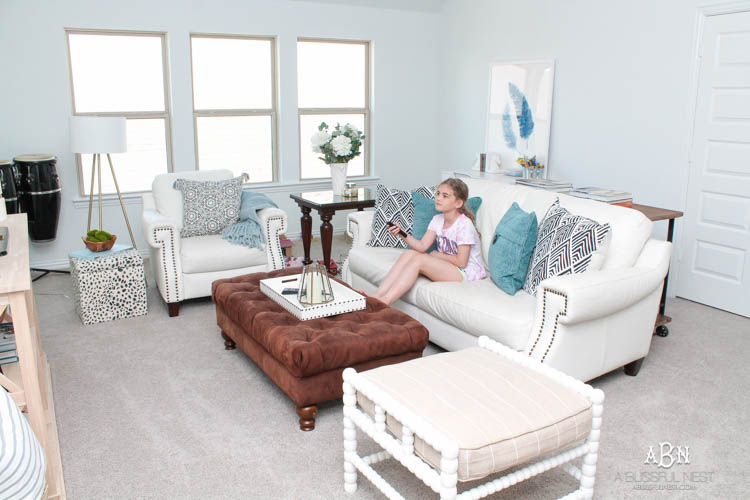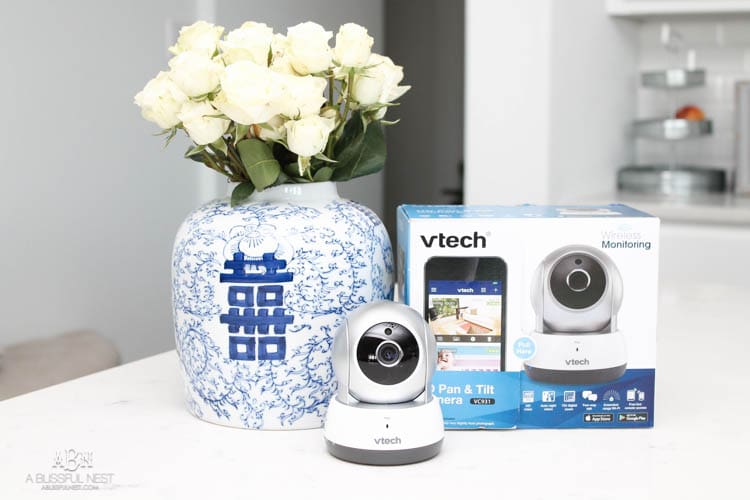 Step 1: Install the MyVTech Cams mobile app.
First, I installed the app from the app store and then followed the instructions to register and set up my account. The whole process took less than 10 minutes and it connects right into the Wi-Fi of your home. So easy!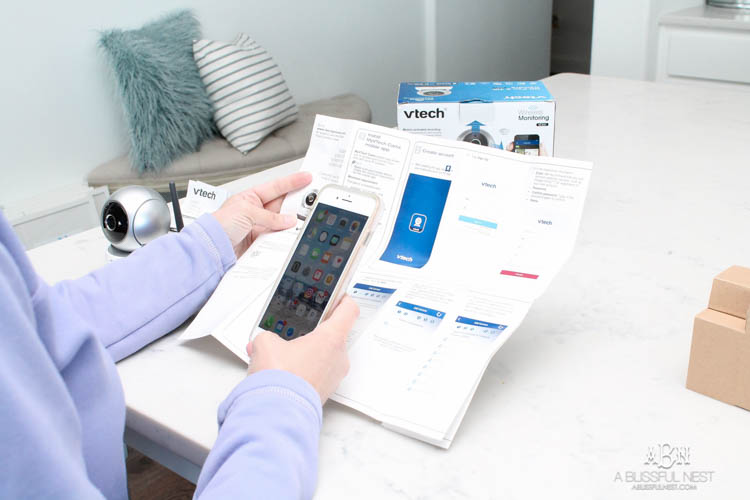 The set up screens prompt you with instructions. They are really simple to follow and there aren't many steps to complete.
You will need the password for your Wi-Fi on hand for one of the steps so get that ready beforehand.
Once you've installed the app and registered, you are ready to set up your camera.
Step 2: Select the place you want to install your camera
We selected this little corner to install our VC931, because it has an expansive view of this area and beyond. This is our upstairs game room and where my daughter plays, our animals run around like crazy and we spend our family time at night. But for a good portion of the day, I never go up here.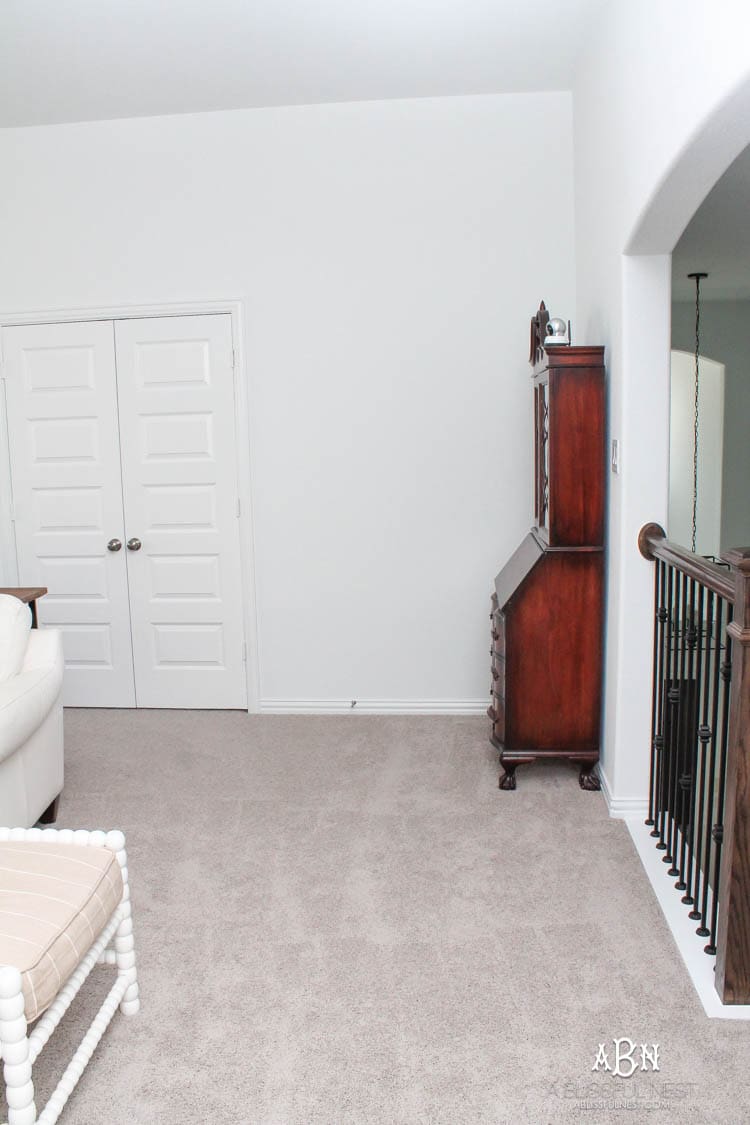 I selected this corner with this bookcase since it is tall and sturdy. I love that my VTech camera blends right into my decor inconspicuously. It is sleek and modern looking and I love that I hardly notice it.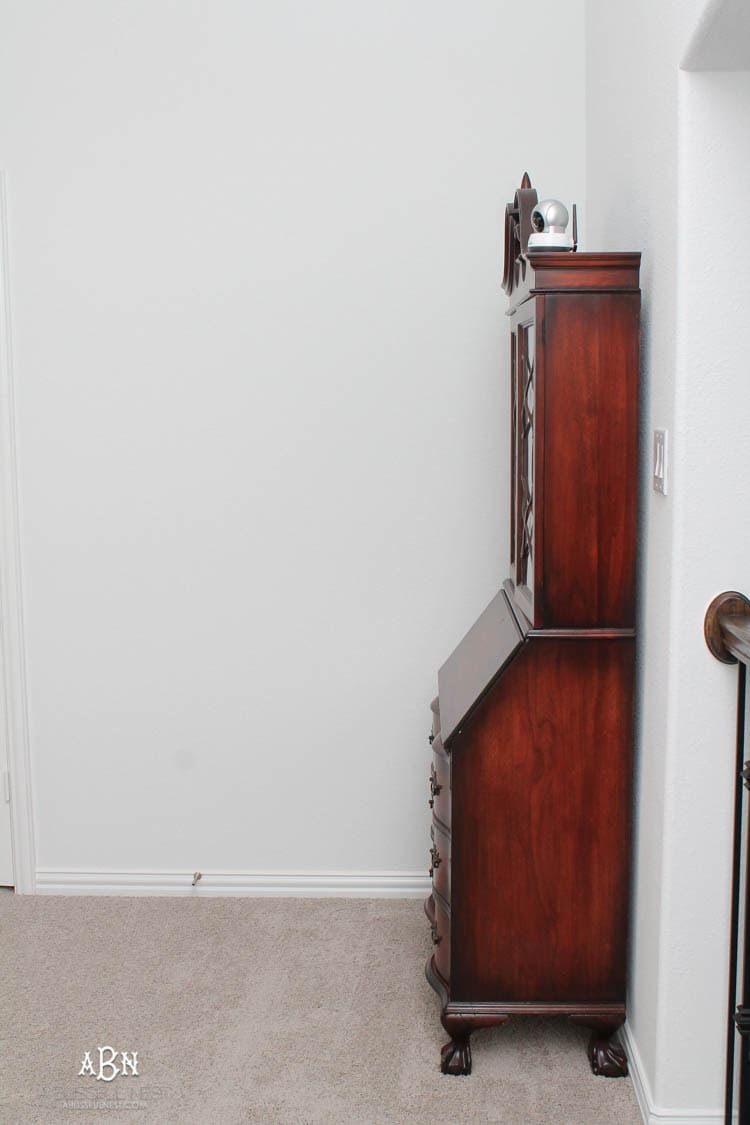 I am so addicted to some key features of this camera and the more I use it, the more I notice how it makes my job as a busy mom who works at home so much easier to keep tabs on what is going on in the house.
I am absolutely in love with the motion detecting feature. I can see when my little rascal Sasha is up to no good and playing on the stairs. She makes me so nervous when she does this and I love that I can sit at my desk and work and see that she is safe rather than checking up on her all the time.
I also don't know how I ever lived without the two-way intercom. I mean seriously this feature is just amazing. Especially now that we are in a two-story house, I have a hard time telling Lauren when she needs to come down for dinner or to go brush her teeth. This makes communicating with her so much easier and I am not yelling all the time. Not like she heard me anyways when I do. Kids!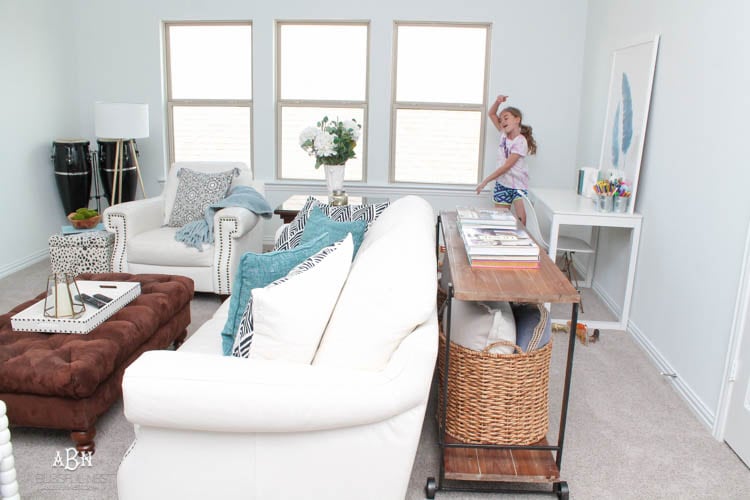 There are so many other features too that this camera does that I know you will love.
Some of my favorite features . . . .
super easy to set up and install
free live streaming
vibrant video even in direct sunlight
auto night vision
sleep mode
two-way, talk-back intercom
motion alerts
on-demand recording
extended-range Wi-Fi for better coverage
optional cloud recording subscription service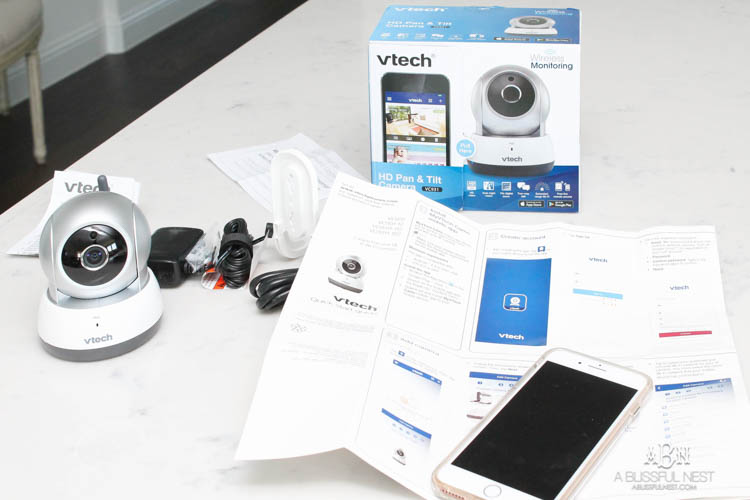 I absolutely love that this connects right into an app on my phone and I can access it at any time. It also has video recording features. I see this as handy when you are away on vacation to help monitor any activity. It just feels like it's an extra security measure when you are away.
I am thinking I might get one of these for the downstairs too. It is easy to add on additional cameras to your app. That way I can truly keep tabs on all main areas of my home right from my phone. The price point is so good that it makes sense to have more coverage in our home.
Friends, I truly love sharing things like this for your home that I know you all would love as much as me! This is such an important monitoring system to have for your home and I know your hubbys will love it too!
THIS IS A SPONSORED POST. A BLISSFUL NEST HAS RECEIVED PAYMENT, TRADE, AND/OR PRODUCTS FROM VTECH IN EXCHANGE FOR PROMOTING. HOWEVER, ALL OPINIONS STATED ARE OUR OWN.
This is a sponsored conversation written by me on behalf of Vtech. The opinions and text are all mine.