This post is sponsored by Albertsons, Market Street and Tom Thumb. Although I was compensated to write this post, all opinions are my own.
Today I have something super special to share with y'all! These gorgeous designer flowers by celebrity florist Debi Lilly! As you know, flowers play such a big part in making a house a home. They create a mood, they soften a space and bring life into a room. Now that I live in Texas, I'm all about convenience so I love to get my flowers at my local Albertsons, Tom Thumb or Market Street grocery store. I am typically one of those people that goes with what I am familiar with, so I use the same flower types over and over . . . hydrangeas, ranunculus, peonies, snapdragons. BUT now you and I have so many more options and I am dying to share this gem of information with you!
The other weekend I had the absolute pleasure of meeting celebrity florist Debi Lilly of debi lilly design™ (which, in Dallas, you can only buy at Albertsons, Tom Thumb and Market Street stores at the Dallas Bridal Show. She makes the most amazing floral arrangements and I love her whimsical touch to her creations. debi lilly design just launched a new wedding floral collection available exclusively in the Dallas area at Albertsons, Market Street and Tom Thumb in the Dallas area that is just stunning. BUT you don't need to be getting married to get some of these gorgeous creations for your home. These arrangements are full of beautiful variations and matches of flowers and greenery I typically would not put together for myself. Debi loves to add a greenery that has a fresh and captivating aroma like eucalyptus and geranium.

Debi also loves to use stems that can dry beautifully and be saved for future arrangements. I love that she puts so much thought and detail into the debi lilly design collection. This floral product line makes it so easy for you to have these beautiful florals in your very own home.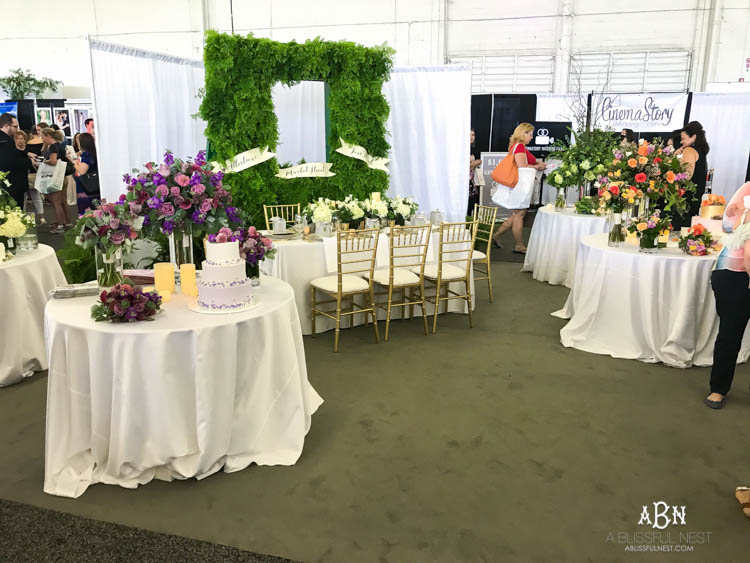 So, for all you brides on a budget, without further ado, let me introduce you to the 4 collections you can select from: the Lavender, Greenery, Wildflower and White collections! What's also great is that you can work with your local Albertsons, Tom Thumb or Market Street florist to customize these options to suit your needs and preferred style.
The New debi lilly design wedding Collection:
1. Lavender Collection:
Rich in purples, blushes and green tones, I see this as a great transitional collection from season to season.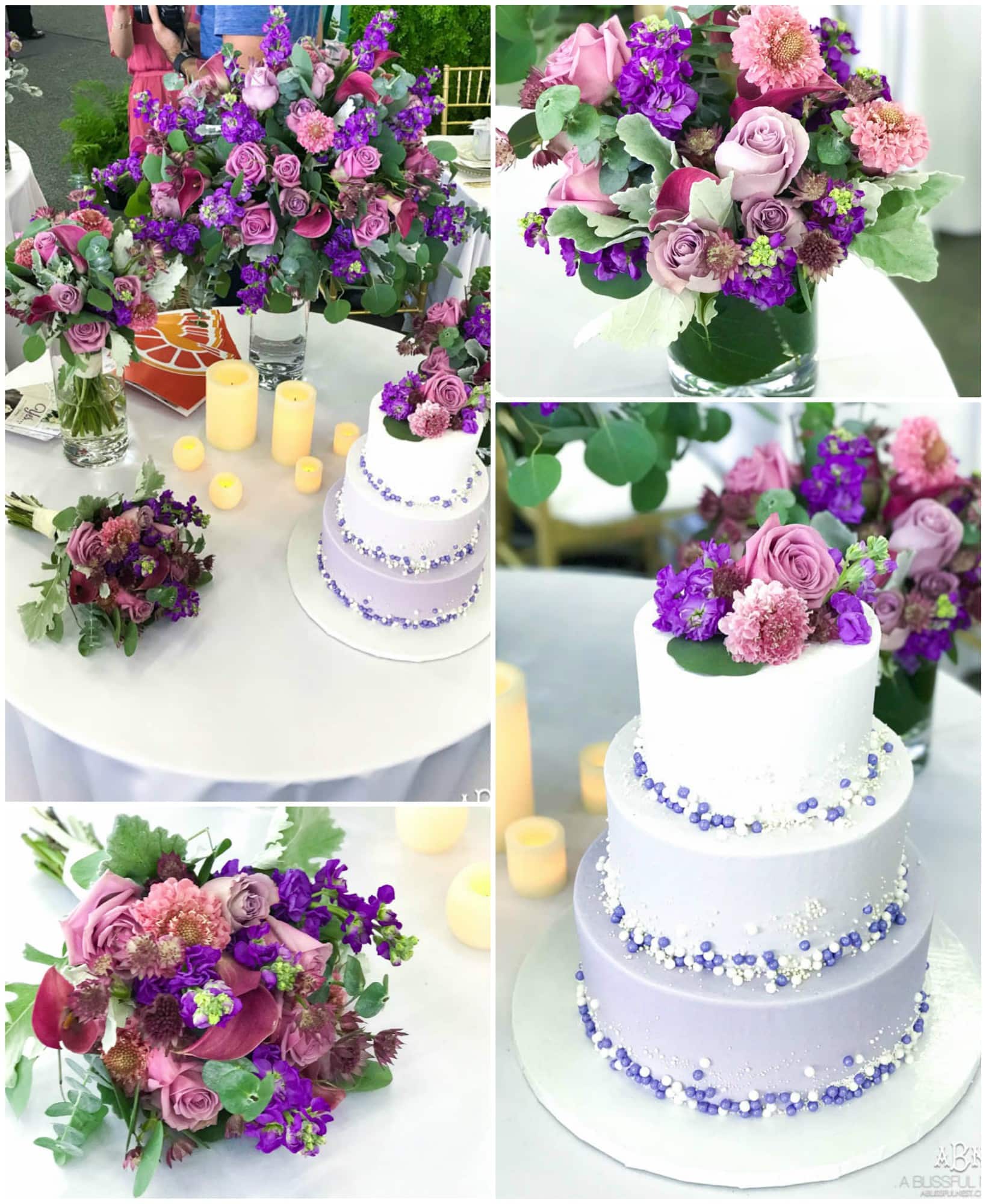 2. Greenery Collection
Based off of Pantone's color of the year, this collection is right on target with current fashion/home trends. I love this grassy green pop for a room especially if you are not comfortable incorporating it in larger home decor pieces.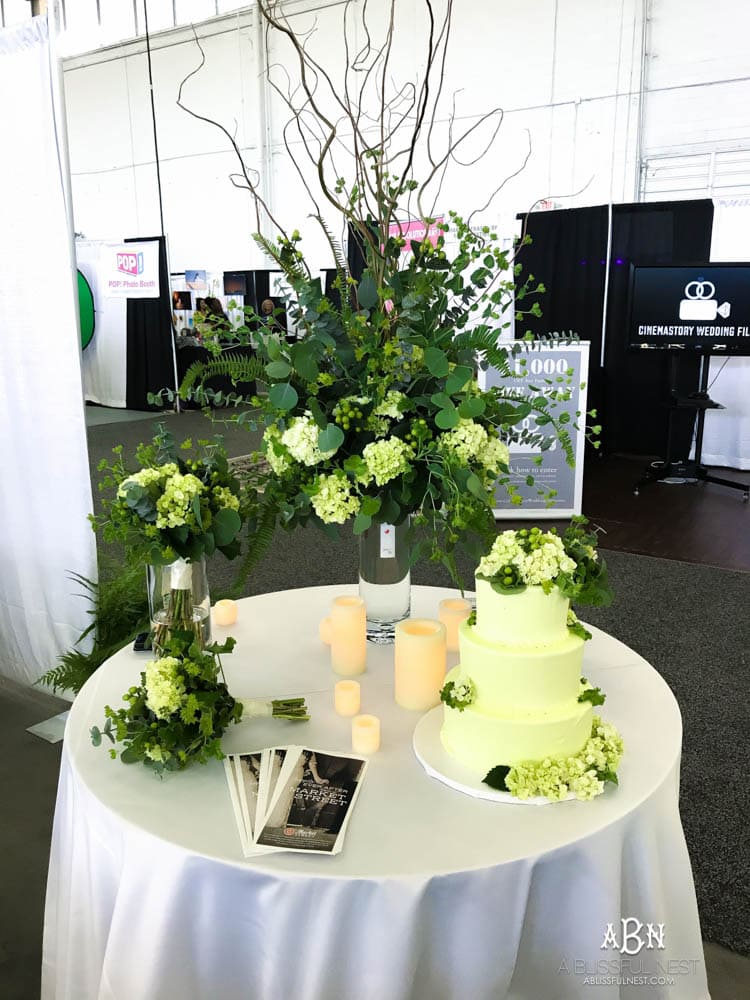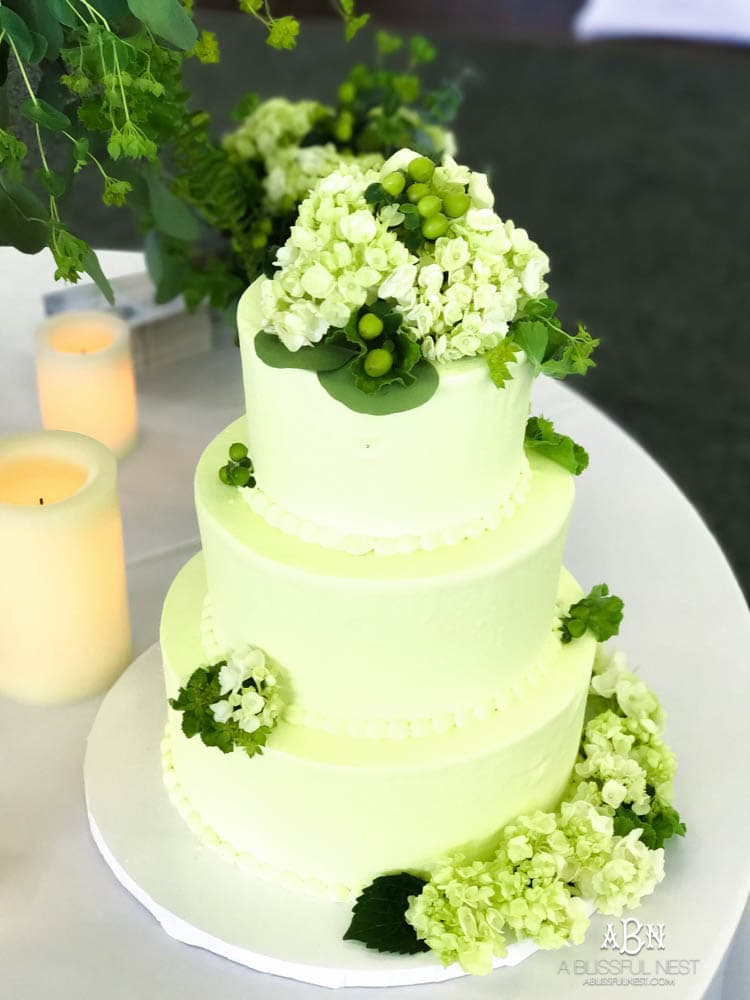 3. Wildflower Collection
I have to tell you I am absolutely in love with this collection! Its vibrant autumn color palette is so perfect for moving into the fall. This would be stunning for a Thanksgiving table or as a welcoming bouquet in a guest bedroom, don't you think?!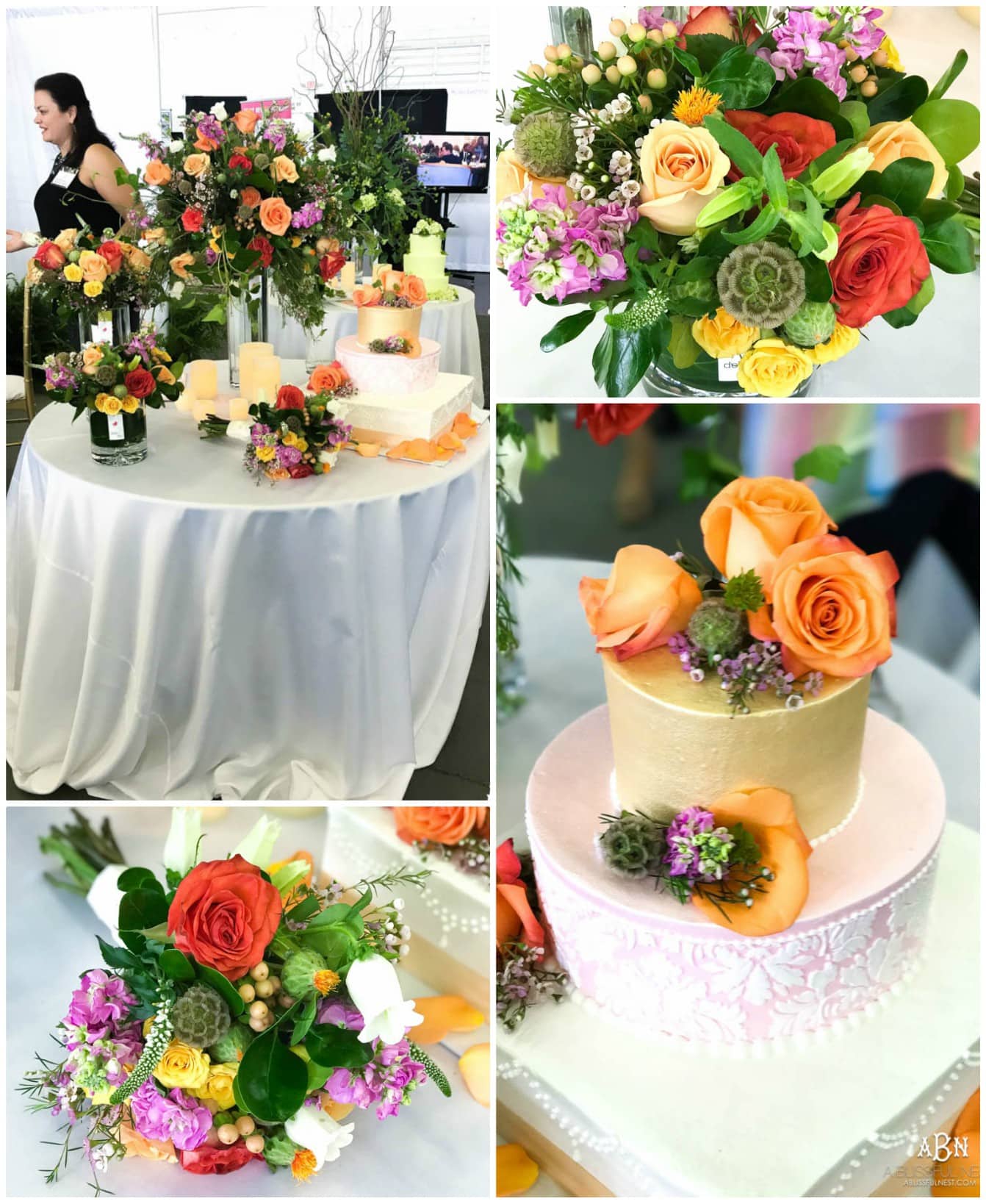 4. White Collection
This collection would be my ultimate go-to floral arrangement that goes with everything. Hydrangeas are one of my favorite flowers and I love the elegant and timeless look of this collection.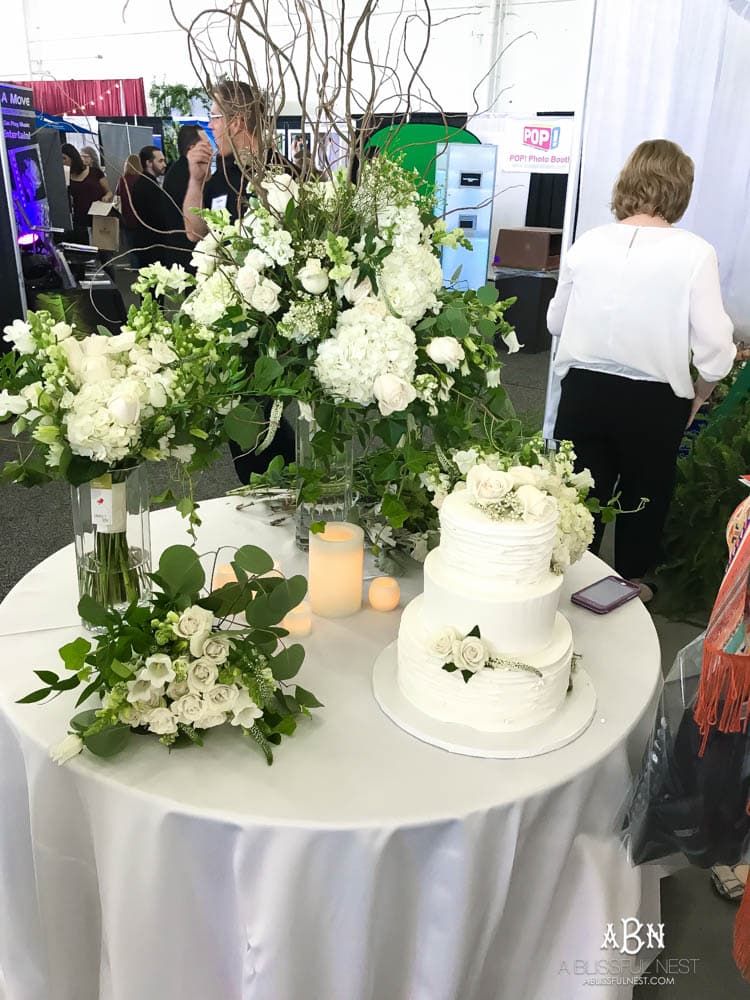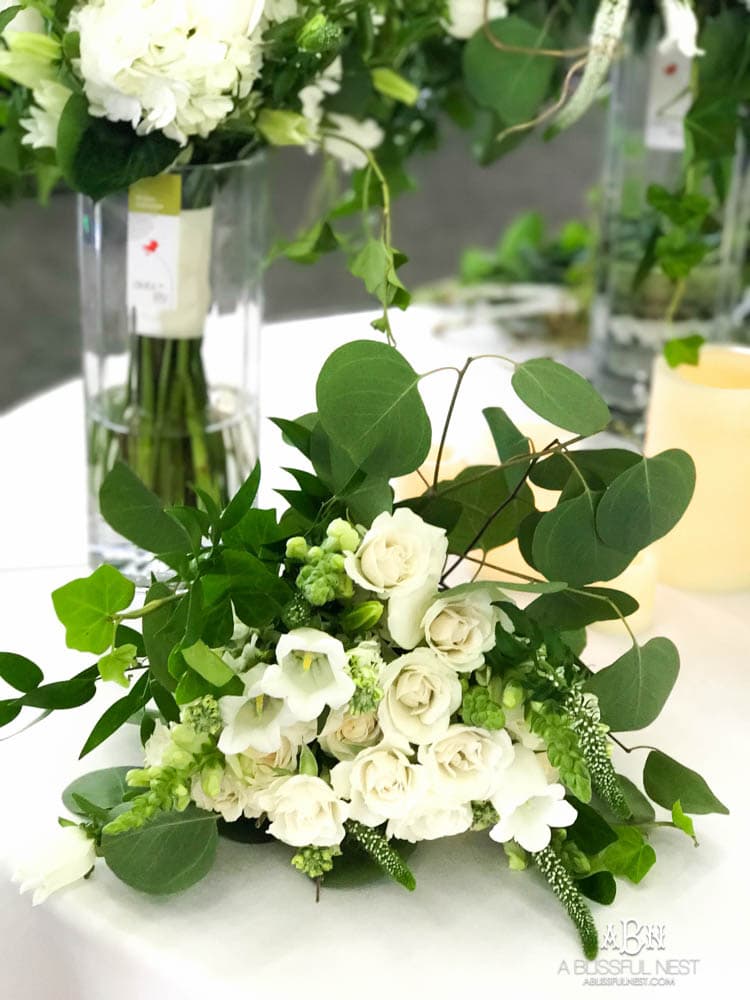 One of my favorite things I got to do with Debi was have a one-on-one session on how to arrange my bouquet once I get it home. Did you know you can do the same thing with a florist at your local Alberstons, Tom Thumb and Market Street store using florals from the debi lilly design collection?! I really love that you can get this designer experience right at your back door.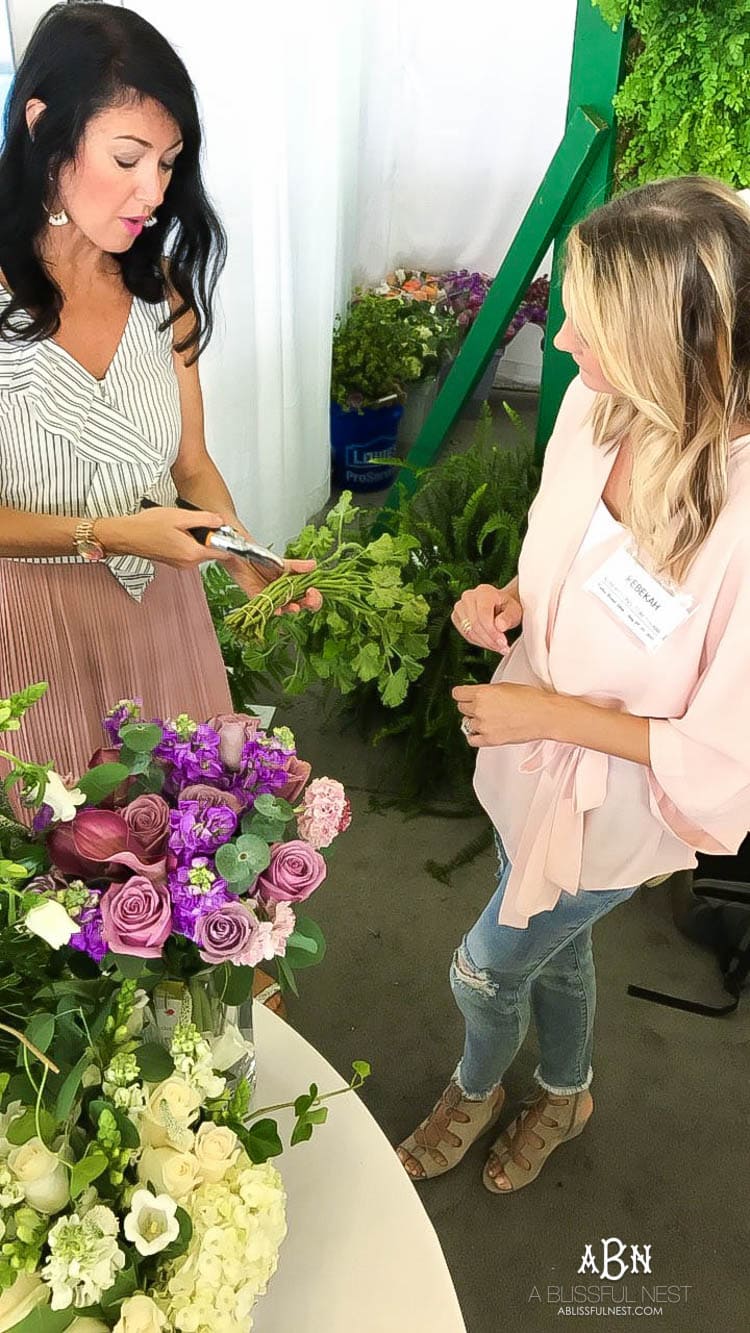 So here are Debi's top tips for arranging your bouquet:
Buy your debi lilly design flowers in the Dallas area exclusively at your local Albertsons, Tom Thumb or Market Street and bring them home.
Cut your flowers low around the neck of your vase
Fill with natural greenery elements like these geranium leaves
Create a cuff around the neck of the vase with the greenery
Have fun with the arrangement and place greenery stems within the center for a whimsical look
Cut stems and add fresh water every day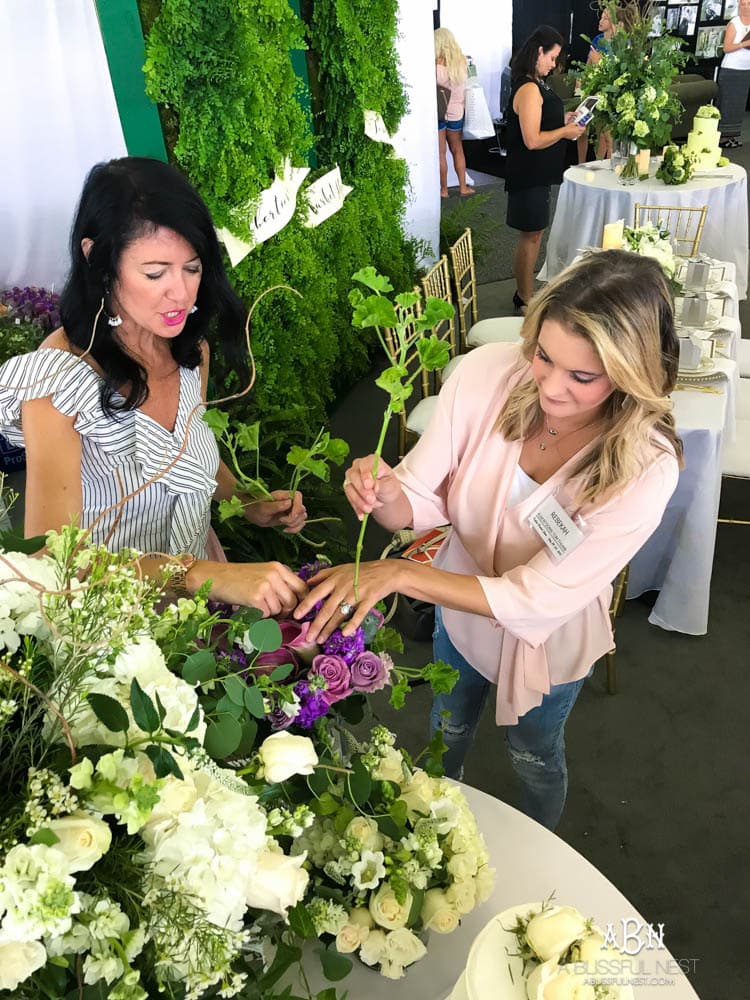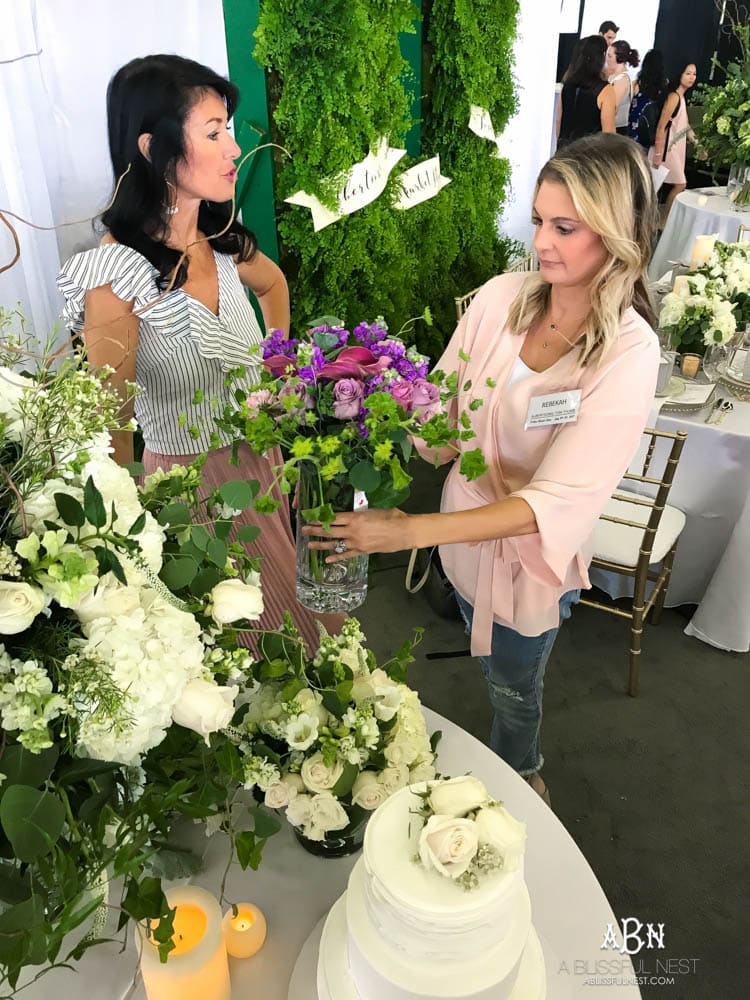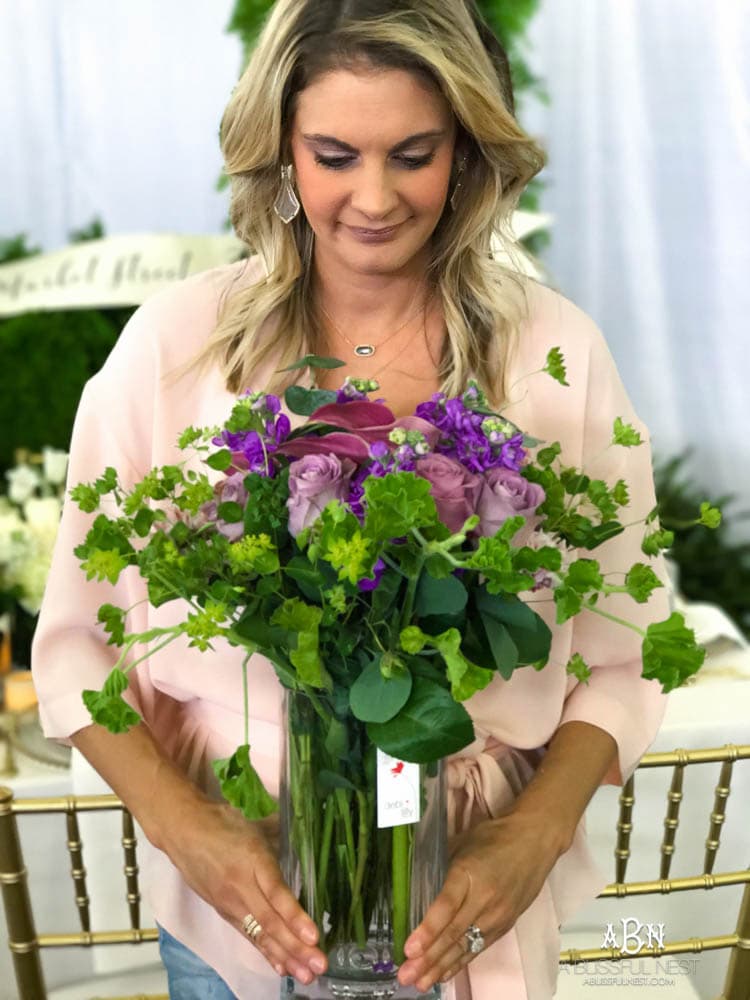 I absolutely adore this lady and the debi lilly design collection and I am so glad I got this precious time with her. I love that these collections can be used for home decor and are exquisite for weddings.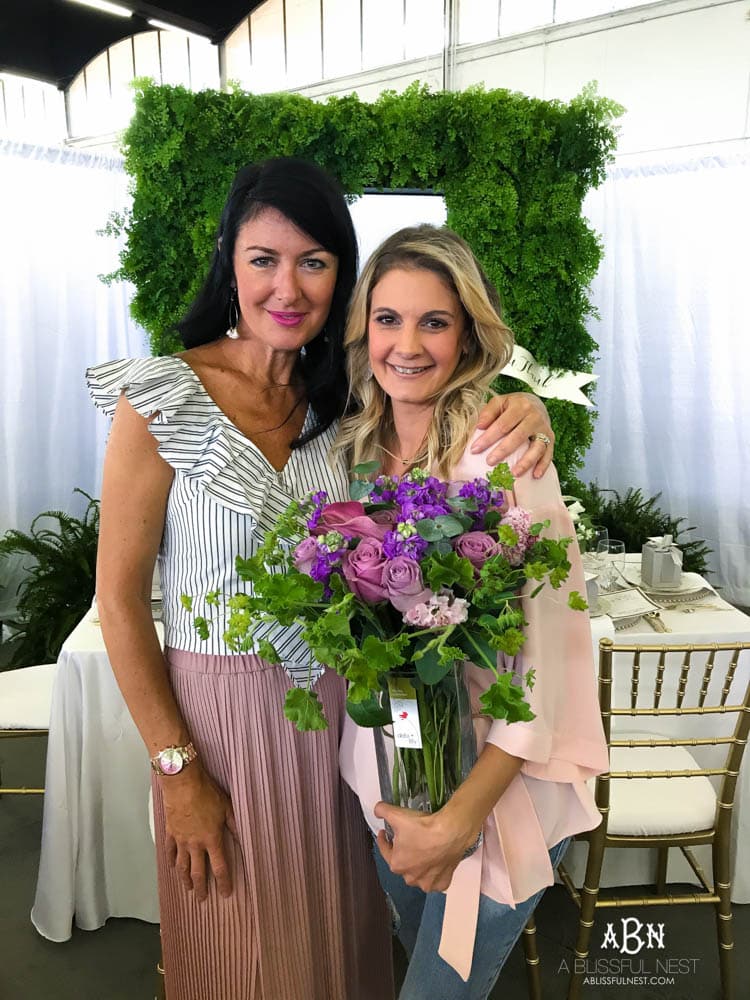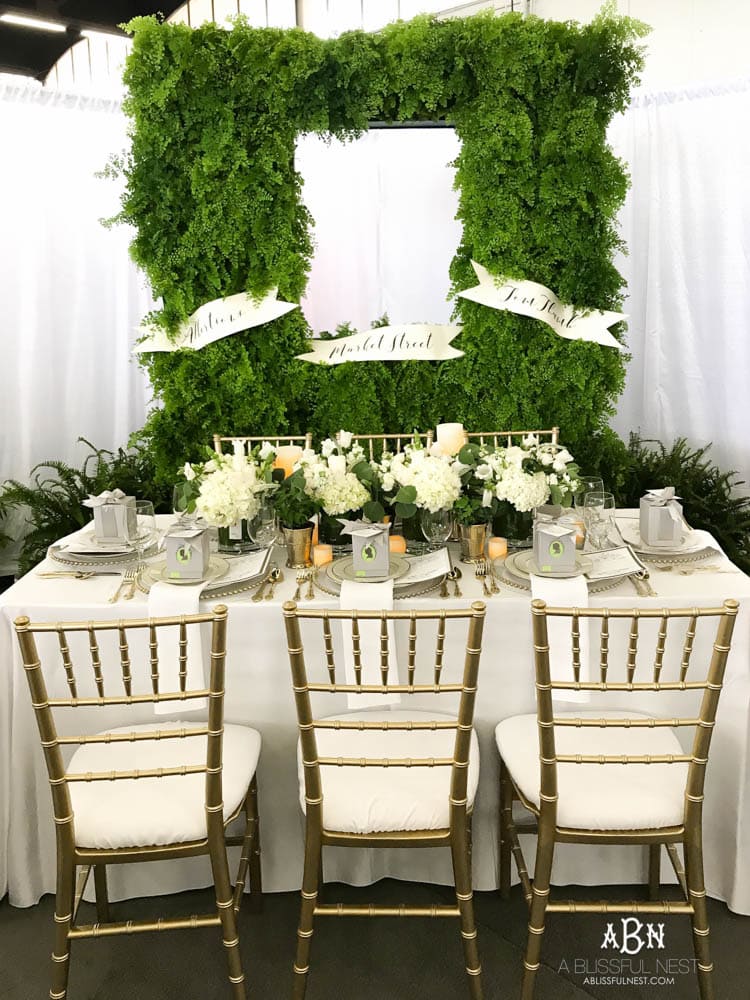 Also available are these darling favors with the yummiest soy candles. Don't you see that these are perfect for maybe Christmas gifts, too?!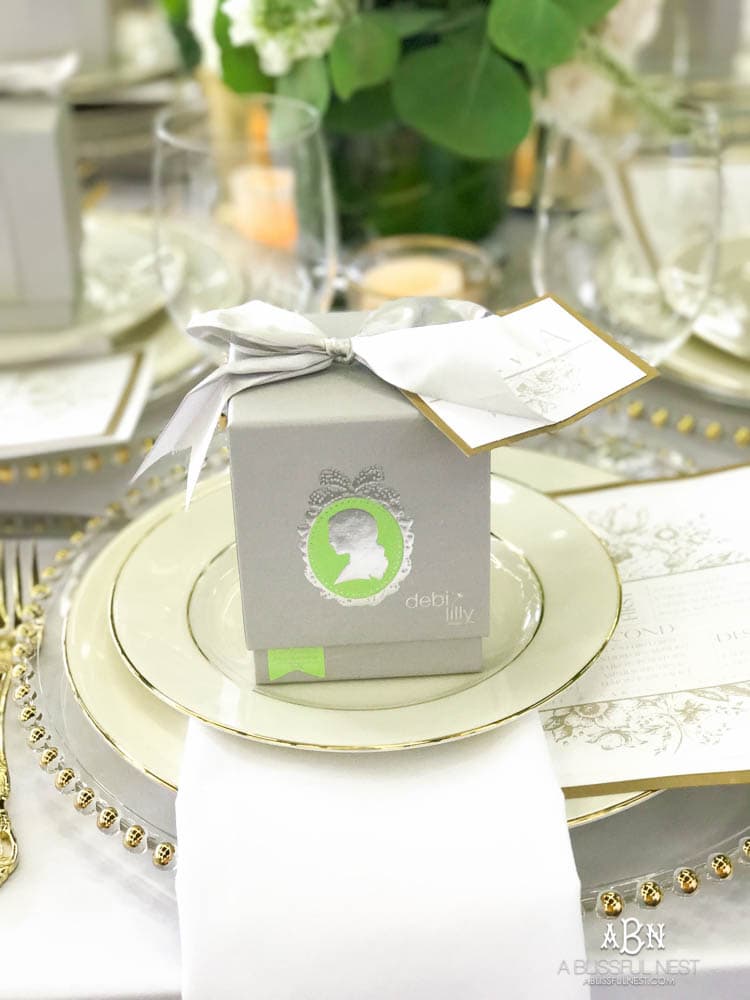 I brought my arrangement home and put it in our living room. Center stage of course so we could all enjoy it. I love how it just freshens the space up.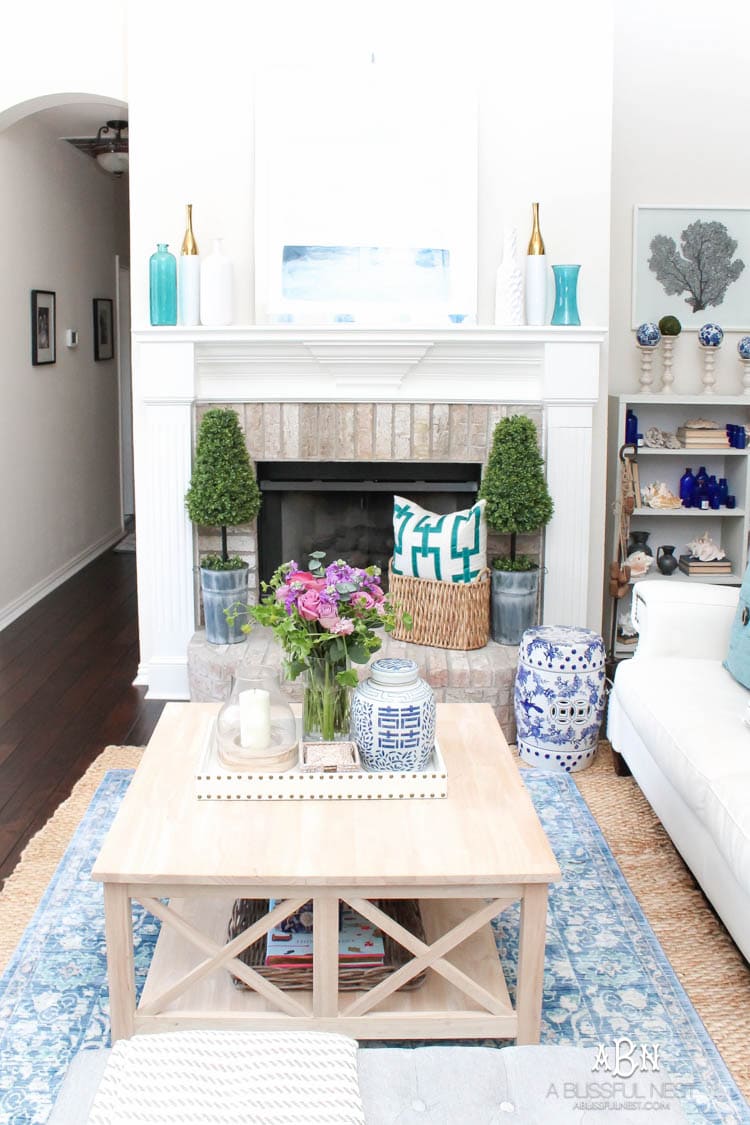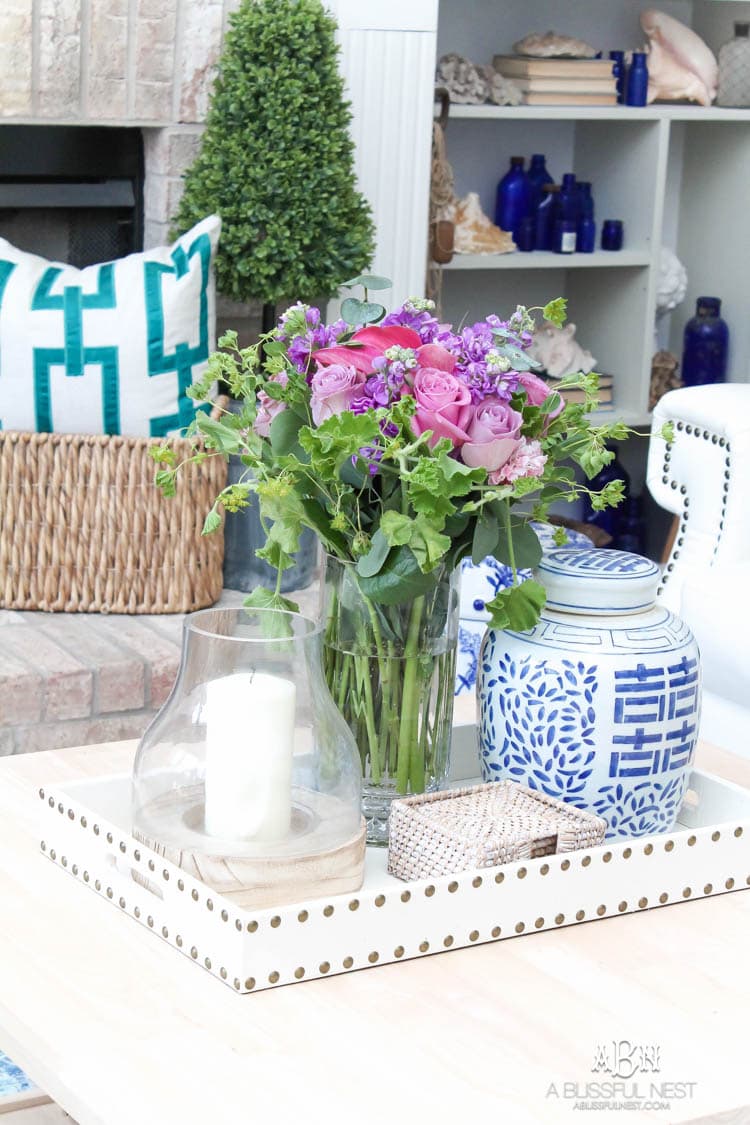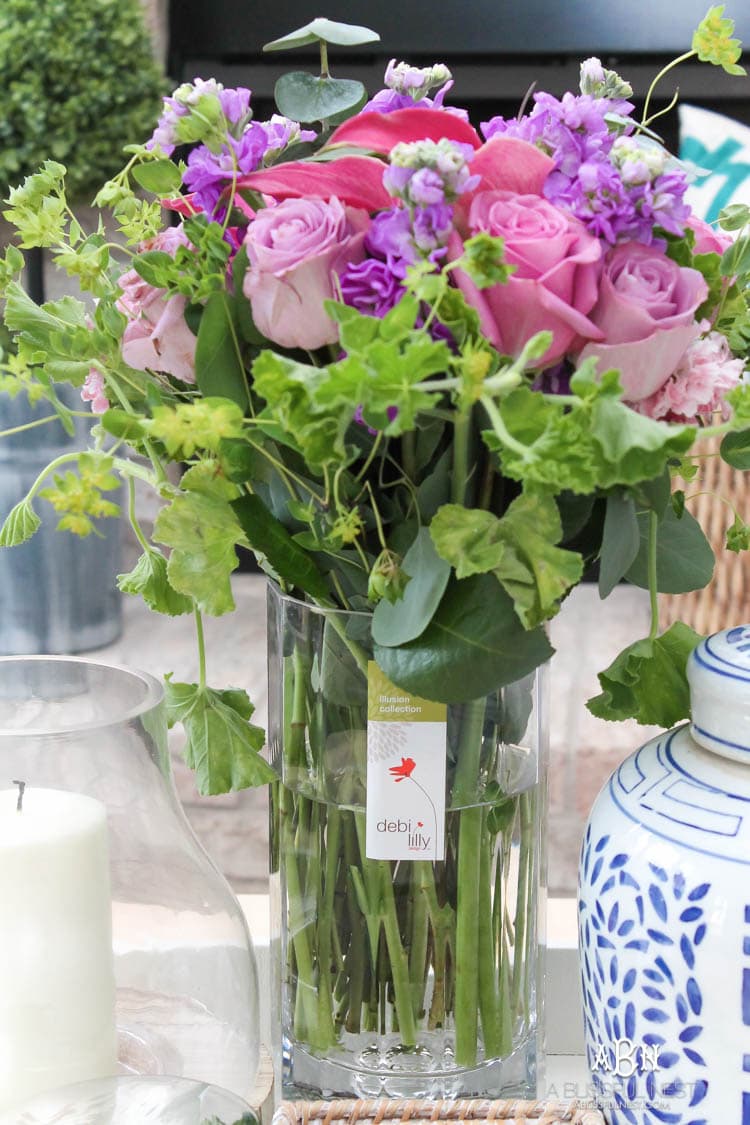 Oh and these debi lilly design clings are fabulous! They peel right off and you can re-stick them later if you are gifting your arrangement to a friend or as a hostess gift.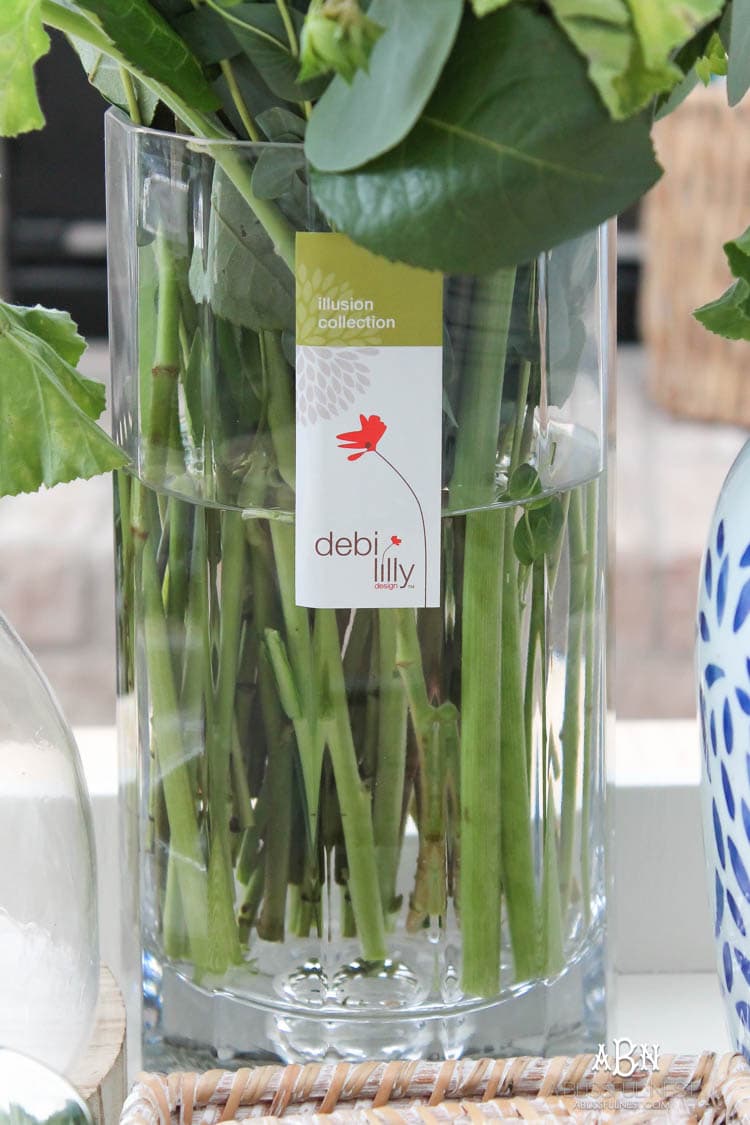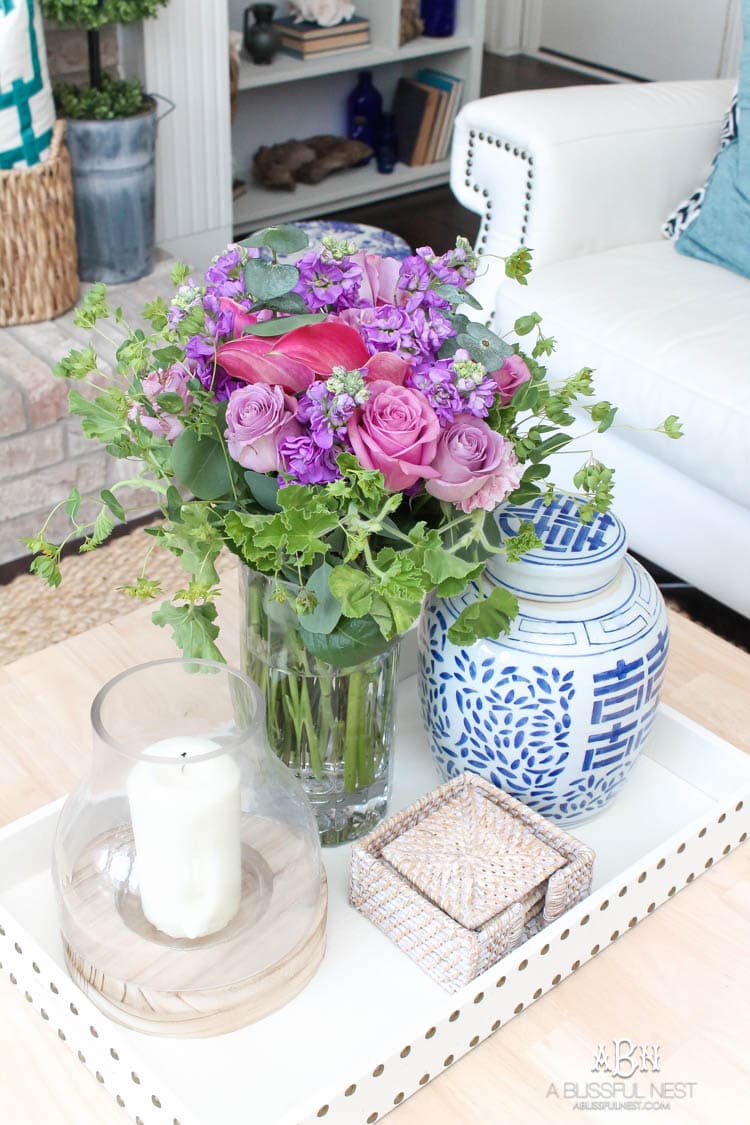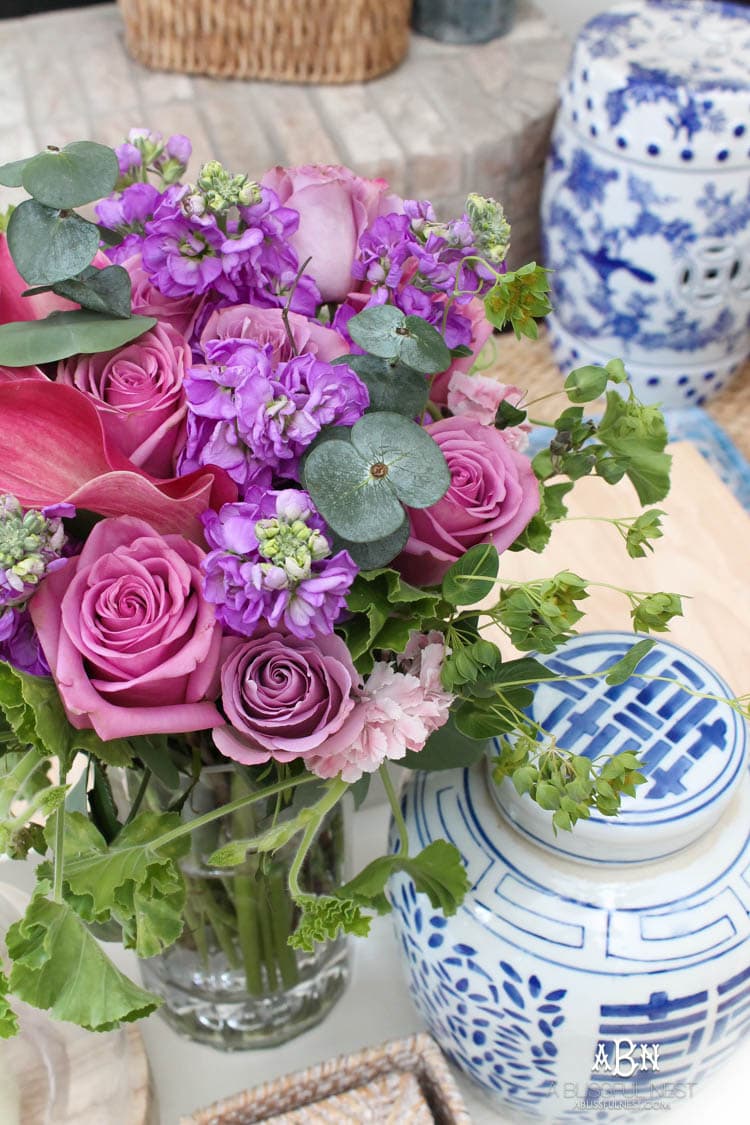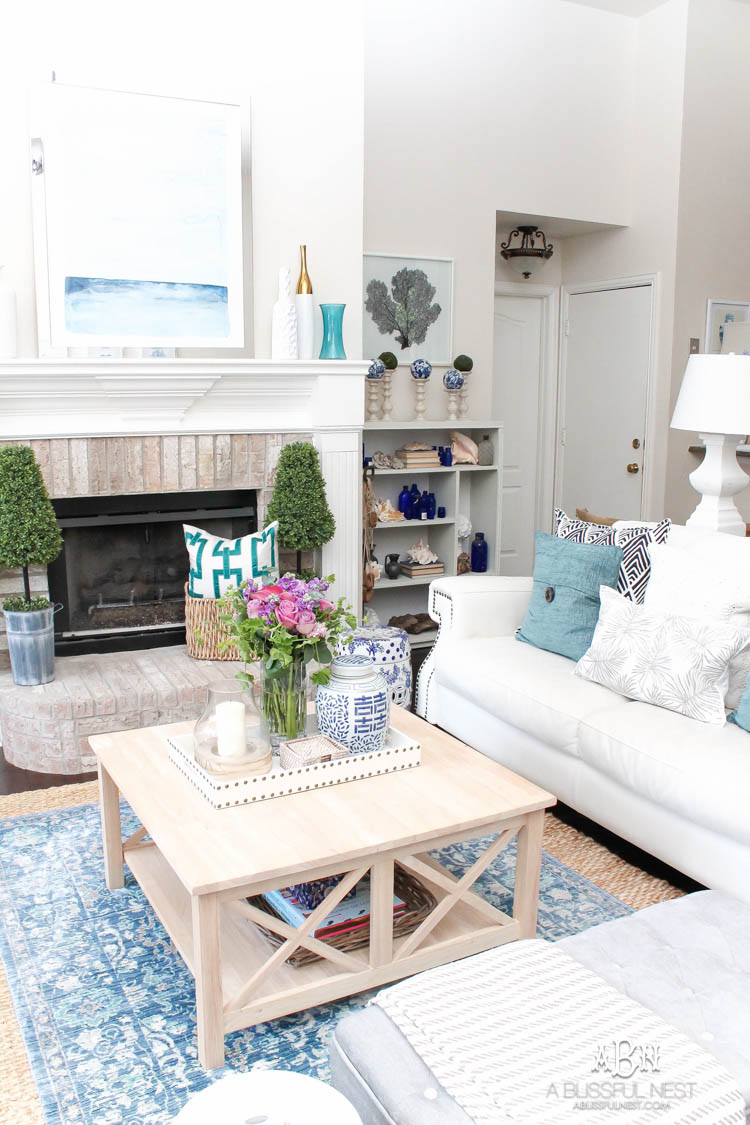 I love that I can find these beautiful collections at my local store without breaking the bank. Friends, these are amazing and I cannot wait for you to go check them out in person!
I can find debi lilly design florals and decor at my local Albertsons, Market Street or Tom Thumb, and you can find yours at any of the Albertsons Companies family of stores, including Safeway, ACME Markets, Jewel-Osco, Vons, Pavilions, Randalls, , Shaw's, Star Market, United Supermarkets, , Albertsons Market and Carrs/Safeway.
. Leave me a comment and let me know which arrangement is your favorite!
THIS IS A SPONSORED POST. A BLISSFUL NEST HAS RECEIVED PAYMENT, TRADE, AND/OR PRODUCTS FROM ALBERSTONS COMPANIES IN EXCHANGE FOR PROMOTING. HOWEVER, ALL OPINIONS STATED ARE OUR OWN.