Hey there! My name is Ariel and I'm the voice behind PMQ for two – I'm all about bright, bold, colorful and eclectic home decor & DIYs. Bold color? Pattern play like you've never seen before? Yup, that's me! You can view my Christmas house tour // here // my Christmas dinner tablescape // here // and my 6 tips for hosting a rocking Christmas party // here //. Today I have a holiday project that you are going to love!
Although my projects are usually choc-a-bloc full of colours and patterns, the mood struck me to create a more paired-down project with this chinoiserie Christmas putz-style house. If you're like me, you've got a collection of ginger jars and chinoiseries vases somewhere. For the holidays, you can create your own little Christmas house to place amongst them.
DIY Chinoiserie Christmas House Tutorial:
Materials:
Instructions:
Step 1: Prep and paint your house. I painted mine white, but you could easily go for a creme colour or a contrasting blue, and then do the next steps using white.
Step 2: Once the house is dry, using your Primary Blue, start painting vines all around the house and roof. Use swooping and curving motions, much like ivy climbing up a house.
Step 3: Once your vines are placed you add the leaves. These are much simpler to create than they look. You're essentially doing 4-5 small brushstrokes, one on top of another until it looks like a small feather.
P.S. if you like my painted project, you'll like these! // here // and // here // and // here //
Step 4: Step 3 can take a while, so I like to alternate in doing little dots in clusters around the vines. It helps break-up the monotony of the leaves, while adding another visual element in a complex pattern.
Step 5: When the first coat of steps 3 and 4 are complete, it should look like this.
Step 6: For added dimension and depth to the brushstrokes, using your second blue (Blue Harbour) and a finer-tip brush, go over parts of the leaves and vines to help create contour and shadows.
Step 7: Once the house and its layers of blue are dry, time to add the Snow-Tex! I used my fingers to apply it, and pasted it onto the peaks of the roof and the gables, much like where snow would end up after a fresh dusting.
It takes a few hours to dry, so this is usually the last step before I take a break.
Step 8: Using a hot glue gun, apply your wreaths inside the gables.
Step 9: BONUS – If you've got it, using your liquid gold, gild the inside of the windows and doorways. You can even contour the base of the house. It all looks a little more fancy this way.
Once the house was complete I styled it on the shelf in my family room on our newly completed Renter Friendly Built-ins which you can see // here //
Thanks for stopping by! I hope you'll click over to my site PMQ for two to see what I'm up to, and get your color fix! Don't forget to follow me on Instagram // here //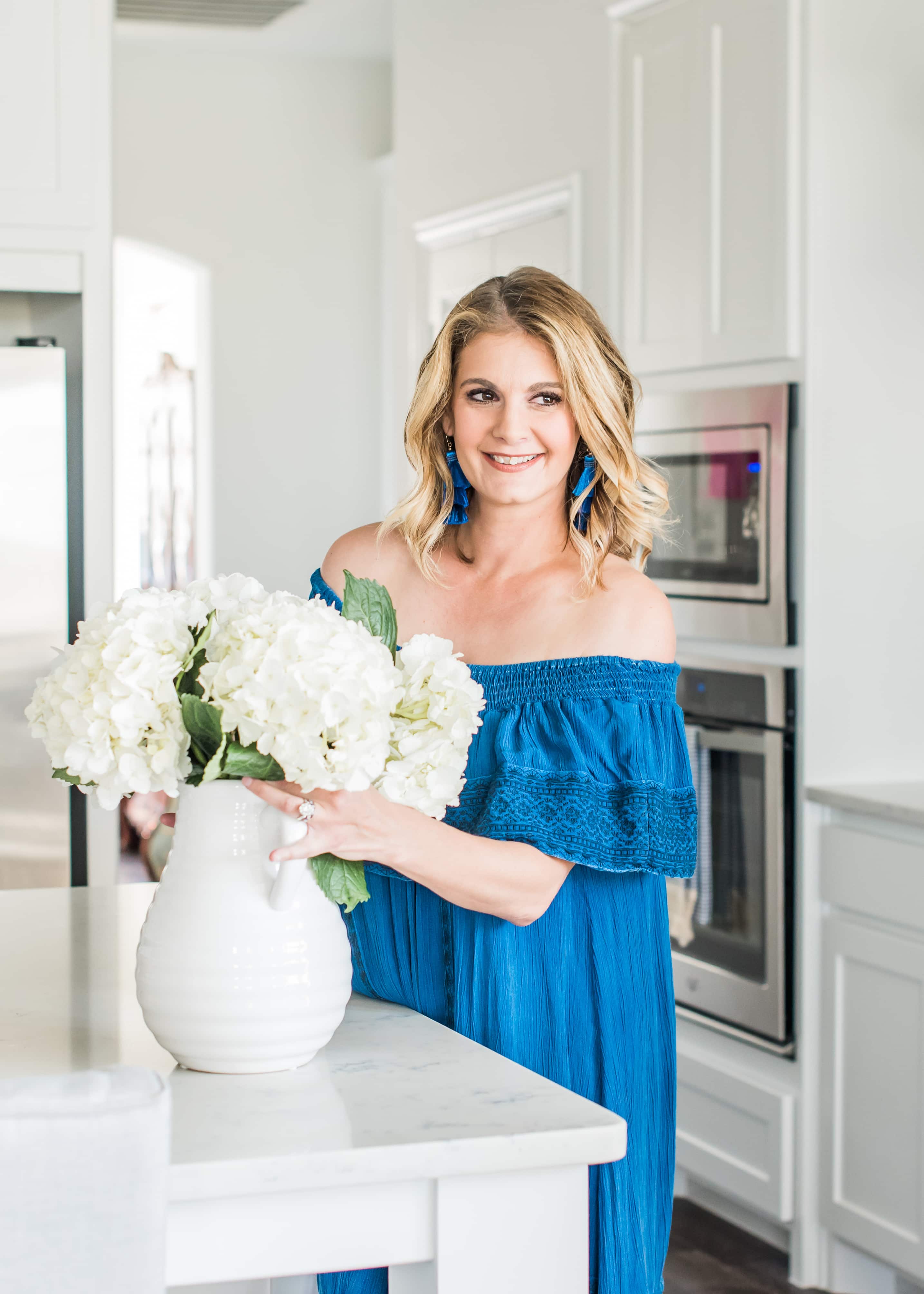 Rebekah Dempsey is the Creative Director, Stylist and Editor of A Blissful Nest. A site about everything for the home from stylish entertaining to fresh interiors. She has been in the interior design field for 15 years and loves to share tips, tricks and how to live a stylish and blissful life.