It is time for another holiday project. Today a DIY foraged wreath tutorial!
Hi friends! I'm Yuni and I blog over at Love Your Abode where I share my passion in creating a home with purpose. I love DIY and believe that creating a beautiful home doesn't have to cost you an arm and a leg. As the holidays are quickly upon us, I wanted to share a simple, inexpensive way to spruce up your home. Honestly, this DIY is super cheap! Like $2 cheap!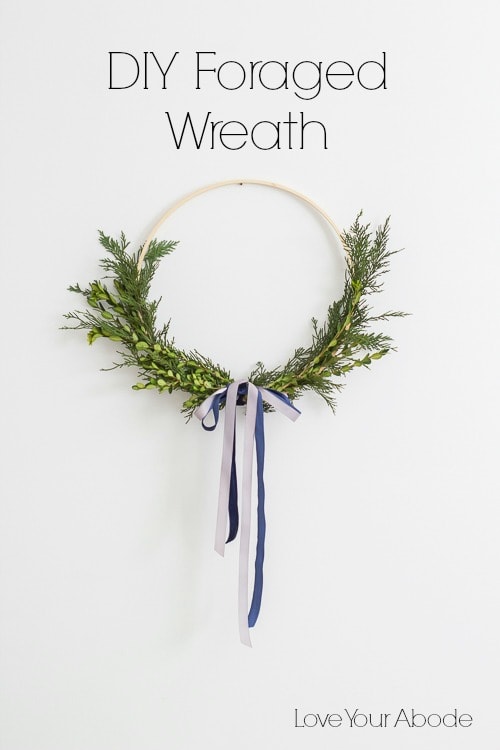 Everyone who comes in my home will notice I really like wreaths. They are above my mantle, door, kitchen windows and even the microwave. Yup, I'm pretty much labeled the crazy wreath lady. Hey, there are worse things to be called! I think they add the perfect amount of greenery and farmhouse touch to my home. Today's wreath is a bit more minimal and modern but I really love the simple aesthetic look it achieves. I'm planning on making a few of these and putting them in my guest room. Would you like to create your own? It's really easy!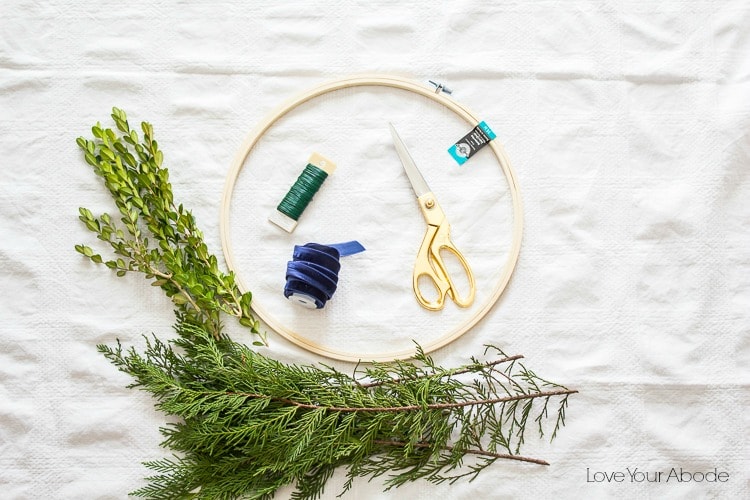 DIY Foraged Wreath Tutorial:
Materials Needed:
embroidery hoop (I used a 14 inch)
foraged greenery
ribbon
florist wire
scissors
I bought my embroidery hoop at Michaels with a coupon and it was less than $2. The great thing is it makes two wreaths because there are two wooden hoops. I already had floral wire but it's also available at any craft store. I loved the natural look of the wooden embroidery hoop so I left mine alone but I could see so many possibilities if you wanted to paint over it. I'm thinking white, gold or even black would look amazing. I recommend going outside and seeing what types of greenery you can forage in your own yard. If you're like me, you'll walk across the street to your sister-in-law's yard because she has better trees and plants than you do. My SIL, Linda, has these beautiful trees that stay green all year long and I used a bunch of those clippings for my home to make garlands. You can see them in my recent holiday home tour from last week. She also has these row of boxwood bushes in her yard that I also clipped. Don't worry, I only snipped the straggly ones that were there. I tell her I'm helping her by trimming and cleaning up her shrubbery. It's a win-win situation in my book. If you can't find decent clippings outside, you can always use faux stems from the craft store or even fresh eucalyptus branches which dry beautifully.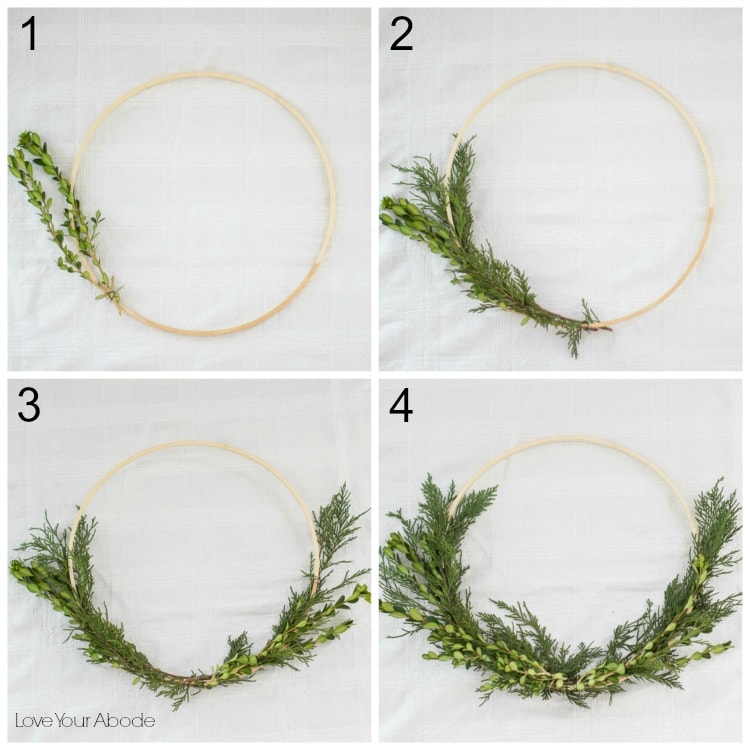 Directions:
Loosen your embroidery hoop by twisting the metal cap. The two hoops will easily separate and come apart. You only need one per wreath. If you make a wreath with the hoop containing the metal cap, no worries. You can either cover it with your ribbon at the end or with your clippings. Now, take your branch, twig or clipping and start by laying it against the front of the embroidery hoop. I decided to place the end in the center and go out to the left. I wanted the branches to go outwards starting from the center. Cut a piece of floral wire and wrap around the branch so that it attaches to the hoop. You may need to do this in a couple of places so that it stays secure.
Do the same thing on the same side but with another piece of greenery. I secured it with some more floral wire to make sure it didn't shift.
Repeat steps 1 and 2 on the opposite side.
Take a look at the wreath and fill it more if you like it fluffier or leave it alone depending on the look you're aiming for. Clean up and trim the edges of the branches where it's crazy and sticking out. Add a simple bow in the middle where the branches meet to hide all of the ends and floral wire. I went with a navy and gray combo ribbon because they complement each other beautifully and still achieve a simple look. I used the same ribbons to adorn my gifts and foyer garland.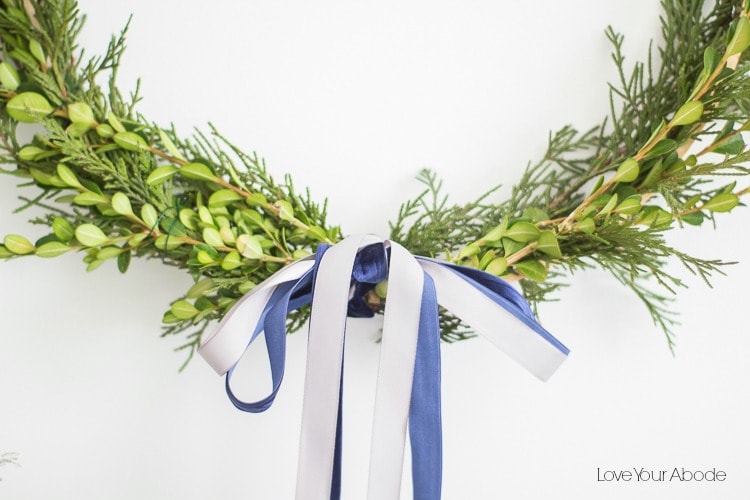 I love the simplicity!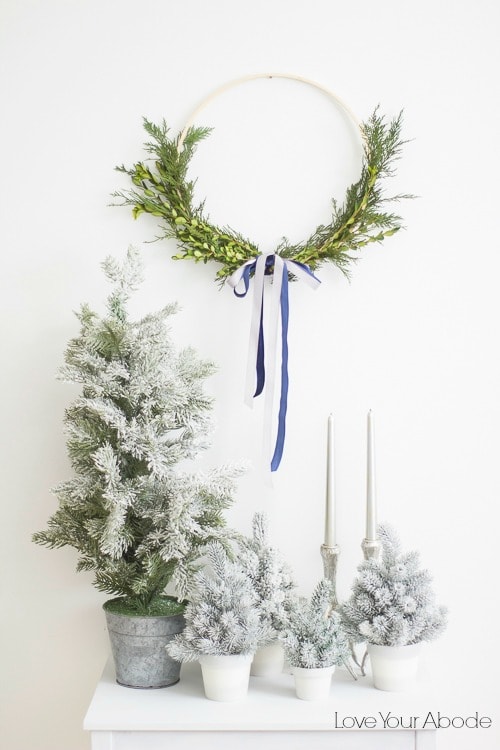 Hang up your new and beautiful wreath and admire how cheap it was to actually put it together.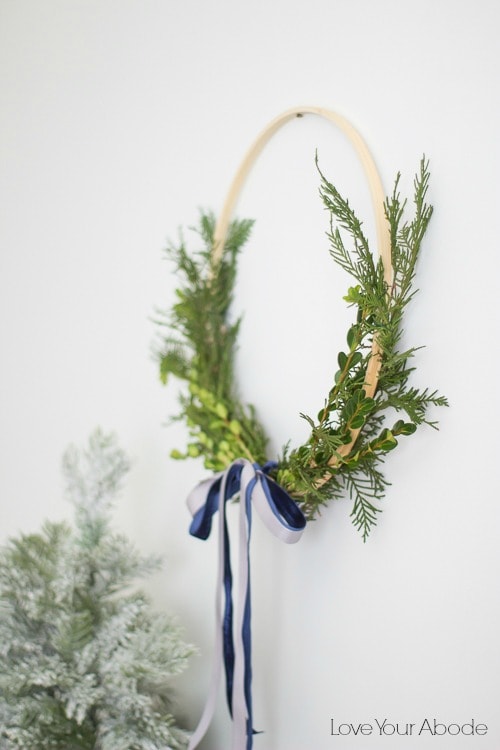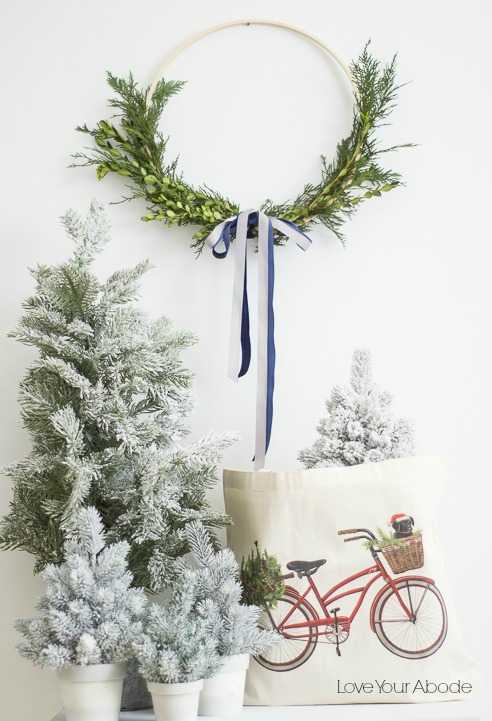 Thanks for reading and if you make one, I would love to see it. Share a photo of it and be sure to tag me on Facebook or Instagram so I can see it! Thanks for reading and hope you have a blessed holiday season!