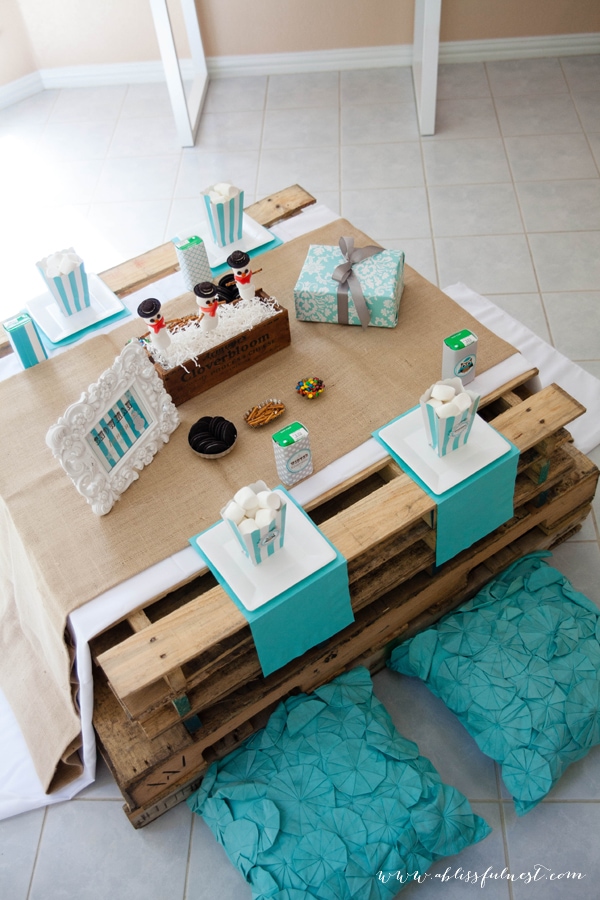 At this time of year, there's nothing keeps the spirit of the season going like a party. Typical holiday parties are filled with appetizers, music and mingling. But why should adults have all the fun? We hosted a kid's get-together for my daughter and a few of her closest friends and they had a blast!
Now there are tons of awesome kid's winter party ideas. From holiday themes to skiing and sledding. All parties need two things: treats and activities. This ensures every attendee has a great time and leaves with a little something sweet and special to take home (if these yummy treats make it that far).
One of our party crafts from our Winter Wonderland party was to make these darling Snowman Marshmallow Pops. They are so easy and the kids have so much fun making them and eating along the way!
These snowman pops are a great dessert and could even be put out as a holiday decoration or a cake topper. Kids enjoyed adding the chocolate and candy decorations–they're easy for kids of almost any age to create. Younger kids may need some help from mom or dad, but even if your snowman isn't symmetrical or perfect, it only adds to the charm.
One other thing I love about these sweet little snowmen, is that even if kids enjoy them right away, they aren't a huge sugar-bomb (like cake or other candy). They're sweet and light. Kids will love them, and you might want to make a few for yourself as well.
To make and display our cute snowmen, we created a little "Snowman Landing" area to our pallet table. We created and added in some cute paper decorations to match our party theme. We added small bowls filled with candies and frosting for decorating. All the supplies needed were right at the kids' finger tips. These are such a simple winter craft that they don't require a lot of setup or cleanup either. We used styrofoam plates as "workstations" for kids to frost their new "friends" (and to keep the rest of the table mess-free).
With some marshmallows, Oreos, pretzels, frosting and candy, you'll have your own frosty friend (with no melting)! These sweet treats are a great addition to every holiday party!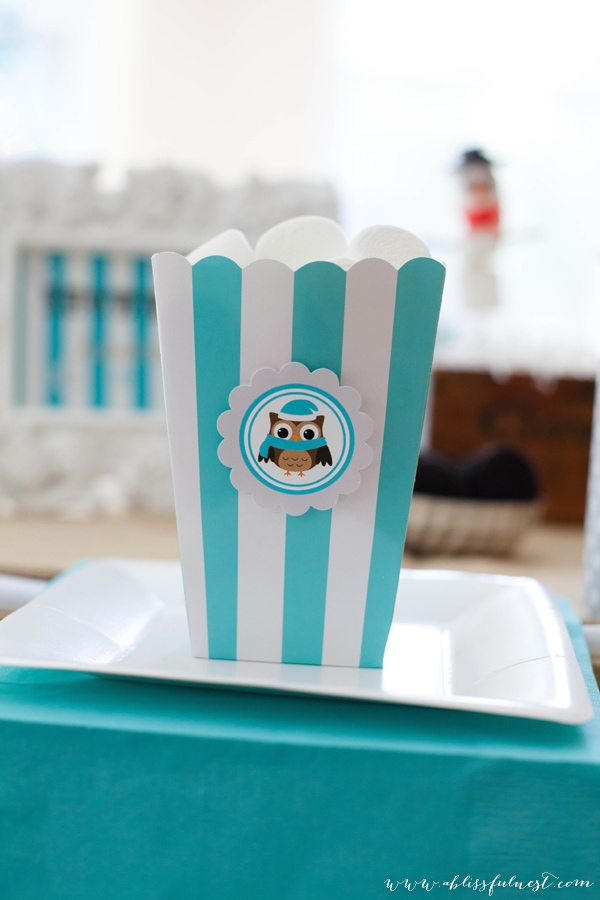 DIY Snowmen Marshmallow Pops Tutorial – Six Easy Steps!
Materials Needed:
marshmallows
frosting
mini oreo cookies
oreo cookies
mini m&m's
fruit roll-ups
pretzel sticks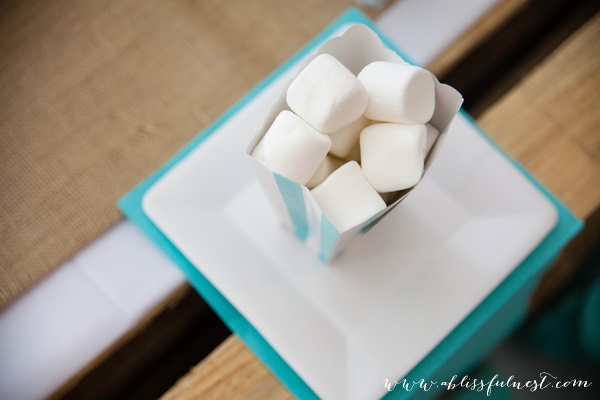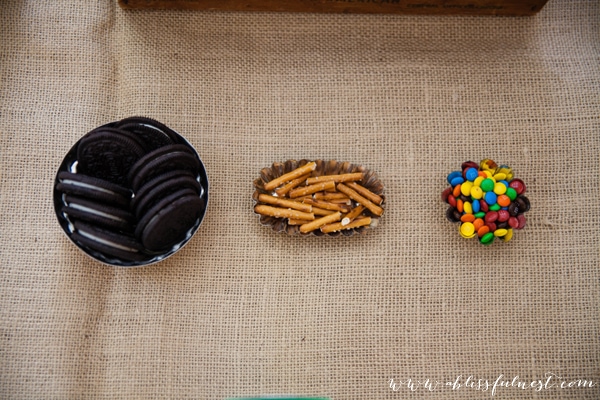 Directions:
Step 1: Make the Snowman's Body
Using your lollipop stick, skewer 3 jumbo marshmallows on top of each other to form the body of your snowman.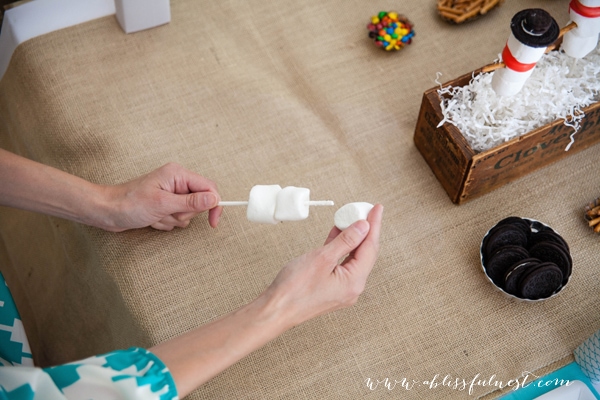 Step 2: Add Arms for Your Snowman
Use pretzels sticks and stick them into the middle marshmallow creating two arms for your snowman pop.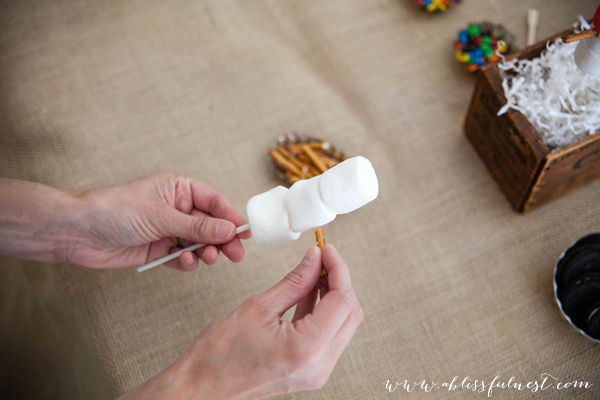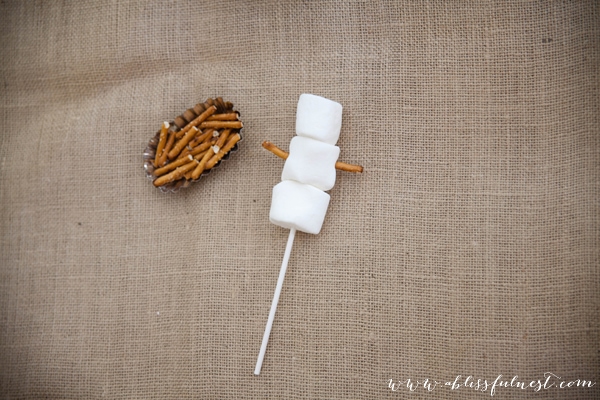 Step 3: Give Your Snowman a Face
Using a pretzel stick or toothpick, dab a little frosting on to an M&M or other small chocolate candy, and stick to the top marshmallow, creating two eyes and a nose.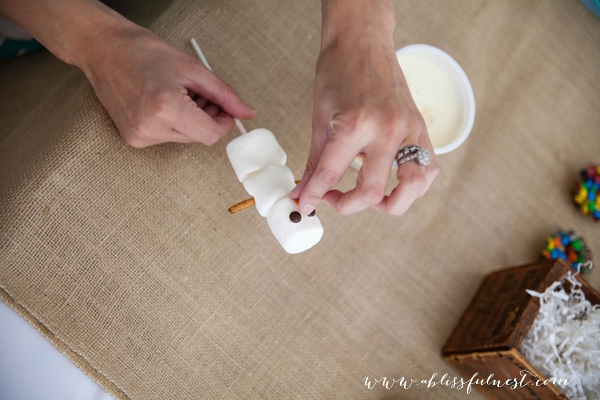 Step 4: Top Off Your Snowman with a Hat
Break apart an Oreo and use the cookie half with no filling on it. Spread icing on the bottom and place on the top marshmallow (your snowman's head), creating the bottom, or brim of his hat. Do the same with the mini Oreo and create the top of his hat.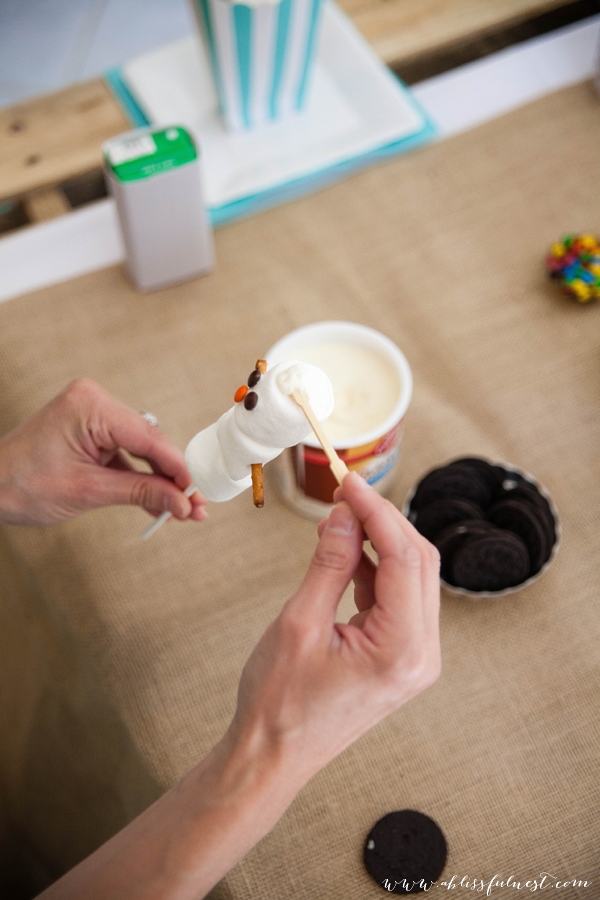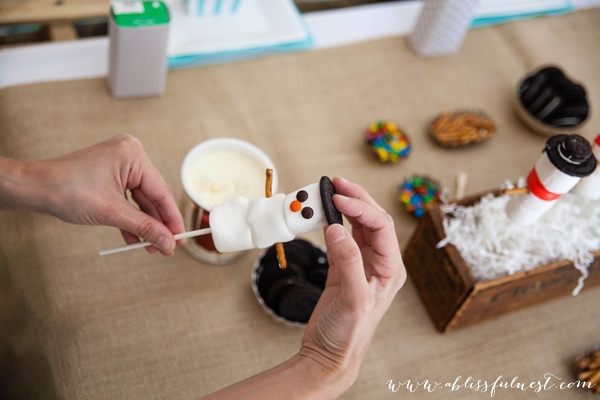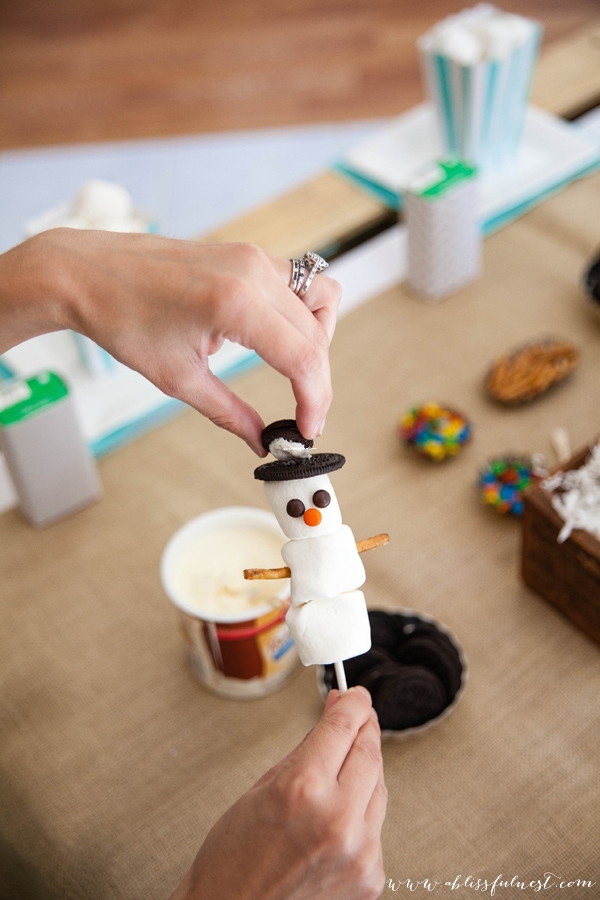 Step 5: Keep Your Frosty Friend "Warm" with a Scarf
Slice the fruit roll-up into strips. Wrap a strip around the top marshmallow to create the scarf for your snowman's neck. Criss-cross the ends of the scarf and push to stick the pieces of fruit roll-up together.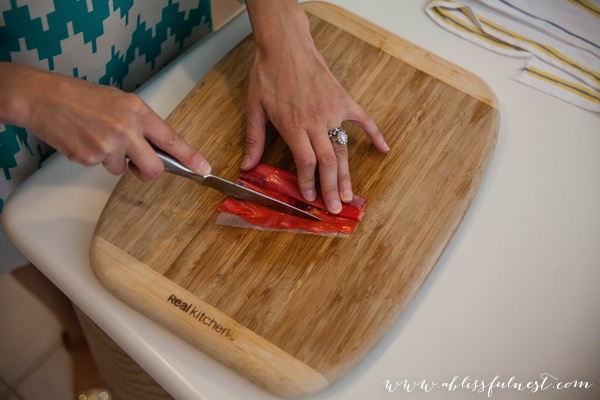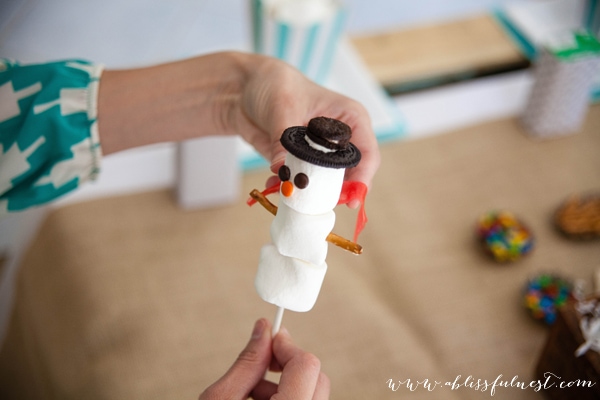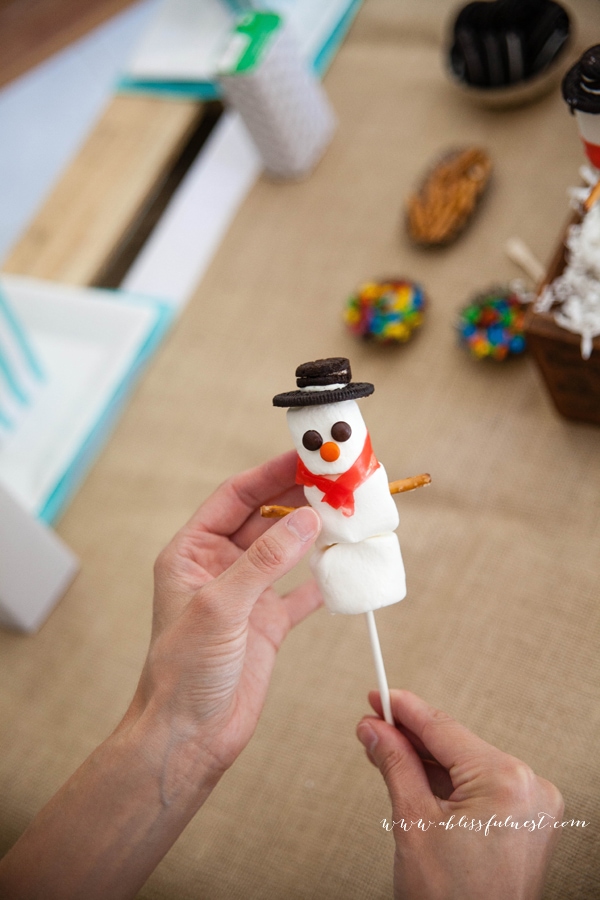 Step 6: Frosty's Ready for Fun
Once your snowman is complete, you can stick your marshmallow men in a decorative container for some festive edible décor. (No worries about this snowman melting!). These cute snowmen are tough to resist though, so you may want to make more than one!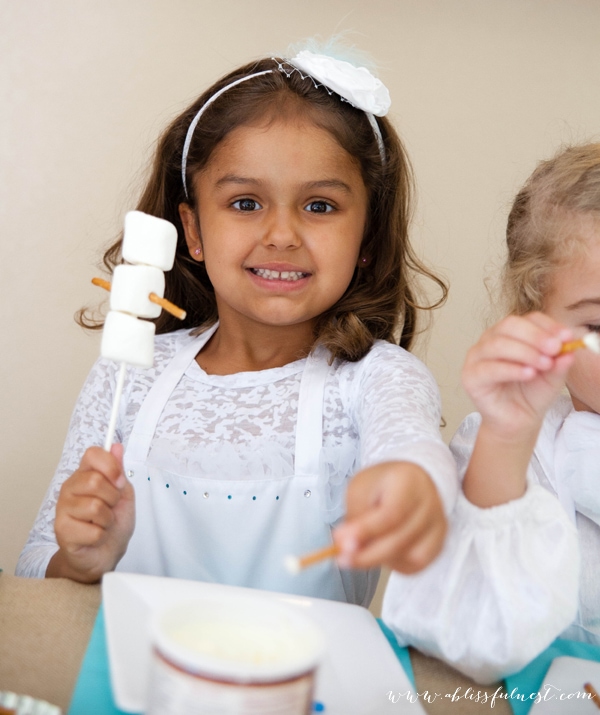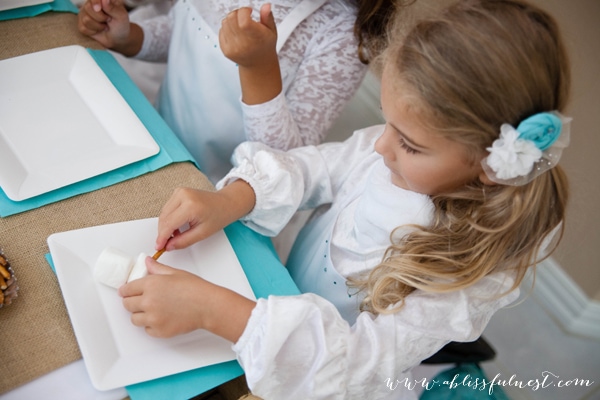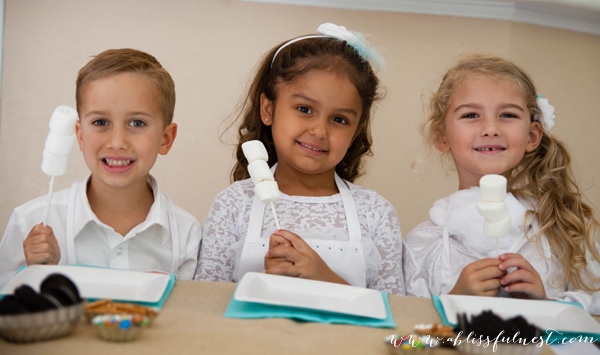 You can use small cake boxes or bags to transport your Snowmen home. With the lollipop sticks you could also add these snowmen to cupcakes or set them up in a mug or cup. The sticks work well in Styrofoam blocks (if you want to create a whole scene of Frosty the Snowmen).
Kids can get creative with this project too. Try adding other candies and accessories for your snowman. These winter treats would make perfect inhabitants for a gingerbread house or holiday candy land as well!
Snowmen are cute options for your neighborhood cookie or treat exchange as well. Look for the medium-to-large cellophane lollipop bags, tie them around your snowman with a bow. They're ready to give as treats, favors or gifts for your next holiday get-together (adults enjoy these snowmen too)!
At our party, the kids had a great time making their little snowmen. They were delicious and adorable. In fact, I'm not sure that any of them actually made it into the box for taking home later! Everyone was all smiles while showing off their special new creations. If you have a winter party, don't forget to add snowman pops to the menu!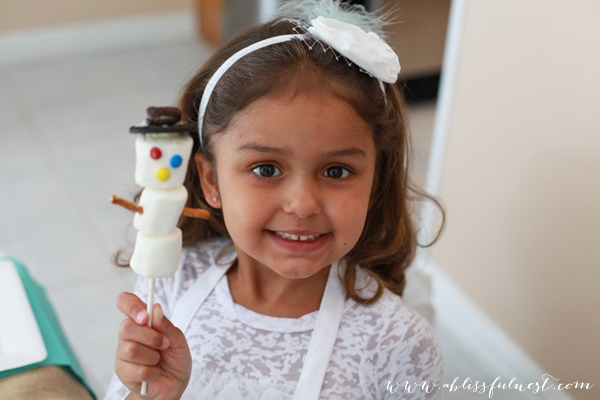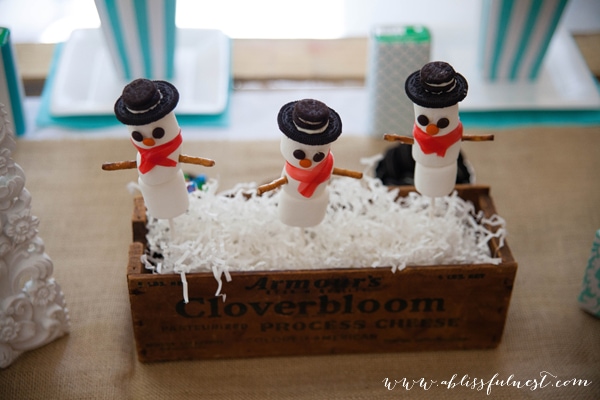 If you missed our big party reveal earlier in the week, please visit our post HERE.
And don't miss the details of our yummy dessert table HERE!