Hello Friends! I'm Sandy from Whimsical Blue Living where I document the process of restoring our gorgeous 1927 stone house into the castle of our dreams. Life has been busy at The Castle recently as we have been working on several big home improvement projects. I have some exciting room reveals coming up that I can't wait to share with you! I'm here at A Blissful Nest today to share one of my favorite crock pot dinner recipes. I absolutely love making meals in my slow cooker. Life is so busy right now with our restoration projects that I need simple healthy dinner ideas. When the weather is chilly out it is wonderful to enjoy a warm hearty bowl of soup. Making Taco Soup in the slow cooker is incredibly easy and it tastes amazing! It is so nice to be able to mix all of the ingredients together and toss them in the crock pot in the morning and magically dinner is ready in the evening!
Crock Pot Chicken Taco Soup Recipe: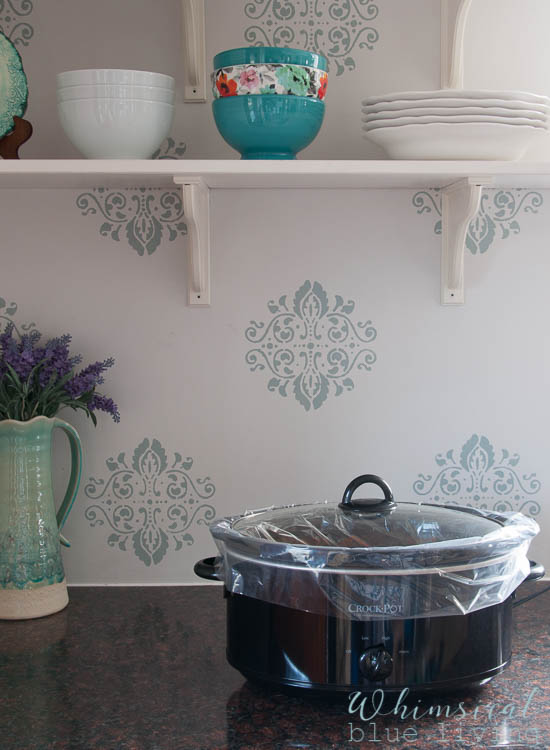 This meal is one of my favorites because it is so easy to make, it tastes delicious, and it's healthy. My kids even cheer when I tell them we're having Taco Soup for dinner! It's a family favorite at our house. This meal is perfect for family dinners, to take to a party or pot luck, and even to freeze for later. The recipe makes a large amount of soup and we usually have enough for leftovers a second night. Two nights of not "cooking" in a week is a win for me!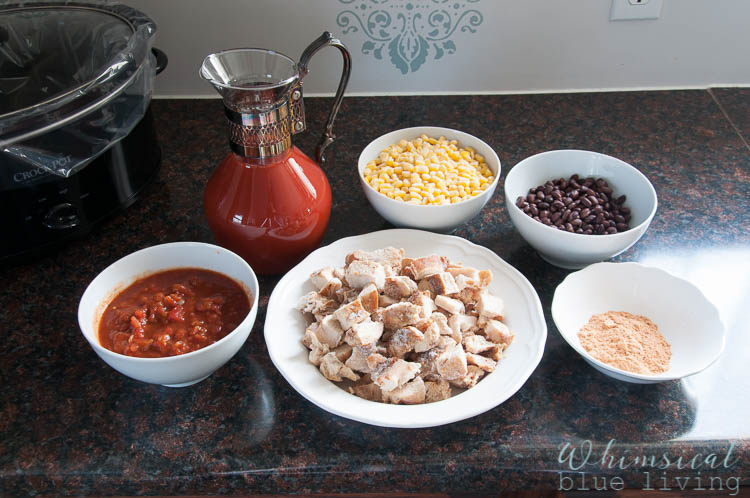 The reason that this meal is my go-to recipe for the busiest days is because it requires less than five minutes of prep time. I'm totally serious! It's so convenient. I always keep these ingredients on hand so I can toss this meal together quickly when life gets crazy. Here is all you need to make a delicious and healthy Taco Soup: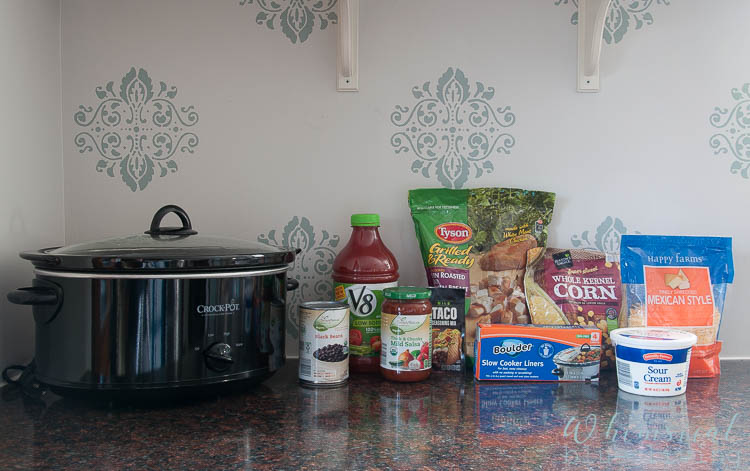 Ingredients:
Bag of frozen fully cooked chicken diced
Package of taco seasoning
Package of frozen corn
(16oz) Jar of salsa
Can of black beans drained and rinsed
Low sodium V8 juice (46 fl.oz.)
Optional: slow cooker liner, sour cream, shredded cheese, tortilla chips
Directions:
I like to use a slow cooker liner in my crock pot. It makes clean up a breeze! And since this is my go-to recipe for busy nights I love not having to spend tons of time cleaning the kitchen after dinner.
Step 1: Place the slow cooker liner in the crock pot.
Step 2: Open the can of black beans, drain and rinse them using a colander in the sink. Put the black beans in the crock pot.
Step 3: Pour the bag of frozen fully cooked chicken, taco seasoning, frozen corn, salsa, and V8 juice into the slow cooker. Stir to combine the ingredients.
Step 4: Cook on low in the crock pot for 6-8 hours.
Step 5: After the soup has finished cooking in the crock pot carefully scoop it out into bowls and let it cool for a few minutes. Add sour cream, shredded cheese, and tortilla chips if desired. Enjoy your warm and hearty soup!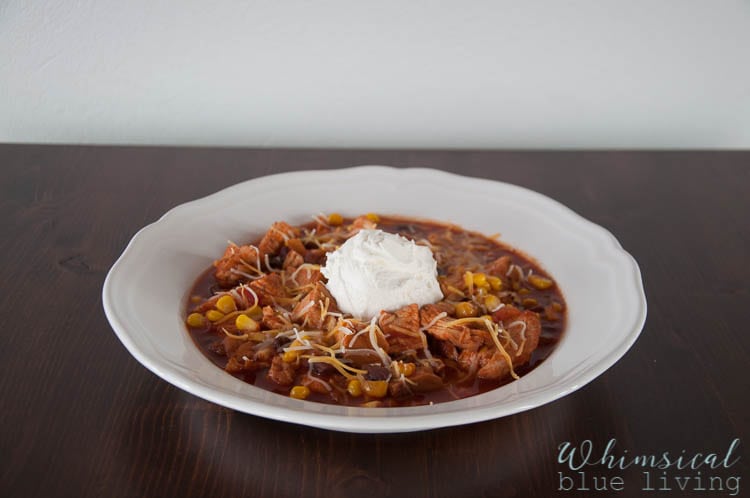 Friends, I hope you love this delicious and healthy Taco Soup as much as our family does. The soup is so warm on these chilly nights and using the crock pot saves me so much time on busy evenings. I love Taco Soup nights at our house!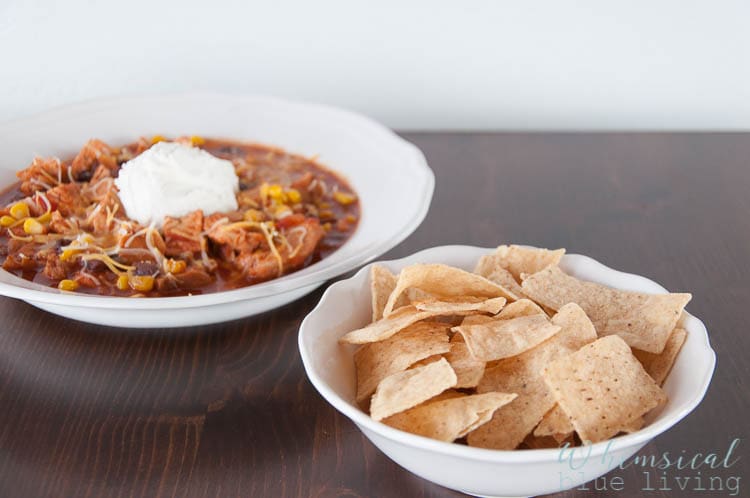 For more recipes as well as updates on our castle restoration be sure to check out Whimsical Blue Living and follow me on Facebook, Instagram, and Pinterest for more behind the scenes pictures of life in our castle!

Here's a little sneak peak of a vintage crystal chandelier that is going to be included in a room reveal soon at Whimsical Blue Living. I love how it adds whimsy and blue to our home!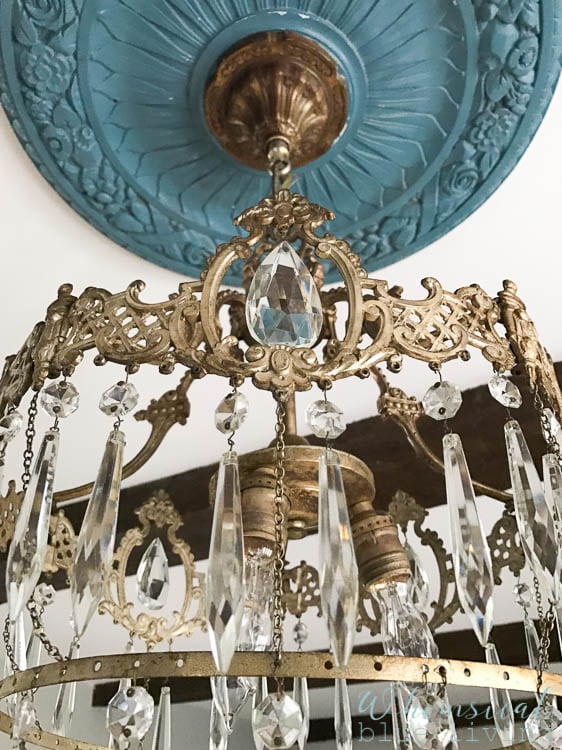 A sneak peek of our living room renovation soon to be revealed at Whimsical Blue Living!
Have a beautiful day! Sandy