This is a sponsored post written by me on behalf of Kohler Co.. All opinions are 100% mine.
Slowly we've been changing parts of our new home that we had chosen during the building process to go with builder-grade options. Mostly we did this because of the cost. I wanted to save money on the front end and change them later when we could take the time to truly customize the spaces.
One of the best places to do this is with your fixtures. They are easily replaced and you can shop for really great pieces.
Our powder room is the most used bathroom in our home and this is one of the rooms I selected all builder-grade fixtures for. The only thing I really focused on was the selection of the flooring during our build out. The sink, faucet, toilet and towel rings were all the standard pieces. They kind of have a cheap look to them and definitely are not high-quality fixtures. So this is one of the first spaces I am tackling and replacing the fixtures in before I totally transform this space.
I have been dreaming up a big transformation for our powder bath (which I will share soon!) but in the meantime, I have made some easy powder bathroom upgrades with the help of Kohler that you can make too to solve the most important design issues in a bathroom.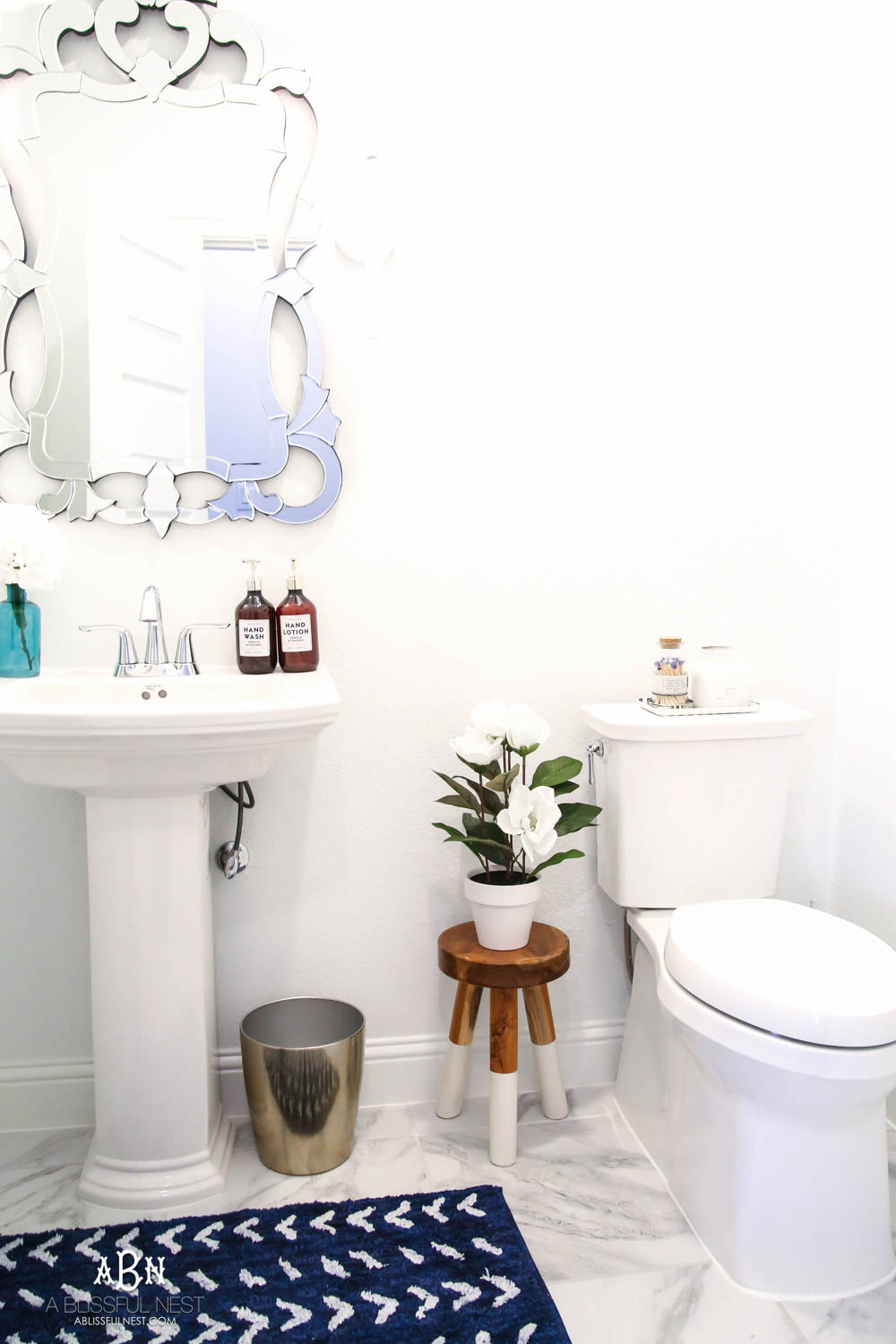 Isn't this so pretty?! Everything feels so clean and crisp.
Easy Powder Bathroom Upgrades:
Update your toilet
So like I mentioned above, the first thing to do when updating a bathroom is to replace your toilet.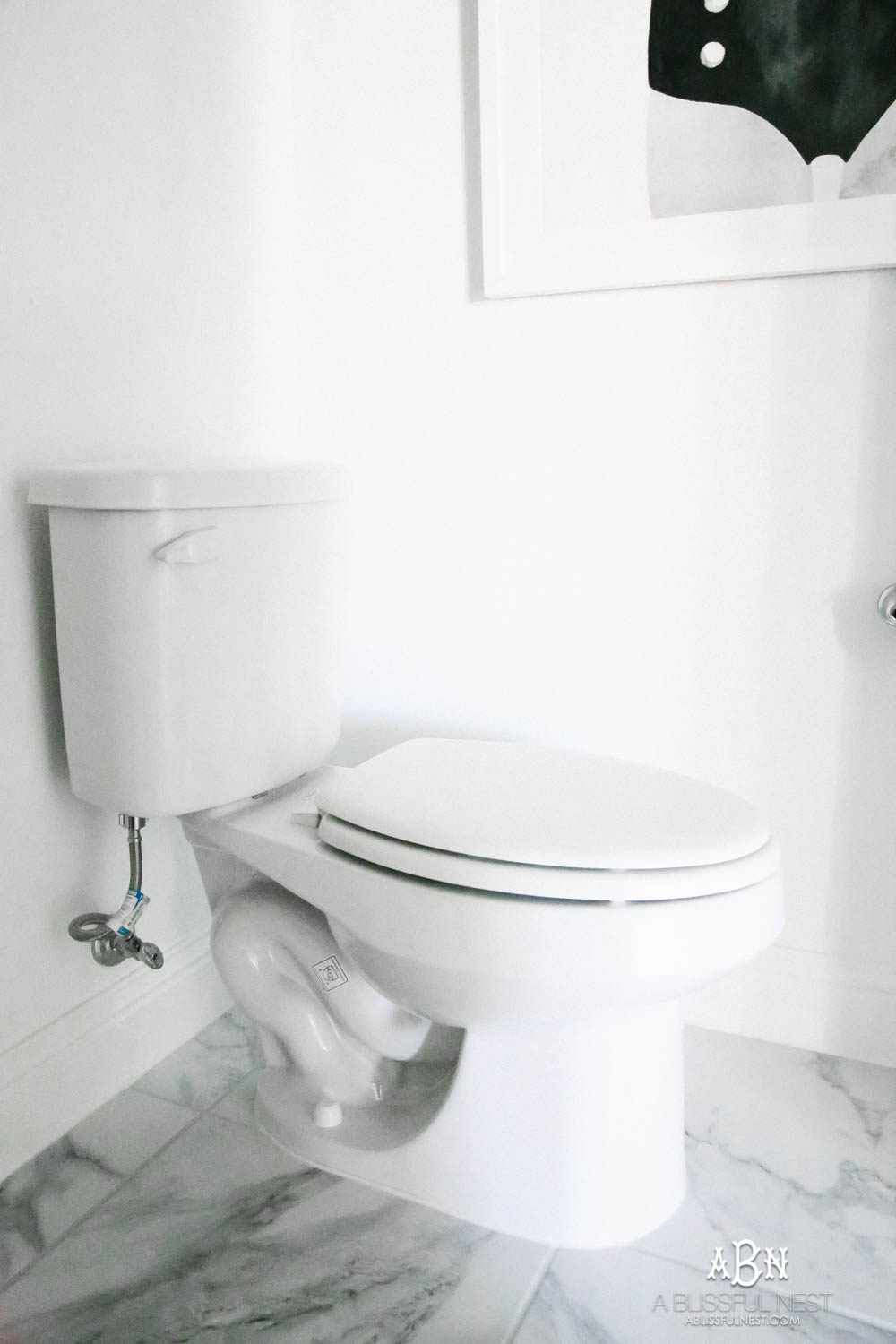 This is the standard toilet that was built into our home. The back half is honestly really ugly and you can see the pipes in the wall sticking out. It also is a little low which when we have the grandparents come, makes this bathroom a little difficult for them to use.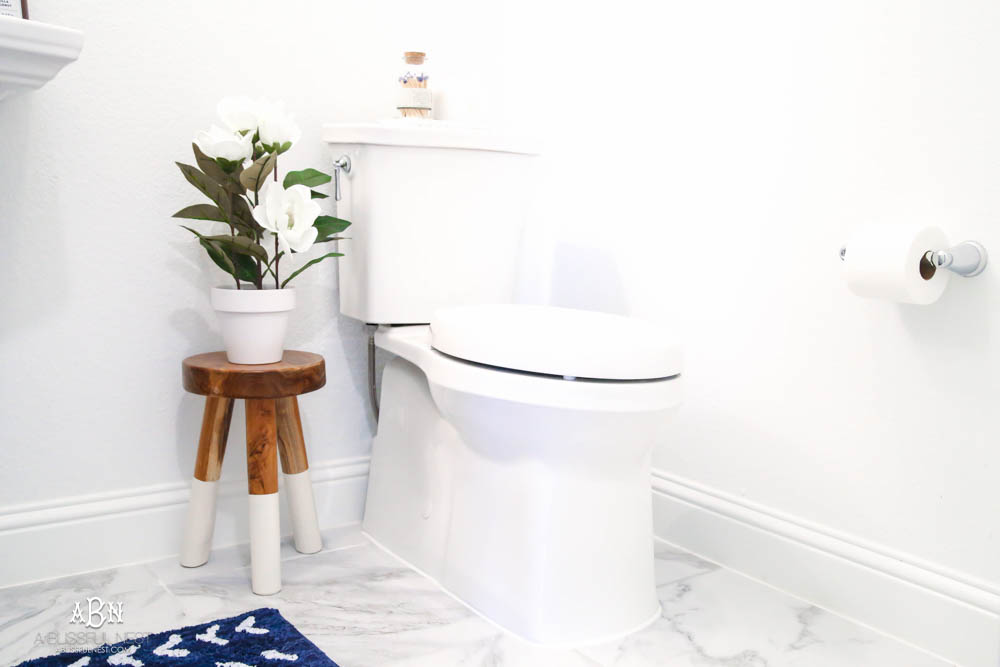 And here is our gorgeous new Kohler Corbelle toilet now in the space. As you can see it has modern clean lines and the base almost disappears with the rest of the area which I love. Since toilets aren't necessarily the prettiest item in a bathroom, I love that this base looks fresh and modern. This sleek skirt design also makes it so easy to clean around this hard to reach area.
My favorite features
One of my favorite design features is the chrome pull. It is sleek looking and located on the side rather than on the front face of the tank.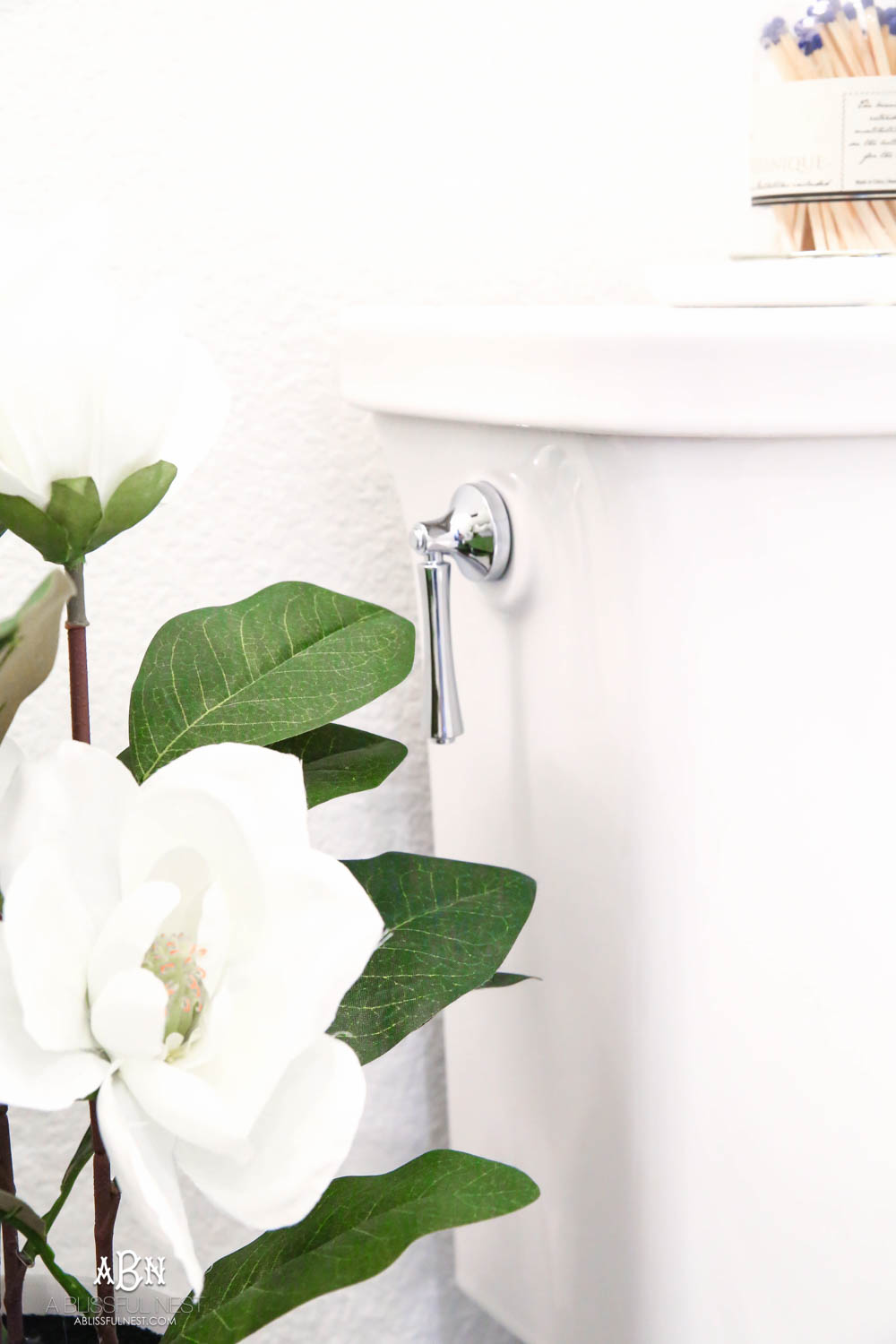 I selected the Purefresh elongated toilet seat. It truly provides all the freshness you need out of a toilet with all the acting components it contains.
My daughter, Lauren particularly loves the slow-close seat so her little fingers don't get slammed by the toilet lid anymore. This is such a great feature for parents with kids!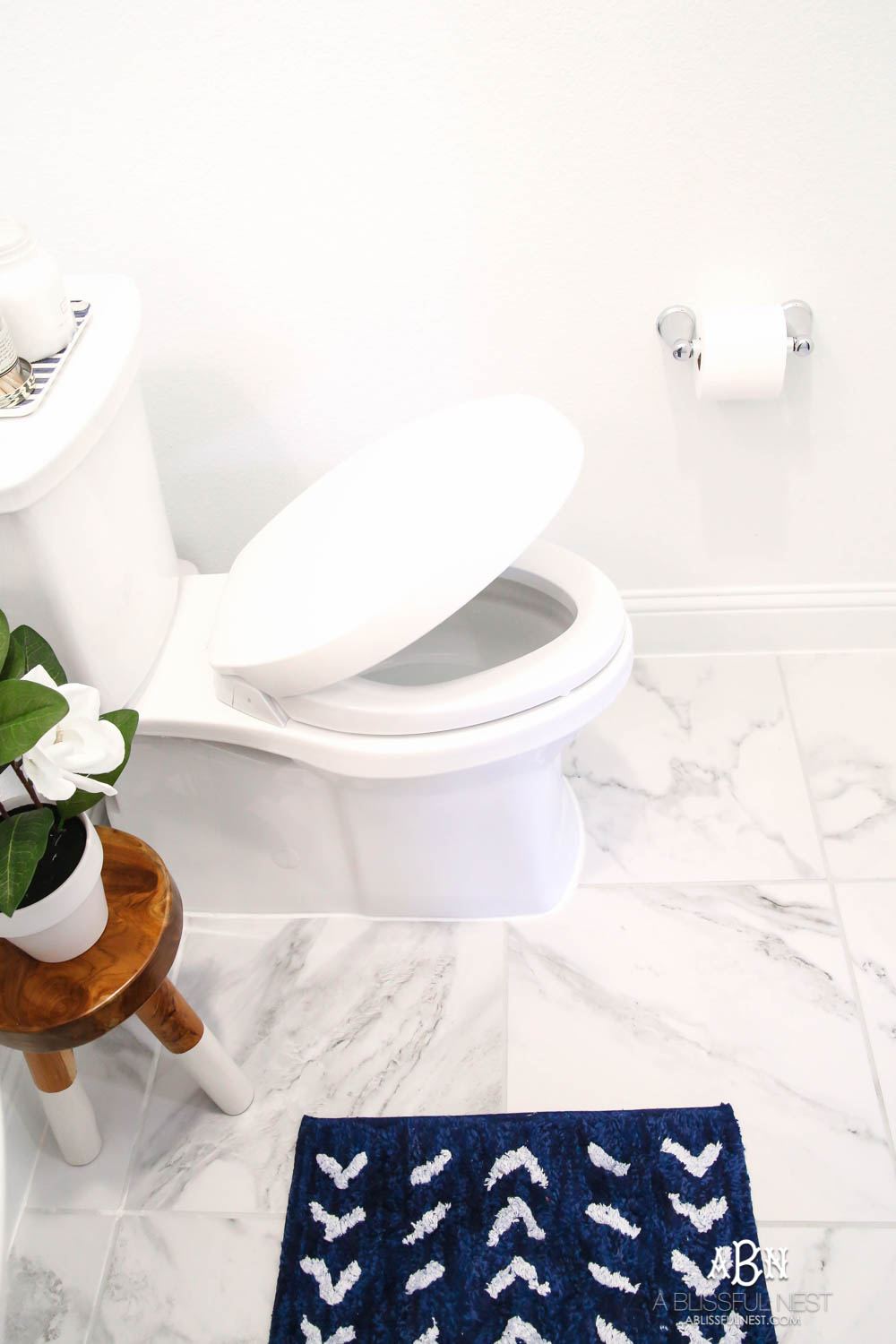 I love the nighttime illumination feature. It is a programmable 8 hour LED nightlight that you can see even if the toilet seat lid is down. This is so helpful when the house is all dark at night to see into this rather dark space.
It is back-lit when the seat lid is down and then illuminates for task lighting when the lid is lifted.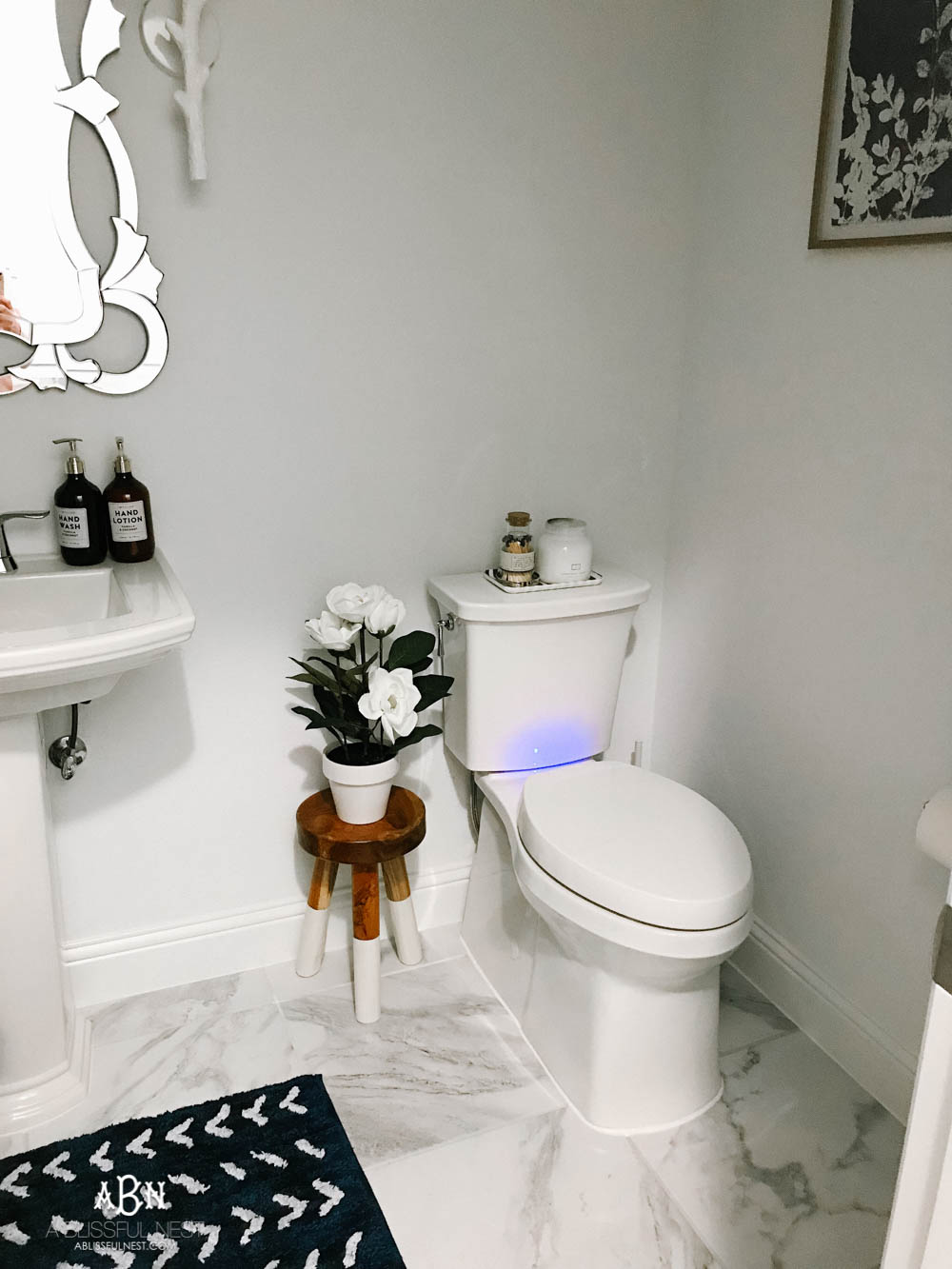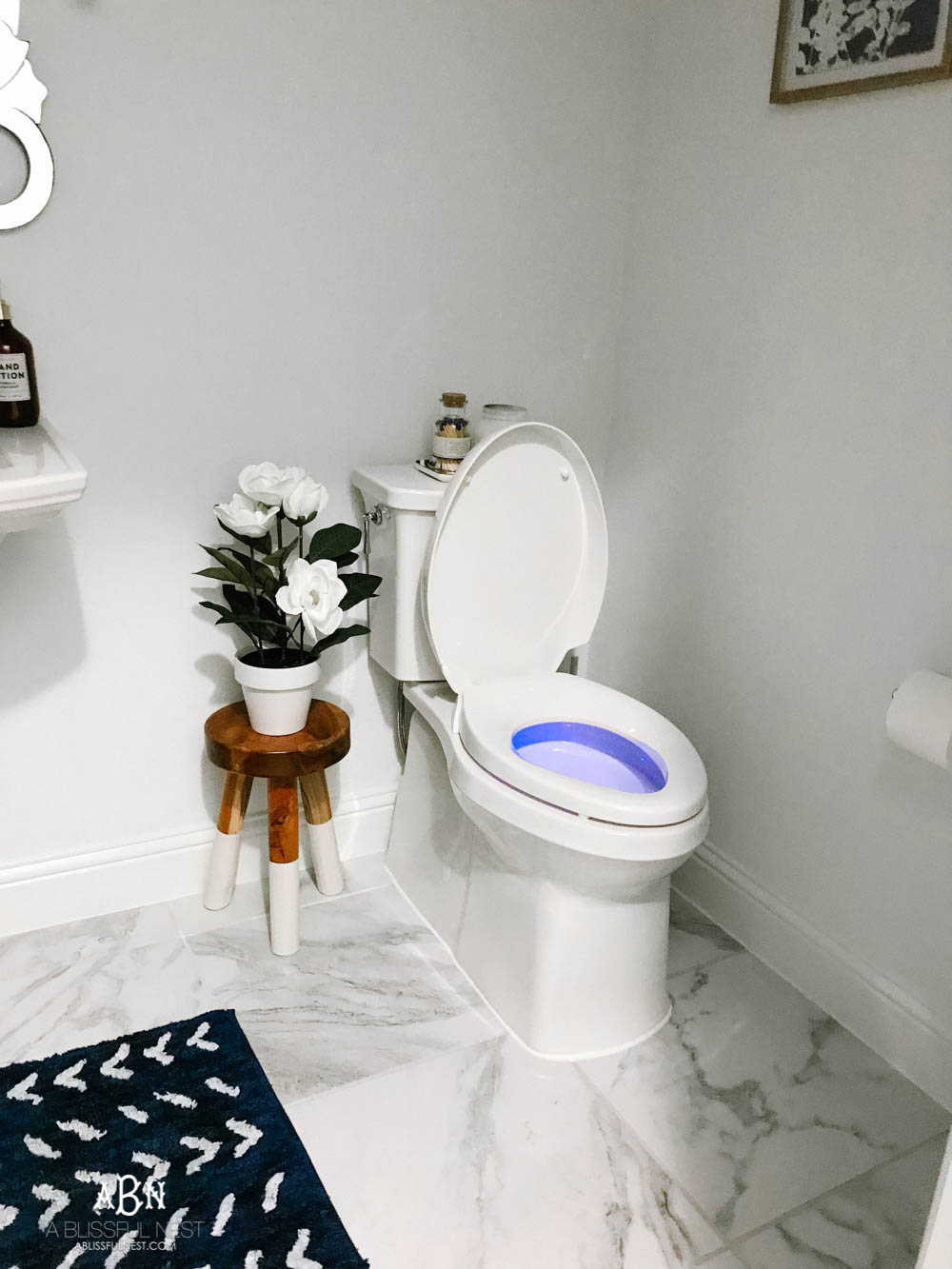 How the cleaning works
Another feature I love is the ContinuousClean system. It is located in the toilet tank and dispenses a consistent dosage of cleaner with each flush. This helps fight germs, grime and stains with every flush, making your job just that much easier in the cleaning department.
I love that I am not having to clean my toilet as often and this clean sleek base is so much easier to wipe down.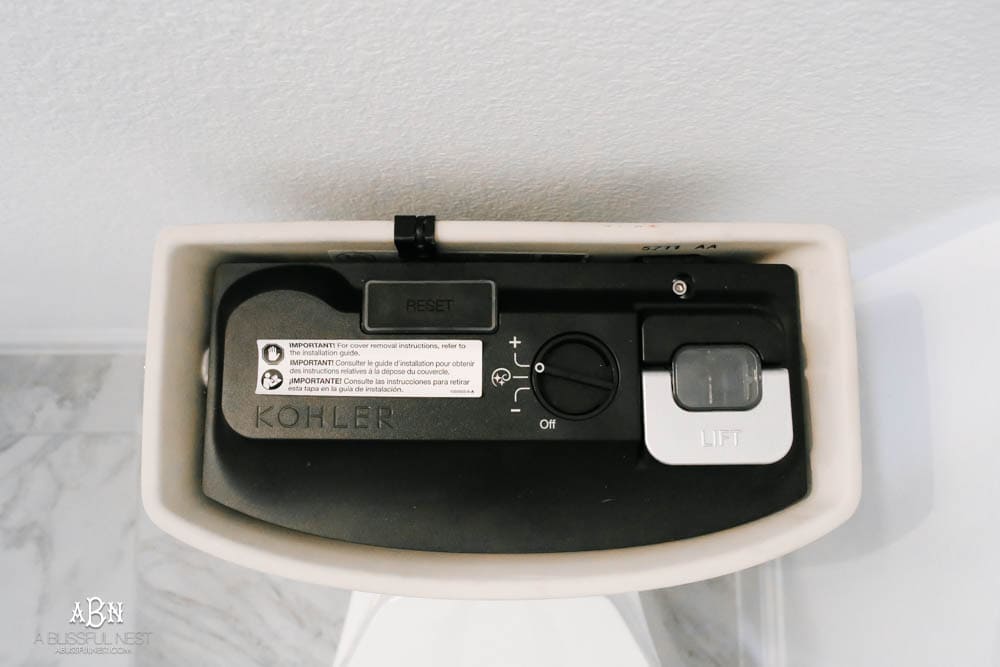 Always keep it fresh and clean with this built-in system
This toilet features this amazing technology called Revolution 360 along with Clean Coat technology. It is a powerful flush with their patented AquaPiston flush canister that keeps the toilet 2X cleaner and stays cleaner longer. Combined with the Clean Coat finish, which prevents the build-up inside the toilet, my toilet cleaning days have been drastically reduced! I can't begin to tell you how happy that makes this busy momma.
The Corbelle toilet also has a WaterSense®, which brings your annual water savings, so you can save where it counts.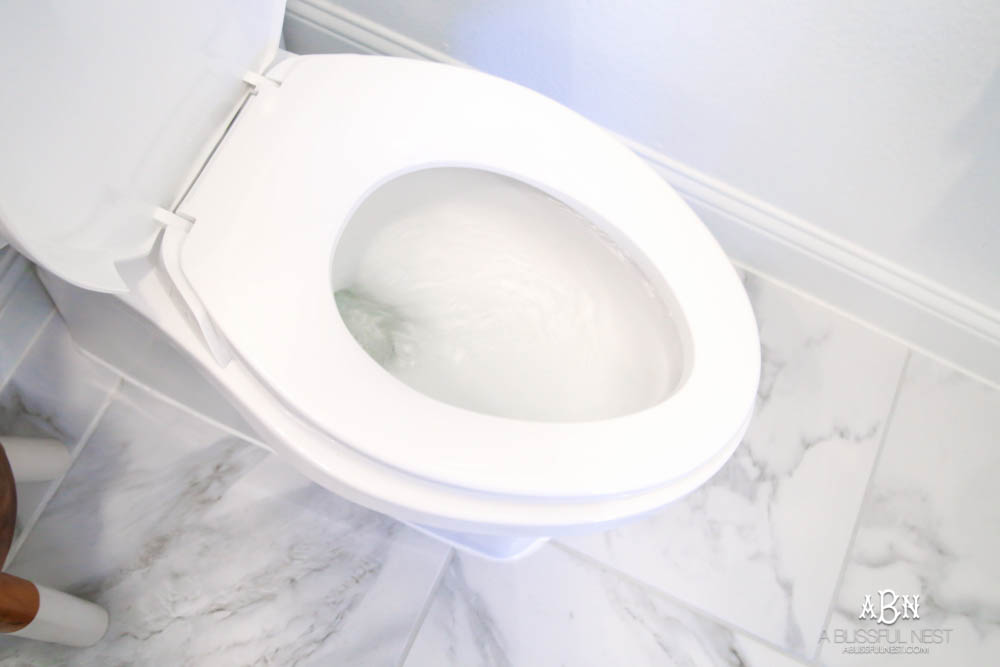 On the right side of the Purefresh seat cover, you pop out this little panel, insert the air freshening tablet and let it do its' magic. The built-in fan turns on when the toilet is in use to disperse the air freshening scent.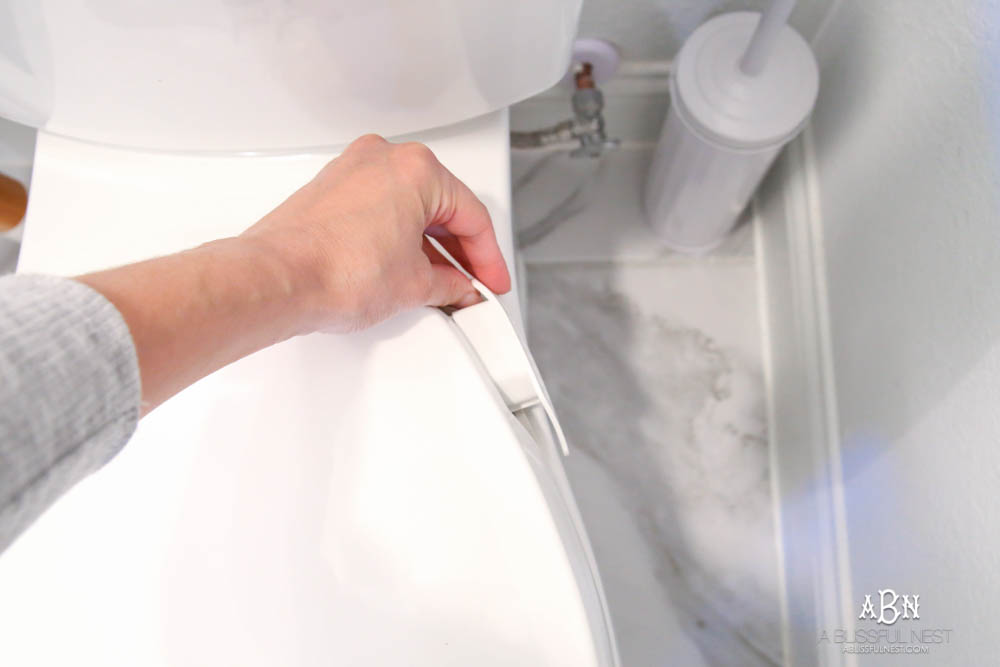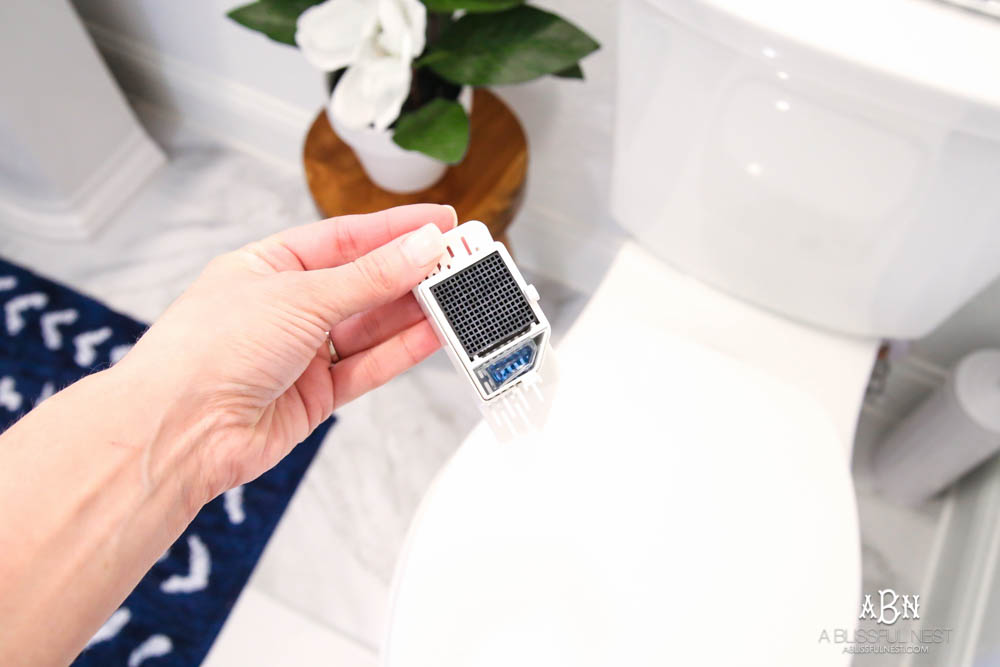 The installation process made easy. . . .
The installation process is made easy with Kohler's ReadyLock™. No holes are needed to be drilled and it still has the same secure installation as a non-skirted toilet.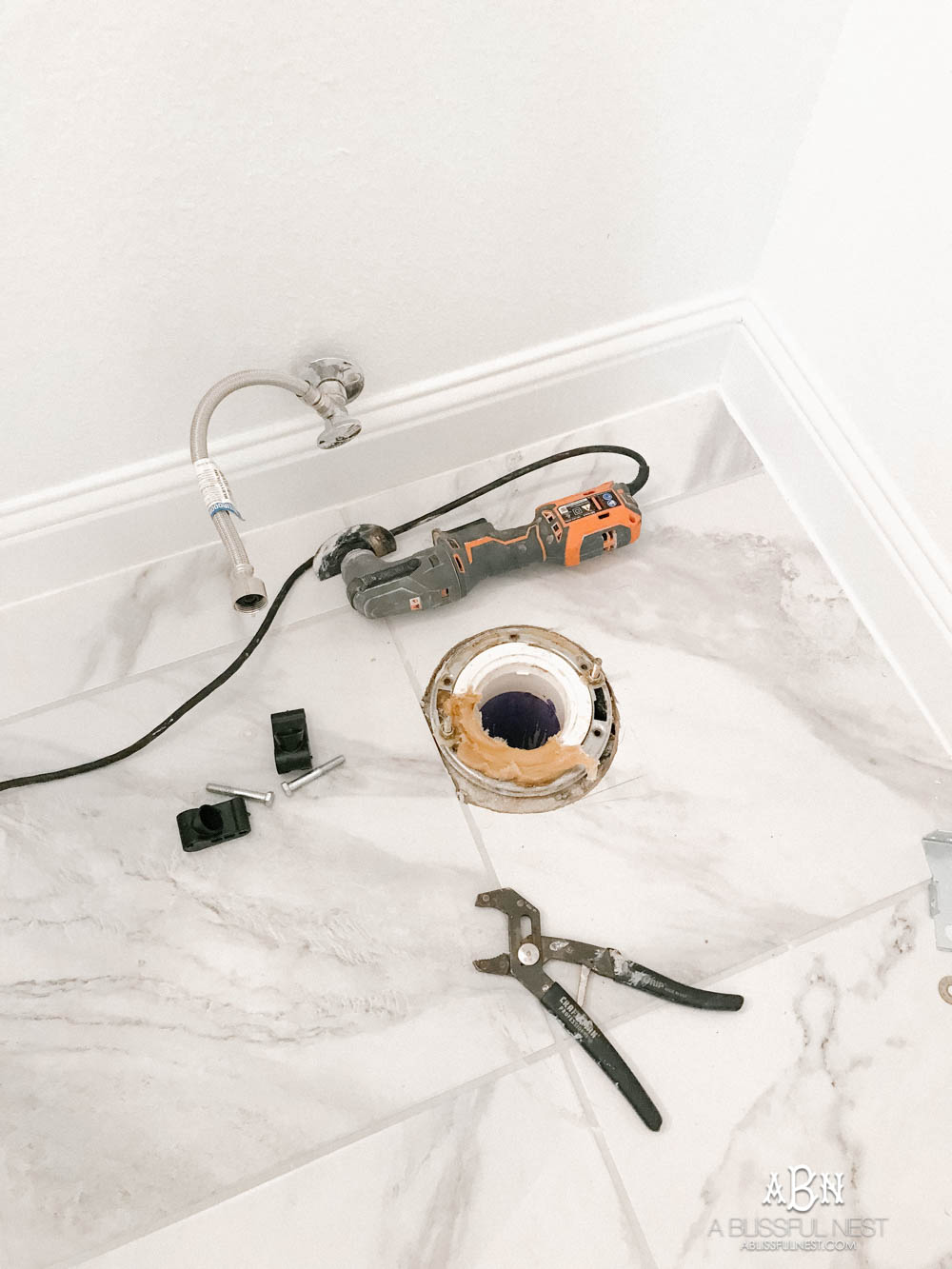 Swap out your accessories
Another quick and easy way to update your bathroom is with new accessories.
I love adding a pop of color in art, towels and a small vase like the one I added to our sink.
This is such an inexpensive way to switch up color schemes and even change the decor seasonally.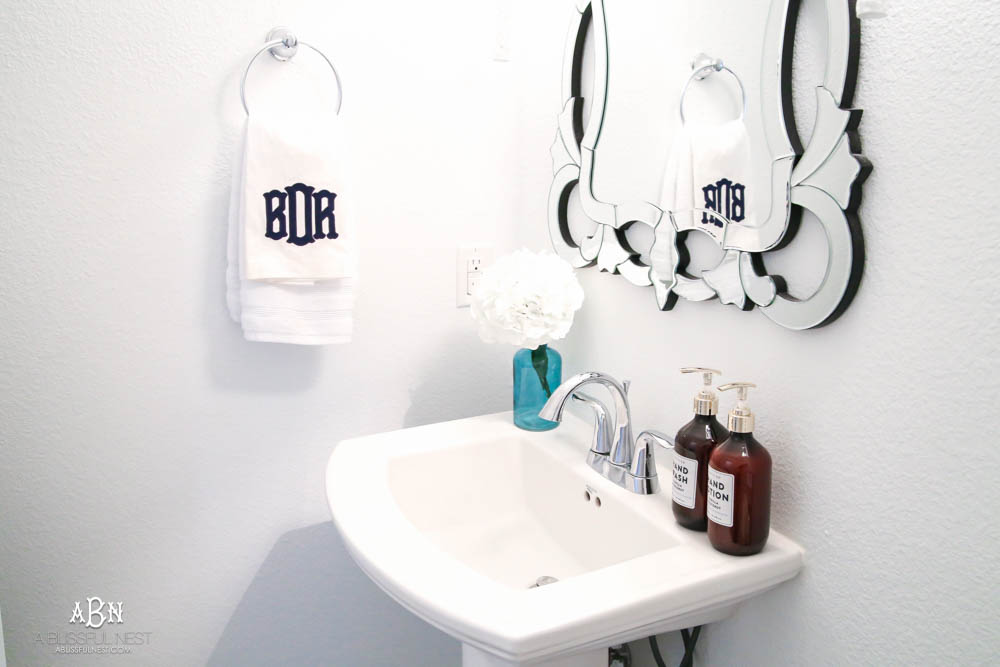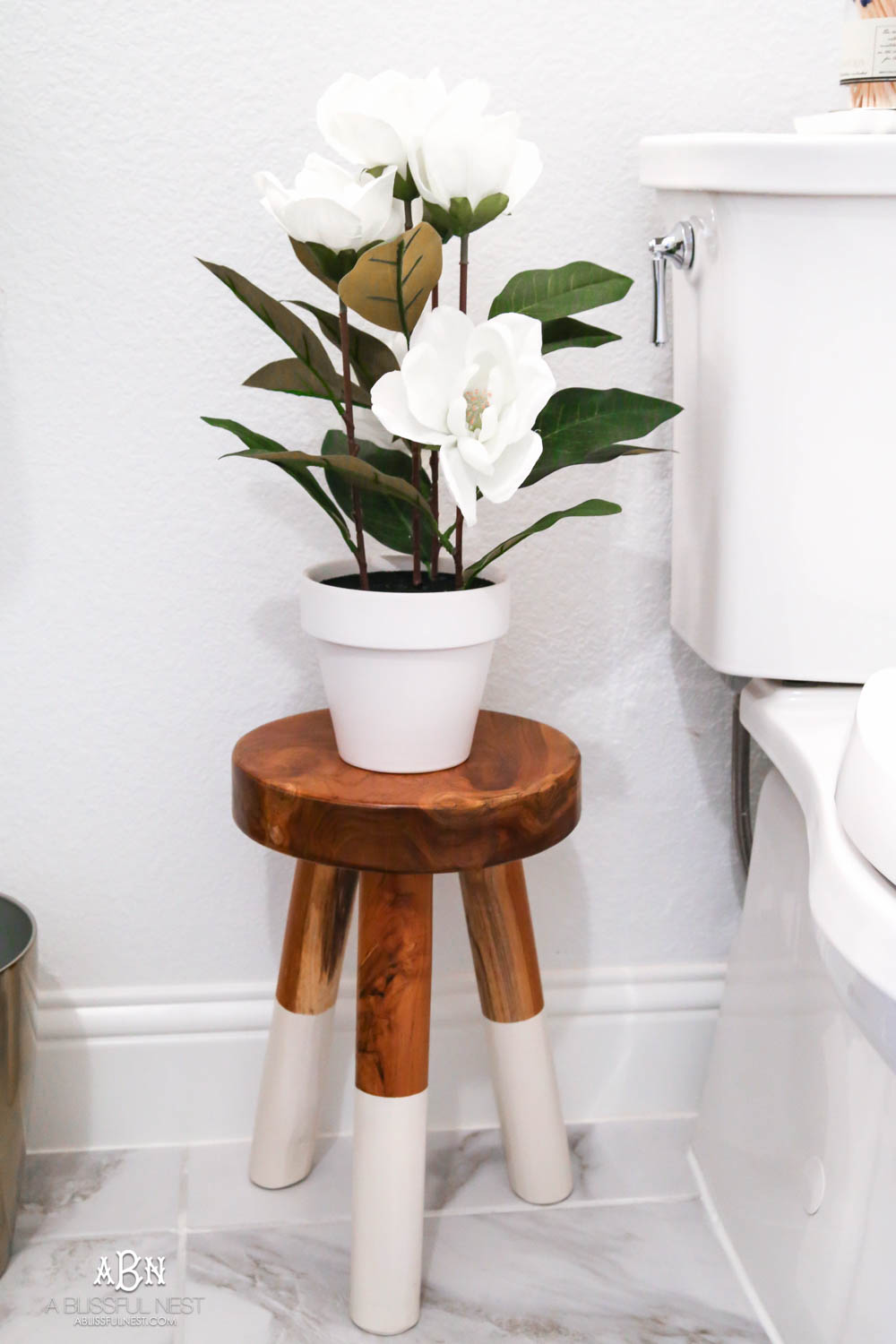 Add a fresh coat of paint
Nothing makes a bigger visual impact than new paint. It can totally transform a space.
Wether you choose a rich navy or go all white (like I have here), fresh paint will give your space a whole new feel.
Stay tuned to see what color I decide to use in the near future in our powder room!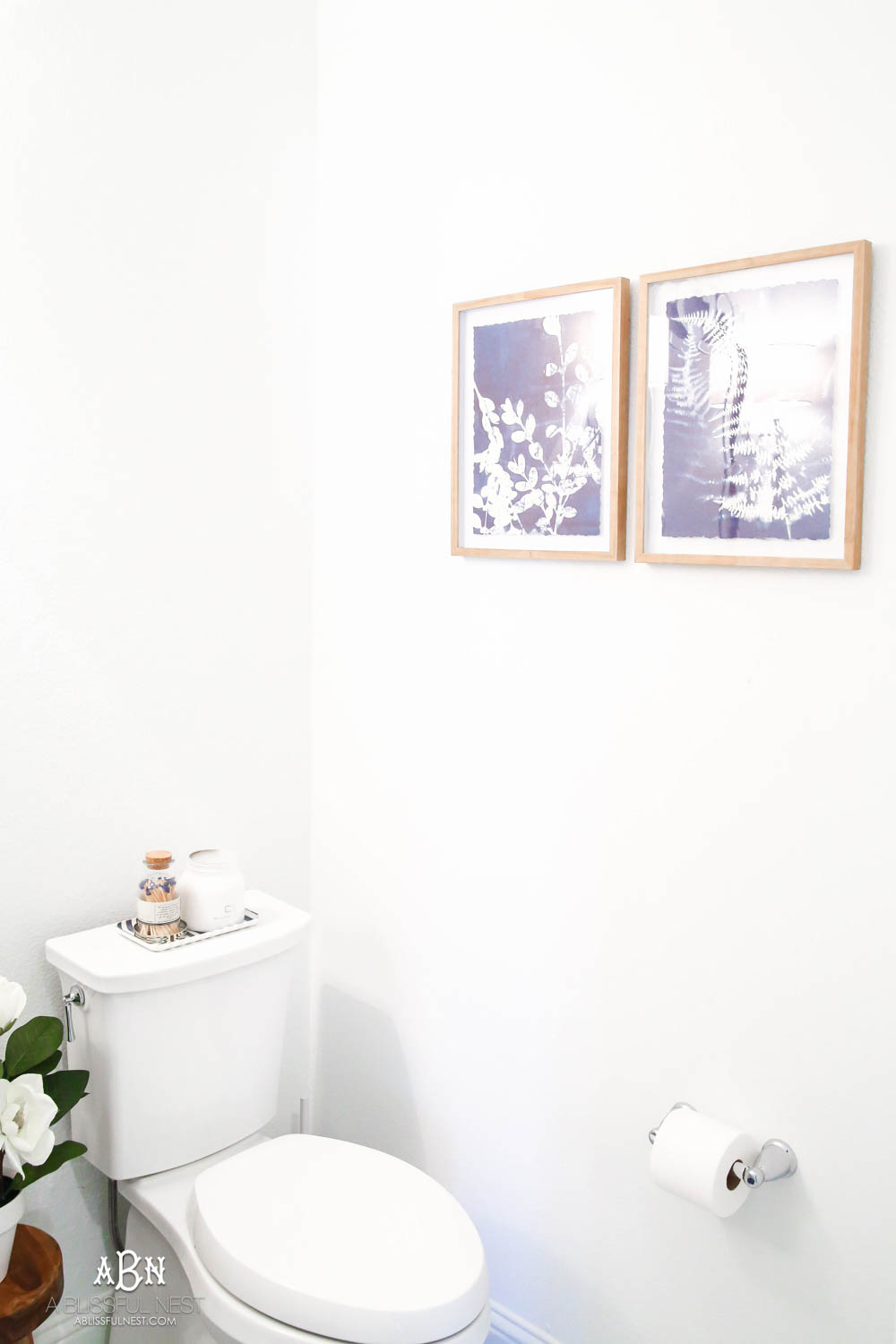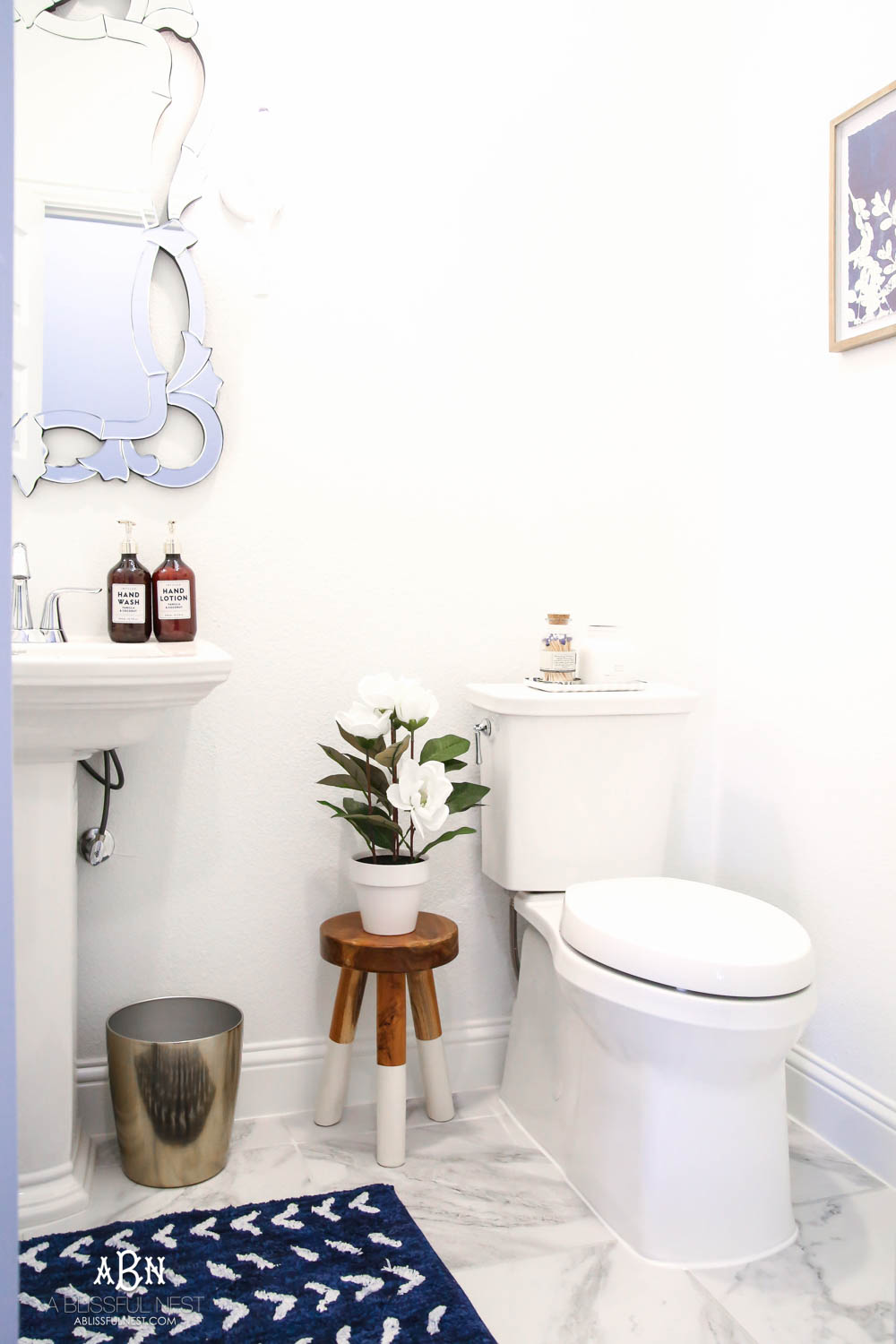 So with these simple upgrades, you can elevate the look of your bathroom affordably!
A great beginning to the evolution of one of the most used spaces in our home.
Here is a quick before and after so you can see how changing your fixtures can really make a difference.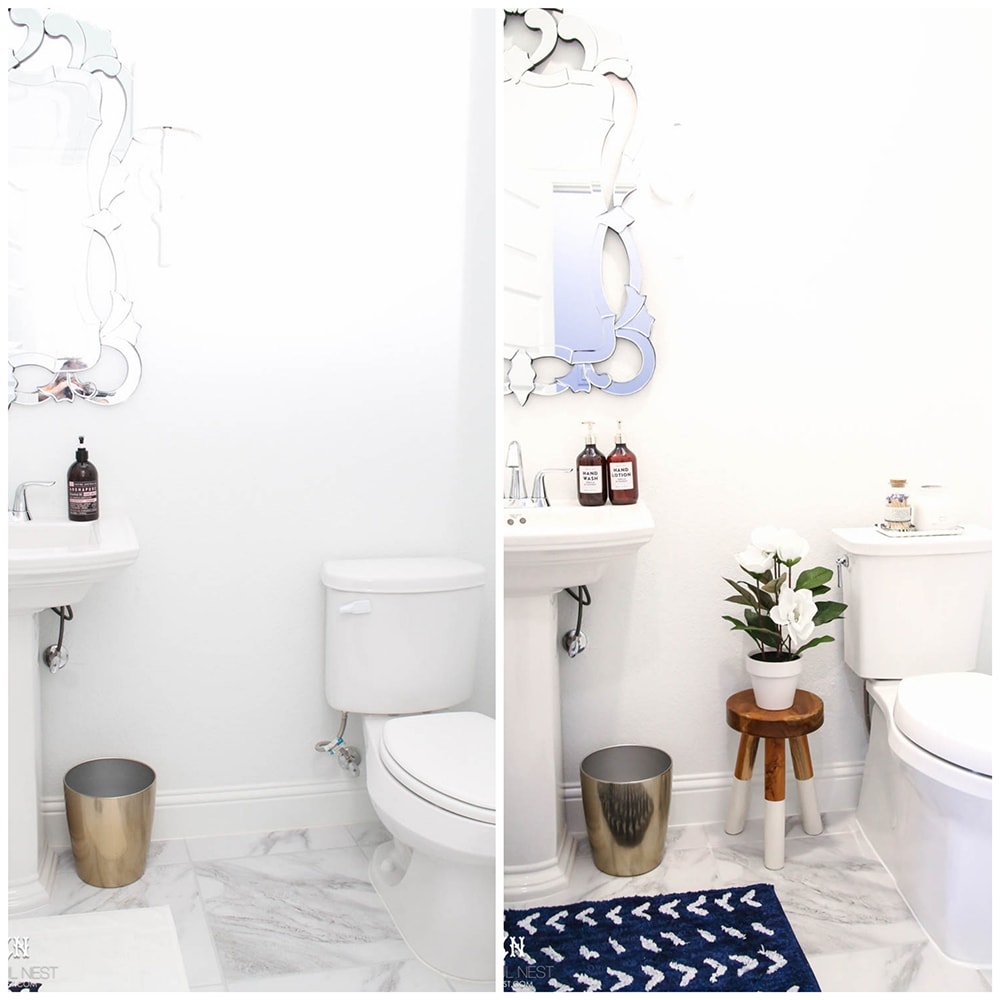 Later this year, I plan to add wainscoting, wallpaper, a new mirror and light fixtures to finish the transformation of our powder bathroom. Everything is always a work in progress in our home which I am sure you can relate too.
But starting with the basics like this Kohler toilet will get you moving in the right direction quickly!
THIS IS A SPONSORED POST. A BLISSFUL NEST HAS RECEIVED PAYMENT, TRADE, AND/OR PRODUCTS FROM KOHLER IN EXCHANGE FOR PROMOTING. HOWEVER, ALL OPINIONS STATED ARE OUR OWN.