We are so excited to have Pamela Smerker Desgins share her Friendsgiving party ideas today! Take it away Pamela!
When I was in my 20's, my grandmother gave me some great advice that I've tried to live by ever since.  She said, "when you are married and have a family, remember to keep your girlfriends close and always make time to spend with them." Good friends are comfort for your soul and keep you young and wise.
I have taken my grandmother's advice, and over the years I have combined my passions for strong friendships and hosting fun gatherings and channeled them into different crafty ladies' nights for my girlfriends. It's a great way for all of us to get together, make something with our hands and let our creative juices flow.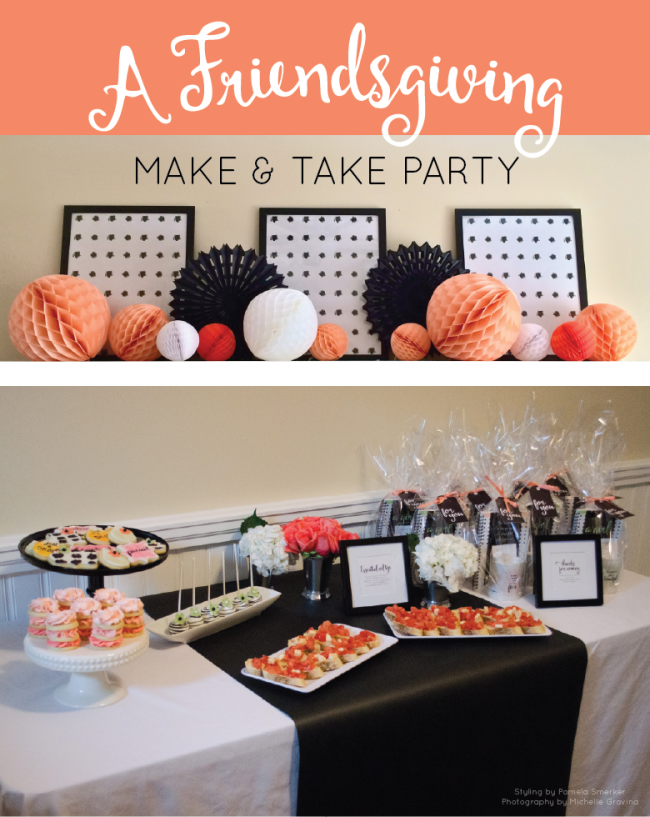 With the holidays quickly approaching I thought it would be fun to pamper my friends and make our regular ladies night a bit more festive, with a "Friendsgiving" celebration. With it being fall and nearly Thanksgiving, I decided to go with shades of orange and peach (I'm stepping outside of the over saturated fall look and showing color who's boss) along with pops of black and white. I also wanted to incorporate some inspirational quotes into my designs like:  "Be fearless in the pursuit of what sets your soul on fire" and "A girl should be two things: who and what she wants."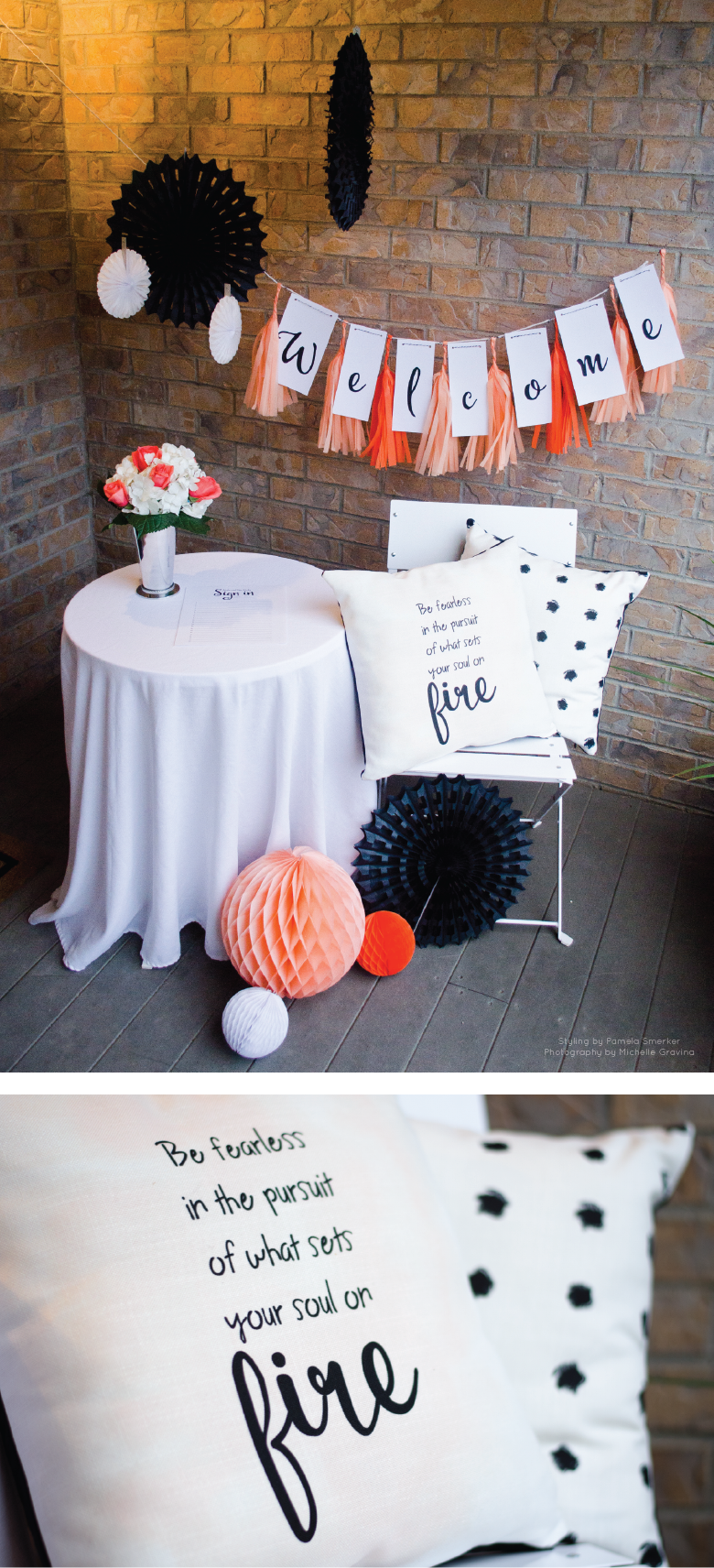 Guests were welcomed outside with a festive greeting table that held a special sign in sheet.  I wanted my friends to make something luxurious to pamper themselves with. I chose two spa themed projects: Homemade Body Butter scented with either lavender, peppermint or lemon and A Blissful Nest's very own
Mojito Sugar Scrub
. The room filled with rich aroma and laughter as we experimented and swapped stories of the scents that reminded us of our happiest memories.
After getting crafty, we all enjoyed fruit infused water, Bruschetta made with vine ripened tomatoes and basil essential oil and an assortment of cookies and cake pops that were so decadent we couldn't stop at just one. Fall and friendship were palpable in my cozy living room.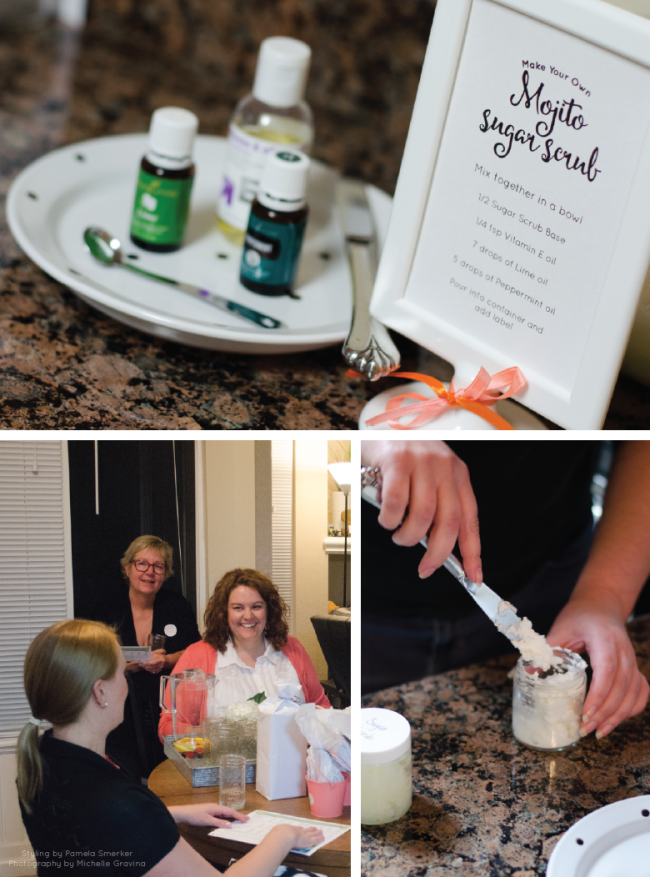 I have a passion for party favors and love making up goodies so that my guests can take home a piece of the joy they have experienced. To go along with the theme of the party, I created a design to go on mugs and notepads using those fun, inspirational quotes.  I also made some mint lip balm and face cream using aromatic essential oils to remind each lady that they deserve to stop and enjoy the simple things in life each day, if only for a brief moment. Presentation is everything with me, so each package was wrapped and adorned with a custom tag of my own design.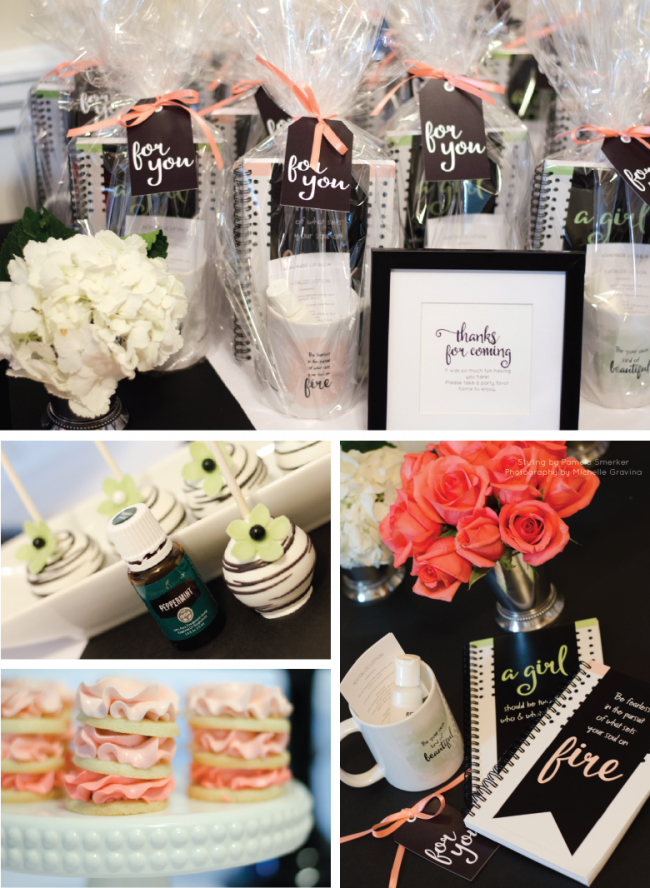 So often we forget what an honor it is to pause, look around a room and know that you are among kindred spirits. This night helped me remember that my cup runneth over with strong, kind and firery women in my life.
That night was a gift, and a heck of a way to kick off the upcoming holiday season.
Here is wishing you and yours a fabulous holiday season!
~Pamela
Credits:
Photography by Michelle Gravina  – www.MichelleGravina.Portfoliobox.me
Custom Mugs, Notebooks & Decorative Pillows from Tiny Prints – https://www.tinyprints.com/personalized-photo-gifts-center.htm