I made a few decisions at the end of last year to live a more healthy and clean lifestyle in 2017. As you know I have already been a fan of green products and want to share more of these fabulous finds with you this year. One of the best and easiest ways to discover more environmentally friendly products is through Grove Collaborative. I know you've heard me mention them before and I just love everything they stand for. They are a small run company that prides itself on offering green products in a streamlined and easy way. Well, you all know I am also all about how easy you can make it for me to do something!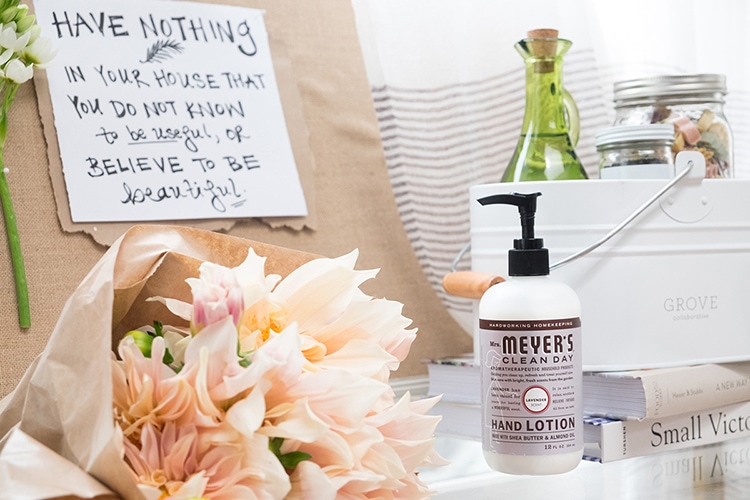 Fortunately, this new customer offer from Grove will help check TWO resolutions off the list easily. The set includes a super cute enamel cleaning caddy stocked with supplies from Grove Collaborative and Mrs. Meyer's. It's a chic and easy way to keep all my products organized and close at hand, whether I'm pulling it out to clean the kitchen or toting it up to the kids' rooms. How much more excited would you be about scrubbing the stove if all your supplies were organized in something this pretty? I certainly am.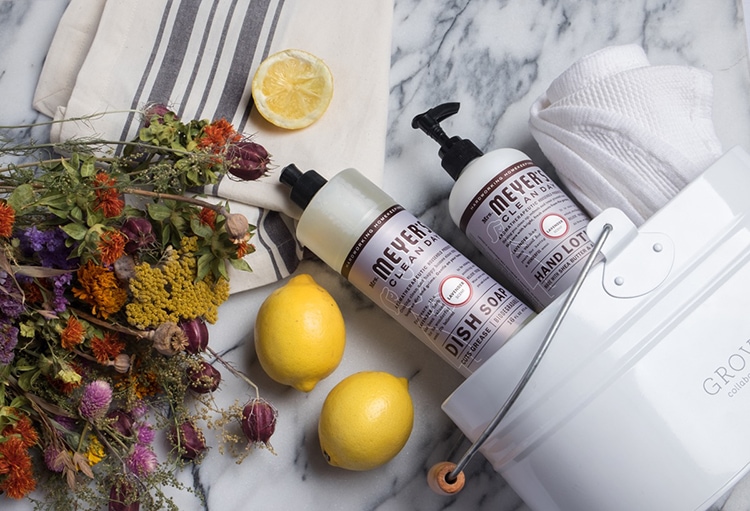 I was thrilled to see that the caddy came with a Mrs. Meyer's dish soap, hand soap, and the brand new hand lotion too. Mrs. Meyer's soaps were some of the first natural products I switched to, and they've been a sink-side staple ever since. I always wanted a matching lotion for my Mrs. Meyer's hand soap, and now they just released it! The lotion is wonderfully rich and smells amazing — perfect for post-dishwashing hand care! (The lemon verbena scent is my favorite, but you can't go wrong with the honeysuckle or lavender either.)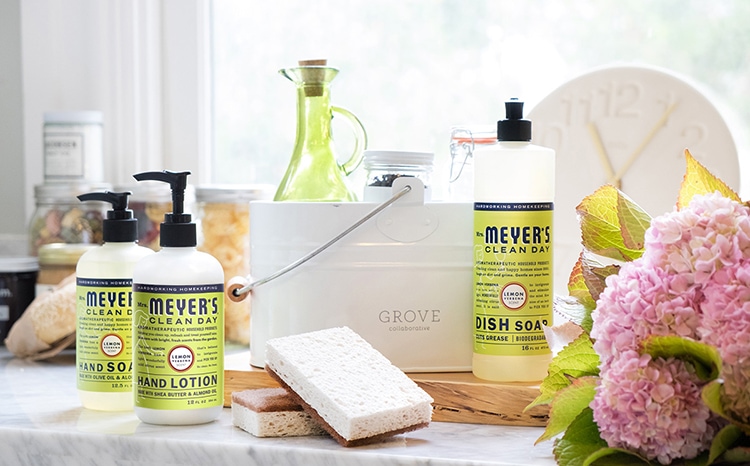 The kit also comes with these Grove Collaborative walnut scrubber sponges. They're actually made from crushed walnuts, so they're non-scratch and non-toxic. I stashed one by the sink and one in my cleaning caddy, and I know I'll be ordering more.
I'm looking forward to stocking up on more great supplies from Grove Collaborative throughout the new year. Grove Collaborative makes creating a greener, more organized (and beautiful!) home effortless and affordable.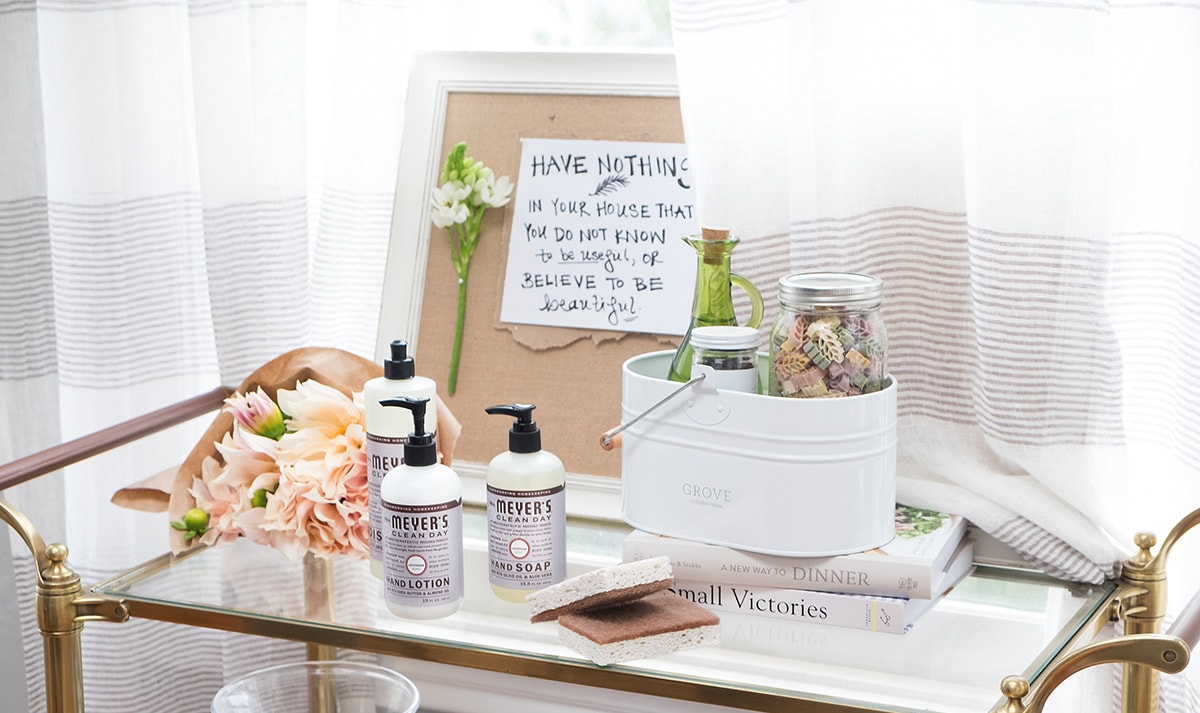 Once you sign up, Grove will ask you a few questions about your home and recommend products you'll love from brands like Seventh Generation, Method, and Mrs. Meyer's (don't miss their house brand too!). They deliver everything you need right to your doorstep, on your schedule so you never run out. I've been a member for almost a year, and I've been so impressed with the quality of their products, the fabulous customer service, and how easy the whole process is.
So here is the good stuff! Grove is offering ABN readers an amazing deal for a limited time!
Right now, when you sign up for Grove (right HERE) and place your first order of $20 you'll get this Fresh Start offer for free:
Free Mrs. Meyer's hand soap

Free Mrs. Meyer's dish soap

Free Mrs. Meyer's lotion

Free Grove Collaborative Enamel Cleaning Caddy

Free Grove Collaborative Walnut Scrubber Sponges

Free shipping
If you're already an existing customer, you'll get a free Mrs. Meyer's hand soap with your next order when you use my link .
Choose your favorite scent — honeysuckle, lemon verbena, or lavender — when you check out. These brand new lotions are only available at Grove, so don't miss out on your chance to try them!
The offer ends Sunday, January 15, 6pm PT and supplies are limited.
Here's how it works:
Sign up for Grove Collaborative HERE. You will receive the Fresh Start Kit for free when you sign up!

Answer 4 quick questions about your home that Grove Collaborative will then use to customize your first basket — this takes under 30 seconds!

Once you've answered the questions, you can finalize your basket of products to suit your household needs by adding or removing items.

To receive this offer, your order needs to be a minimum of $20. Choose the combination of products and scents you love and receive in your first box.

You made it! Click Finish & Pay and place your order.
*Please note that they currently do not ship to Canada, Hawaii, or Alaska
Once you have submitted your Grove order, you'll be signed up for the free 60 day VIP trial. For 60 days, you'll save even more with free shipping, free gifts, price matching, exclusive sales and personal service. (I decided to keep the VIP membership after my trial ended, and I can say it's well worth it! It has paid for itself in free shipping alone.)
I really can't wait to hear which scent you love so make sure to tell me in the comments!
THIS IS A SPONSORED POST. A BLISSFUL NEST HAS RECEIVED PAYMENT, TRADE, AND/OR PRODUCTS FROM GROVE COLLABORATIVE IN EXCHANGE FOR PROMOTING. HOWEVER, ALL OPINIONS STATED ARE OUR OWN.