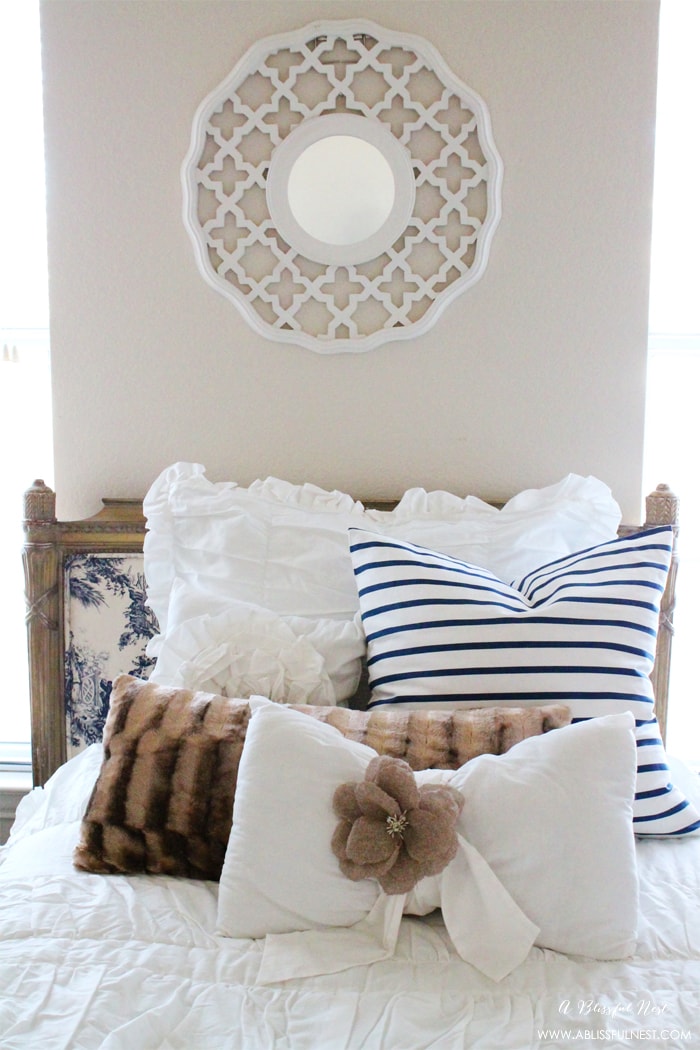 Welcome to our new room and hope you enjoy some guest bedroom ideas for your own spare room! As you can see from our before picture HERE, I decided to keep the navy color and replace the orange color with lots of white. The bedding set we had was from our last house and the guest bedroom there was much bigger than this as well since the bed was a queen. In this new house, the room is so much smaller and we swapped the queen with my daughter's twin bed. And this is what we have now!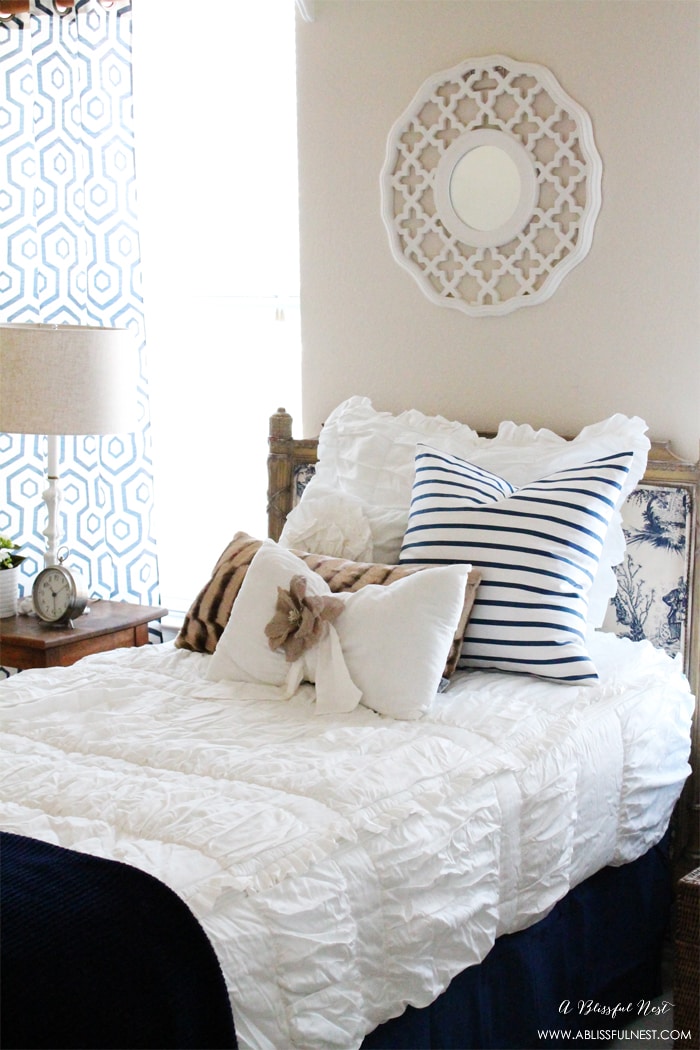 My inspiration started with this french toile headboard I just happened upon in one of my favorite antique stores. It was love at first site and knew it would give me a little more sophistication than Lauren's white tufted one. I snagged this mirror from the other room and think it adds a nice dimension for over the bed. I adore this ruffly bedding and it has these fabulous throw pillows you can get to coordinate.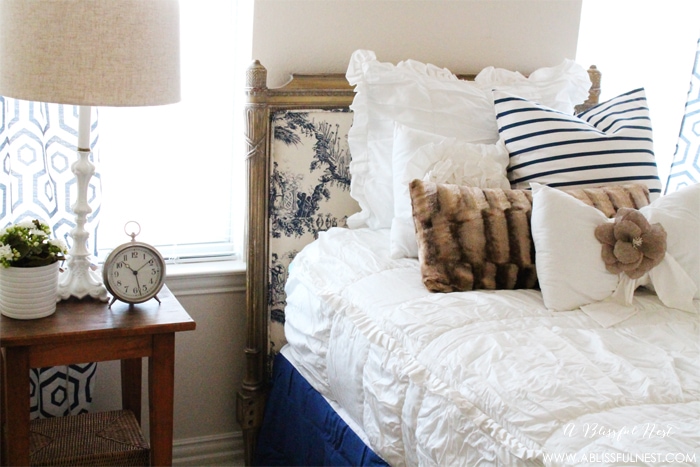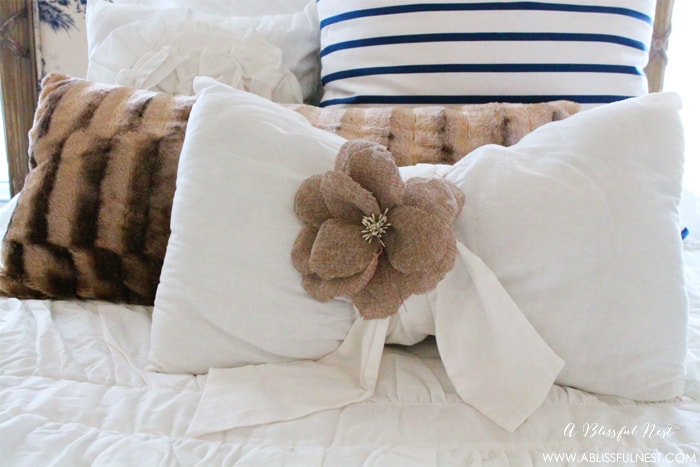 When I have this much white going on I like to break it up with a pattern or texture in a color I am using in the room. The stripe pillow pops my headboard and our soft furry pillow adds some depth. Plus it's just so super soft to curl up with and think my guests will think so too!
Of course I like to add my own touch on things and pinned this burlap flower onto the front pillow.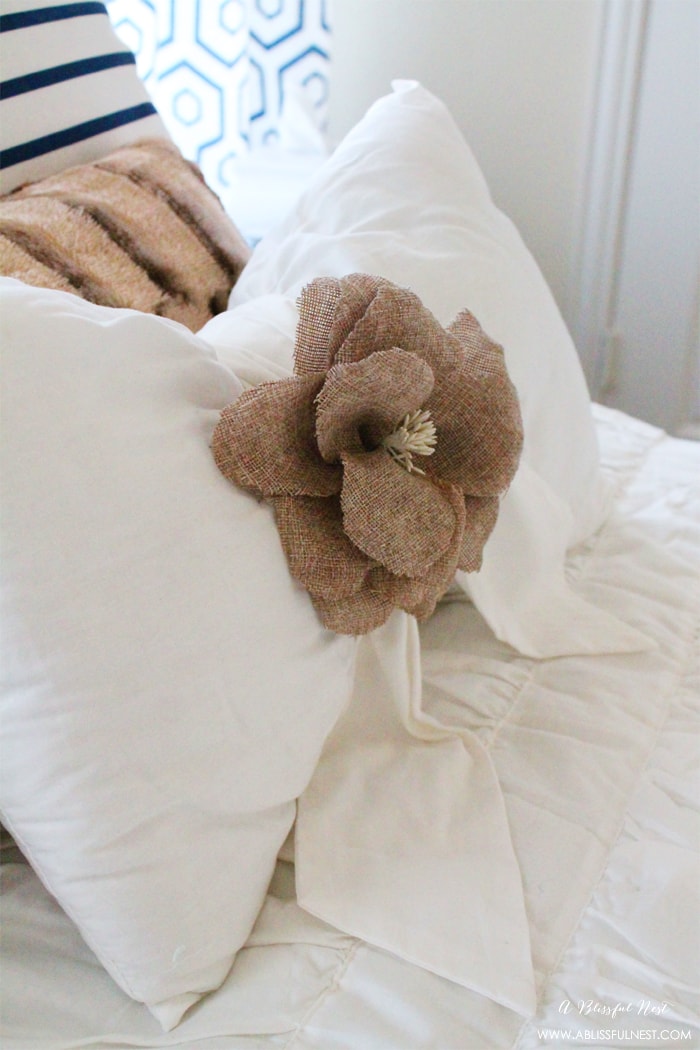 Recently I was introduced to a new company with fabulous mom's running the show behind the scenes that know what it is like to try to keep up with daily life. Since I am one of those mom's and we have guests constantly coming to stay, I was very intrigued to learn more. This bedding is so unique from Beddy's  that you do not even need a fitted sheet or a top sheet. It literally just fits right over the mattress and unzips on the sides. Isn't that just such a interesting concept?! I love this on a twin bed since they can be rather small for an adult and yet if a child sleeps in it they won't roll out. I also love that our guests wont struggle making the bed in the morning. They just have to zip it up.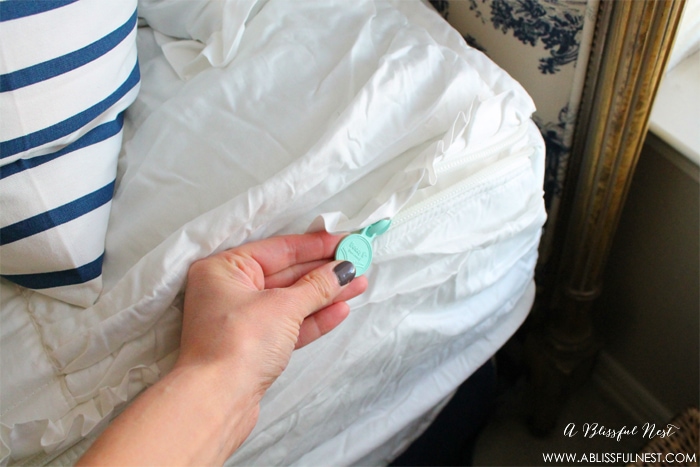 The underside has this soft shammy fabric that just makes you feel all cozy and warm. I did toss a extra throw at the end of the bed just in case in the winter when it is 20 degrees outside – because you know it does get that cold here in Texas for time to time!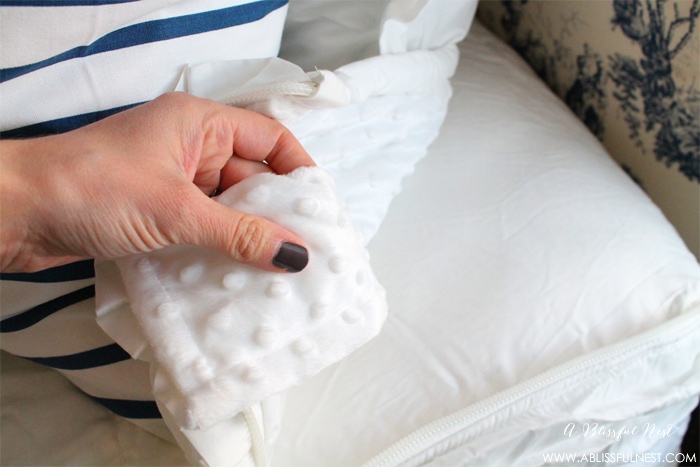 And with cute pillows to coordinate, it is a one stop shop in my book.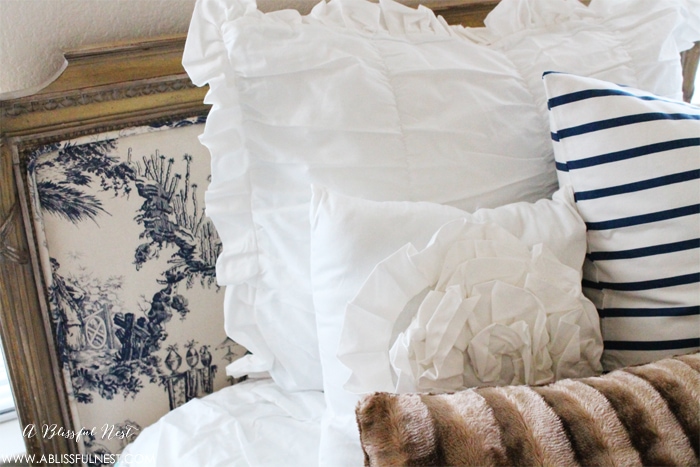 I got this cute table at the Goodwill for $5 and had all the intent and purpose on repainting it navy and then just kinda liked the wood look with it all. I'm still debating so the next time you see this room it very well could be navy.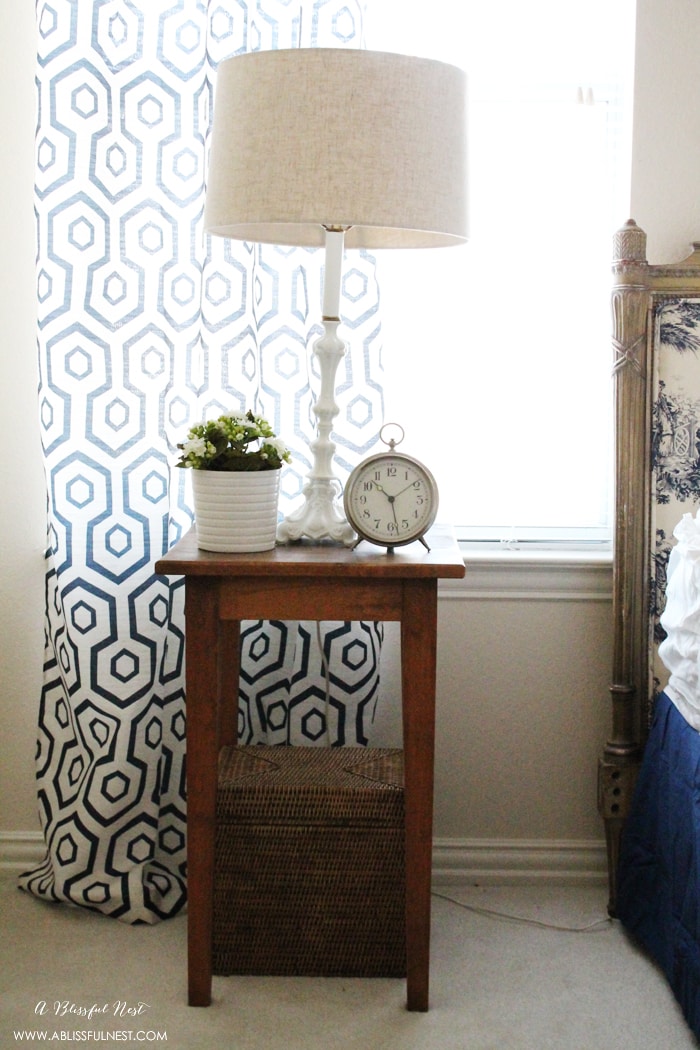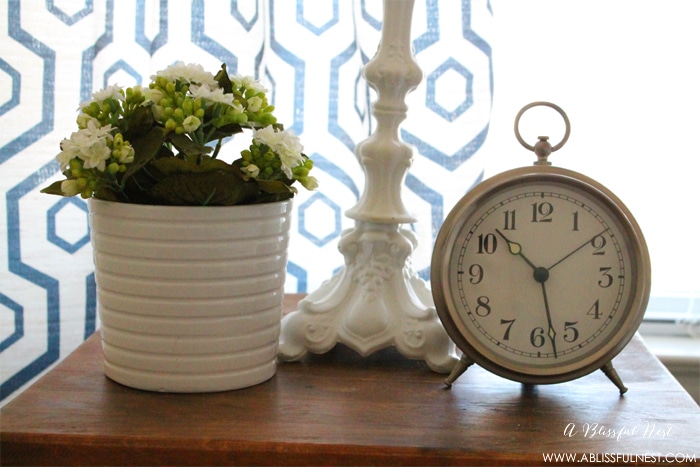 This cute old fashioned looking clock actually has a alarm and I think that is one luxury guests love.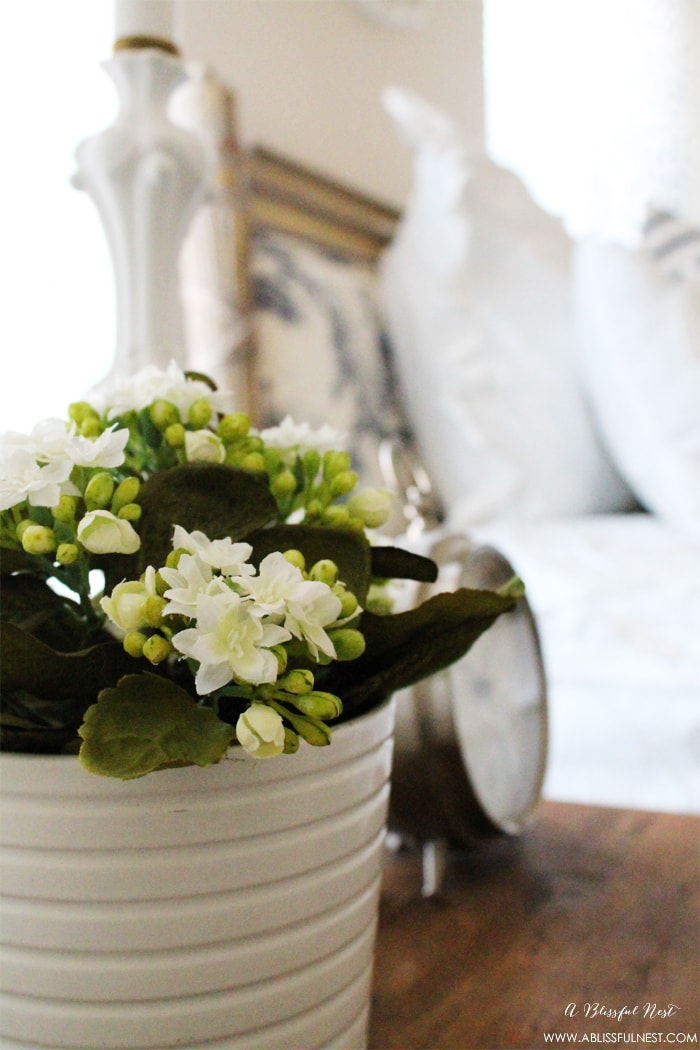 I placed my favorite candle on the other side of the bed that I burn 20 minutes before guests arrive. I swear it is the yummiest smell ever and these tiered baskets hold extra blankets and pillows.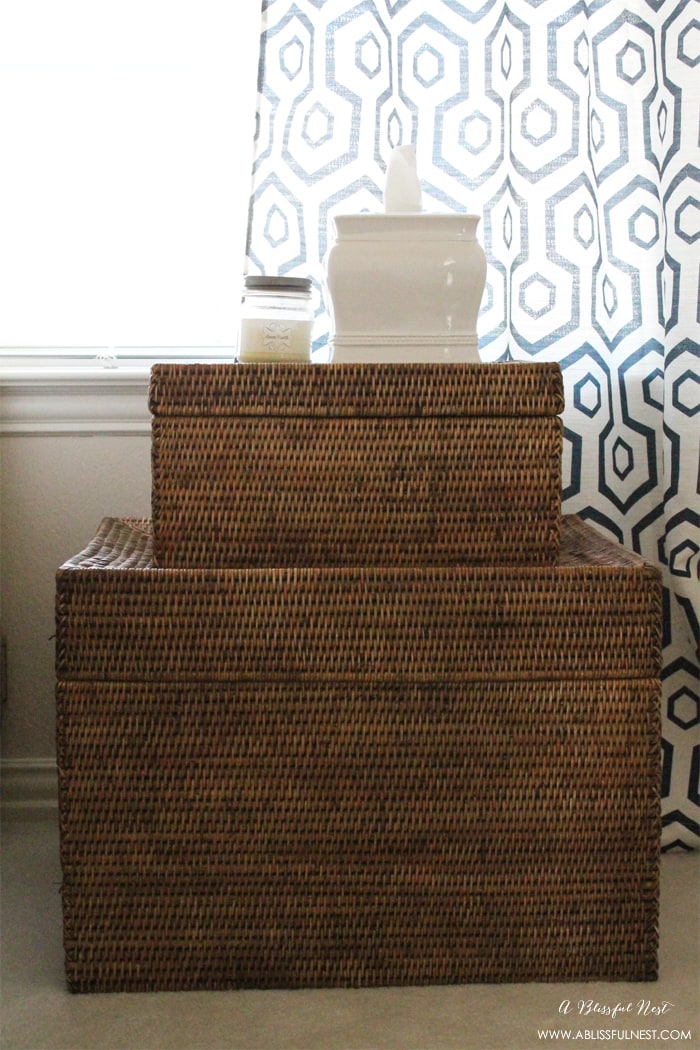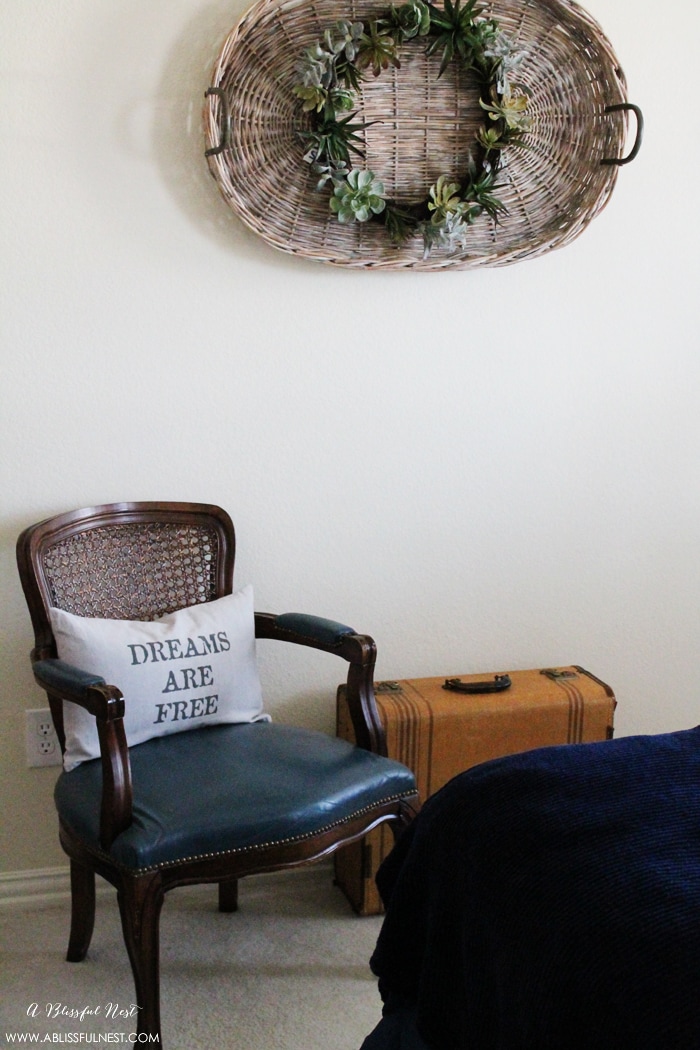 I love this daily reminder on this pillow and looks great on this $30 chair I picked up at the consignment shop a week ago. You never know what you will find! I am still looking for a tall plant for the left side of that chair. My fiddle fig from the other room would be perfect but he is dying a slow death.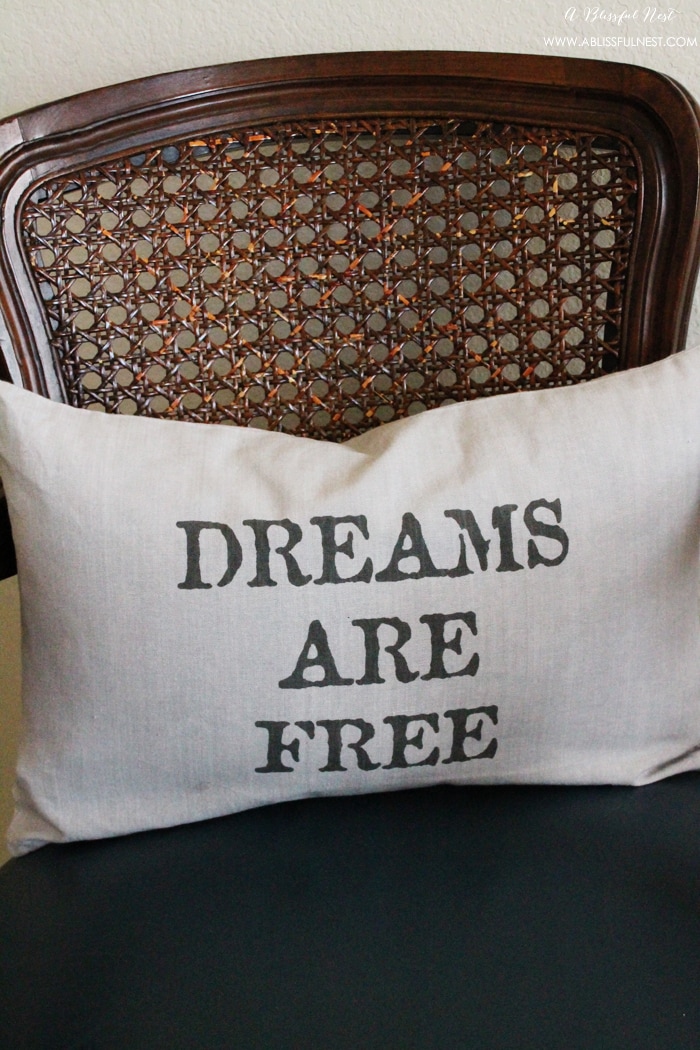 This pretty (not so little) basket was a serious find at Homegoods. I just wired this faux succulent wreath to the middle. I think it gives it that french garden feel.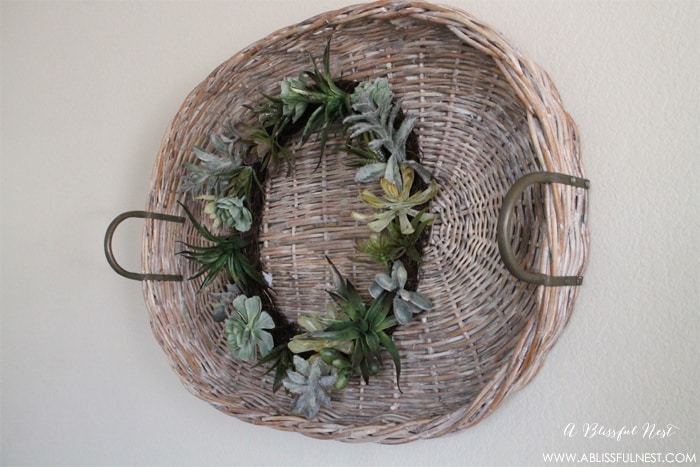 So tell me. What are some of those little luxuries when traveling that are a happy surprise when you stay somewhere?
For all our blissful readers, Beddy's is give you $40 of set and free shipping! Redeem with code: ABLISSFULNEST
Just visit their site HERE to shop!
Shopping Sources:
Bedding: Beddy's
Headboard: Antique Store
Navy Throw: Pottery Barn
Stripe Pillow: H&M
Fur Pillow: Homegoods
Burlap Flower on Pillow: Hobby Lobby
Drapes: Homegoods
Mirror: Target
Tierd Baskets: Two's Company
Table Lamp: Antique Store
Clock: Pottery Barn
Flower Pot: Ikea
Chair: Antique Store
Pillow on Chair: Tuesday Morning
Basket on Wall: Homegoods
Succulent Wreath: Ross
Suitcase: Vintage
THIS IS A SPONSORED POST. A BLISSFUL NEST HAS RECEIVED PAYMENT, TRADE AND/OR PRODUCTS FROM VENDORS IN EXCHANGE FOR PROMOTING, HOWEVER ALL OPINIONS STATED ARE OUR OWN.