Sharing easy tips & tricks to update your guest bedroom to make it extra cozy for guests this season. These are easy tips to follow any time of the year to create a warm and inviting atmosphere for guests.
Today I thought I would take you upstairs into our guest bedroom and share some simple ways to make your guest room cozy and warm for the upcoming season. Honestly, you can use these tips for any time of year but generally, this is when we all have the most guests coming due to the upcoming holidays. This tends to get me all flustered getting my home ready for friends and family coming and there being so much to do.
Recently I updated a few things in the guest room so I am ready for the next few weeks and wanted to share with you how easy this is to do.
This post contains some affiliate links for your convenience. Serena & Lily partnered with me on this post and provided some of the products. Click here to read my full disclosure policy.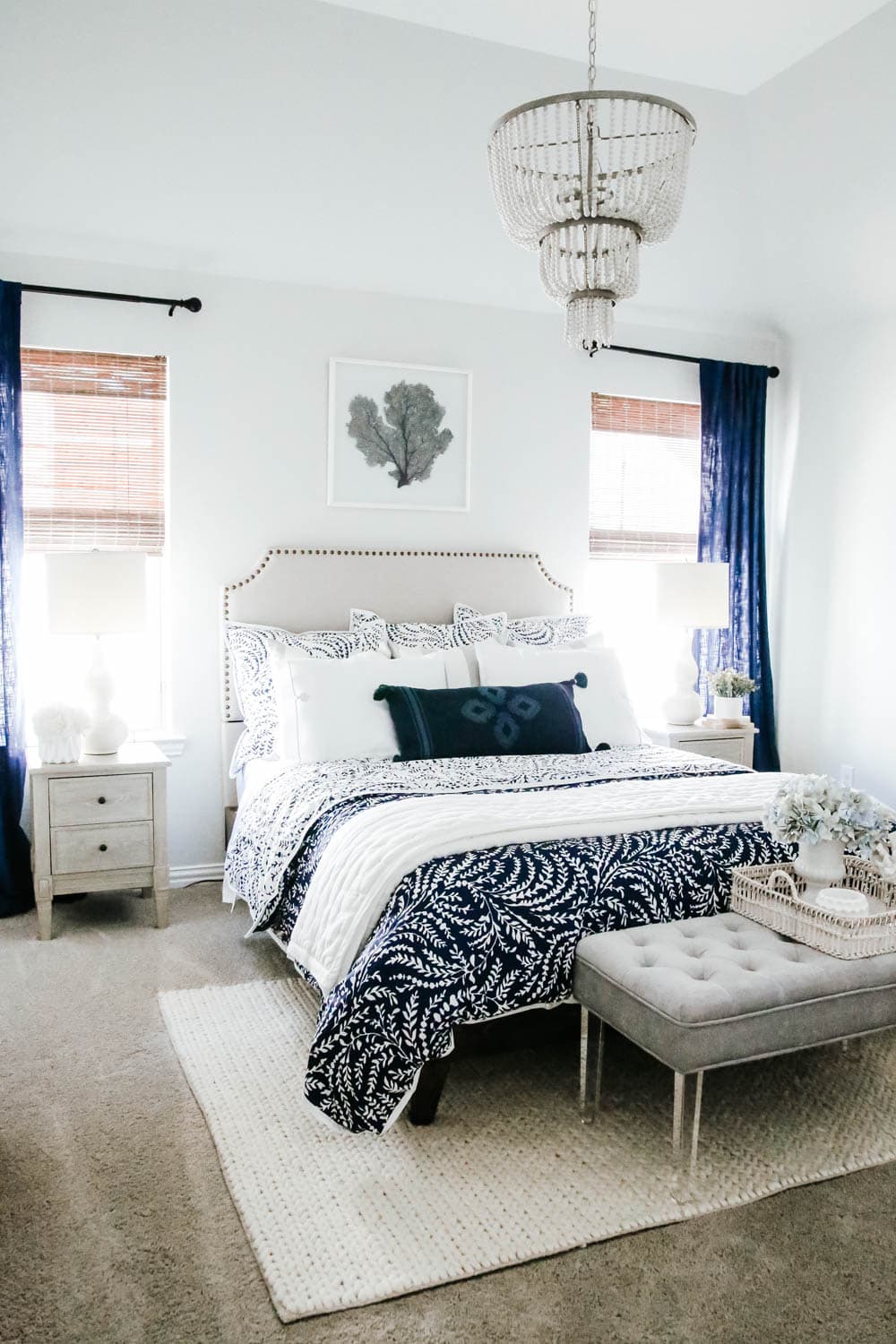 How to Make Your Guest Room Extra Cozy:
Create cozy layers on the bed
Creating cozy layers of blankets and sheets is a must for a warm and inviting atmosphere for guests. One of my favorite shops to get high-quality linens from is Serena & Lily. I love all their gorgeous patterns and timeless looks. Right now they are having their Sleep Well Event where their bedding and beds are 30% off. This is the best time to get these gorgeous linens and to take advantage of an amazing sale.
I chose the Priano duvet cover and euro shams and as you can see this bedding completely transformed this space. I love that it is reversible so come January when I want to refresh the space for winter, I can just flip it to the other side for a whole new look.
I layered the duvet set with the Sutter linen quilt at the end of the bed. It has a gorgeous heavy hand to it and feels so soft. I love giving guests an extra quilt or blanket like this especially in the cooler months.
I paired the bedding set with this rich navy linen lumbar pillow and it really makes the blue pop. It's the perfect throw pillow for the fall/winter season.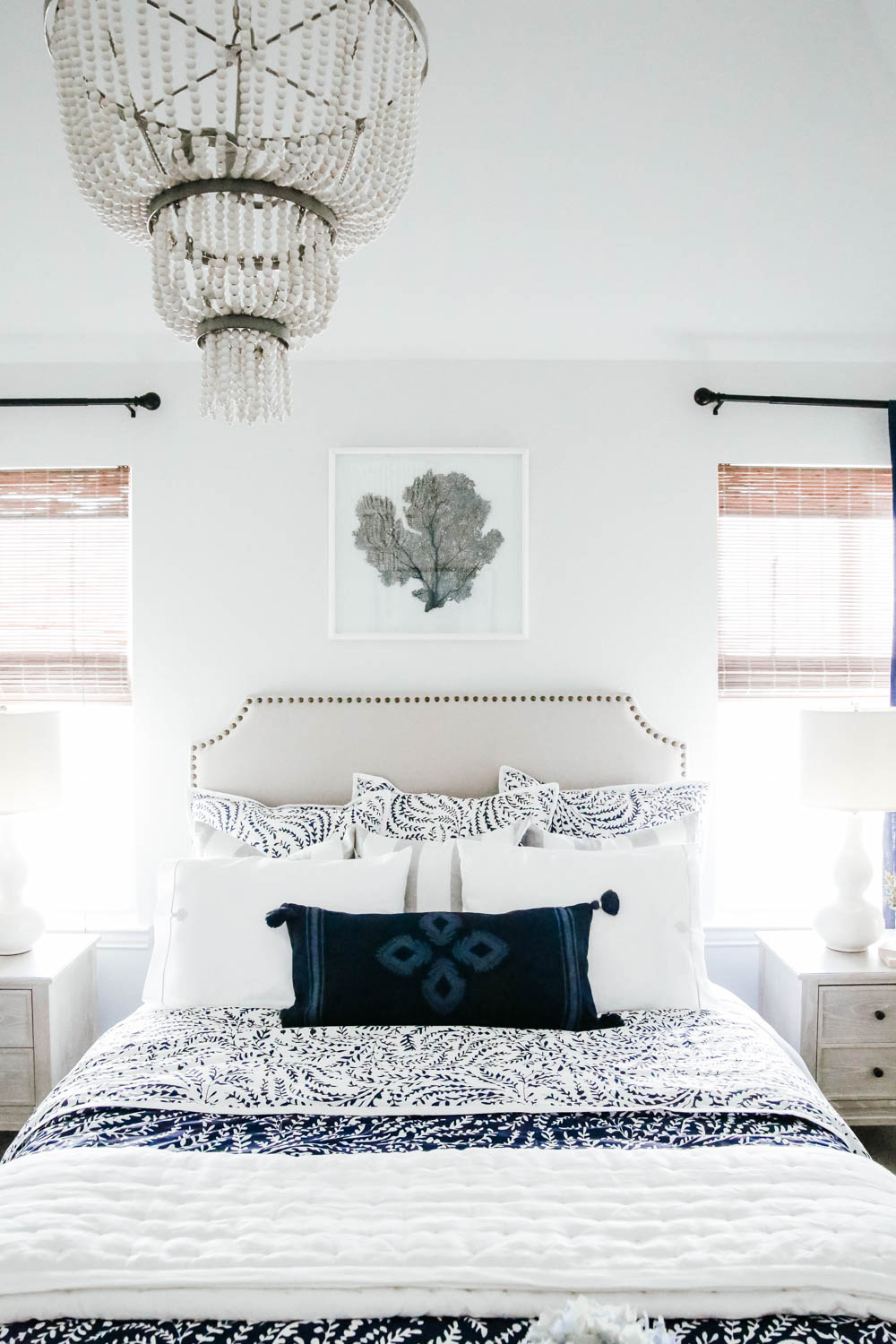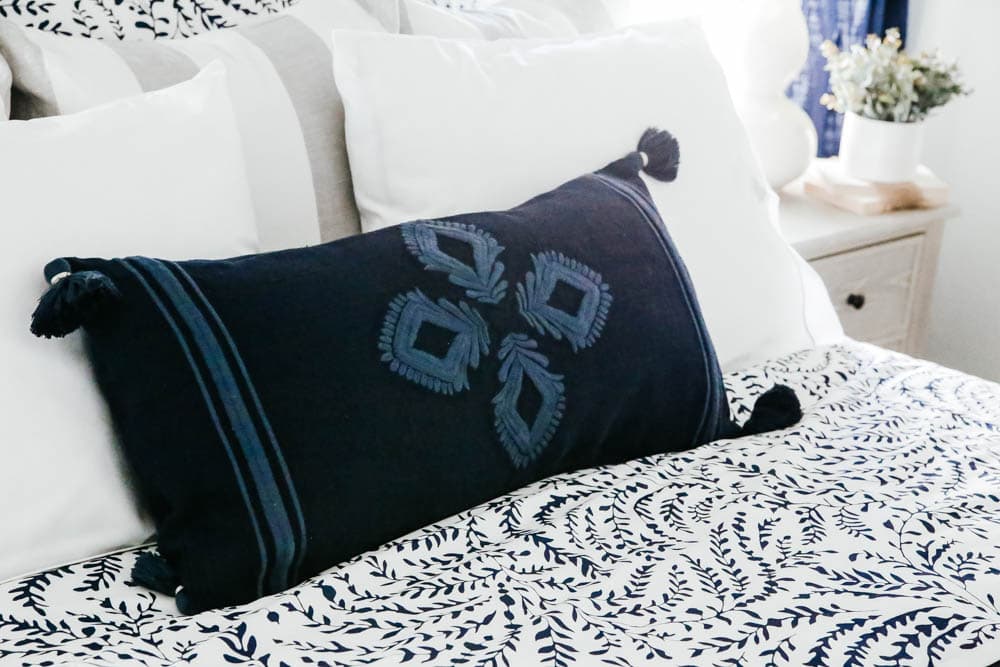 TIP: When making the bed, fold back the sheets and duvet cover to expose the beautiful edges. It will make the bed appear fuller and more luxurious.
Use gorgeous quality sheets
Your guests will thank you for this one. You can definitely tell when a host/hostess has used high-quality sheets in their guest room. You totally sleep better! I choose the Soho sheet set in Fog and love the beautiful embroidery detail on the edges in grey. They are sateen and have a super soft and smooth feel to them. They also are Oeko-Tex certified so they are free of harmful chemicals and gentle on your skin.

Layout fluffy towels for guests
I love to set out fluffy towels in bath, hand and washcloth sizes for guests before they arrive. I freshly wash them so you can smell the lavender scent. The towels we had in here were not as high quality as these pieces I got from Serena & Lily. You could tell that even after a few washes they were not looking so fabulous. I have moved them to cleaning towels and now have this beautiful set.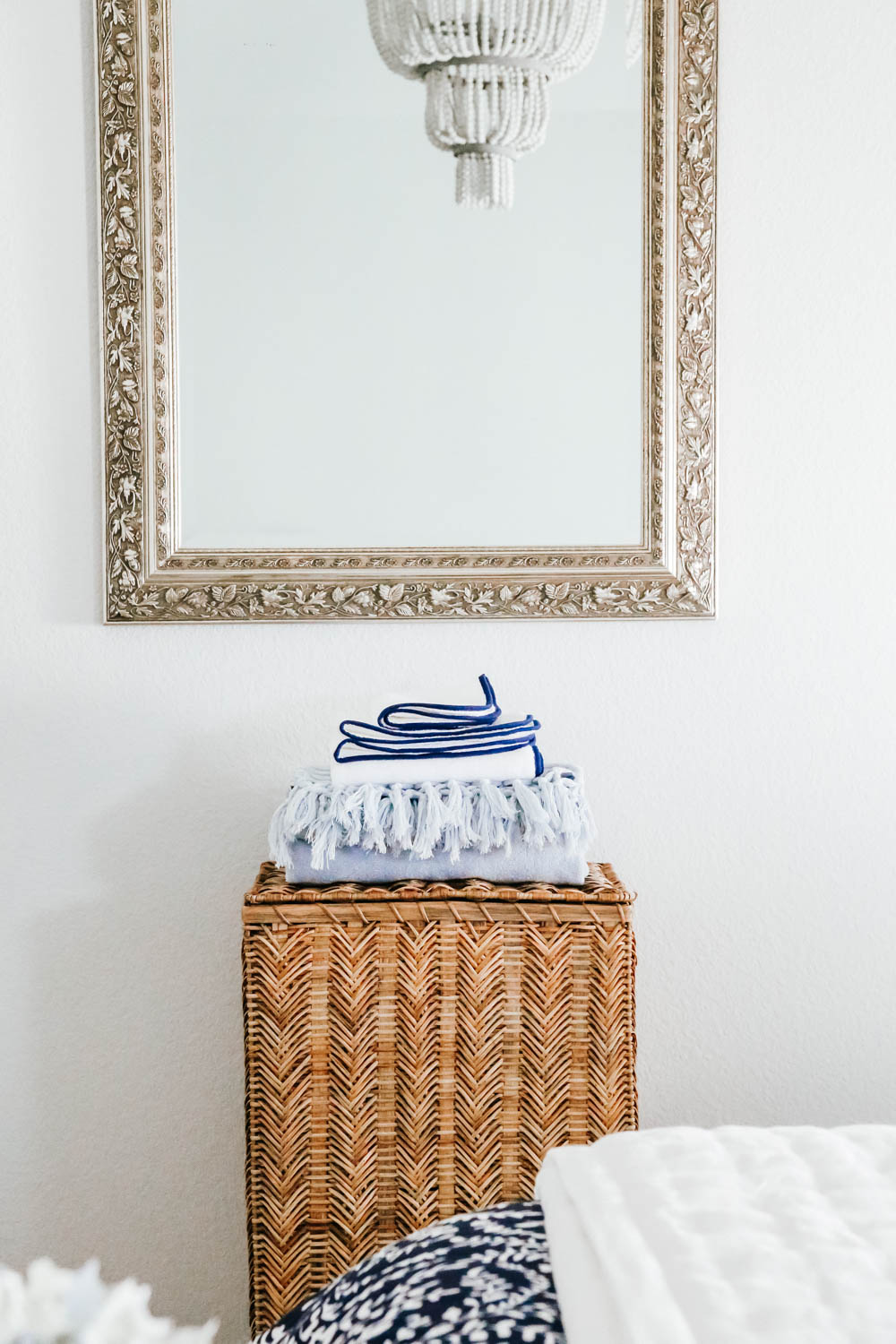 I decided to mix and match to create a more custom looking set. I loved the tassel detail on the Healdsburg bath collection and ordered the bath sheet in it. I then mixed it with pieces from the banded border collection in navy. I absolutely love the rich blue border on the towels that match the bedding. It makes the guest bath and bedroom coordinate beautifully.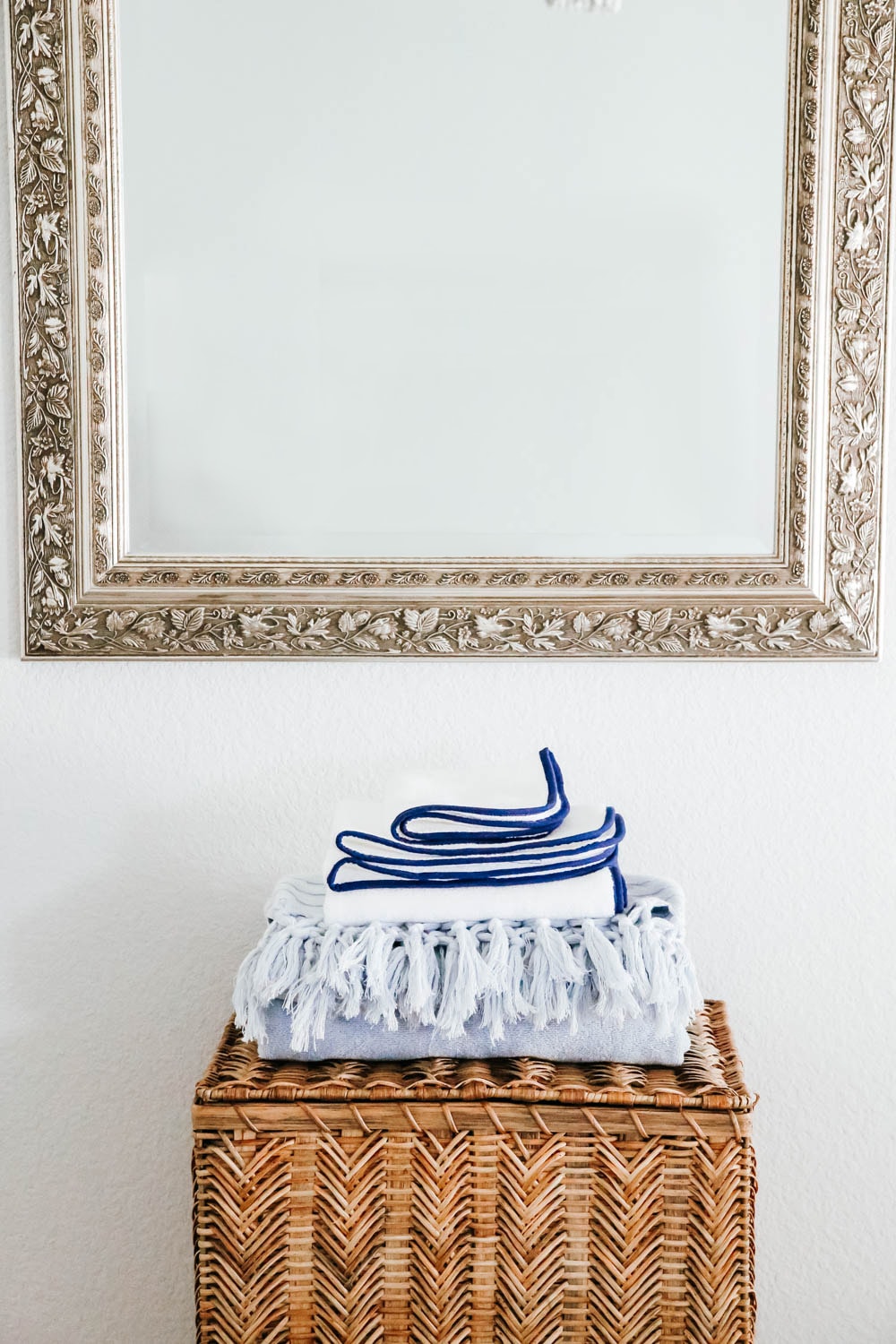 Have lighting near the bed
If you have space on your nightstands then you will want a table lamp on either side of the bed. It makes it cozier for guests to read in bed at night and easier to turn the lights off before going to bed. This is just one of those things that every bedroom needs. I have a whole guide on my favorite table lamps if you are looking for some pretty ones for your guest room.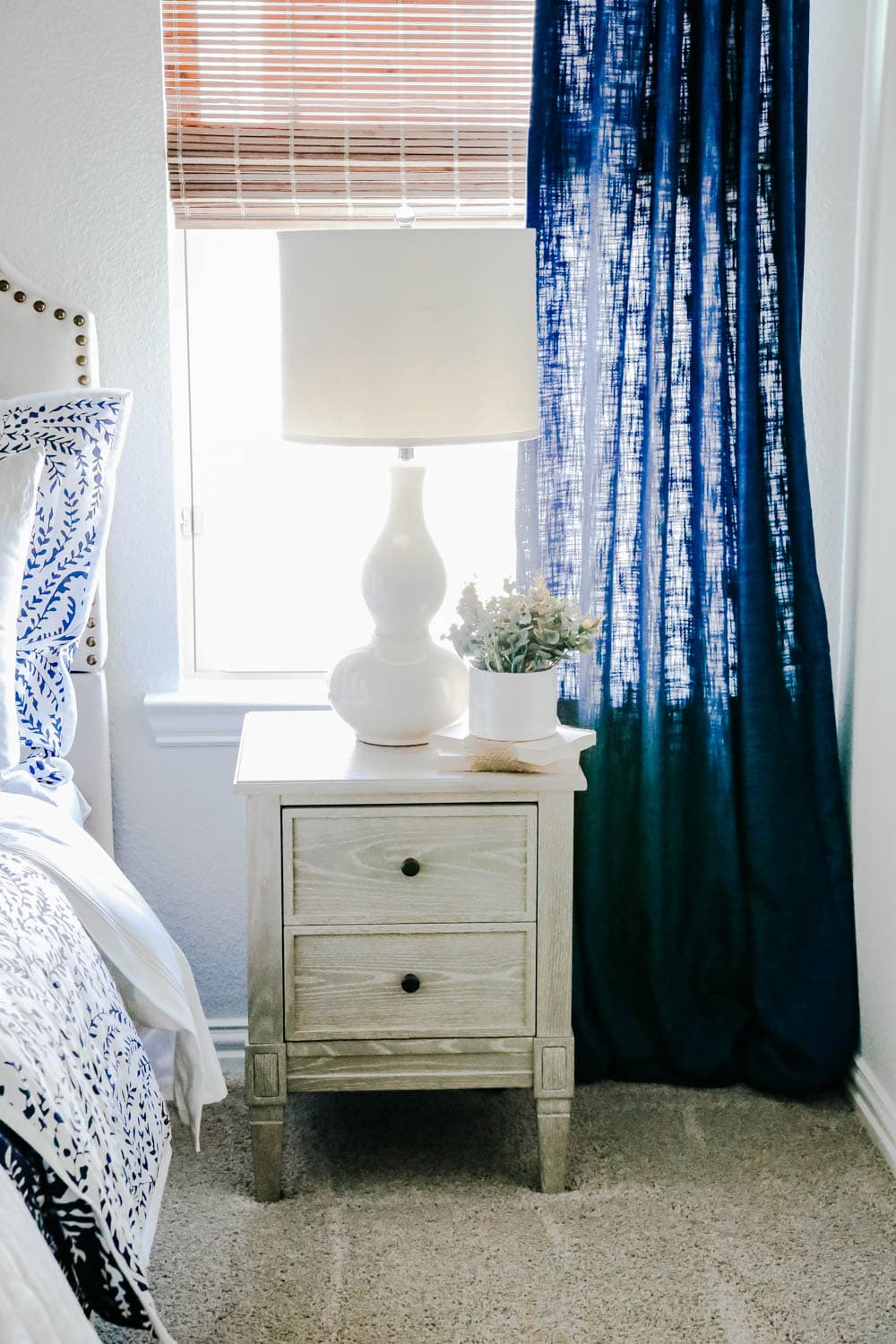 Have cozy seating in the room
If your space is big enough then creating a cozy seating space is a must. I love this beautiful wing back chair and I added this gorgeous embroidered pillow to coordinate with the bedding. I also have a floor lamp and a small side table to put a cup of coffee on in the morning.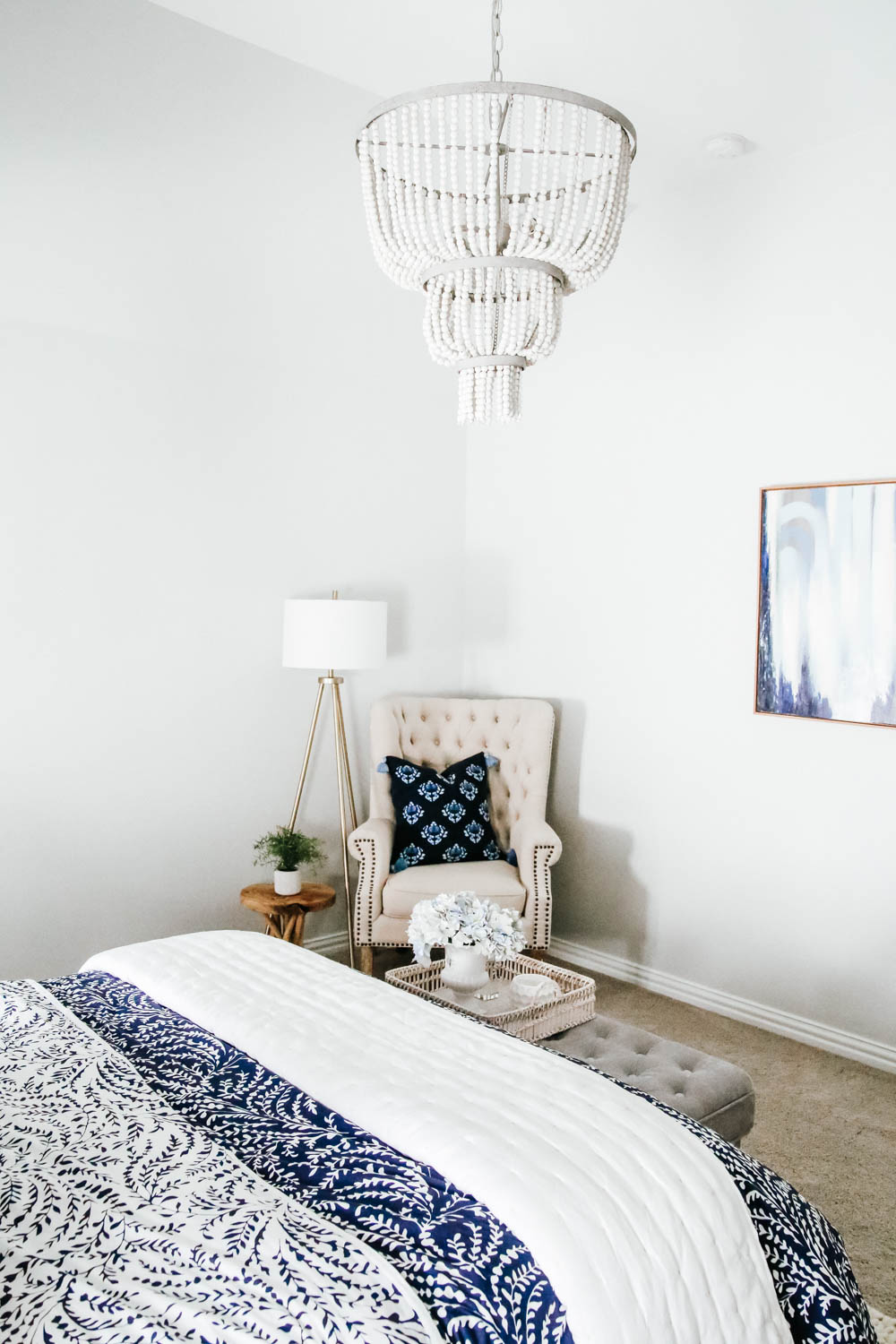 Provide a place for dirty laundry
My guests ALWAYS ask me where they should put the dirty towels and linens when they leave. I feel like they feel bad asking! Anyone else experience this with their guests?? So I thought I would order this beautiful Petaluma hamper to have in the guest room. It is made from bamboo and has this amazing chevron pattern. There is a washable canvas bag inside that I can just pop out and bring down to the laundry room. So easy!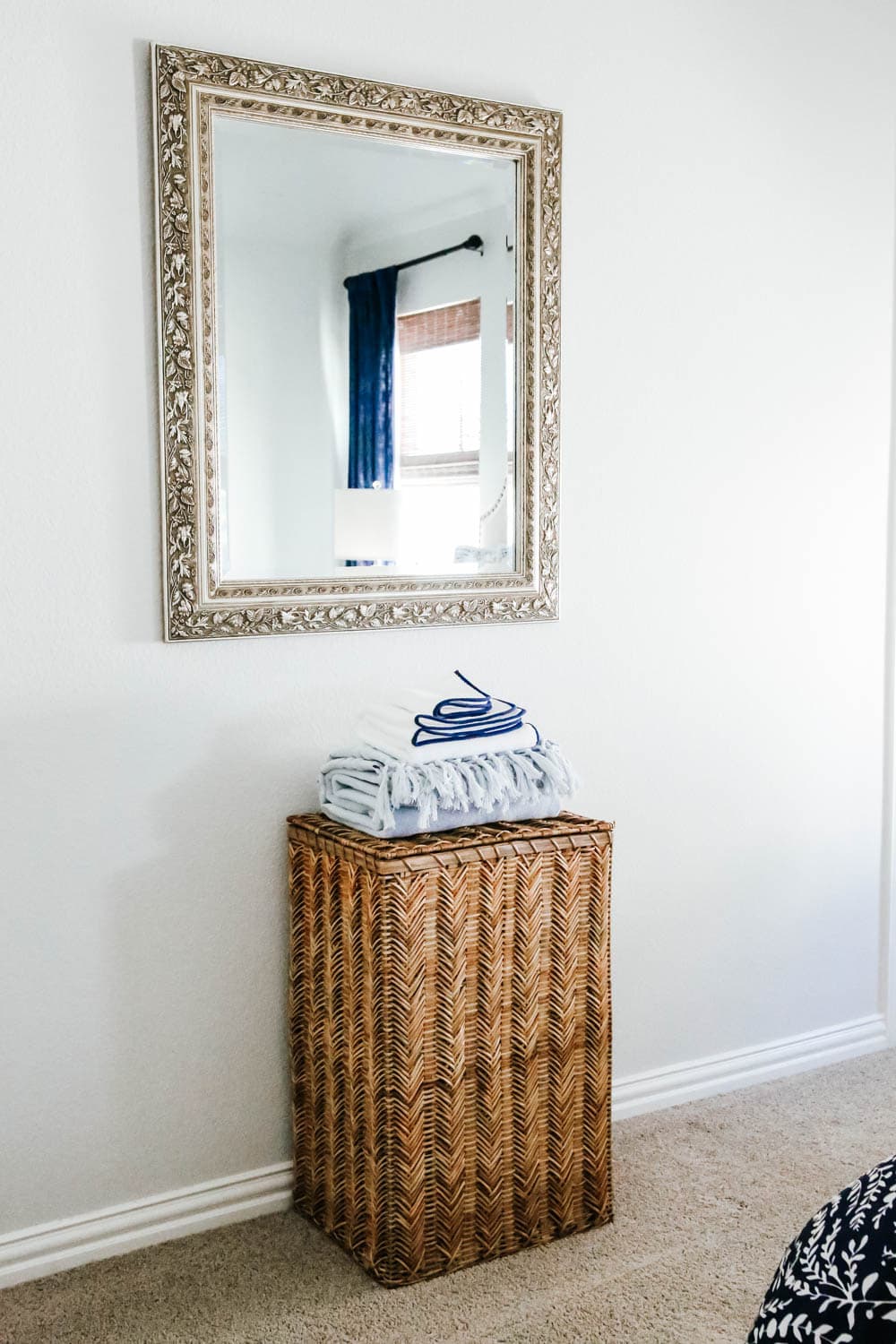 I hope you got some great tips and tricks on how to update your guest room and make it extra cozy this season! I love sharing my favorite resources with you to help you recreate these same looks in your own home so you can shop these items below.