Holiday Gift Guide 2018: Stocking Stuffers for Her, Him & Kids
We are getting closer and closer to Christmas! I cannot believe it's already almost here, and since most of my holiday shopping is finished (emphasis on *almost*!), I'm beginning to shift gears into finding the PERFECT stocking stuffers for everyone in my family. In my opinion, stocking stuffers are meant to be fun, personalized to each person and just little extras that they'll love. I rounded up some of the very best stocking stuffers (that are all super affordable and practical!) for women, men and kids! Get your stockings stuffed and check these ideas out!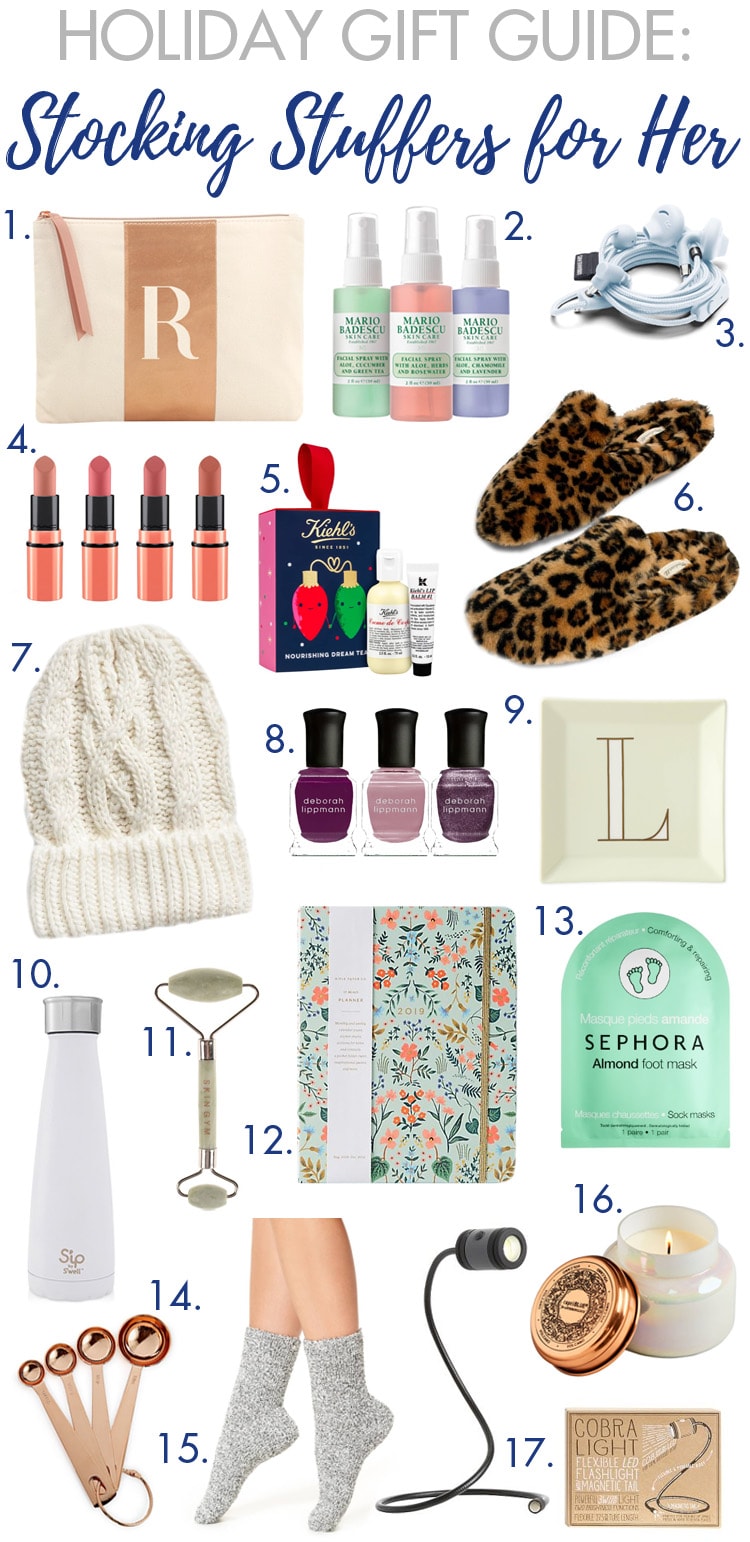 This post contains some affiliate links for your convenience. Click here to read my full disclosure policy.
1 | 2 | 3 | 4 | 5 | 6 | 7 | 8 | 9 | 10 | 11 | 12 | 13 | 14 | 15 | 16 | 17
1. Initial Makeup Pouch: store your makeup, jewelry or any other accessories you can think of in this $5, personalized pouch. Yes, you read that right – it's just $5!
2. Mario Badescu Facial Spray Trio: these facial sprays are so incredible and feel absolutely amazing on your face! They're great for travel too and you'll love how refreshing they are!
3. Earbuds: these may look like just another pair of earbuds, but they are so lightweight and most importantly, flexible. These are a perfect stocking stuffer gift!
4. Mini MAC Lipstick Set: these neutral colors look beautiful on everyone and these minis are the perfect way to test out different colors!
5. Kiehl's Skincare Duo: this cute little set is under $20 and the perfect products to keep your skin feeling and looking soft and hydrated all year round.
6. Cozy Leopard Print Slippers: cute and cozy? Sign me up! These are so warm and soft and the best pair of house slippers out there.
7. Chunky Knit Beanie: so cozy and even cuter! It also comes in black and as a must have winter accessory, it'll be a huge hit.
8. Nail Polish Trio: I always love to include nail polish as a stocking stuffer! This trio is such a pretty set of colors!
9. Initial Trinket Dish: a fun little personalized gift – can't go wrong there.
10. S'well Water Bottle: this insulated water bottle is pure genius – it keeps your water cold all day long and the shape is so slim and it'll fit easily in any bag or in your car's cup holder.
11. Jade Roller: so many skin benefits and so perfect for the skincare gurus on your list! This is the perfect find to finish filling a stocking.
12. 2019 Planner: another practical gift and probably an unexpected one for a stocking, which is always nice!
13. Almond Foot Mask: if you're running out of ideas for what to put into a stocking, include a couple of face and foot masks; they're great for all and something everyone loves and could use! This foot mask also comes in lavender and feels SO good. They also have hand masks – check those out as well!
14. Copper Measuring Spoons: whether you get these for someone who loves to bake, has a new home, or just as an addition to the kitchen, they're a really pretty copper AND affordable.
15. Butter Socks: you truly have not felt the best socks ever until you've felt these! They are incredible – there's a ton of colors and at just $10, you can get a pair for yourself too!
16. Capri Blue Jar Candle: this is one of my all time favorite candles and I love gifting it as much – if not more – as I love receiving it. It's such a timeless, classic scent that is perfect for year round.
17. Flexible LED Flashlight: this would be a great stocking stuffer for anyone! It bends and curves in any which way and has a magnetic end; so handy!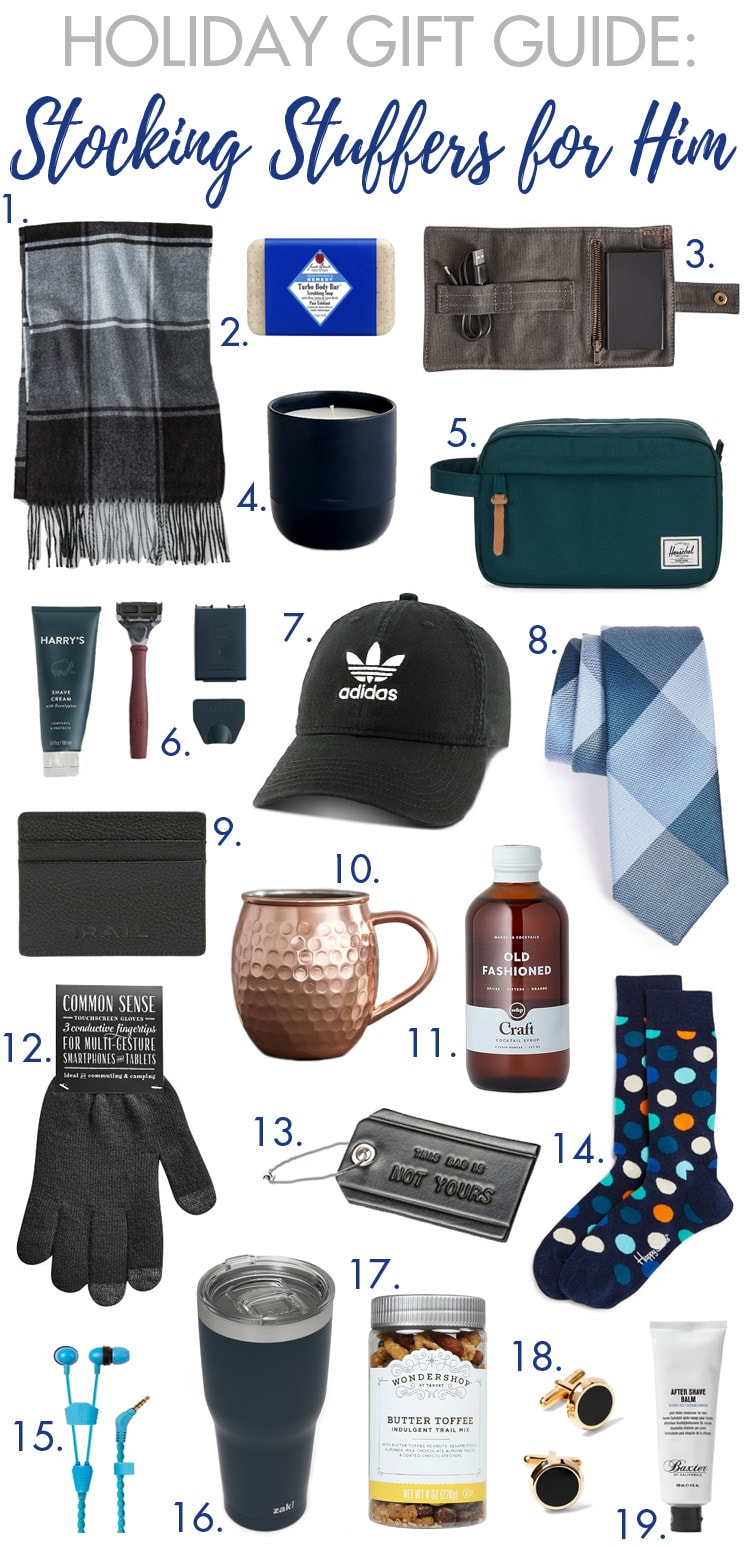 1 | 2 | 3 | 4 | 5 | 6 | 7 | 8 | 9 | 10 | 11 | 12 | 13 | 14 | 15 | 16 | 17 | 18 | 19
1. Colorblock Scarf: for just under $20, this cozy scarf is an awesome gift and definitely one that will impress in a stocking!
2. Jack Black Body Bar Scrubbing Soap: this exfoliating/cleansing soap is energizing and smells absolutely amazing. Another awesome addition to any stocking that he'll love!
3. Power Bank Travel Wallet: this is the best, most logical way to keep your electronic cords organized!
4. Ceramic Candle: hurry up and grab one of these because they are 50% off, making it just $11! It's a great, simple scent and is the perfect accessory for his desk or dresser.
5. Toiletry Case: great for traveling, this case fits every essential he could need!
6. Harry's Shave Kit: one of the most well made razors and shaving kits out there, and for such a great price!
7. Adidas Baseball Cap: simple but practical and a hat he'll wear a ton!
8. Silk Plaid Tie: can you believe that this tie is only $19?! It's so well made and another great option for a stocking. There's a ton of different patterns at this price point too.
9. Leather Card Case: this is just under $20, there are multiple color options and it's the perfect alternative to a wallet.
10. Copper Moscow Mule Mug Set: the perfect barware set to add to his collection!
11. Old Fashioned Cocktail Syrup: a perfect way to spice up his favorite drink! Just add whiskey and you have a delicious, easy-mix syrup drink.
12. Touchscreen Tech Gloves: for $5, you cannot go wrong. Get a pair for everyone while you're at it!
13. Luggage Tag: this luggage tag says, "this bag is not yours", how funny?! Perfect travel accessory to gift in a stocking.
14. Dotted Happy Socks: the best part about these socks, besides being just $12, is that they are SO thick and wash/wear so, so well. A must have for all men!
15. Earbuds: the best part about these earbuds is that they will NEVER get tangled, they easily wrap around your wrist or together so that they don't tangle up in your bag.
16. Insulated Tumbler: he can fill this with water for a workout or during the day or take his coffee on-the-go in the mornings in this insulated tumbler! There's SO many color choices available to choose from as well.
17. Butter Toffee Trail Mix: this sounds so delicious and it's a perfect edible treat to add to his stocking.
18. Gold Cuff Links: I just love how sleek this set is! A great pair of cuff links is something he'll use and have for a long time.
19. After Shave Balm: one of those toiletry essentials that also makes for a stocking stuffer he'll love and use!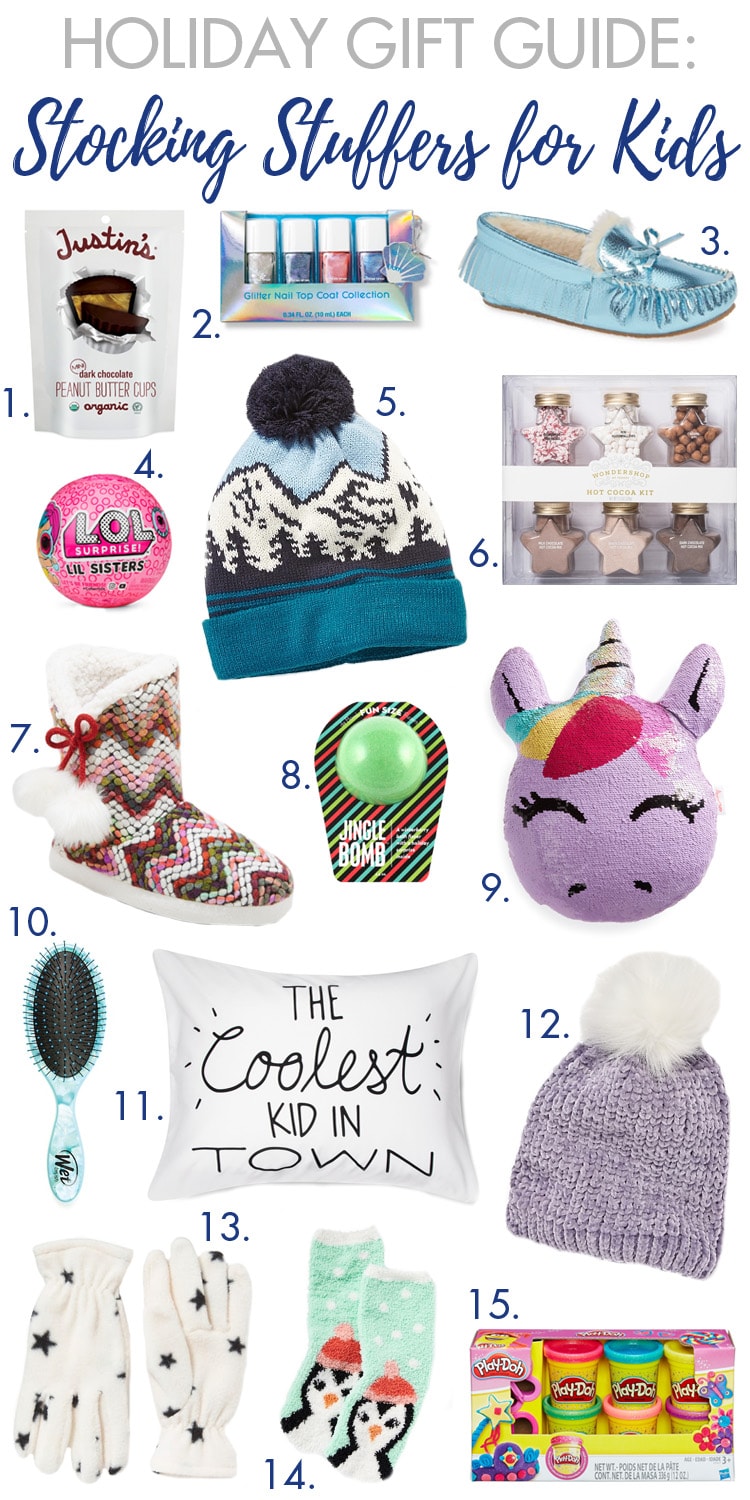 1 | 2 | 3 | 4 | 5 | 6 | 7 | 8 | 9 | 10 | 11 | 12 | 13 | 14 | 15
1. Justin's Peanut Butter Cups: all kids love candy, right? They'll LOVE these and the best part is, they're dark chocolate and organic. It's a win-win!
2. Glitter Nail Polish Set: every little girl would be overjoyed to get a set of this glitter nail polish in her stocking!
3. Metallic Moccasins: these are just the absolute cutest and also come in pink!
4. LOL Surprise: one of the most popular kids' toys again this season, and your kids will LOVE getting one or two of these in their stockings.
5. Mountain Printed Knit Beanie: another perfect cold weather accessory to get your kids to stay warm without a fight- haha!
6. Hot Cocoa Kit: this cute little set has everything you need to make a perfect cup of hot chocolate on a cold day!
7. Knitted Bootie Slippers: so cute, so cozy and a pair of slippers your little girl(s) will wear all winter long.
8. Jingle Bomb Bath Soak: the kids will beg to take a bath once they receive a fun and festive bath bomb like this one!
9. Reversible Sequin Unicorn Pillow: the cutest sequin pillow ever! Great to add to their bed or for them to cuddle with.
10. Wet Brush: the best hair brush ever that prevents and removes tangles without a flinch!
11. "Coolest Kid in Town" Pillowcase: such a cute idea and a fun little gift they will love!
12. Pom Pom Beanie: you won't ever have to fight with your daughter to wear a hat again once she sees how cute this pom pom beanie is! Great for cold days and super cute at the same time.
13. Star Printed Fleece Gloves: stockings are the perfect excuse to get your kids new cold weather accessories like this adorable pair of gloves!
14. Penguin Fuzzy Socks: I gift these to just about EVERYONE. They are always so cute and come in so many styles – beyond affordable and my #1, ultimate stocking stuffer!
15. Sparkle Play-Doh: who doesn't love play-doh? Such a classic that will keep the kids entertained for hours.
What are some of your go-to stocking stuffers? I hope this list of ideas helps you to put the finishing touches on your holiday shopping!