Holiday Gift Guide 2019: Cozy Gifts for Her
Let's be honest, who doesn't love a super cozy gift? We all love receiving them and there are SO many options out there to gift them as well! There is nothing better than getting cozy and warm on the coldest day and these gift ideas are sure to be ones that any and every woman on your shopping list will love to cuddle up with.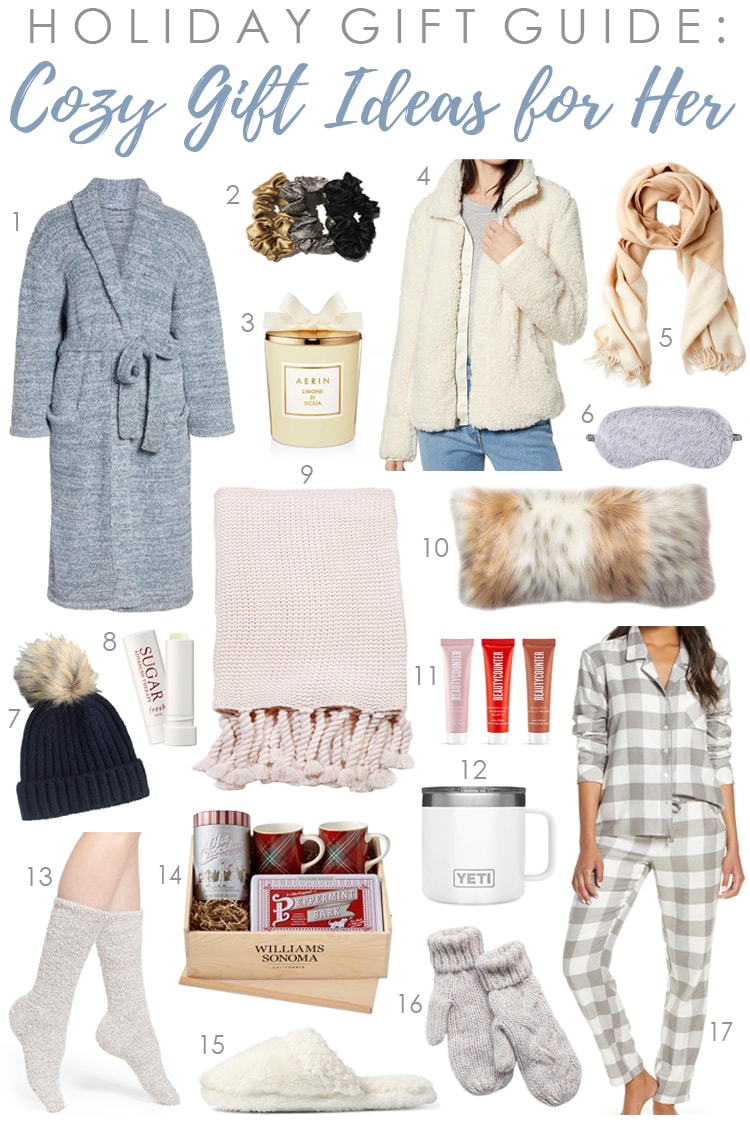 1 | 2 | 3 | 4 | 5 | 6 | 7 | 8 | 9 | 10 | 11 | 12 | 13 | 14 | 15 | 16 | 17
This post contains some affiliate links for your convenience. Click here to read my full disclosure policy.
1. Barefoot Dreams Robe: this cozy, warm robe comes in 9 colors and is just under $100. It's so beautiful and insanely soft and warm.
2. Slipsilk Hair Ties: for the women who like to sleep with their hair up, or just keep it out of their face while hanging out at home, these silk hair ties are a must. This set of 3 comes in a variety of color combos and prevents creases appearing in your hair that regular hair ties cause. They're such a fun gift idea!
3. Limone di Sicilia Candle: I always love to gift candles – they're a great, useful gift that everyone loves and something you can never go wrong with. This is something different as far as candles go and smells like sunshine and summertime, so even on the coldest days you can feel as if you're in the warmest, most beautiful destination!
4. Wubby Fleece Zip-Up Jacket: here is another under $100 gift idea that looks (and feels!) like it was MUCH more expensive than that! It comes in white, black and a dark brown and is the softest jacket ever. It's perfect to wear if you're layering up at home or need something cozy to head out into the elements in.
5. Colorblock Wool Scarf: this cozy, wool scarf is so luxurious (without the price tag), comes in three colors, and you can even add an optional monogram for a personalized touch!
6. Faux Fur Eyemask: this cute eyemask is only $4! It'd be a great stocking stuffer and comes in multiple colors. It's so cozy and cute!
7. Ribbed Faux Fur Pom-Pom Beanie: the easiest way to stay looking cute while warm this winter is with a pom-pom beanie like this one! It comes in a variety of colors and is so warm.
8. Sugar Advanced Therapy Lip Treatment: keeping your lips hydrated in the coldest of months is so important yet something a lot of women (myself included) tend to overlook. Gift her this Sugar lip treatment balm as a reminder to keep her skin hydrated and feeling good in the cold weather! It comes in a sheer shade, as more of a lip balm, and also comes in a pink shade, to double as a gloss.
9. Knit Throw Blanket: I have this cozy throw blanket in my home and it is the BEST! It's such a beautiful way to dress up a couch or bed but also keeps you so, so warm. I love to gift throw blankets, especially if you're not sure too sure what someone on your list likes, they're a great gift idea.
10. Snow Leopard Faux Fur Throw Pillow: there's nothing better than a good, neutral pillow, right? It may seem tricky to gift a pillow to someone, but when it's neutral like this and SO cozy and soft, it's the best idea out there! This is a throw pillow that can be paired with just about any texture or color and is perfect for this time of year. It's also only $20!
11. Beauty Counter Hand Cream Trio: this set of hand creams is the absolute best on the market. They're made with shea butter, grapeseed and jojoba oils that keep your hands so soft and smooth and not at all greasy. This trio gift set comes with three different scents and are great to travel with or keep in your handbag during the day. This is my #1, top gift idea!
12. YETI Mug: have you tried any of the YETI tumbler products yet? If not, you have to! They're so great for keeping your drinks cold or hot and this mug is perfect to keep your coffee, tea, hot chocolate, or any other hot drink in this winter. It's a gift that she can use year-round, too. I love this classic white, but also really love the seafoam color it comes in.
13. Barefoot Dreams Cozy Socks: another simple but PERFECT cozy gift idea. These socks are the best and keep your feet so warm!
14. Peppermint Bark Tartan Gift Crate: this might be the most creative, ready-to-gift, gift box I've ever seen. I LOVE everything about it – it comes with two tartan printed mugs, peppermint bark and peppermint hot chocolate. It has everything she needs to make the perfect cup of hot chocolate on a cold day!
15. Cozy Faux Fur Slippers: slippers are another gift idea you can't go wrong in giving. These cozy slippers are $29 and even offer some support – they aren't so flat to the ground that they're hard to walk in.
16. Cable-Knit Mittens: these soft knit mittens are a must-have for a cold day and are less than $25!
17. Gray Plaid Flannel Pajama Set: a pajama set that is this warm and cozy is a perfect gift and a set she'll love to put on after a long day and cozy up in! The set is affordable and comes in three color combos.
What's your favorite cozy gift to give and receive during the holidays? We hope these warm and lovely gift ideas give you the inspiration you need for all of the women on your holiday shopping lists this season!
You can check out all the Holiday Gift Guides for even more gift-giving ideas!