This post is sponsored by Dyson
Let's talk about how to keep hardwood floors clean. We have the most gorgeous dark hardwood floors in our home. I love them! BUT I do not love how they show everything. I really believe it is impossible to keep my floors clean even within a day of me vacuuming them, especially with an active 7-year-old, 2 animals and my husband. I had to throw him in there!
I have really been thinking for months now that I needed a quick fix in between when I regularly vacuum which is about 2-3 times a week. Yes, sadly I do vacuum this much because we really need it. So with all this said, I had been telling my husband I needed something that would be my quick fix after everyone has rushed off to school and work and I am left with a mess. Enter the Dyson V6 Absolute Cord-Free Vacuum. Ready to see my messy breakfast bar??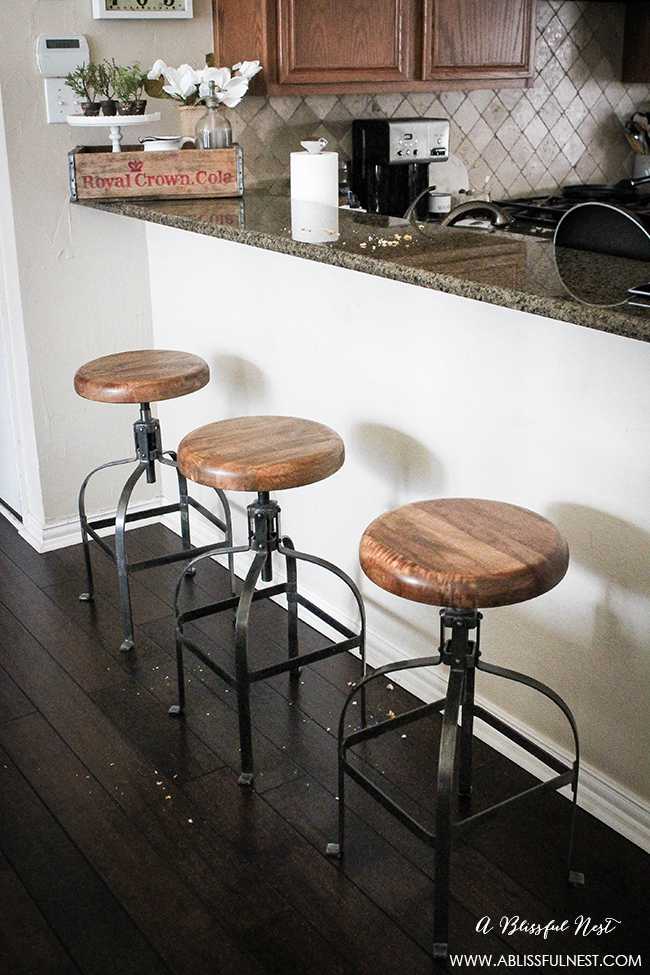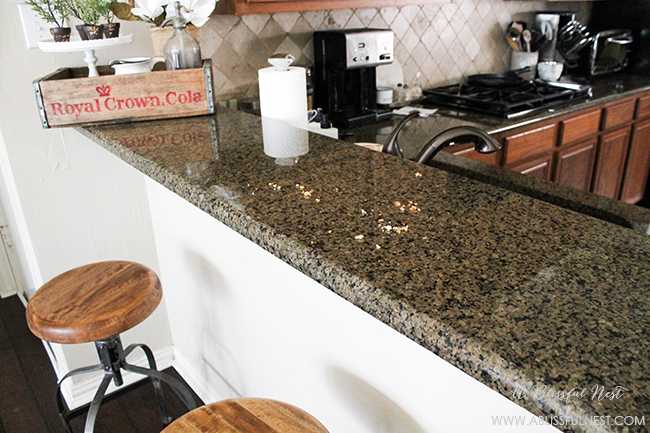 You would think my kiddo was born in a barn and, quite frankly, I am sure she would love that. But I certainly don't!
When our new Dyson arrived, my husband could not wait to open it. He looked like a kid at Christmas. I should have recorded that so he does more of the vacuuming, right??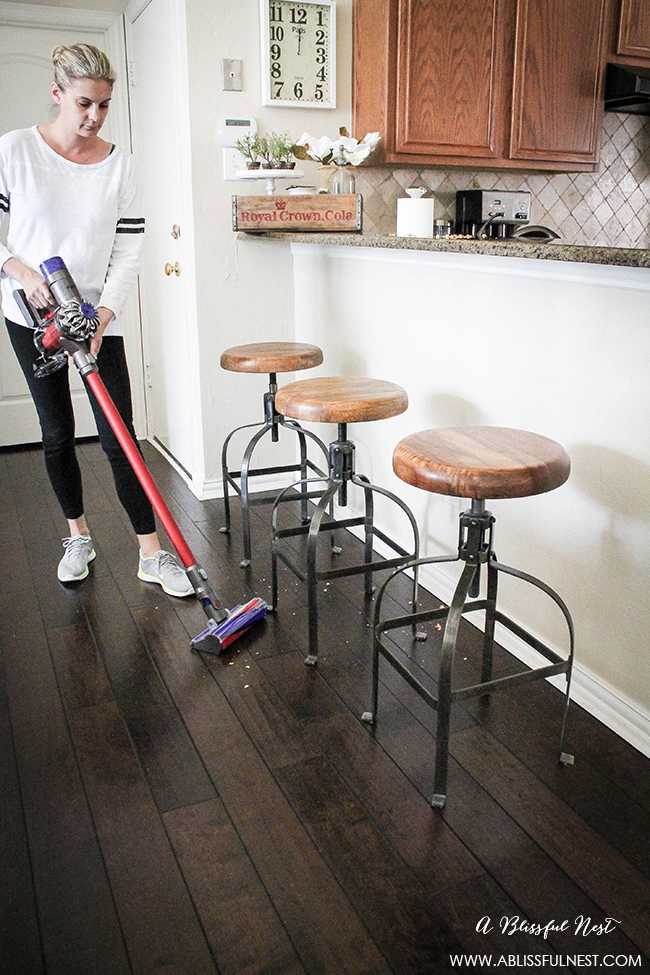 I was praying this might be my big solution, and I was right – it is! Now I have to tell y'all, we've been a Dyson family for years. We have this vacuum and it has lasted us a long time. It is super durable, has a strong suction and is not heavy to pull around. The Dyson V6 Absolute Cord-Free Vacuum is really lightweight, easy to use and has a strong suction just like my big guy. I am SO impressed.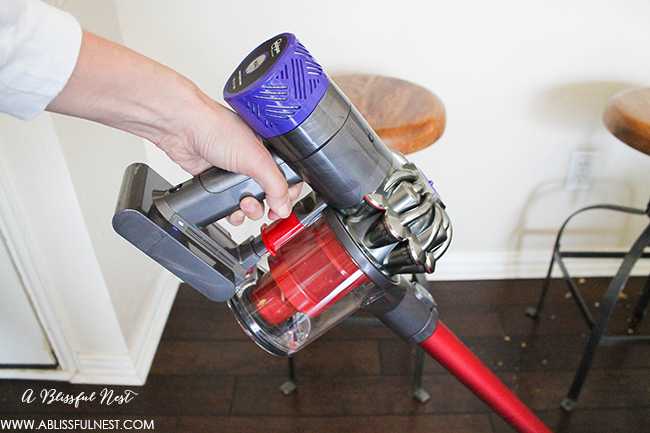 So here is my routine to get my dark floors clean.
How to Keep Hardwood Floors Clean:
Use the Dyson V6 Absolute Cord-Free Vacuum and clean up the debris on the floor.
Use a hardwood floor cleaner to mop up the immediate area. I typically use a disinfecting wipe so it sanitizes too.
Can you believe it is only 2 steps? My animal hair from my little guys is now under control, the morning mess on the floor from my daughter's breakfast and the dirt from shoes (that should not have been worn in the house) are all manageable. Plus, when I have unexpected guests pop in and I have 5 minutes to prep, this guy keeps me sane now. No more messy floors.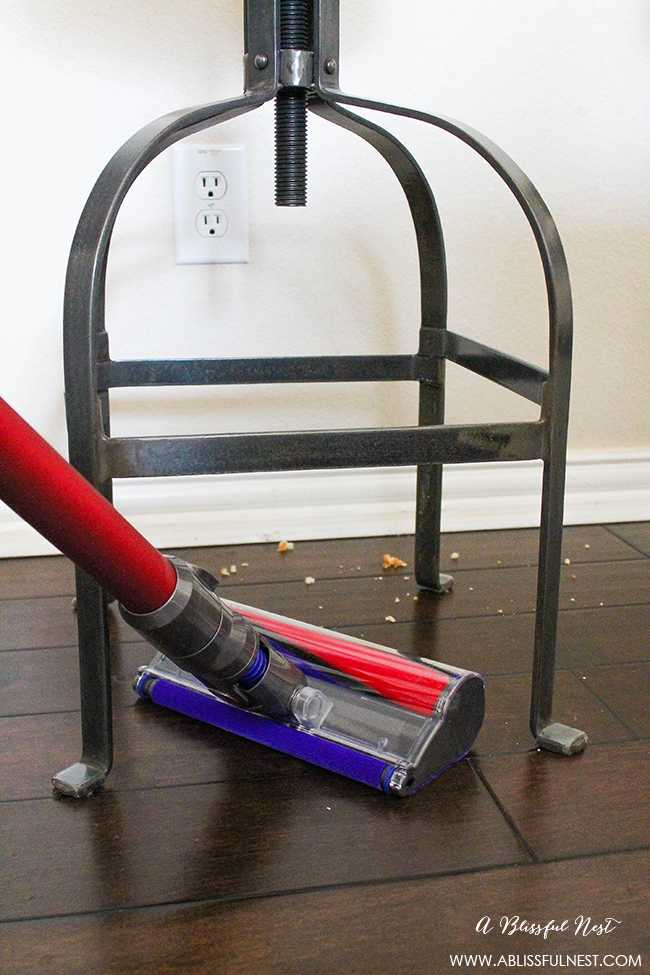 I certainly have some areas that are hard to get to, like where our barstools are and behind the kitchen table. Our new Dyson is able to fit right in there and get the job done. It makes it all so quick. And when you are done, just plug it into the docking station so it is ready for the next time.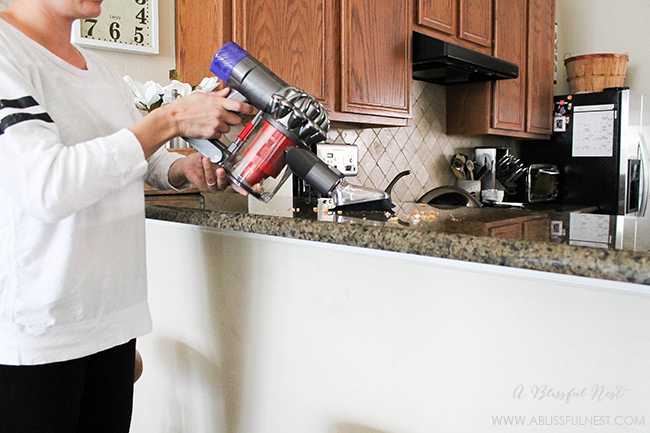 Also, there are 6 different vacuum heads that it comes with, and I loved this one to help me get everything up from the counter. Yep, that was a game-changer for me using it on the counter!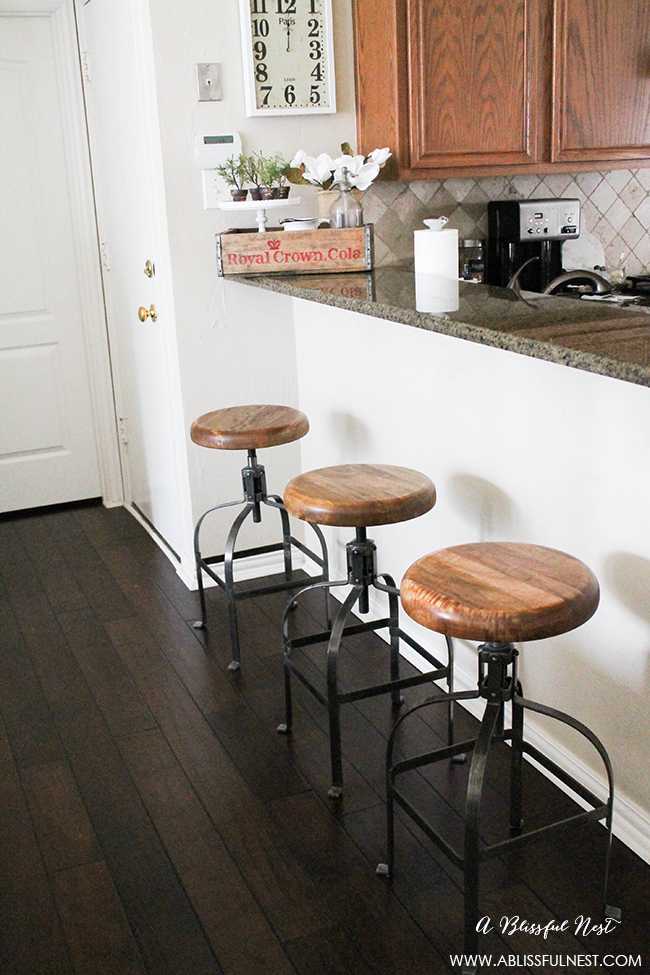 Whether you are a mom on the go like me or love to craft and hate the mess, if you have hardwood floors then you need a good game plan. I promise you will love this new addition to your home!
Cleaning doesn't have to be a chore. With Dyson V6 Cord-Free Vacuums, you can clean from the floor to ceiling with Dyson power, without the hassle of a cord. Clean carpets, cobwebs in corners, or convert to handheld mode for countertops, couches and car interiors. No more lugging, plugging and re-plugging the old corded vacuum – just undock and go. For more on Dyson Cord-Free Vacuums, visit www.dyson.com . Join the conversation using #NoSpaceUncleaned and #CleanEverywhere.

THIS IS A SPONSORED POST. A BLISSFUL NEST HAS RECEIVED PAYMENT, TRADE, AND/OR PRODUCTS FROM MODE MEDIA IN EXCHANGE FOR PROMOTING. HOWEVER, ALL OPINIONS STATED ARE OUR OWN.