Mother's Day Gift Ideas for Under $50, Under $100 and Over $100
Can you even believe that Mother's Day is in just a few short weeks?? It's coming so quickly! Here's to hoping we ALL can (finally!) enjoy some spring weather on the ladies' in our lives special day! Since you all loved that last year's guide was broken down into all different pricing categories, I decided to do the same this year as well so that you can shop in ease based on your budget – under $50, under $100 and over $100. Below are tons of perfect gift options for your mom, grandmother, or any other incredible woman in your life you'll be shopping for! And trust me when I say, you may find yourself changing the quantity to "2" on some of these to treat yourself as well!
This post contains some affiliate links for your convenience. Click here to read my full disclosure policy.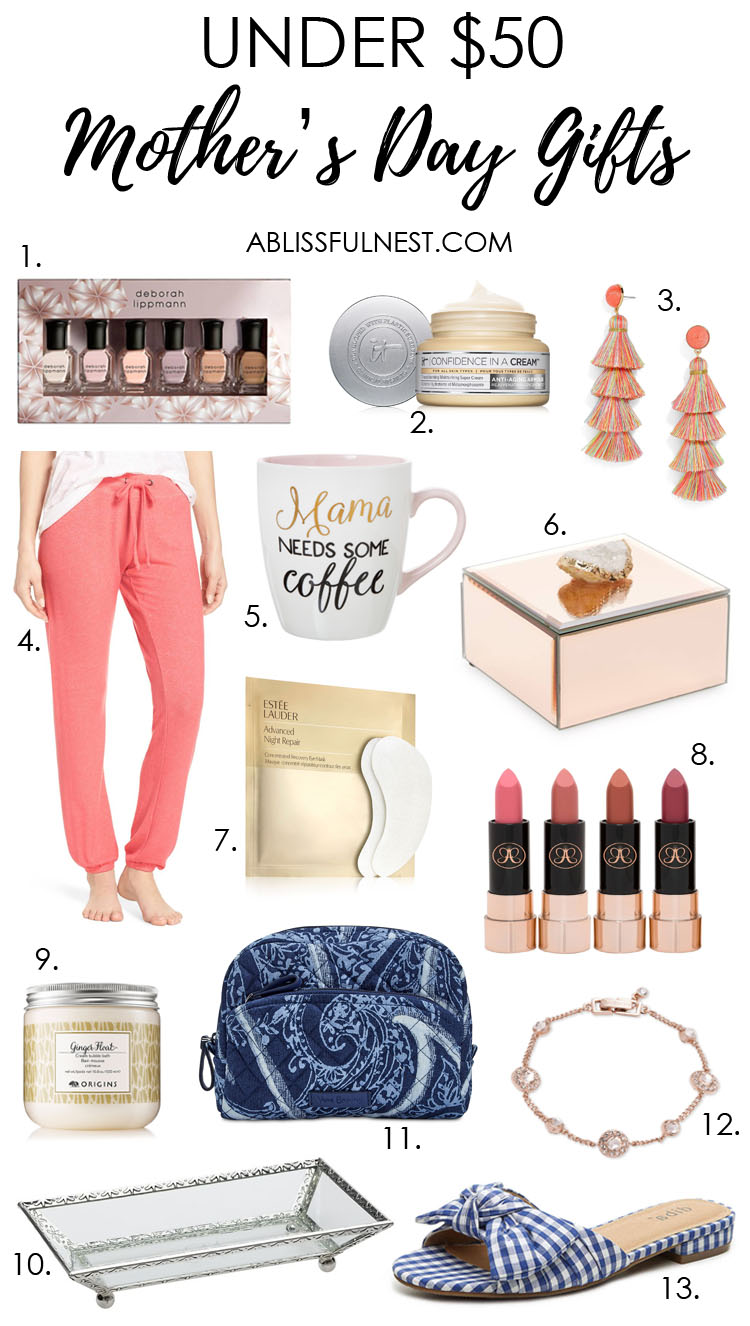 1 | 2 | 3 | 4 | 5 | 6 | 7 | 8 | 9 | 10 | 11 | 12 | 13
1. Nail Polish Set: give mom a reason to pamper herself at home with this pretty, neutral nail polish set!
2. Confidence in a Cream' Moisturizer: all women should try this moisturizer out, but it is a great gift for mom this year! It's a must for all ages and skin types and you can't go wrong with gifting a great skincare buy this year.
3. Colorful Tassel Earrings: coming in a TON of colors, these are my very favorite pair of statement earrings EVER. They are so lightweight and the perfect colorful touch to any outfit.
4. Cozy Jogger Pants: can anyone ever have too many pairs of comfy pants? No, but I bet that the ladies in your life don't all have a cute pair that can be worn out like these can! I love this coral shade but there are a bunch of other color options as well.
5. 'Mama Needs Some Coffee' Mug: that she does! A must buy, for sure!
6. Mirrored Jewelry Box: this stunning box would make for the perfect jewelry box and has a beautiful agate stone on top. Perfect gift option under $50!
7. Eye Mask Set: these masks work wonders for your eyes! They are a must have and a great gift option – they'd be perfect to add to a gift basket you put together as well.
8. Mini Matte Lipstick Set: if the woman you're buying for is indecisive or just really loves lipstick, this matte lip set is a great gift she'll love! It has a variety of four colors in the set and the quality is incredible.
9. Cream Bubble Bath: talk about luxury with this incredible bubble bath! It smells incredible and is an awesome buy – it's one of those things anyone on your list will enjoy.
10. Monogram Jewelry Tray: if you're all out of ideas, go with something monogrammed. It adds the perfect personal touch to any gift – this tray is a beautiful piece to add to her dresser, console table – pretty much anywhere!
11. Cosmetic Case: I love gifting cosmetic cases (you can never have too many!) filled with fun beauty buys that were hand selected by you, for your loved one. It's a great, outside-the-box gift!
12. Rose Gold Bracelet: a dainty bracelet like this is so simple but so sparkly and looks SO expensive, but isn't! It also comes in silver – and is most definitely something you should grab for yourself, too.
13. Gingham Bow Sandals: give us all of the gingham this year! These sandals are just under $30 and a must buy!


************************************************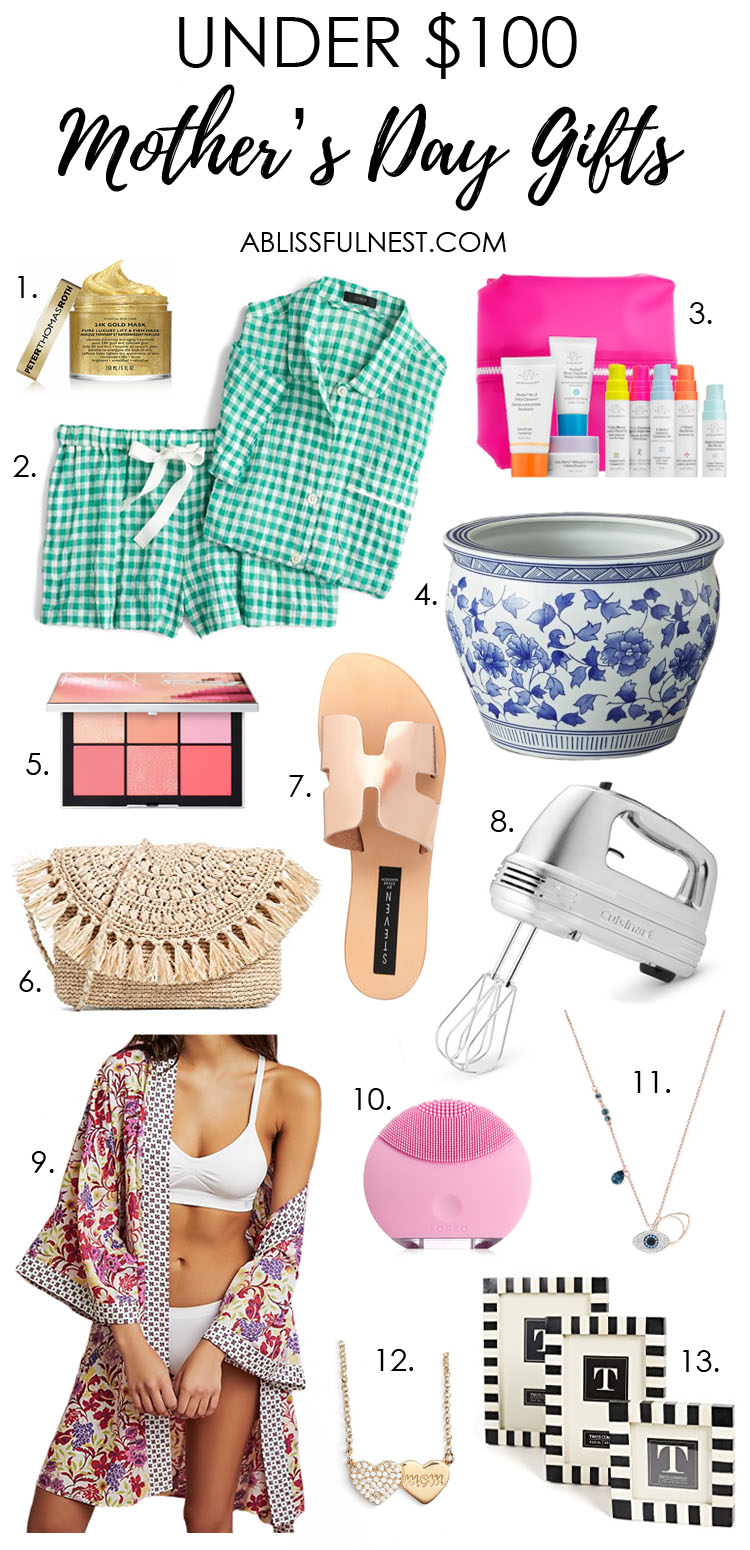 1 | 2 | 3 | 4 | 5 | 6 | 7 | 8 | 9 | 10 | 11 | 12 | 13
1. 24K Gold Face Mask: give your mom a dose of luxury this Mother's Day with this incredible 24k Gold face mask! It lives up to the hype – it feels incredible on your skin, lasts a LONG time and is a great price for something so luxurious.
2. Gingham Pajama Set: you can never go wrong with buying someone a new set of PJs! This set will be great to wear as the weather warms up and it comes in two other colors as well – and who doesn't love gingham?!
3. Drunk Elephant Skincare Set: this brand is known for it's luxurious, beneficial skincare products and this skincare set will give the recipient a taste of everything this brand has to offer! It comes in a carrying case and is already packaged to gift.
4. Blue & White Ceramic Floral Planter: for all of the moms who love to garden, this gorgeous ceramic planter is a must have. It makes such a statement in itself and looks absolutely stunning with a bright, floral plant inside! You could even plant it before gifting for an extra special touch.
5. Blush Palette: these blush shades are simply stunning and perfect for all skin tones – that's why it's a must for everyone! Add two to your cart and treat yourself – you will love this!
6. Straw Crossbody Bag: straw accessories are so popular this season and while they can be on the pricier side, this crossbody bag is super affordable. It comes in a couple of colors and can also be used as a clutch for a bit of a dressed up look.
7. Rose Gold Sandals: these super popular sandals come in a couple of colors, and are so trendy and popular because they happen to be an almost identical dupe to the coveted Hermes sandal that looks VERY similar – the only real difference is the price point!
8. Cuisinart Hand Mixer: a hand mixer is one of those kitchen appliances that everyone should have and will need at one point or another – this one is on sale for $89 and the best part is all of the attachments it comes with!
9. Floral Kimono Robe: this silk, colorful robe is a must have for spring. I think the best part is that you could very easily wear it out as a kimono with a cute tank top and pair of jeans as easily as you could wear it as a robe!
10. LUNA Facial Cleanser: everyone needs a great cleansing device, and this one is the perfect electronic version that every woman needs. It's perfect for all skincare concerns!
11. Evil Eye Necklace: a lot of the evil eye necklaces you'll see are VERY expensive – this one looks as if it was a splurge, but it's actually very affordable – huge win there! It's dainty but makes a statement and has the prettiest shades of blue in it. Perfect gift choice!
12. Gold 'Mom' Necklace: a simple, delicate must have for any (and all) moms. 🙂
13. Striped Frame Set: these striped frames are an awesome gift idea – moms never get tired of receiving framed photos of their loved ones and with this pretty set, they can add to their collection!


************************************************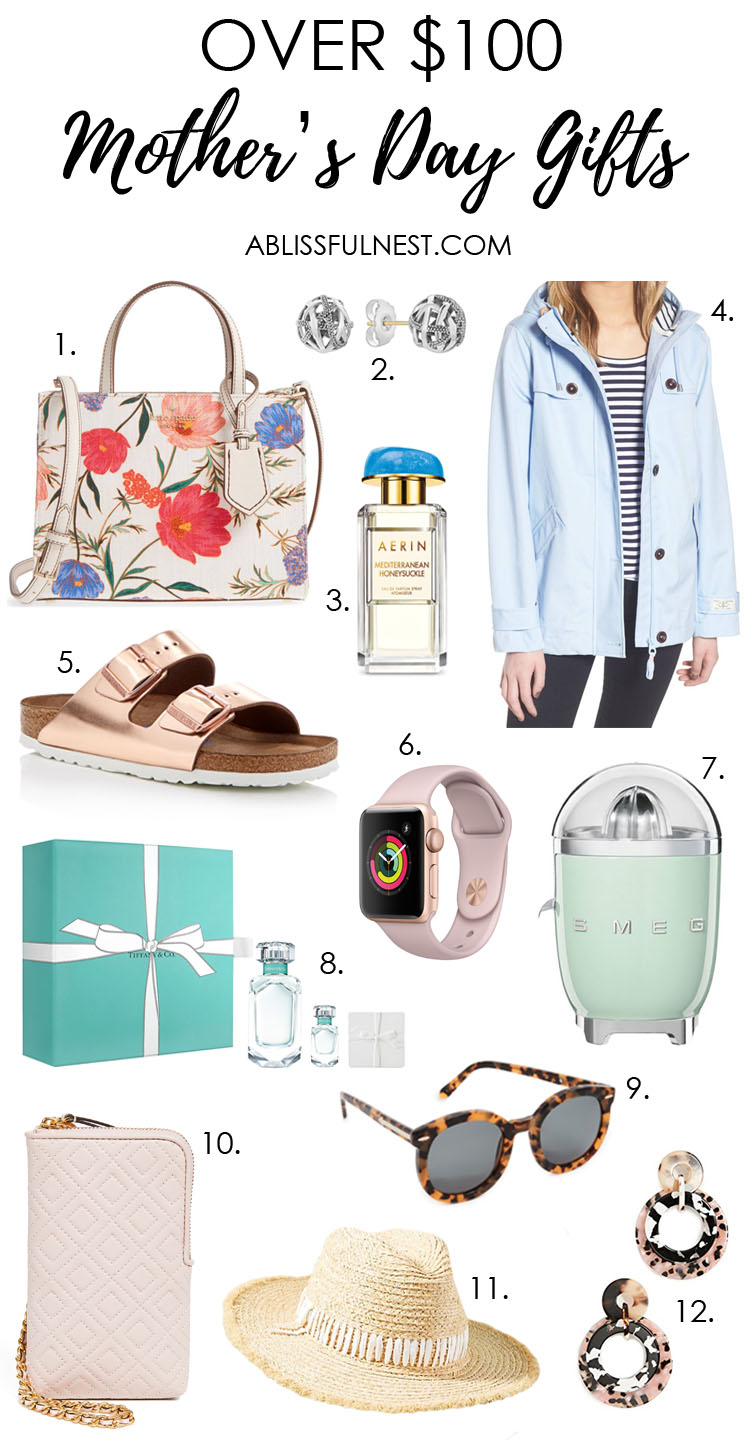 1 | 2 | 3 | 4 | 5 | 6 | 7 | 8 | 9 | 10 | 11 | 12
1. Floral Kate Spade Handbag: each season I find myself gravitating toward a different shaped handbag – this season, this petite square bag is all I want to carry! Isn't that colorful floral print stunning?
2. Silver Woven Knot Stud Earrings: these beautiful earrings are light and comfortable to wear all day yet still make a gorgeous statement – another awesome gift!
3. Mediterranean Honeysuckle Perfume: this line of perfume is just gorgeous – this scent is one of my personal favorites, and I just can never get over how beautiful the tops of these bottles are. If you have no clue what to get a special lady in your life this Mother's Day, this is a no-brainer!
4. Blue Rain Jacket: this lightweight, waterproof jacket is great for these spring months and it comes in a TON of gorgeous colors.
5. Rose Gold Birkenstock Sandals: not only are these sandals the prettiest rose gold shade, they are also insanely comfortable! They're perfect for traveling in or just wearing around all summer long.
6. Apple Watch: the newest iWatch has GPS capability making it even handier than before. It's a perfect gift for mom!
7. Citrus Juicer: I absolutely LOVE this idea! This may be my favorite gift on this entire guide – this juicer comes in 7 different colors and it's great to make fresh juices with. The juice automatically pours out of the side spout, and it's a great price. A must have!
8. Tiffany & Co. Perfume Set: a luxurious perfume set like this Tiffany & Co. one is great if you're shopping for someone whose picky, or for the lady who has everything. It comes in the most beautiful box!
9. Round Tortoise Sunglasses: these are one of my all-time favorite pairs of sunglasses! They are such great quality and this round shape is so popular this season.
10. iPhone Crossbody: for the women who don't love to carry larger handbags, this iPhone crossbody bag will be a game-changing gift! It also comes in black and it's the perfect size to be able to fit a phone and some extra must haves – credit cards, chapstick, etc.
11. Straw Fedora: this hat is so versatile and will be great to wear all summer long – this definitely may be another one of those purchases that you grab for yourself, too!
12. Colorful Hoop Earrings: aren't the colors of these earrings just stunning? They are made of acrylic and have such a gorgeous mix of color – they'd be a perfect gift idea!