National Make Your Bed Day Blog Hop
Sponsored by Crane & Canopy, but all opinions are my own.
Yep did you even know there was such a thing as National Make Your Bed Day?! Well a little group of us organized by the amazing Camila of Effortless Style, have decided to share a peek into our bedrooms and talk to you a little about our secrets of making our beds to help celebrate. Yes, I've got a few secrets along with my favorite sources for bedding to share and so do these amazing other ladies.
Camila asked us to answer some questions so here we go!
This post contains some affiliate links for your convenience. Click here to read my full disclosure policy.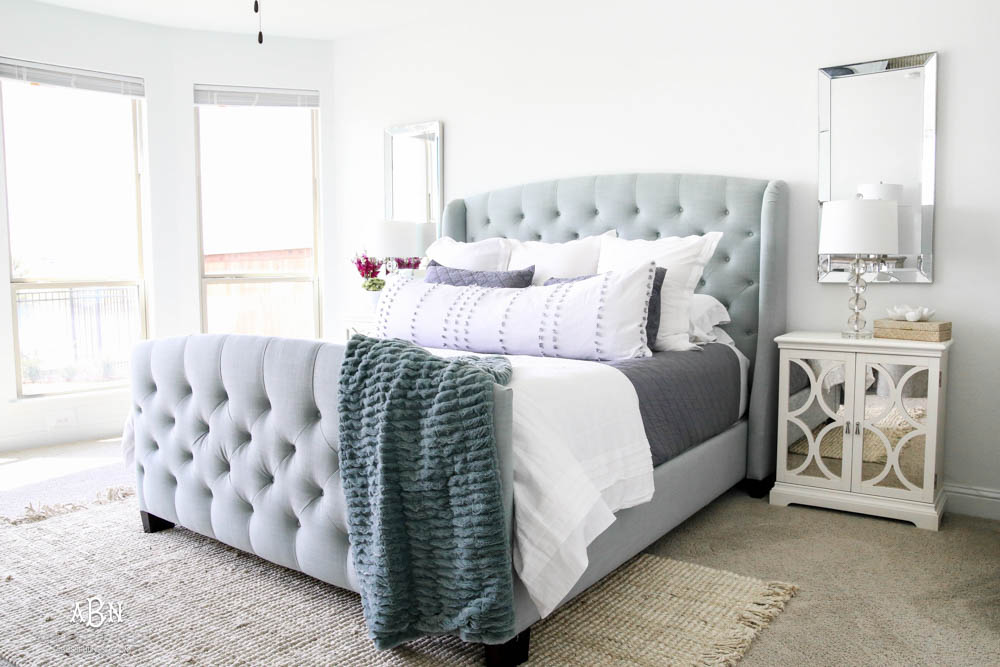 1. Do you make your bed in the morning?
Sometimes. I wish that answer was all the time but I have to say I can be a bit lazy about it. What I do do every day is pull the sheets up and coverlet and fluff our sleeping pillows. But the rest of our decorative pillows probably make it on our bed about half of the time.
There are a few essential items that I think make our bedding particularly comfortable. I am such a fan of having a coverlet on the bed and I am in love with the ones from
Crane & Canopy
. I have used this brand for years and their bedding is so well made.
This coverlet
is lightweight and has a gorgeous diamond embroidered pattern on it. I use 2 matching pillows for our decorative pillow decor.
I also always have a duvet cover on our bed. It is always folded at the end of our bed and so easy to just pull up over me if I get cold. Typically in the winter it is over our coverlet. I just got
this linen set
and it is so gorgeous!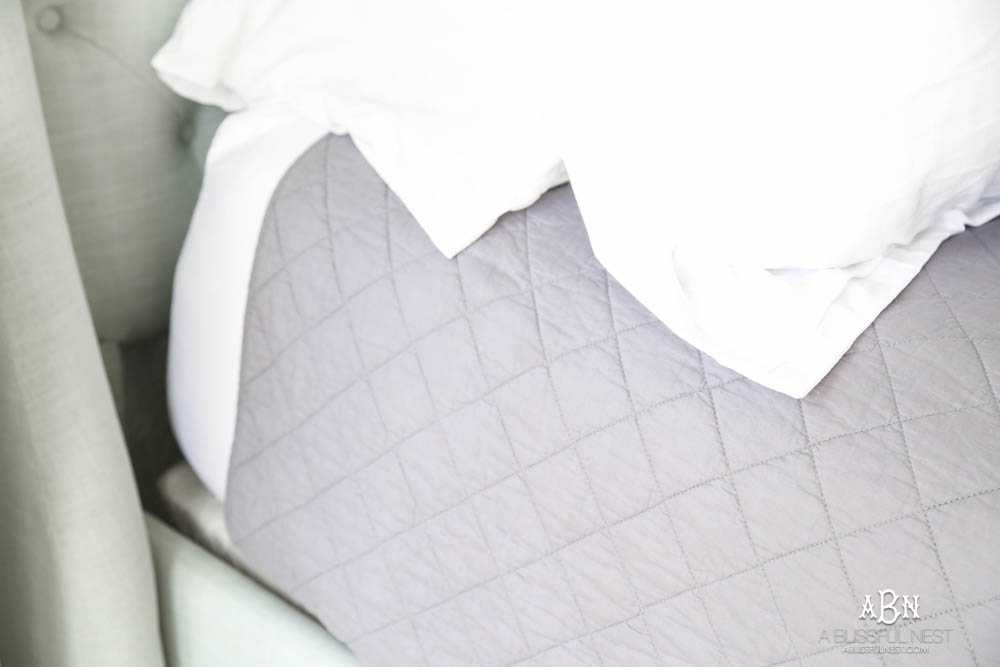 2. Love or hate a flat sheet?
I personally LOVE a flat sheet. We have them on all the beds in the house. My flat and fitted sheets are what I was the most too so I don't think I could imagine laying under just the coverlet every night. I just love when they feel cool and crisp.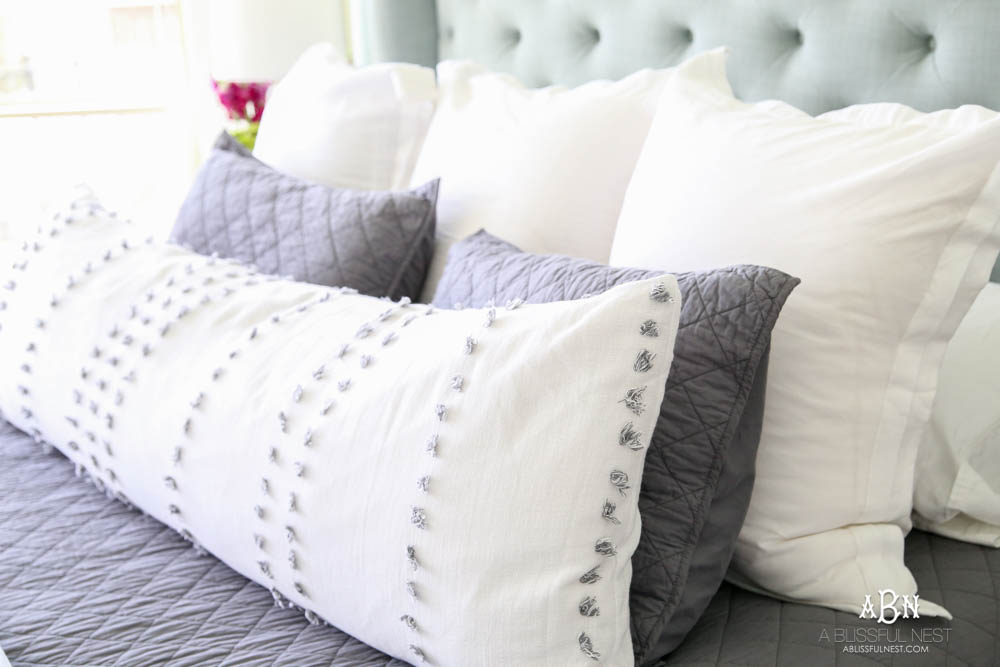 3. What is the perfect amount of pillows for an arrangement on your bed.
So I think this depends on what size bed you have. For a king size, I typically use 3 euro shams, 2 standard shams and then 1 or 2 decorative throw pillows for the front. For a queen, I take out 1 of the euros.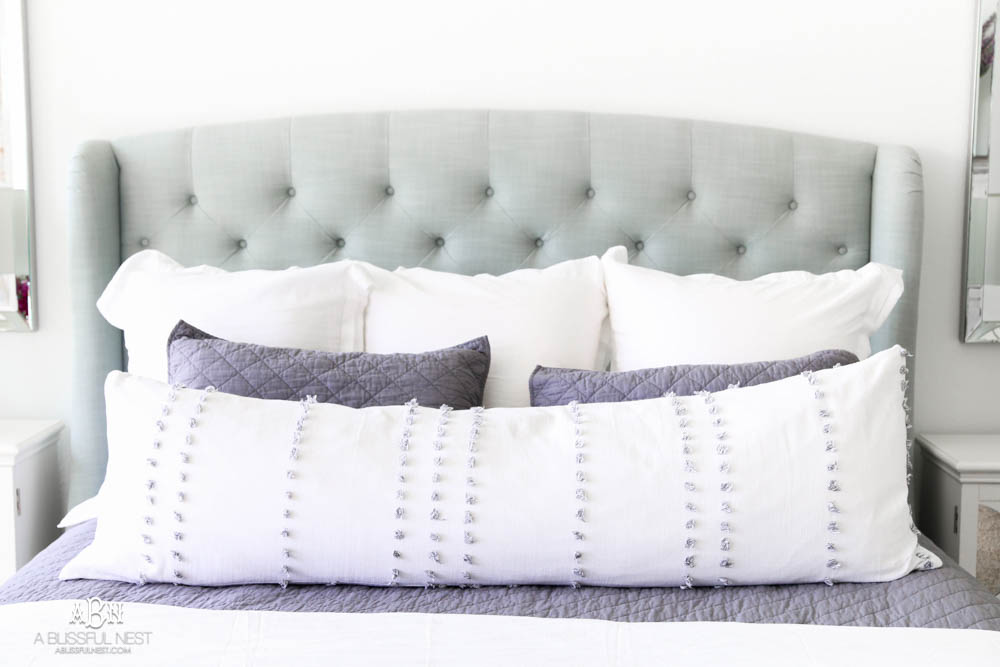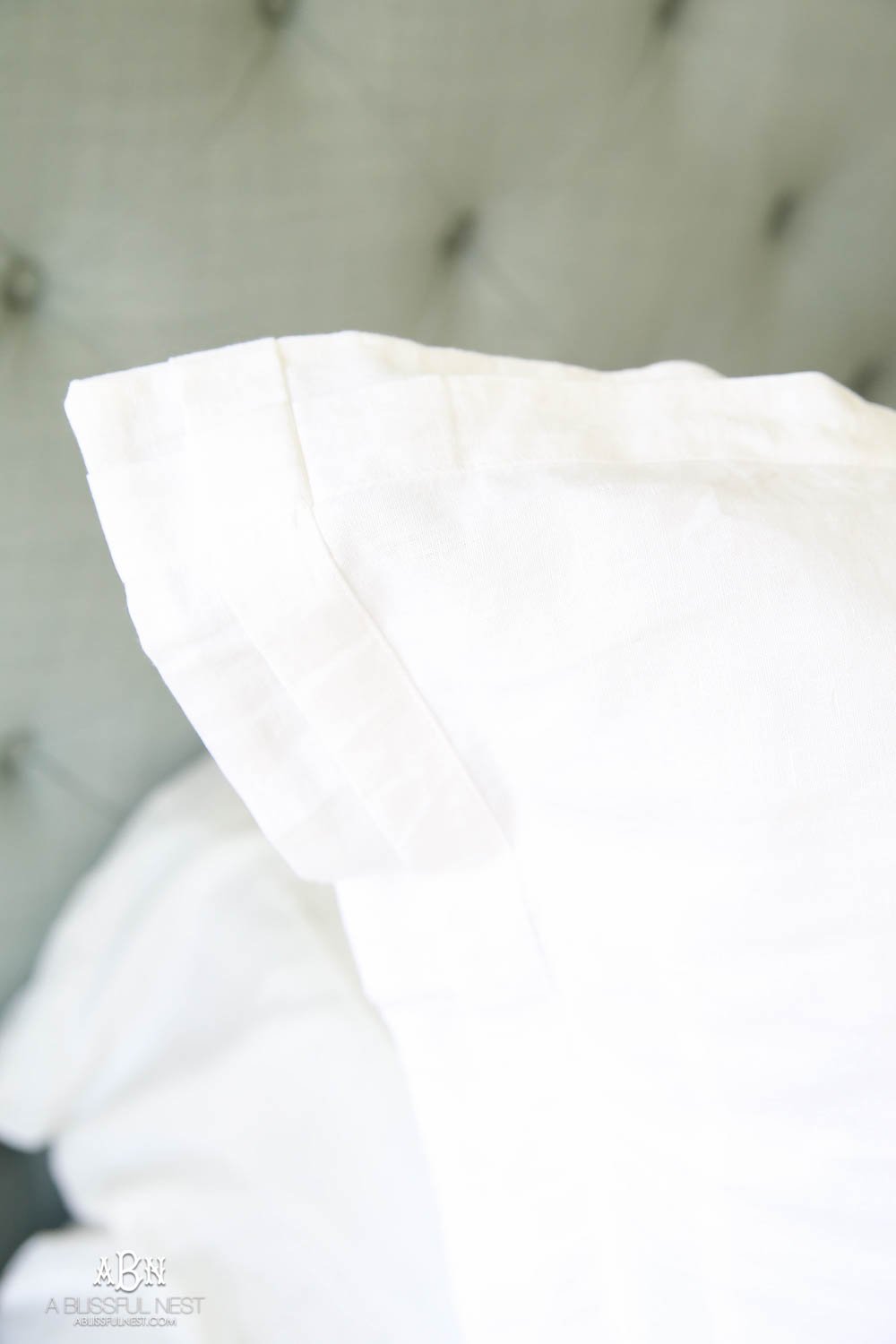 4. Are you a nut like me and iron your bedding or do you have another trick I need to know about?
Oh this question cracked me up! Okay so honestly I think my grandma ironed all our sheets but I am in the mind set of who has time for that. So I just like to make sure I take them out of the dryer quickly after they are finished to prevent wrinkles and if they are really bad I have
this hand held steamer
that I love.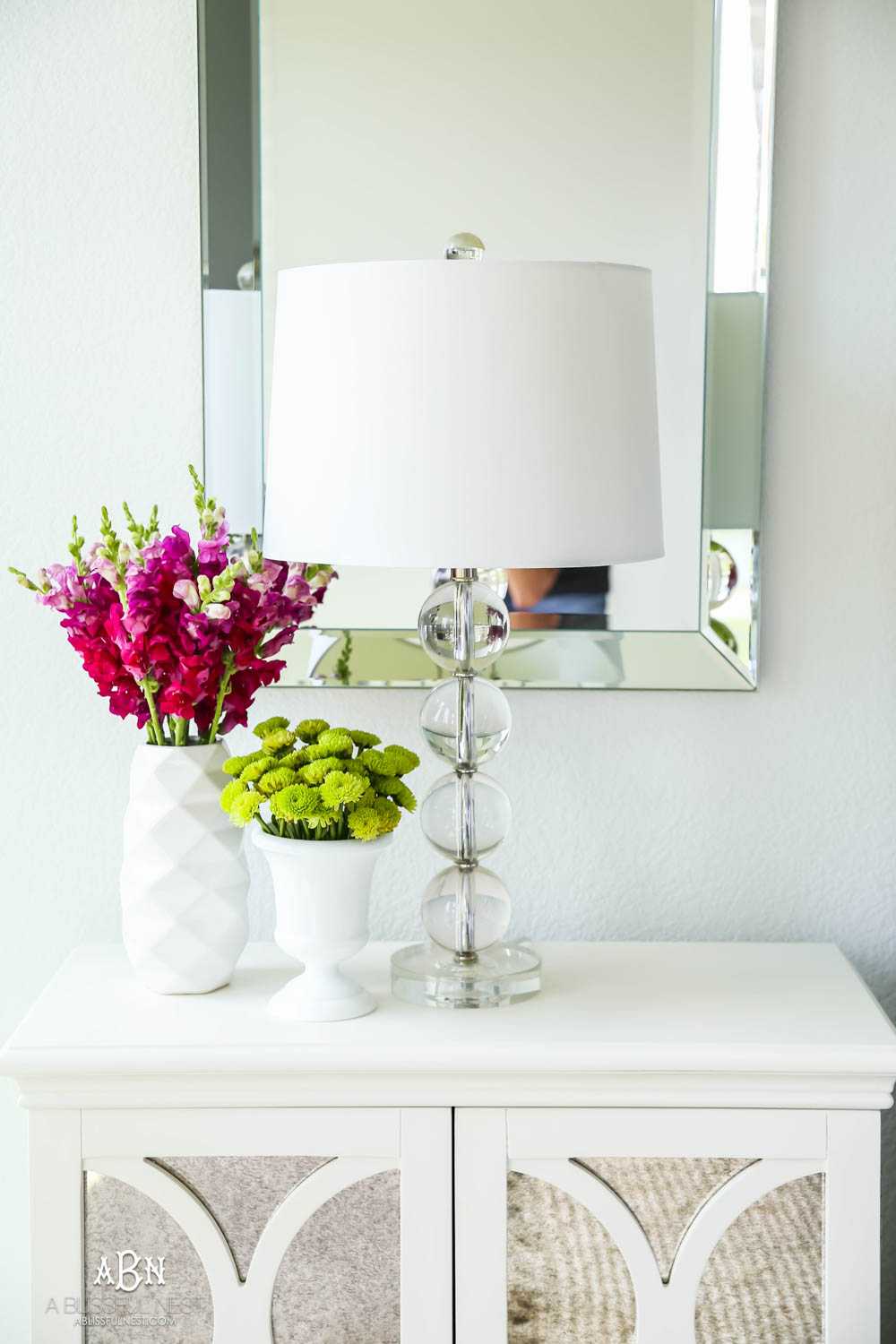 5. What's on your nightstand? Book? Beauty products? Phone? Snack?
So typically if I've gone to Trader Joes that week, I will have fresh flowers on my nightstand. They are the most inexpensive and so pretty. Other than that, I have my glasses, a book, my phone charger, and my favorite nightly essential oils I like to put on before I go to bed.
So that's it friends. Let me know if you have any questions in the comments and I will be happy to answer them.


Don't miss all the other bloggers sharing a peek into their bedrooms!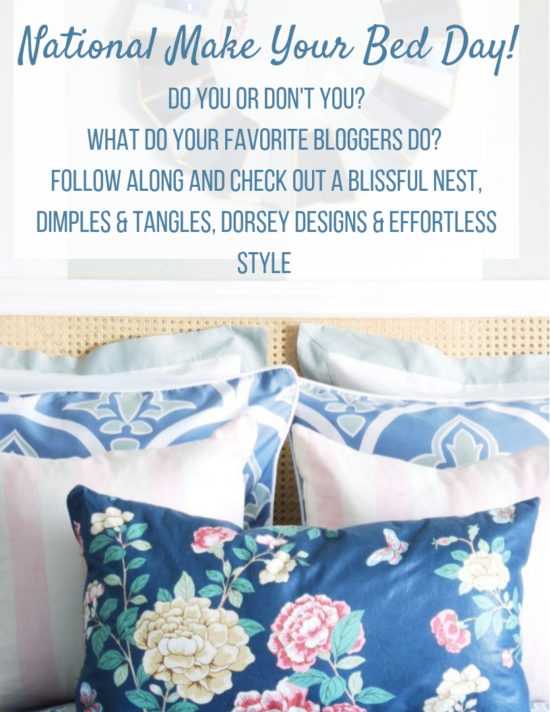 THIS IS A SPONSORED POST. A BLISSFUL NEST HAS RECEIVED PAYMENT, TRADE, AND/OR PRODUCTS FROM CRANE & CANOPY IN EXCHANGE FOR PROMOTING. HOWEVER, ALL OPINIONS STATED ARE OUR OWN.