It's that time of year again where the air turns brisk and apples are in season.  Juicy fresh picked apples are hard to beat and nothing says autumn like a basket full of these bright red beauties.  Serve your apples in style this season with these delicious Waldorf Salad Apple Bowls.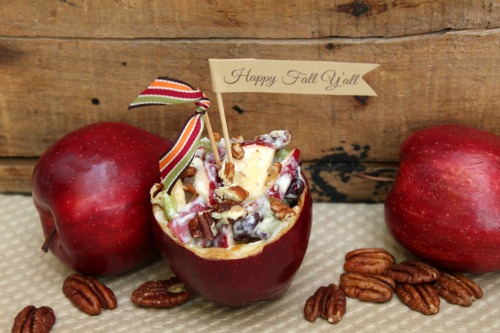 I love this time of year and the charming traditions like apple picking, hay rides and harvest celebrations.  If you are lucky enough to live close to an apple orchard plan an "Apple Picking Party" and then enjoy the fruits of your labor with these tasty Waldorf Salad Apple Bowls.
Apple Bowls
1. Select bright red apples with flat bottoms so the apple will sit up right on the plate.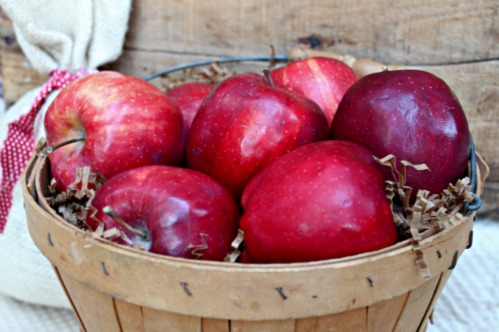 2. Slice off the top of the apple and then run a knife around the inner edge of the apple, careful not to slice through the bottom.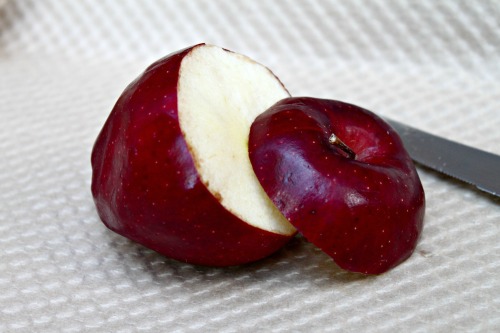 3. Next, scoop out the inside of the apple with an ice cream scoop or spoon.  Remove the core and save the flesh for the recipe.  Rub a little bit of lemon juice inside to keep it from turning brown.  Set aside and prepare the recipe (below).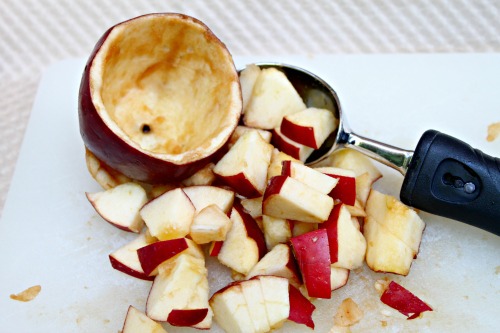 4. Fill the apple bowls with the Waldorf Salad.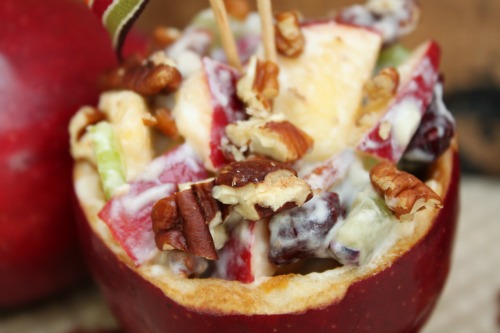 5. Garnish with paper flags or ribbon for a festive fall appetizer or dessert.  Enjoy!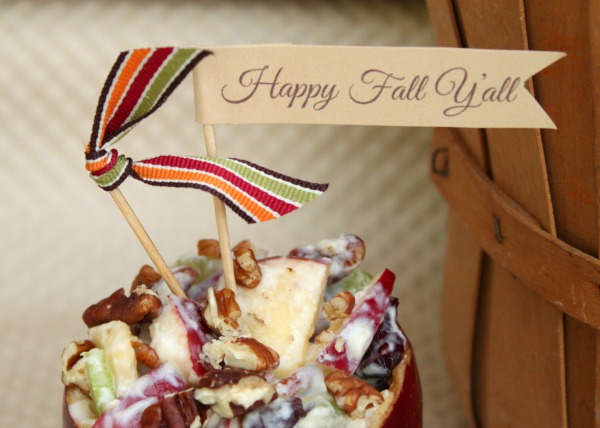 Waldorf Salad Recipe
2 cups chopped apples
1 teaspoon lemon juice
1/4 cup chopped celery
1/4 cup chopped walnuts or pecans, toasted
1/4 cup Craisins
1/4 cup seedless green or purple grapes, halved
1/3 cup Cool-whip
1/4 cup light mayonnaise
ground nutmeg
1. In a medium bowl toss apples with lemon juice.  Add celery, nuts, Craisins, and grapes
2. Fold mayonnaise into the Cool-whip.  Pour mixture into bowl with fruit and gently mix.  Sprinkle with nutmeg.
3. Cover and chill for 2 to 24 hours.  Makes 4-6 side dish servings.