ABN Travel Diaries – San Antonio Sites & Happenings
This post is sponsored by Chevrolet and SeaWorld.
Today I wanted to get a little personal and share with you all our recent family trip to San Antonio. We had such a great time and since moving to Texas, we've been trying to venture through the state and get to know this state a bit better. There are so many places to see in San Antonio so I wanted to share our favorites.
First and foremost in making long family trips, it really is important to have a comfortable ride. I was excited to review the new Chevrolet 2017 Suburb on our trip to see how it would hold up to our family's needs on a long trip like this.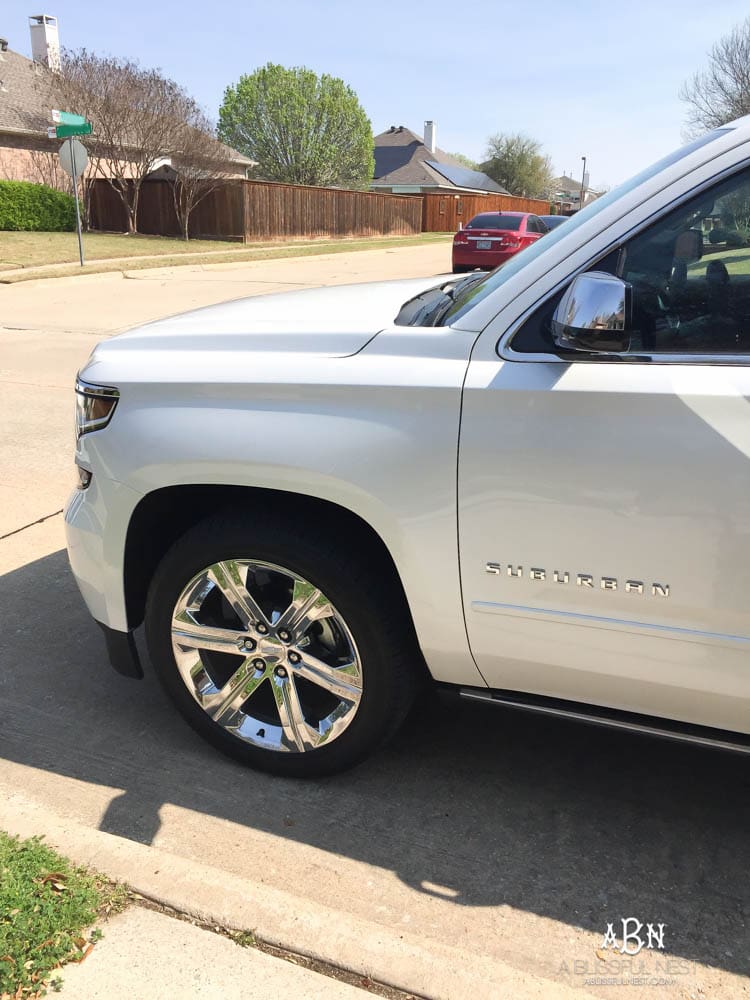 I am such an over packer so we need plenty of room in our car on trips. Besides being so roomy, the seats are super comfy and I almost feel like I am sitting in a comfortable chair in my home. They have heat warmers and also have the cooling feature for hotter days.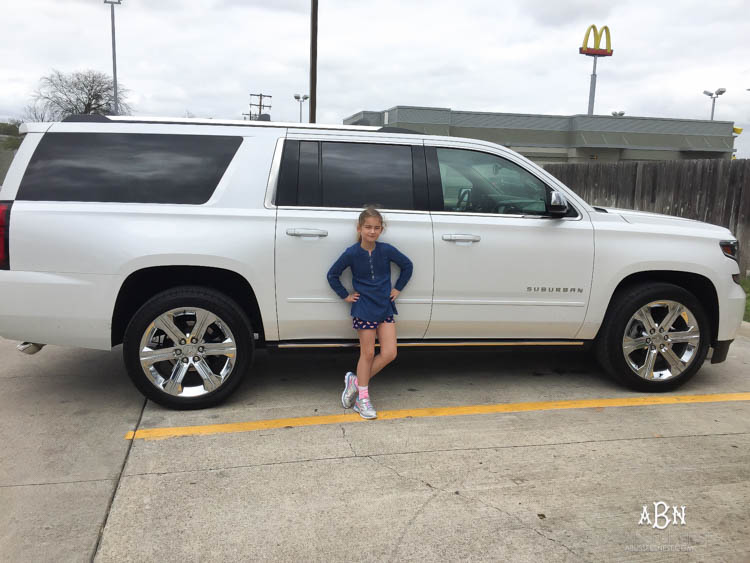 But I think my favorite feature is the 4G LTE Wi-Fi. . . . in other words it has it's own hotspot. So while this guy was driving, I was able to get plenty of work time in. Lauren was in heaven having full access to netflix and kids Youtube. I can not begin to tell you how game changing for a trip this feature is. I definitely need this in my next car! A few other amazing features are Apple CarPlay/Android Auto to play your favorite music, Wireless Charging in case one of those devices goes dead, Chevrolet MyLink for hands free accessibility, and Teen Driver technology whic has a number of features; from muting the audio until front seat occupants are buckled, to automatically turning on available advanced safety technologies. The in-vehicle report shows how your teen performed so you can coach your new driver on improvements. You can check out more about this amazing car right HERE.
I know what you are thinking because we thought the same thing at the end of our trip. We NEED one of these!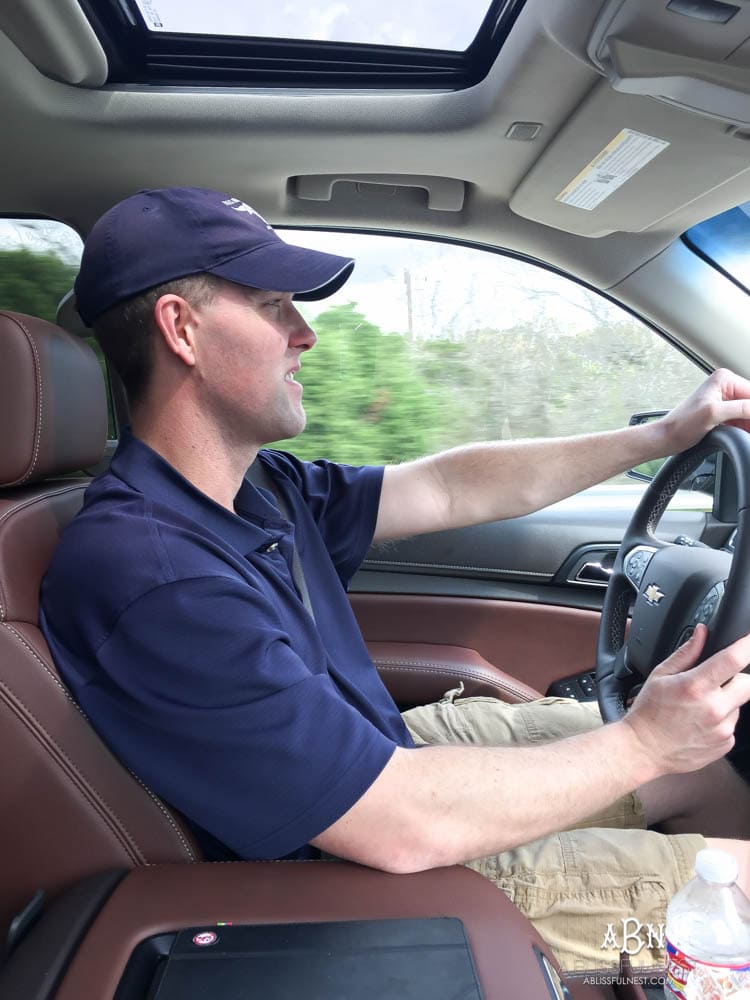 Moving on to our trip . . . .One of our first stops was The Pearl Brewery area. My husband had been there before for an event for his firm and told me he had to take me there to see the architecture. Gotta love him! I am a huge architecture fan and just can't get enough of looking at buildings and design details.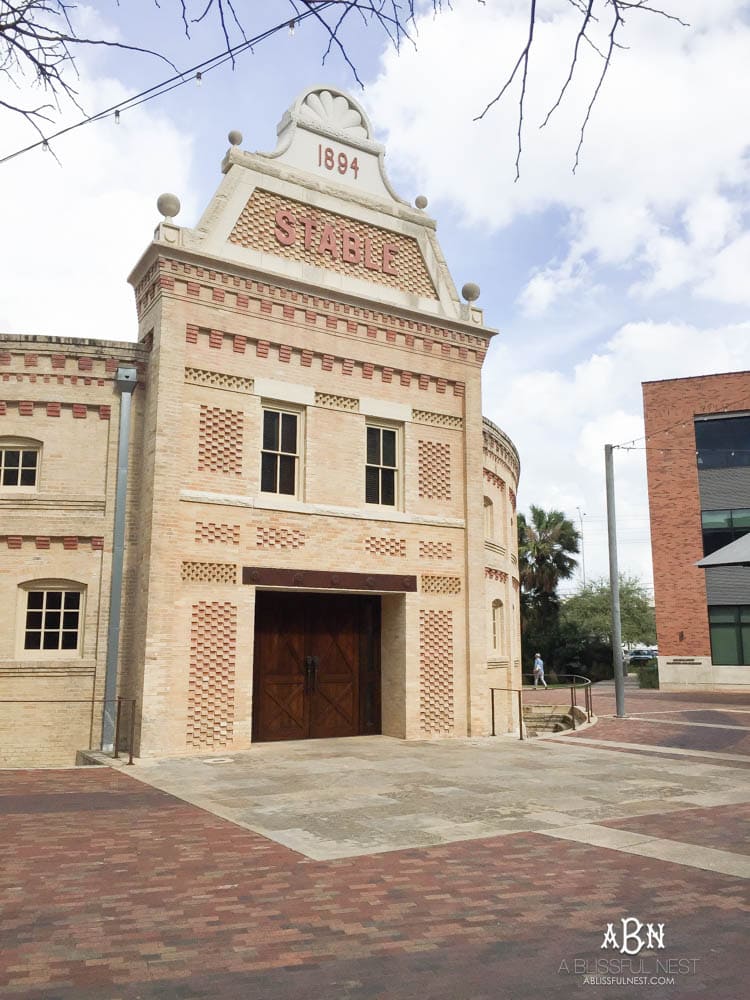 It really is pretty with these old buildings. This used to be the stables and has the most incredible doors. The brick work isn't too shabby either is it?!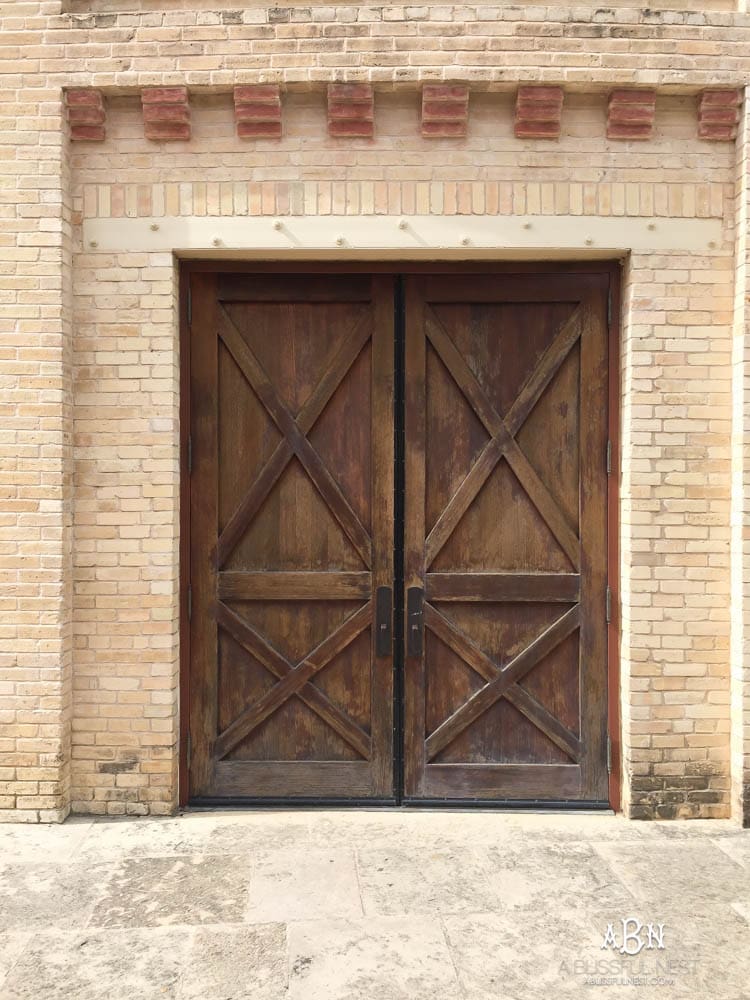 And just look at this hardware! They just don't make details like this anymore. This building has since been turned into a event destination. Unfortunately it was locked when we showed up but this was where my husband had his event. The light fixtures inside (because of course I took a peak in!) are just gorgeous and made from bottles. I wish I could have gotten a picture for y'all.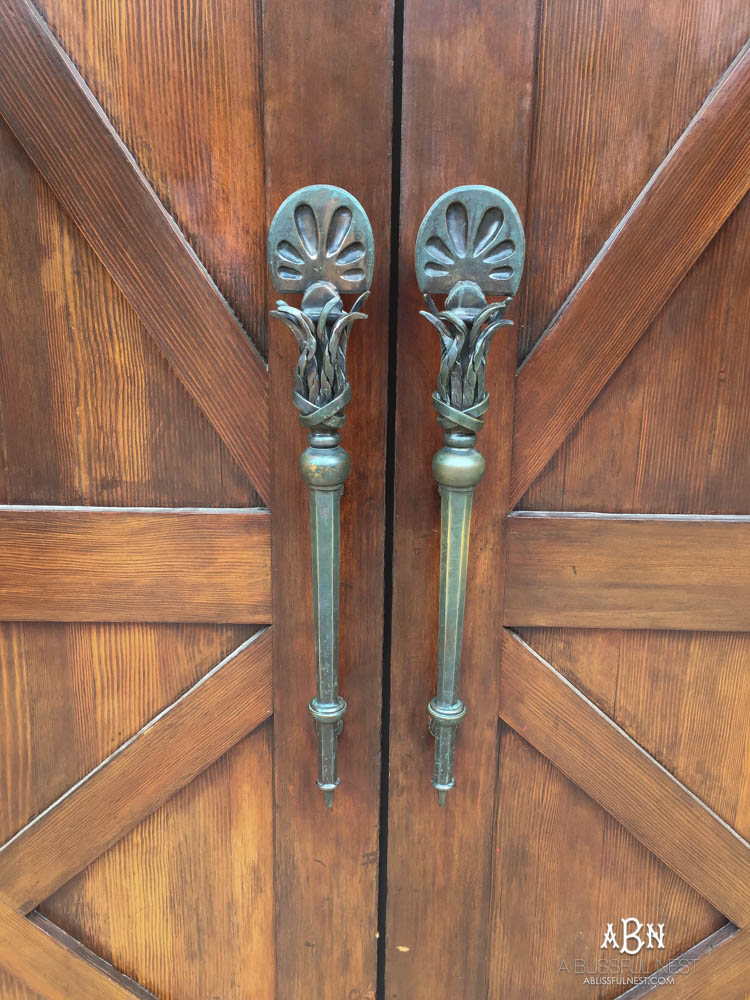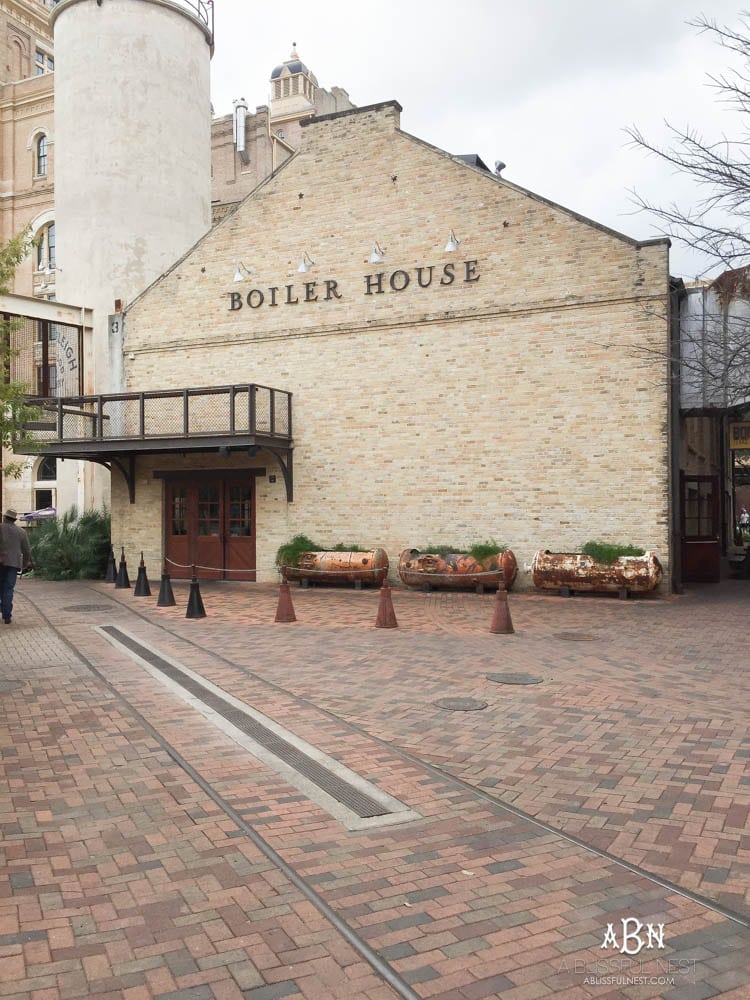 Around the corner from the stable, was this gorgeous building. I love the white farmhouse lights above the sign and these vintage tanks turned into planters. I mean how creative!!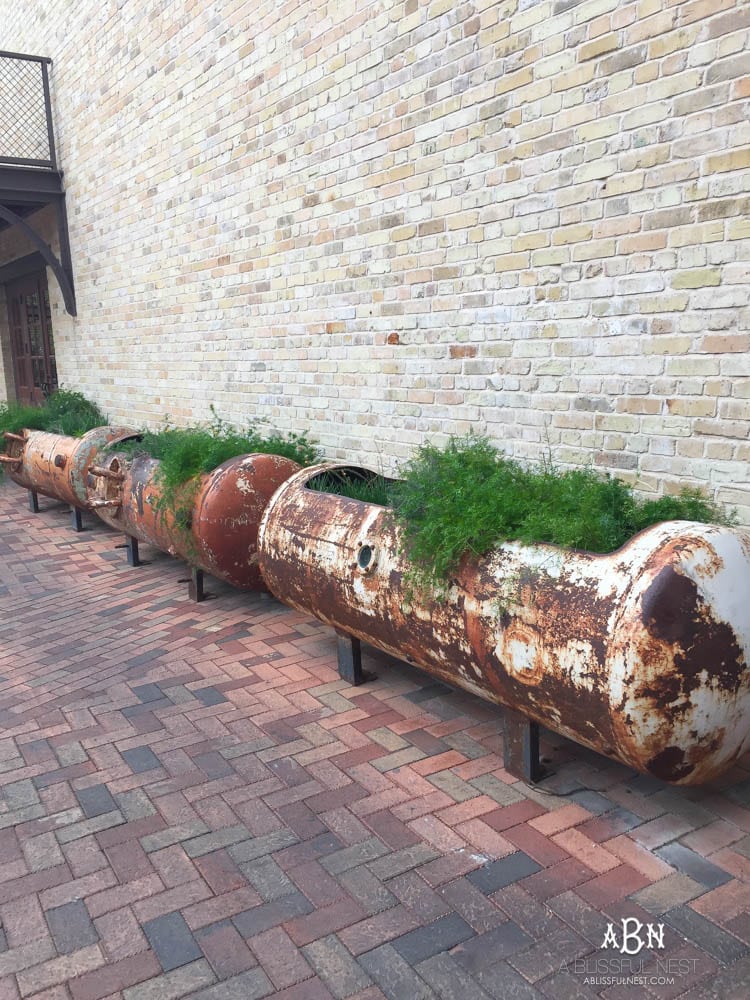 This one had some beautiful cactus in it. I had to document it because I think this would be the coolest thing in a garden. Maybe? Next house?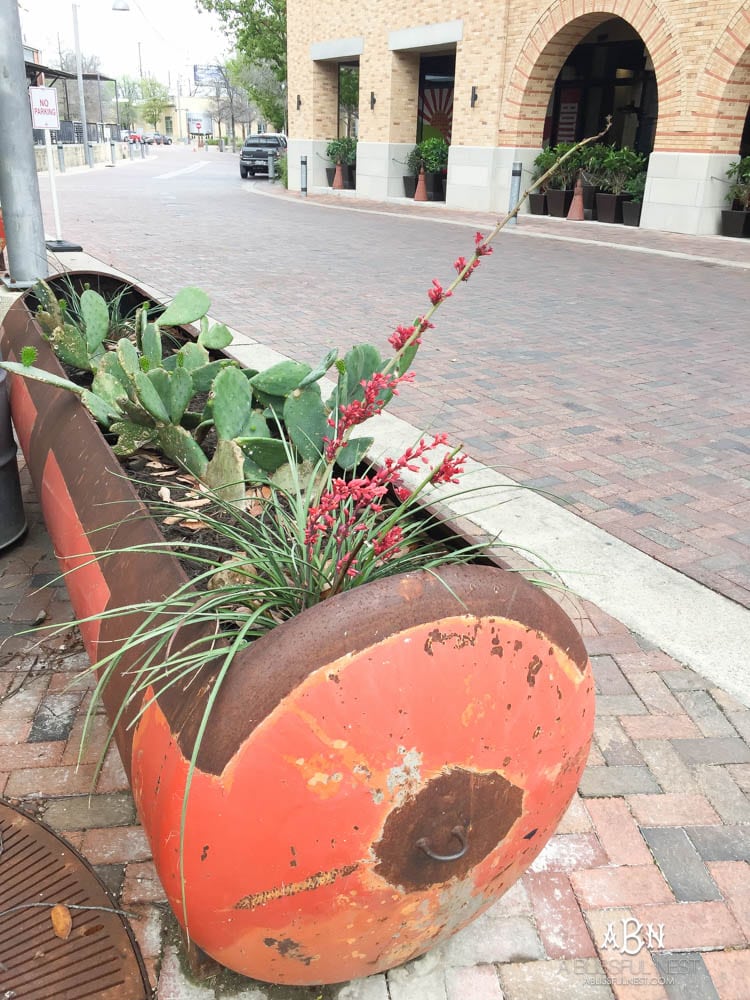 We then ventured to the Emma Hotel and I fell in love with this little courtyard in the front of the building.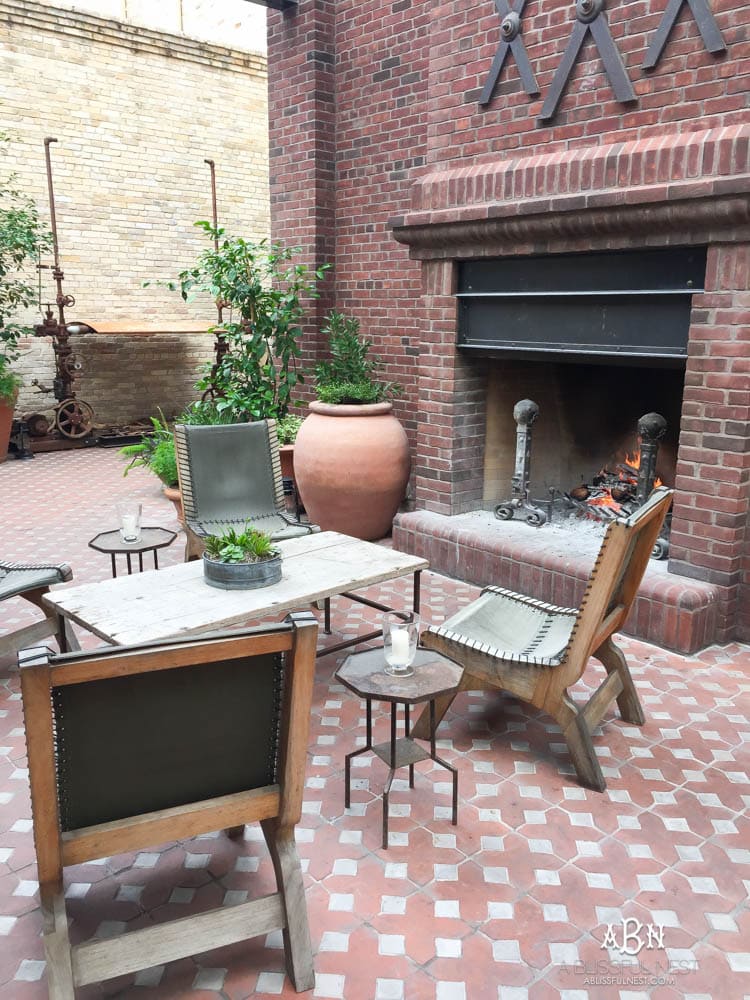 If we would have had more time I would have grabbed a cup of coffee and sat down by the fire. It was so inviting!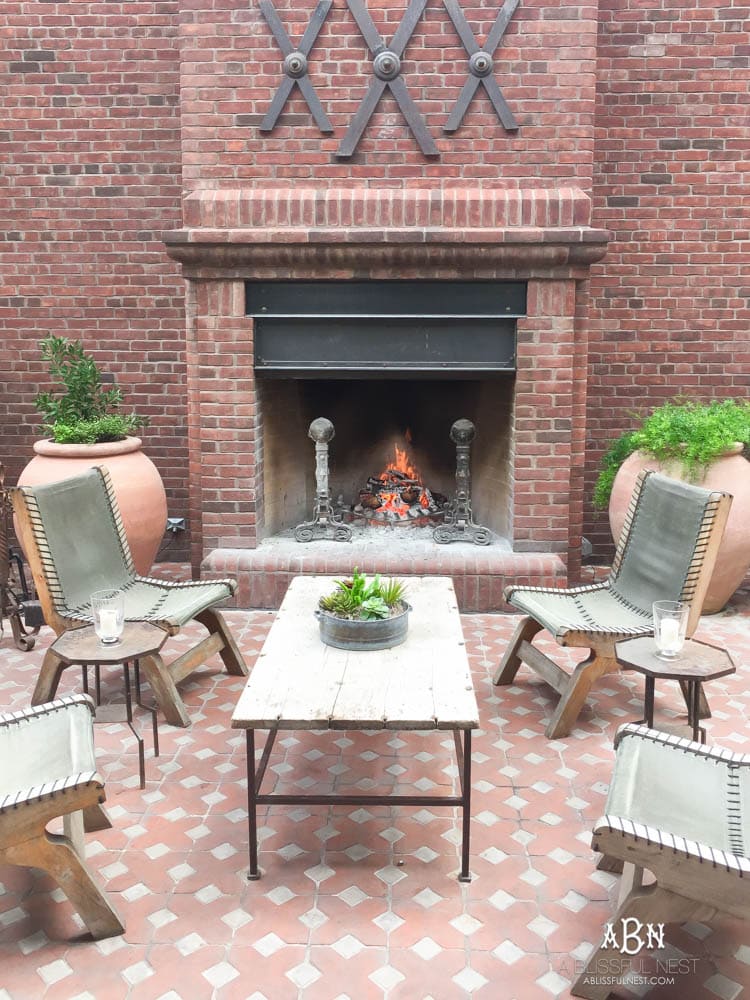 While in San Antonio, everyone needs to hit up the Riverwalk and the Alamo. It is like this little secret place set down below the road with cafes that run up and down on both sides. It really feels like you are in another world when you walk down the steps into this . . . .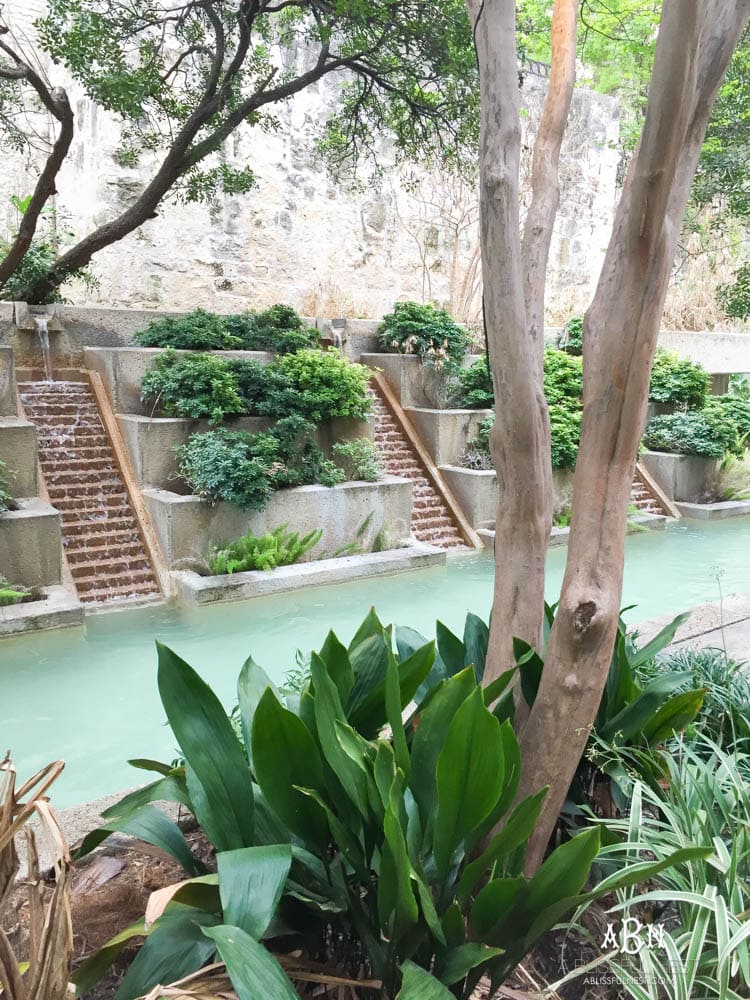 There are tons of great Mexican restaurants and even a mall that is connected to it at one end. It was raining sporadically or else we would have spent more time here I am sure. My husband was so smart and had ordered some lightweight rain ponchos from Amazon before our trip so we were covered! I love that he thinks of everything.
The next day we headed to SeaWorld with one of my dear friends and her family. We weren't sure if we were in for more rain but we were prepared! We got lucky the week we went and there were not huge crowds.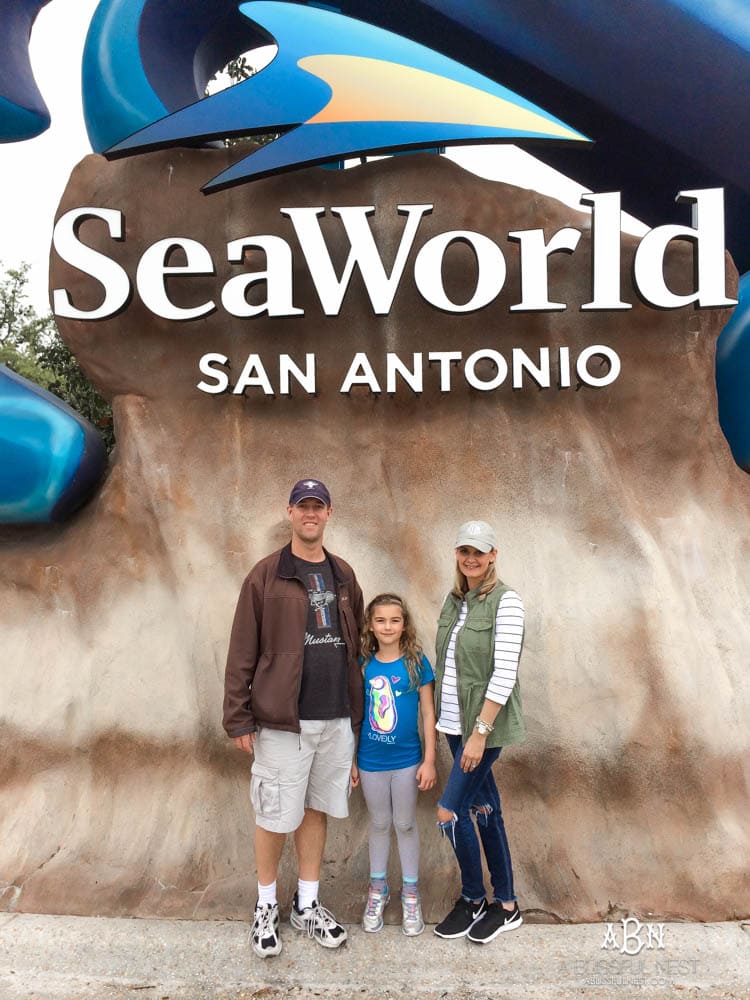 This made it so much easier to take our time looking at all the animals like this guy below. He was a rescue and clearing is living the high life now!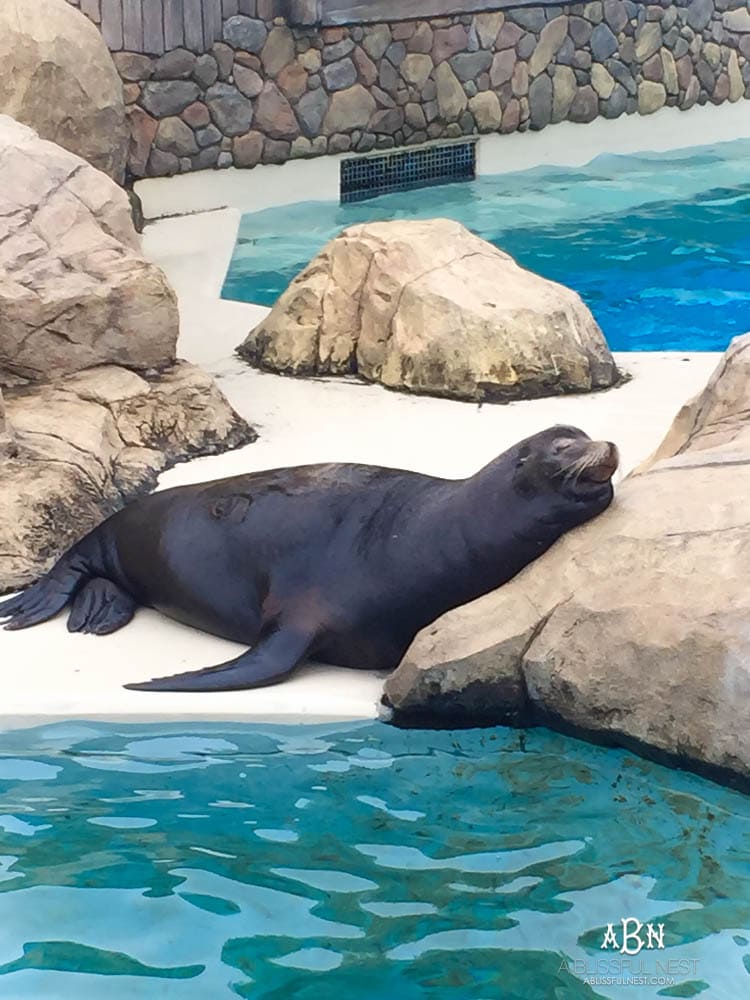 My husband actually scheduled the tour for the sea lions and it really was so worth it. We learned a lot about them and got some one on one time with the trainers and this cute fella.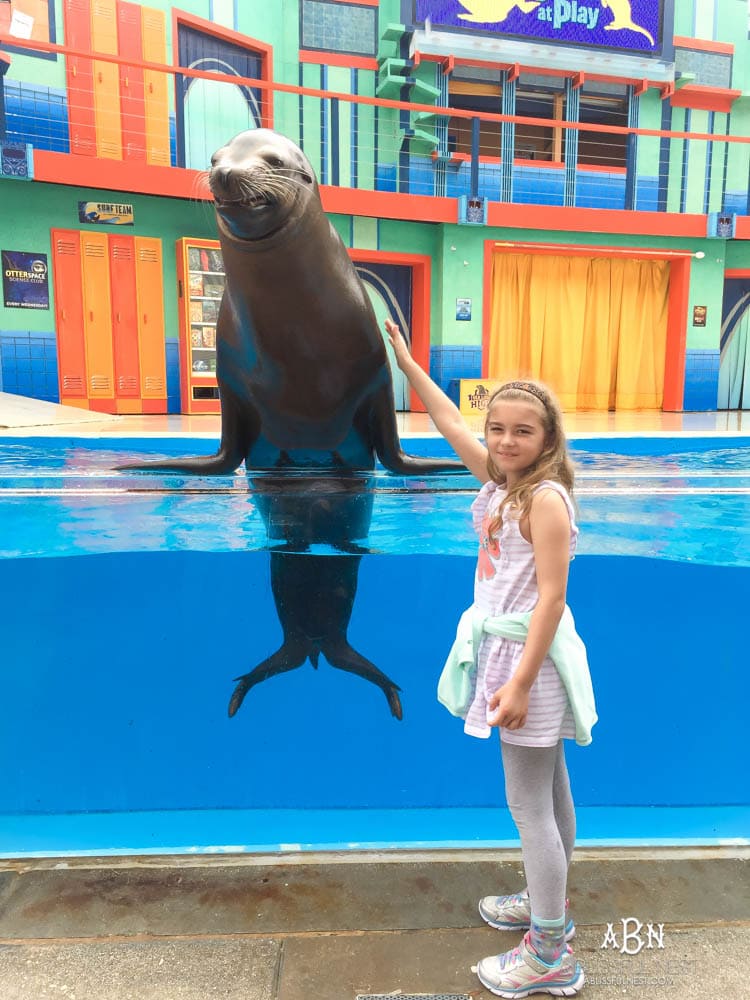 Supposedly this guy is a ham and only likes to have his picture taken. We sure loved his toothy smile and personality!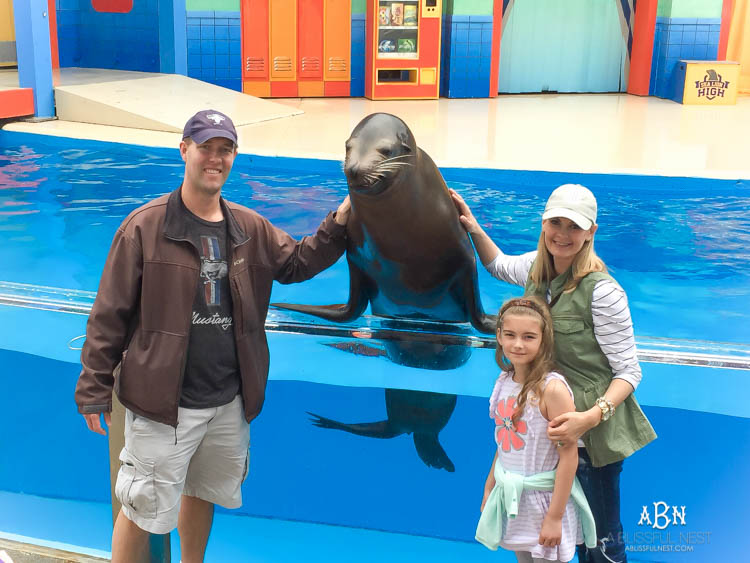 There are so many great rides for the kids and this was one of our favorites. Of course on a really hot day it is THE perfect ride because there is a waterfall section that 99% of the time you will get fully soaked under. Hence why people (including my kid) are wearing ponchos.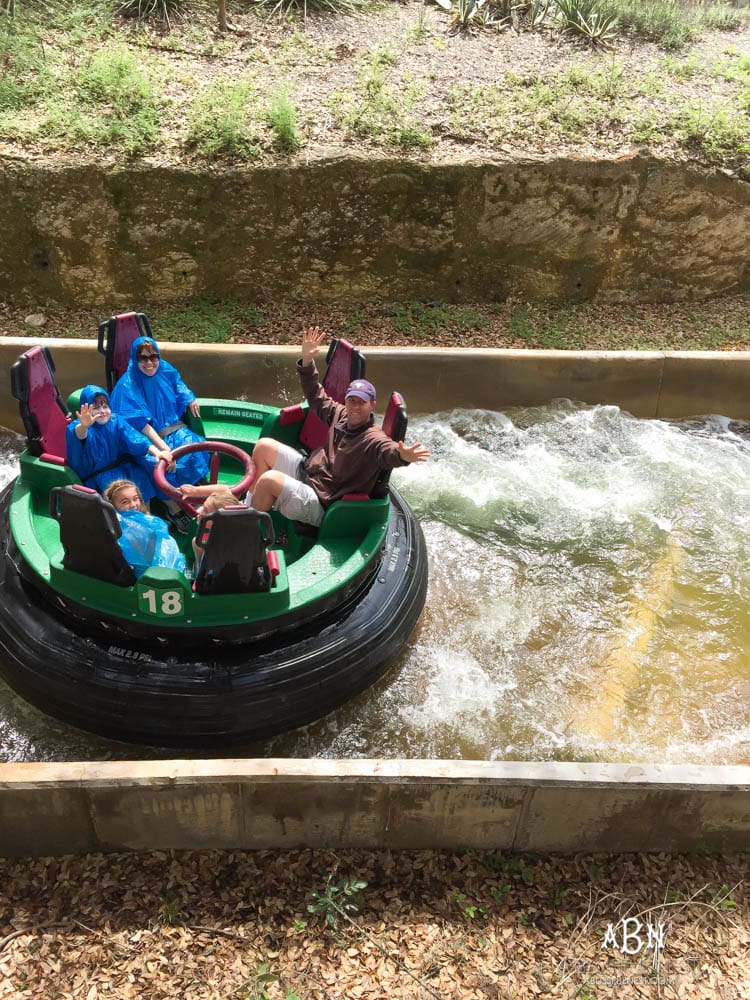 While everyone else was going on the BIG rides (not my thing), I scheduled a tour for Lauren and I with the penguins. Penguins are her class mascot so she really wanted to see them. We were the only 2 on the tour and it was with our sweet tour guide with the sea lions. They brought out the cutest little baby penguin who was born in December.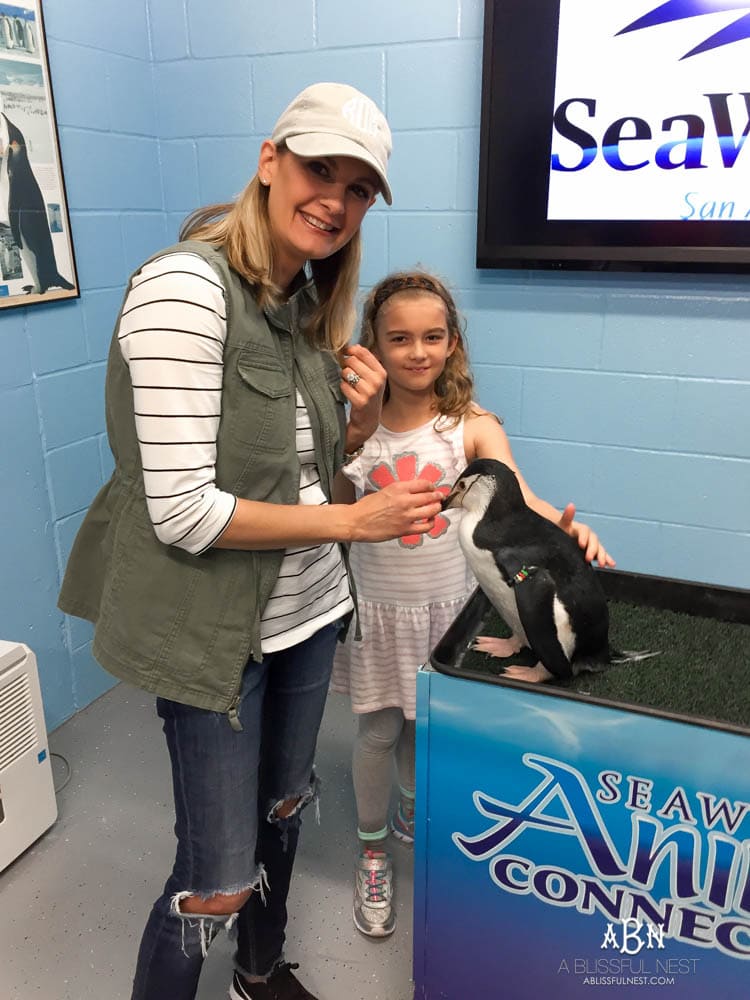 He was non stop chattering and using his beak to get to know my hands. It did not hurt at all and was so endearing. I gave him all the time he wanted to do it but Lauren would have nothing to do with it and stood to the side.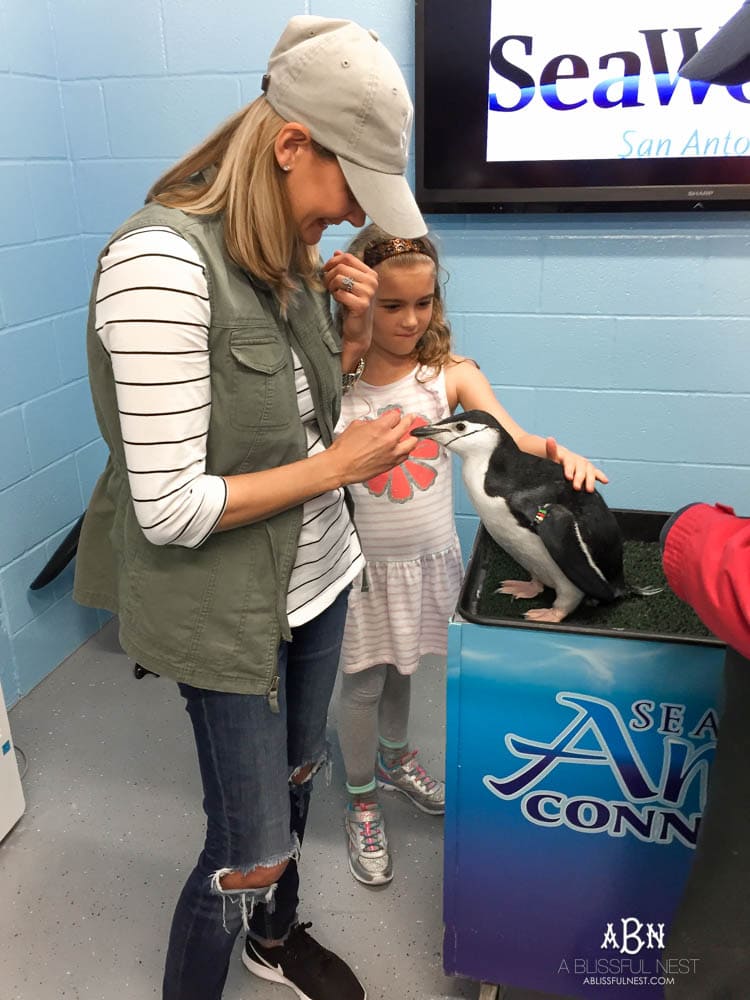 Well, that was NOT the place to be and if you follow me on Instagram then you saw what happened on IG stories. This little guy pooped all over her dress! It was hilarious and I even got a laugh from Lauren. The poor ladies giving us the tour I think felt bad though because her dress was ruined and brought out this little guy who was only 3 weeks old. They NEVER bring the babies out and this was such a special moment for us to see a baby penguin this up close.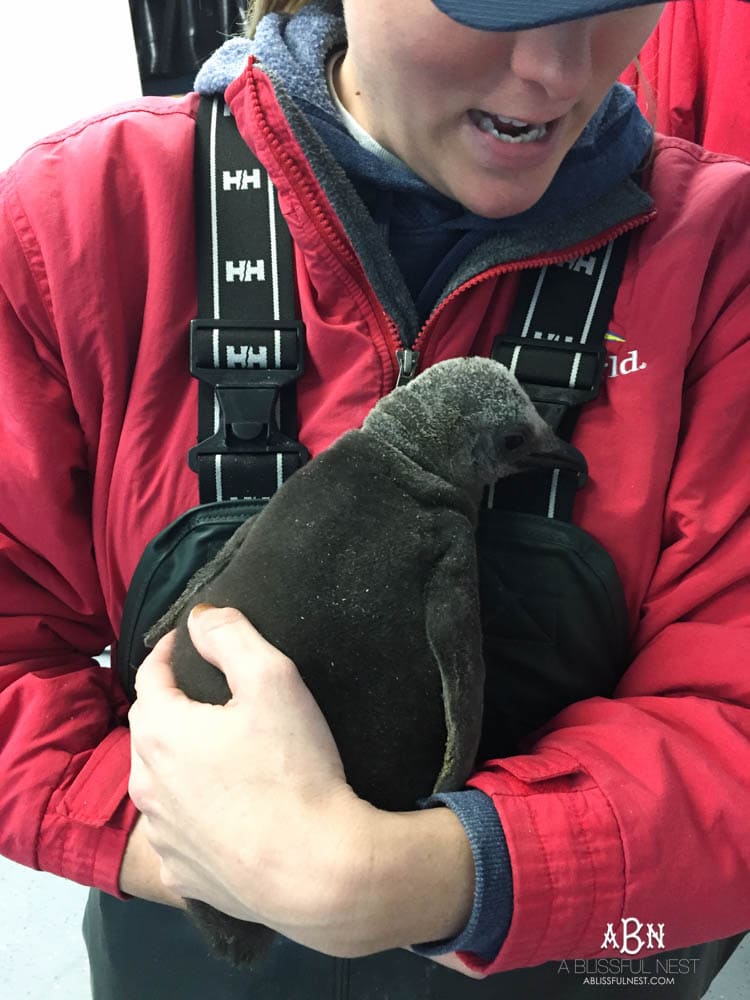 We also put jackets on and took a peek into the backside of the penguin enclosure. They thought we were feeding them and got very close to us. Again this was such a special moment for Lauren and I that I will never forget.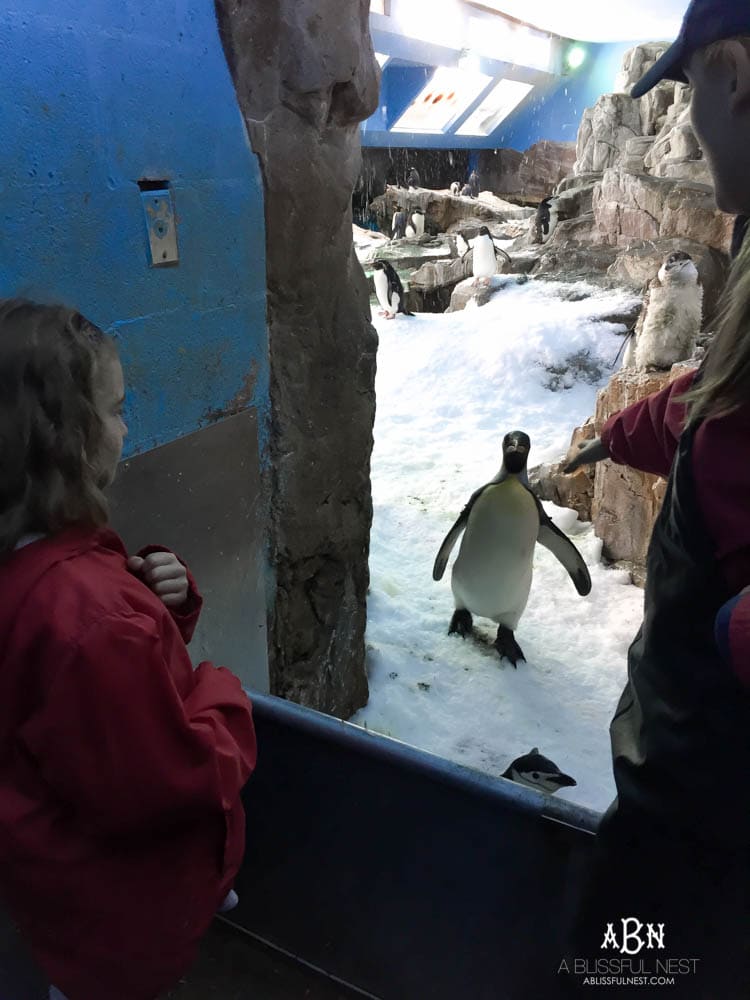 We really did have such a great few days away and it was a much needed rest from our normal daily life. I'm urging on summer so we can do some more traveling once Lauren is out of school!
THIS IS A SPONSORED POST. A BLISSFUL NEST HAS RECEIVED PAYMENT, TRADE, AND/OR PRODUCTS FROM CHEVROLET AND SEAWORLD IN EXCHANGE FOR PROMOTING. HOWEVER, ALL OPINIONS STATED ARE OUR OWN.