Hello! I am so excited to be here and am beyond thrilled to be a part of A Blissful Nest's Holiday blog team! My name is Shannon and I am a DIY / Home Décor blogger at Coffee Paint Repeat! The name explains it all!
Designing affordable DIY projects and sharing them with everyone is my passion! I am always in "create mode" and seem to be working on 100 projects all at once. When I have to wait for paint to dry on a wall or a piece of furniture, I stay busy with a small project like these leather wrapped pumpkins for a holiday place setting! They are so easy to make and add a little Boho, eclectic fun to your regular baby boo pumpkins!
Simple Leather Wrapped Pumpkins

What you'll need:
1. Enough small white pumpkins for each place setting
2. Leather cord in your choice of color.
3. A hot glue gun
4. Scissors
5. Small name / gift tags
6. Thin jute twine

A quick and easy project!
There are just a few easy steps!
First you are going to cut small pieces of the leather cord. The will need to be long enough to touch the base of the stem on top of your pumpkin and run all the way to the bottom of that baby boo.
Add a small amount of glue at the top of one of the natural grooves in your pumpkin, right against the base of the stem. These grooves are going to be our guidelines for the leather. Place one end of the cord in the glue and then pull the cord down the side and attach the other end by adding another drop of glue on the bottom of the pumpkin. That's it! Just repeat until each little pumpkin crease is covered with the leather cord.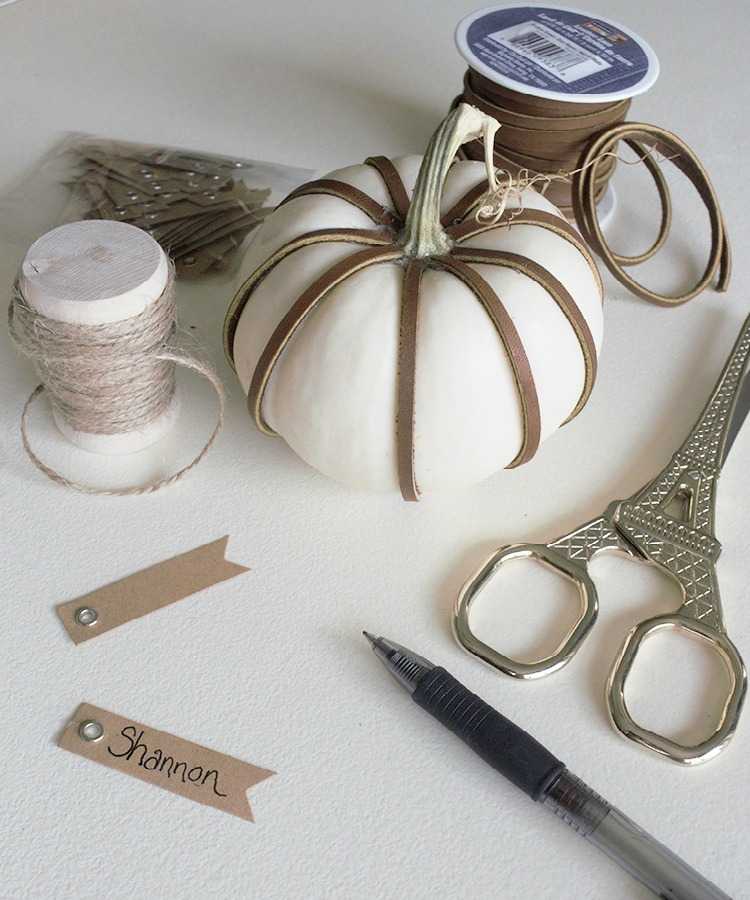 After you have all the leather in place you can add your place card or tag. I found these cute little tags with grommets and just tied them to the stems with twine. That's it…..super easy, right? It took me about 15 minutes to make four of these. The materials used where so inexpensive it won't bother me to have to throw them away when the pumpkins go bad. You could also use faux pumpkins if you didn't want to have any wasted material and save the cute little guys for next Fall!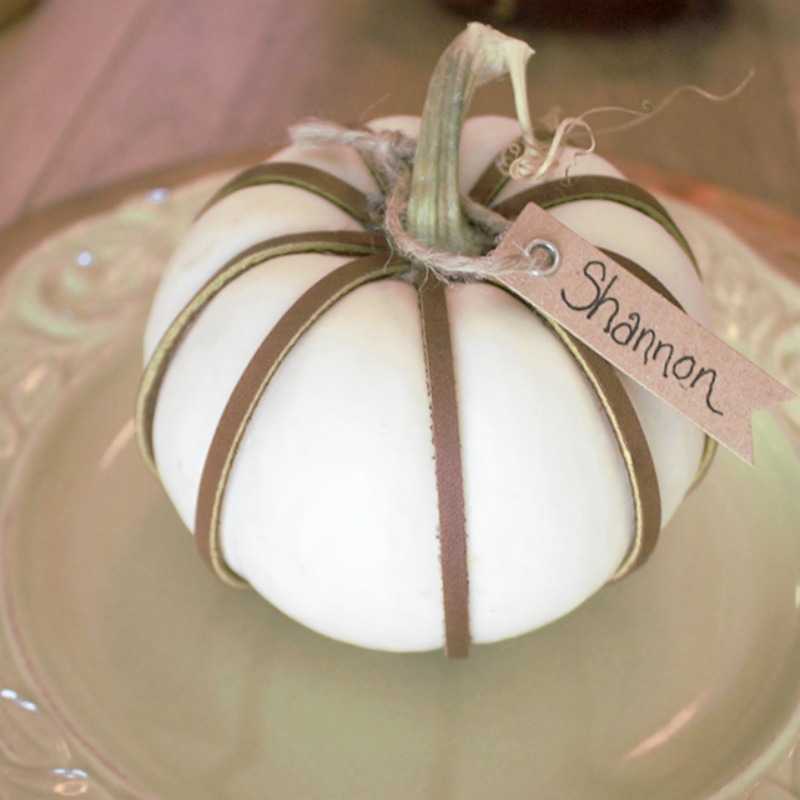 Adding other leather accents
I decided to incorporate the leather in another place on my table by wrapping an old belt around a plain white candle. I love the leather accents with the rustic look of everything else! Don't be afraid to use items in a nontraditional way. It adds fun and interest to an otherwise simple tablescape!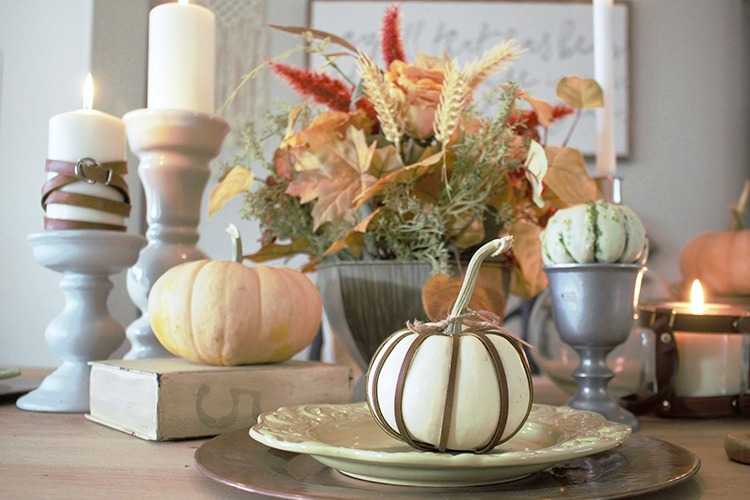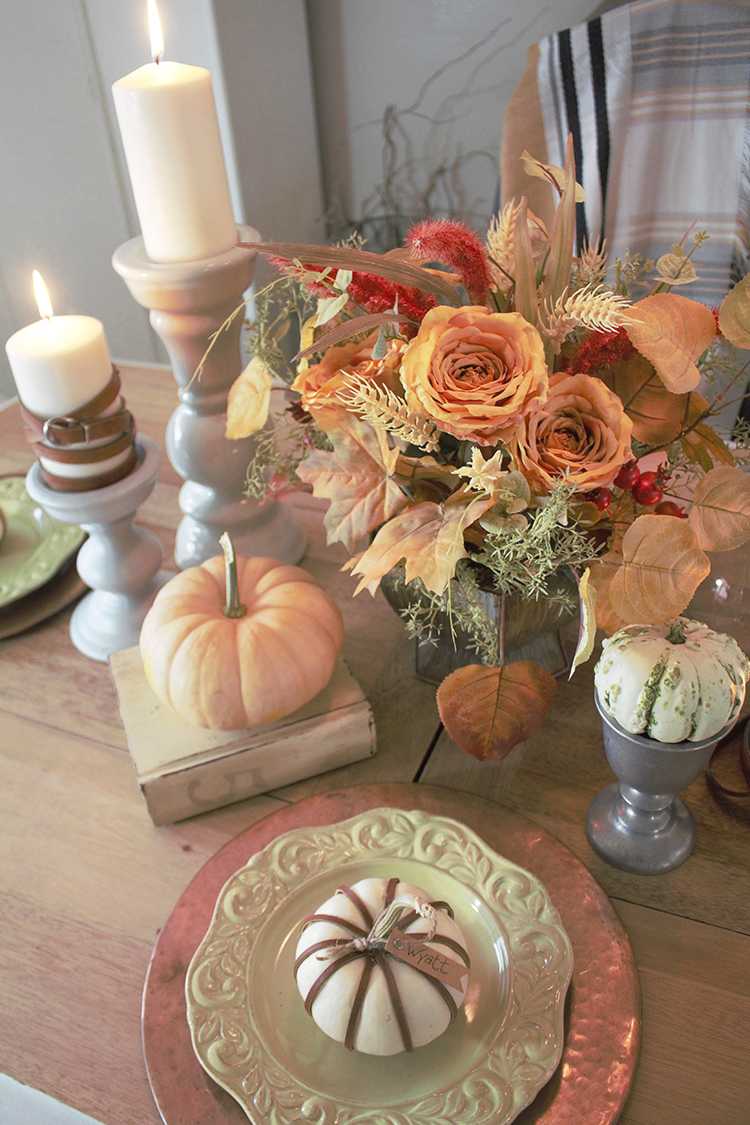 I hope you loved this little DIY for my leather wrapped pumpkins and will add them to your holiday home too! Some other ideas you could try are to use rope or holiday ribbon instead of the leather cord. You can switch it up to match your own Fall or seasonal decorations! The most important part of any DIY project is to have fun!