Hi there! I'm Tiffany, from Joyfully Rooted where I blog about all things home and heart inspired. I am thrilled to be a contributor for A Blissful Nest's Holiday Dream Team this year. Today I am sharing 5 Simple Fall Arrangement Ideas Using One Glass Vase. I tend to use just one favorite glass vase throughout our home. Once you find a vase you love, it can be used in many different ways throughout the changing seasons.

5 Simple Fall Arrangement Ideas Using One Glass Vase
My go-to vase is actually meant to be a terrarium. (You can find one HERE.) I like it because it has a bit of height as well as a sturdy wooden base that adds interest. A good idea when looking for a vase is to find one that coordinates with most rooms in your home. That way the vase can be moved around and used in many areas.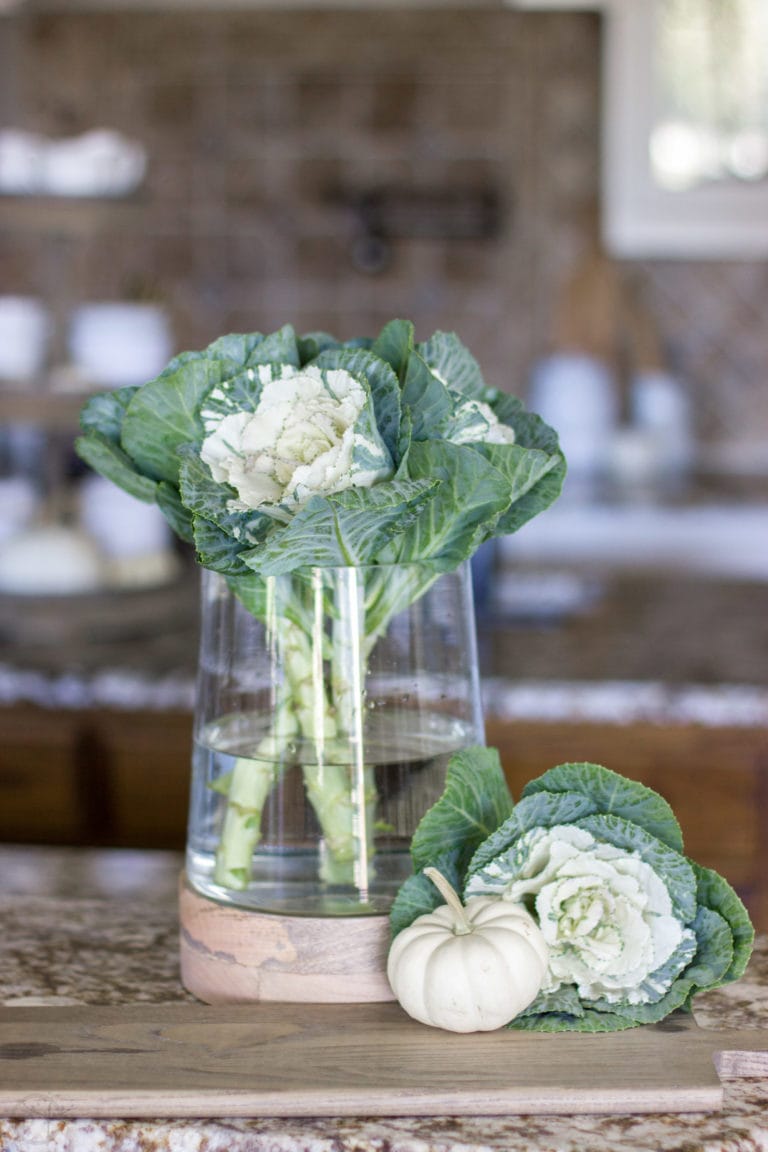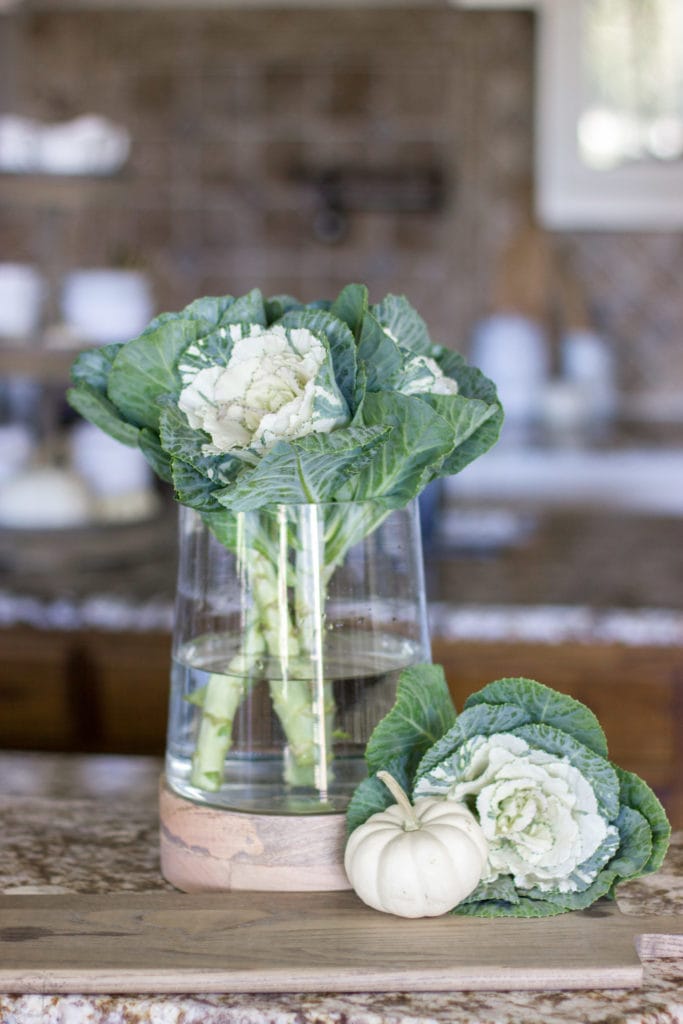 Style 1:
One easy way to style a glass vase for fall is to use items from the produce section of the grocery store. I found these gorgeous cabbages with long stems and white centers. An arrangement like this would be the perfect centerpiece or focal point on a long buffet or next to a cheese board spread in the kitchen. It only took three stems to fill out the vase. I had another stem that I just snipped a bit shorter and used as garnishing on the side.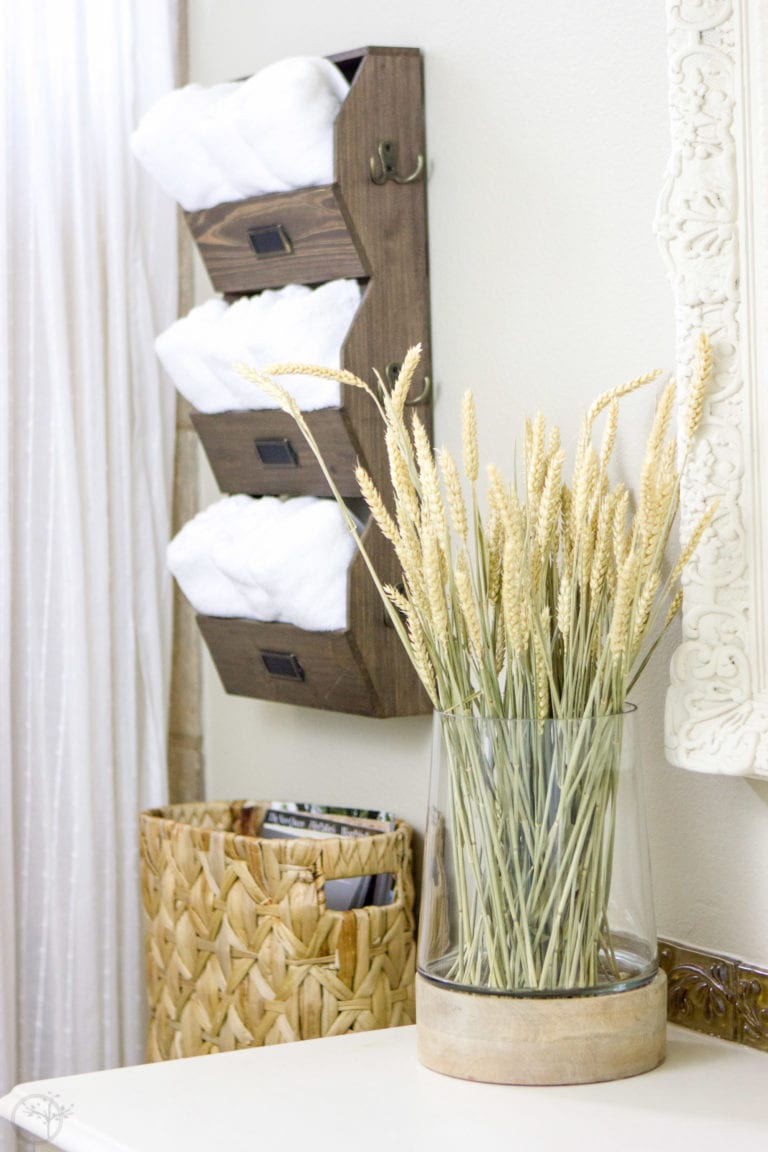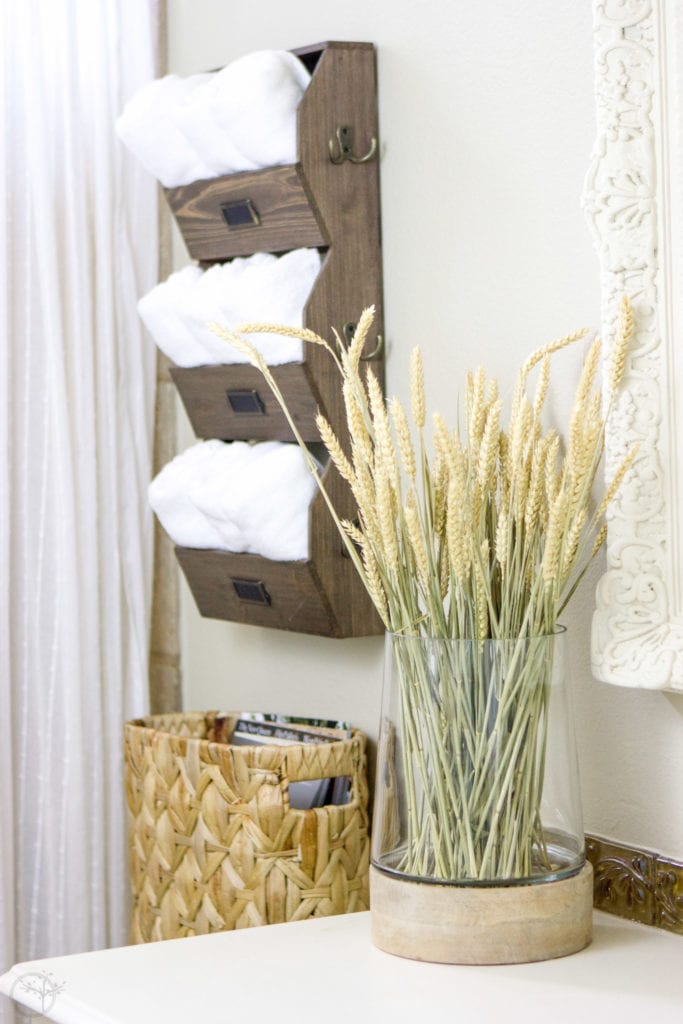 Style 2:
A glass vase with dried wheat stems is a lovely way to stay neutral while keeping a classic fall look in the space you are decorating. I clipped the wheat a little bit shorter for our guest bathroom counter. However, the beauty about wheat stems is that they come very long, don't need any water or upkeep, and can be used to give a lot of height in a space if needed. I found these stems at my local craft store. You can find wheat stems HERE.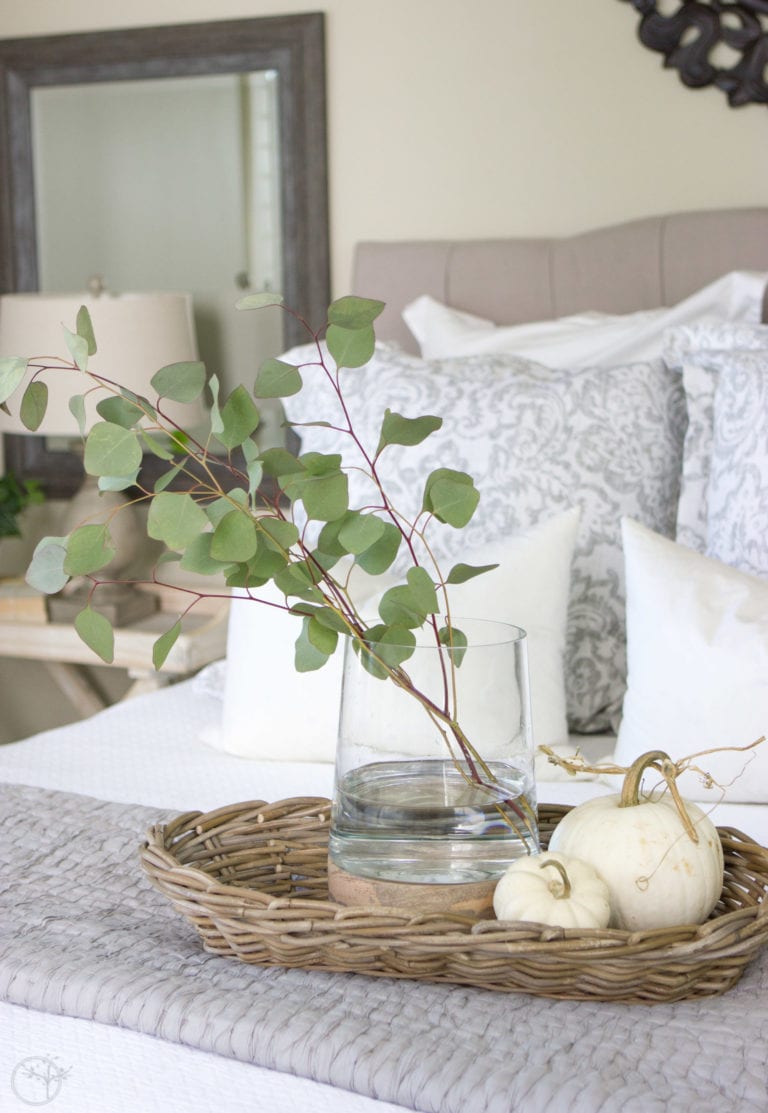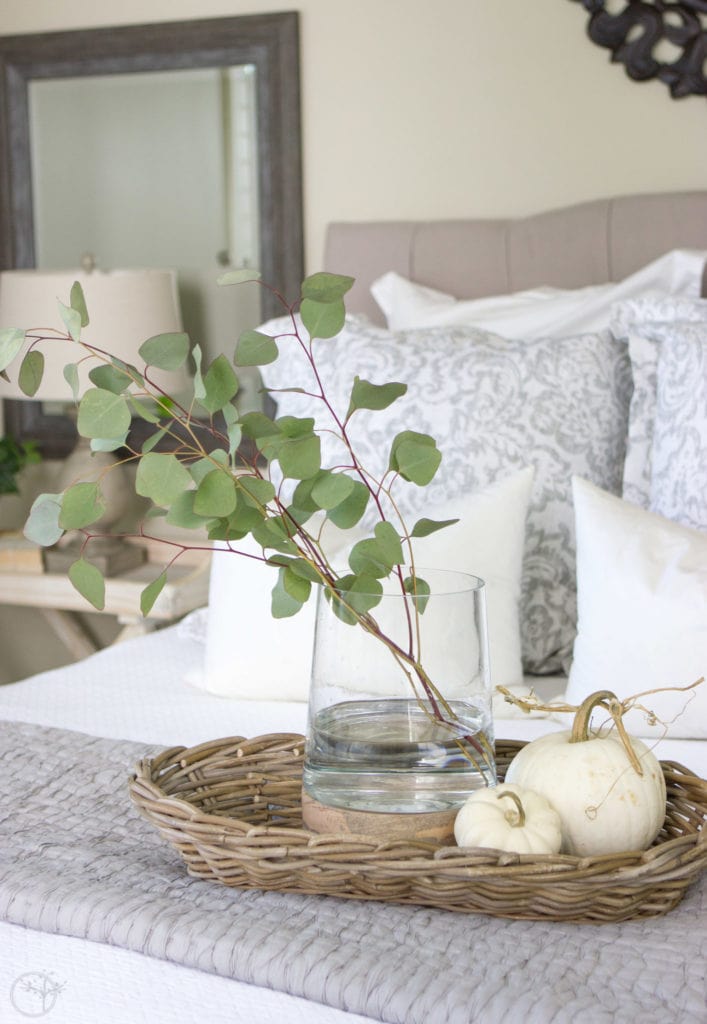 Style 3:
Just a few clippings from a tree, set in a little bit of water make a subtle but elegant statement.  The simplicity of branches from the yard are just perfect for a low maintenance fall arrangement. Layering the vase by putting it in a shallow basket or tray helps add depth and dimension.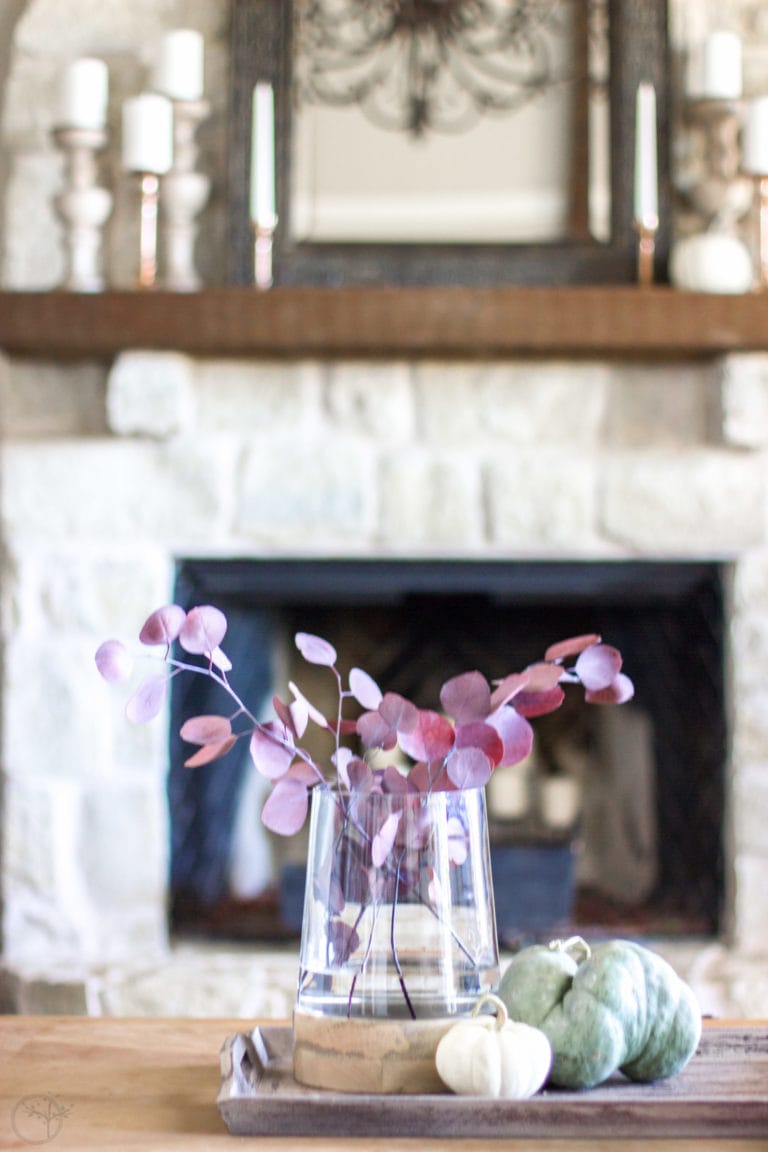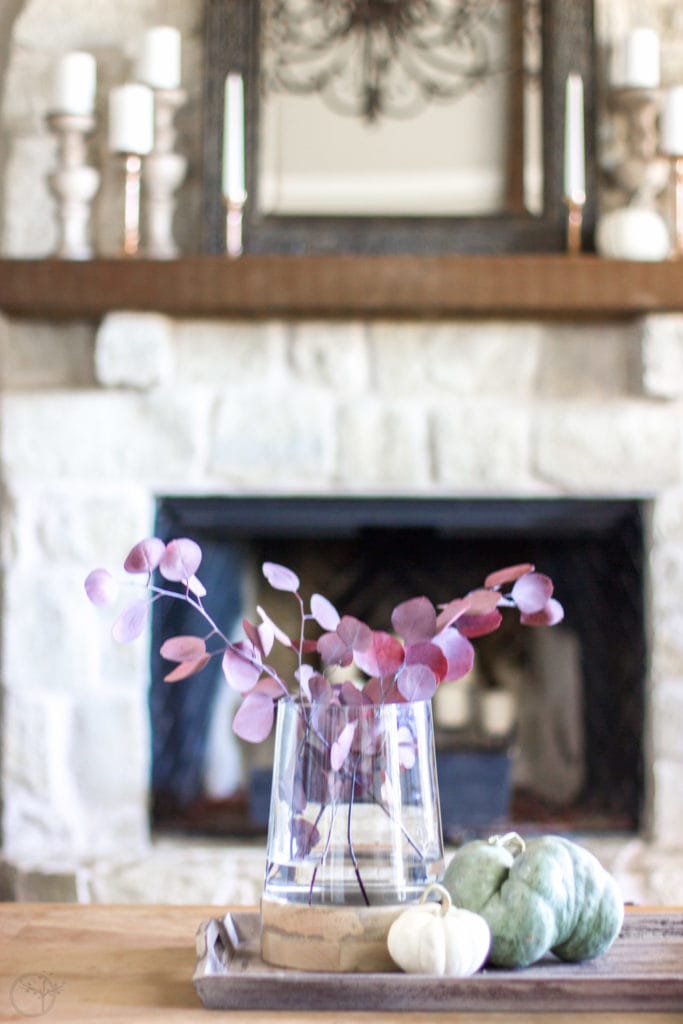 Style 4:
Another dried stem that is beautiful in a glass vase is this red silver dollar eucalyptus. (I found mine HERE.) I think eucalyptus of all types can add softness to a space. It only takes a few branches to make a colorful impact that is just enough to change the look of a room.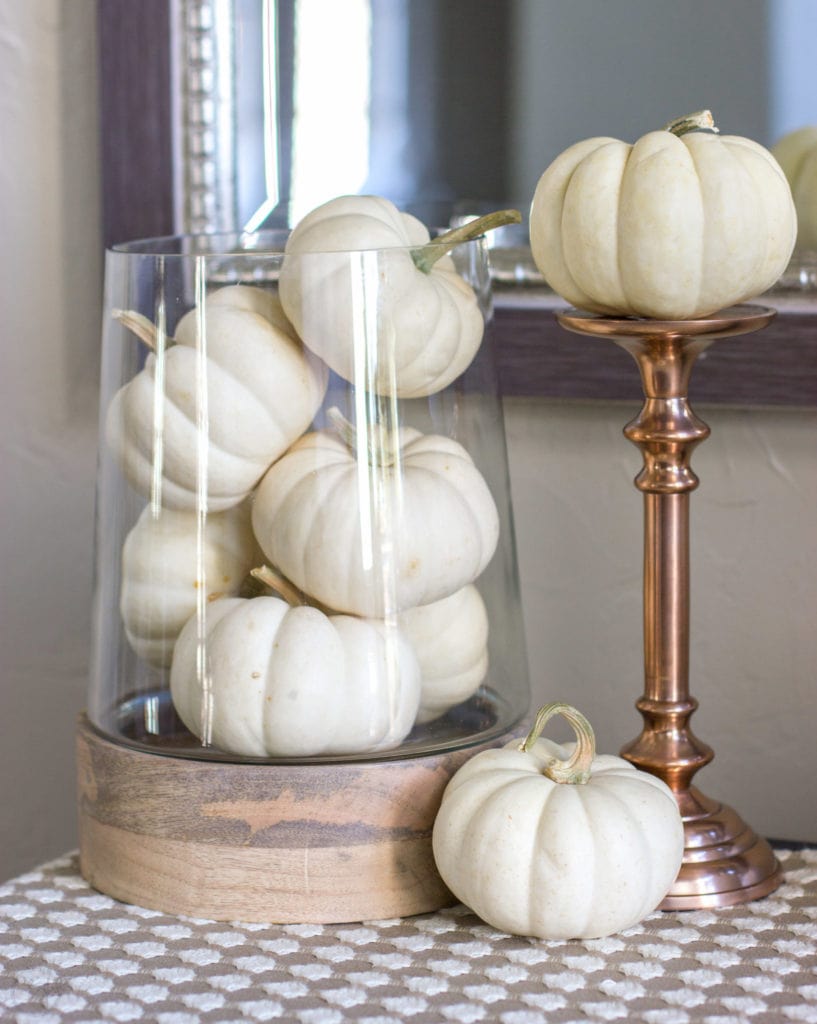 Style 5:
Small, white pumpkins from a local plant nursery can be placed all around the home. Stacking a few of the pumpkins in a clear glass vase is a quick way to add a subtle fall touch.
I sure do appreciate you stopping by today, it has been so fun sharing some simple fall arrangement ideas here on A Blissful Nest.  You can find me anytime over on my blog Joyfully Rooted where I just shared my dining room makeover. I'd love for you to pop over and let me know what you think.