This post is sponsored by At Home.
When I look back at how long we've been in this house and it seems like forever but it has only been 4 short months. How is that even possible?! There are so many spaces to still decorate and figure out but our entry has been top propriety since this is the first space everyone sees when they enter our home. It is oddly shaped which I spoke about in this post HERE. It is long and narrow and comprises of sections, one of which is this small round niche under the stairway. This is what it looked like when we moved in.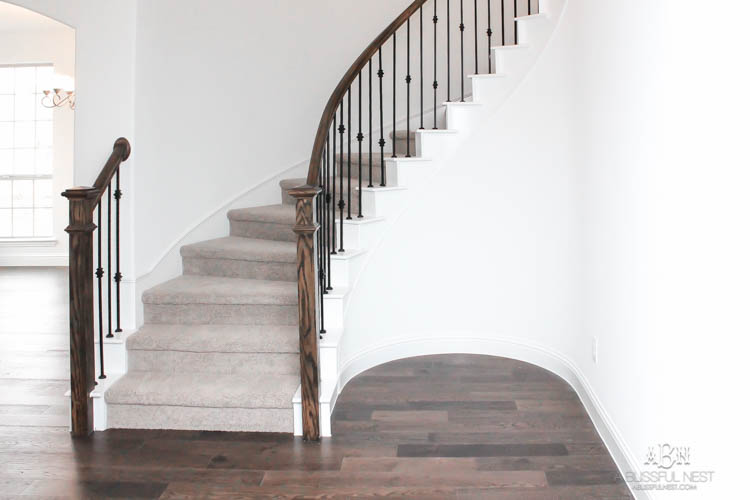 You can see there is not much to it. I had a small table here but it was too small. It just is a space that is not quite working for me. So I decided to team up with one of my favorite stylish and affordable stores At Home for a Small Space with Big Style makeover!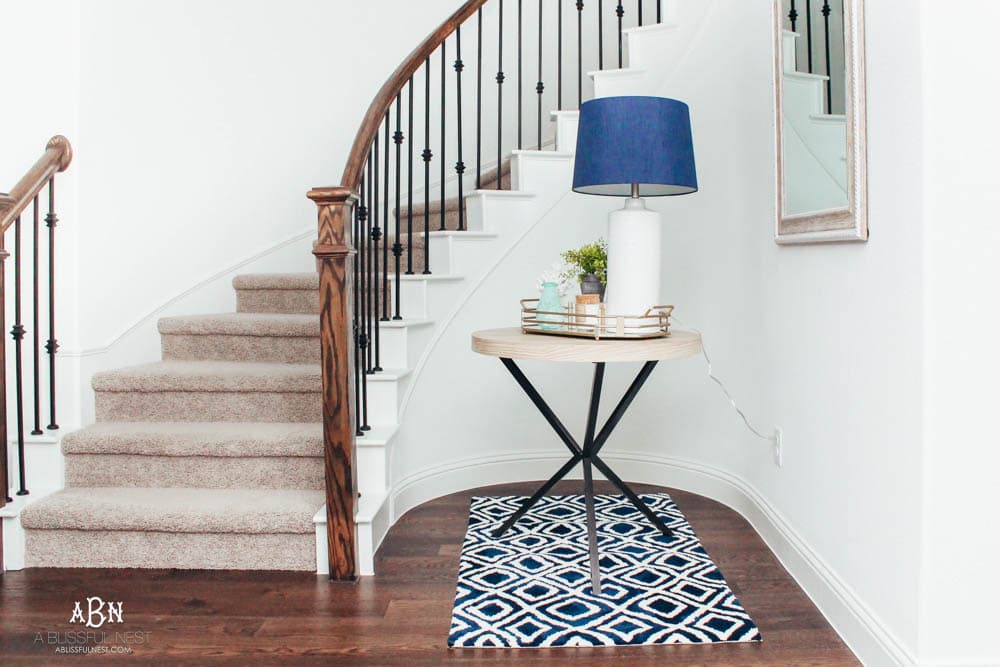 Now here it is after my shopping trip to At Home and it is perfect for this space! The scale of the table fits and the rug pulls the accessories together and gives it a pop of pattern. I love having a table lamp here especially at night to light up this dark space. I added in some coastal decor touches to fit the theme of our home and used a touch of greenery. It feels warm and inviting and we just love it!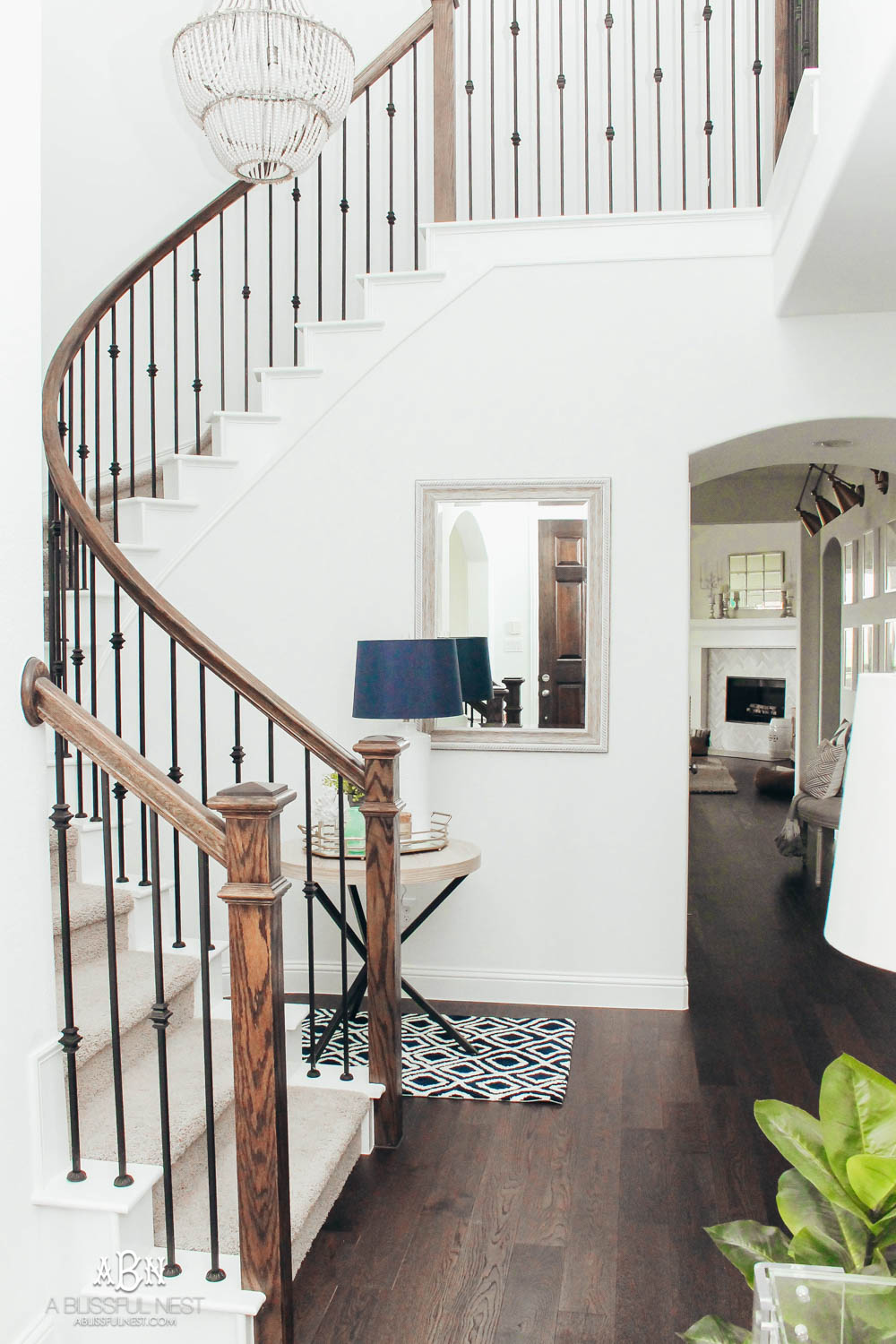 Small space with big design makeover + design guide:
So let's walk through the design process of this space so you can recreate something similar in your small space and get big style.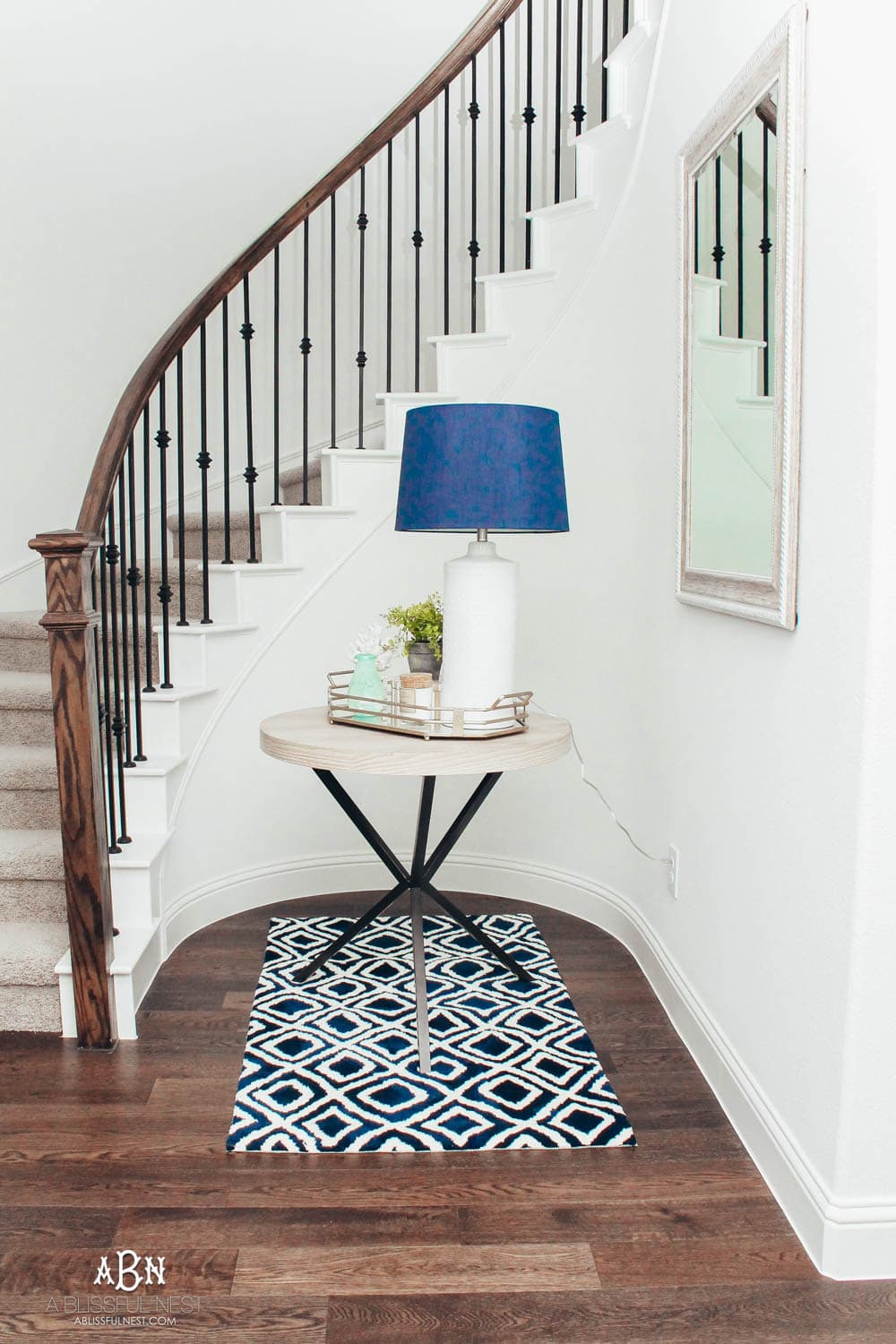 1. Select your furniture piece for the space.
This is where I like to start when I am designing a small space. This tends to be the hardest part because getting the scale right is crucial. Make sure to measure your space before you shop and take those measurements with you.
Because this space is curved, I knew I needed a round table here. Typically round tables come in 20-24″rd, 30-36″rd and so forth. The one I had here was in the 22″ size range which ended up being way to small. So when I went shopping I made sure to pick a table in the 30-36″ rd range.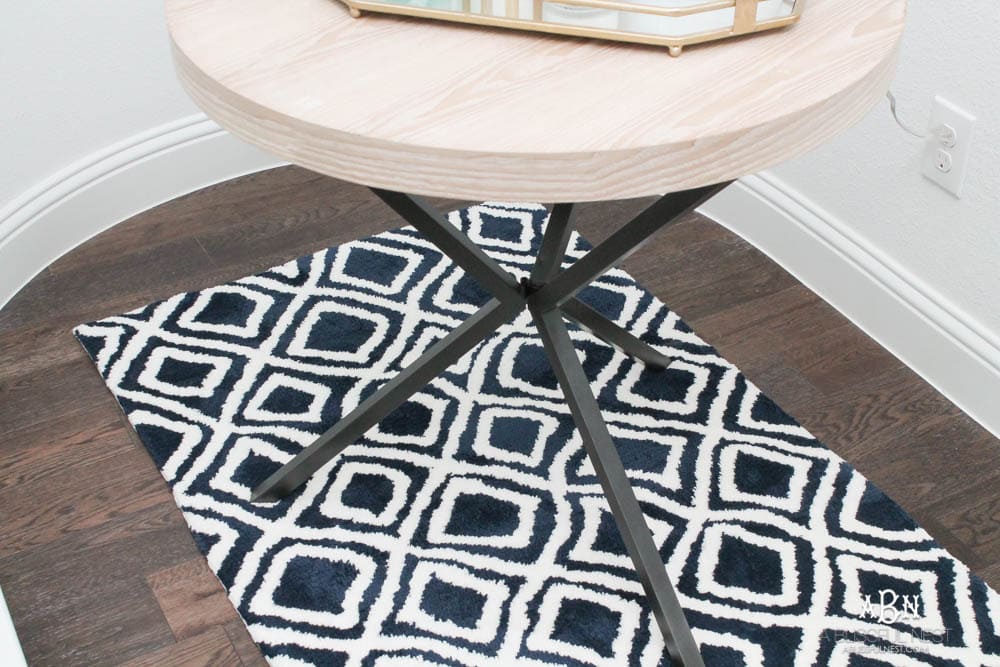 At Home has such a wide selection of tables to choose from and I wanted something that had a modern coastal vibe to it. I fell in love with this table that is a more transitional piece that would be perfect for any design aesthetic. The finish is a white wash look and I love the black metal tripod base.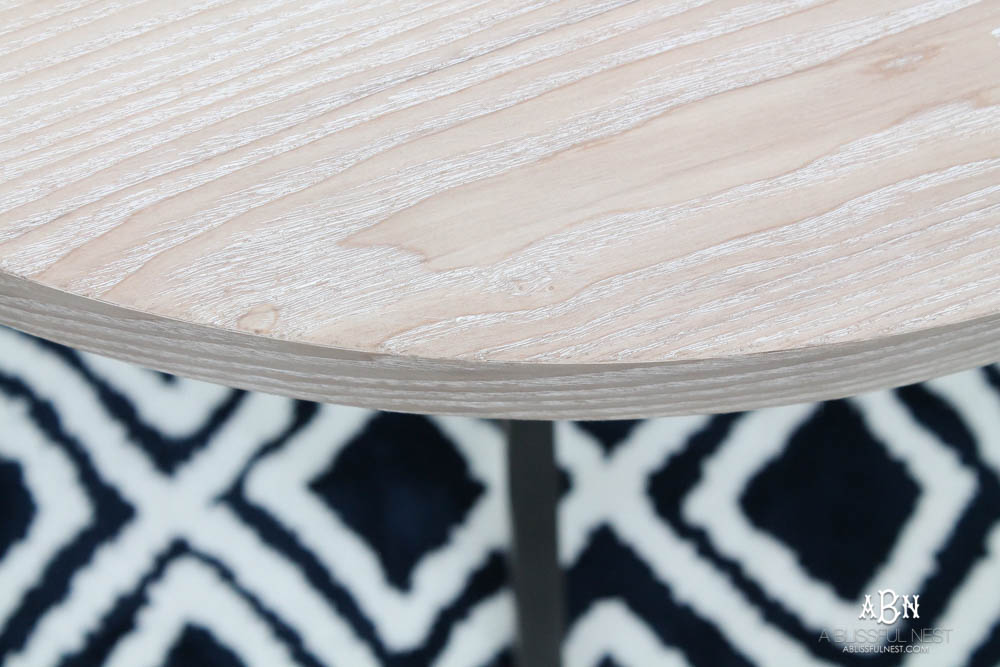 2. Ground it with an area rug.
After selecting the piece of furniture that will fit your small space, next it is time to ground you decor with a area rug. now you have your measurements with you and At Home is an amazing place to shop for rugs. If you caught my Instagram Stories last week then you saw they have the general sizes of rugs outlined on the ground so you know what the sizes look like. I am such a visual person and if you have your piece of furniture then you can lay it on the outline and see which size would look best. Look for a smaller scale pattern since it is a small space so it is not over powering.
I knew I wanted something blue to carry through the colors in the rest of my home and I wanted a pattern to bring visual interest to the space. I thought the tribal diamond pattern of this one would be perfect and it is super soft.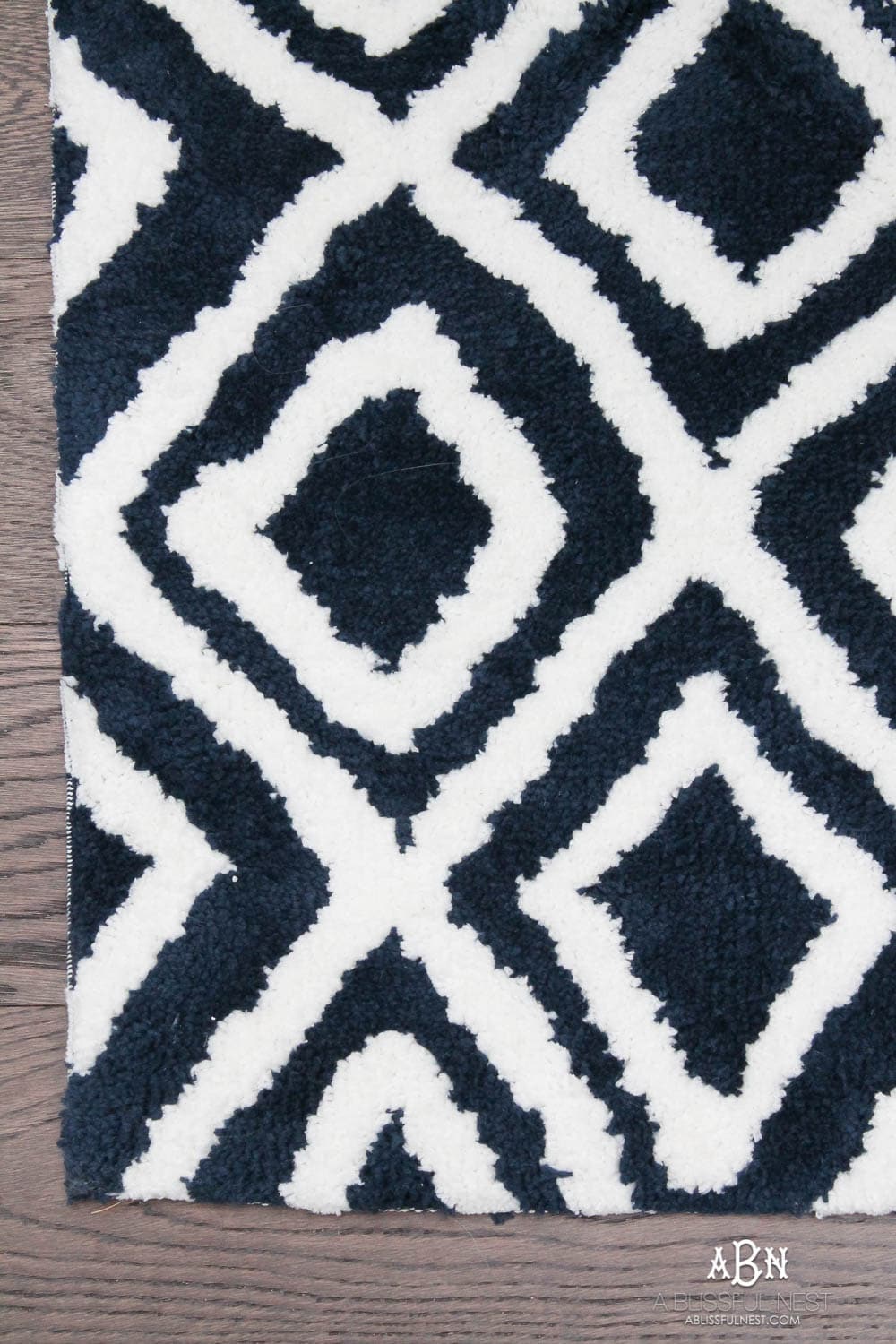 3. Brighten the space and make it feel larger with a mirror.
One of my favorite tricks to lighten and brighten a space is to use a mirror. It bounces light off from nearby windows and reflects. For scale, I like to go big. Always think bigger is better when selecting a mirror for your small space. This will create the illusion that the space is bigger.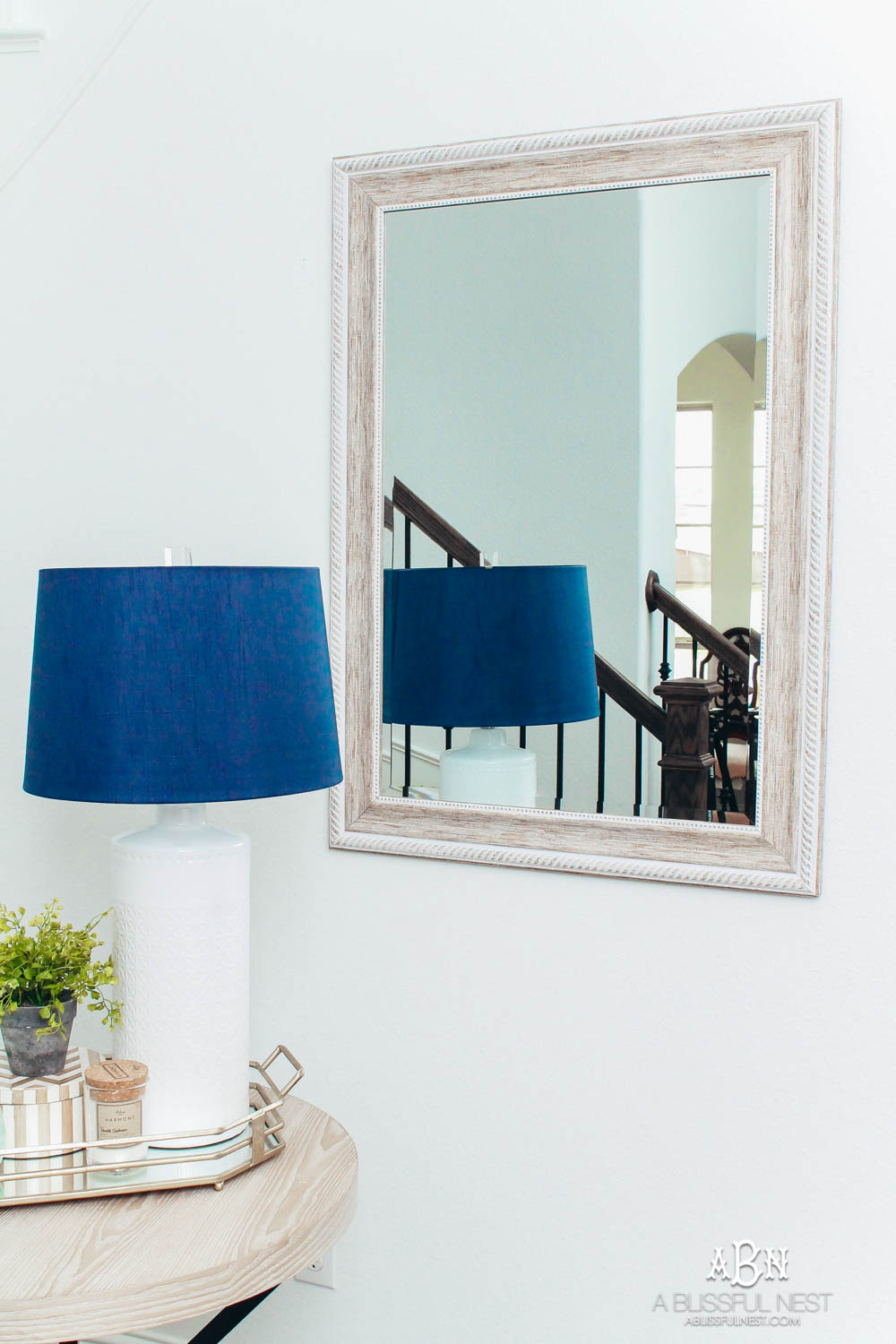 The finish of this one matched the white wash of the table and I loved the little bead detail.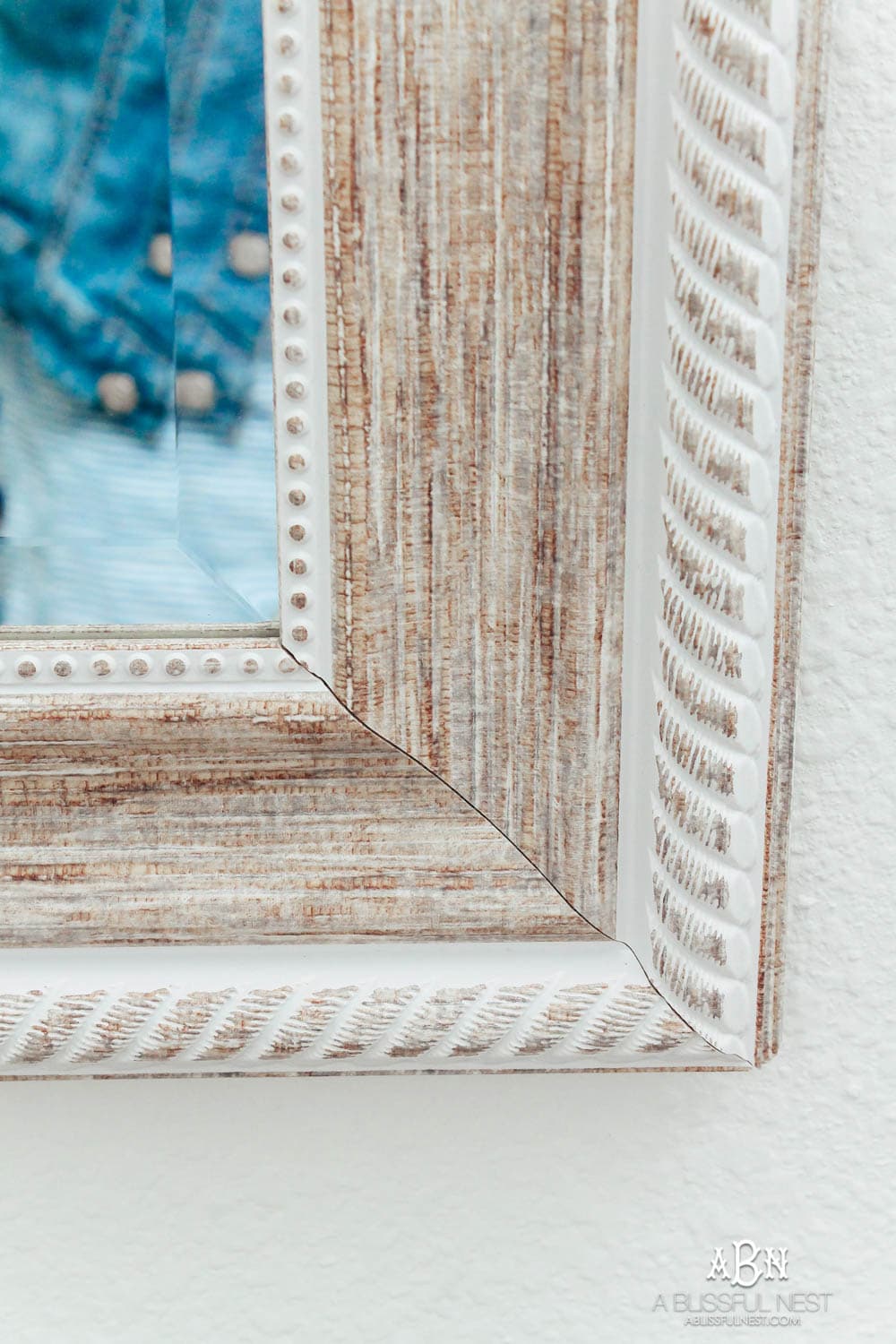 4. Layer in accessories.
The last thing to do is layer in accessories. Start with a lamp or larger item then creating a triangle, select your additional items to pull your theme into the space.
As you can see in my decor, the table lamp is the main anchor and then starting from the plant down it forms a triangle.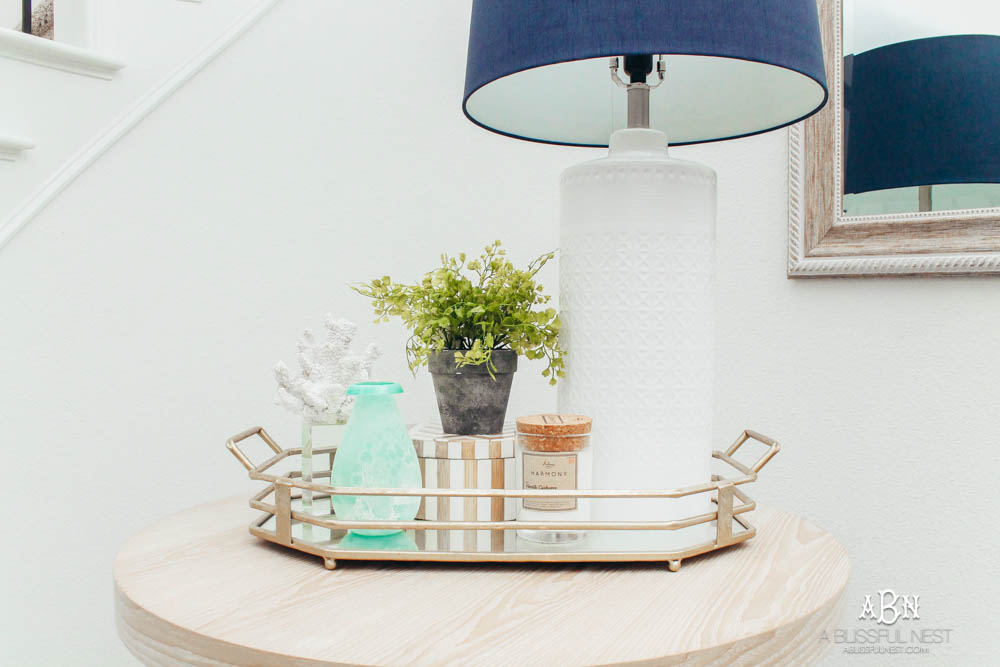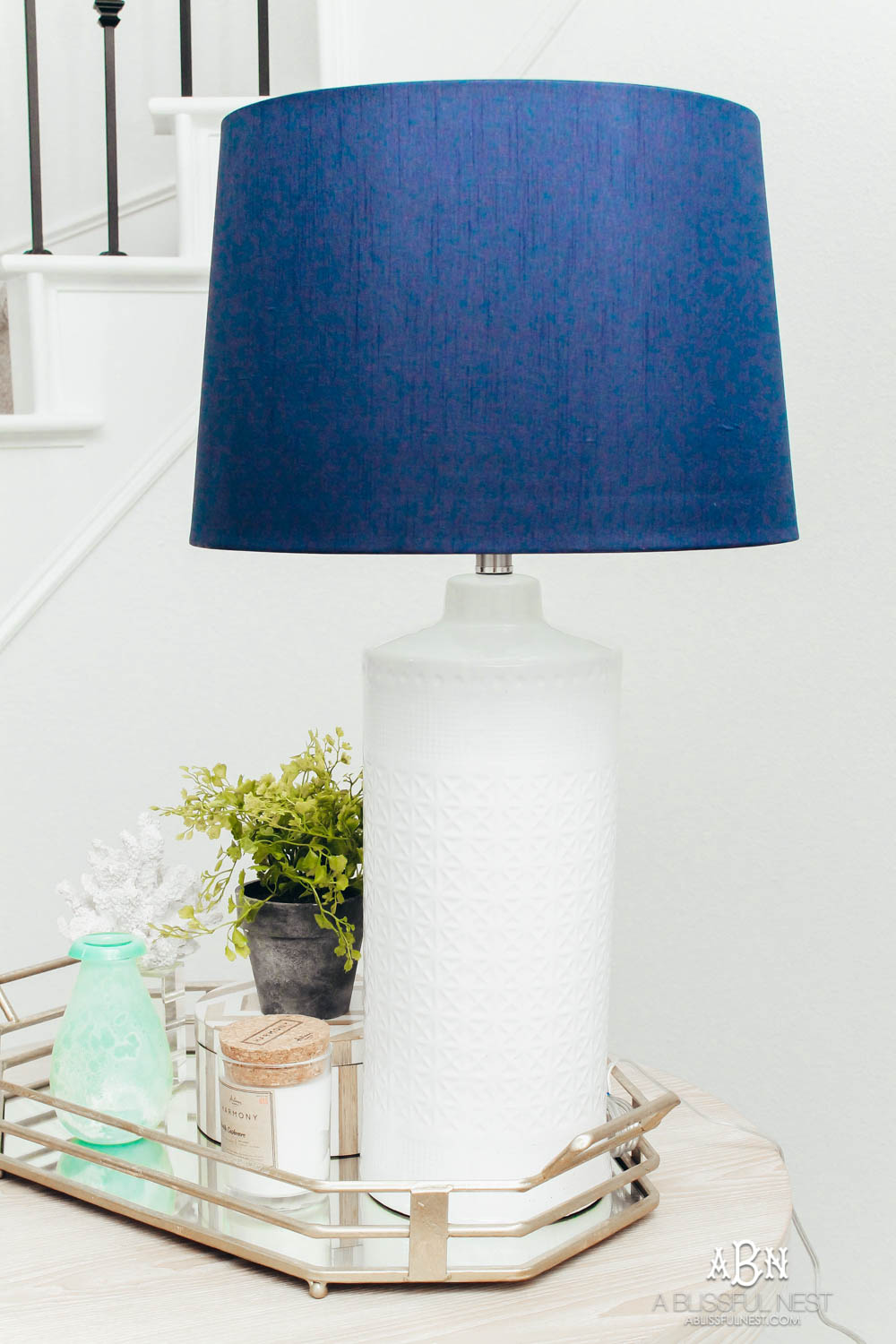 I loved this modern lamp base and wanted to pull the color of the rug in with the shade. At At Home you can select all the pieces you need for your lamp so you can create that custom look. I started with the base of the lamp, then picked the shade and then grabbed a harp and this amazing crystal finial. I just have to say their selection of finals is unreal. It was so hard to pick just one!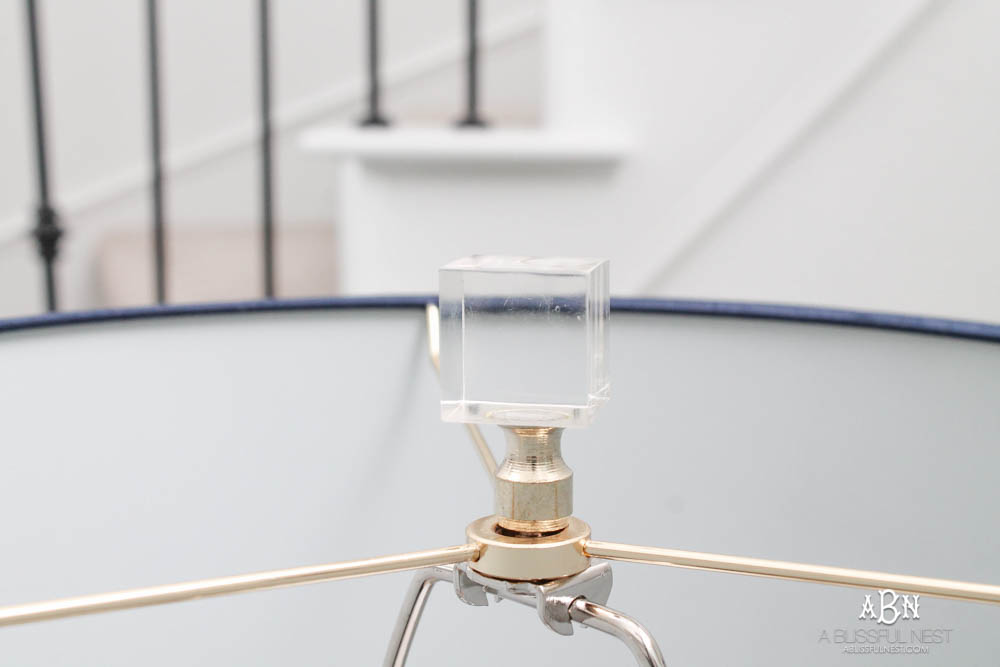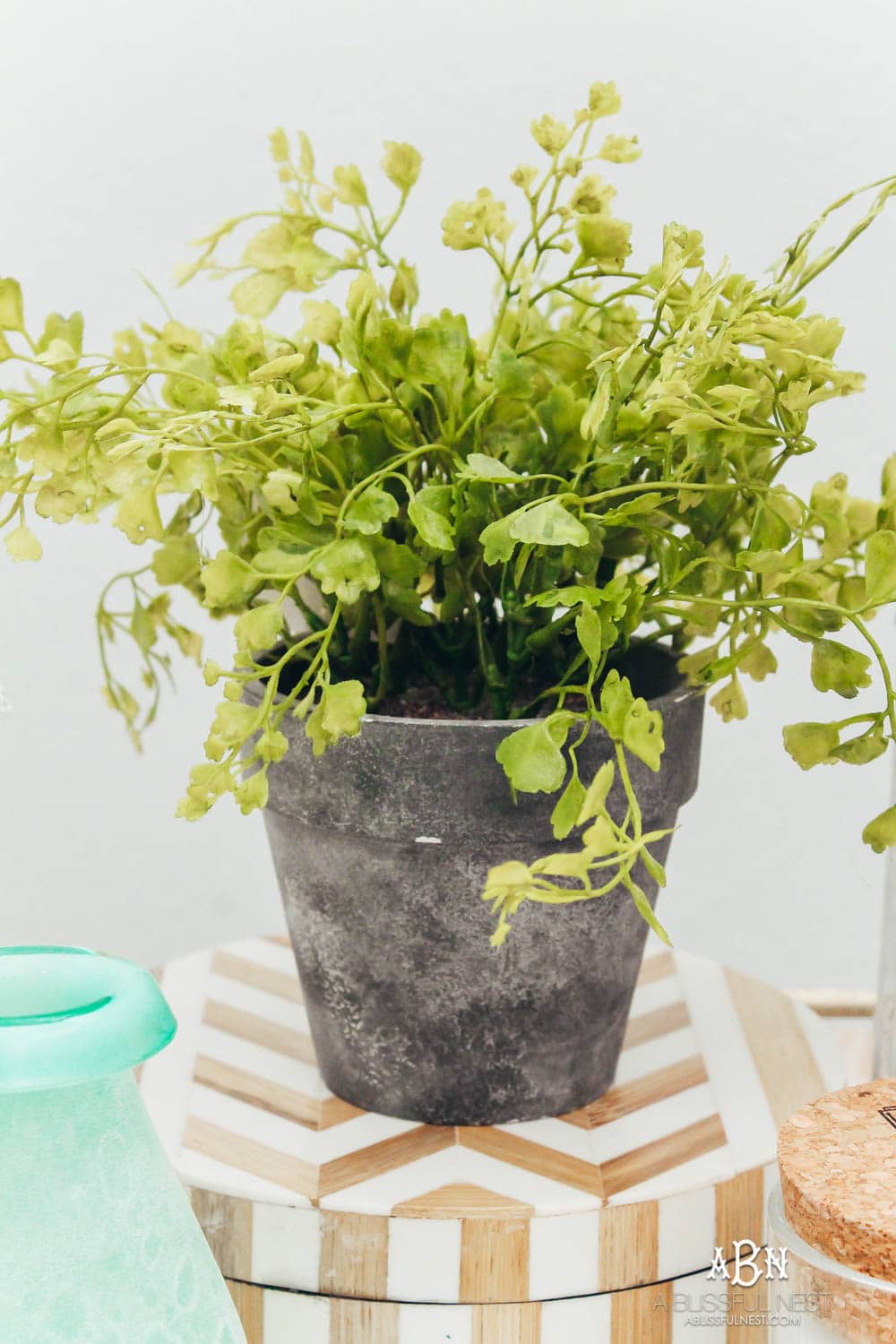 I like to always add in something green to each space. It makes the outdoors come in and warm up a space. There are so many florals and greenery to choose from at At Home from faux potted plants to floral stems to design and create your own arrangement. I love these little potted ones that are perfect for small spaces and bookshelves.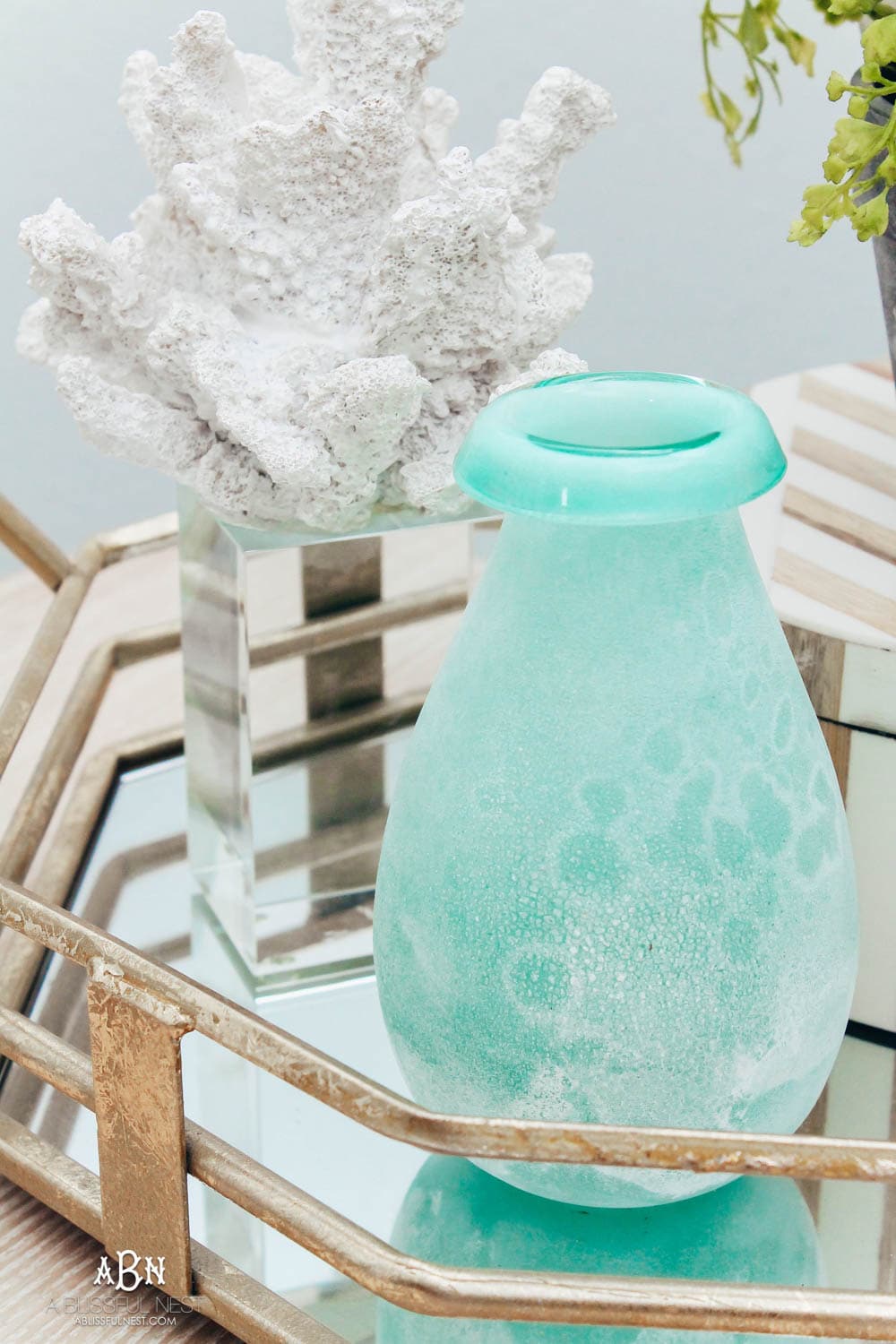 From bowls to vases and gorgeous decorative boxes, you will find the perfect pieces for your small space at an affordable price at At Home. They have the latest and largest assortment of home decor at amazing prices so you can truly design your dream space like I did here.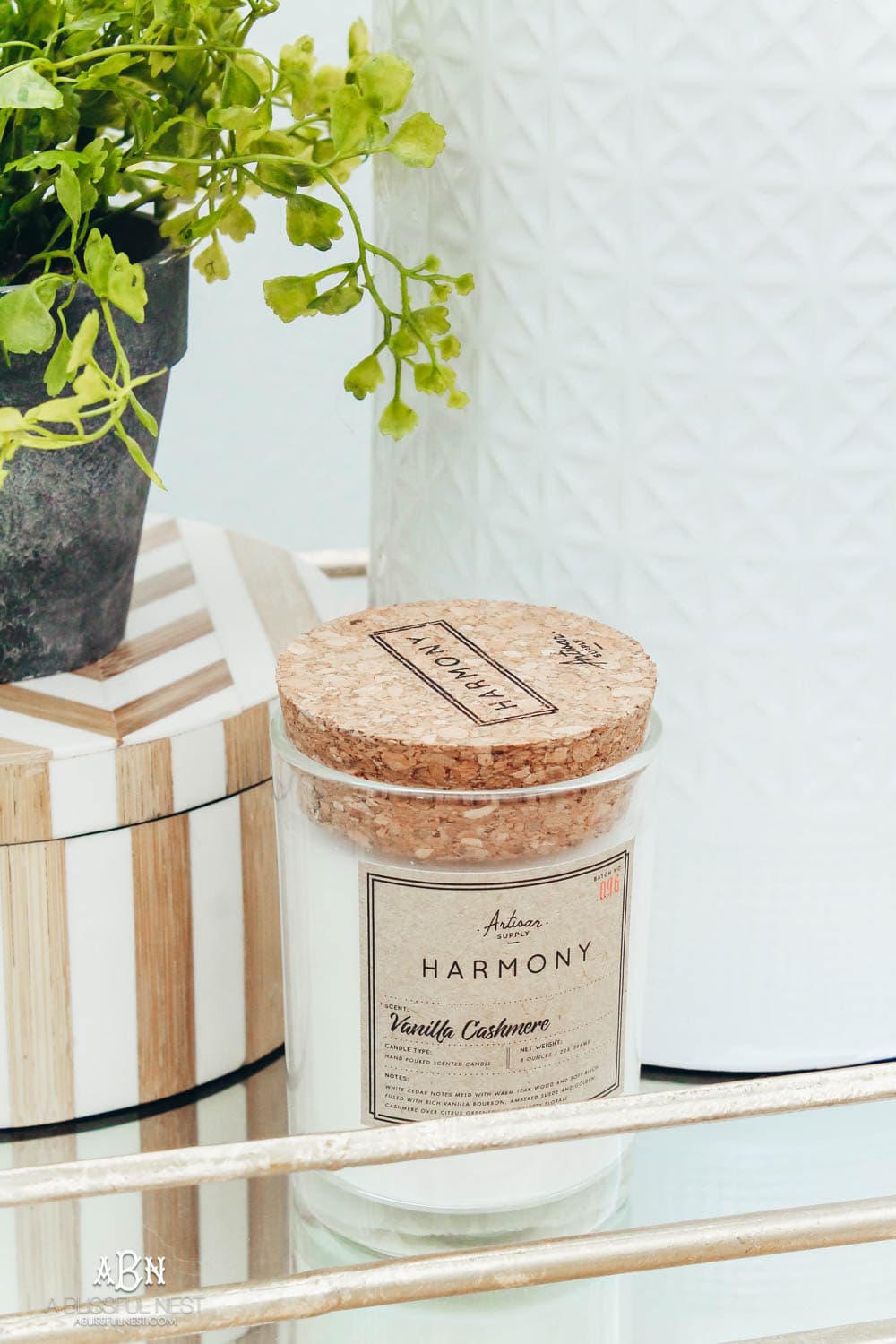 I am such a sucker for gorgeous labels on candles and this one smells even better than it looks. I think candles add some ambience and I love to light them when we have guests.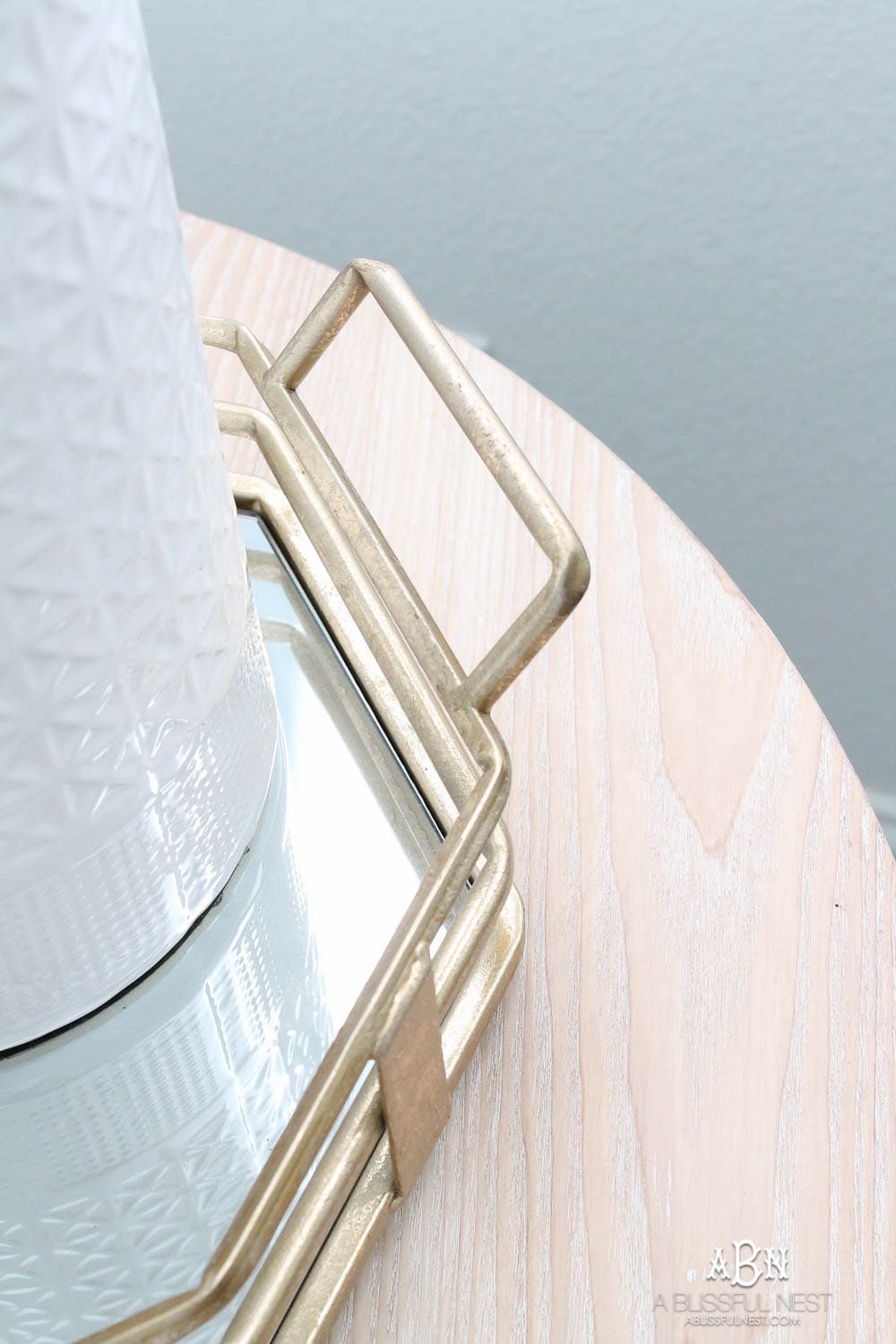 I picked up this beautiful gold tray to keep everything together and make it look tidy. It has a gorgeous lightly distressed finish and ties in beautifully with the final which you see as you walk down the staircase.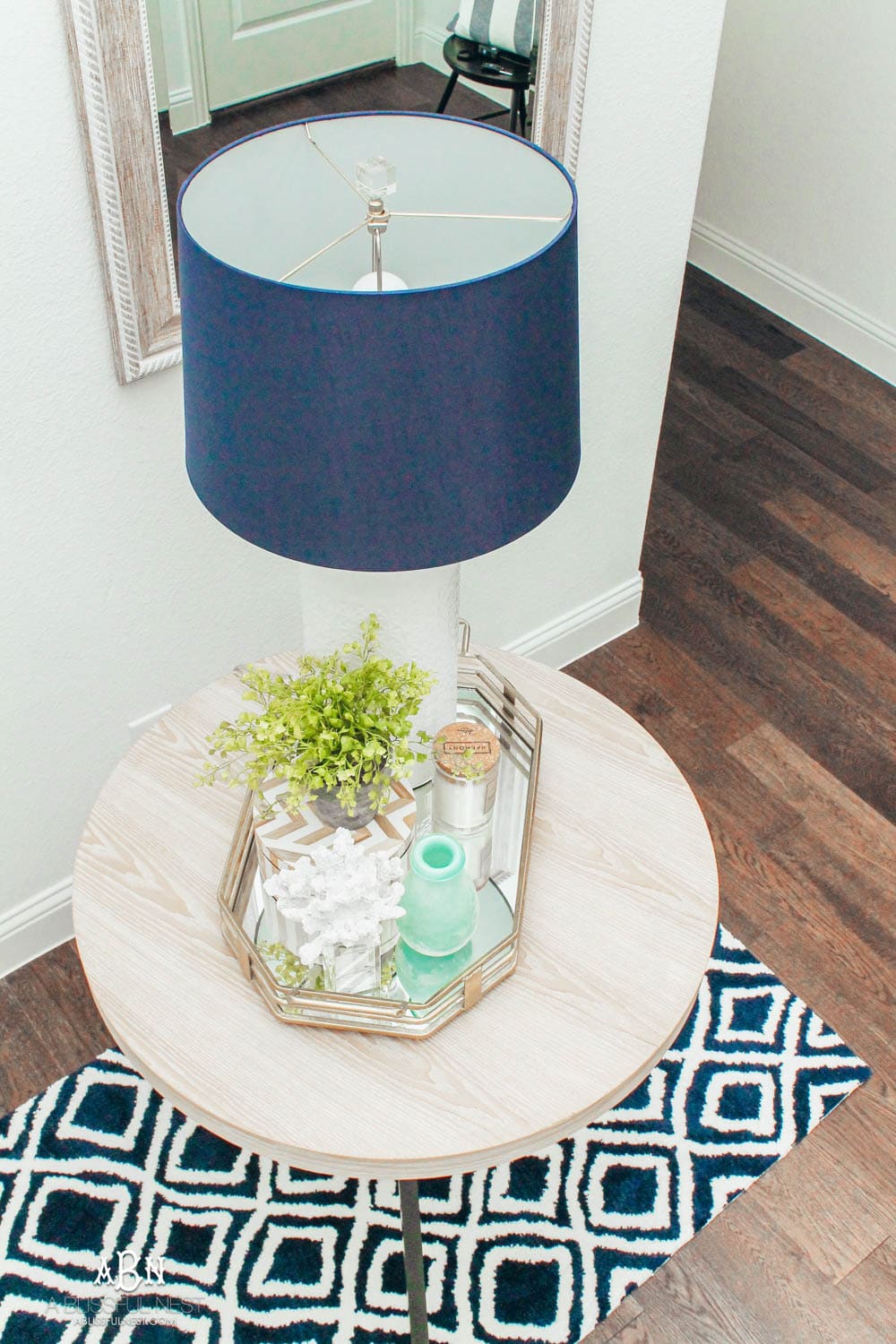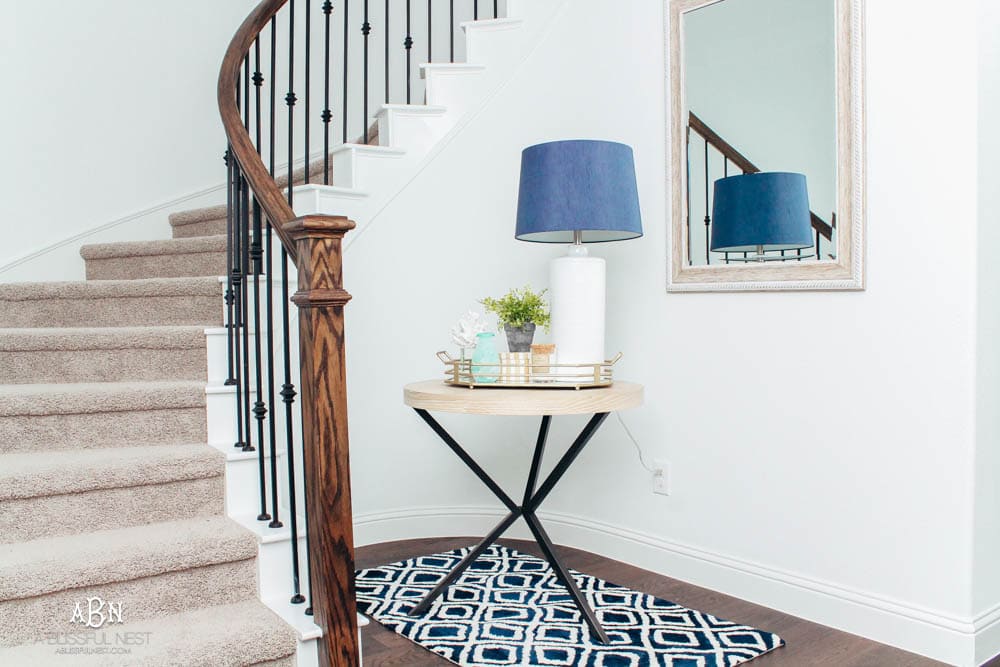 I am so happy with this space now and I was able to pull this space together affordably with things from At Home. So grab my shopping guide to design your own small space and get some big style at At Home my friends. You will love the transformation!
Checkout the store locator to find an At Home store near you and get alerted for new markdowns and hot deals with their At Home Inside Perks program.
THIS IS A SPONSORED POST. A BLISSFUL NEST HAS RECEIVED PAYMENT, TRADE, AND/OR PRODUCTS FROM AT HOME STORES IN EXCHANGE FOR PROMOTING. HOWEVER, ALL OPINIONS STATED ARE OUR OWN.