It's a new year and one of my most popular posts you all love are The Friday Five posts! I love them too and I love to share five things that have caught me eye for the week, are in my shopping cart or I am using in some new designs.
You can check out past The Friday Five's right HERE.
This week as I transition my home from Christmas to winter and have new projects on the horizon (like my new home office), I came across some gorgeous ideas which one of them is below. I just know you will love it!
I also am of course starting to pull out my pink items and loving all the nods to Valentine's Day coming up. My friends and I have decided we are going to go out to dinner as a group with our husbands the weekend before for a nice adult evening out so I am looking for some cute accessories for my outfit.
I also finally tracked down one of the most asked about items in my home for you!
I hope you love this week's picks!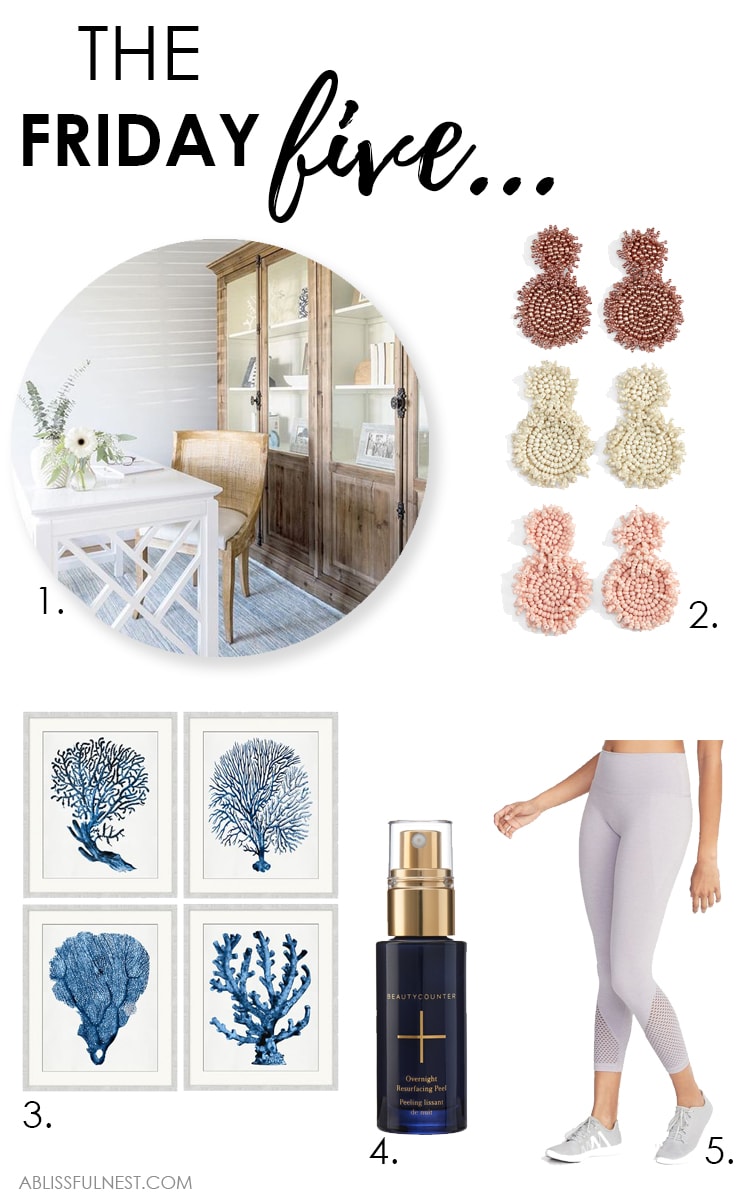 This post contains some affiliate links for your convenience. Click here to read my full disclosure policy.
1. So as I plan my projects for the new year for our home, one of my top priorities is doing my office.
This is the room I am in the most during the week and it is SO disorganized right now. I keep the double doors shut most of the time since it looks like a bomb blew up!
I know one of the big purchases for this space is going to be a piece like below so I can get some more storage. There is a small closet but with what I do for a living, I need A LOT more space.
I love the overall serene color palette of this space by Salt Design Company and I love the soft wood tons of the hutch.
Of course my favorite color is blue and I love the hint of caning on the chair.
Stay tuned to see what I do!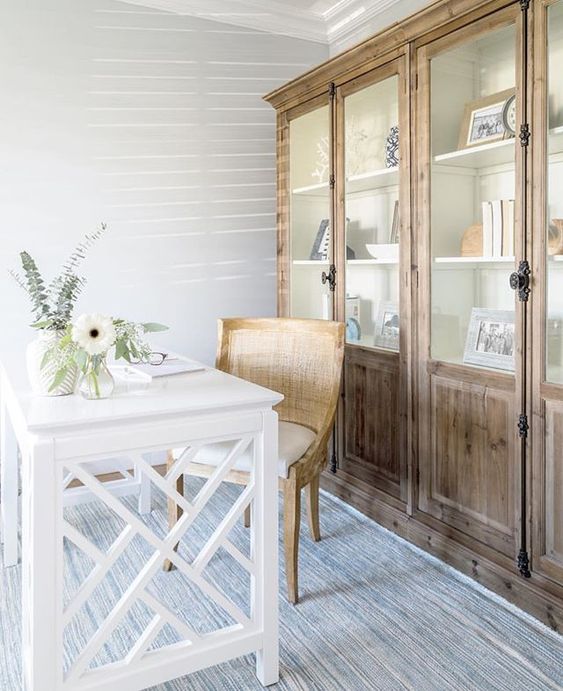 2. Like I said above, my friends and I have decided to do an adults only dinner out the weekend before for Valentine's Day. In the middle of the week is just too hard with all the kids school and activities so we are all celebrating a few days early.
I plan on wearing something already in my closet but would like to freshen it up with a few new accessories.
I swear this is the best way to add life into your closet when there is not a huge budget to do so.
These beaded drop earrings are so cute AND they are 40% off making it less than $50 for all 3!
These will be so cute with dresses but also with jeans and a sweater. Totally worth every penny.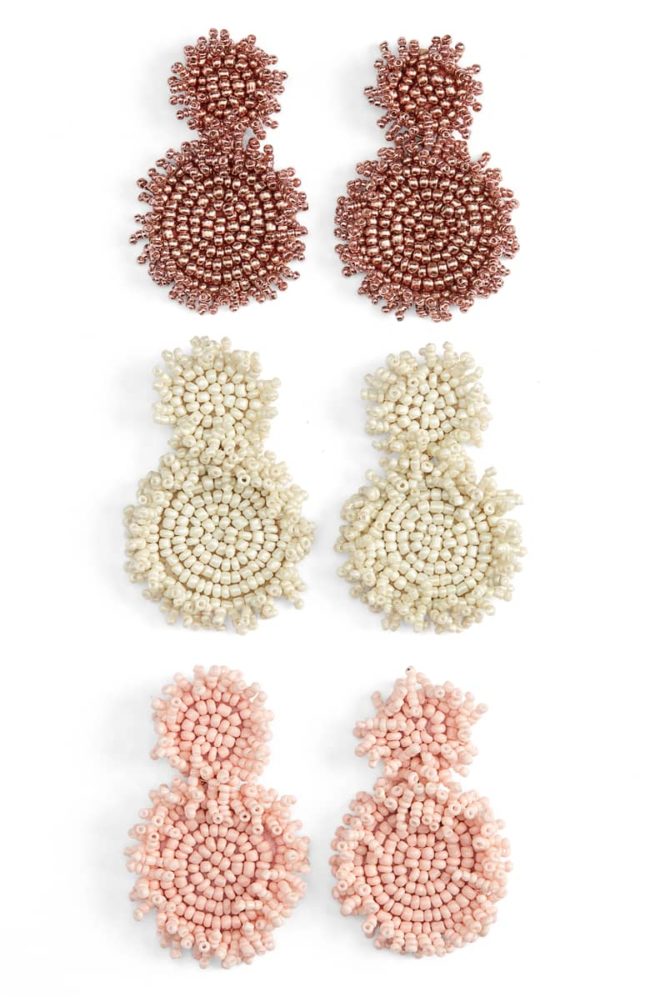 3. You all ask me every time I post a picture of this space in my kitchen where these blue and white coral art prints are from. Well I actually made mine but I have found almost the exact ones that you can just purchase online HERE from one of my all time favorite stores.
These are in much nicer frames than mine and are way better quality.
I love them clustered together but you could easily do just one on a small wall.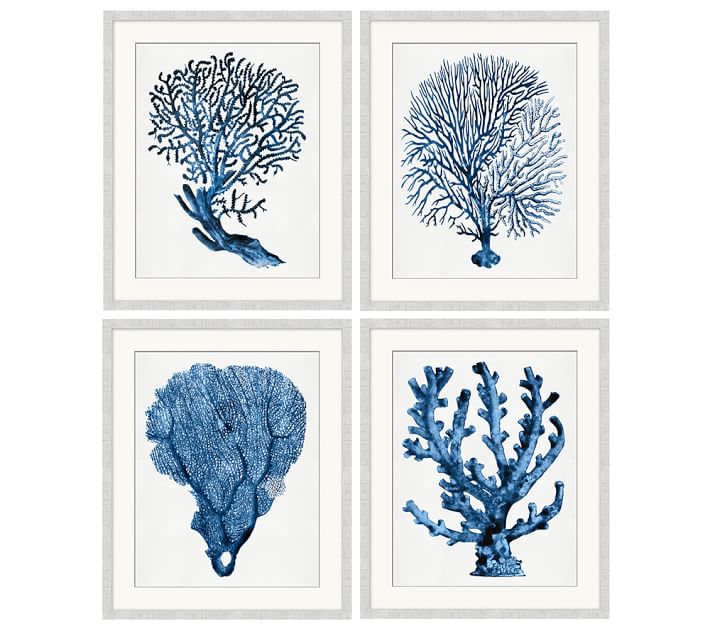 4. This overnight resurfacing peel is the holy grail of skincare my friends. I mean it is life changing.
I started using this about 4 months ago. I honestly started because I was just in general looking for beauty care and makeup that had less toxins in it and was cleaner and safer.
Little did I know I was going to jump into a line of products that would drastically change my skin for the better.
This little guy is one of the products I saw immediate results in and I can not live without now.
I use it 4-5 times a week at night after I have cleansed my face and before I put my nightly moisturizer on. In the morning you can just use water when you are in the shower to wash it away on your face.
It is lightweight and smells amazing. I am so addicted to it!
I have a post next week coming all about my morning and night time skin care routine because I swear everyone needs to know about it.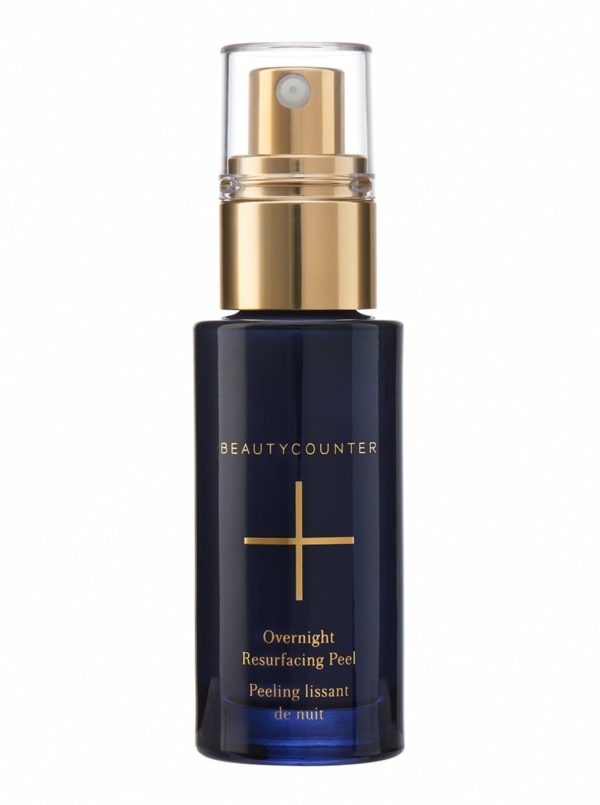 5. More and more I have noticed myself embracing the athleisure wear trend. I'll be honest I am not sure why I really did not before.
It is so comfy and you can still look put together even if you are a work at home mom.
My favorite leggings are from HERE. They are inexpensive, fashionable and fun to mix and match with tops.
I just got these mesh ones in this color yesterday. As of right now I got this top to go with it but even a white tee with a jean jacket would look great.
They are also on sale and only $25 for this color.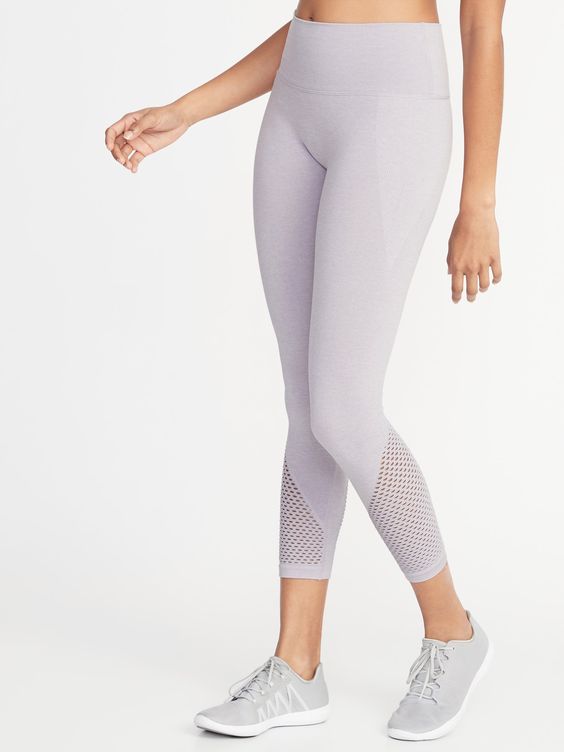 Old Navy – The Epic Clearance Event – Up to 75% off
Pottery Barn – The Annual White Sale – 20% off bedding, towels and more!
World Market – The Big Furniture Sale – Up to 60% off

Anthropologie – The House & Home Refresh Event
Macys – Extra 20% off with code: BIG
J. Crew Factory – 50% off super comfy picks

Target – Up to 25% off home + furnishings
West Elm – Buy More Save More event – up to 30% off with code: SAVENOW