Happy Friday friends! I am back with another edition of The Friday Five where I share five things that have caught me eye for the week, are in my shopping cart or I am using in some new designs.
You can checkout past The Friday Five's HERE and get even more ideas!
Quickly before I tell you all about my favorites for the week, I wanted to give you an update on one of the items from last week. I got my Madewell slip ons and you guys they are the most comfortable ones I have ever worn. They are a super soft leather and feel amazing on. Obviously I love them so much that I needed to give you a followup review on them. You can check them out HERE and see my post from last week HERE.
Okay so moving on to this weeks picks . . . . like I mentioned last week I have been looking for some ways to refresh my living room and kitchen area without officially moving into spring and I found 2 more great buys I know you will love.
Also, I had to have a come to Jesus with state of my hair so I am giving you some background on that and why I had to move on from the past.
I hope you love this week's favorite finds!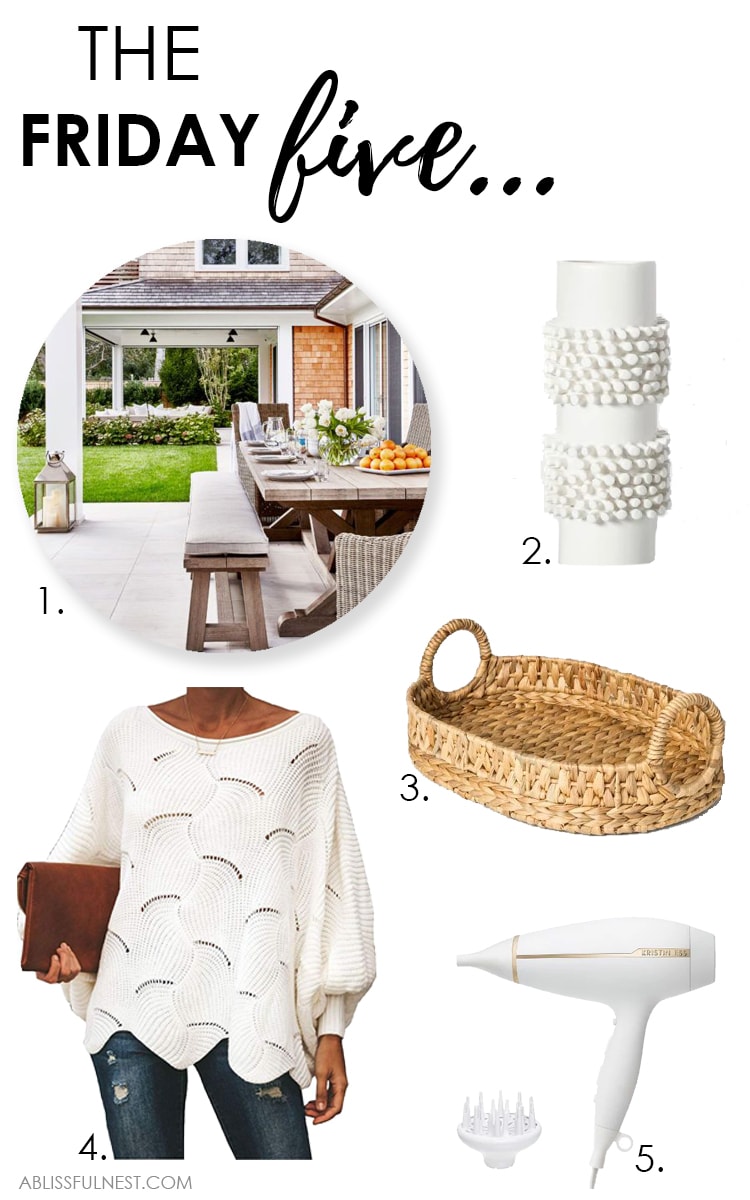 This post contains some affiliate links for your convenience. Click here to read my full disclosure policy.
1. I am seriously dreaming of spring and warmer weather. It is so cold in Dallas right now.
I am trying to plan out my spring updates for our back patio and came across this gorgeous one from Chango and Co. Of course the house itself is my favorite (Cape Code style) but I am loving the neutral pieces with texture.
I am thinking I will need to replace the rug we have and just freshen up with some pillows. You can see what my patio currently looks like HERE.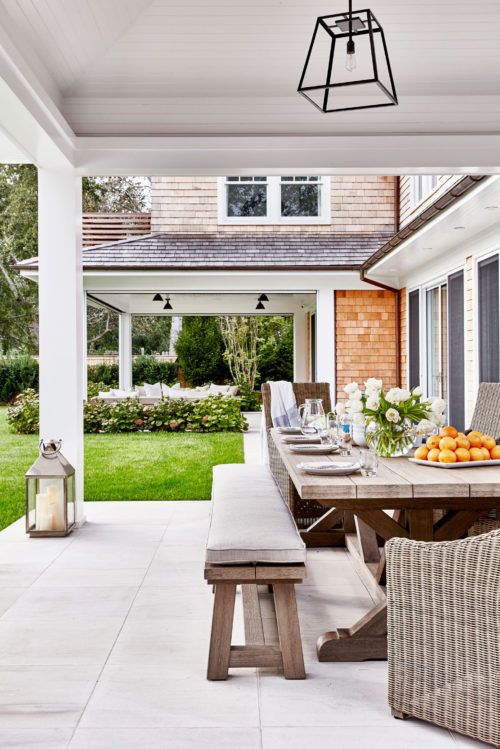 2. I am OBSESSED with this vase and it is only $20. I love all the texture (there is that word again!) and it is a great piece to layer into a little vignette.
You can't beat the price and honestly I am loving all of this collection right now. Just take a look at the bowl too (HERE).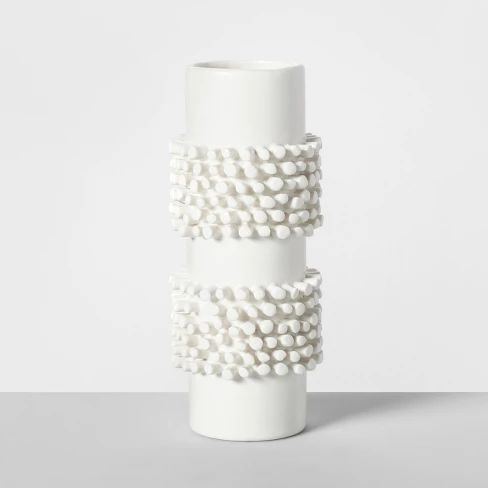 3. So I already own this basket and currently I have it on our coffee table holding our magazines and remotes.
It is not too big and I love that it is rectangular. It fits more than a round one would.
It is also only $20 which is what makes transforming your space from season to season a little easier.
4. I just ordered this scalloped sweater and am in love with the details! The billowy sleeves and pattern are so pretty!
You also can't beat the price at $30 and it is on Prime so you can get it with 2 day shipping.
Speaking of Amazon, if you didn't know I have a curated shop over there and I just updated it. You can shop my favorite Amazon items any time and you can go to it HERE and I also have it on my menu bar under SHOP for easy access.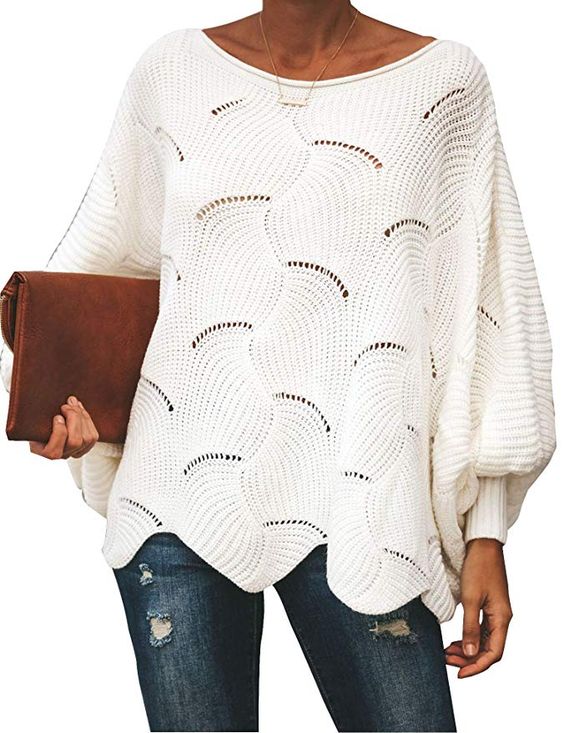 5. Okay let's talk the state of my hair. So when I went to see Lindsay 3 weeks ago, she commented that part of my hair looked fried. She was asking if I was over styling it and what I was using. Well we discovered the culprit and it was my hairdryer . . . . that I had had since college!
I informed her that I had not replaced it yet because I was trying to decide on this one or this one and I was having a hard time spending that kind of money on a hairdryer. They both have amazing reviews but I wanted a more affordable option.
That's when Lindsay said there was no reason to get those more pricey versions of what she thinks is THE best blow dryer out there – the Kristen Ess blow dryer.
It is half the price of the T3 and is just as amazing if not better. I have now been using it for a couple of weeks and am in love. It IS amazing. I was shocked at what it has done for Lauren's hair which can be frizzy. The way it dryers helps that.
If you are like me and in need of a new hair dryer and don't want to break the bank then this one is for you.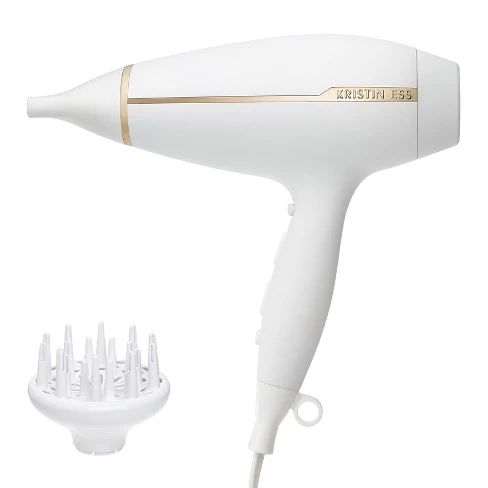 Hope you loved this week's picks and don't miss all the amazing weekend sales below!

Macys – Take 20% off your order with code: LOVE. Shop it HERE.
Loft – Take an extra 40% off sale styles. No code needed. Shop the sale HERE.
Sole Society – Take an additional 20% off sale items. Shop the sale HERE.
Urban Outfitters – Free shipping on all orders. Shop it HERE.
Express – Take an extra 50% off clearance. Shop the sale HERE.
J. Crew Factory – 40-50% off new arrivals. Shop it HERE.
Gap – Up to 50% off sitewide. No code needed. Shop the sale HERE.