Happy Friday friends! I am back with another edition of The Friday Five where I share five things that have caught my eye for the week, are in my shopping cart or I am using in some new designs.
You can check out past The Friday Five's HERE and get even more ideas!
This week I am sharing a project I am currently working on for our home and some pieces I just got for my summer home tour that I will be sharing in the next few weeks. I know it seems a bit early for that but I love to share early enough so you have time to shop for your own home well before the summer months get going.
Also, you guys went CRAZY for the earrings I share in last weeks TFF (in case you missed it, it is these fringed ones). So I thought I would share another pair that I just got and can't stop wearing. The price on these ones are also so affordable that you might want to snag some other colors too.
So I hope you love this week's picks and don't miss the great weekend sales below! Happy Mother's Day to all you amazing mommas!!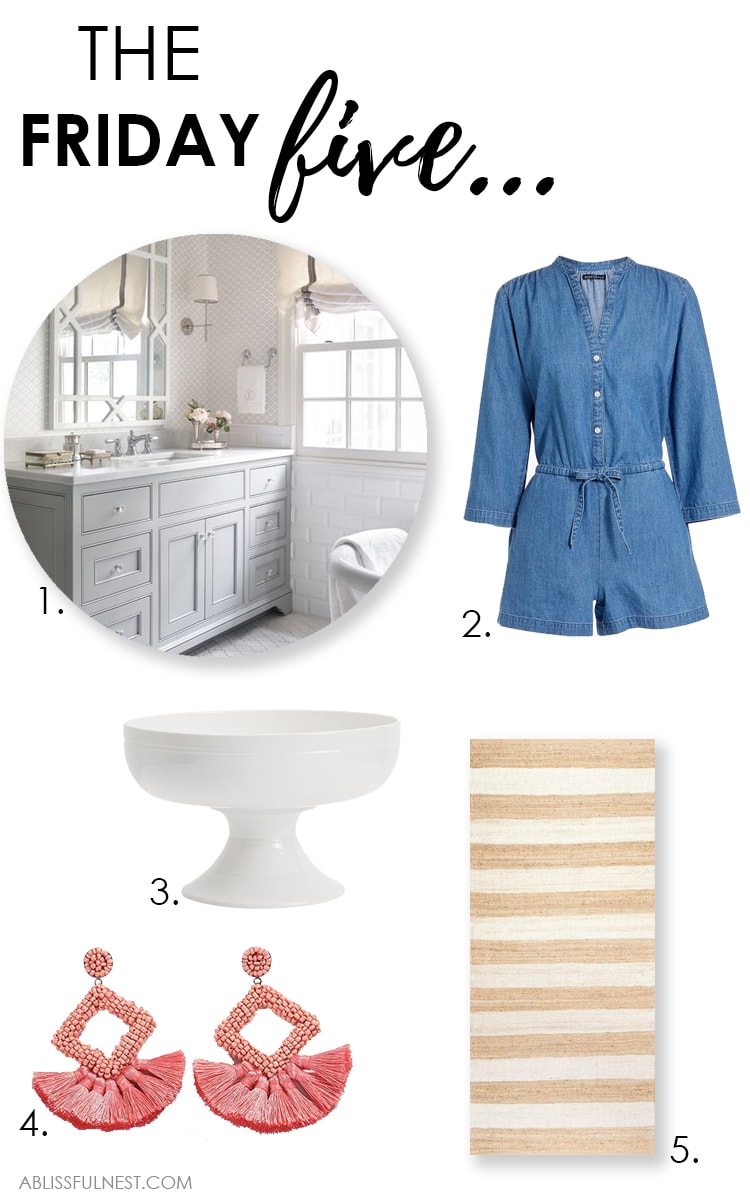 This post contains some affiliate links for your convenience. Click here to read my full disclosure policy.
1. This week I started working on the design plans for our guest bathroom upstairs. I want it to be classic and timeless yet have a modern flare so I decided on a grey and white theme.
I stumbled on this gorgeous bathroom by Chenault James and fell in love! I think I will be doing the cabinet in a light grey like this and a chair rail with stenciling or wallpaper above. I love the modern flair of the mirror so I am now on the hunt for something like that. We don't have a window in there like this one but I was thinking I could find towels that have a grey band like the window treatment to pull in the same look.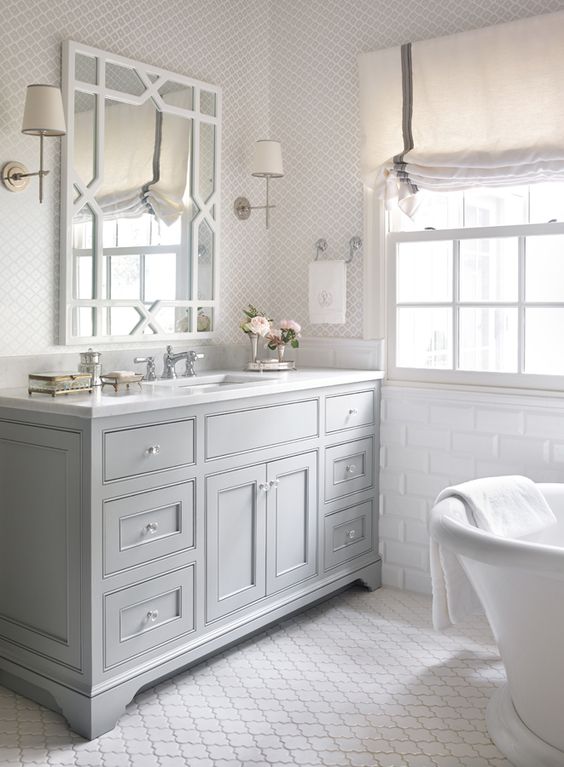 2. I have never been a romper girl. I mean they just seem so difficult to get in and out of. I never even put Lauren in them when she was little except for onsies. Just too much work!
BUT when I saw this one I fell in love. I love the neckline and the denim fabric. I actually could see myself wearing this one all season. It is also on sale for $34. You can shop it HERE.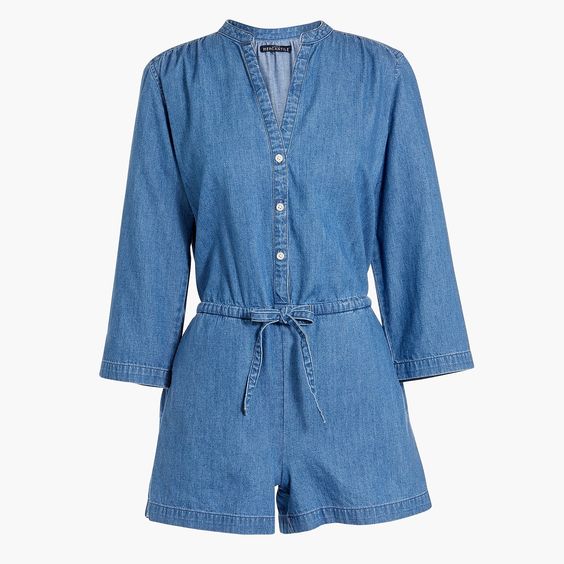 3. So my footed bowl I had for my kitchen that holds our fruit got chipped last week. Ugh, I was so sad because I had had it forever and loved it. It was from Pottery Barn (one of my favorite places to shop) so I went on their site and started looking for a replacement.
What I love about the PB dishes are they are heavy and last a long time. We still have our PB dishes we got for our wedding over 10 years ago. So I wanted to find a bowl that I loved and would last just like those.
I love the silhouette of this footed bowl and I love the more modern look to it than the last one I had. Currently, it is on sale too so it's time for me to snag it!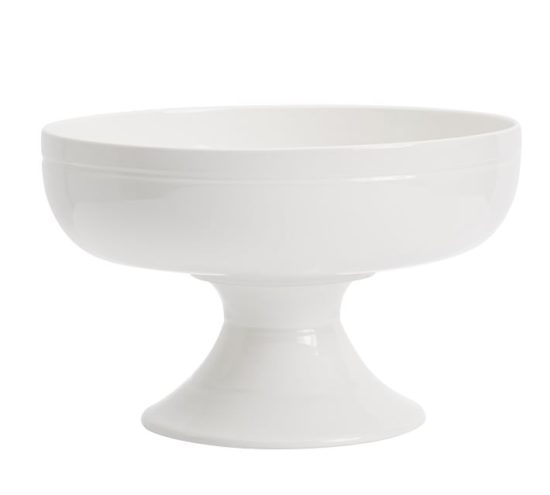 4. Okay y'all went nuts last week on the fringed earrings I shared that were only $10. You can find them HERE. So this week I thought I would share another pair with you that I just got.
If you loved the price of the last ones then you are going to freak out on how inexpensive these ones are! They are only $15!! So I know what you are going to say. I bet you are thinking they must be made crappy and will fall apart. But they are not you guys. They are amazing and remind me so much of Baublebar quality. You can shop them HERE.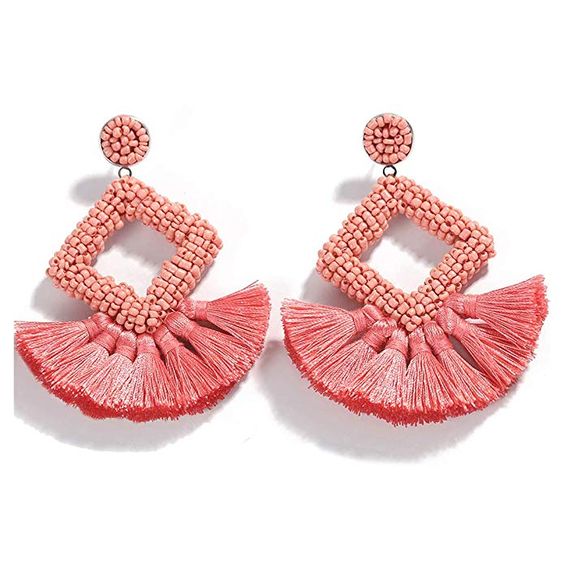 5. So I just got this striped jute runner in and I love it so much that I can't decide if I want it in our entryway or in the kitchen. I just painted our front door that I will be sharing soon but I have another runner coming next week so I will see if I like the other one in there more.
This is honestly one of my favorite ways to refresh a space and this particular one has that beachy coastal look to it I love.
It is also less than $65 which for a large 2×8 runner is a great price.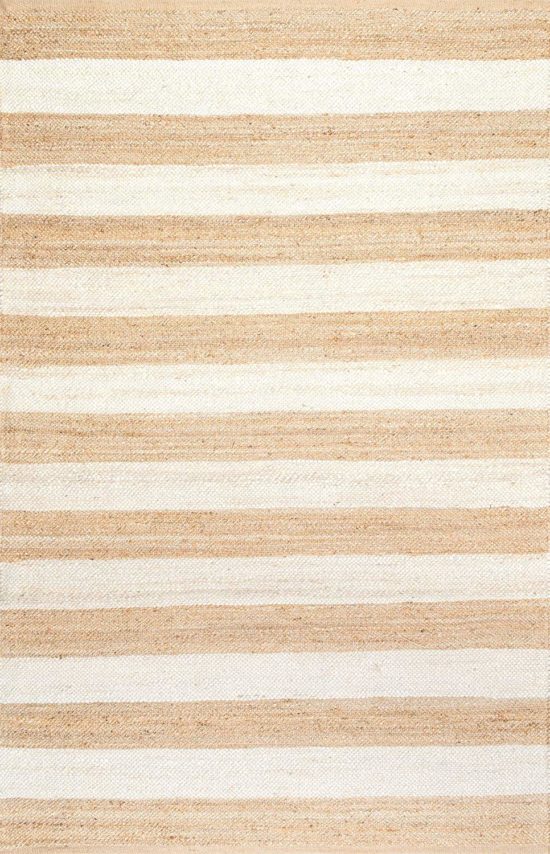 I hoped you loved this week's picks and don't miss all the weekend sales I found for you below!

Macy's – Take 20% off for the Mother's Day sale. Use code: MOM. Shop the sale HERE.
J. Crew – Take an extra 15% off full-priced styles with code TUESDAY, and 20% off all sale styles with code ENJOY20. Shop the sale HERE.
Loft – Take 40% off sitewide. Use code: LOVEMOM. Shop the sale HERE.
World Market – Shop the Friends and Family event with 30% off. Shop the sale HERE.
Pottery Barn – Up to 50% off with the Outdoor event. Shop the sale HERE.