So I know you have been waiting on more information about our ABN Holiday Trunk Show. I have not on purpose been holding out! Some of the greatest ideas have the best intentions and well life has gotten the better of me this year. I wish with all my heart I could pull this off but it simply is just not going to happen. We have been in the middle of helping sell our family house in California, move my mom here from California and figure out what has been going on with Lauren's health (seeing specialist after specialist). All these things have just unfortunately happened all at the same time. I am going to try to live with a little more margins in my life to help buffer these events over the next few months.
So with that said, there will still be a trunk show in Minnesota on November 8th. Full details below on the flyer. Michelle (who I have known now for 10 years!) will be our host and there are many other fabulous vendors that will be represented there. If you are local this is a great opportunity to do some fabulous holiday shopping. ABN will be offering a free shipping code on any items ordered at the show that need personalization and require us to ship it to you. Our lead time will be 1 week from the show to ship so you will have all your items in time for your holiday parties and celebrations.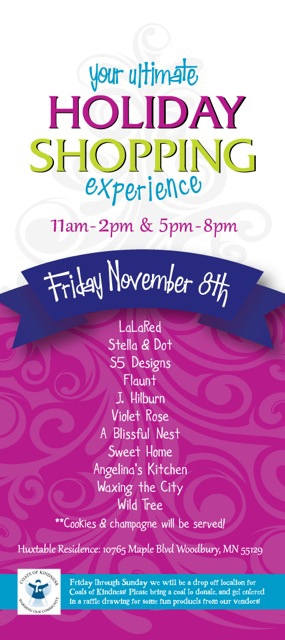 I do plan on having a virtual holiday sale soon.
1 day.
1 amazing discount.
1 all in 1 holiday shopping spree for everything we have in our shop from the comfort of your own home.
Are you excited?? I am!! We have soooo much great new holiday items that I have already been stocking the shop with and will make your Christmas and holiday season just that much more blissful.
Thanks y'all for understanding and for being the most amazing clients and readers.