Can you believe we are just a few short weeks away from Valentine's Day?? January is flying by! No matter how you celebrate or who you buy gifts for (even if it's something to treat yourself with!), this gift guide is filled with fun and festive ideas to gift to women for Valentine's Day. Whether it's for yourself, a friend or if you want to send this list of ideas to your significant other – there's something here everyone will love!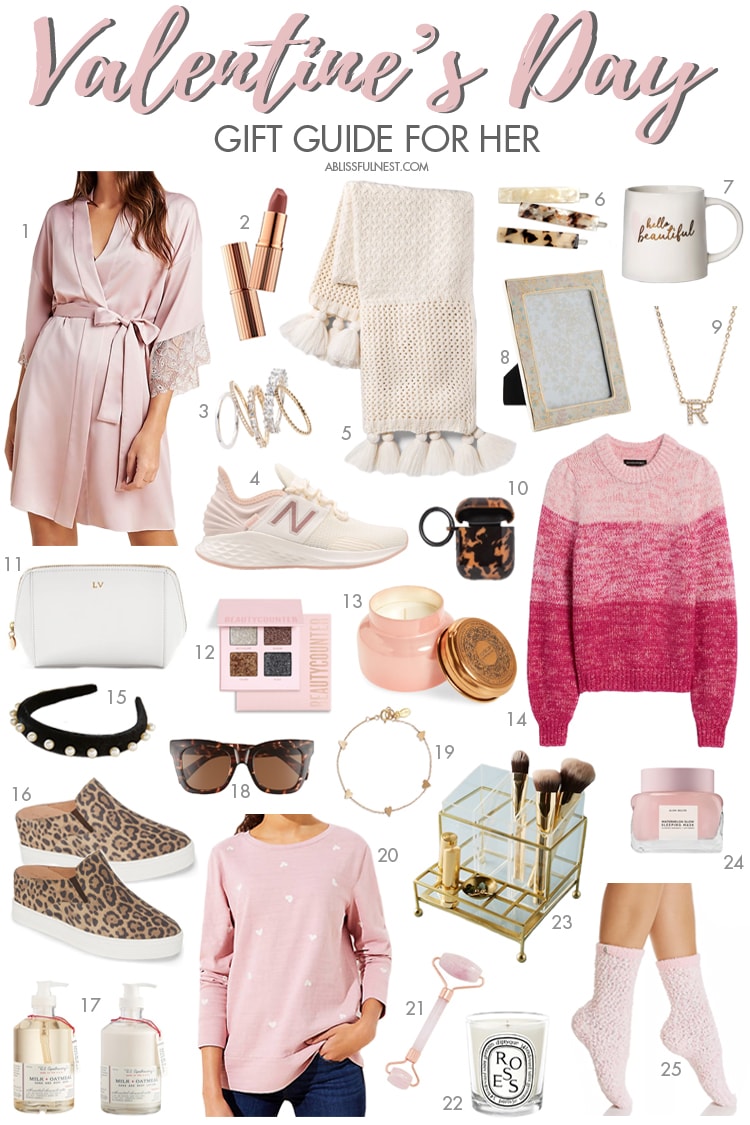 Valentine's Day Gift Ideas:
1. Pink Lace Robe: the color of this robe stood out to me first and foremost – it's the most beautiful rose-colored shade of pink! I love the lace detailing, it's a perfect Valentine's Day gift.
2. Charlotte Tilbury 'Pillow Talk' Lipstick: one of the most popular lipstick shades as of late! And for good reason, it's the perfect neutral with a pink tint that isn't too pink. It's a great shade for all skin tones too. The consistency this lipstick is made of feels so good on as well, no cake-y or heavy feel to it which is a huge plus.
3. Stacking Ring Set: I love a good set of stacking rings like these, and I especially love that these come as a set of 5. It's a great gift idea too.
4. Pink New Balance Sneakers: how fun are these sneakers?! I LOVE this shade of rose gold and pink. They're so fun!
5. Chunky Knit Throw Blanket: throw blankets can be pretty expensive, and some are definitely worth a splurge, but then there are throws like this gorgeous knit blanket and it's under $40. You'd never guess that by the size and quality, it's SO beautiful.
6. Neutral Printed Hair Barrettes: these pretty hair clips are under $20 for the set and are such a perfect accessory.
7. 'Hello Beautiful' Mug: I love to gift mugs and definitely love to "collect" them, too! 😉 This is a great gift for her for Valentine's Day and is under $10.
8. Floral Picture Frame: you can never go wrong in gifting a picture frame. This pastel-colored floral designed frame is gorgeous and neutral enough to look beautiful in anyone's room no matter the color/style.
9. Initial Pendant Necklace: this dainty, personalized necklace comes in gold, rose gold and silver and is a gorgeous under $50 version of the much more expensive designer version out there!
10. Tortoise Shell Printed AirPods Case: how fun is this AirPods case? Perfect for the girl who uses her AirPods daily!
11. Monogrammed Leather Pouch: by now, you likely know that I am a sucker for anything with a monogram on it. It adds such a special touch especially to something you're gifting. This is perfect to use as a cosmetic bag and keep in your handbag or even to travel with.
12. Beauty Counter Eye Sparklers Palette: this mini palette with the four most beautiful eye shadow shades is a must-have! It's compact and easy to travel with and the four shadows included are perfect to create a day or night look with.
13. Capri Iridescent Jar Candle: this candle is one of everyone's favorites, and the pink jar is festive and a perfect addition to your home this month!
14. Pink Ombre Sweater: so festive and beautiful! These shades of pink are stunning and you can't beat the ombre stripe trend.
15. Pearl Velvet Headband: this style headband is also super popular lately – I've seen quite a few that are super expensive, so I was excited when I found this cute option for just $24!
16. Leopard Printed Slip-On Sneakers: with how popular leopard print has been this season, it should be no surprise to see these cute sneakers here! I love that they have a platform and are a little more dressed up than your typical sneaker, but still are so comfortable. If leopard print isn't your/her thing, these come in a ton of solid colors too.
17. Milk & Oatmeal Soap and Lotion Set: this spa-worthy soap and lotion set is perfect to gift – ready to be put in a powder room, kitchen or master bathroom! The scent is unmatched and you can't beat how gentle it is.
18. Tortoise Shell Sunglasses: the most perfect look-alike pair of sunglasses to everyone's favorite, expensive Gucci glasses! You won't believe the price. These are so affordable and also come in a lot of color choices!
19. Gold Heart Bracelet: this bracelet also comes in silver and it's SO dainty, it would look beautiful mixed with a stack of other simple bracelets. Such a fun gift!
20. Heart Embroidered Sweatshirt: how cute is this sweatshirt? It's so festive, can really be worn any time of the year (would be a great beach fleece, too) and is so soft and cozy!
21. Rose Quartz Face Roller: this is one of the most luxurious skincare tools out there. You can de-puff your skin, soak in your skincare products or just give a little extra TLC to your skin with this facial roller. Worth every penny!
22. Diptyque 'Roses' Candle: this has quickly become a classic scent and it's just such a beautiful candle! The coolest part is, once you use the entire candle up, you could use the beautiful jar in your bathroom – store Q-tips, cotton pads or even makeup brushes in it.
23. Gold Vanity Organizer: if you're looking to get more organized, want to add a pretty piece to your vanity OR want to gift this, it's such a perfectly sized piece for any space! I love how different it is than your typical acrylic organizer.
24. Watermelon Glow Sleeping Mask: one of the best face masks out there! This is great for adding extra moisture to your skin while you sleep. A super luxurious gift anyone would love!
25. Cozy Chenille Socks: talk about next-level coziness! These socks are so soft and warm and the prettiest shade of pink. They're such a great gift for anyone!
I hope this list provides some inspiration if you're shopping for festive Valentine's Day finds!