This post is sponsored by Cracker Barrel.
As of tomorrow the holidays will be officially in full swing and I've got a stress free and easy way to have a gorgeous holiday table and delicious food so you have time to enjoy your holidays. I feel like so much of my time is spent in the grocery store or out shopping dishes and serving pieces to complete my holiday meals. It can be exhausting and honestly I am not a fan of shopping in stores with long lines at this time of year. I want to go to one place to get everything I need. Today I've partnered with Cracker Barrel and designed this gorgeous woodland holiday table setting with dinnerware pieces exclusive to Cracker Barrel that are perfect to transition from Thanksgiving through the holiday season with delicious Heat n' Serve pieces to make cooking a breeze.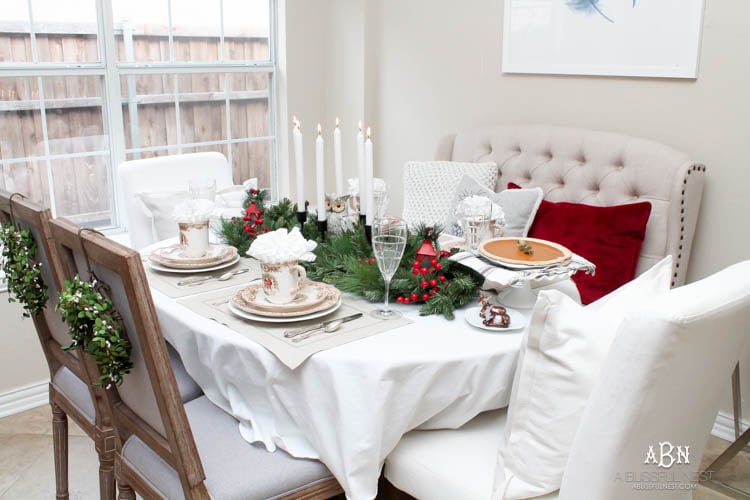 Woodland Holiday Table Setting:
How to set a stress free + gorgeous holiday table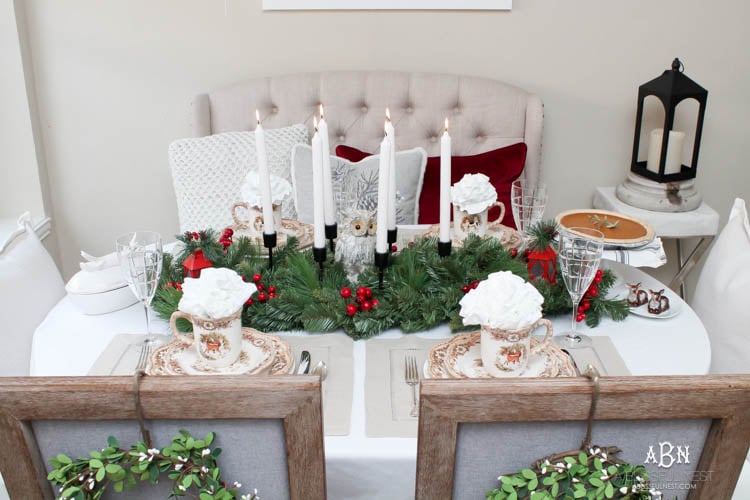 Step 1: Set a simple centerpiece.
This gorgeous garland from Cracker Barrel is simple and perfect for a holiday table. I just took a candle holder I already had and placed it in the center, making sure to wrap the pine leaves around the base to hide it. It is a long garland, approximately 6′, so I wrapped it twice since we have a small table and guest list.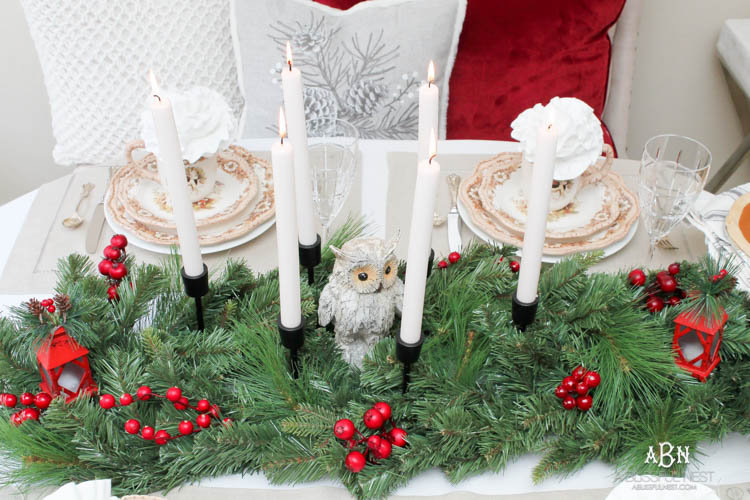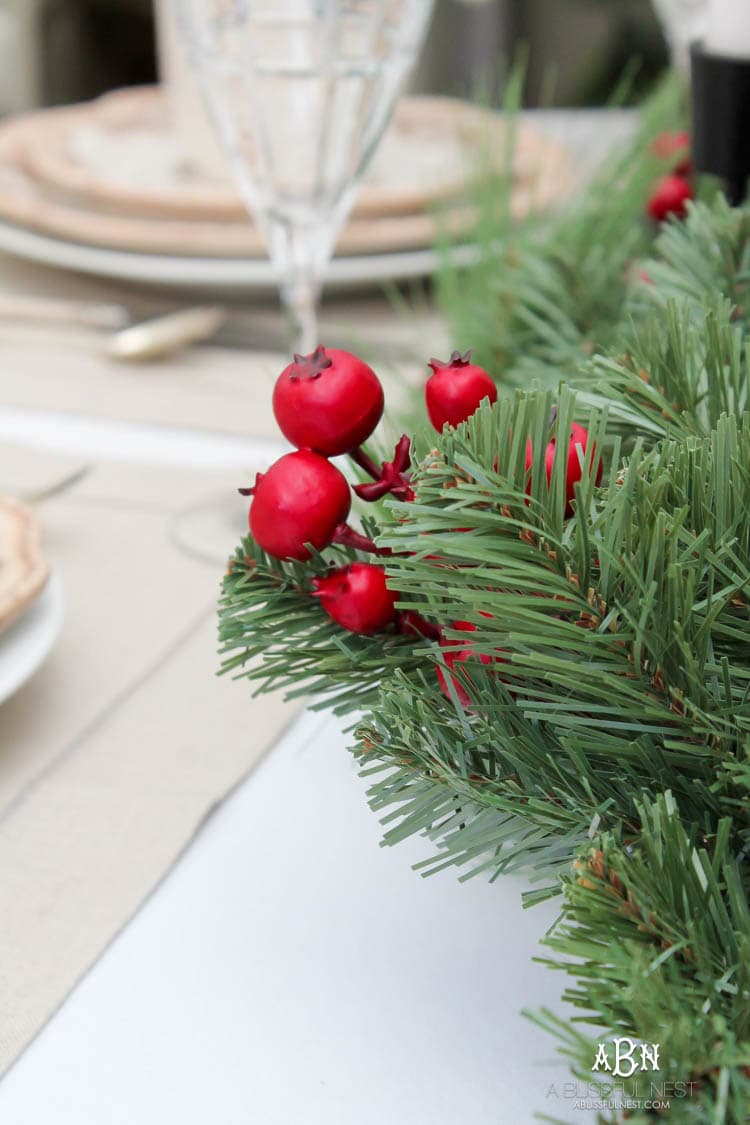 I then used this beautiful snowy owl and placed him in the center to be my focal point.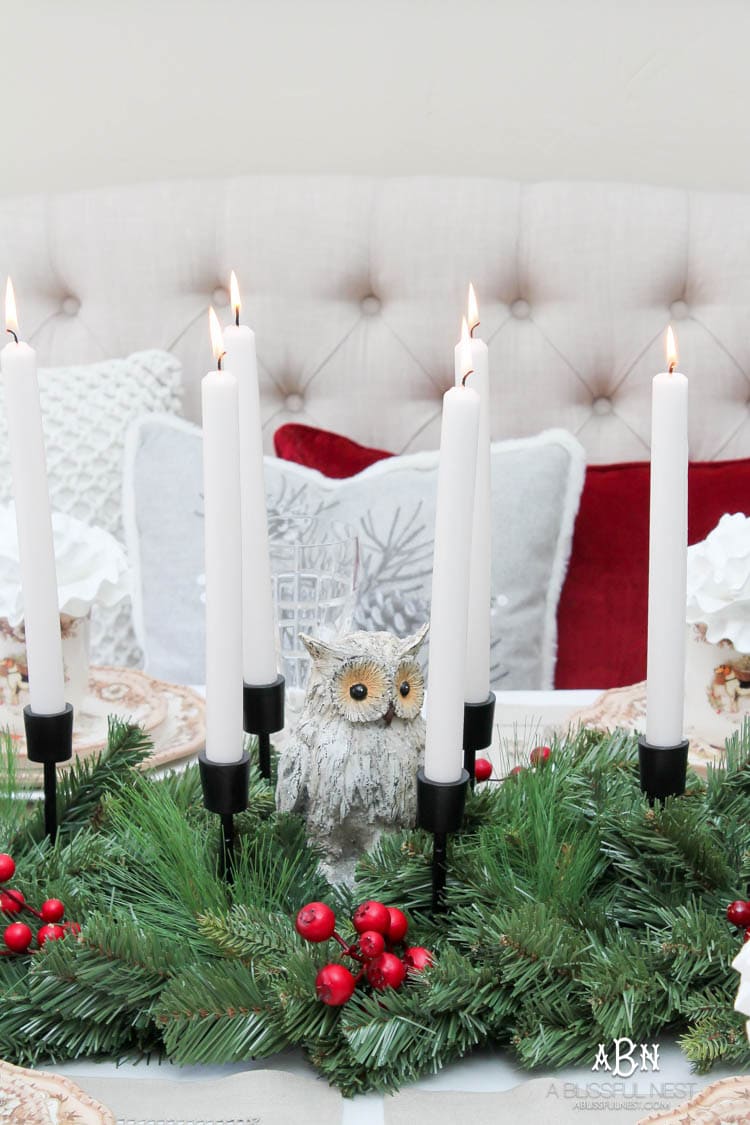 He actually has beautiful glitter on him that sparkles in the candle light. So pretty!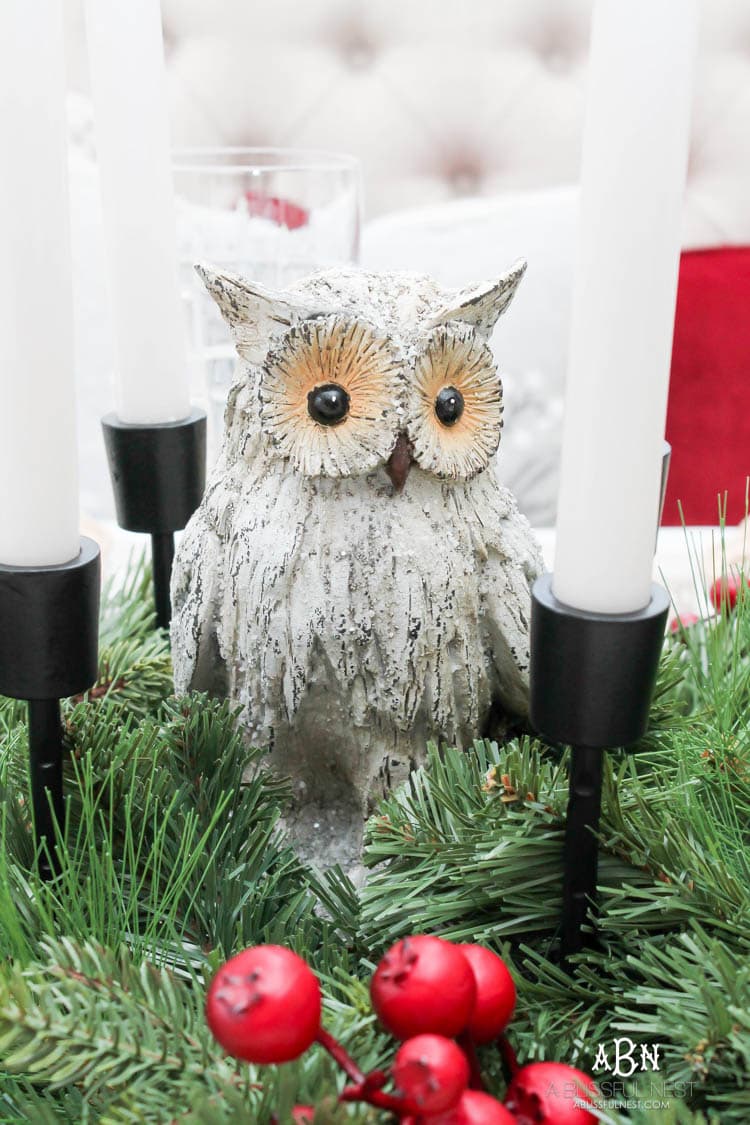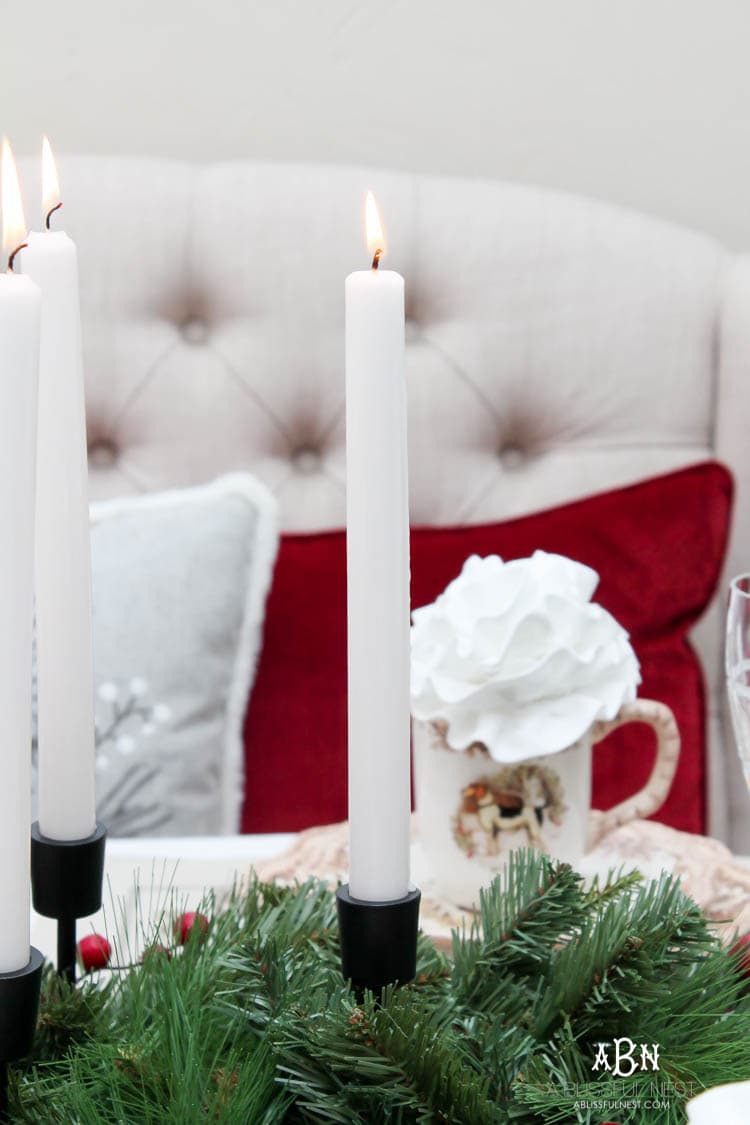 I added a few ornaments from the Woodland Tabletop Collection on the ends for a little pop of color and detail. These sweet little lanterns light up and make my table glow when I am ready to serve my dishes. It is so magical looking!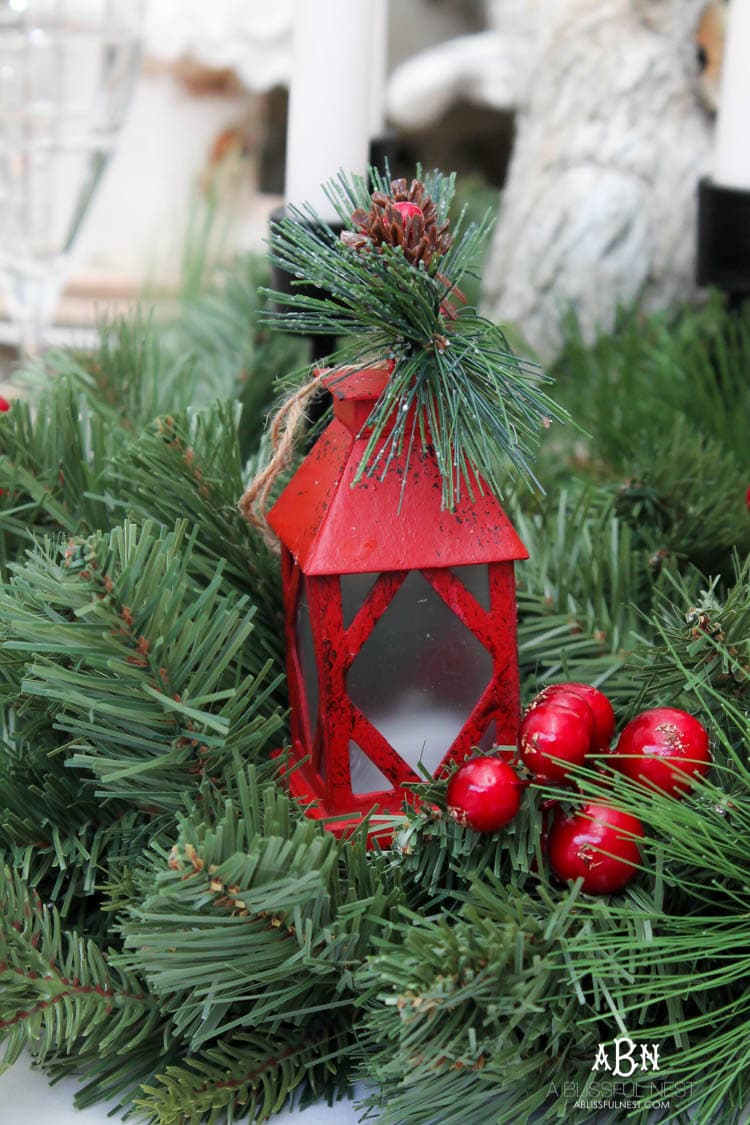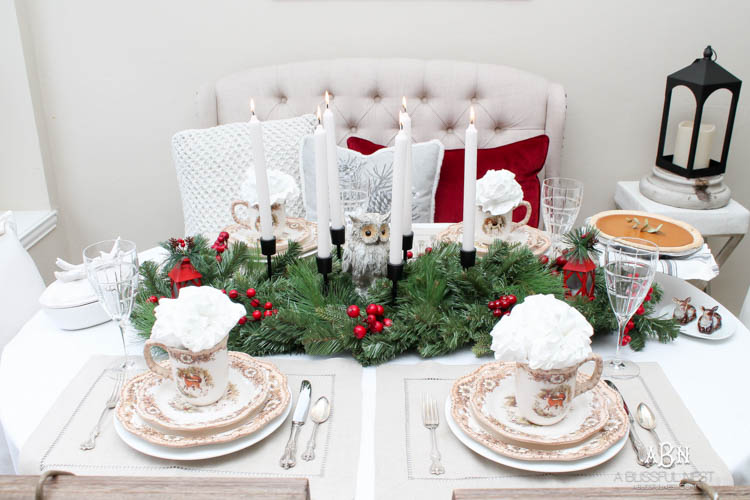 Step 2: Create layers with your dishware
I love to create layers with my dishes because it is almost like unwrapping a present when you sit down. You have all the essentials that you need and can be used if you are serving different courses or pulled apart to serve dinner in a more family style.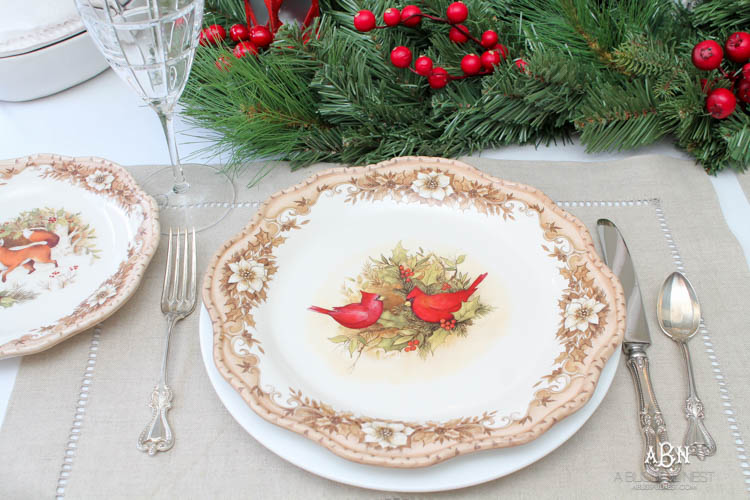 I layered my everyday white dishes with these beautiful cardinal plates and then topped it off with these darling fox salad plates. I love how the borders remind me of ruffles.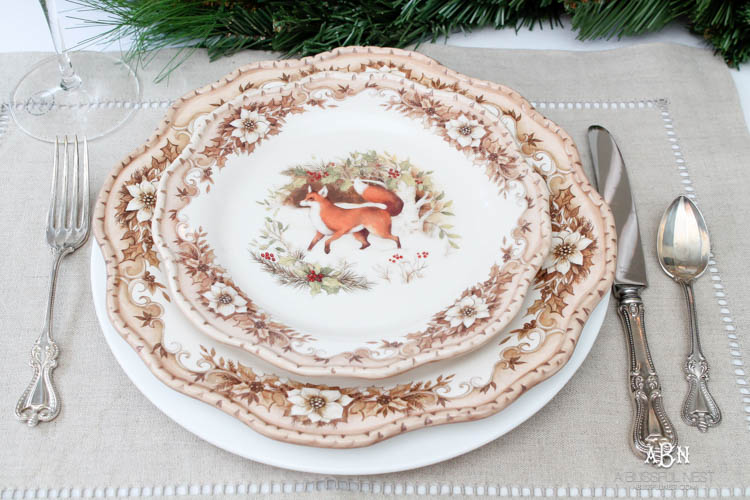 Speaking of ruffles . . . . I used my ruffle linen napkins, folded and and tucked right into the coordinating coffee mugs to top of my layered look. They are so pretty popping out of the top!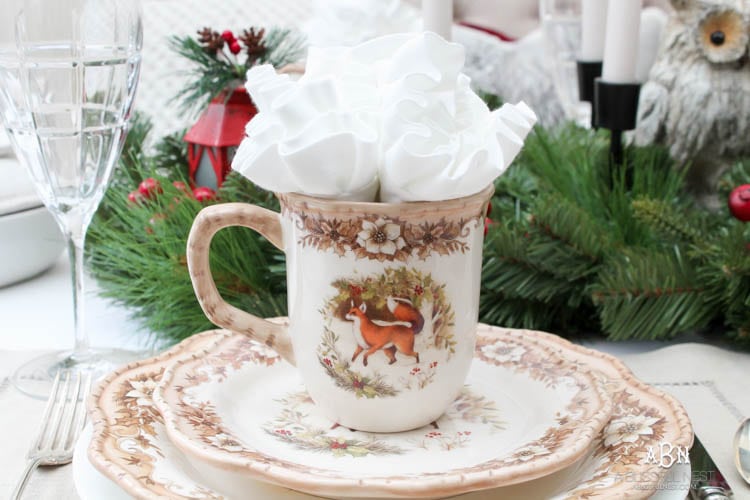 Step 3: Always mix in your nice flatware and crystal
I love that all the collection of dishes from Cracker Barrel go seamlessly with my crystal and flatware. It makes transitioning these pieces from one season to the next so much easier. These affordable pieces are elegant and have timeless patterns that you can reuse over and over again. I think they also would make great gifts! (Hint hint!)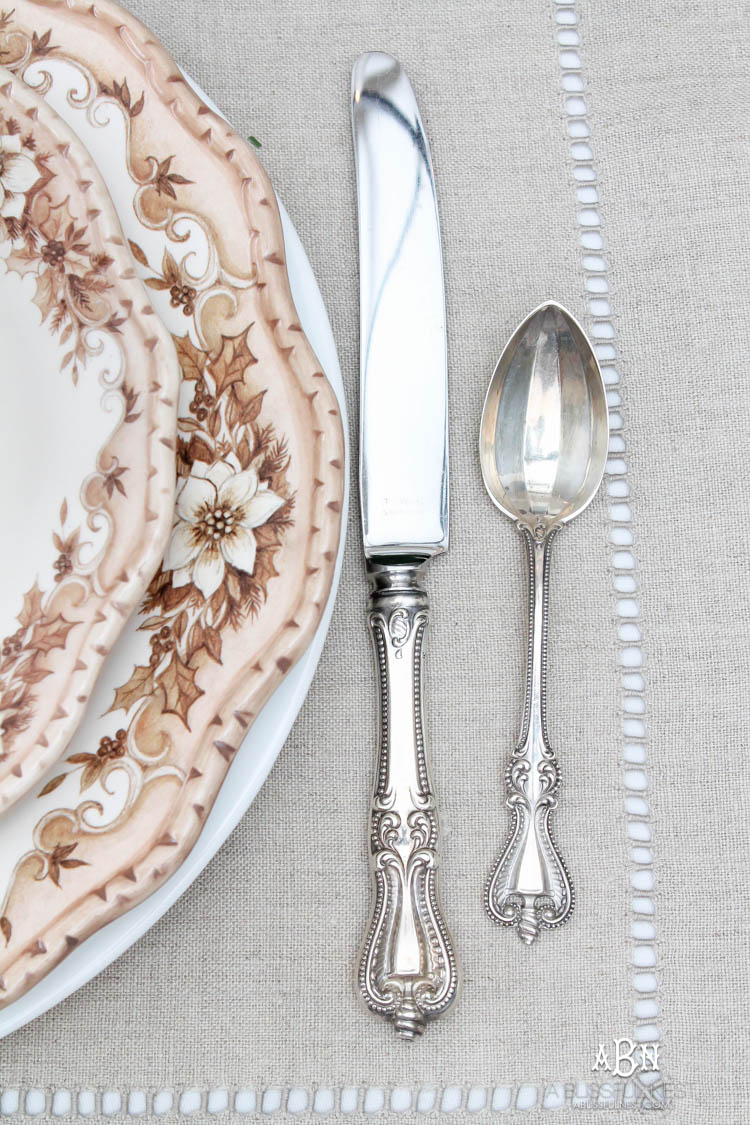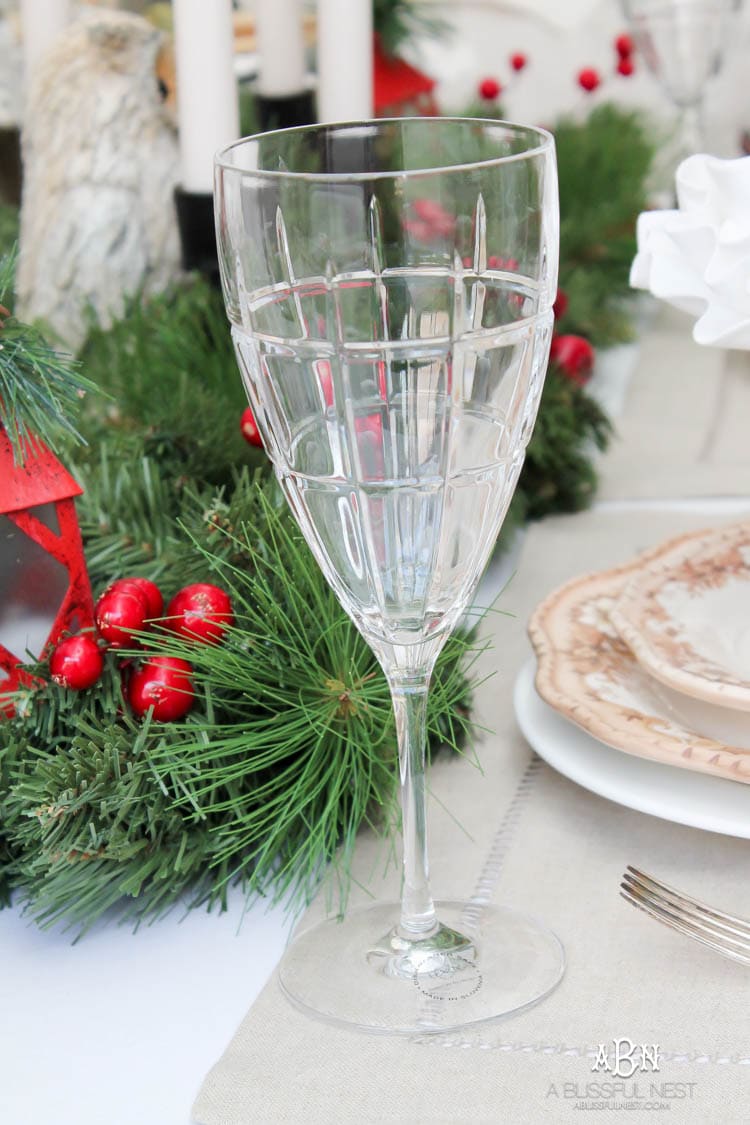 Step 4: Add whimsical and functional touches
I mean seriously how cute are these?! They not only add to my woodland theme of decor on the table but they are also salt and pepper shakers. Fun pieces like this definitely add a touch of whimsy to your table and you holiday decor.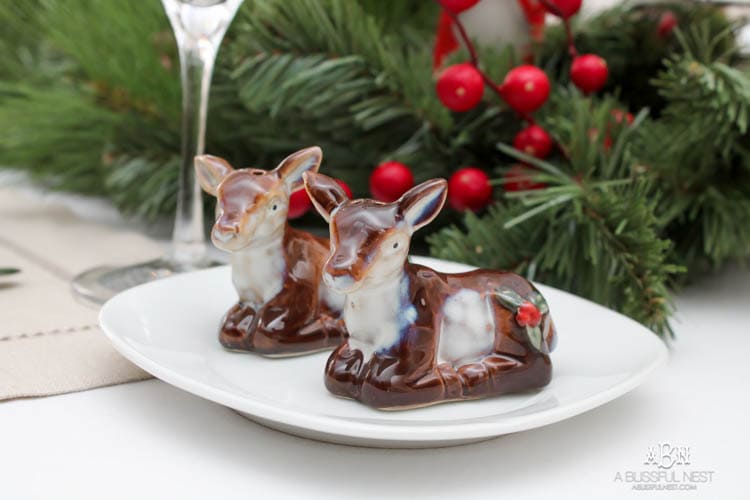 Step 5: Buy Heat n' Serve dishes for easy entertaining
This might just be my favorite part of this whole table and truly completes your holiday hosting! Cracker Barrel has a large assortment of dishes and pies ready for you to just heat and serve right to your table. This takes you away from spending time in the kitchen and gives you more time with your guests. I personally love their Homestyle Turkey N' Dressing Meal because it has all my favorite dishes. You can order 24 hours ahead of time. With this service you can spend the holidays relaxing with those you love.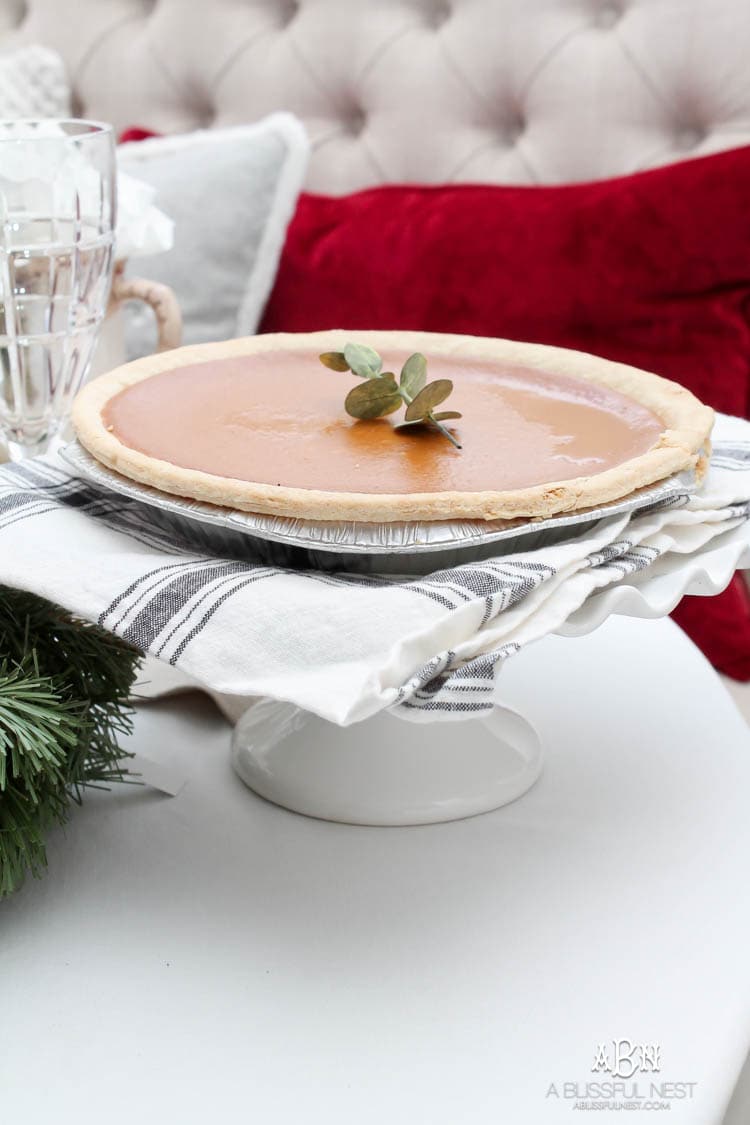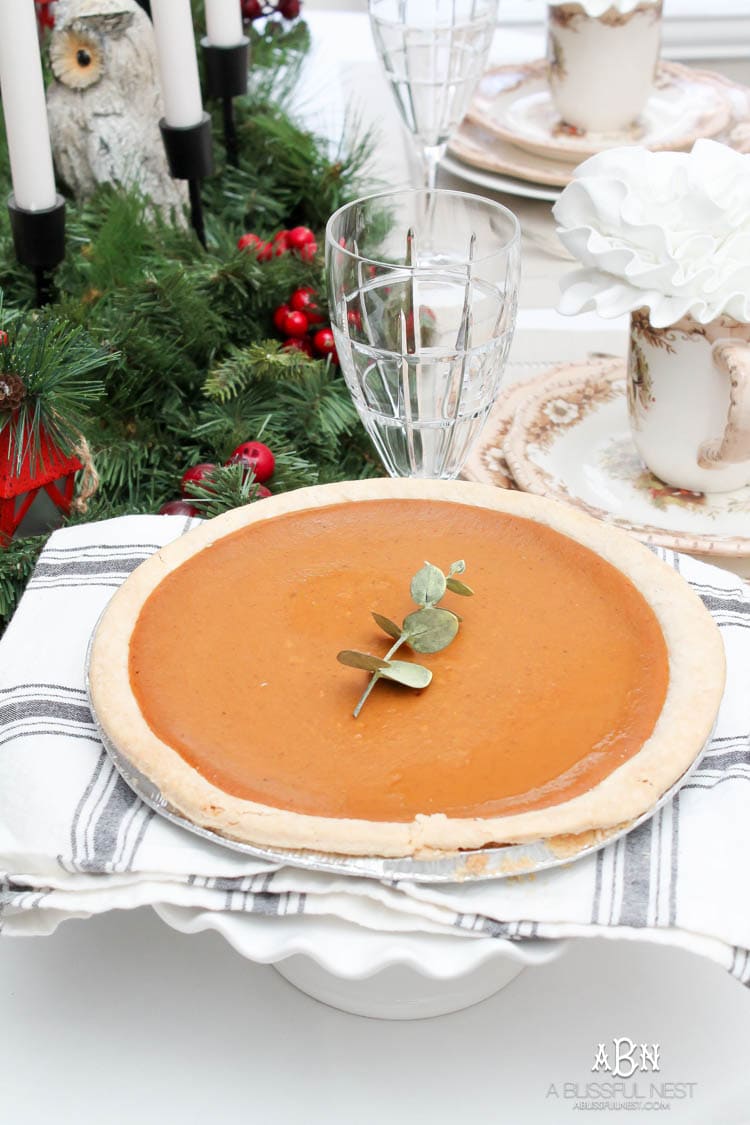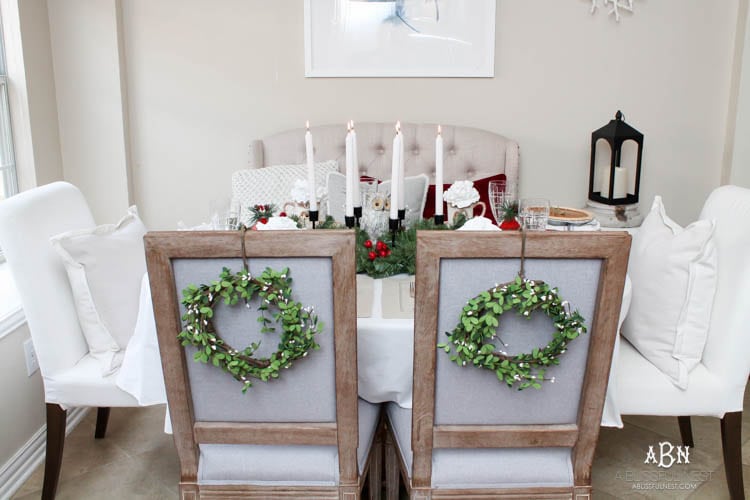 I hope you love this tips for easy holiday entertaining and go check out the gorgeous assortment of dinnerware on shop.crackerbarrel.com. And tell me in the comments which holiday tradition do you use to bring #JoyToTheTable ??
NEED TO BOOKMARK THIS POST FOR LATER?
PIN OUR IMAGE: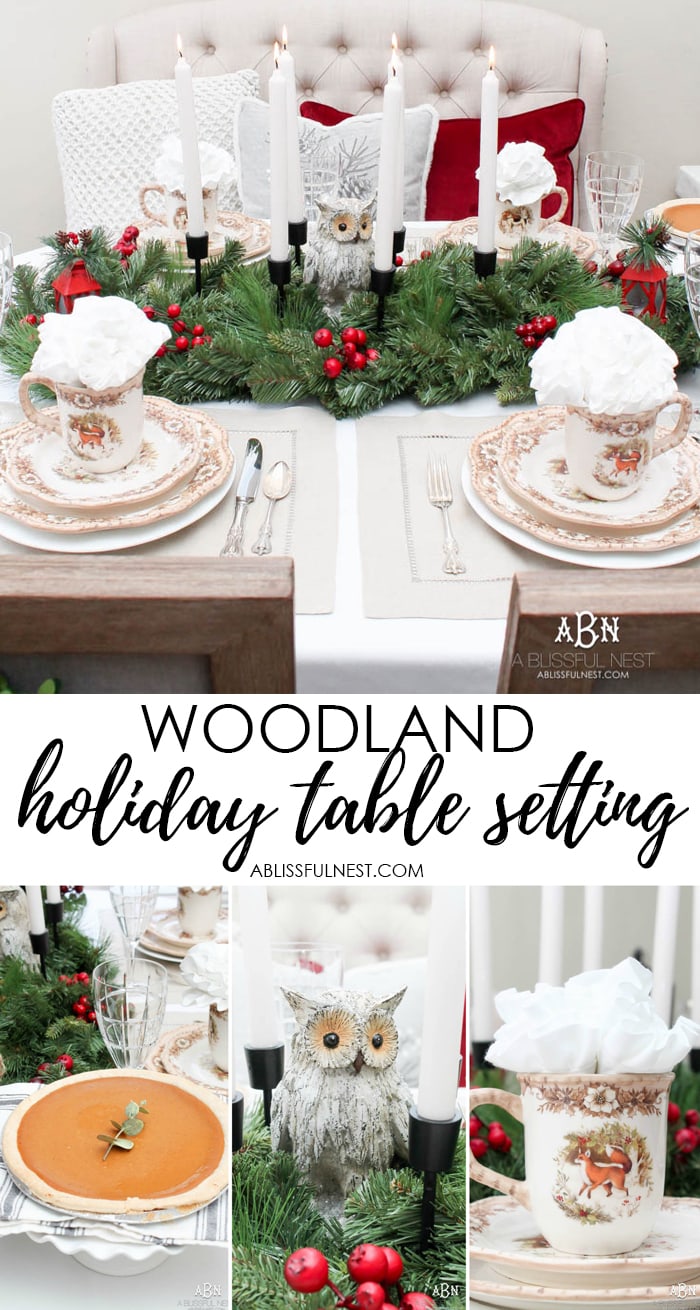 THIS IS A SPONSORED POST. A BLISSFUL NEST HAS RECEIVED PAYMENT, TRADE, AND/OR PRODUCTS FROM CRACKER BARREL IN EXCHANGE FOR PROMOTING. HOWEVER, ALL OPINIONS STATED ARE OUR OWN.