Amazon Christmas Decor Finds
Sharing these amazing Amazon Christmas decor finds for creating a gorgeous and festive home this season! With classic holiday decor pieces, you can use them for years to come.
Shopping for affordable holiday decor now isn't just about saving money; it's about enhancing your holiday experience so you have plenty of time to decorate and enjoy the season.
I love to shop for holiday decor on Amazon for this very reason. I personally use Prime and most of what I order comes in less than 2 days.
Also, I think you will be surprised by what I found and the quality is really good.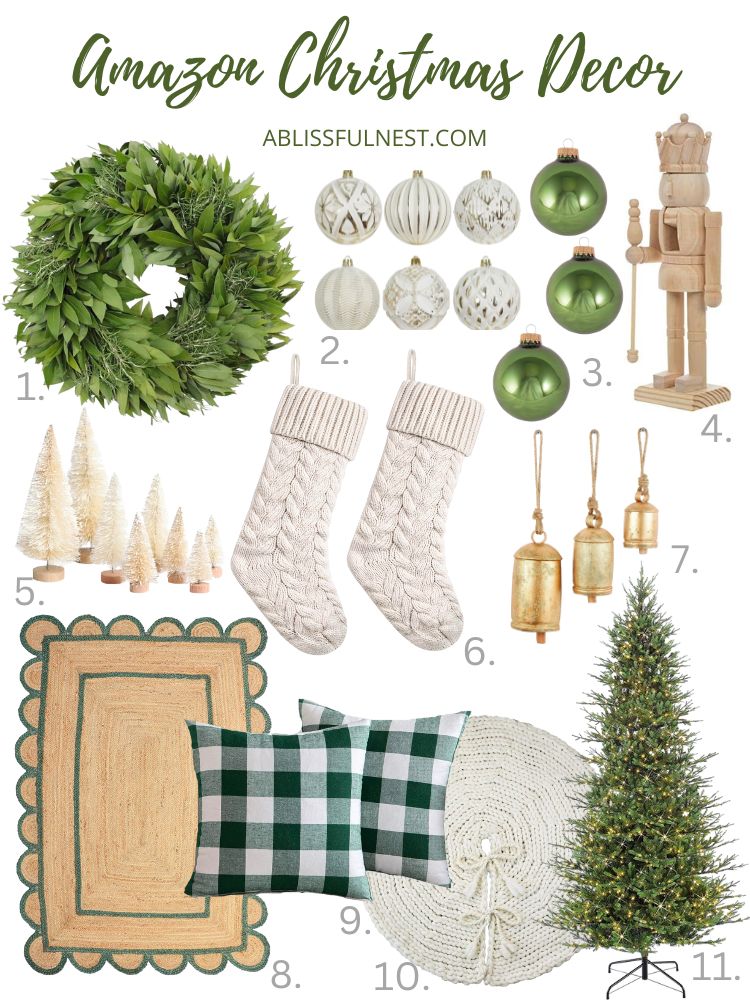 1 | 2 | 3 | 4 | 5 | 6 | 7 | 8 | 9 | 10 | 11
I wanted to share these finds early so you can order things now and quickly pull your holiday decor together.
I am sure if you are like me you are already starting to get a packed schedule for December so now is the time to get your decorating done!
This site contains affiliate links. Please read our disclosure policy. As an Amazon Associate, I earn from qualifying purchases.
Amazon Christmas Decor Finds
1. Fresh Bay Leaf Wreath with Rosemary – There is nothing like the smell of a fresh wreath hanging on your hood in the kitchen. It smells amazing and makes your kitchen feel warm and cozy for the season!
2. Vintage Distressed Christmas Ornaments – These gorgeous ornaments have a vintage touch with a metallic flare adding a gorgeous glam look to your tree.
3. Green Glass Ornaments – These beautiful green shade tie in the other green elements and add a beautiful pop of color to the tree.
4. Wood Nutcracker – I personally own this one and love it! This little guy is so cute next to a bowl of ornaments standing on a coffee table book. Add him to a console table or tuck him into a bookcase for a subtle festive touch.
5. White Bottle Brush Trees – I love bottle brush trees and have been collecting them for years. They are darling next to your kitchen soap, lined up on a mantle, or nestled into a bookcase.
6. Chunky Knit Stockings – Chunky knit stockings are gorgeous and add a bit of warmth and texture to your holiday mantle. Plus they are so easy to change with your color scheme each year. Just tie velvet ribbon on them for an extra touch.
7. Gold Bells – These beautiful bells can be used on your wreath tied in the center or on the sides of your mantle garland. They are so beautiful and have a little rustic look to them.
8. Green/Sisal Scalloped Rug – I love to change out my area rugs for the different seasons and this one is gorgeous with the green band on the scallops. This would be gorgeous in a dining space, or entryway, or in a living room.
9. Green Buffalo Check Pillows – Add pattern and color to your space with these beautiful green pillows. They easily tie your Christmas decor colors together without screaming Christmas so you can still use them for winter when the holidays are done.
10. Chunky Knit Tree Skirt – Oh this one is gorgeous! This beautiful knit tree skirt will add texture and coziness to your Christmas tree decor.
11. 9′ Pre-Lit Christmas Tree – This large tree is a beauty and at an incredible price. It comes pre-lit which is a must in my book.
I hope you love all these Christmas decor finds from Amazon and I would love to know what you pick up!