Our Coastal White Kitchen + White Kitchen Design Elements
Finally I am sharing our coastal white kitchen with you all! I know this post has been a long time coming and I hope you are excited to see the full reveal of our kitchen from our new home. This might just be the most intentional space I designed in our home and I'll share more on that soon. We have been here for a few months now and my home is ever evolving but I love the roots of the design and can't wait to add even more of my personal touch to our semi-custom home build. So here we go . . . .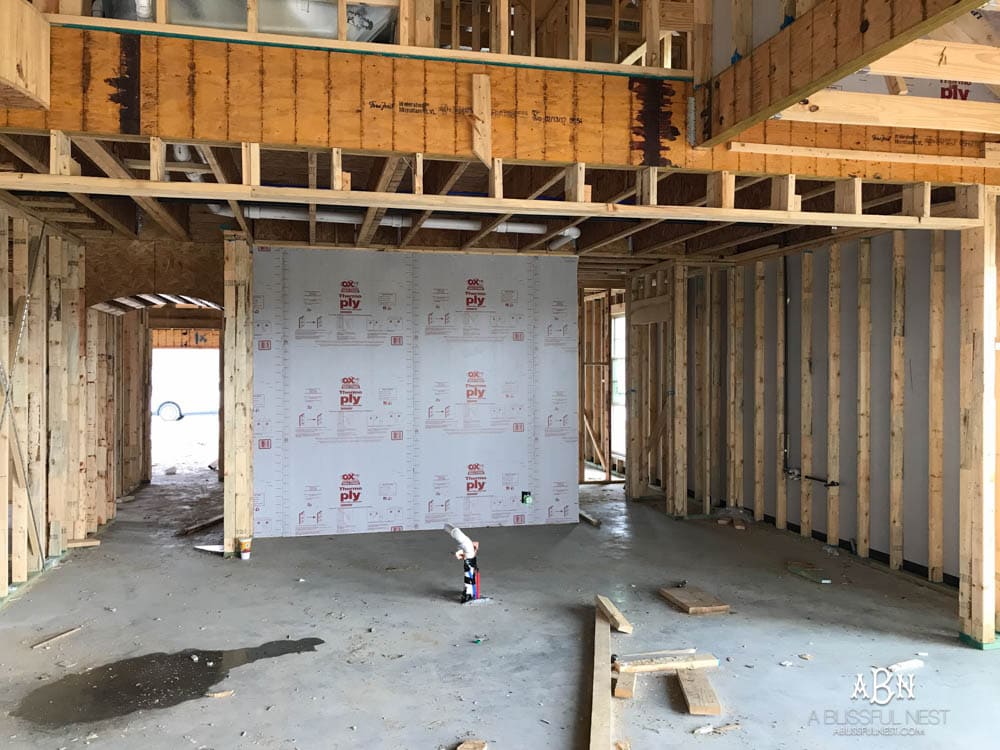 When we were picking a floor plan, the kitchen layout in relation to the rest of the home was very important to me. I know this is the space we live in the most and the heart of our home. I wanted it open to the breakfast room and living room.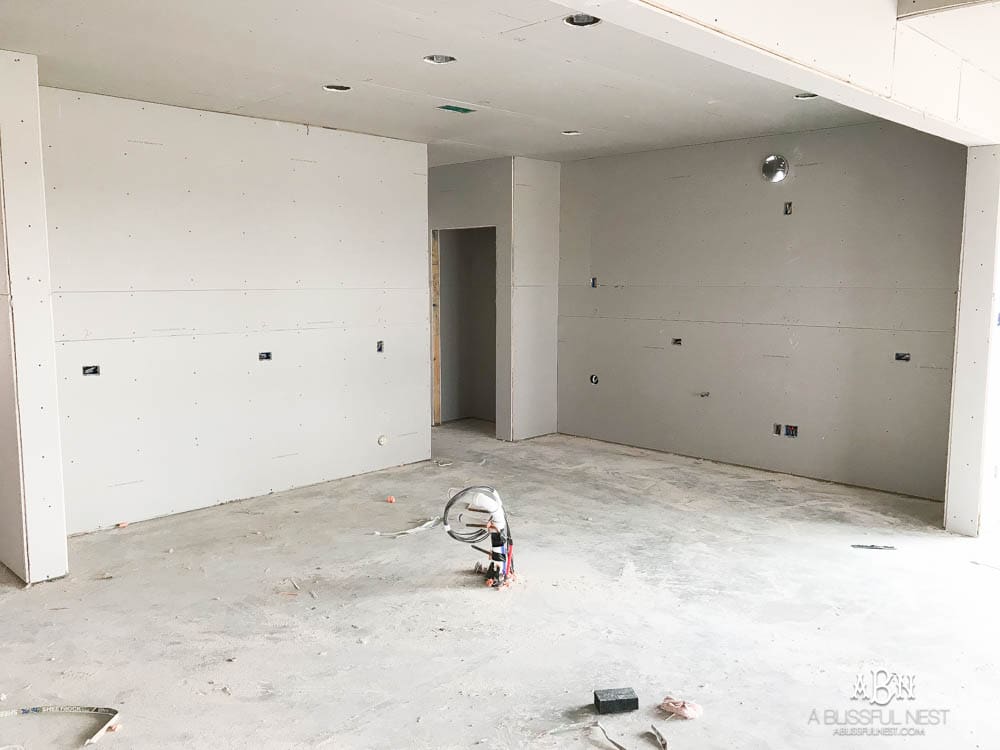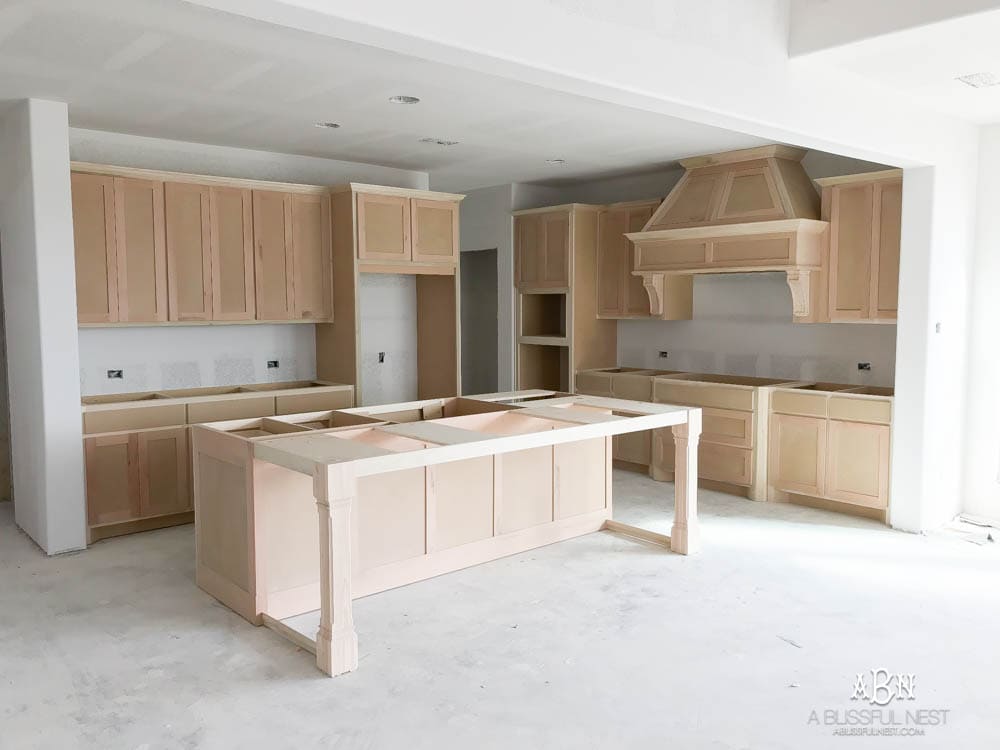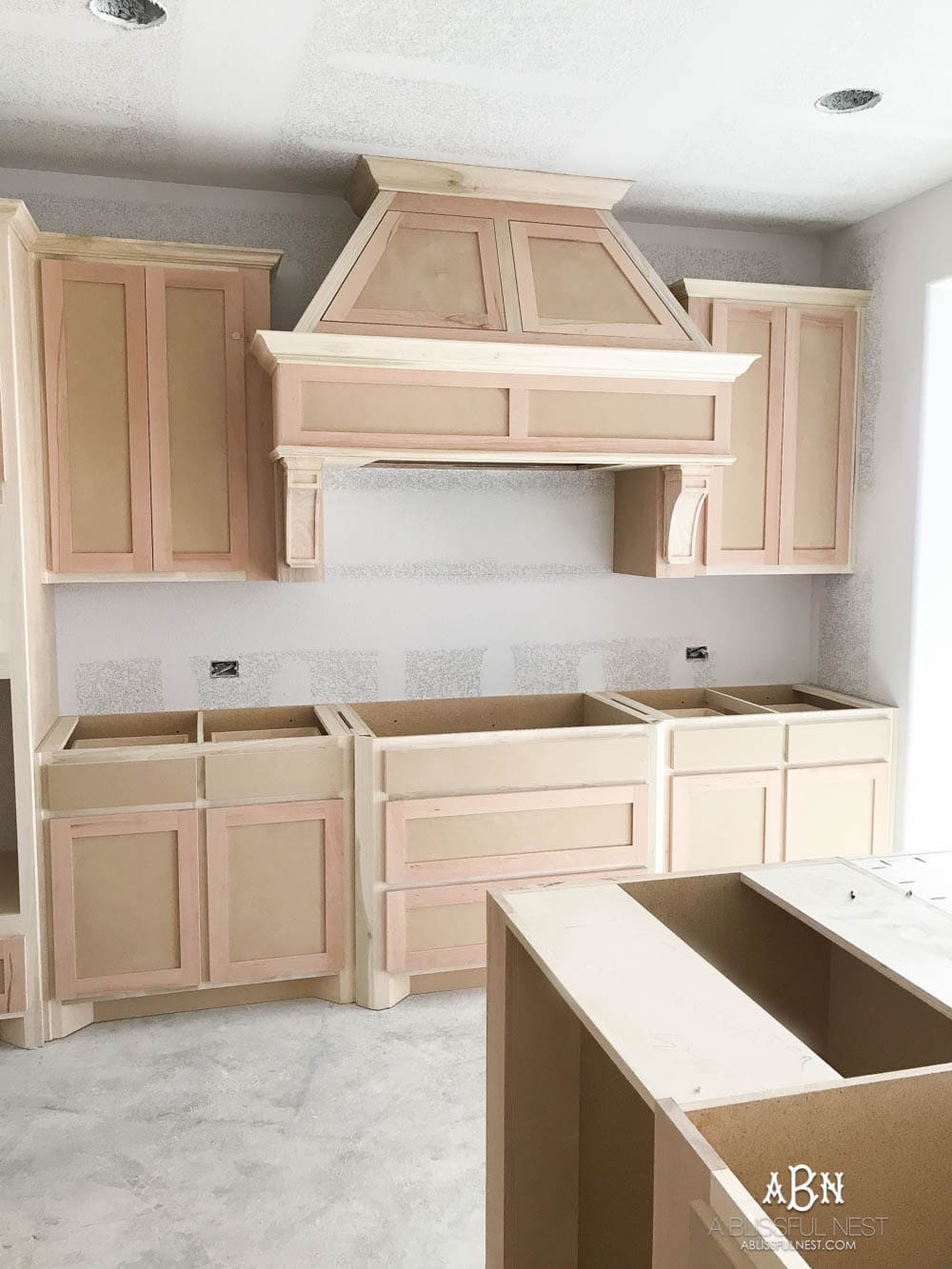 In our last home which we rented, that was the one thing that bothered me. You can see our kitchen HERE and breakfast room HERE. They were tight spaces and even though they somewhat were open to each other there was a weird wall placement from the entry that really through it all off.
The one thing that I don't love about our new floor plan is how narrow our entry is but honestly that was not as important to me as this space. When I was reviewing the floor plans from our builder this one was the one we felt would fit our family needs the best.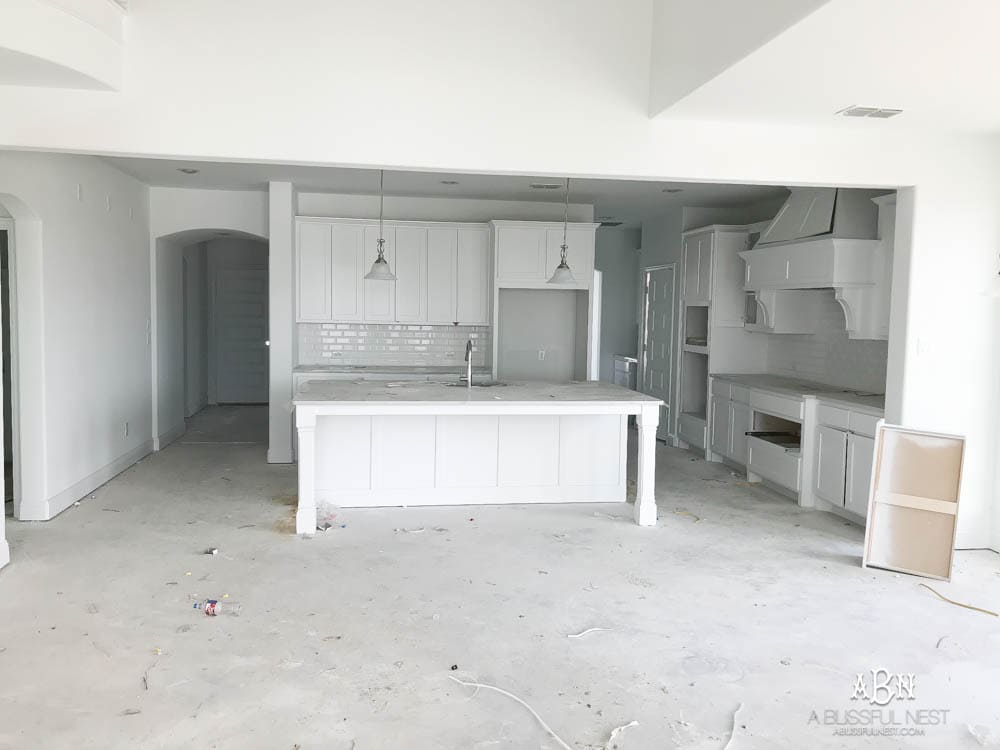 I absolutely love the vaulted ceiling in the living room and the kitchen is separated from that space with a change in ceiling height. It is still 9′ in the kitchen so that is still pretty tall. There is also a beam separating the space and my idea is to later on create a faux wood beam over it for a architectural detail.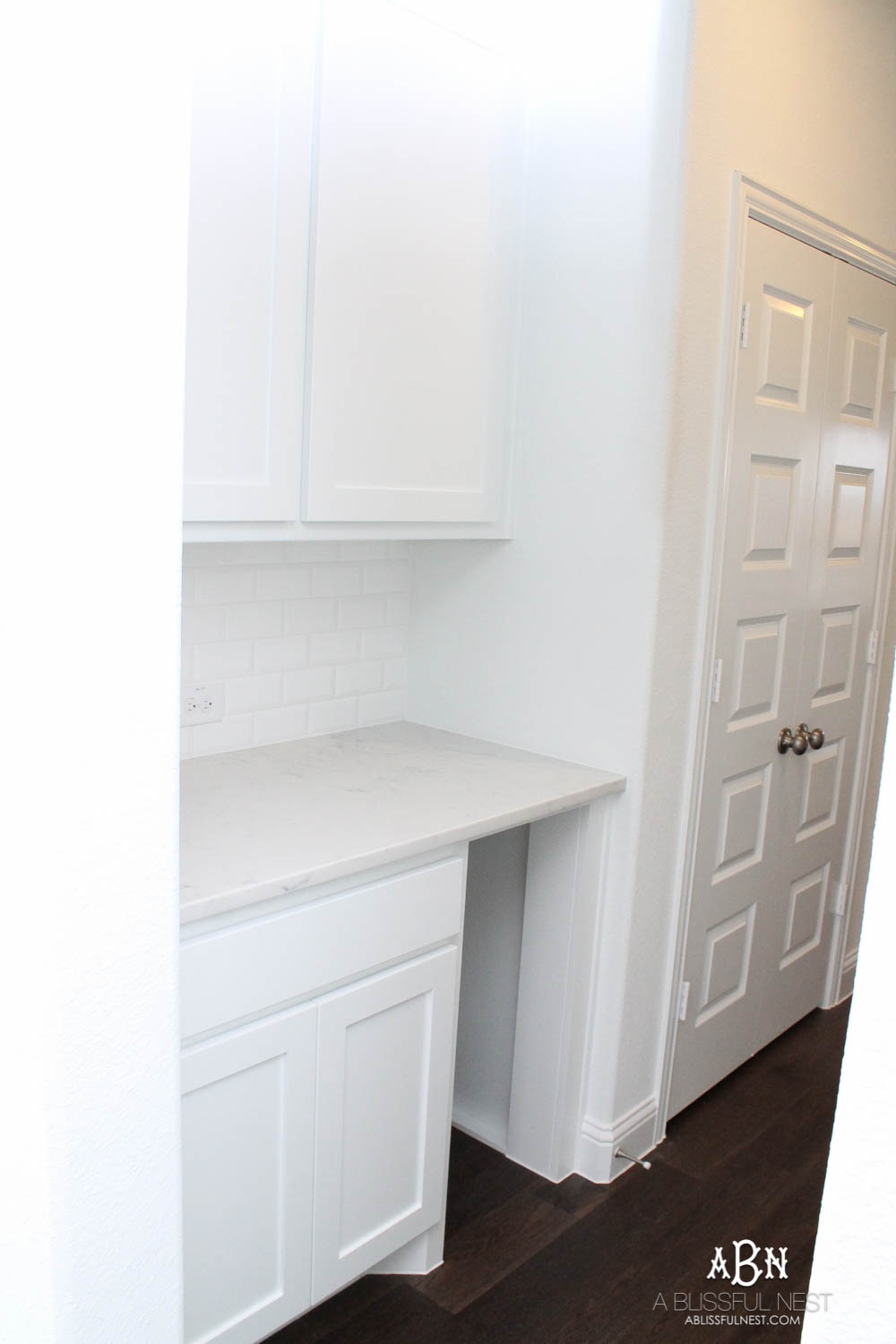 One of the main features I wanted was a little butlers pantry. We are big coffee drinkers so I wanted a space where we could have it all out but it would not clutter up our kitchen counters. It also houses a beverage refrigerator and I love that little extra space for keeping wine chilled rather than in our main refrigerator.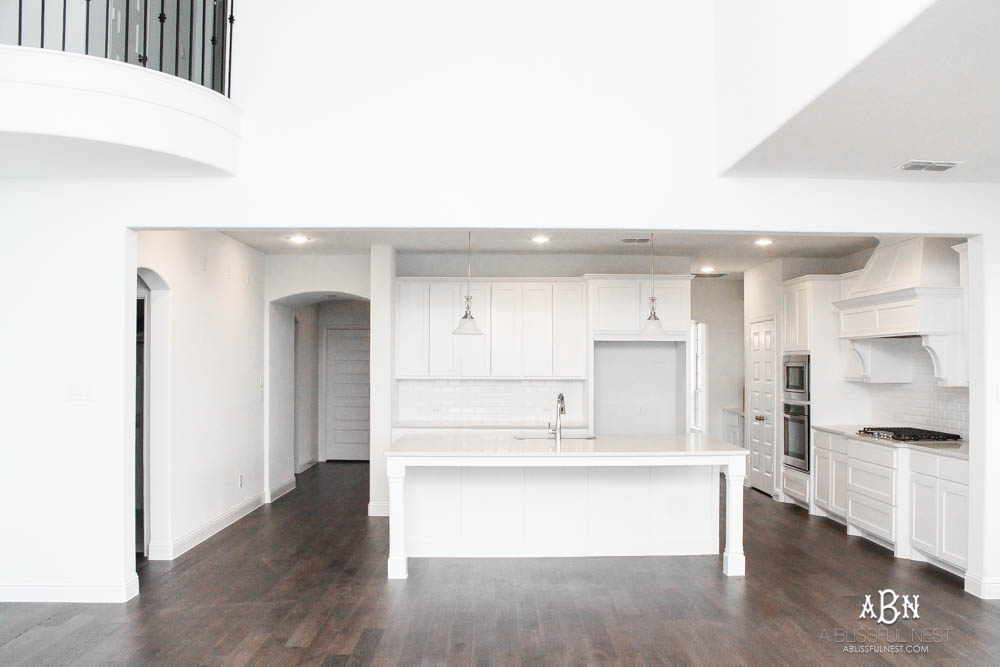 So here is a shot right after we closed on our house. You may notice the builder grade lighting. I decided to go with the standard lighting package so I could hand pick all the lighting I wanted myself. I also added in on the gallery wall sockets that I could have art lighting added too. I am telling you THIS is where to save money friends. There is no need to pay an upgrade for a little bit nicer lighting from your builder when you can get exactly what you want after you close for the same price if not less. I just had all the lighting delivered to the house after we closed and hired an electrician to come and install it all. He came with 5 guys and had 5 chandeliers and 9 sconces installed in an hour.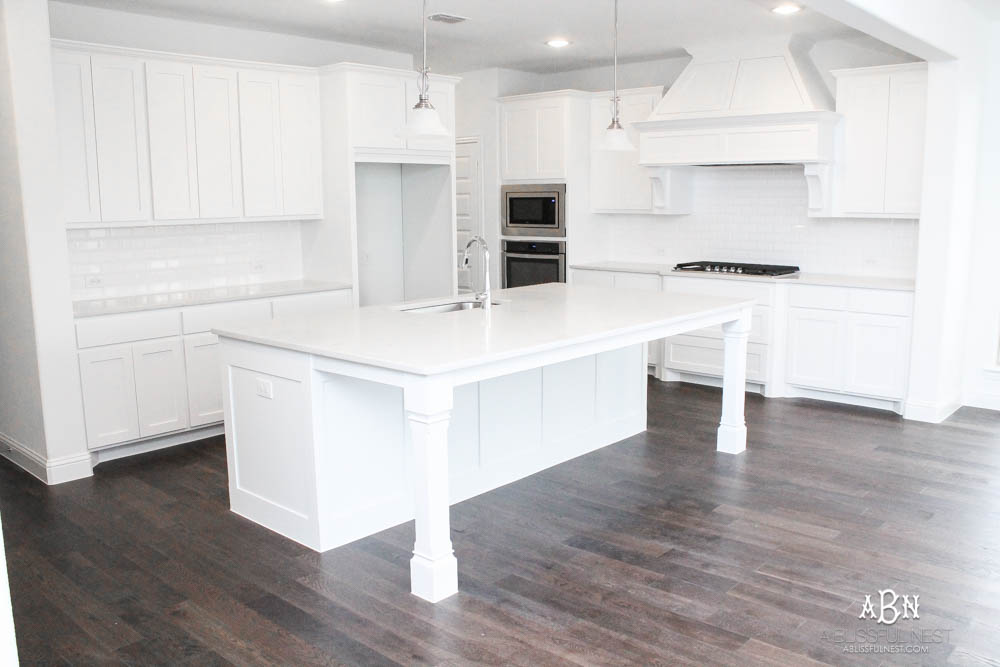 And here is the kitchen with the new lighting. It made so much of a difference.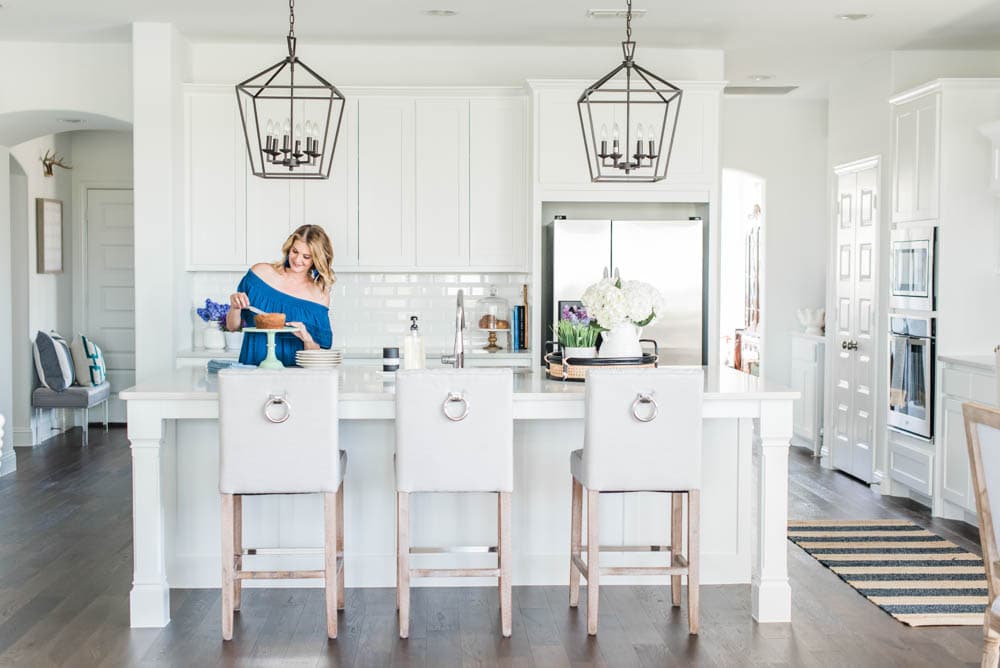 I wanted a light bright and airy feel especially since the spaces are so open into each other. So I chose a simple shaker style door and white beveled tile. The cabinet paint and the wall paint is Sherwin Williams Bright White. It feels modern yet has a classic touch. The black lanterns give it my coastal industrial feel I was going for and I love them against all the white.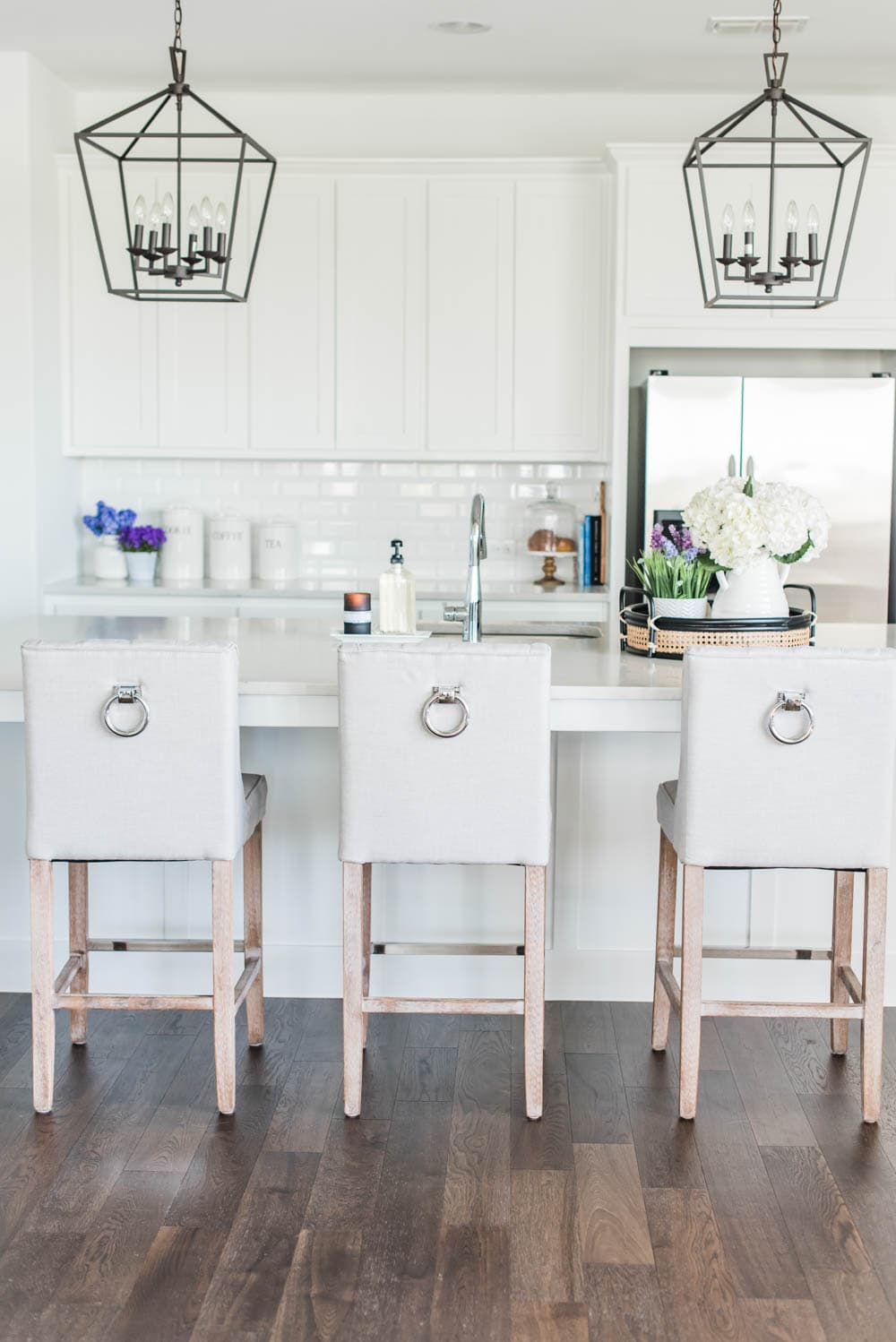 One of the big changes we did on the front end was add additional footage to our kitchen island. Initially it was going to be 42″. But the more I thought about how we used our kitchen island in our last house, I felt this was not going to be big enough. So we added on and made it 5′ long instead. The overall width is 8'9″ so it really fills up the room. When I am cooking though, Lauren does her homework here and in the afternoons I like to work here. It truly is one of my favorite changes we made to our home plan.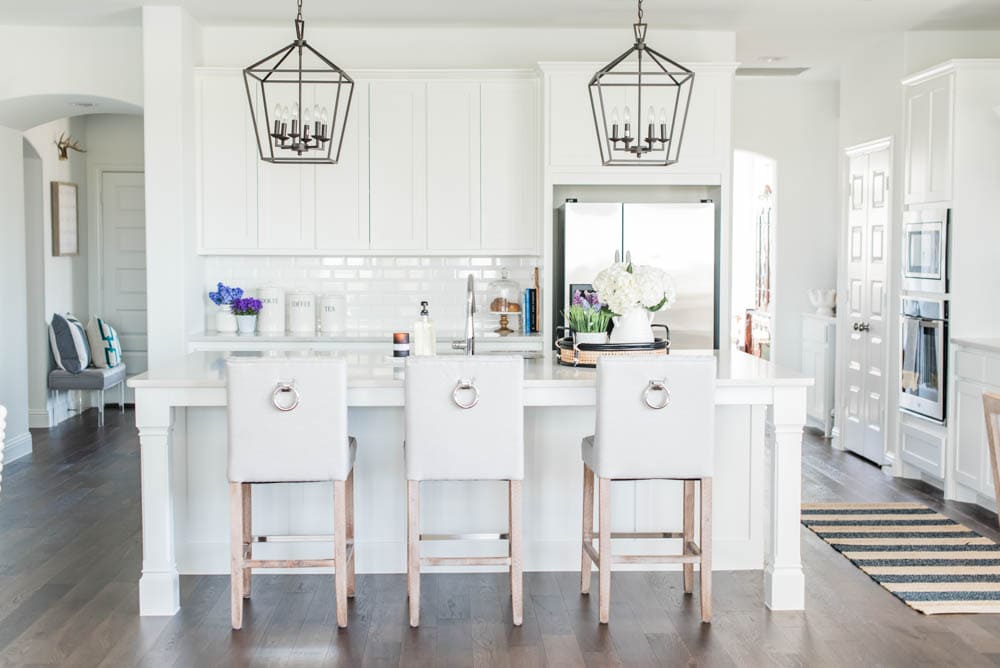 I found these great barstools at Homegoods and I love the chrome ring on the back. I sourced a few similar ones for you HERE and HERE too.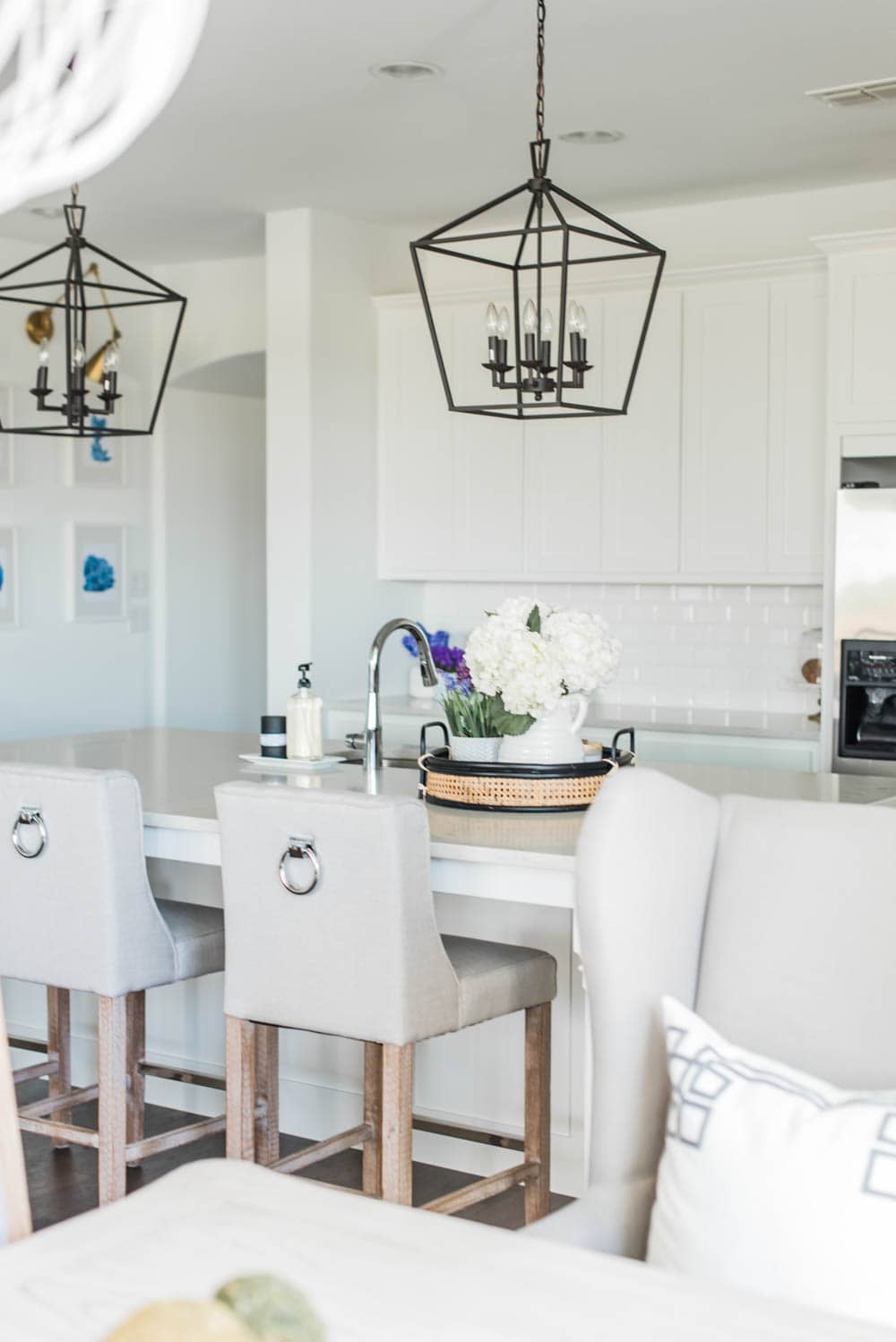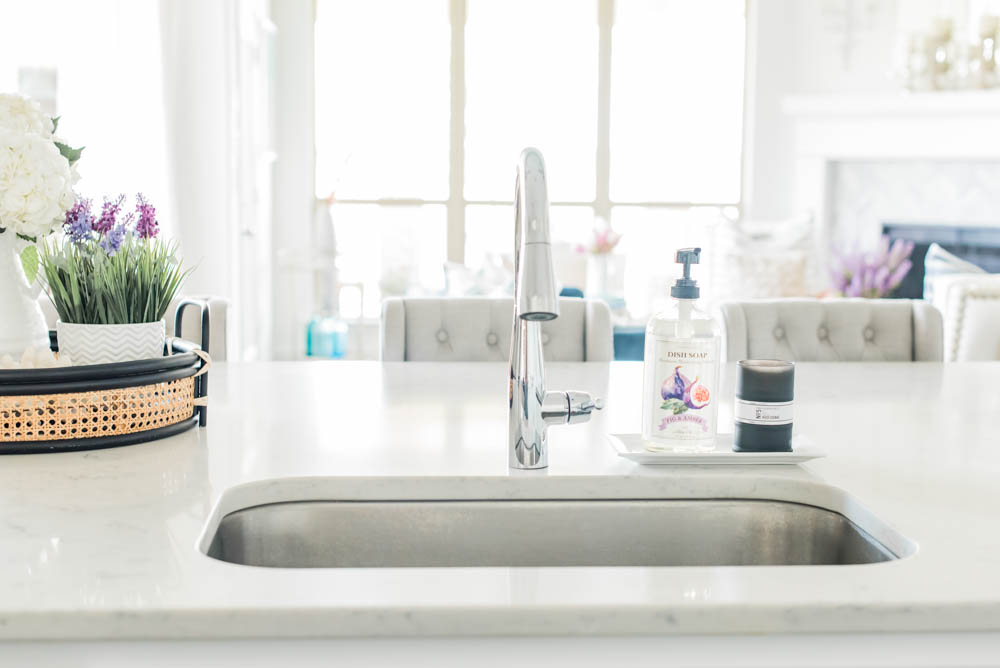 Of course standing at the sink is my favorite view! I can see everything in the room but the view beyond is my favorite. I love looking at the lake when I am cooking and seeing the ducks out there. It is so relaxing to have a lake in the back and see all the nature. You can check out our backyard HERE in my patio reveal.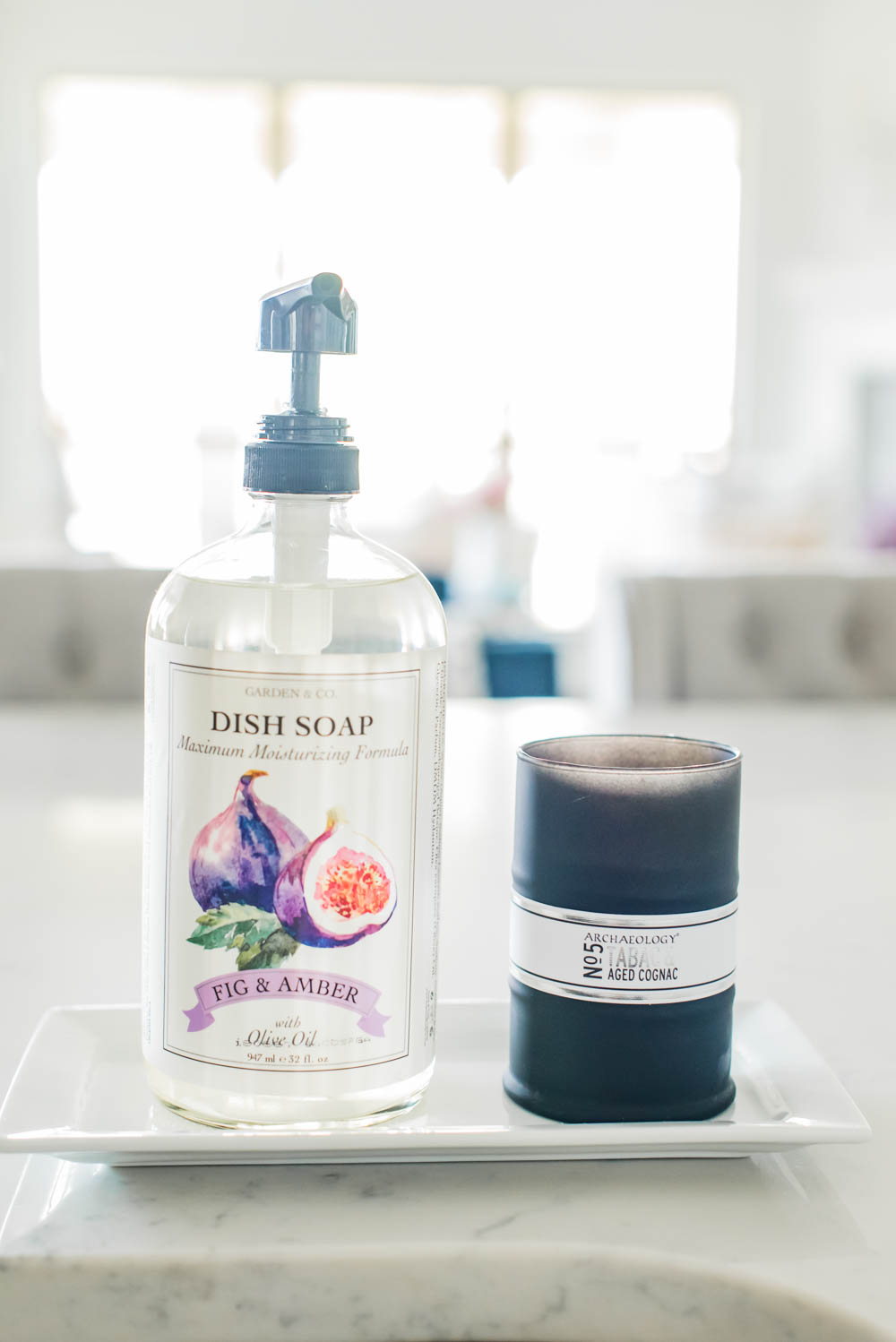 I always have candles going when I am cooking and the ones at Target are some of my current favorites. They have some amazing scents right now.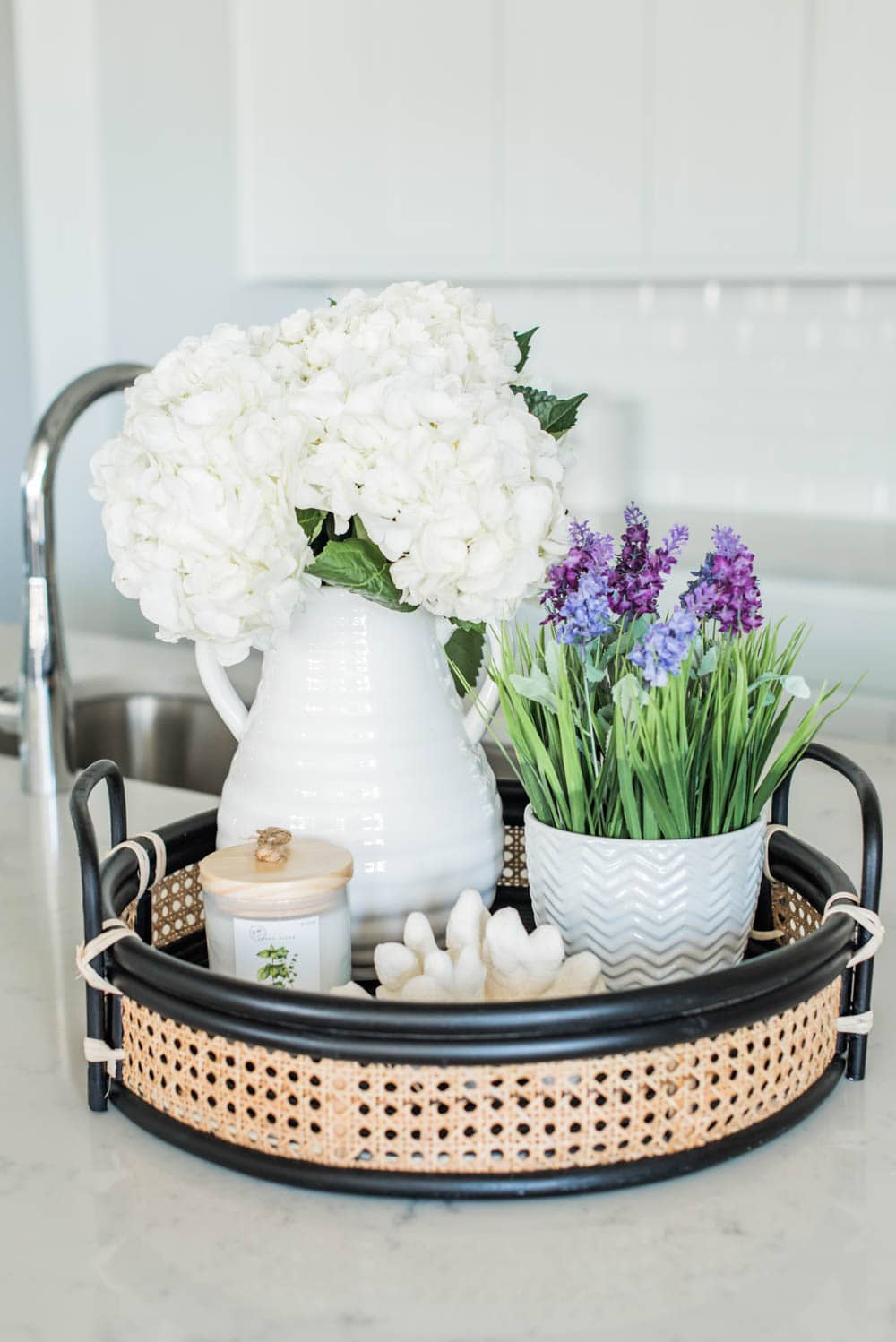 I picked up this basket tray at Homegoods a couple weeks back and love having it on the island as a catch all for my vases and candles. I sourced a few similar ones for you HERE and HERE. We have some lime white hydrangeas in the backyard and I like to cut them and place them in a vase here each week. I love mixing faux florals with real ones and this little lavender one is a favorite.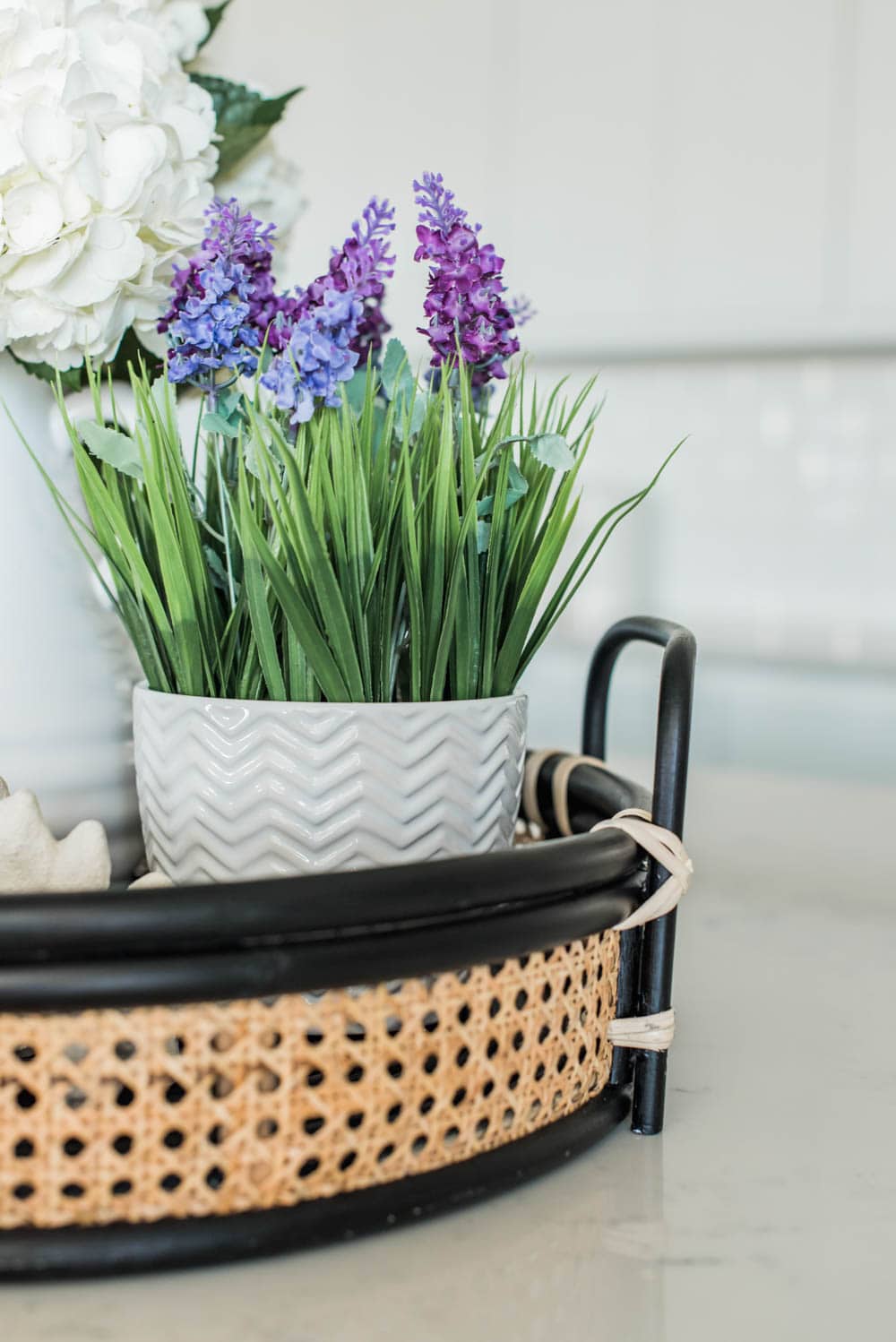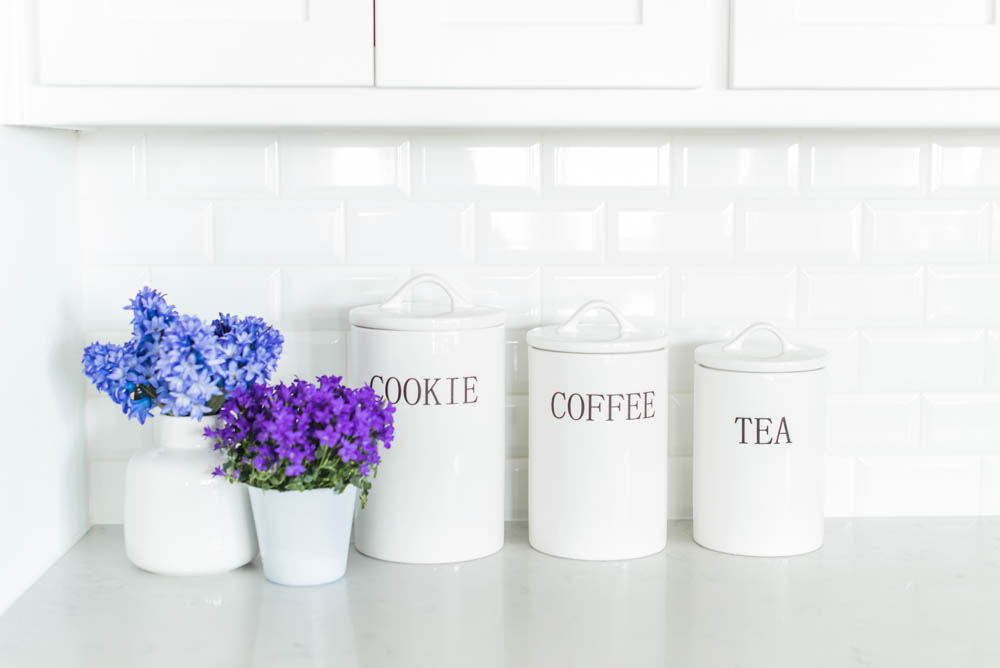 White Canister Set (similar)
I picked up these flowers at my favorite place to get real flowers, Trader Joes, and love their shades of purple to pull the faux floral color from the island through. I actaully have this color in the living room as well this season.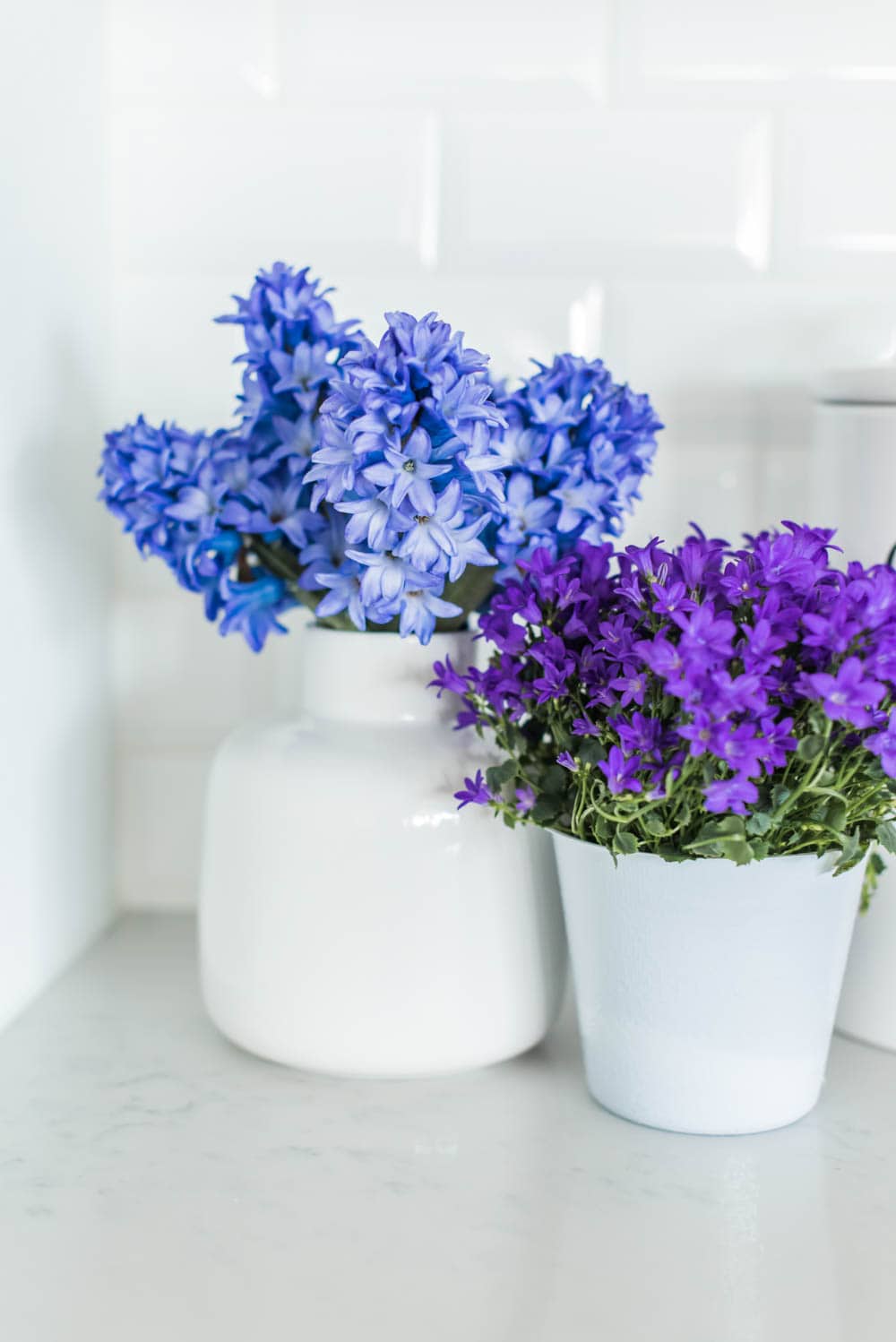 I have decided that if my cookbooks are not on the countertop then I will forget about them and not use them. So I have sprinkled my favorite and newest books around the kitchen for a little reminder.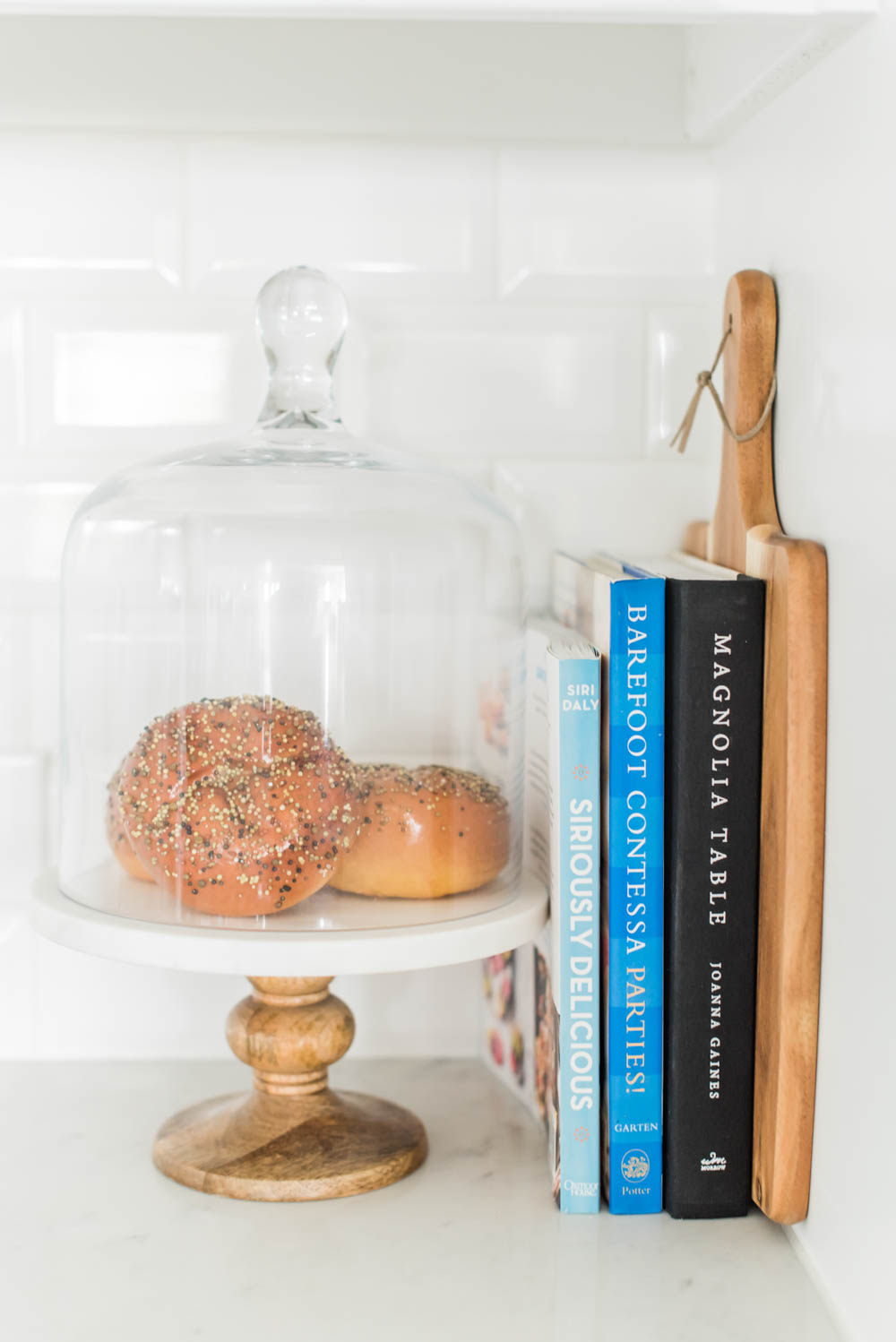 So here is the gallery wall all finished that I was mentioning up above. I had these coastal art prints I had made in the last house and wanted to highlight them in our new kitchen area. I decided to place them in a more modern pattern and spread them out to really fill the wall. I placed this demilune ottoman under them and this spot is used a lot to drop a backpack, put shoes on in the morning and sit to chat when someone is cooking. This was another big design space for me that I wanted to be intentional about so we did not just have a long wall and it turned into a dead space.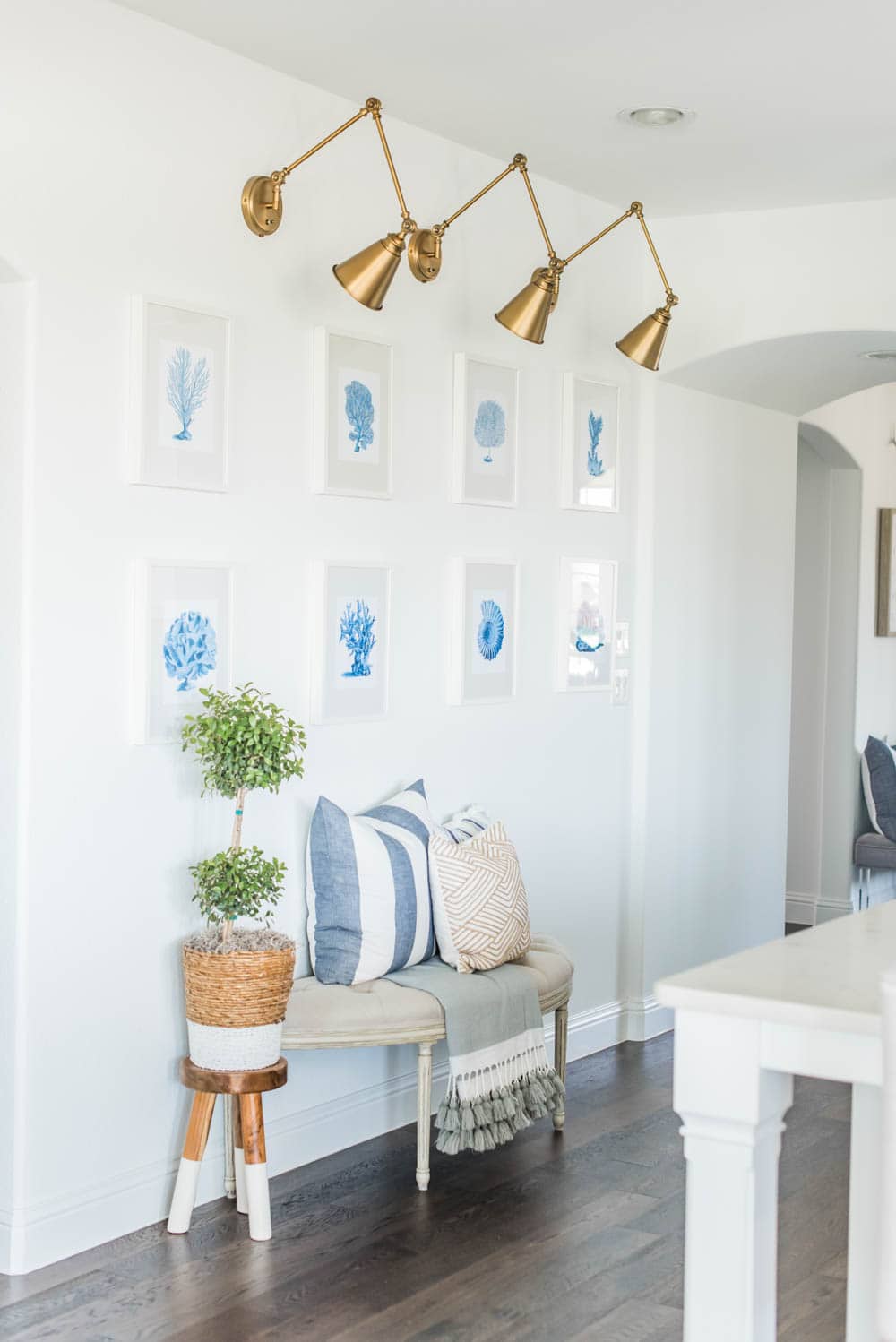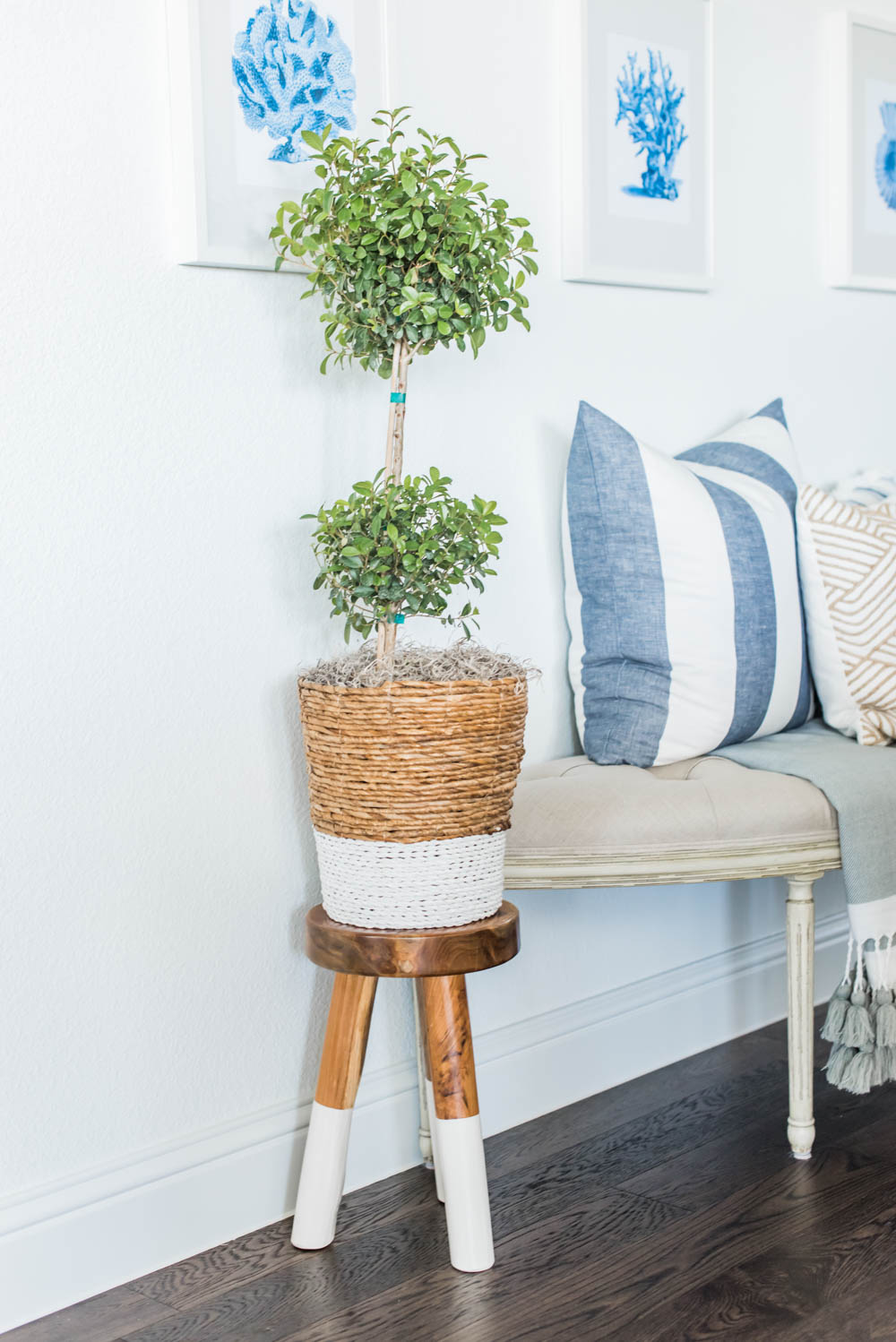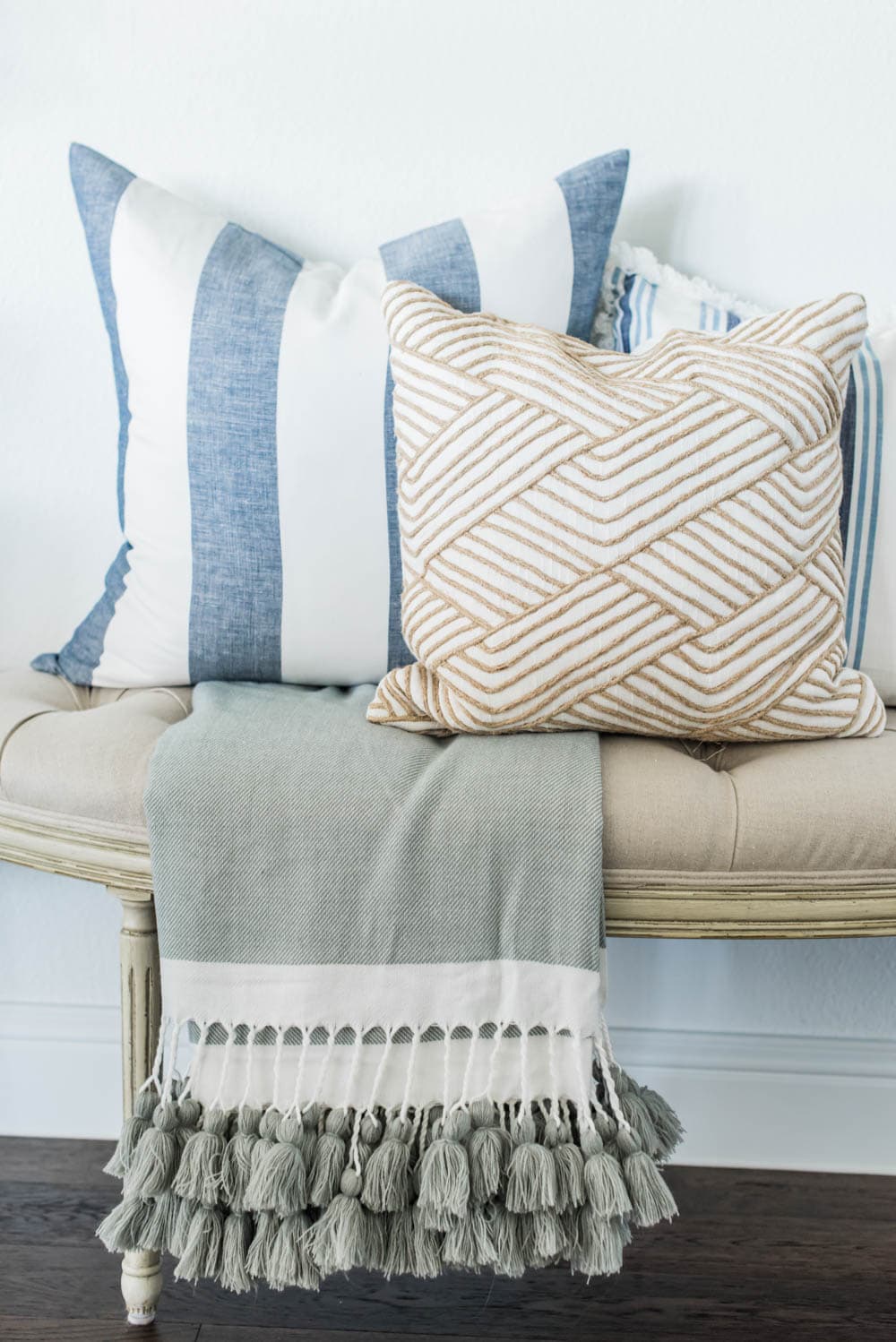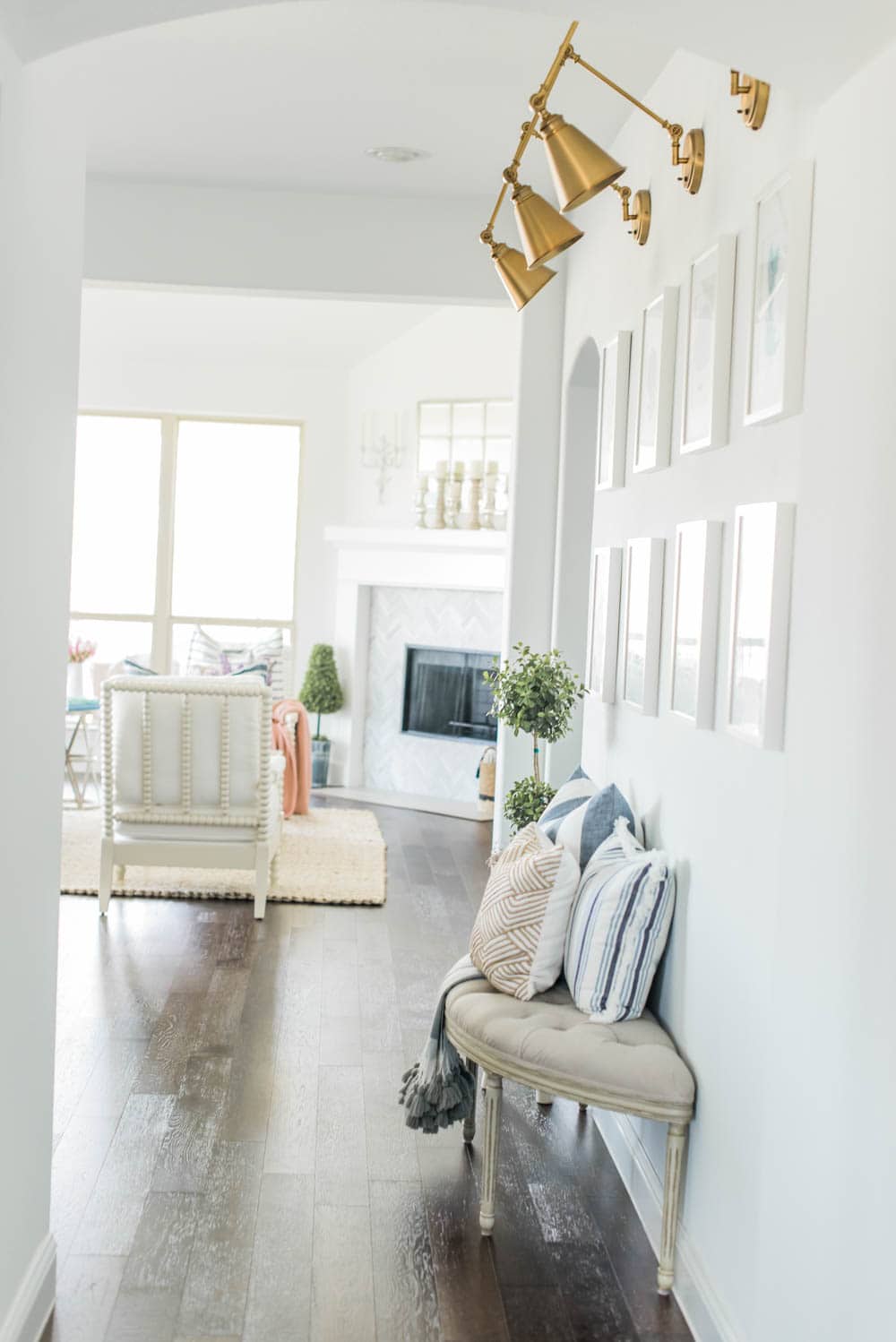 I am thinking this is everyones favorite design feature in our kitchen? I love it too! I almost went with the square version of this hood design but in the end I am so happy I chose the tapered feature. It feels majestic and really is a show stopper when you walk into this space.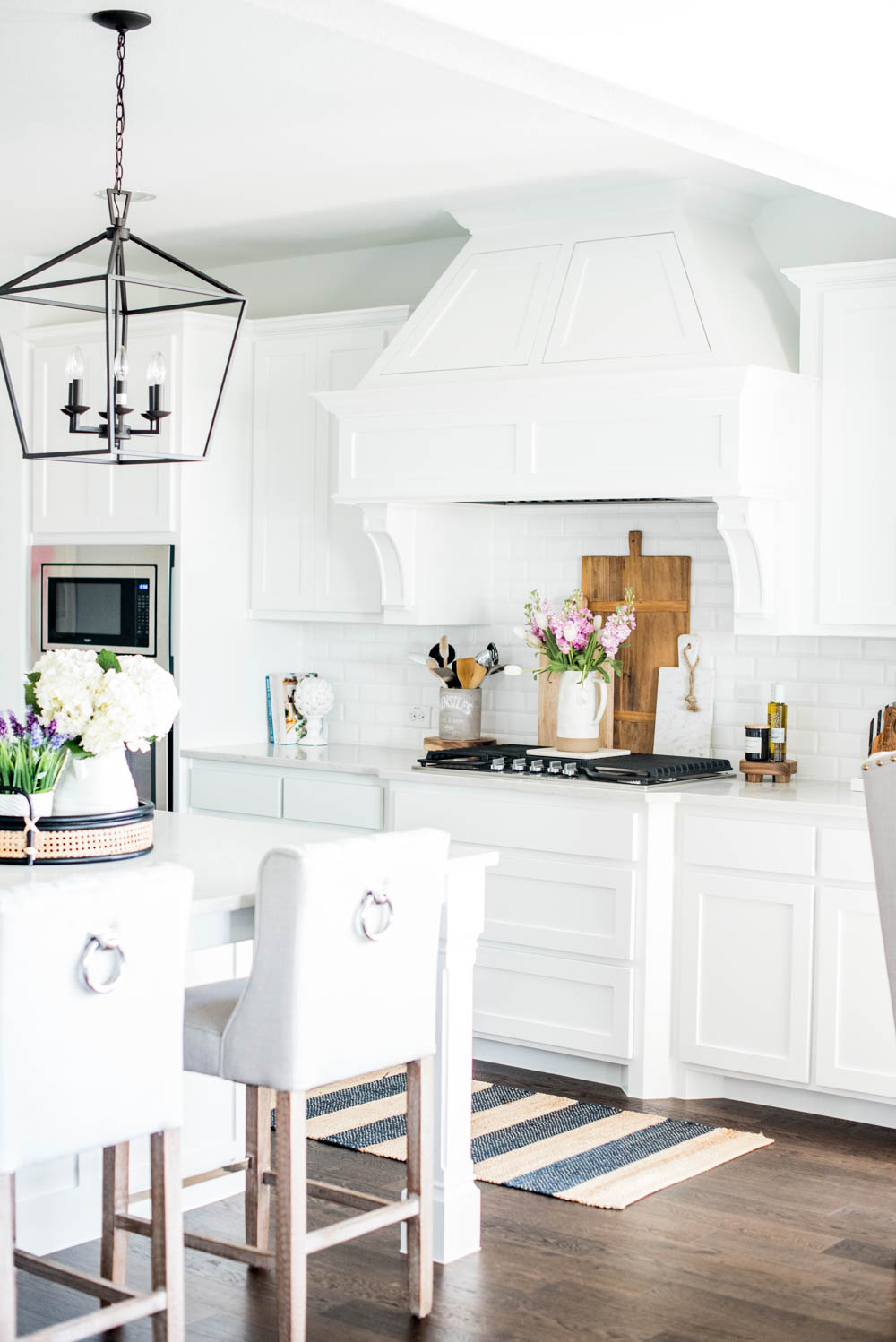 We actaully upgraded our hood and went with the 36″ cooktop with 5 burners. Now after cooking in here over the last few months I am so glad we did that. It not only feels bigger and fills the space but it makes it easier when you are cooking multiple things at 1 time.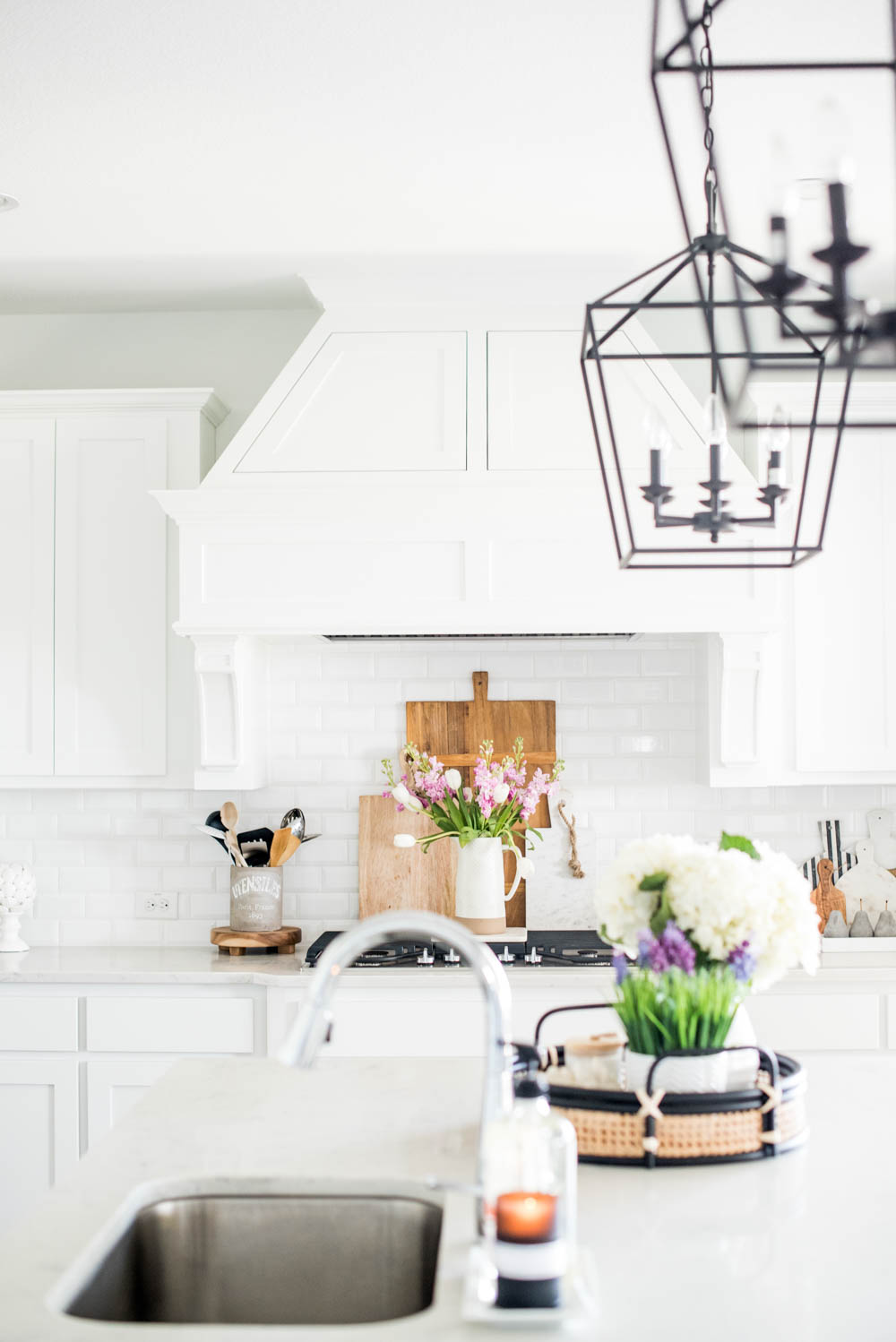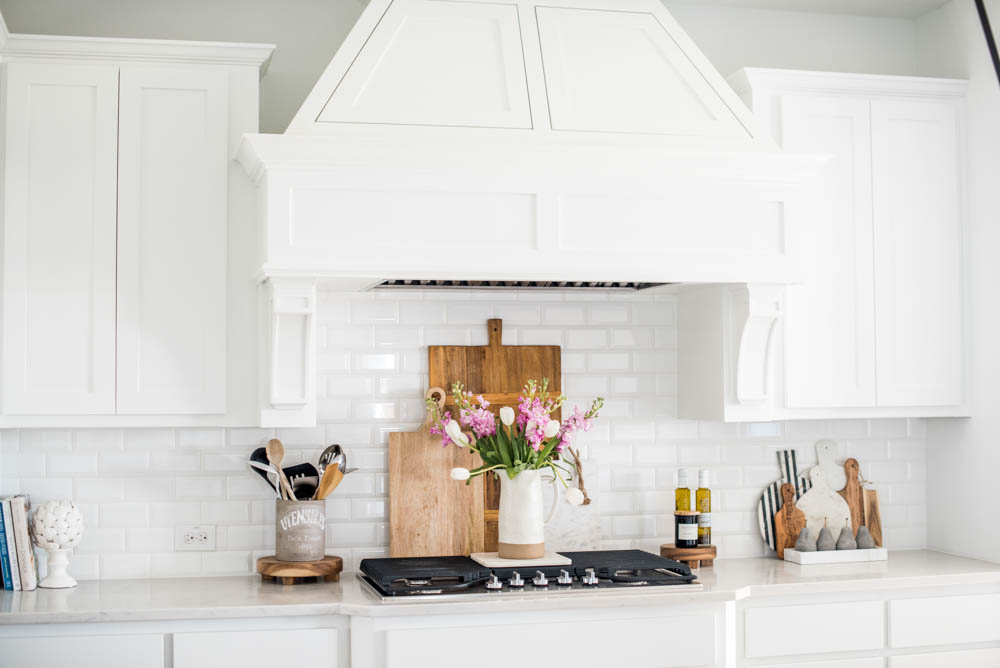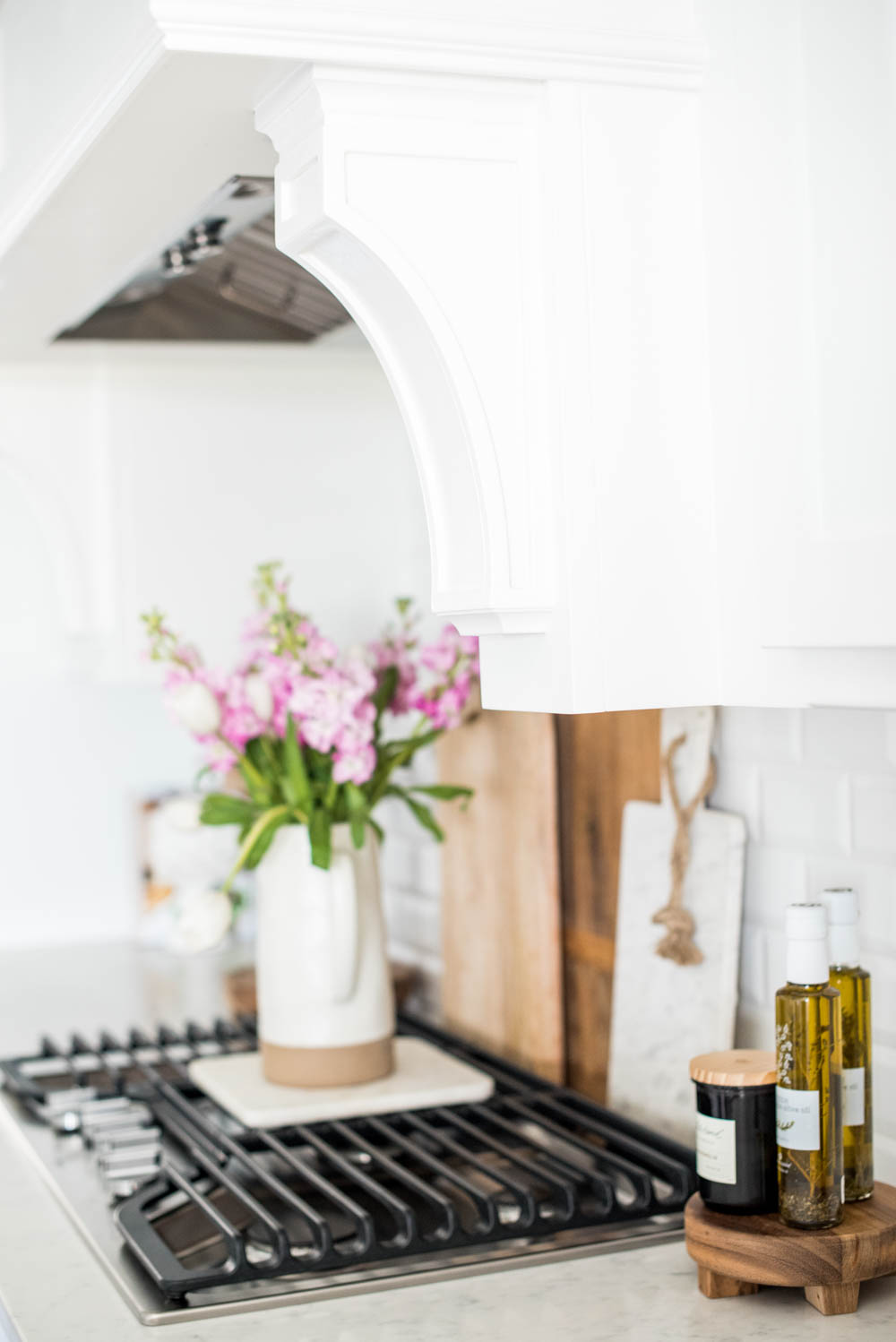 This is another space I like to have fresh flowers in the kitchen. I just have a simple white marble cutting board that I place my vase on that is easily moved when we are cooking.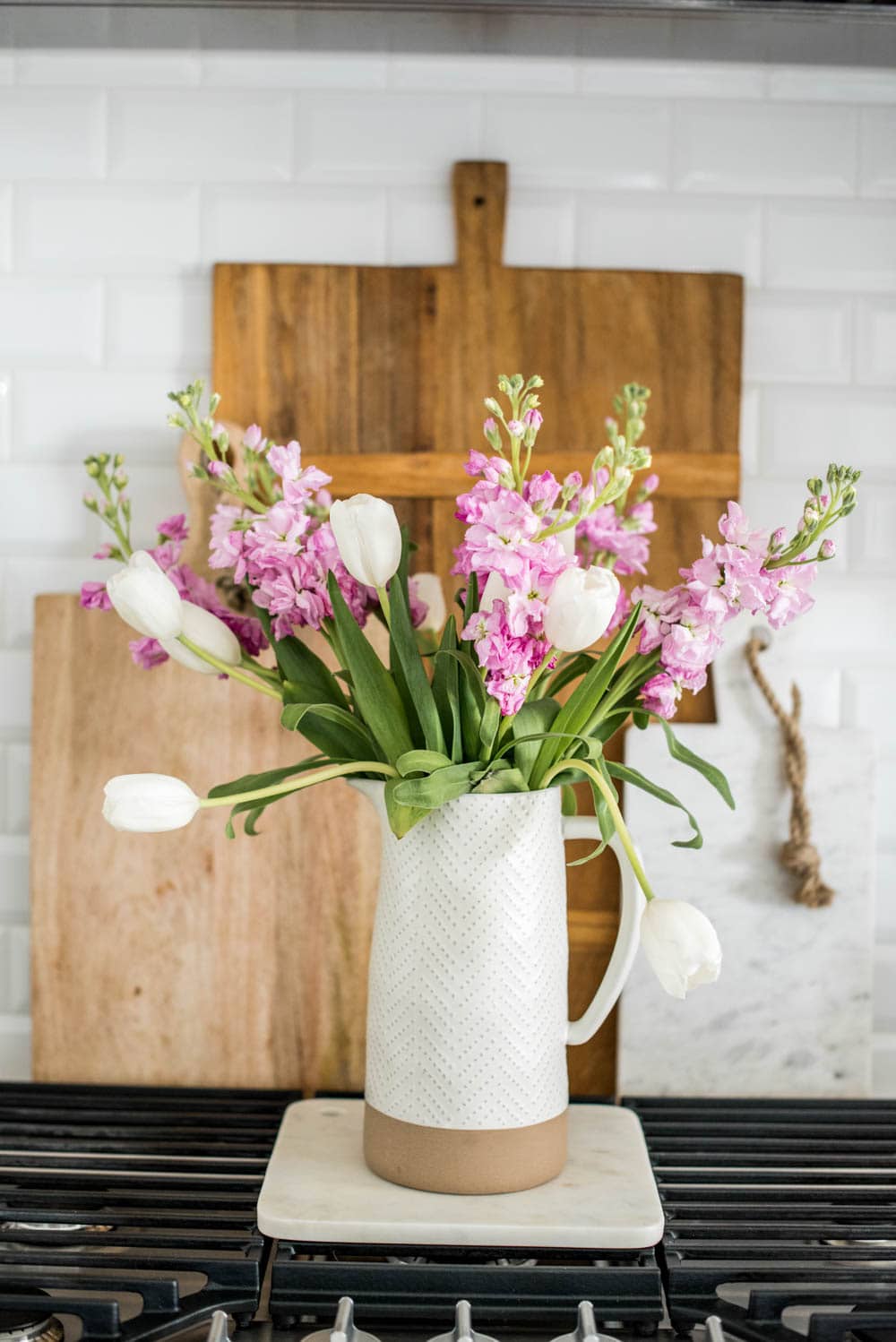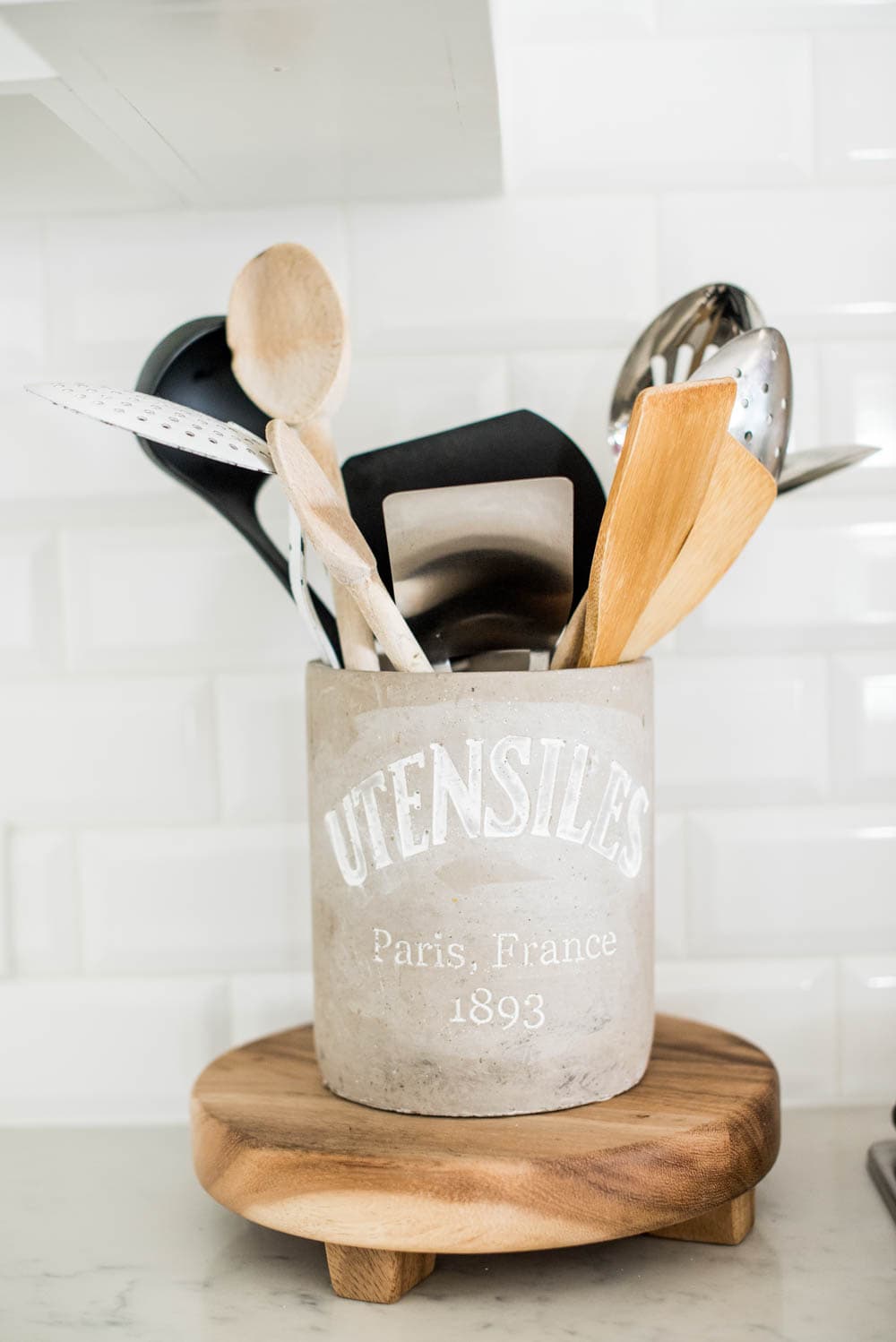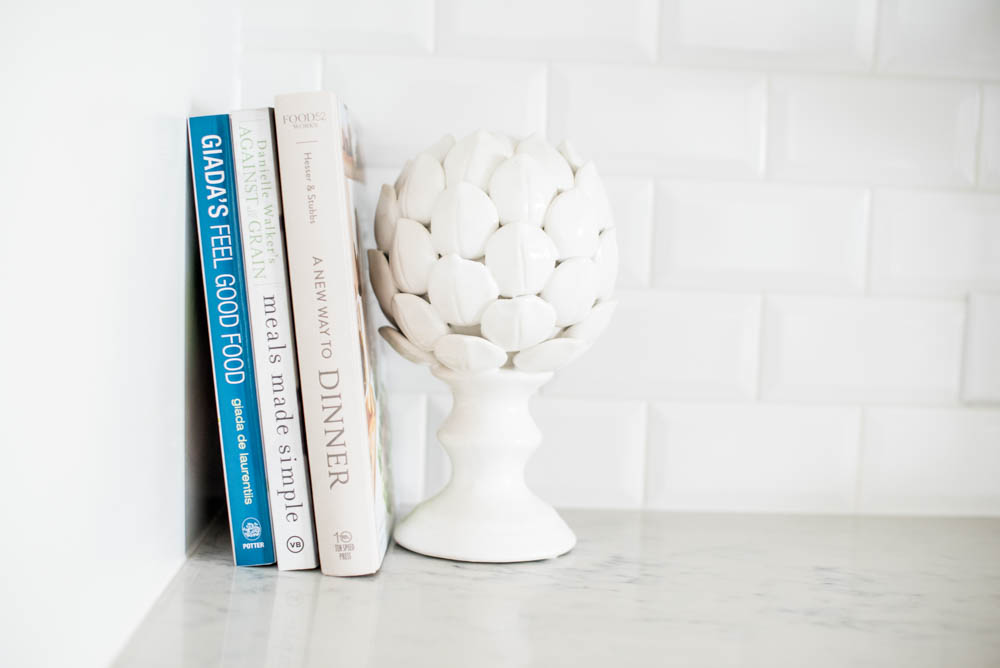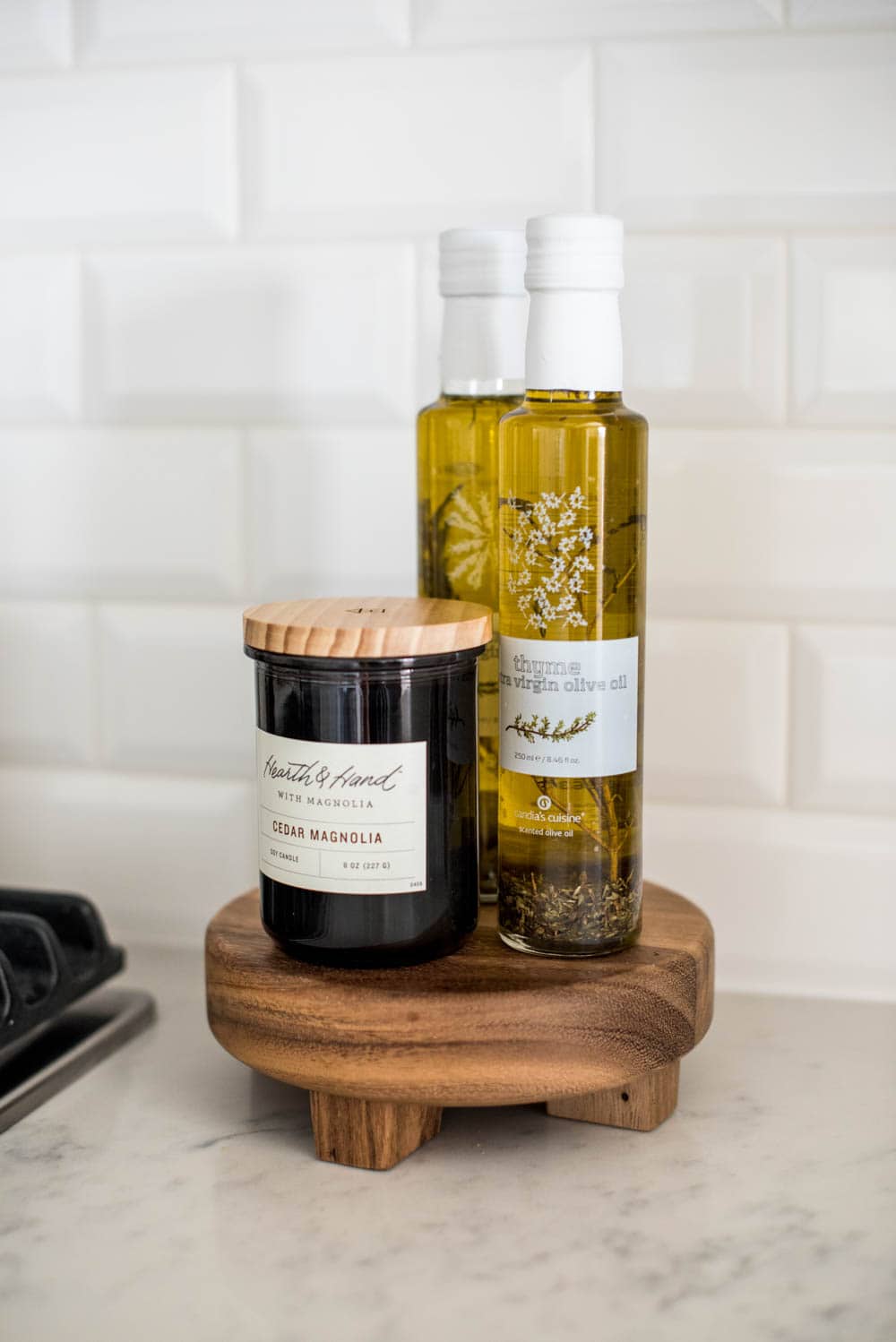 I personally like to have my cooking utensils and favorite flavored olive oils right at my finger tips so I picked up these little wooden trays to display them on.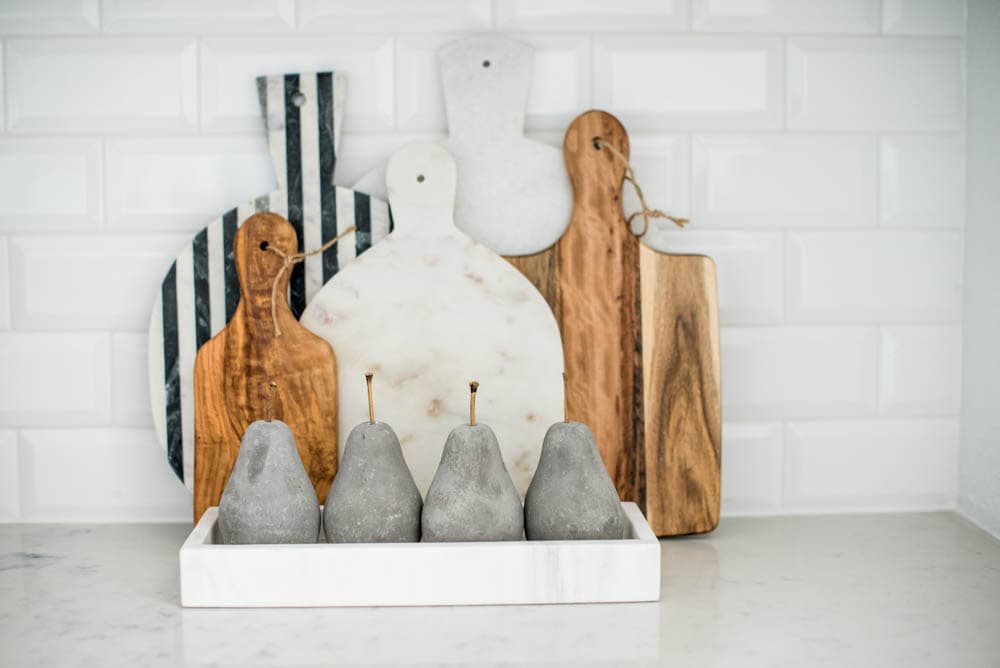 I have a huge collection of cutting boards and I have to admit this even isn't all of them. I love them clustered and displayed in a kitchen and I think it makes it feel warm and cozy to have them out. I picked up these cement pears this last year down in Waco at Magnolia and I just placed them in a little white tray. They actually help hold up all my cutting boards!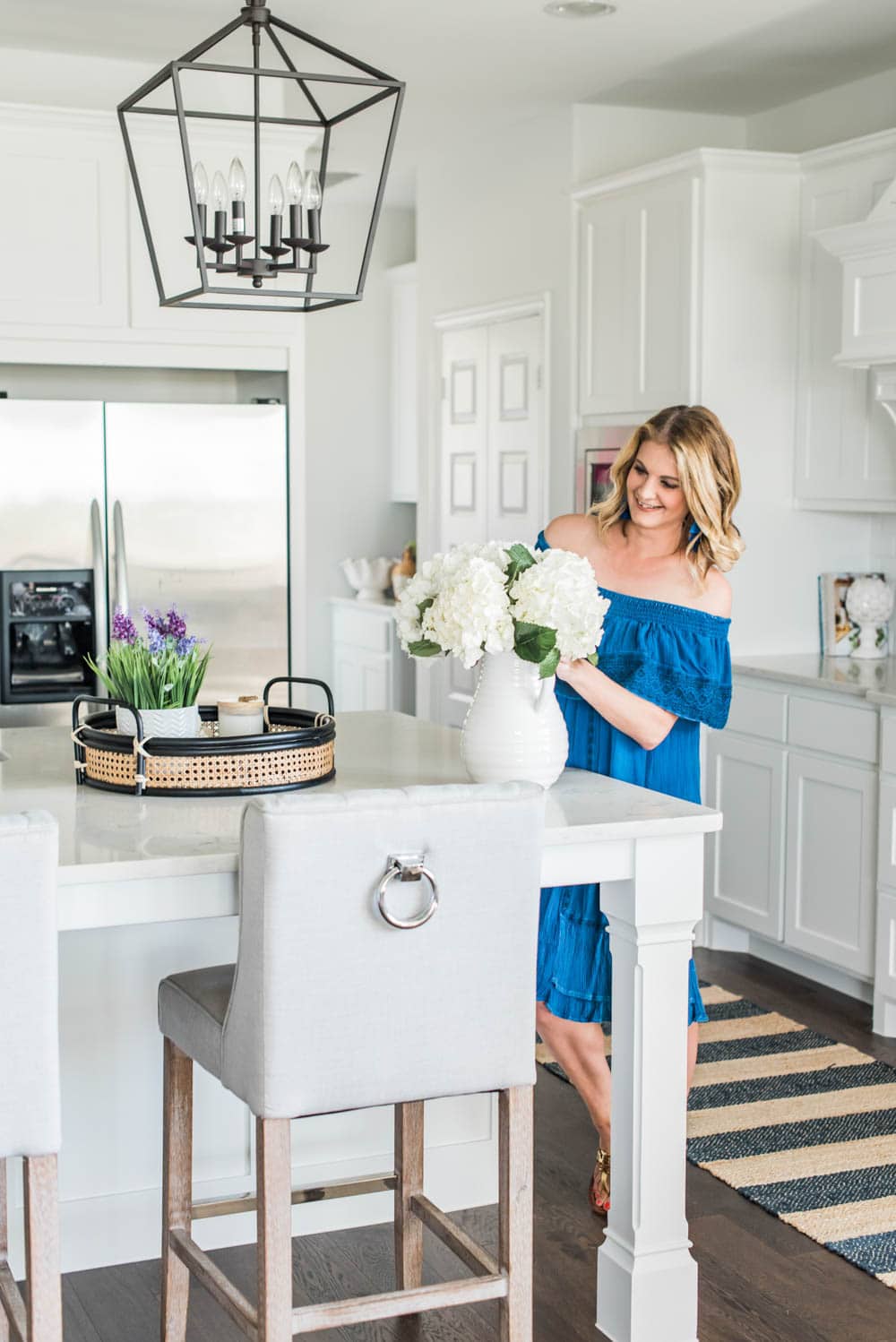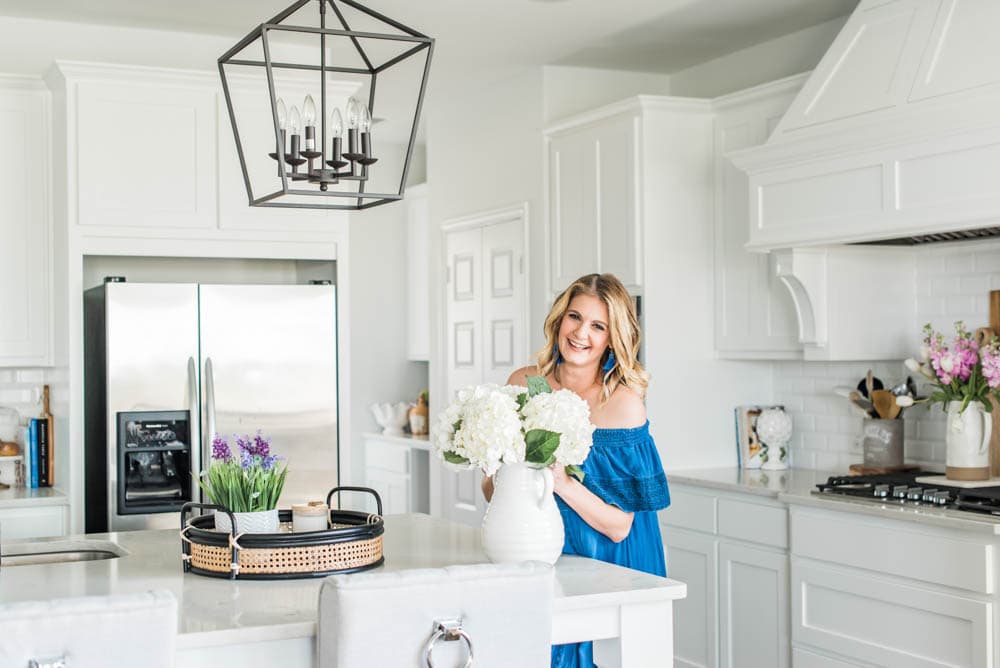 Friends I hope you loved my kitchen reveal. We love this space and it is such a dream to cook in this kitchen! There are a few things we still need to do like add hardware and I am thinking of painting the kitchen island. But truly this kitchen is amazing. If there is anything I left out or you have a question on, please feel free to ask me in the comments. Also, I sourced everything for you below for ease of shopping.

This site contains affiliate links. Please read our disclosure policy. As an Amazon Associate, I earn from qualifying purchases.
YOU CAN SHOP ALL THE SOURCES FROM MY KITCHEN BELOW.
{scroll and tap the photos below to shop them}
Appliances + Materials

Kitchen Island Furniture + Accessories

Art Gallery Wall Sources

Decor + Accessories

**Photography by Sweet Memory Photography