Simple Summer Styling Tips For The Kitchen
This post may contain affiliate links. Please read our disclosure policy.
Sharing some simple summer styling tips for your kitchen with affordable finds for your home like potted plants, cutting boards, cookbooks, and more.
So the other week I shared my summer living room tour and purposefully held off showing you the kitchen because I only added a few things but these couple of things made such a huge impact that it deserved a post all on its own.
I love when you can find some really great things that are not only affordable but can also transition into other seasons which I think these decor finds can easily do.
This post contains some affiliate links for your convenience. Click here to read my full disclosure policy.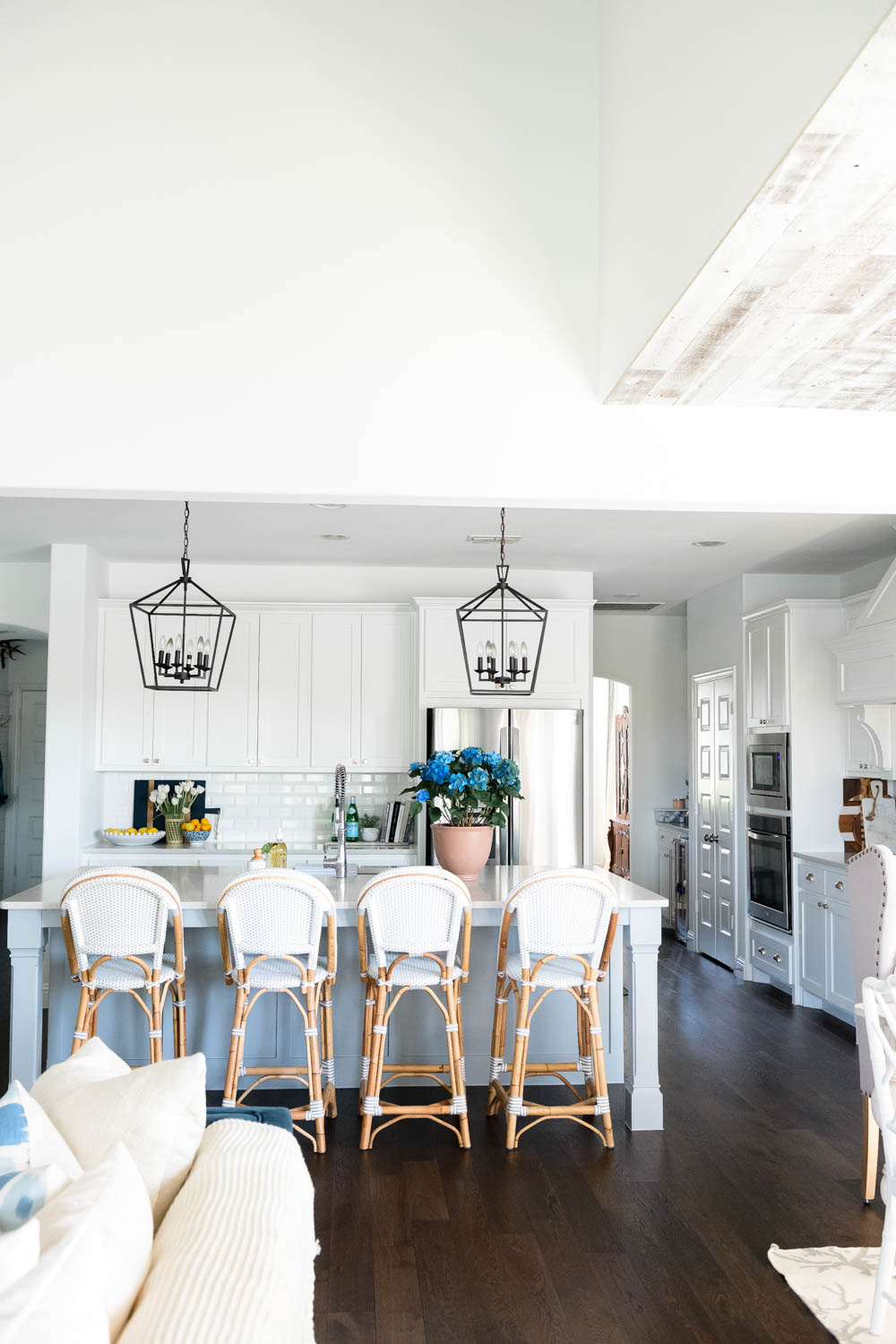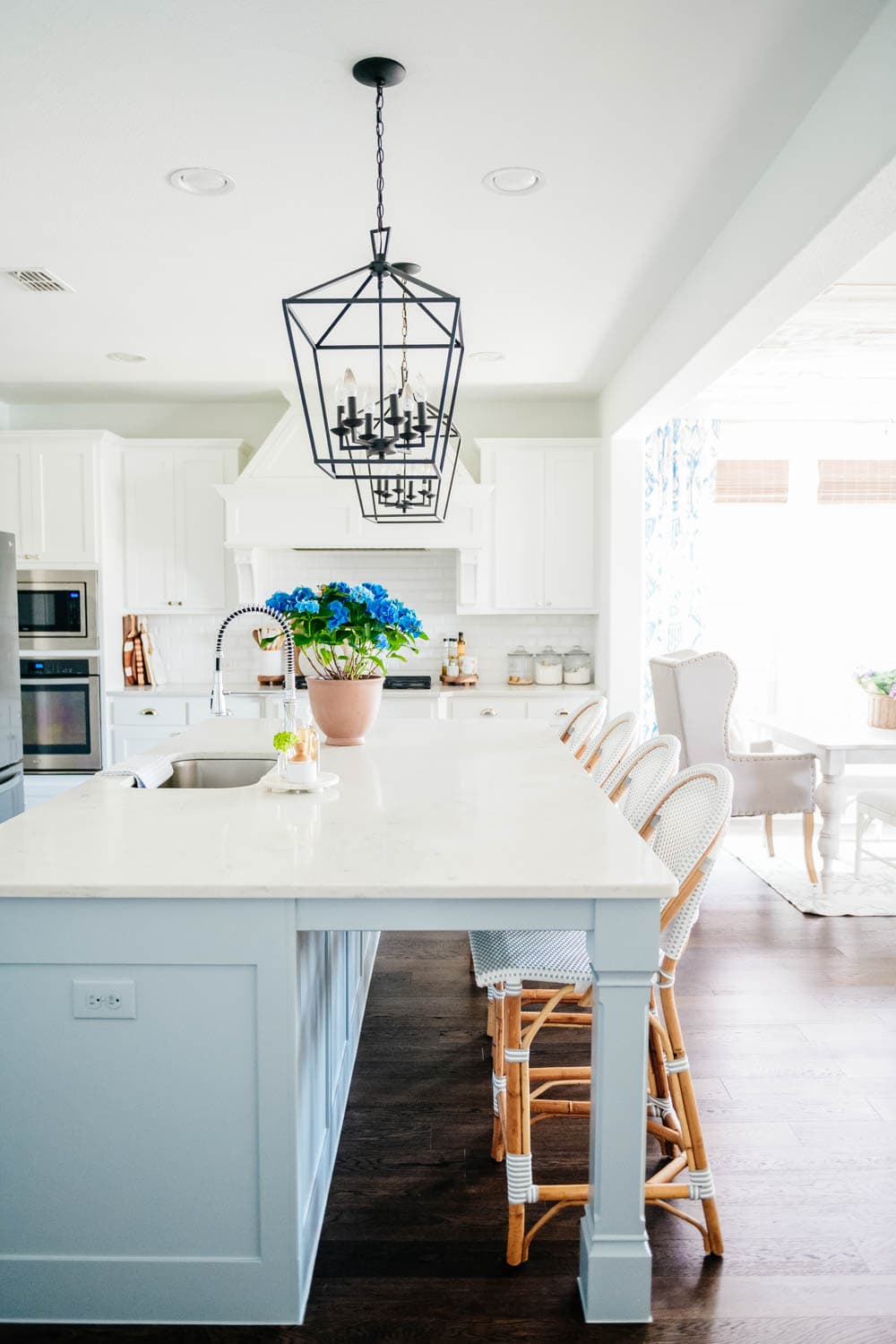 Summer may just be one of my favorite seasons to decorate for because I love the bright fresh colors and clean decor look. Less is always more and I definitely think so in this case.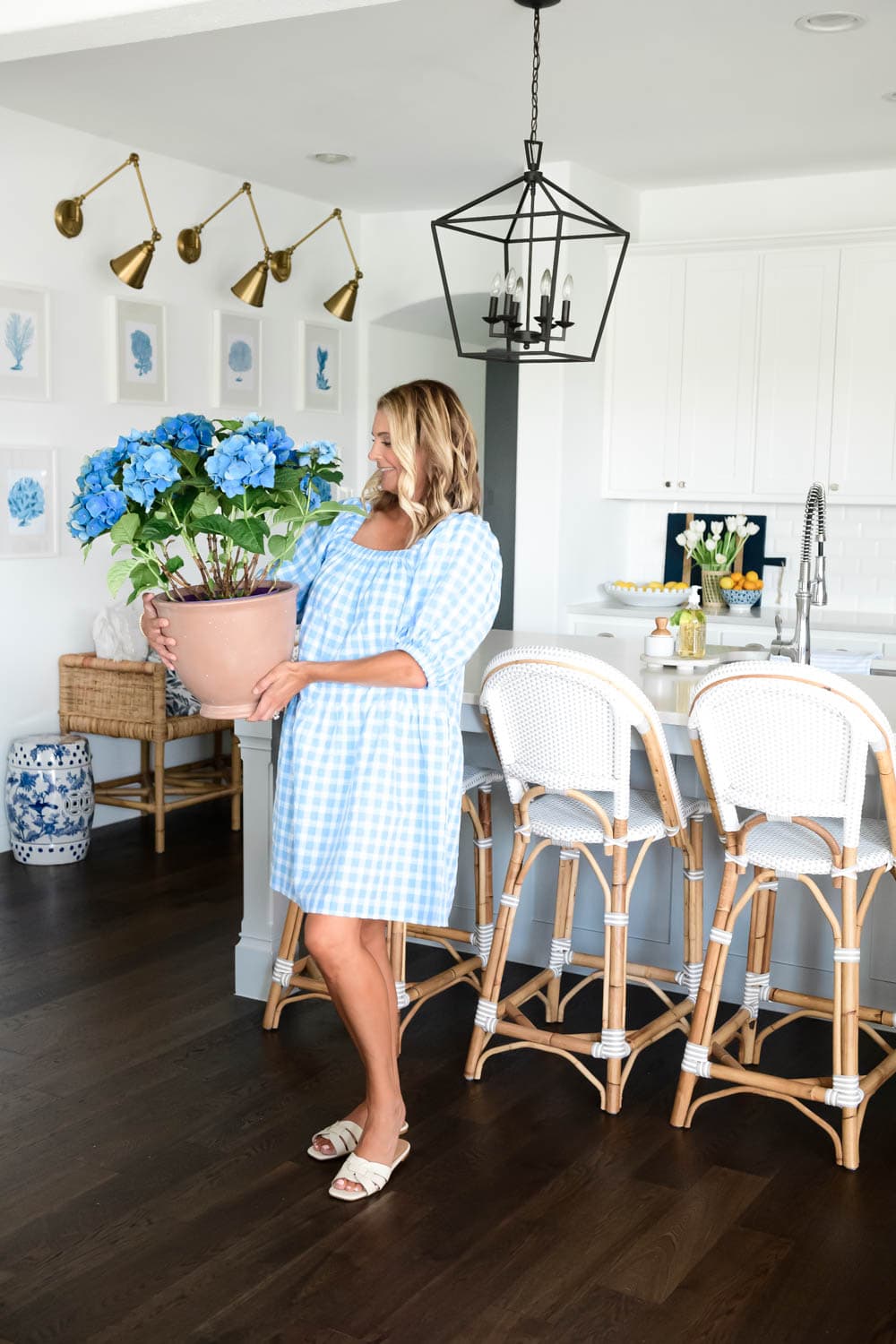 So let's take a little tour around my kitchen and give you all the sources so you can add these pieces to your kitchen too.
Simple Summer Styling Tips For The Kitchen: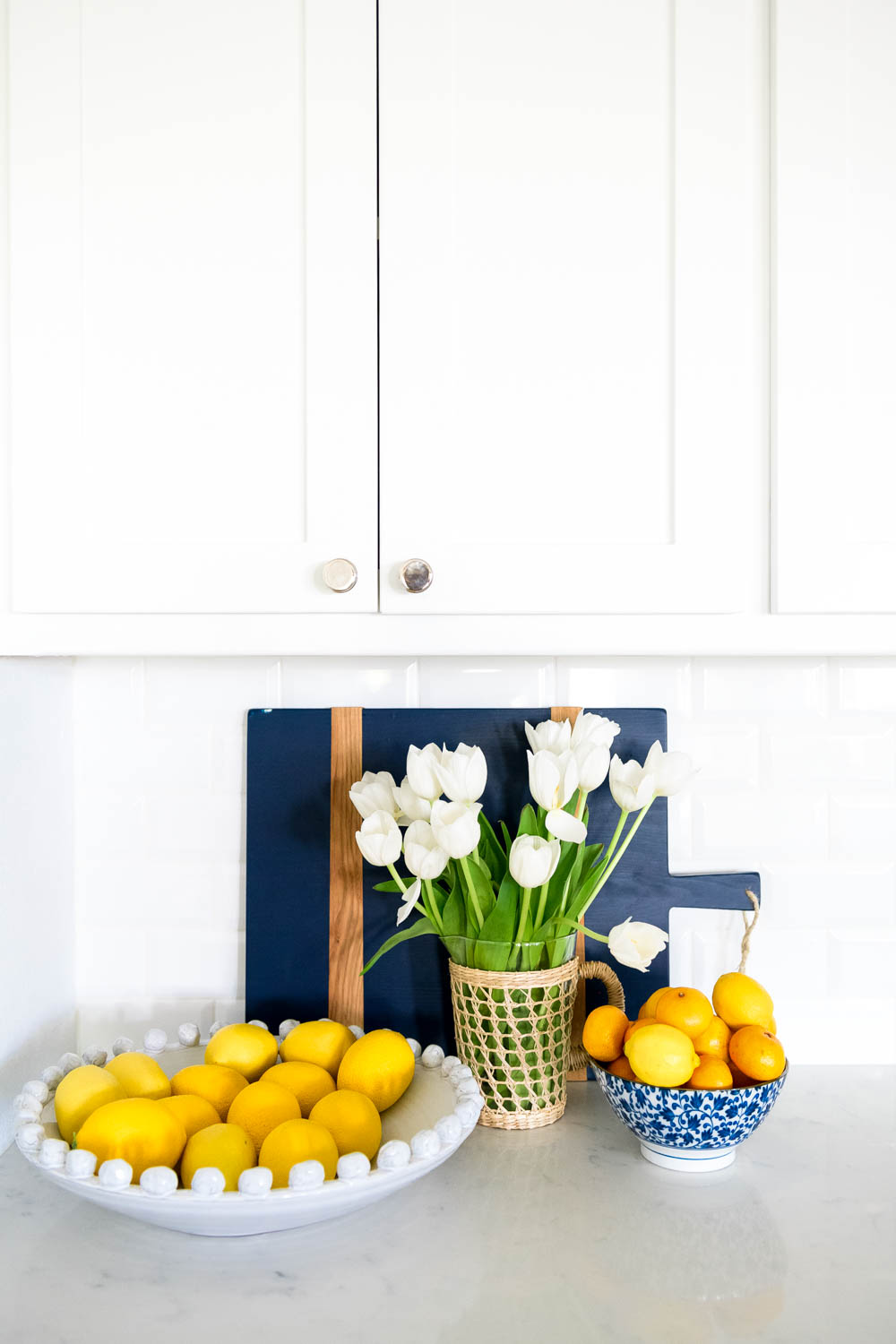 1. Add a bowl of fruit for color
I know that this sounds like the easiest thing ever to do and not too creative but look how impactful it can be. The trick to this is to make the bowl or platter you are using to look full with the fruit.
It makes a more vibrant display and an easy way to do this is with faux fruit. I love to buy faux apples for fall and faux lemons for the summer to add to bowls in the kitchen for the seasons.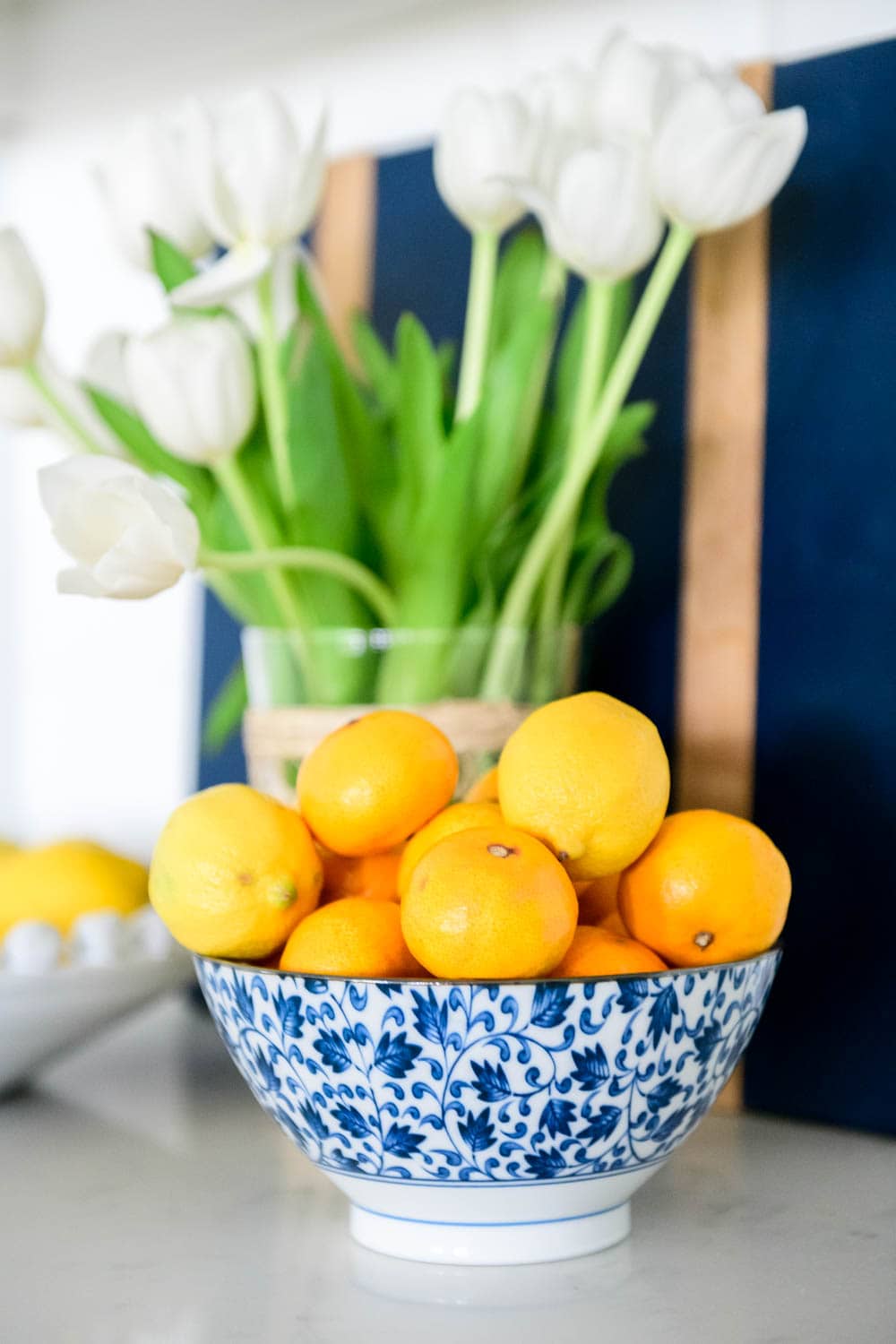 2. Pull out your favorite cookbooks for the summer
I love to switch out my cookbooks on my counters each season and for the summer season, I love light and simple meals to make. These are a few of my favorites right now and they have such great healthy recipes.
I like to try a new one each week to keep it interesting around here! I have found if my cookbooks are in the cabinet, then I will not use them so pulling them out is the best.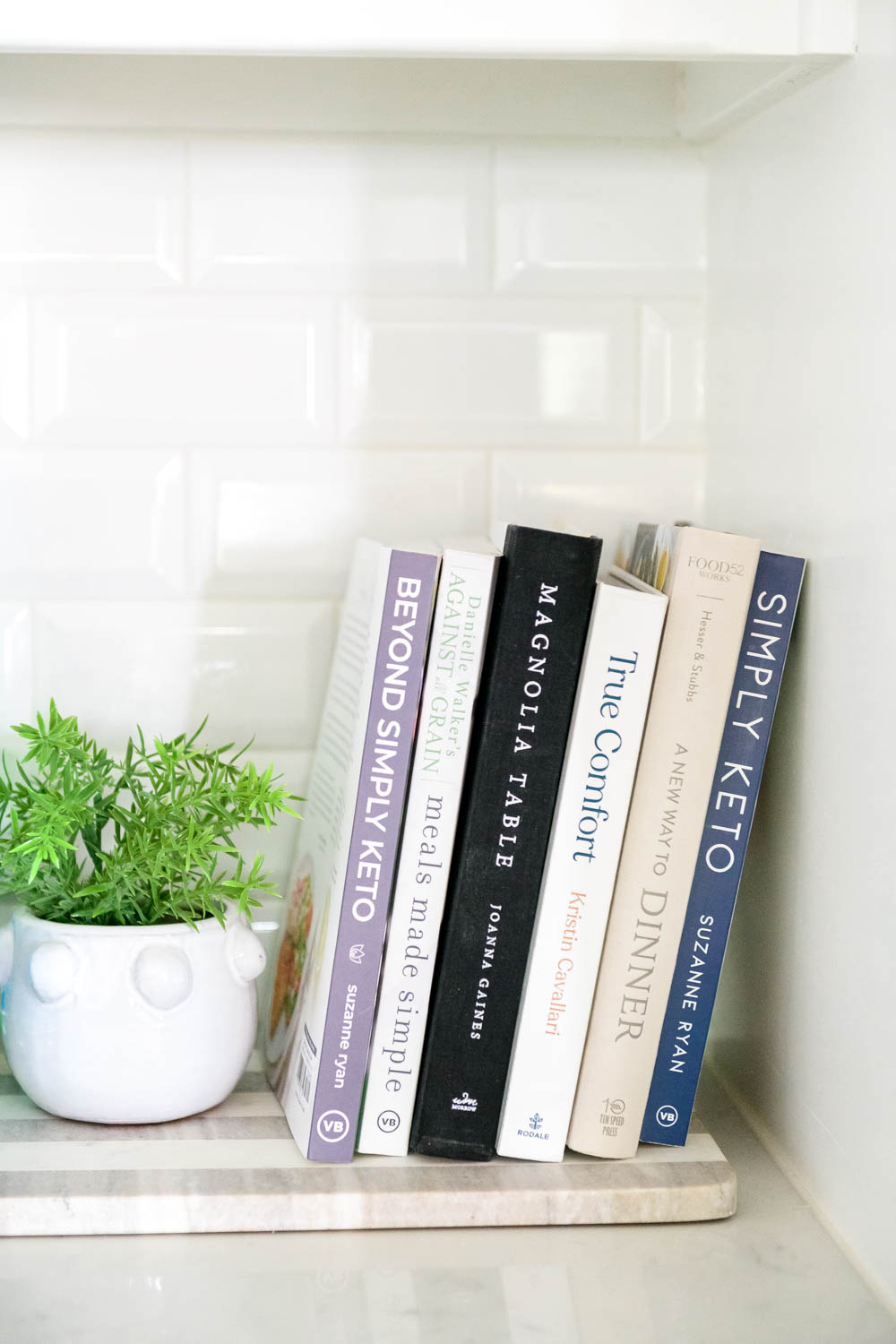 3. Add a potted plant
The spring and summer seasons are the time I like to have fresh potted plants in the house. I have literally no green thumb so this gives me a couple of months to enjoy them before I have killed them. Lol!
This year I found these gorgeous oversized hydrangea plants at Walmart. They were in such vibrant colors and I found these faux terracotta pots (similar) and put one of them in there for my kitchen counter.
It's amazing how this one plant completely transformed my kitchen this season. It was so beautiful that it ended up being the only thing I added to the kitchen island this summer.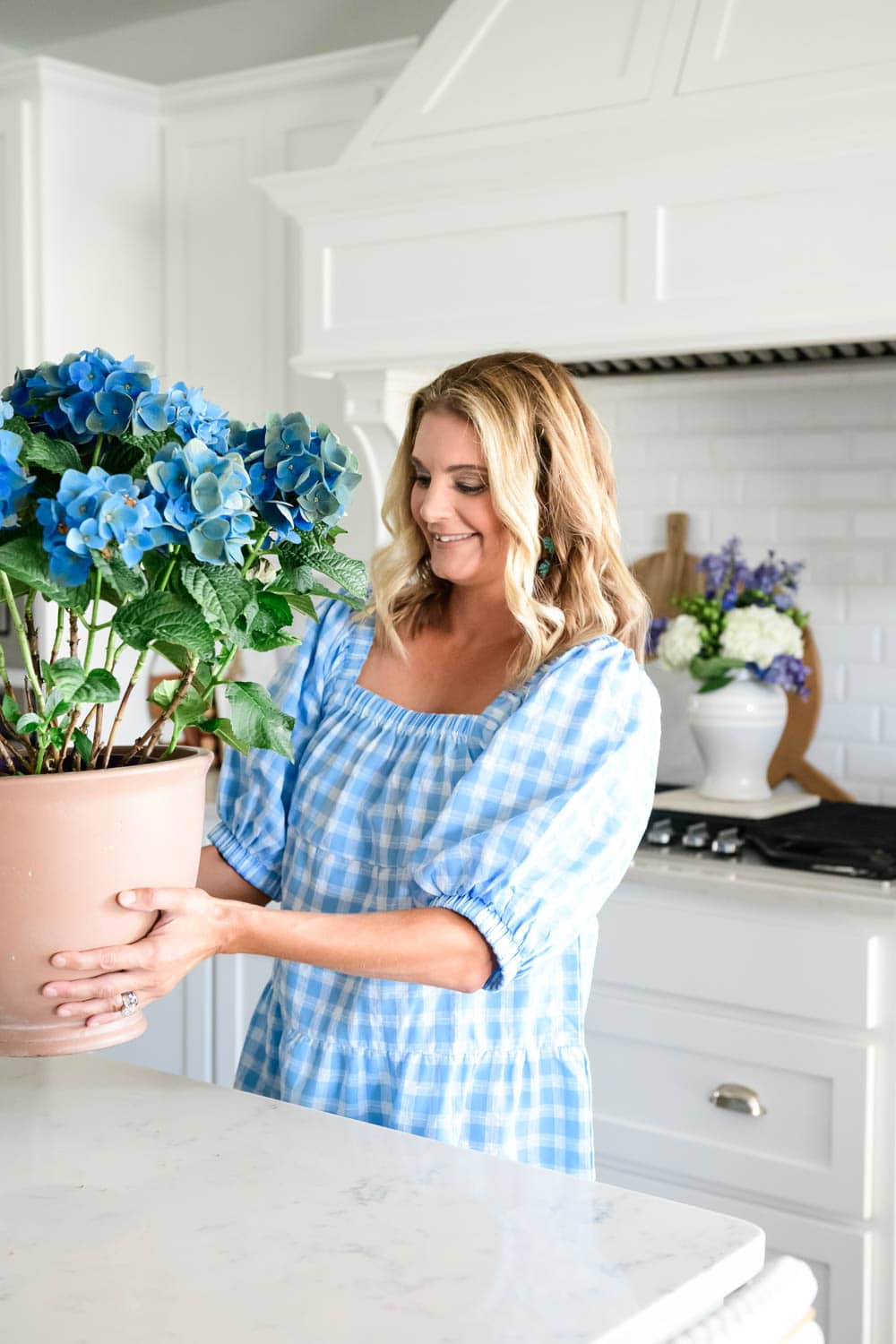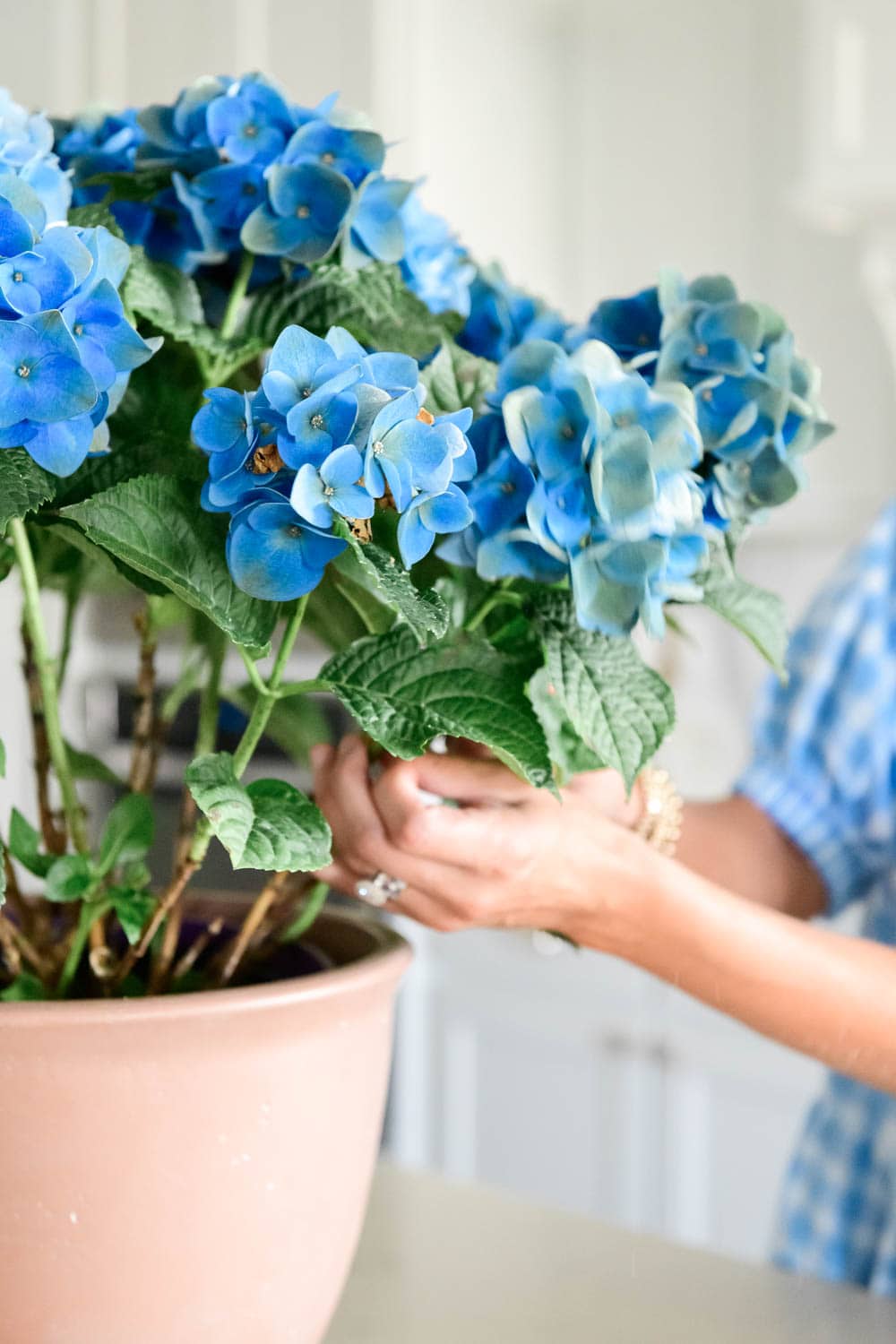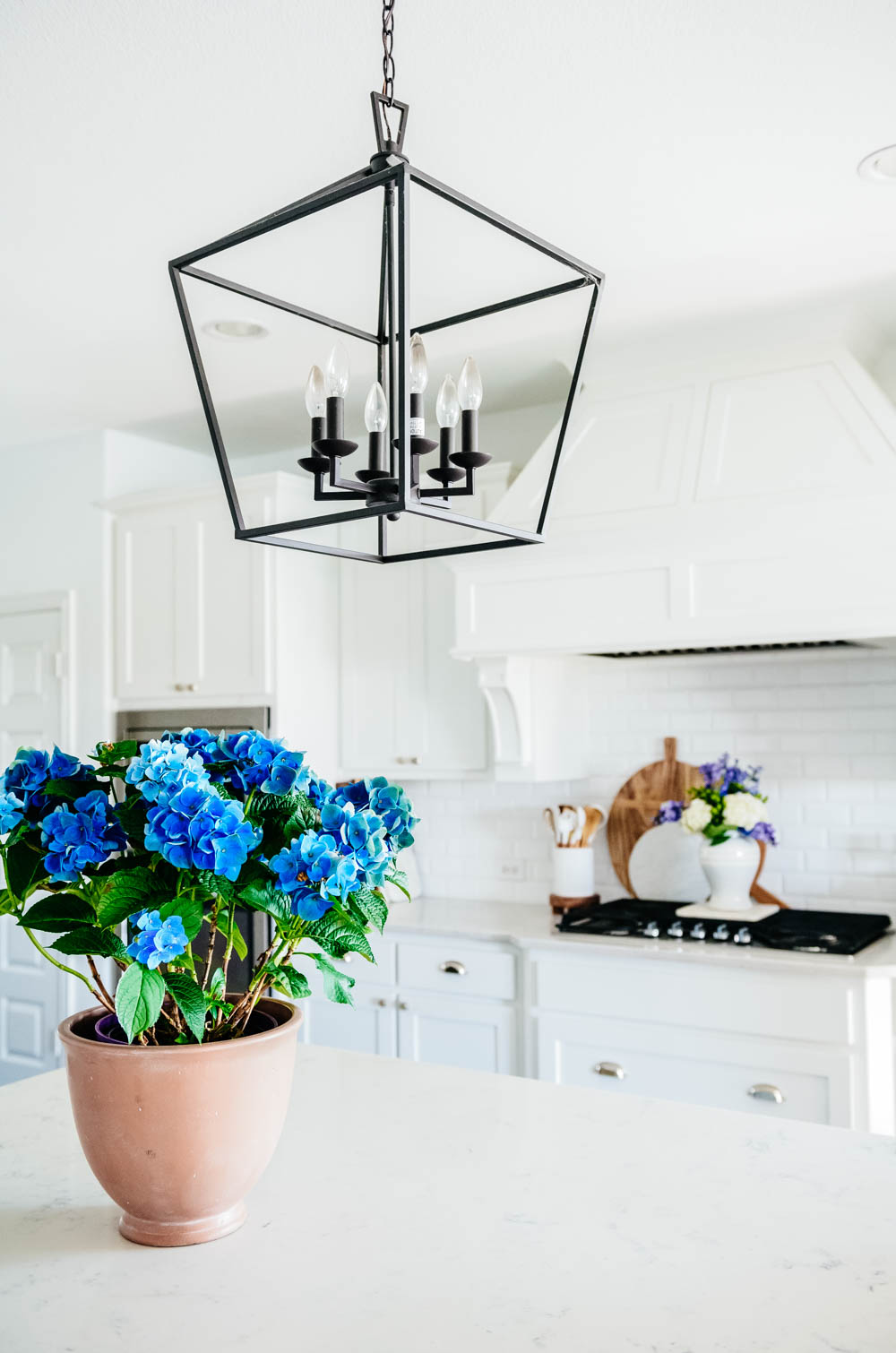 4. Place a couple of cutting boards behind the stove and along the counters
I use cutting boards all the time. I have amassed quite the collection and rather than have them shoved in my cabinet, I love to have them out and displayed.
This is the same theory I have with the cookbooks as with my cutting boards: if they are behind a door I will not use them. So I literally have them in 4 places in my kitchen.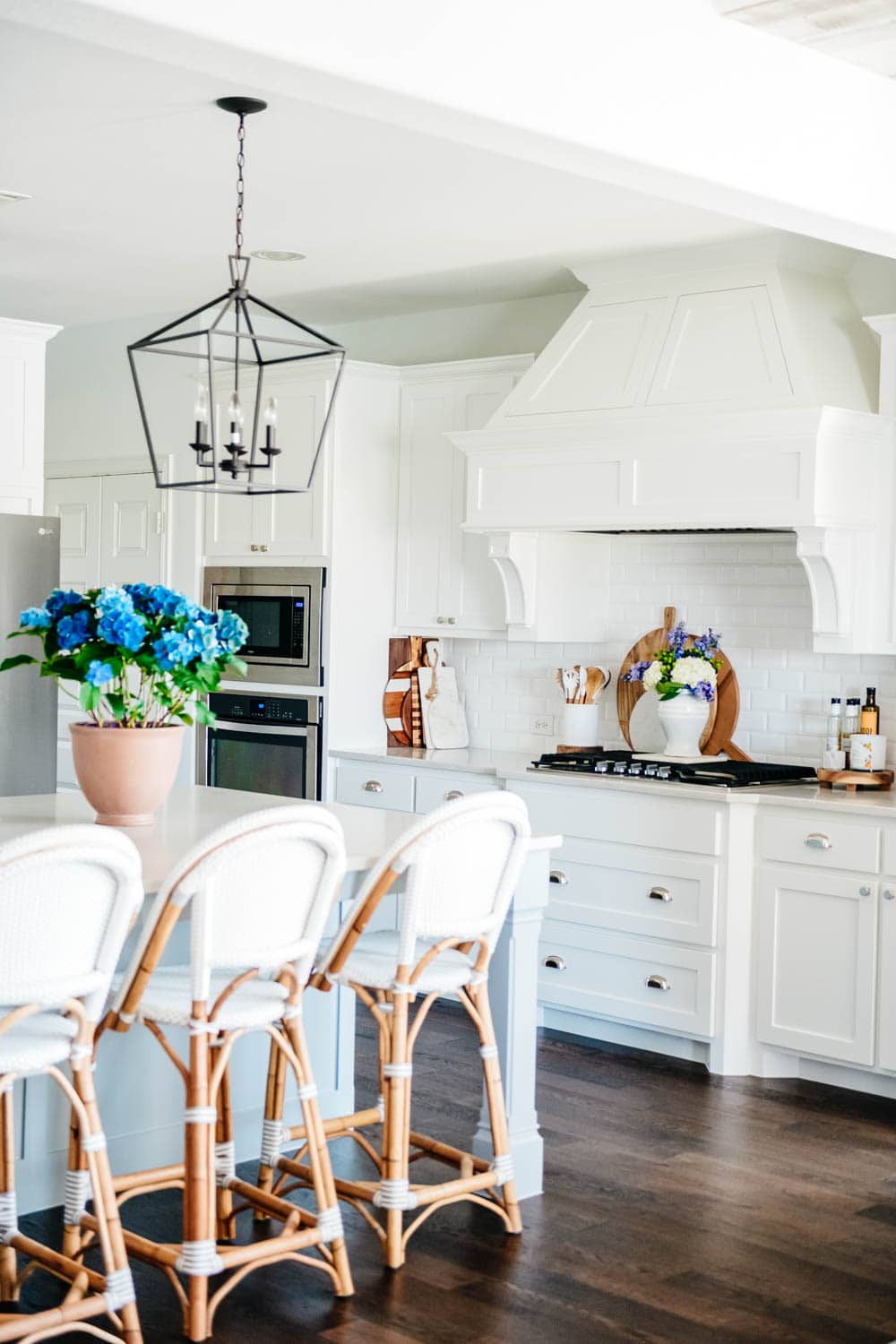 I love to layer them together with each other and it makes such a beautiful display. I have collected them over the years and some of my favorites were less than $20. These really can be the easiest things to collect over time.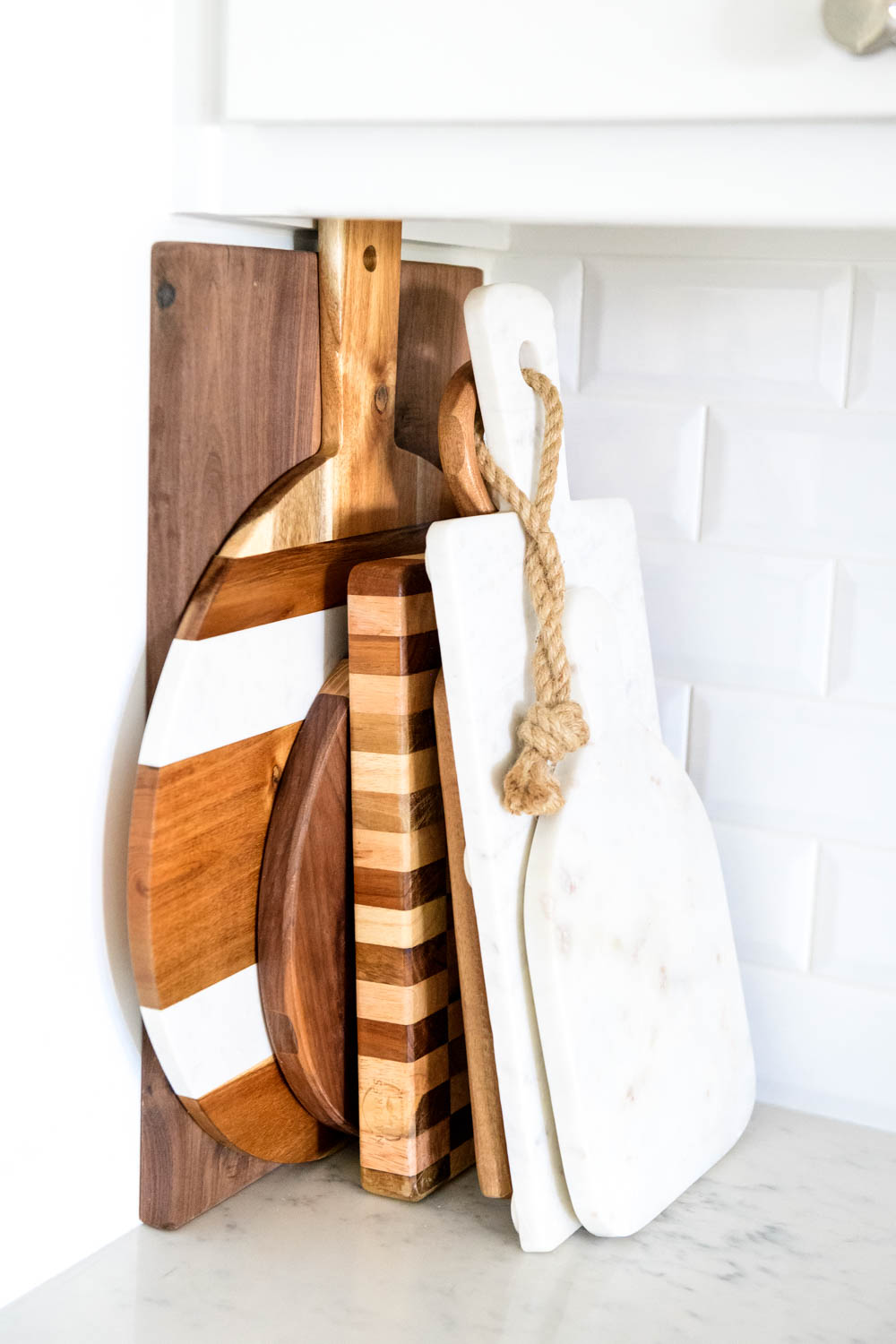 5. Add vases of grocery store flowers for additional color
I have talked about my love of grocery store flowers and how it is such an affordable way to get a designer-looking floral arrangement for a fraction of the cost.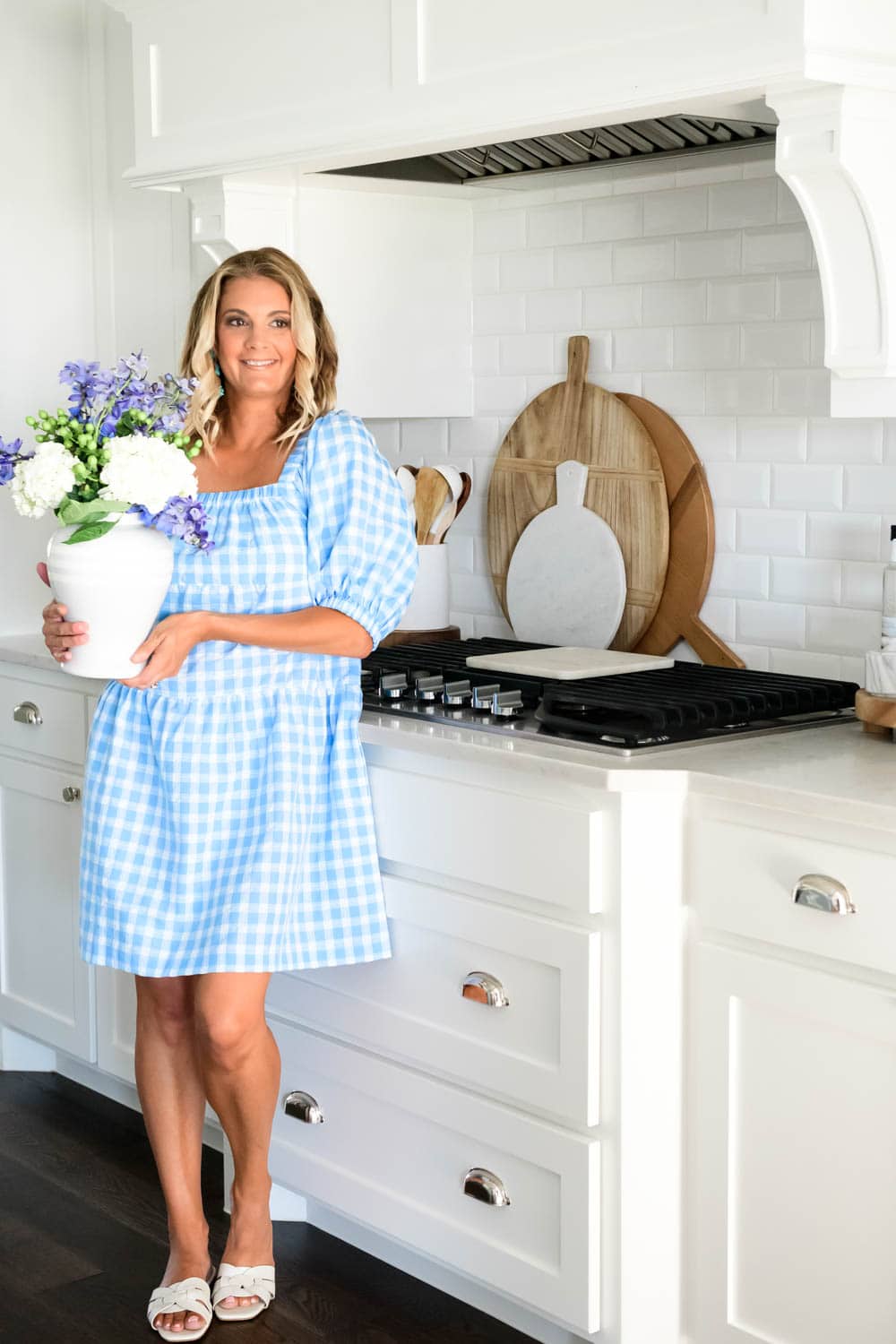 I typically choose 3-5 different types of flowers depending on how big the vase is. Then mix and match with other flowers for the other vases. Really this arrangement on my stove cost is less than $20.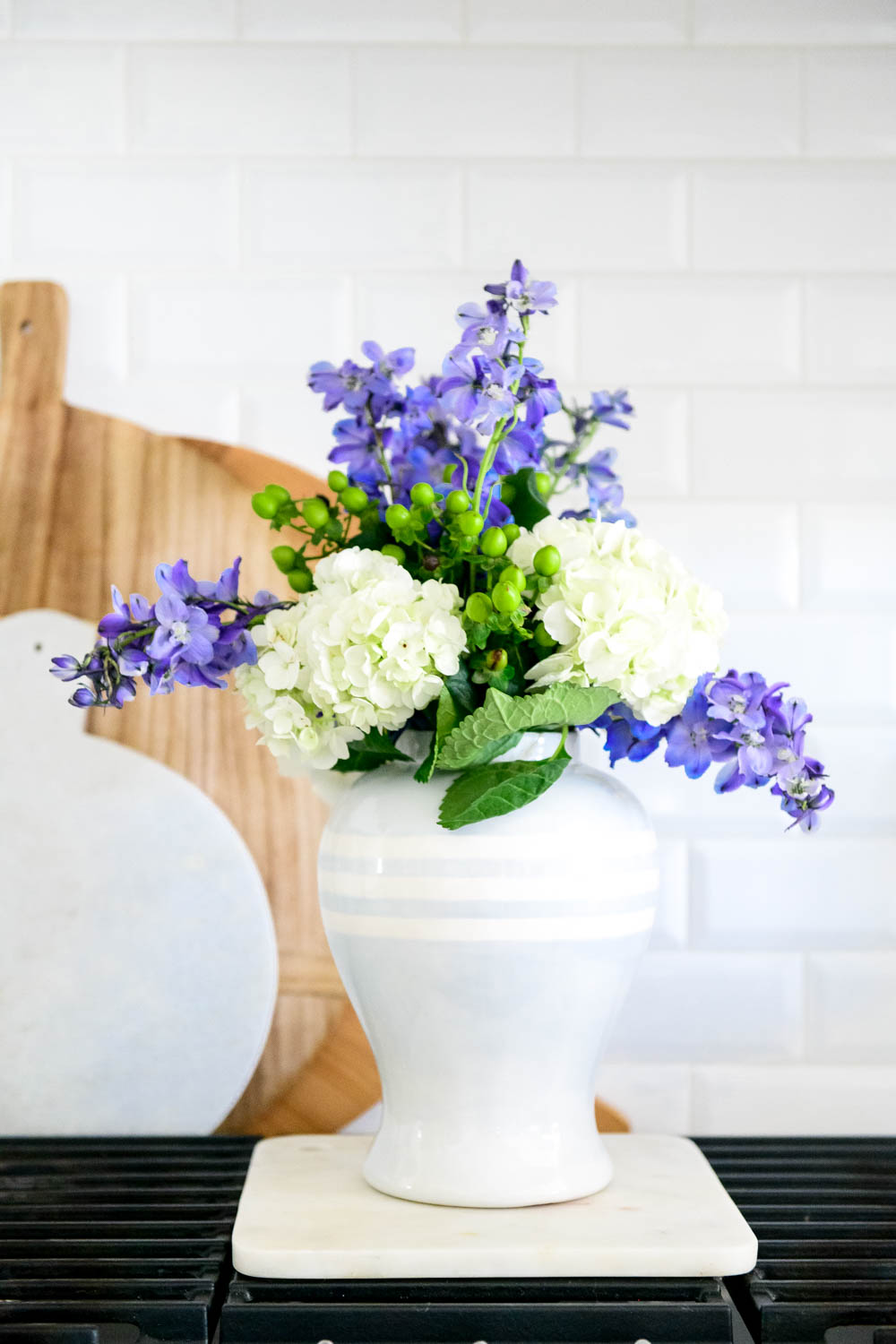 And that's it my friends! These five simple summer styling tips for the kitchen will affordably transform and add a pop of the season no matter what your design style is. I would love to hear what colors you are adding into your space!
Shop my summer decor
Scroll to shop all my summer decor pieces.

More summer home decor posts you will love:
You can check out past summer home tours here:
*Photography by Audrie Dollins
Follow along to get more of my tips on home decor, DIY, and lifestyle on the following: