Modern Bonus Room Sources + Details
Sharing this modern bonus room with all the sources and details. These bonus room ideas for a family are ideal for a game room, family room or that extra space you have you want to turn into a room for everyone to enjoy. Highlighting affordable sources for lighting, rugs, and art for a bonus room makeover.
Are you ready for another room reveal?! This time I am sharing our bonus room or what we call our upstairs game room.
A few weeks back I shared all the design plans on this room. This was not a room I was on my radar to tackle this year but was spurred on by an upcoming brand collaboration I will be sharing soon and I am so glad I did not that we are homebound.
In my bonus room design plans I also updated you on our media room status. That was a room I started at the end of last year. At the end of the day it all comes down to budget and for me to finish that room the right way it is going to take some saving on our end. So that room is currently on hold for now.
Modern Bonus Room Reveal:
If you would like to get caught up on our new home build, then you can check out this post HERE. It was such an amazing journey of designing and watching our home being built.
Bonus Room Before:
So when we moved in almost 2 years ago this is what our game room or flex space looked like at the top of our stairs.
This post contains some affiliate links for your convenience. Click here to read my full disclosure policy.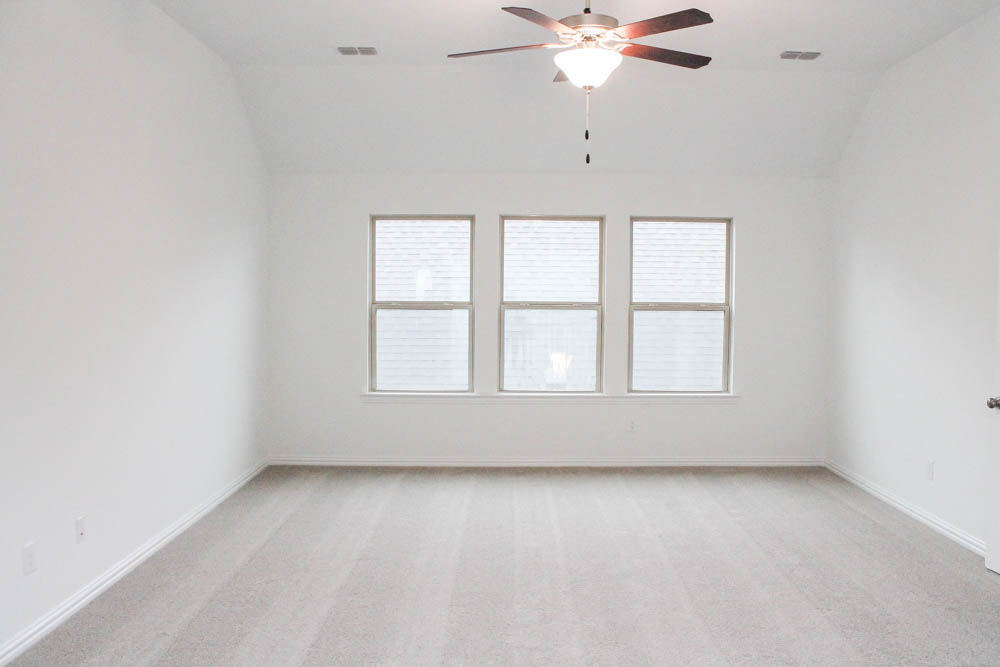 That room on the right is the media room. As you can see this space gets really good light especially since the house next to us is a one story home. I love the light that pours through these 3 tall windows.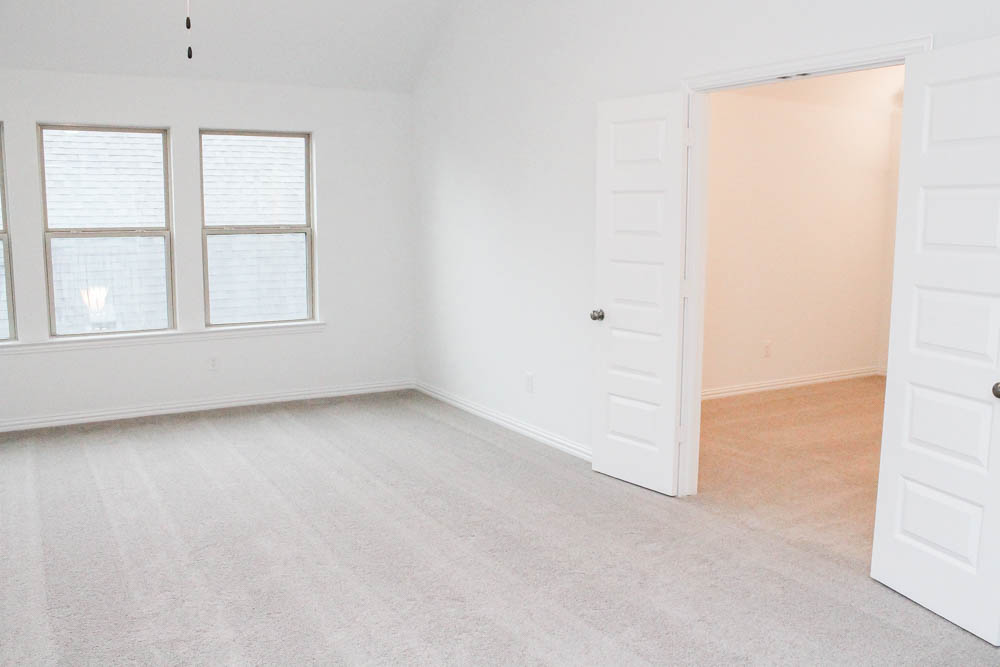 Here is where you can see the hallway to the other bedrooms. The arched doorway on the left is to the guest bedroom and bathroom and the arched doorway on the right is to the hallway for the other two rooms.
So essentially when you walk upstairs this is the hub of life for our family and for now what Lauren has been using as a playroom. She is slowly getting older which made me want to make this room be able to transition into a teen hangout in the next few years.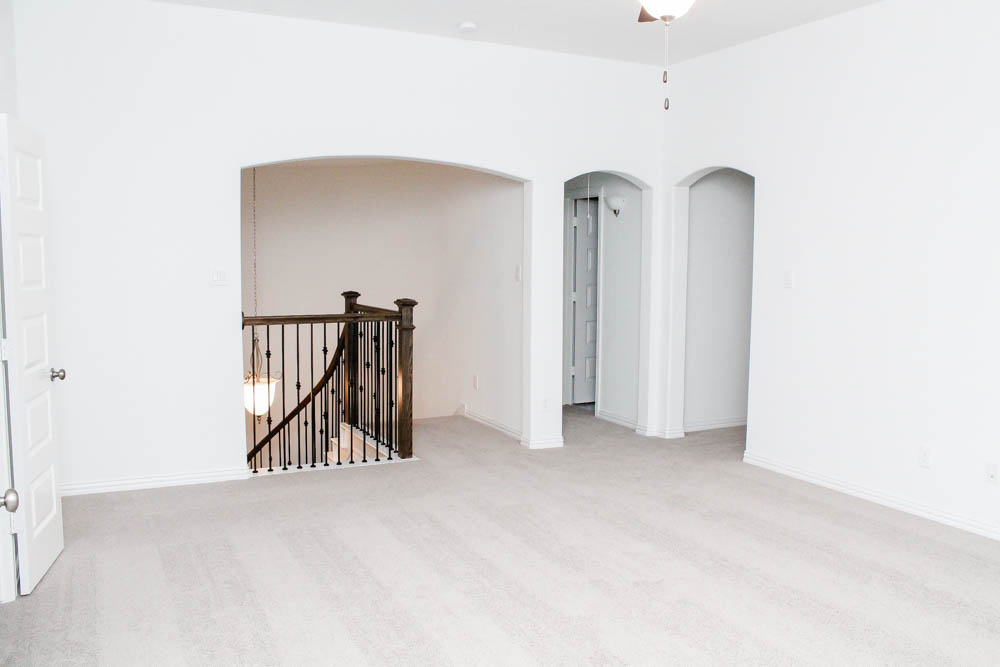 Bonus Room After:
And this is what you see now when you walk up the stairs.
I set it up like a family room and then split some of the space on the outer edges for a study space and game space.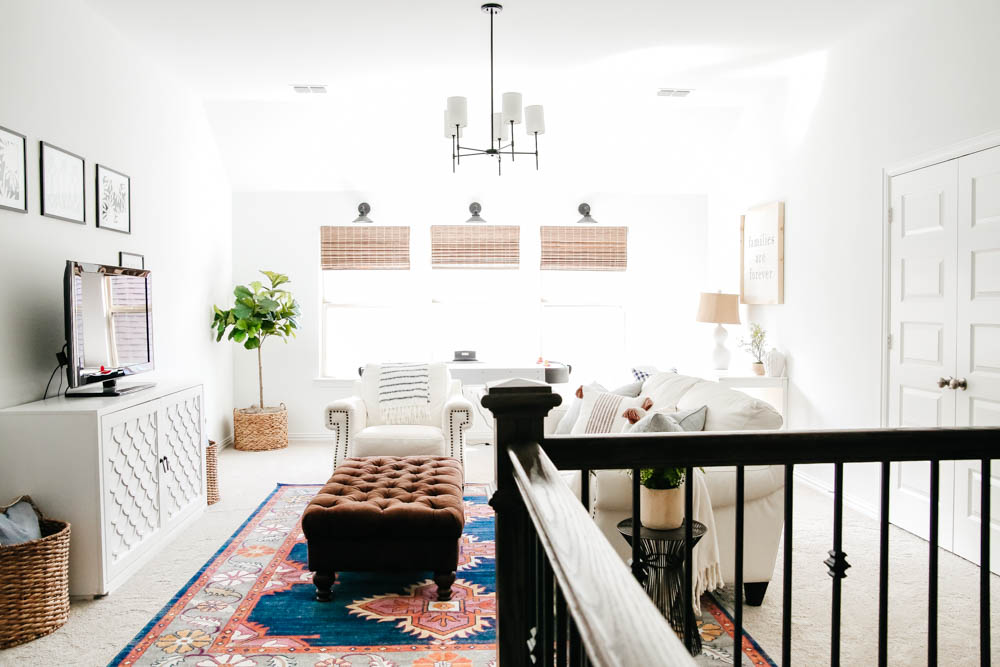 As you can see the light is amazing in here so I did simple bamboo shades that we can use if the sun is directly shining on the tv and help overall just filter the light. They are the same shades we have in our breakfast room, my office (coming to the blog soon!) and my husband's home office. We love them and I plan on adding them to our living room windows soon too.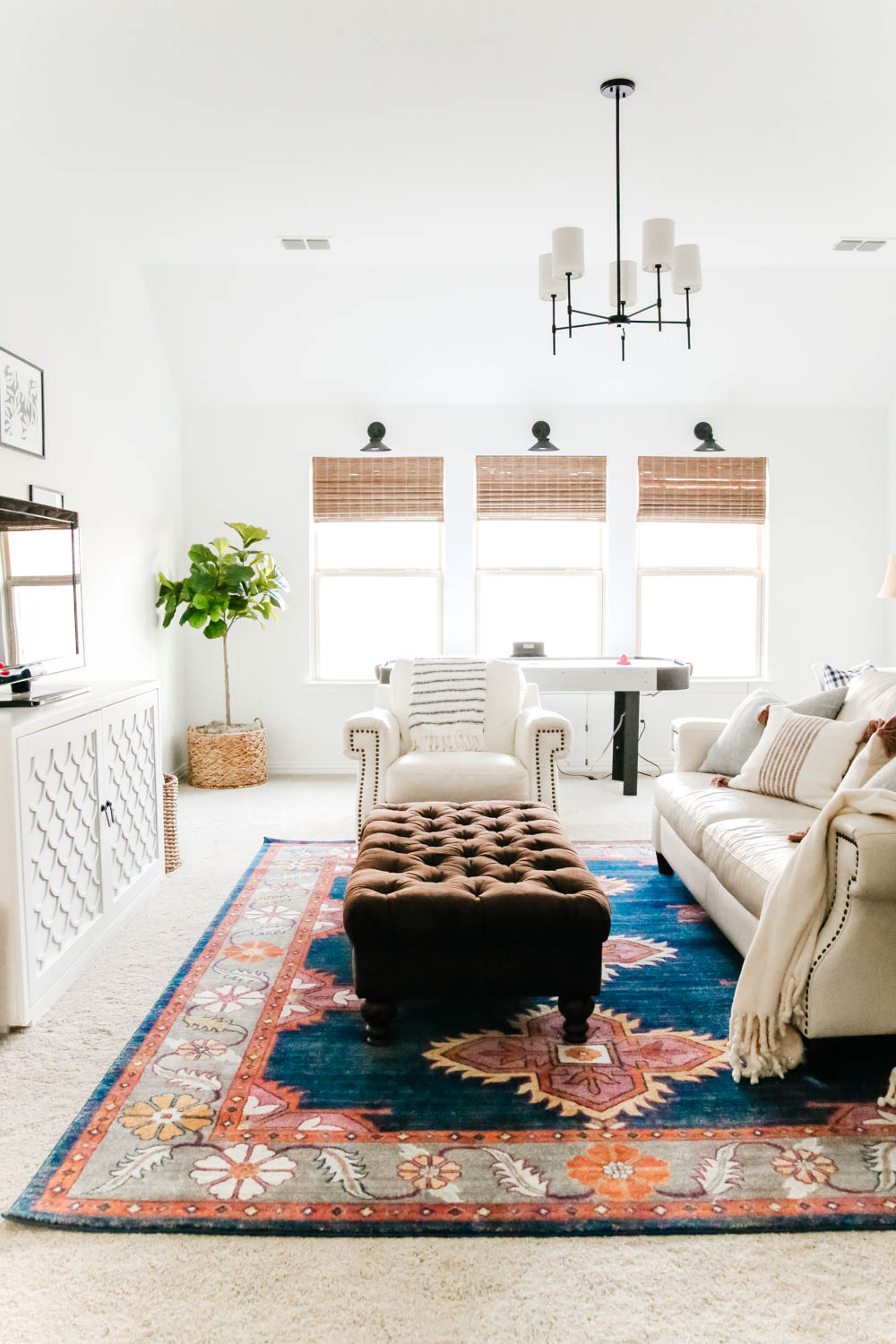 I used my friend Brooke's magic light trick on these farmhouse sconces (I found them for a steal for less than $40!) and love to light them up at night when this corner gets a little dark. If you have not tried this trick with puck lights then you HAVE to go check it out. You will want to add sconces all over your house!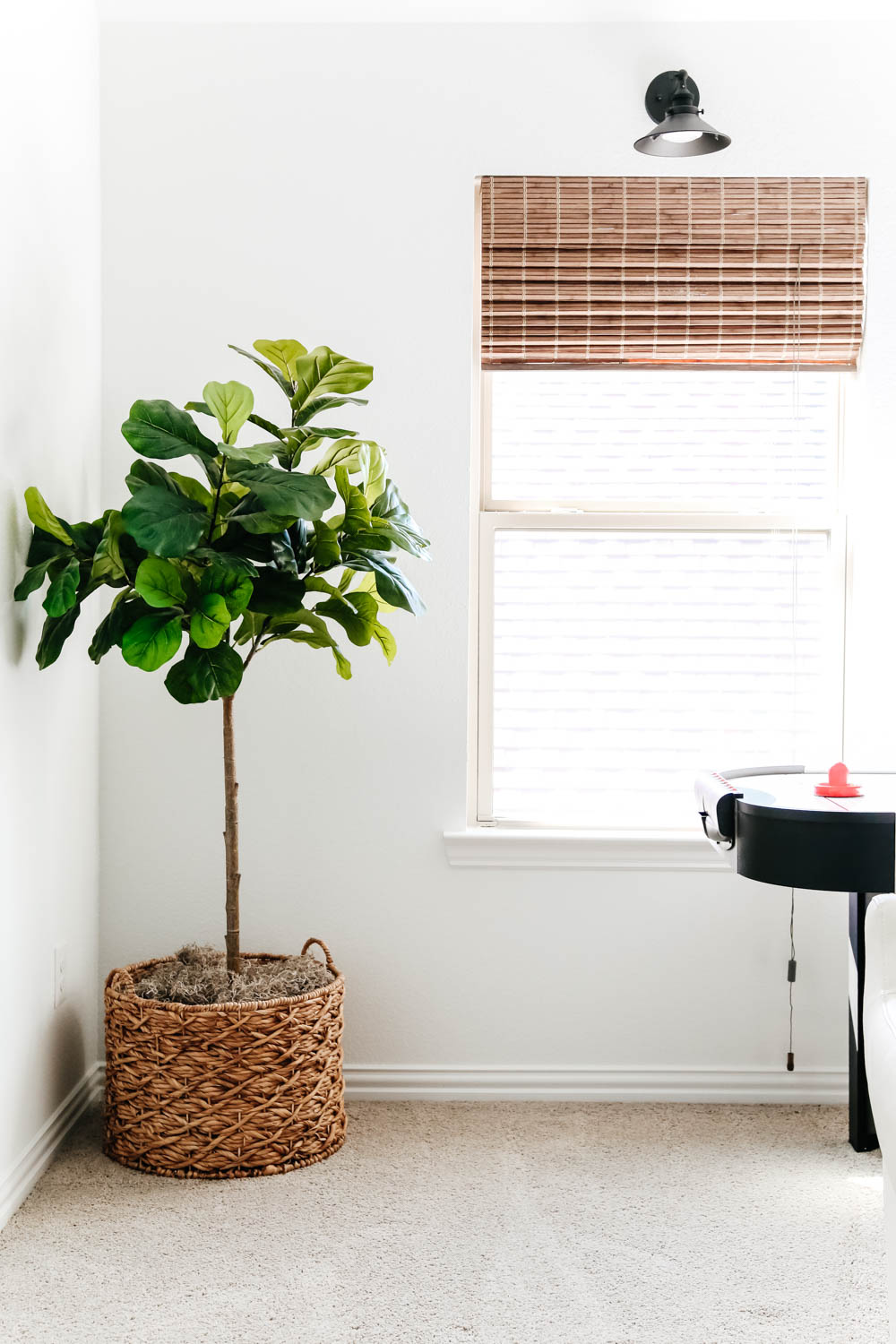 I decided to keep the main pieces of seating furniture in here because at this time it is relatively in good shape. You can see in my design plans post though what I will be changing them out to in the next couple of years. If you can believe it this sofa and chair are already 7 years old and I found them on Craigslist when we moved here for around $800 total.
The ottoman I had custom made back in Los Angles when we lived there. I wanted something the baby could pull herself up on and not bonk her head. It has been through the wringer with baby spit-up, food spilled and so much more and it still looks great. I love the soft brown suede and it is just a comfy piece of furniture to have. Ultimately I would love to put a coffee table here that is round and takes up less space.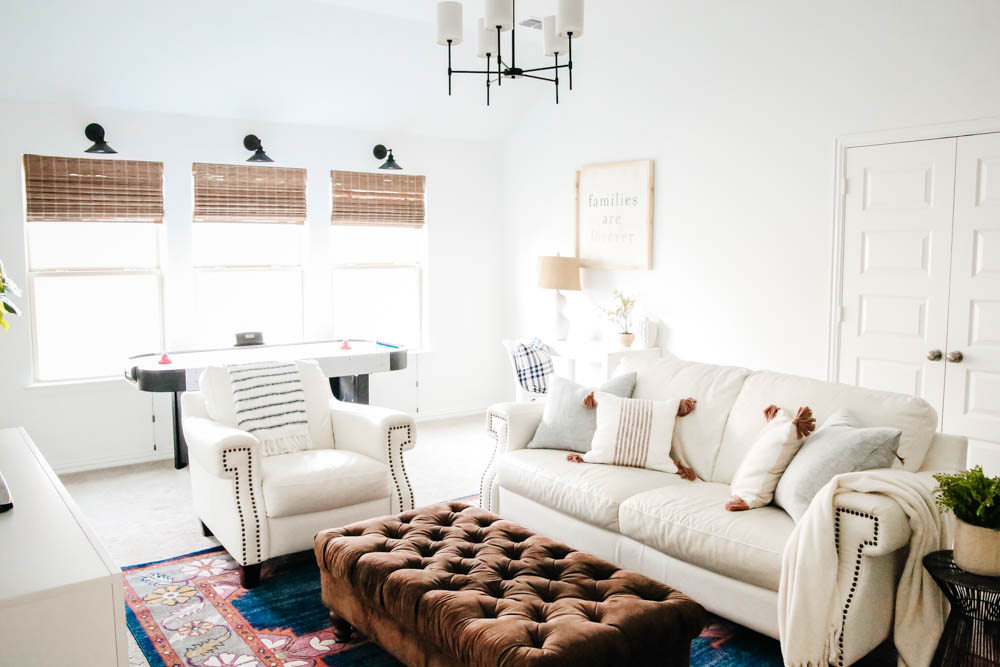 Now we have to talk about this rug for a hot minute. I am so in love with the deep vibrant colors and transitional pattern but our cat Sasha might be in love with it more. Ever since we got it she has gone MIA at night and is not sleeping up on our bed. So one night I went looking for her and this is where she was. She loves it so much that she never leaves now. So if you want to ask me if it is cushy for your feet then take Sasha's word for it and yes it is!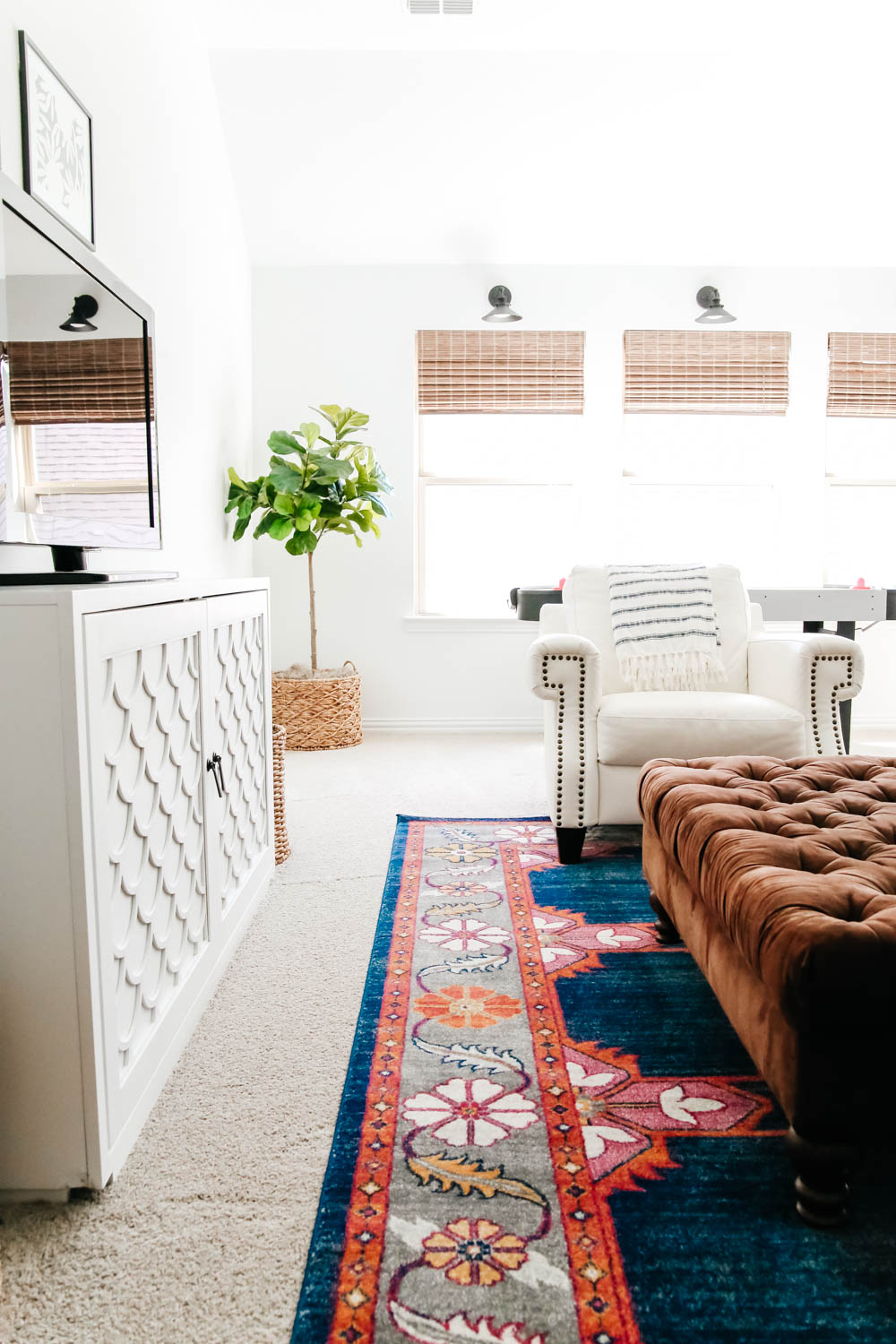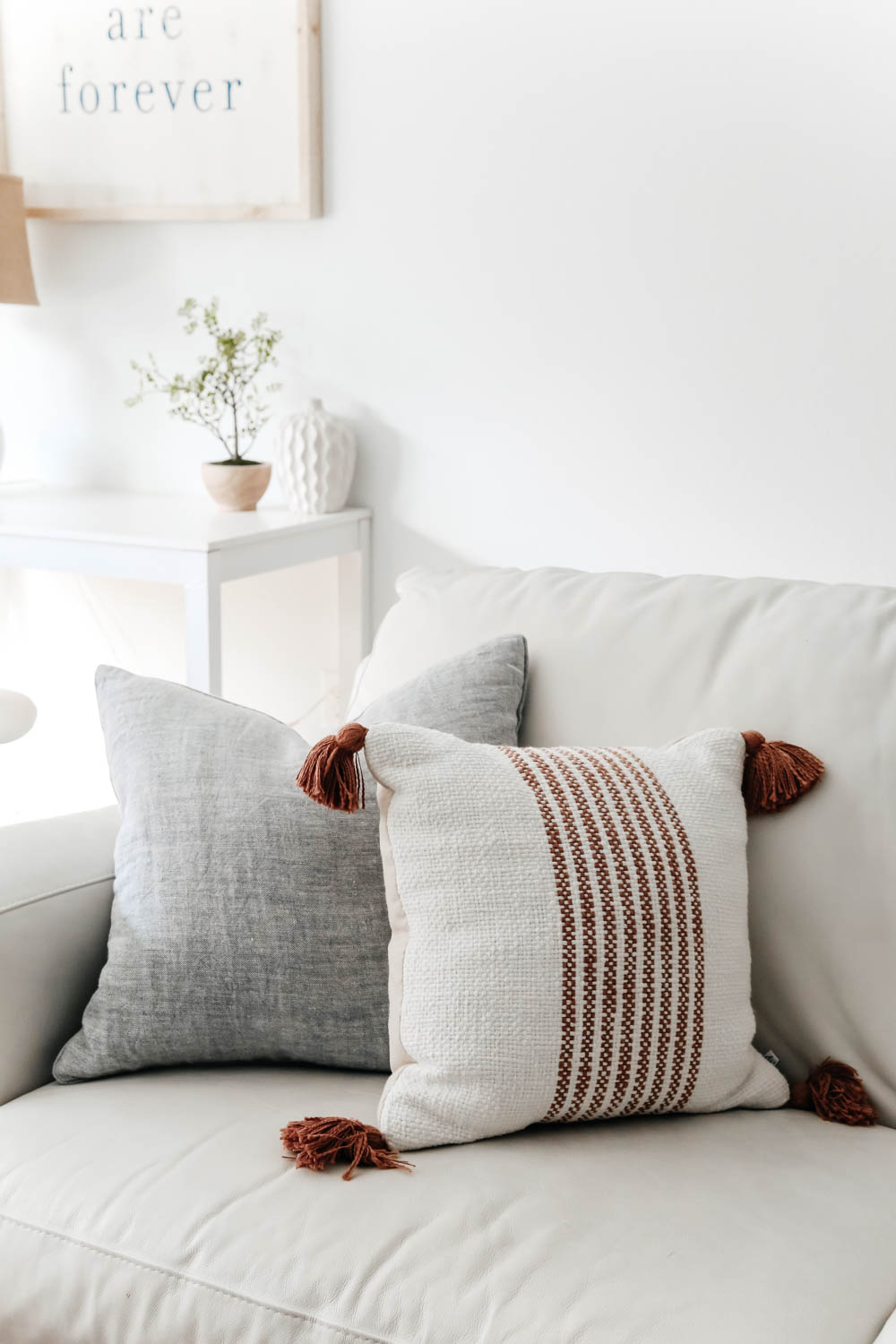 I decorate with accessories that were affordable finds and really inexpensive since kids mostly will be hanging out in here. These striped tassel pillows and blankets are all Target finds. Of course, I just love their threshold brand. I think the color of these pillows ties in with the new rug perfectly.
I also have 4 of these plush soft blankets that are under $40. This cream one goes with everything and is one of our favorite blankets to cozy up with.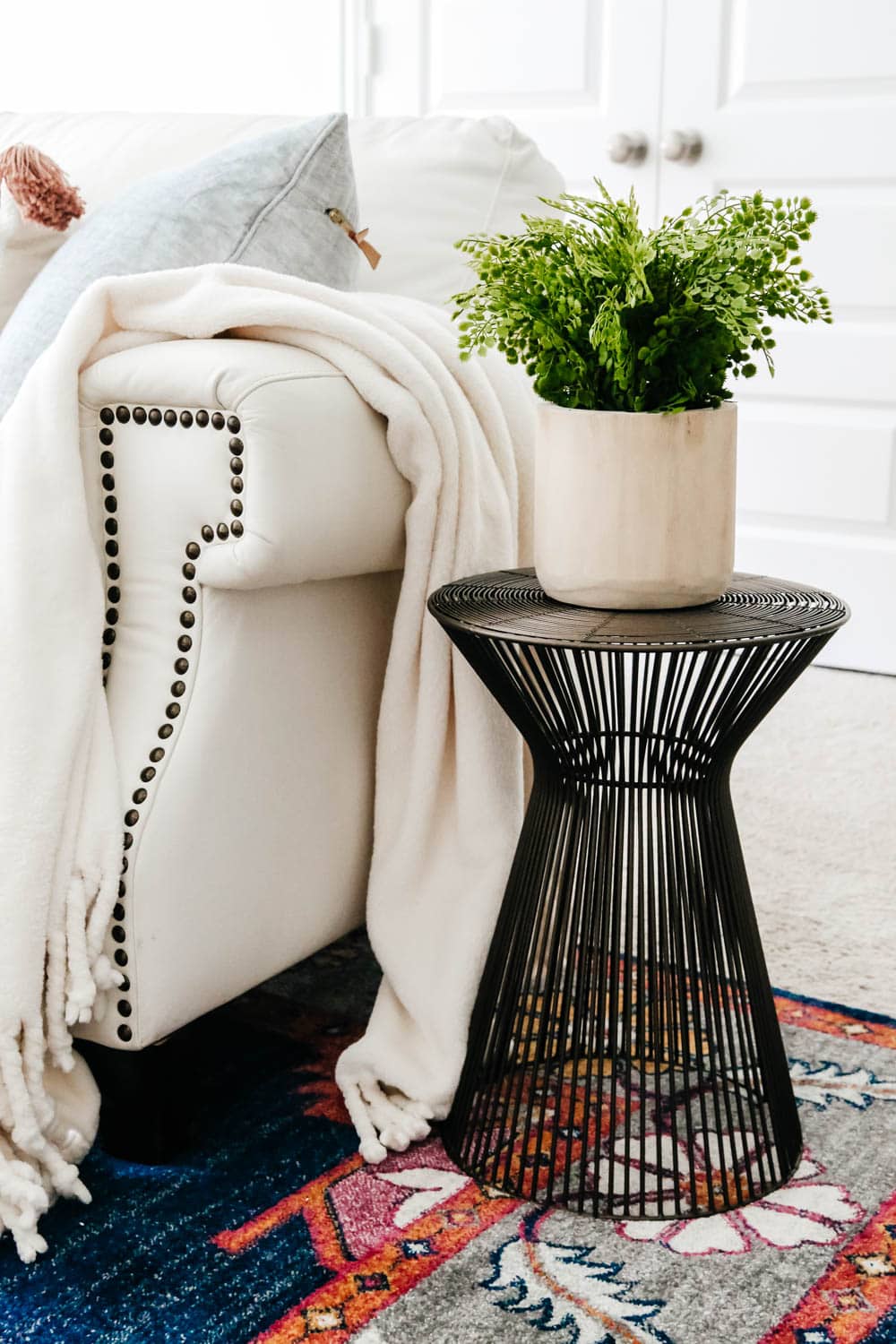 I am loving the mid-century modern trend mixing with farmhouse decor these days and fell in love with this round metal wire table. It is the size of a garden stool and easy to move out of the way if need be. It also was a very inexpensive find.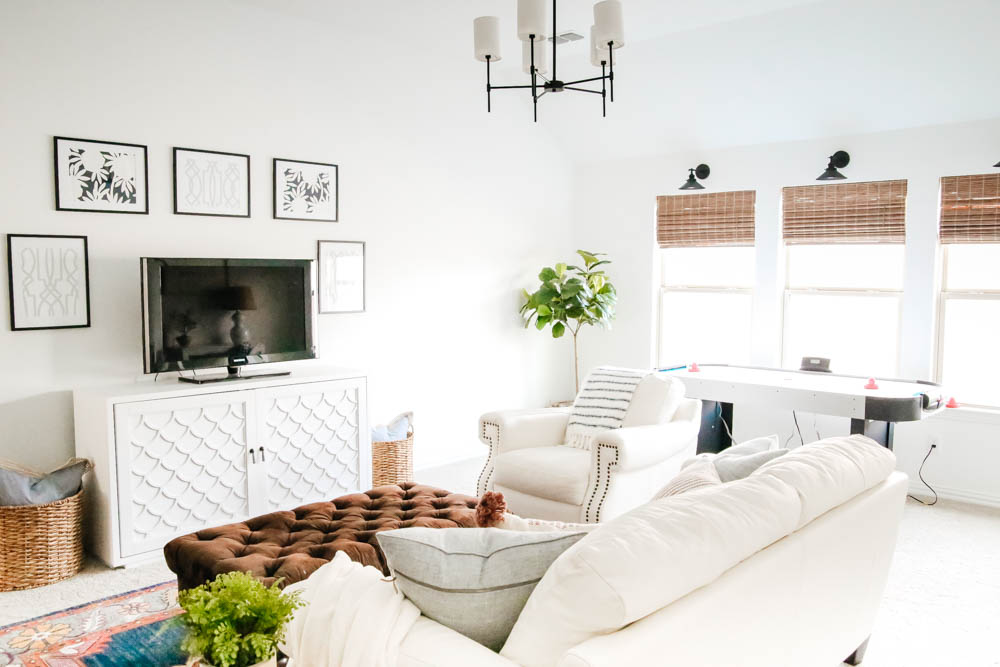 You might have seen on Stories the other week me showing you how I was making this gallery wall. I could not for the life of me find art that I love for here so I used wallpaper I had leftover from some projects and put them in some black frames I found from Walmart. Now I think I don't need art for them I love the patterns so much and what it adds to the room. I hung them up using 3M command strips and love how easy it is to create gallery walls using them. No more nail holes for me!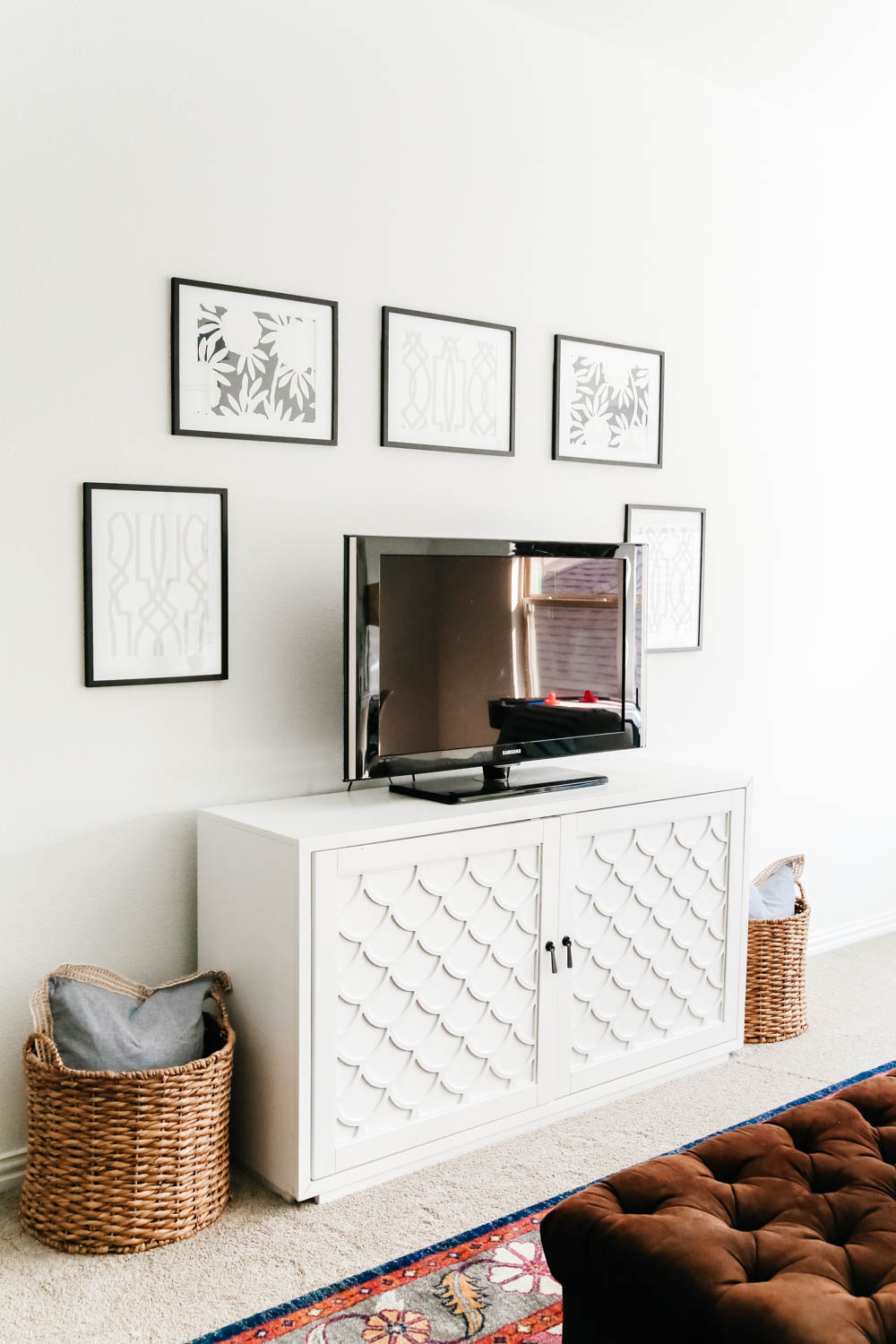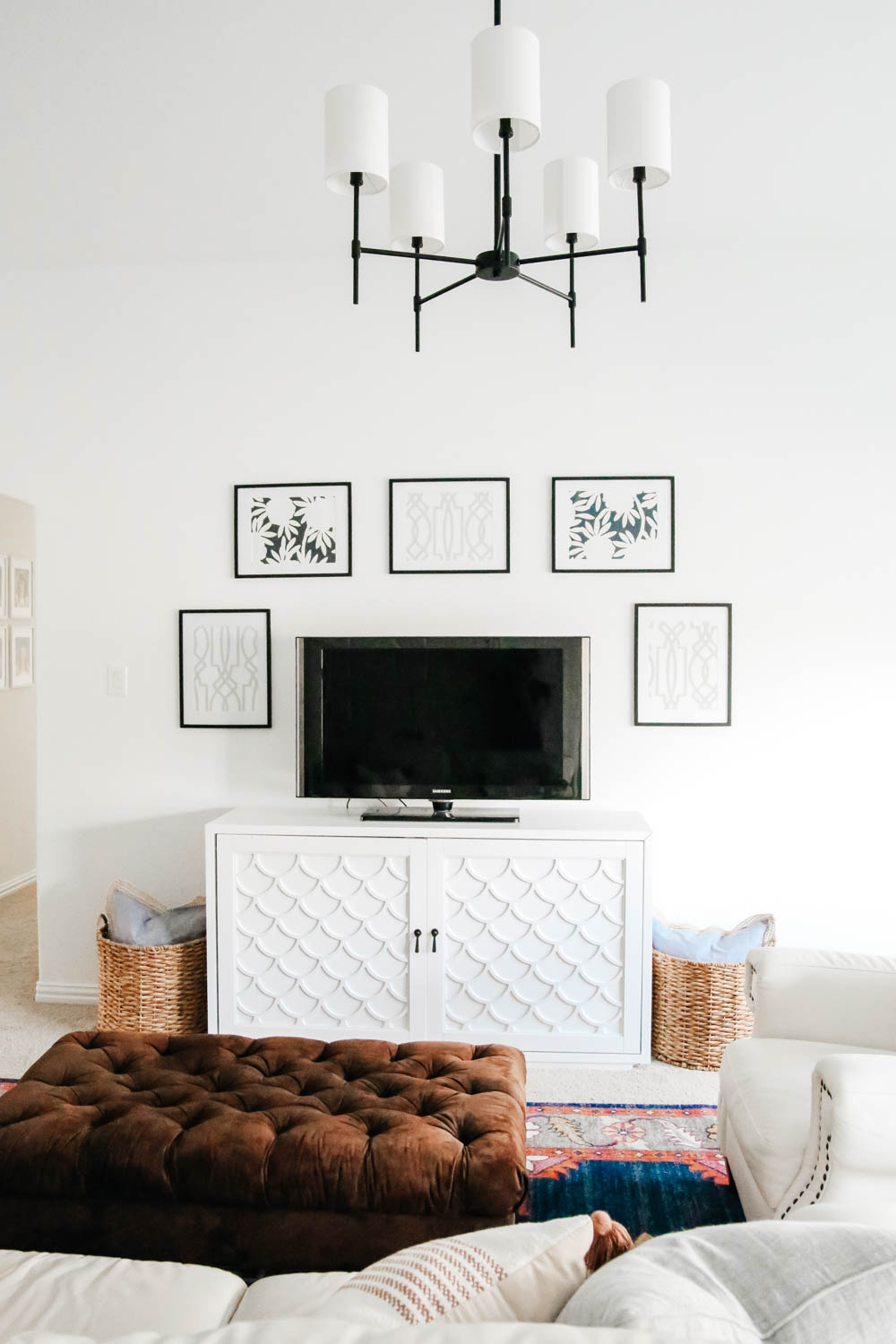 I added a couple of baskets to each side of the console for extra pillows and blankets. You can never have too many so having them corralled in baskets is the easiest way for them to not look messy.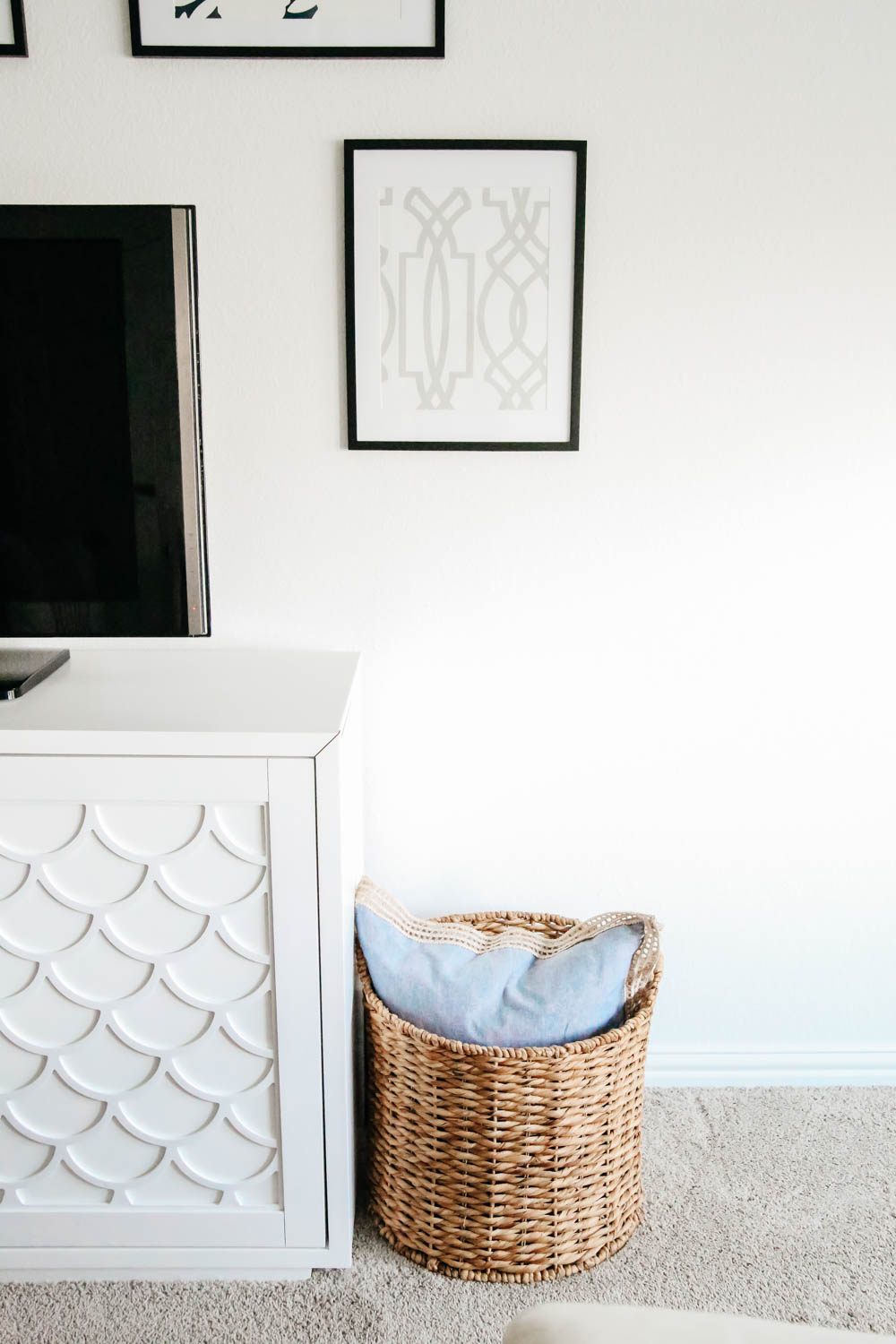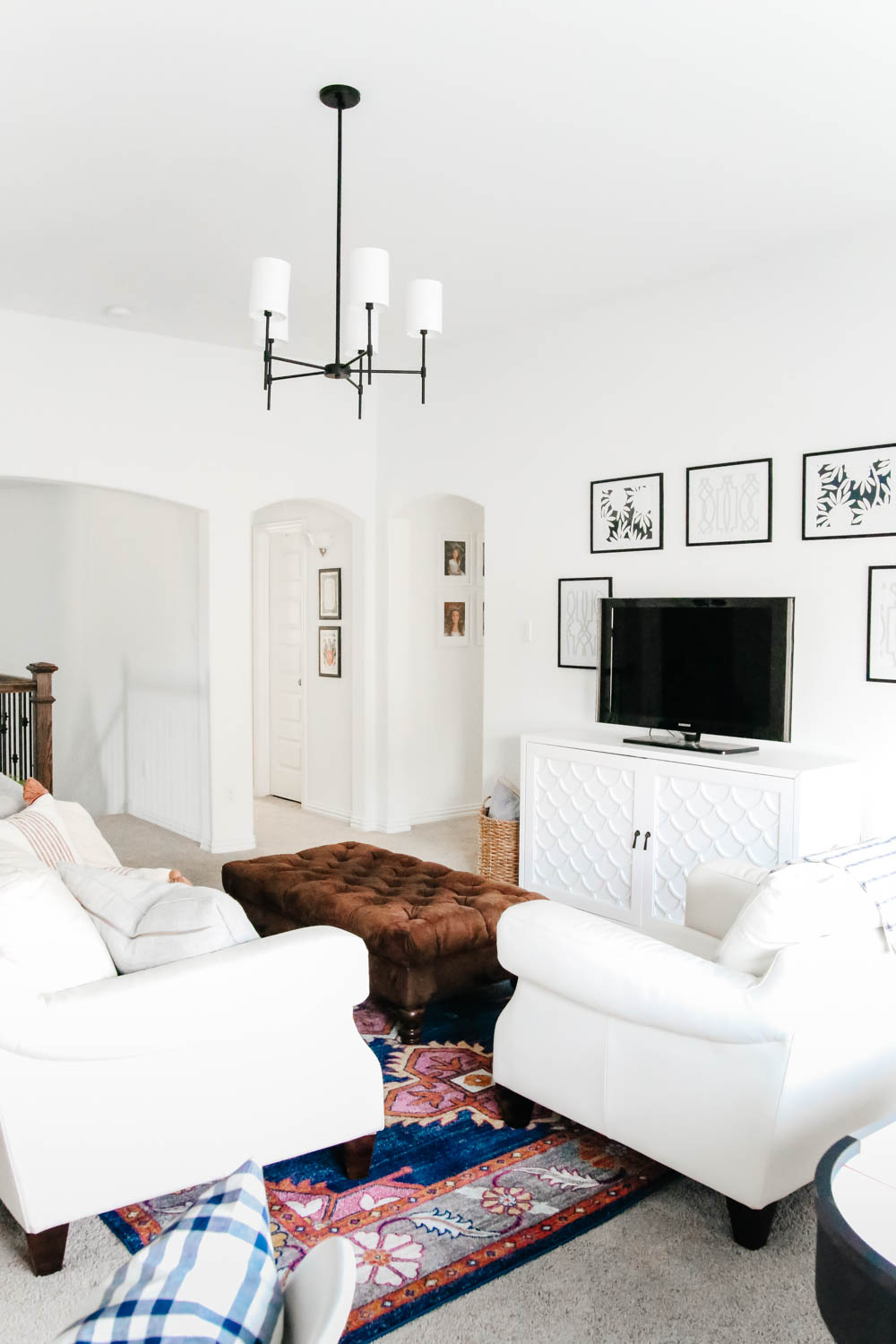 Under our three windows is where we added an air hockey table. My family LOVES air hockey and this is just another great way to keep Lauren off of technology which is a big focus of ours with her. It is not an expensive one but I did buy the warranty for it just in case any of the parts break too soon. I would highly suggest doing that. We have loved this table so far and use it all the time.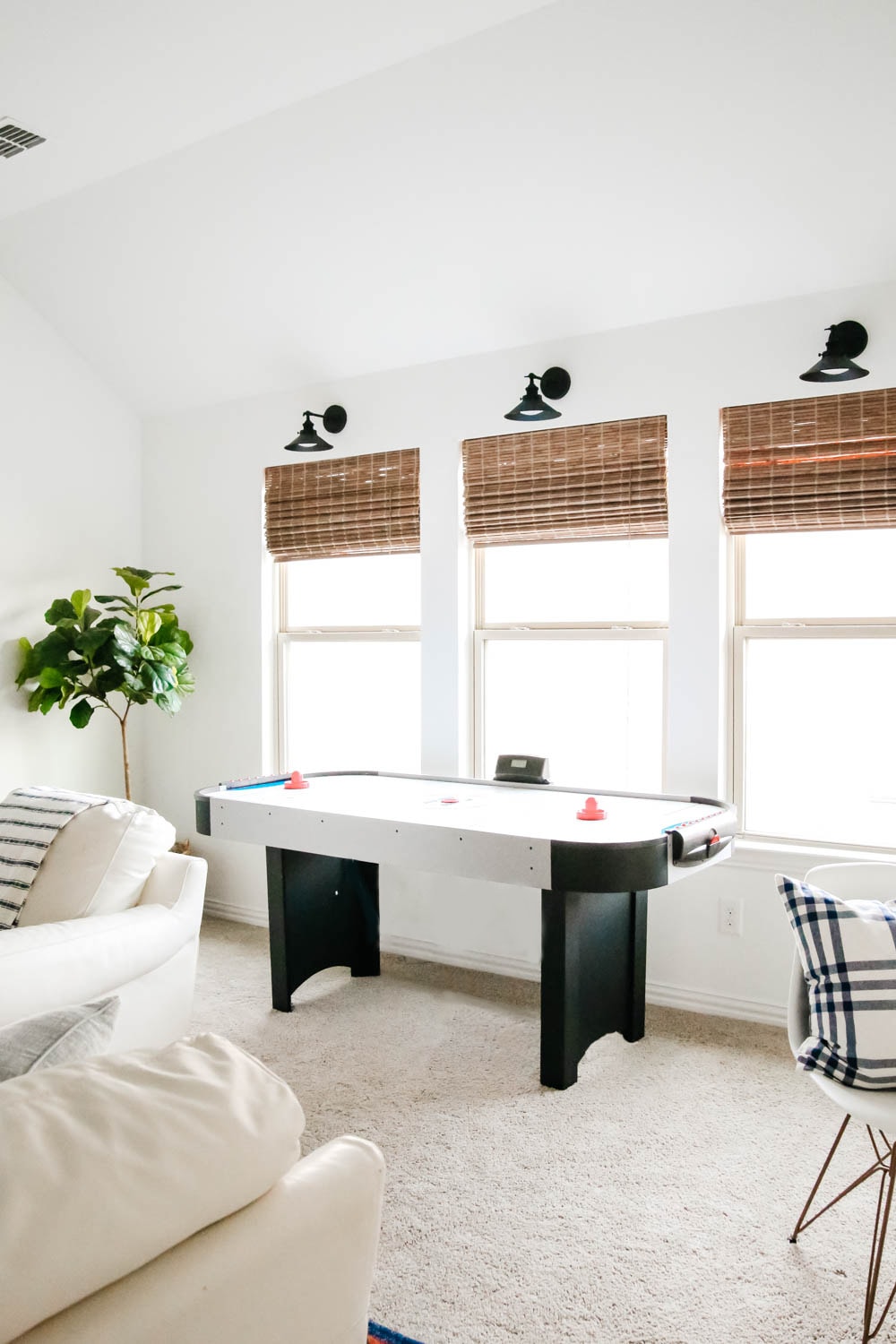 I also created a little study space for Lauren. I just added a small white table with a lamp and some art. She is definitely starting to bring home more homework and needed a quiet space to do it. I also like to use this for arts and crafts and journaling.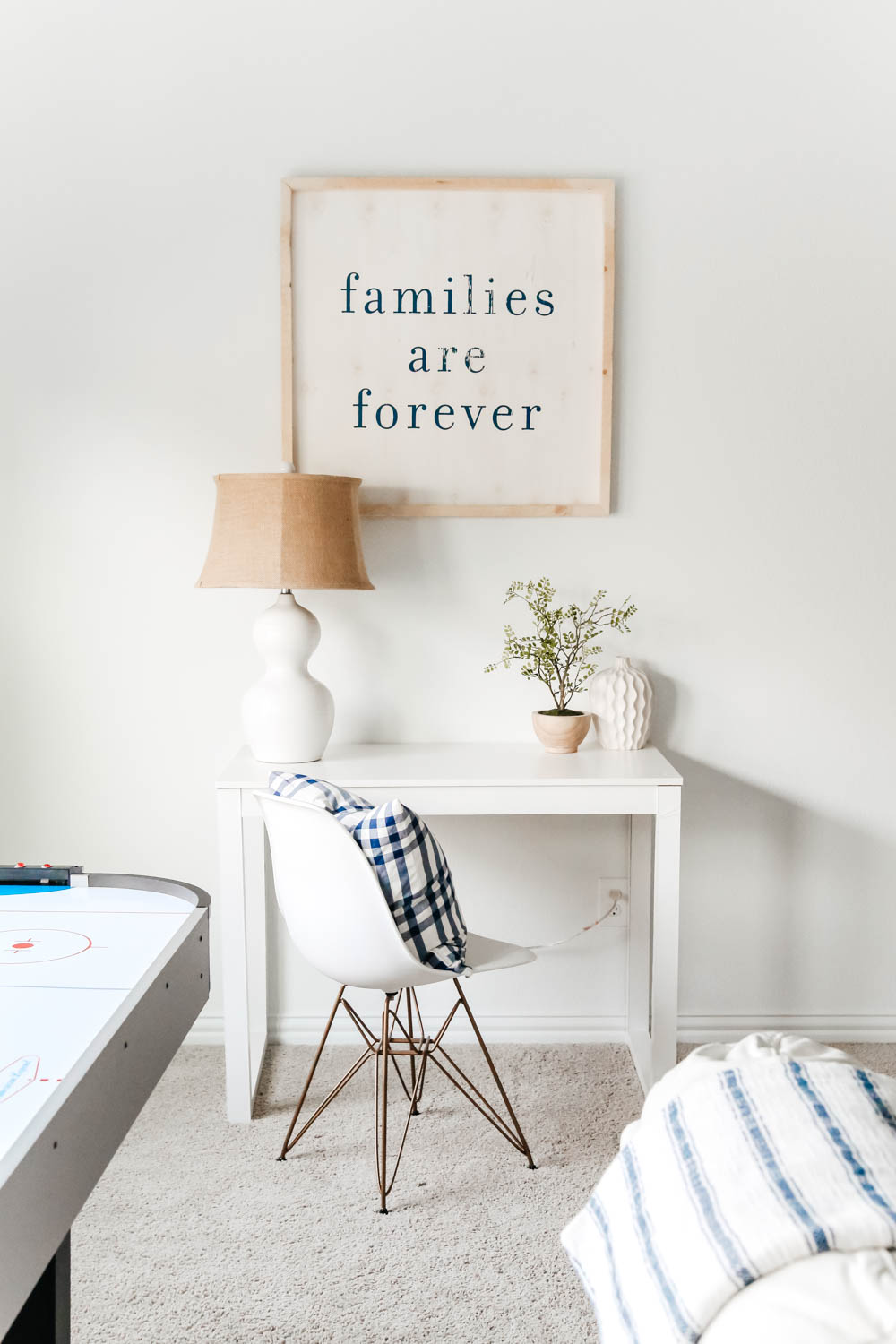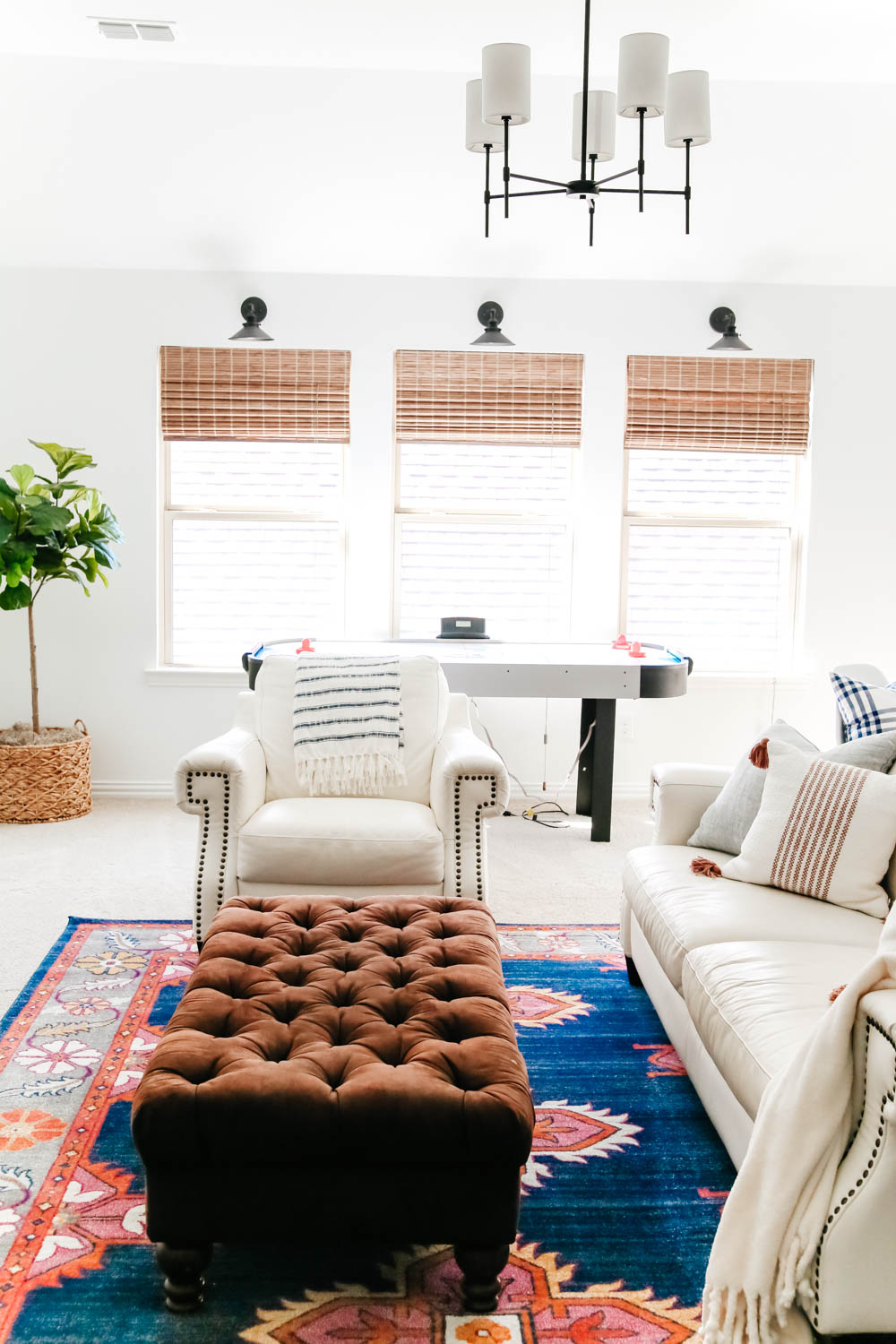 So I hope you loved this budget-friendly bonus room and got lots of ideas to turn a space in your home into a fun family game room!
You can shop all the sources for this room below.
Source List:
Wall Paint Color: Sherwin Williams – Bright White in Matte
Trim Paint Color: Sherwin Williams – Bright White in Semi-Gloss
Carpet: Beverly Glen in 512 Cement

YOU CAN SHOP ALL THE SOURCES FROM OUR GAME ROOM BELOW.
{scroll and tap the photos below to shop them}