Modern Coastal Master Bedroom Reveal
This post may contain affiliate links. Please read our disclosure policy.
Sharing a beautiful modern coastal master bedroom reveal with a full source list to easily achieve the same look in your own home as well as coastal bedroom ideas to inspire. Timeless affordable pieces help to pull the design of this space together for a breezy fresh look.
I am excited to share our modern coastal bedroom finally with you all! We finished most of it before Christmas and then finally got the remaining pieces in early February.
Typically bedrooms are a room I like to finish first when decorating a home because it really should be a place of total comfort and escape from the stresses and pressure of daily life. But it took me a bit longer because I wasn't sure what direction I wanted to go in.
Finally, I decided to do a more modern take on the coastal look that I could easily transition for seasons with throw pillows, blankets, and other small decor pieces.
We love how it finally turned out and it has become one of my favorite places in our home.
This post contains some affiliate links for your convenience. Click here to read my full disclosure policy.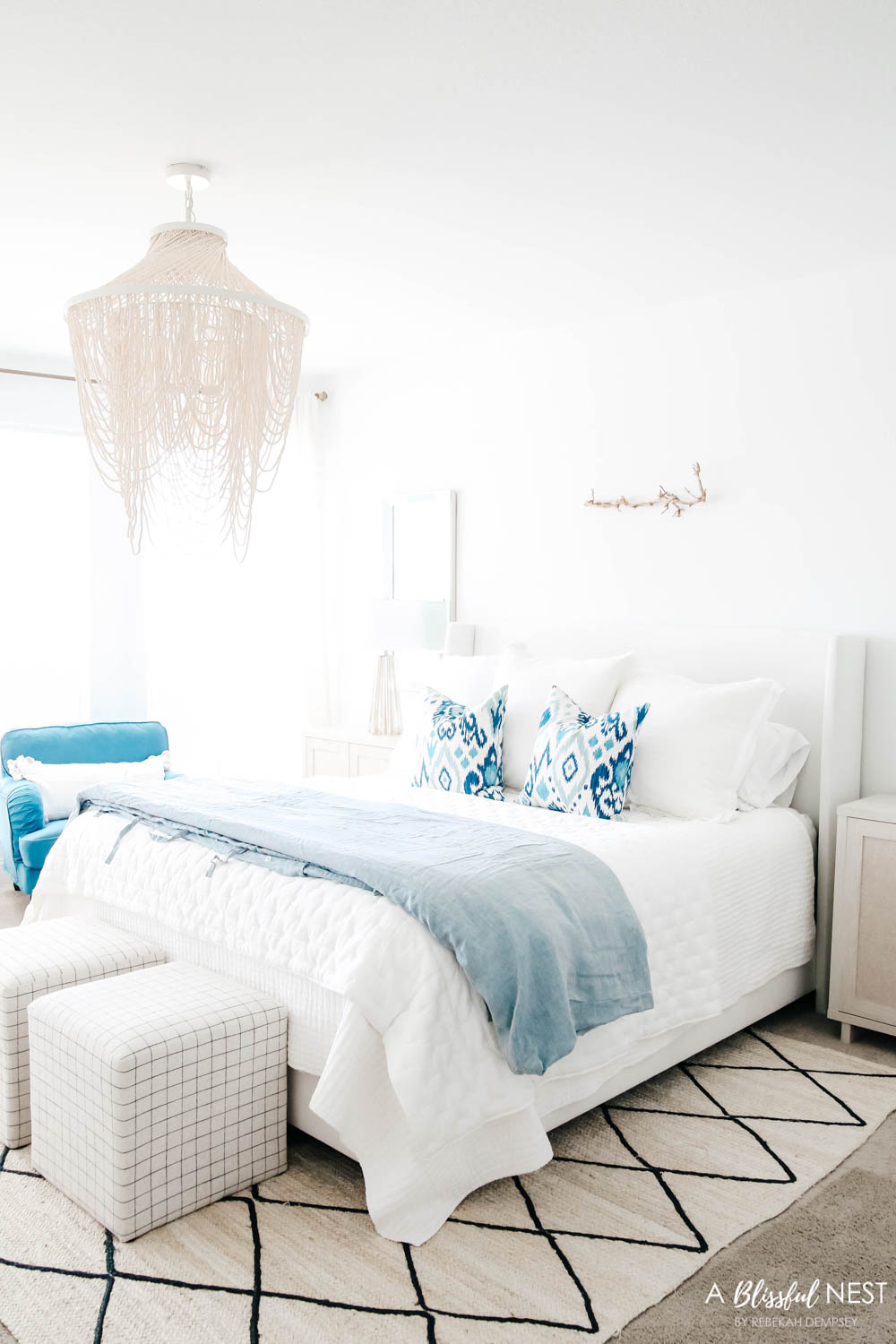 Modern Coastal Style Bedroom Ideas:
I thought I would give you some modern coastal-style bedroom ideas to help you update your space and get this easily transitional style. There are a few things that distinguish it from other decor styles so take note of these elements.
What is a coastal style bedroom?
Coastal style bedrooms have lots of light and use shades of blues, greens, and neutrals as the overall color palette.
I love to use lots of texture like jute, sisal, and rattan to get that breezy look rather than actual nautical decor. Between color and texture, you can achieve a dreamy and calm retreat that feels like you are at the beach.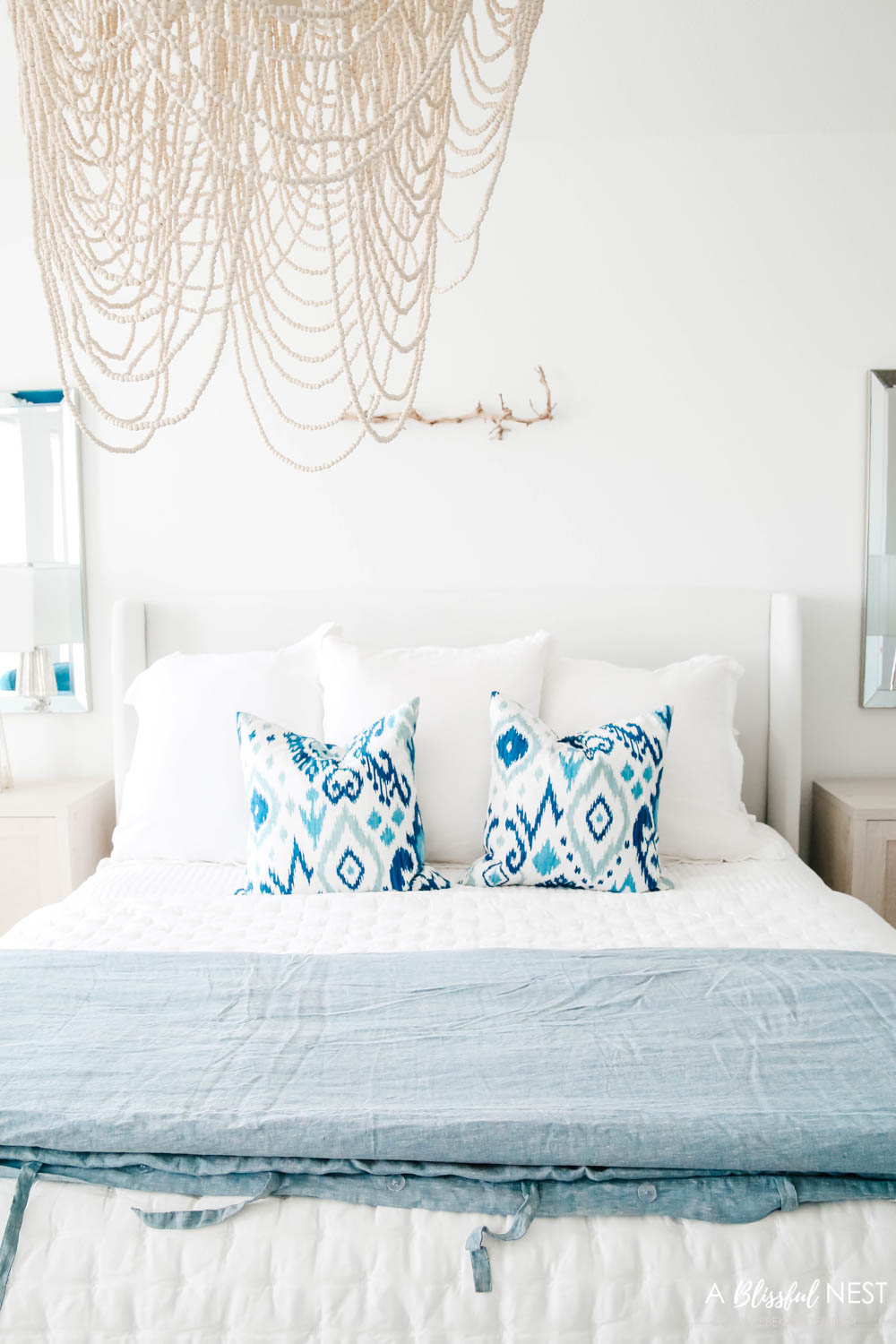 How can I make my bedroom coastal?
I love to use elements I might find at the beach or that remind me of colors I would see there.
I picked these ikat patterned pillows because they have a couple of different shades of blue in them and have a wave feel to the pattern all reminiscent of the ocean.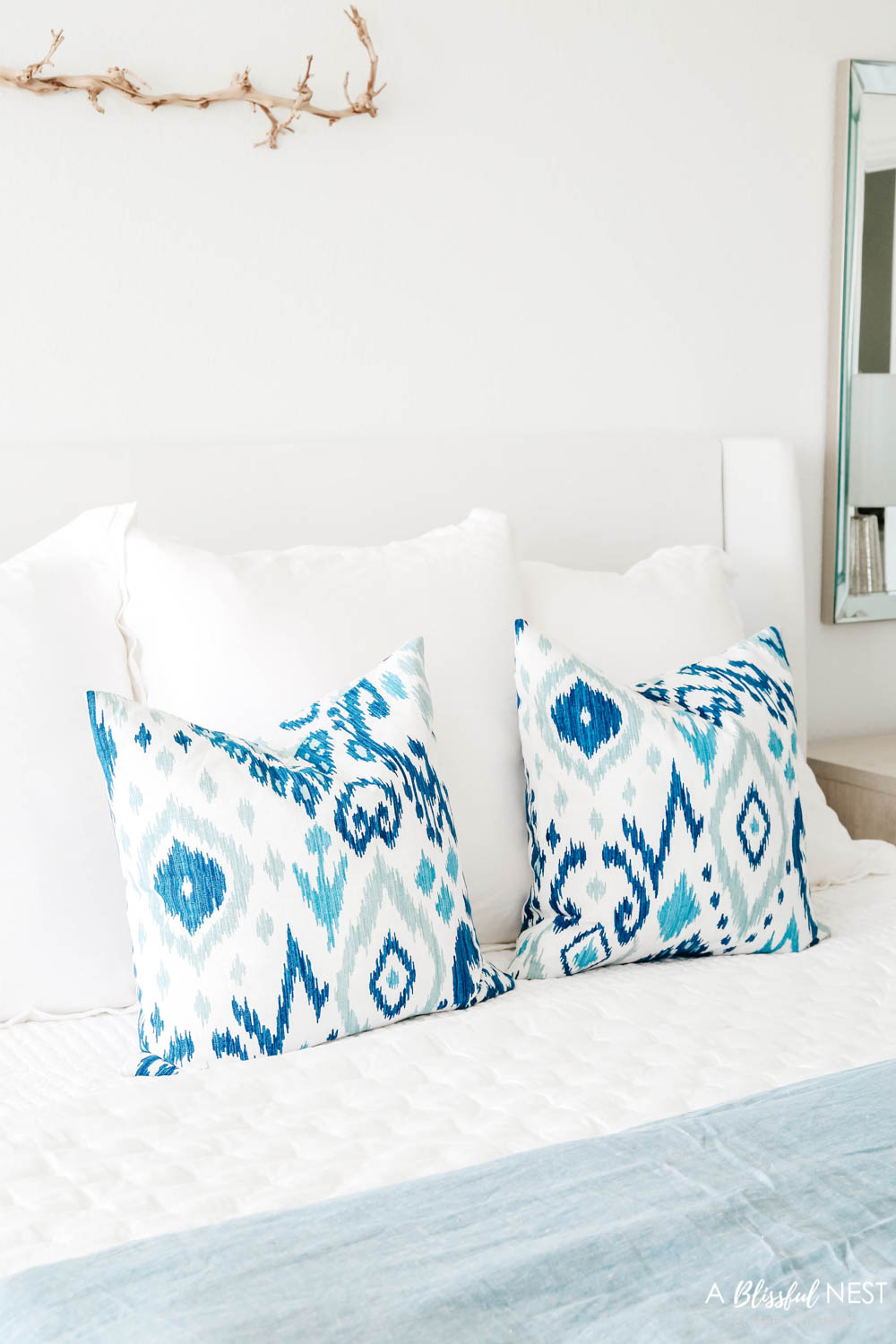 I also picked a large grape leaf branch and simply used a couple of nails to secure it to the wall above the bed. It reminds me of driftwood on a beach and I love the whimsical touch it adds.
These ottomans in this sandy tan color are very casual looking and a great place to remove shoes and are easily moveable to other areas of the room if needed. Their color adds a layered look to the all-white bedding.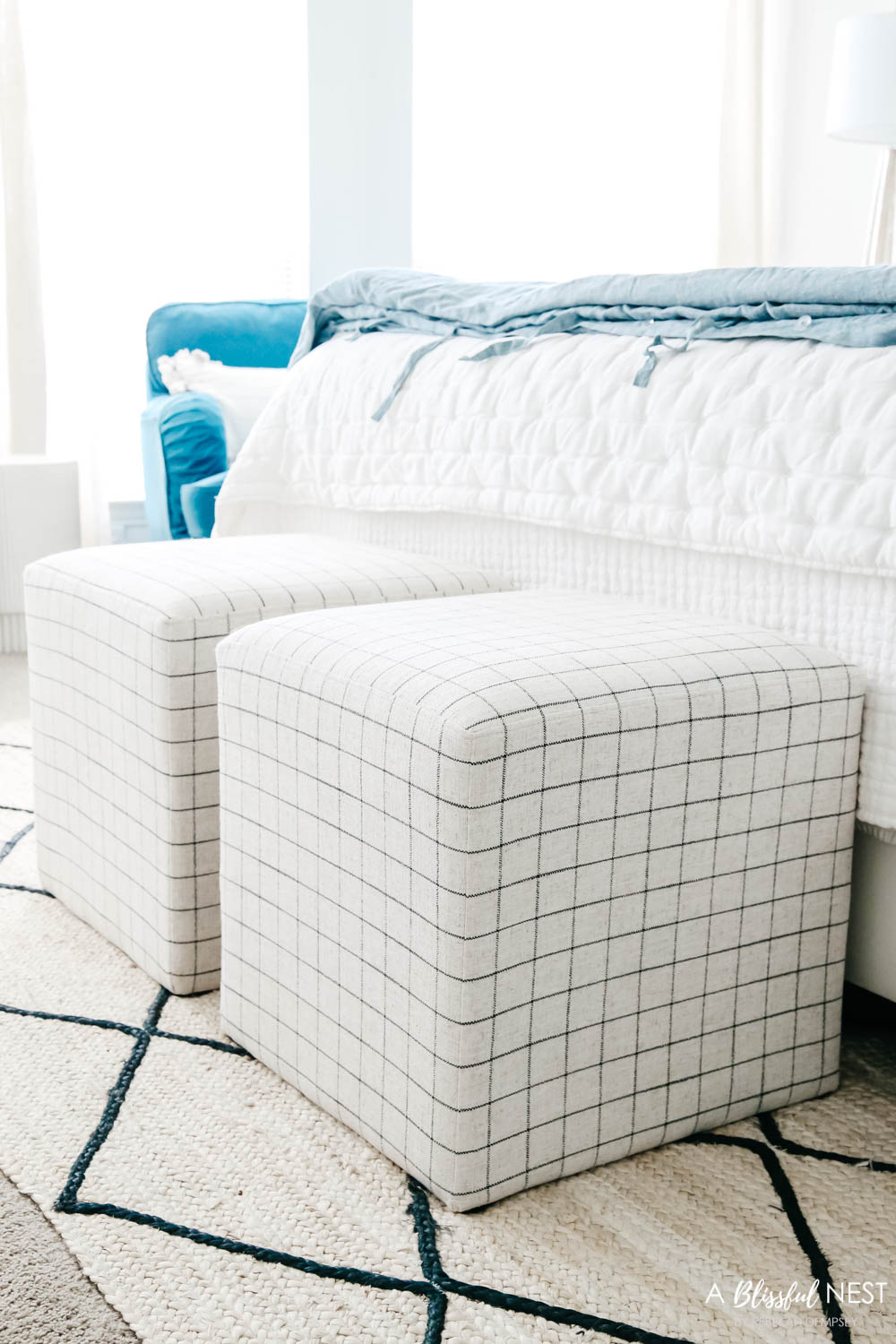 What colors are coastal?
So this leads me to what colors you will find in a modern coastal bedroom.
My favorite colors to use are whites, creams, shades of blues, and tans.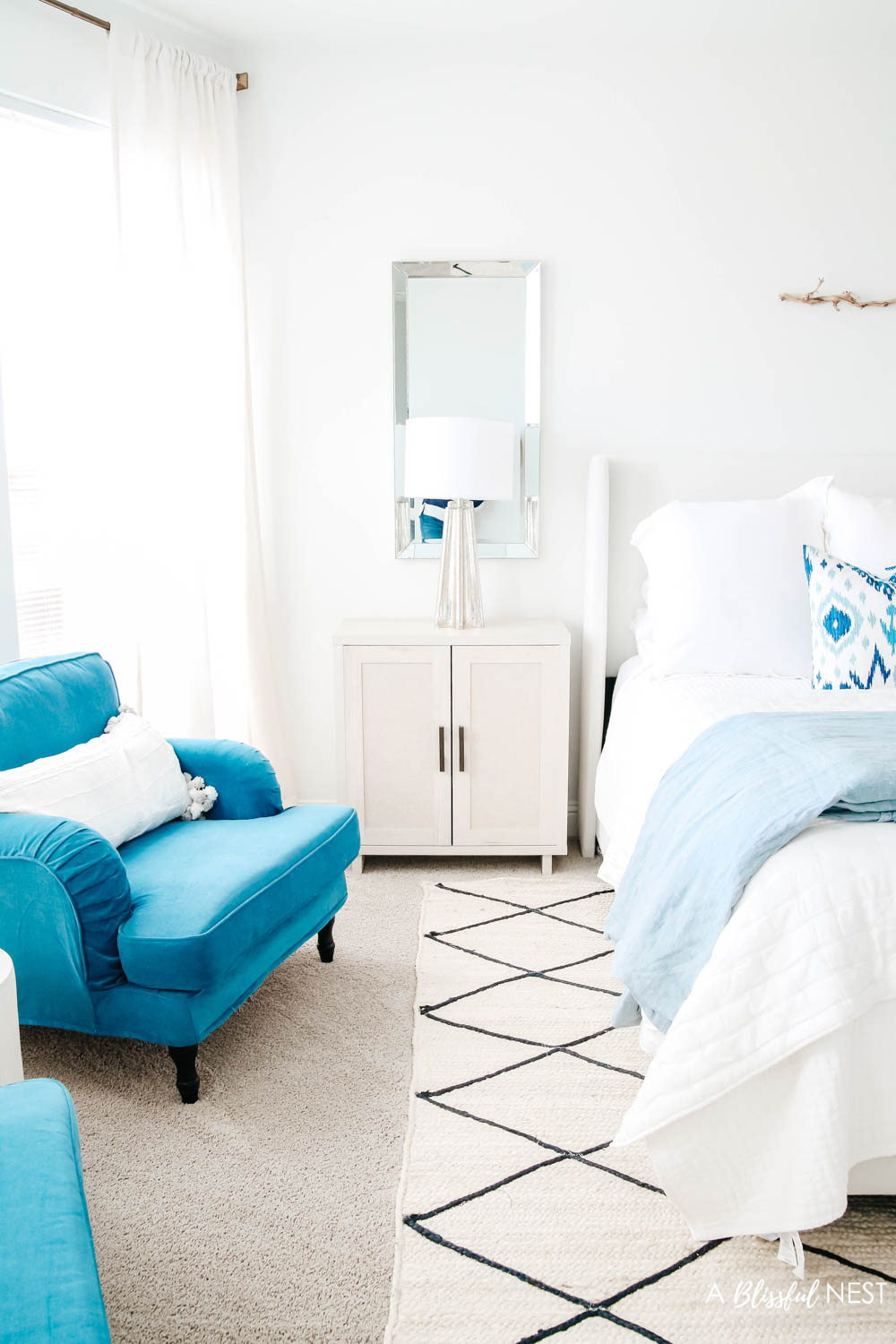 Typically I like to start with all-white bedding and add in creams and tans next. This emulates the look of a beach and gives a good neutral base to start.
I added these beautiful modern nightstands that have this fabric insert in the doors which adds a little texture. They actually have quite a bit of storage in them too so if you are looking for a good substantial nightstand then you might want to look into these.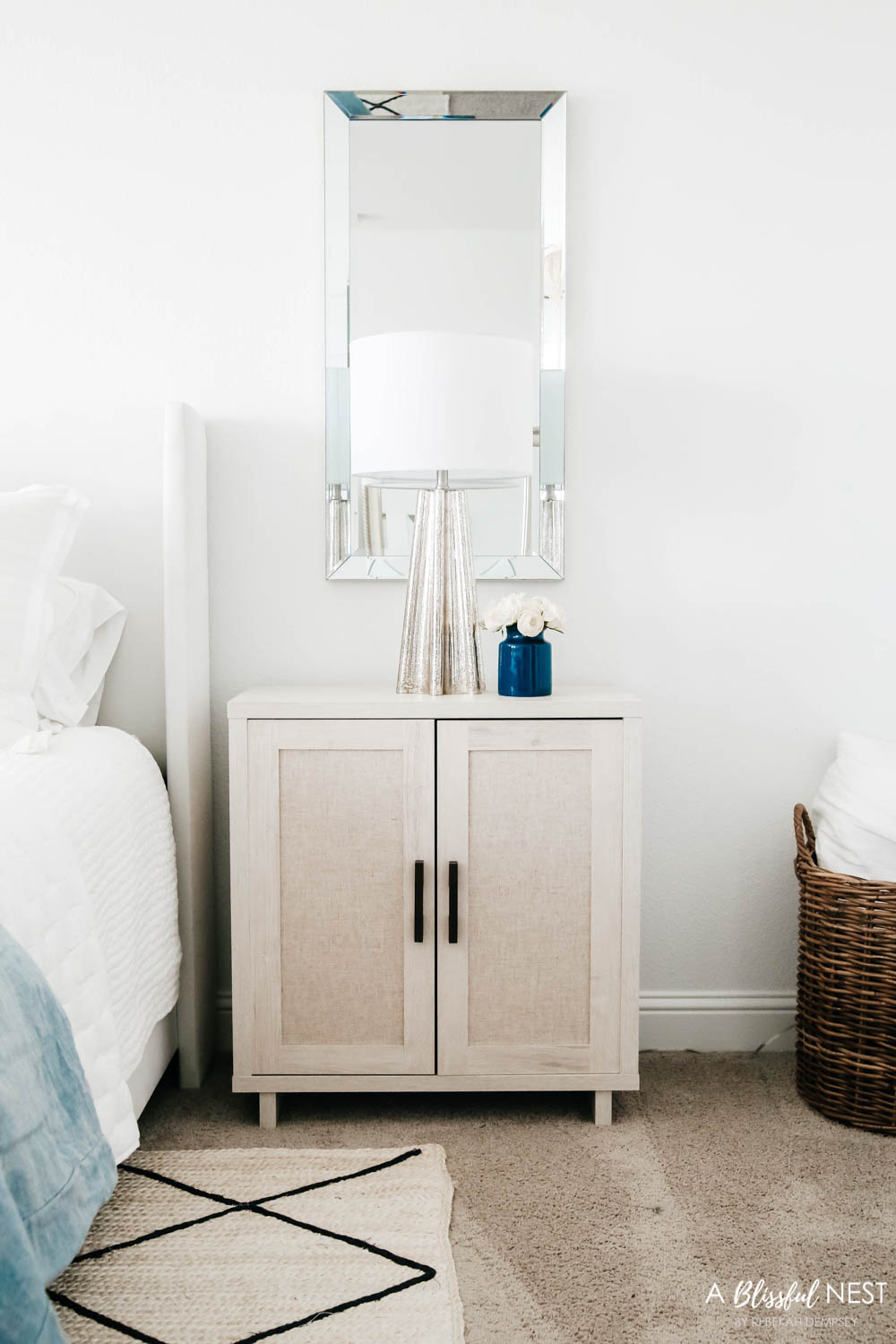 I just added some simple small accent pieces in blue (like this vase- similar) to pop the deepest shade of blue from the pillows to create some depth. I love the look of a rich navy but in a master bedroom, I like to have more of the room make the eye rest then be saturated with lots of color.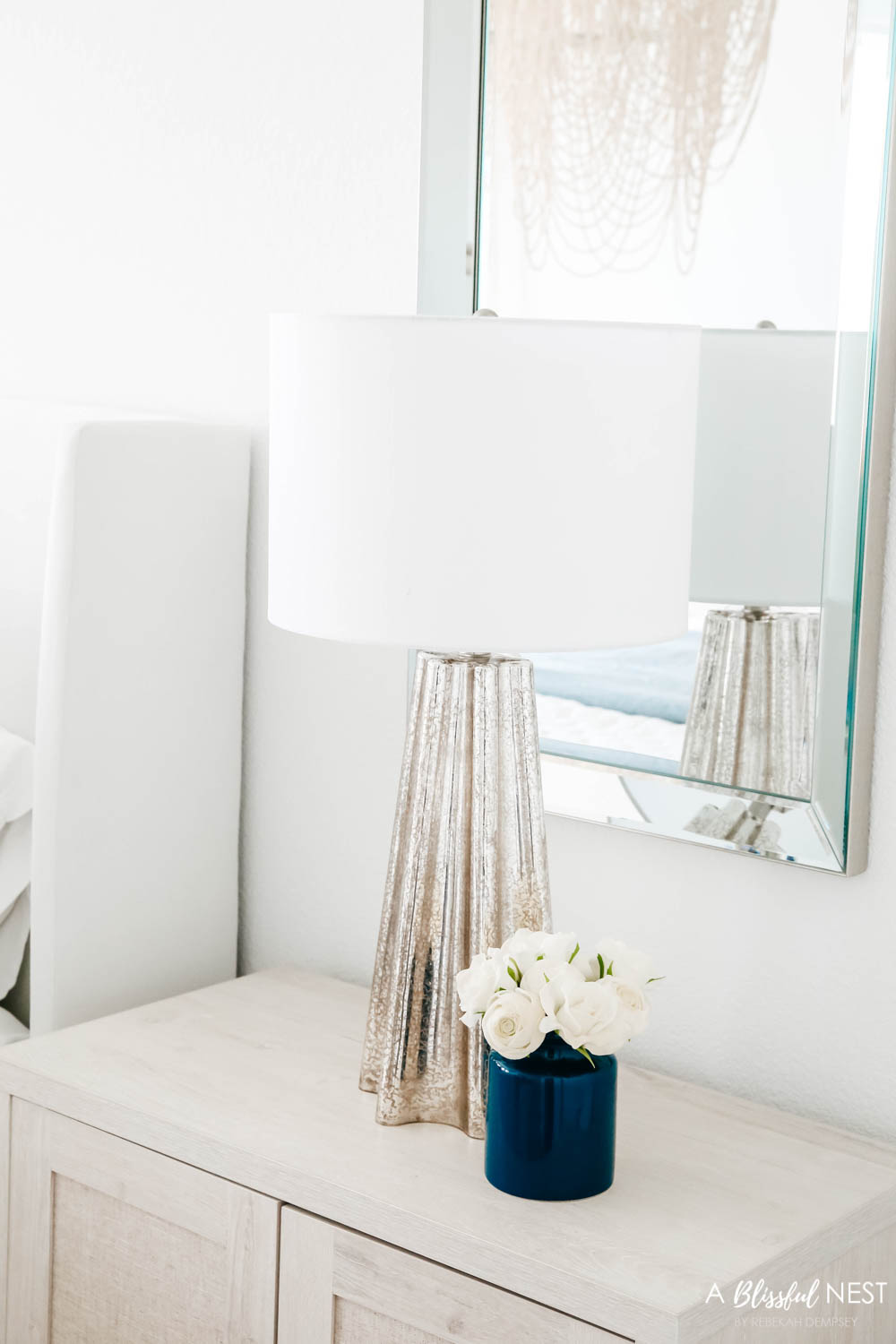 How to mix boho and coastal decor themes?
So it is funny because I get asked this question a lot. What is the difference between Boho and Coastal and can you mix them.
The biggest difference is that Boho is a more whimsical look and mismatched decor pieces that through layering (and color palette) work well together.
Coastal is a more structured look and uses a lot of blue and greens.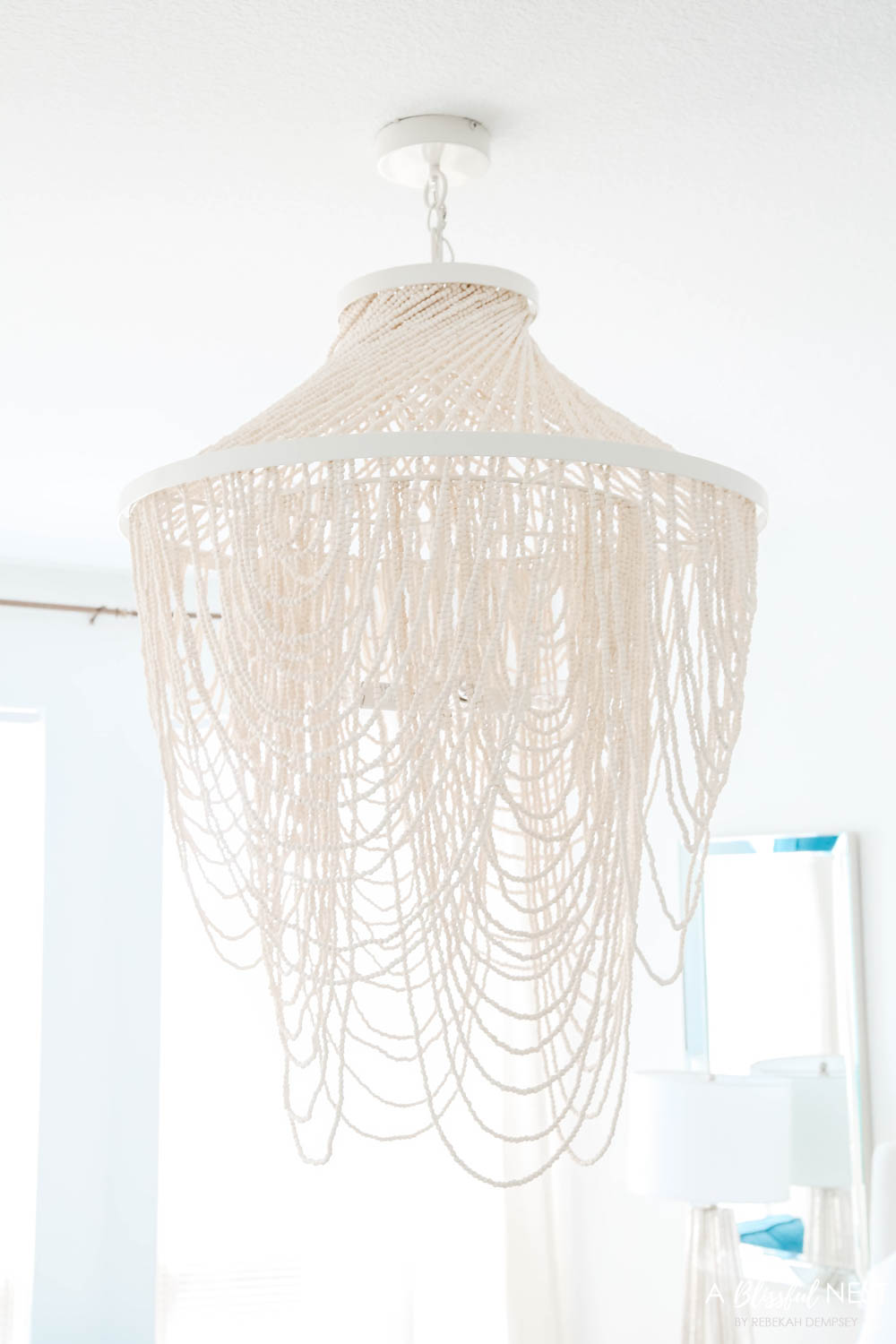 I think the easiest way to achieve a Boho/Coastal look together is with lighting. A good chandelier can easily dictate the look and direction of a space. I typically call it the jewelry of the room.
Selecting a more unusual piece will lean toward a more Boho look.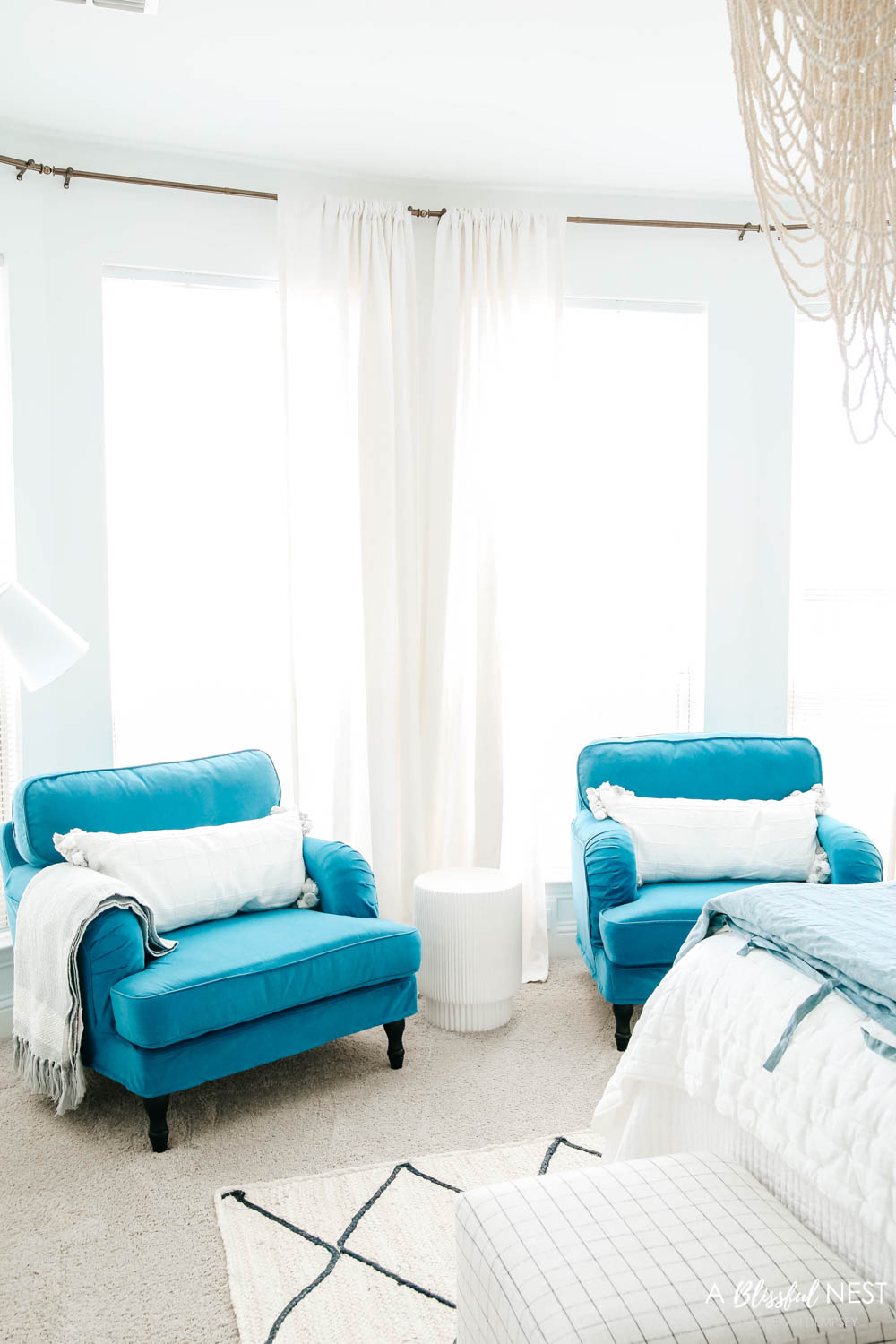 I am such a fan if a room is big enough to encompass a seating area. This is a great place for quiet reading or a cup of coffee in the morning.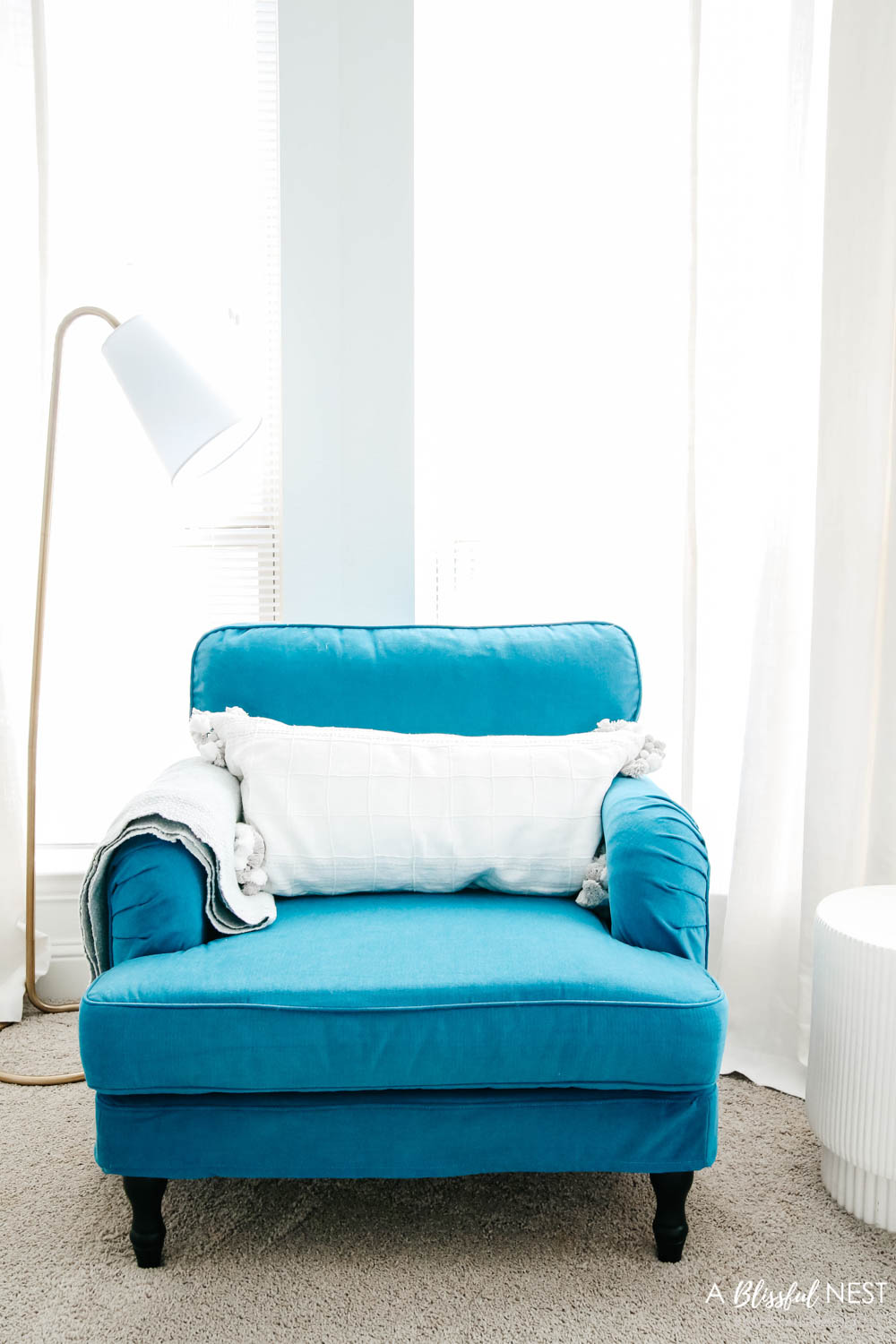 I found two of these rich blue chairs at Ikea and they are so comfortable. They sit deep and I like to pull over one of the ottomans if I want to put my feet up. I also added this gold floor lamp that has beautiful curves to it that adds to the more modern coastal flare.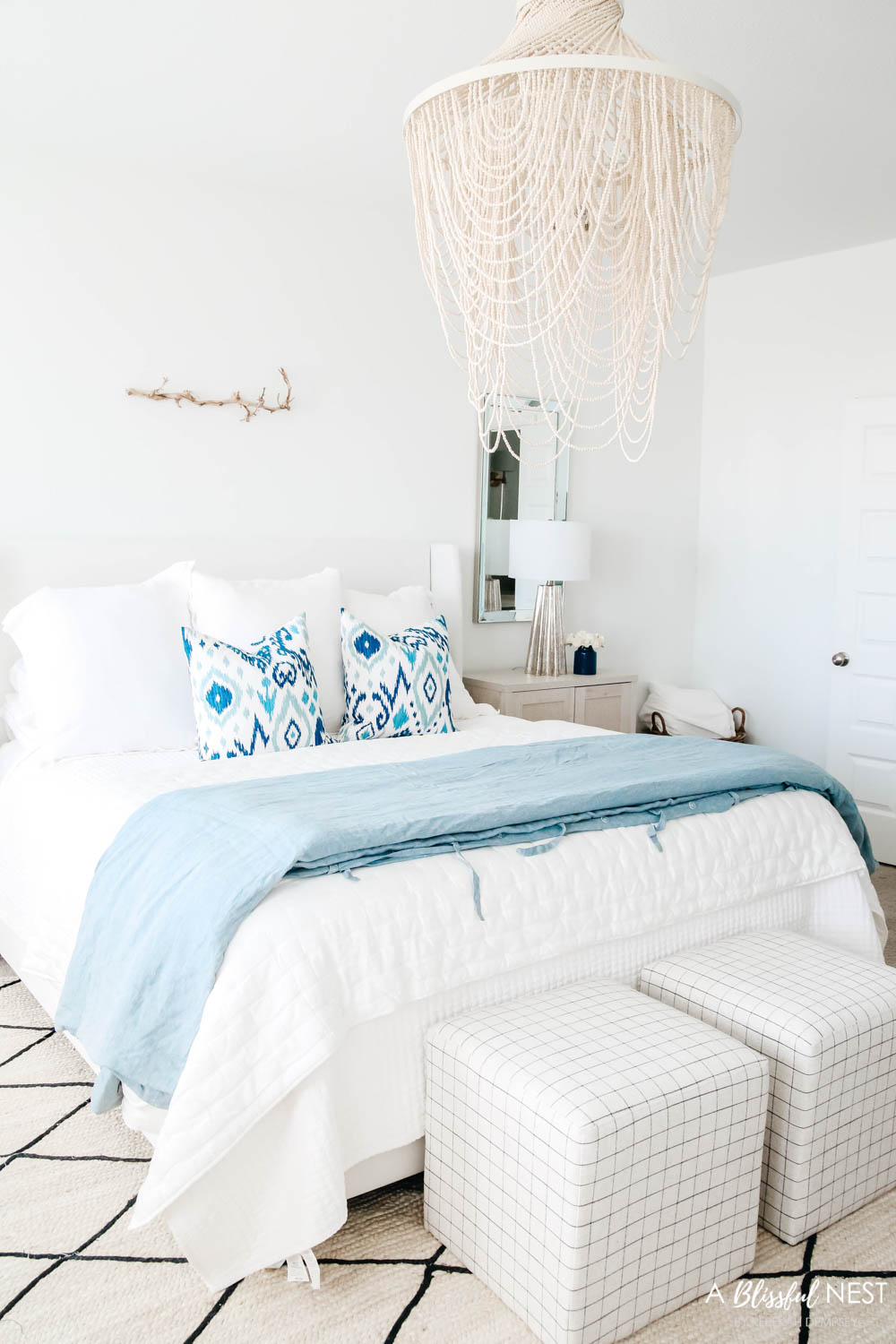 Just remember when trying to achieve a modern coastal master bedroom, select cool crisp colors in the shades of the sand and sea, add texture through fabrics, and



More Bedroom Ideas + Inspiration
Follow along to get more of my tips on home decor, DIY, and lifestyle on the following: