How To Layer A Bed Like A Designer
Sharing how to layer a bed like a designer with all the details + sources of the bedding essentials you need to do this as well as a step-by-step tutorial on how to make a bed.
In all my years of being a designer, one of the biggest questions I get asked is how to create a cozy layered looking bed.
You know. Those ones that look super full and fluffy and you just want to jump right on top of.
It is more than just a sheet set with a duvet on top and today I am breaking down all the layers you need to have to make it look fluffy and full.
Really with a few basic pieces, you can create a cozy bed for your master and guest bedroom in no time!
This post contains some affiliate links for your convenience. Click here to read my full disclosure policy.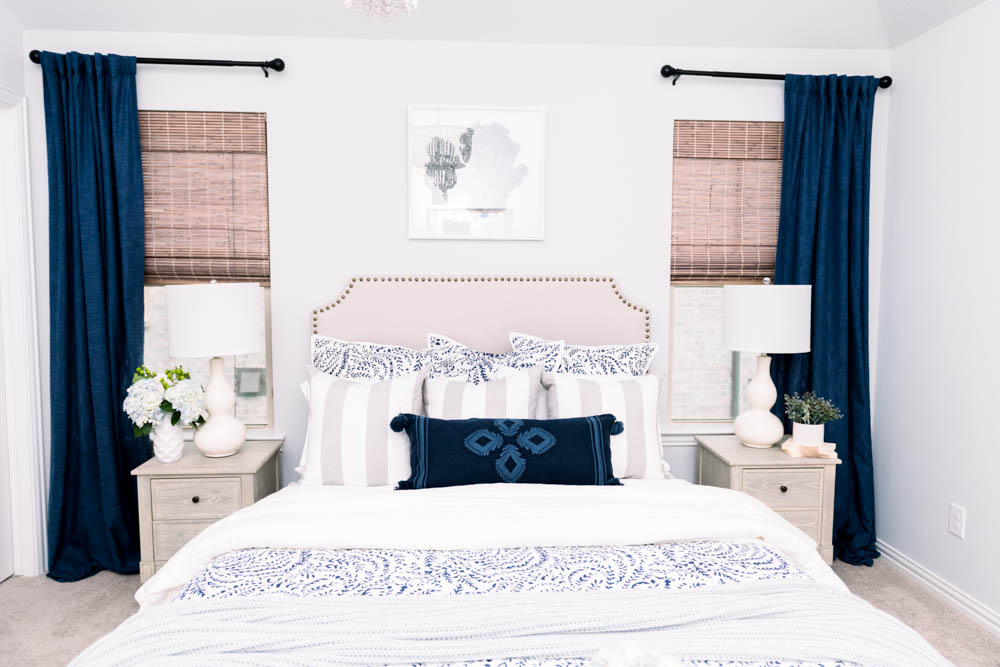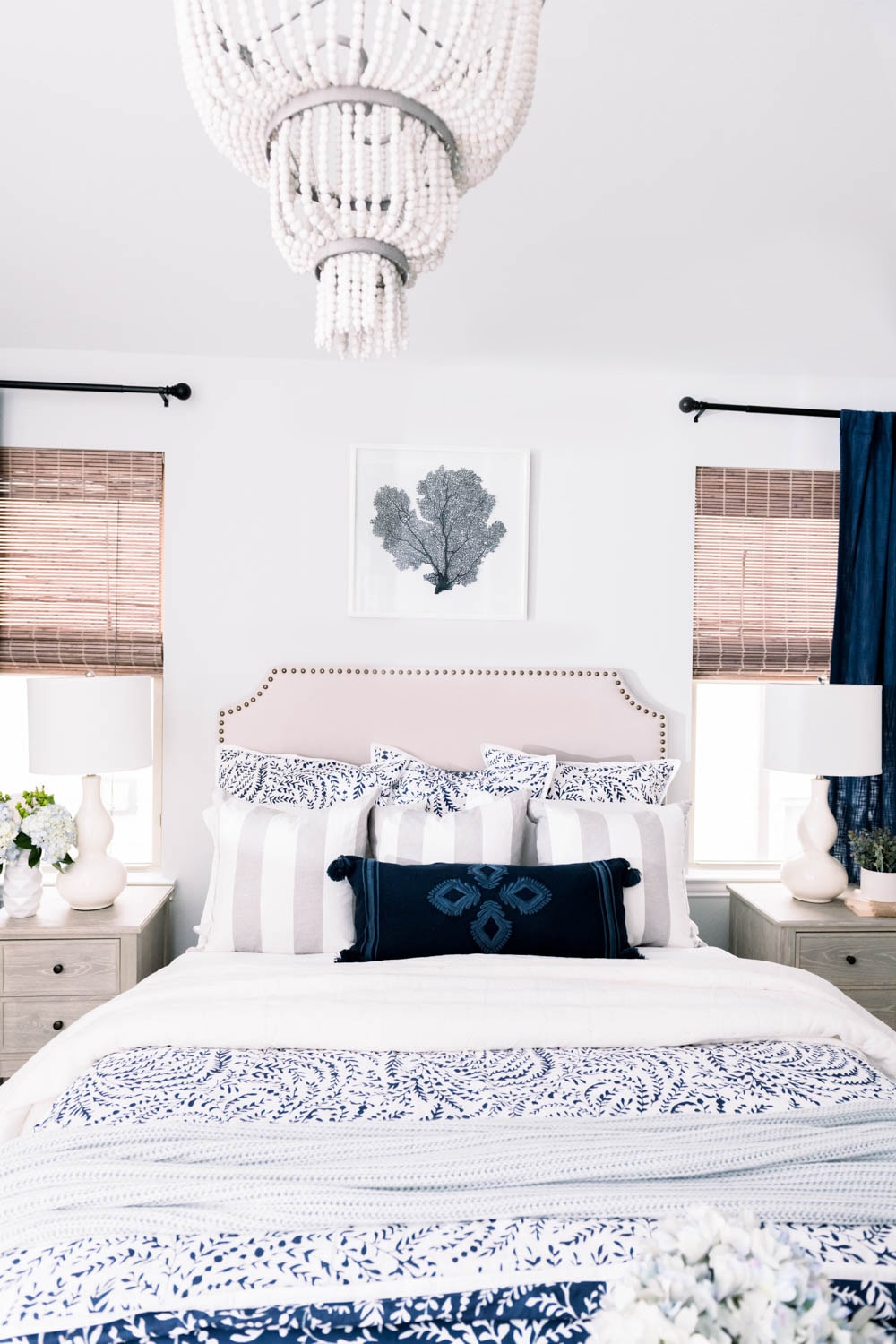 How To Layer A Bed Like A Designer:
1. Begin with a fitted sheet
Starting with luxe sheets are a must to the basis of your layered bed. I look for sheets that have a soft silky feel and are made from Egyptian cotton.
The first step is to cover your mattress with a fitted sheet that is freshly laundered.
I love fitted sheets that have deep pockets so they fit snug and fully over the edges of the mattress.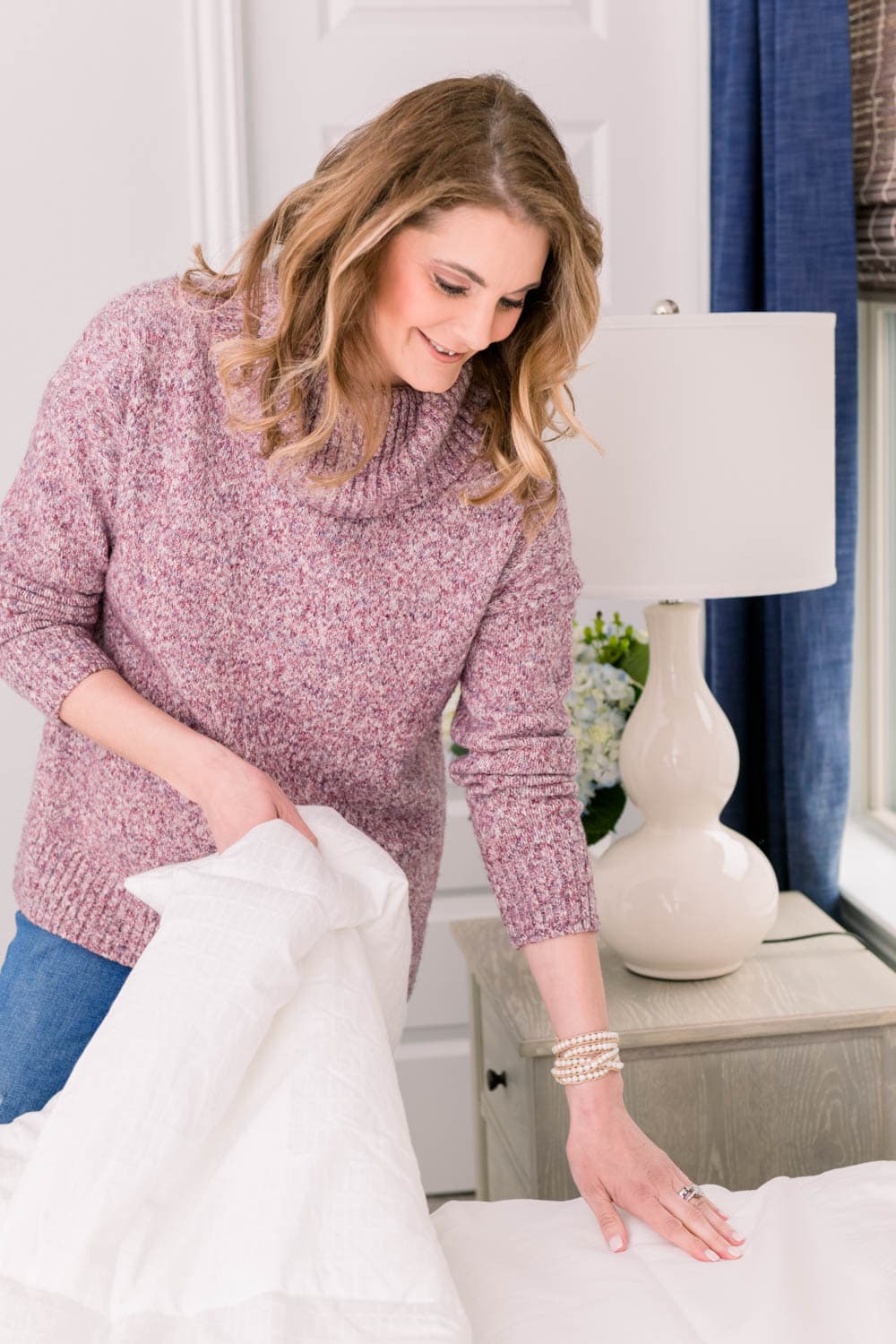 Generally, I like to use white sheets because they look crisp, are easy to bleach to get clean and go with every bedding set.
Fluff it in the dryer for 10 minutes with a damp cloth thrown in to get them wrinkle-free and crisp and some wool dryer balls with a little lemongrass essential oil on them.
2. Add a top sheet
Next, add the top sheet.
Lay it on the bed upside down and pull it as far up to the top of the bed as you can. Then when you fold it over the duvet, you will see the pretty edge of the sheet.
Fold in the ends at the bottom of the bed under the mattress.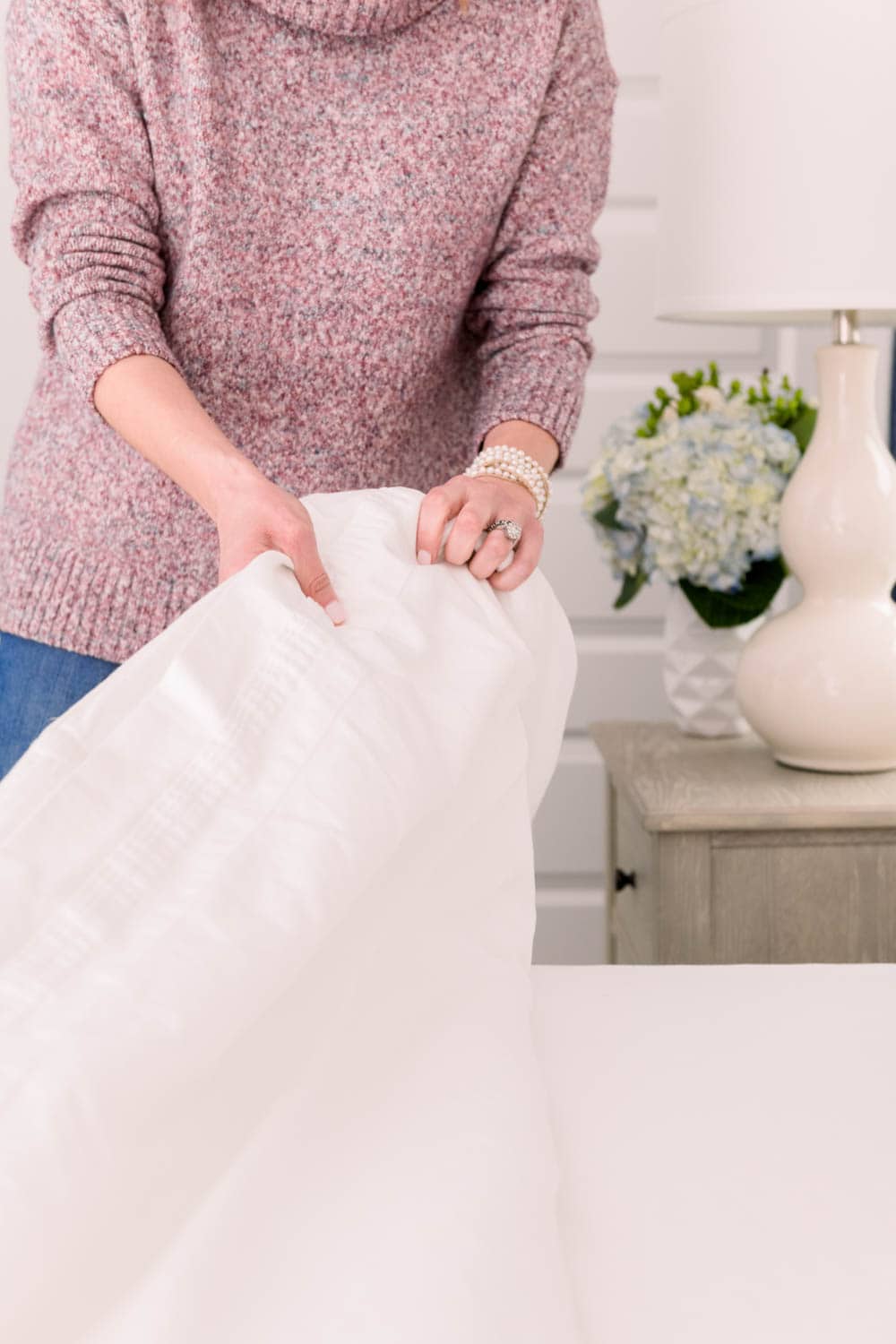 TIP: Now is the time to press your sheets if they are still wrinkled from the dryer. I like to use a hand steamer and once the bed is made it makes it easier to press out the wrinkles.
3. Add a duvet
The next piece of bedding I add is a duvet over the top of the fitted sheet.
I typically use a plain white duvet cover for the duvet fill or simply layer another flat sheet over the top of the duvet.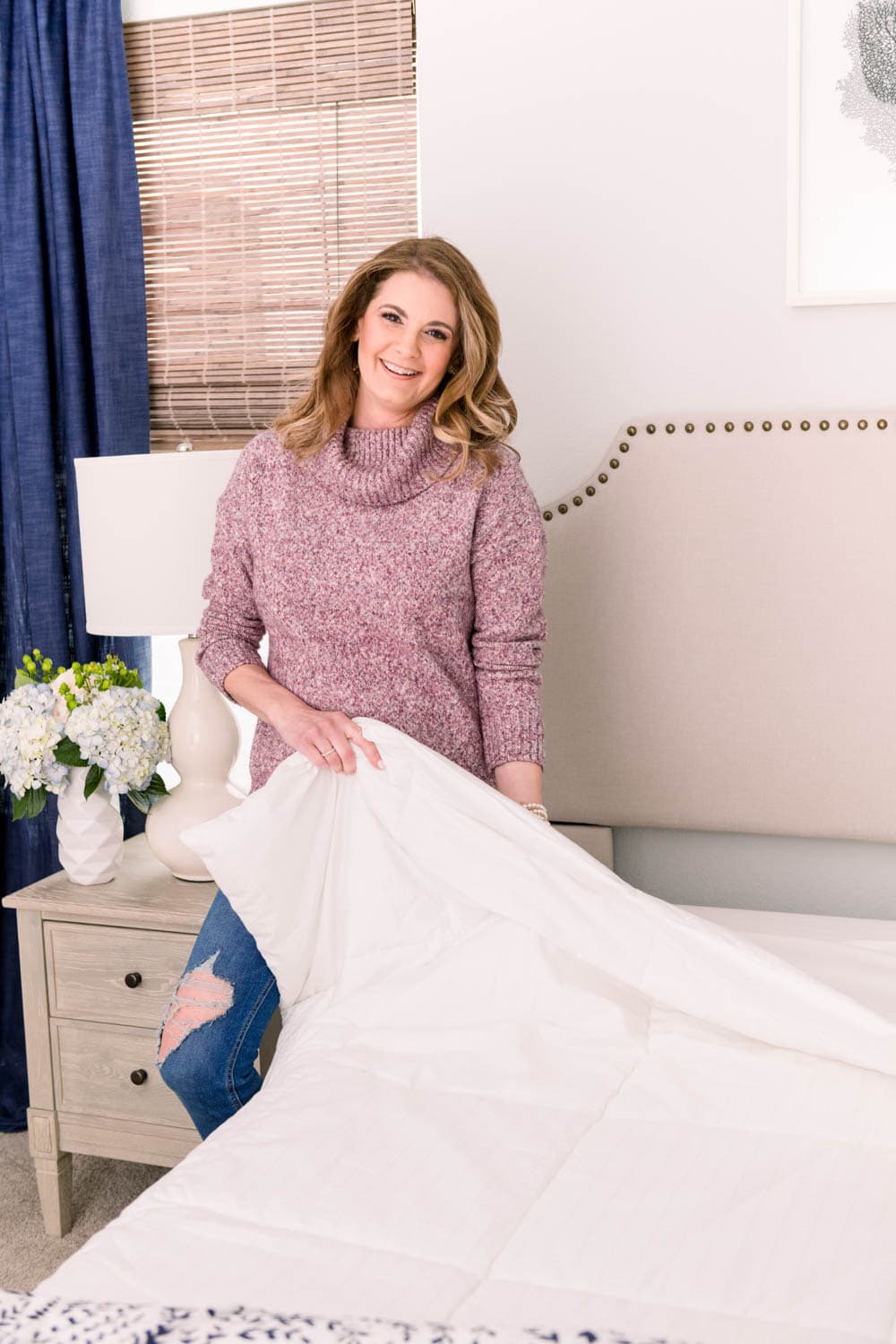 In the cooler months, this is where I would switch and use a lightweight coverlet which can be cooler than a duvet cover.
4. Layer a second duvet at the bottom of the bed
This is my biggest trick to making a bed look full and fluffy, which is to add a second duvet cover to a bed.
This is when I use a patterned bedding set to add color and visual impact.
If it is double patterned like this one, then you can fold it 1/3 of the way over the end of the top of it to expose and show the pattern play.
Make sure when you fold it over the end of the bed that it falls below the mattress and covers the other duvet ends.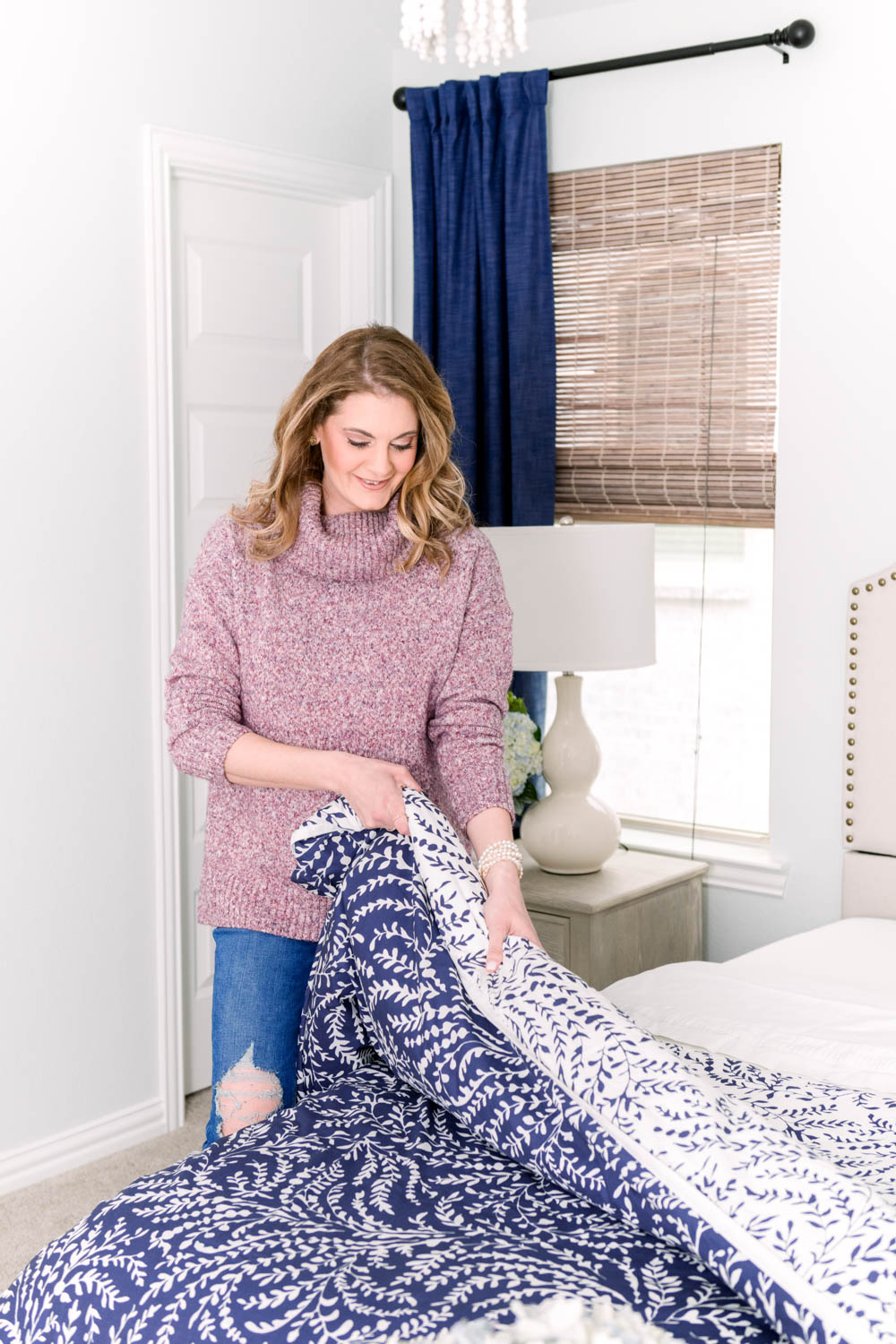 TIP: If your duvet starts to look a little flat, just shake it with both hands to fluff it back up.
5. Add a coverlet loosely across the middle
The next step is to add a coverlet to the middle section of the bed.
This is another designer trick to making a bed look full and cozy.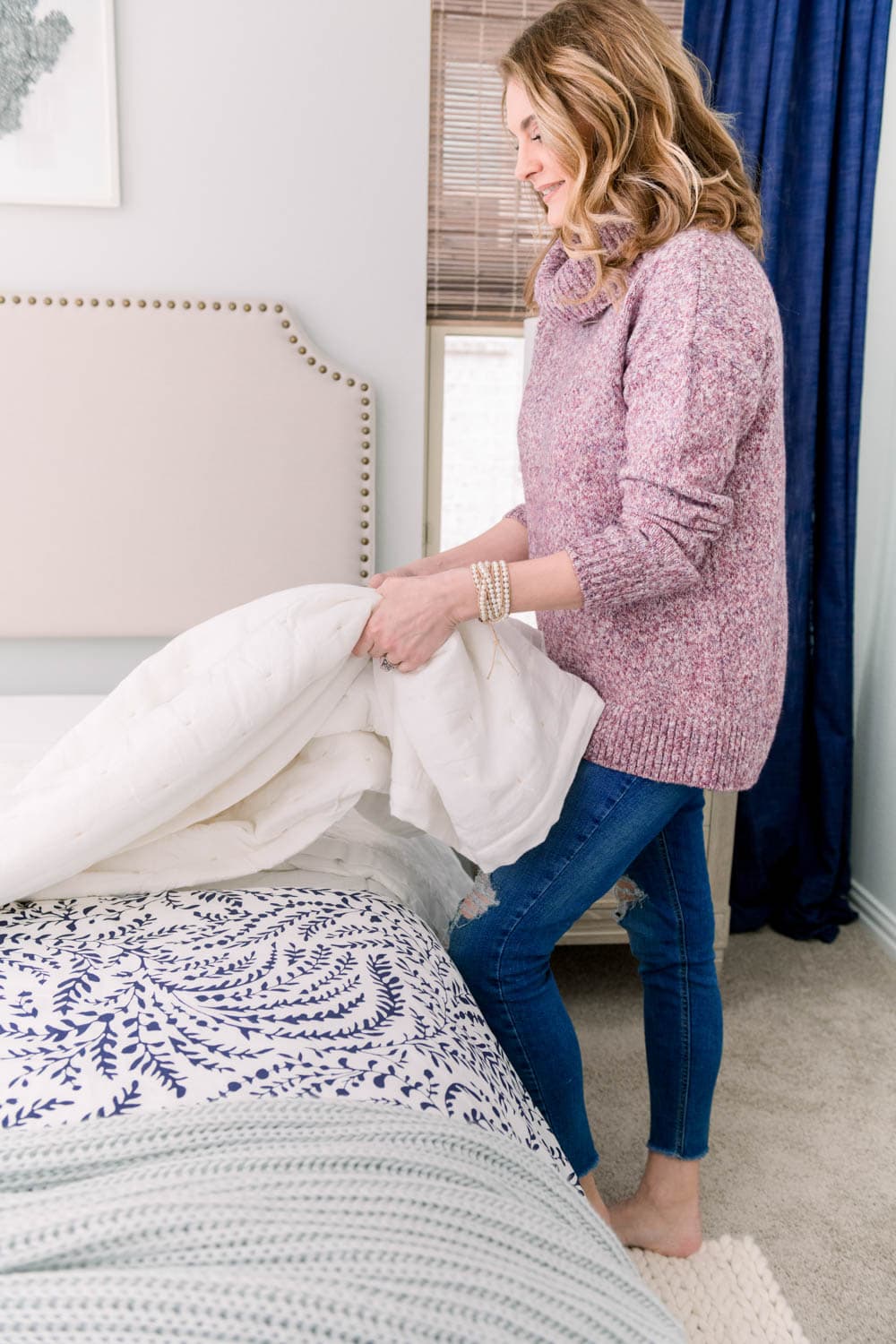 I typically just gather it together loosely and drape it over the middle section over the bed, right on top of the exposed portion of the 1st duvet and over a little bit of the 2nd duvet.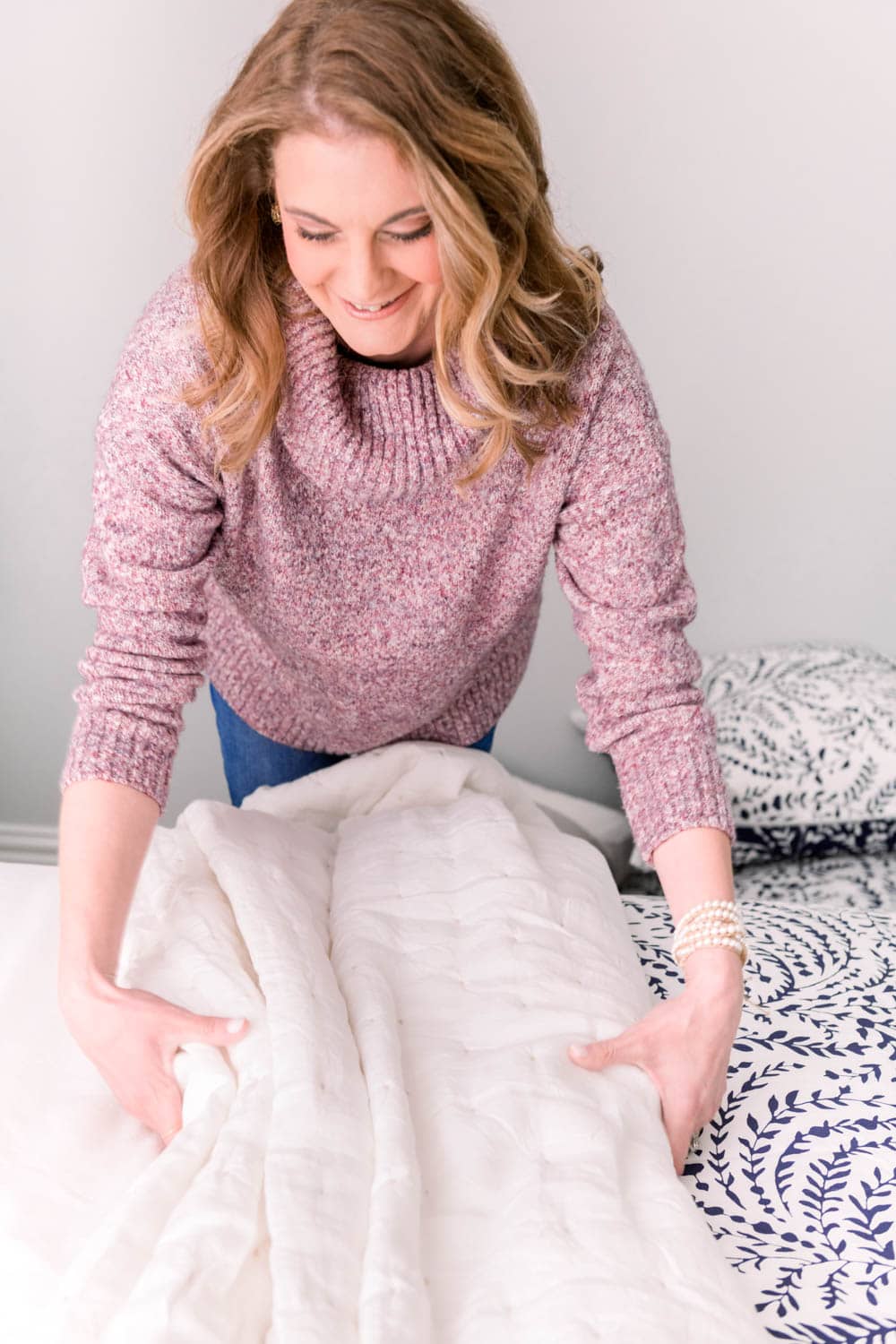 During the winter, guests love having the option to have multiple blankets on their bed and this is a beautiful way to add it to the bed.
6. Add euro shams
Add coordinating euro shams to the back of the headboard that match the duvet at the end of the bed.
This pulls the design of the bedding through and adds more pattern to the bed.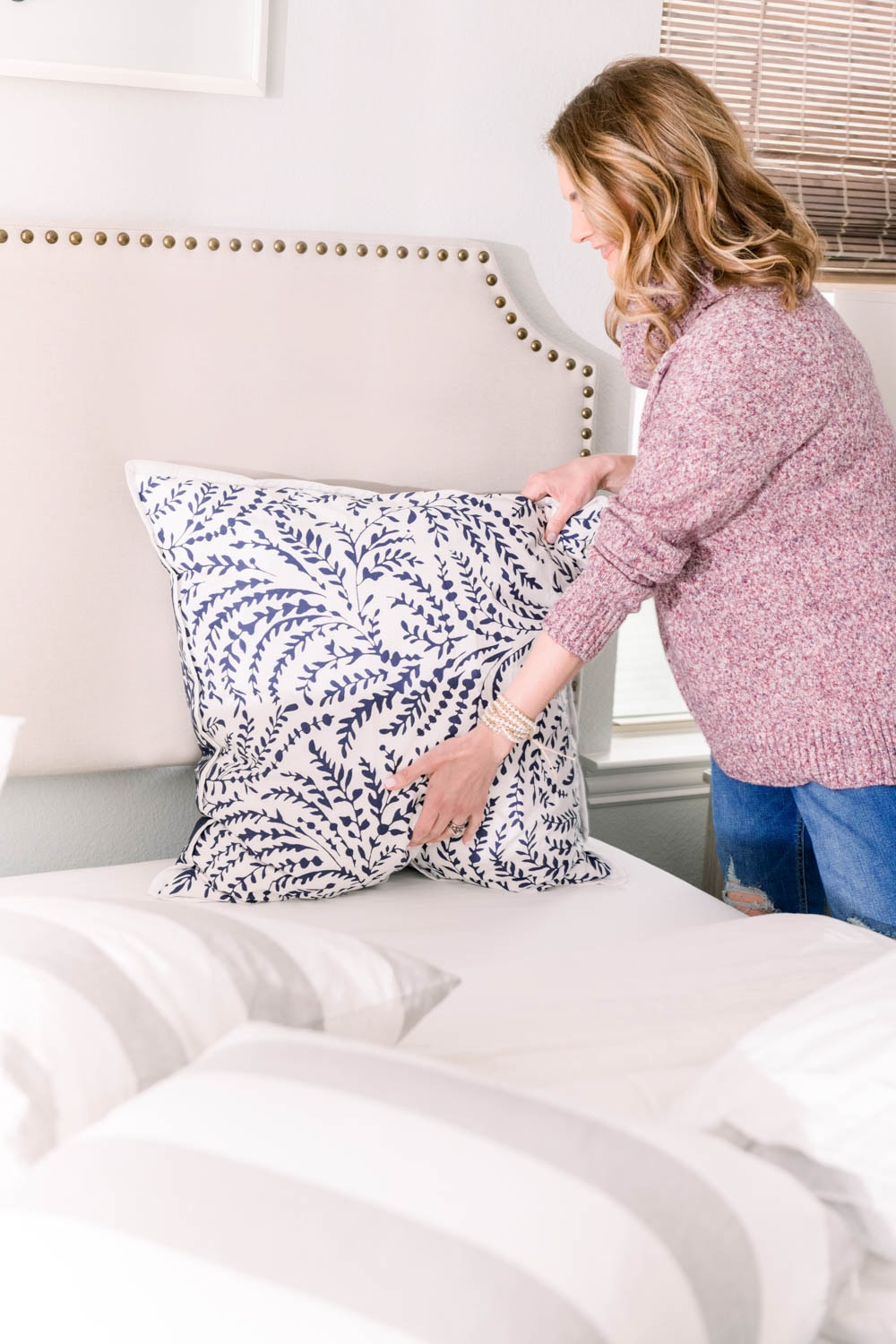 For a king and queen-sized bed, use 3 euro shams. and for a twin-sized bed use 1-3 shams. These are my typical euro sham fillers and they really are soft yet fill out the sham so it doesn't look to lose.
7. Layer in standard pillows
This is next where I layer in my sleeping pillows. They are standard sham size and generally because I use all white sheets, they fit perfectly into the bed color scheme and pillow combos.
My favorite standard pillow fills are these ones. They are soft yet hypoallergenic and not full of feathers poking into your head when you are sleeping.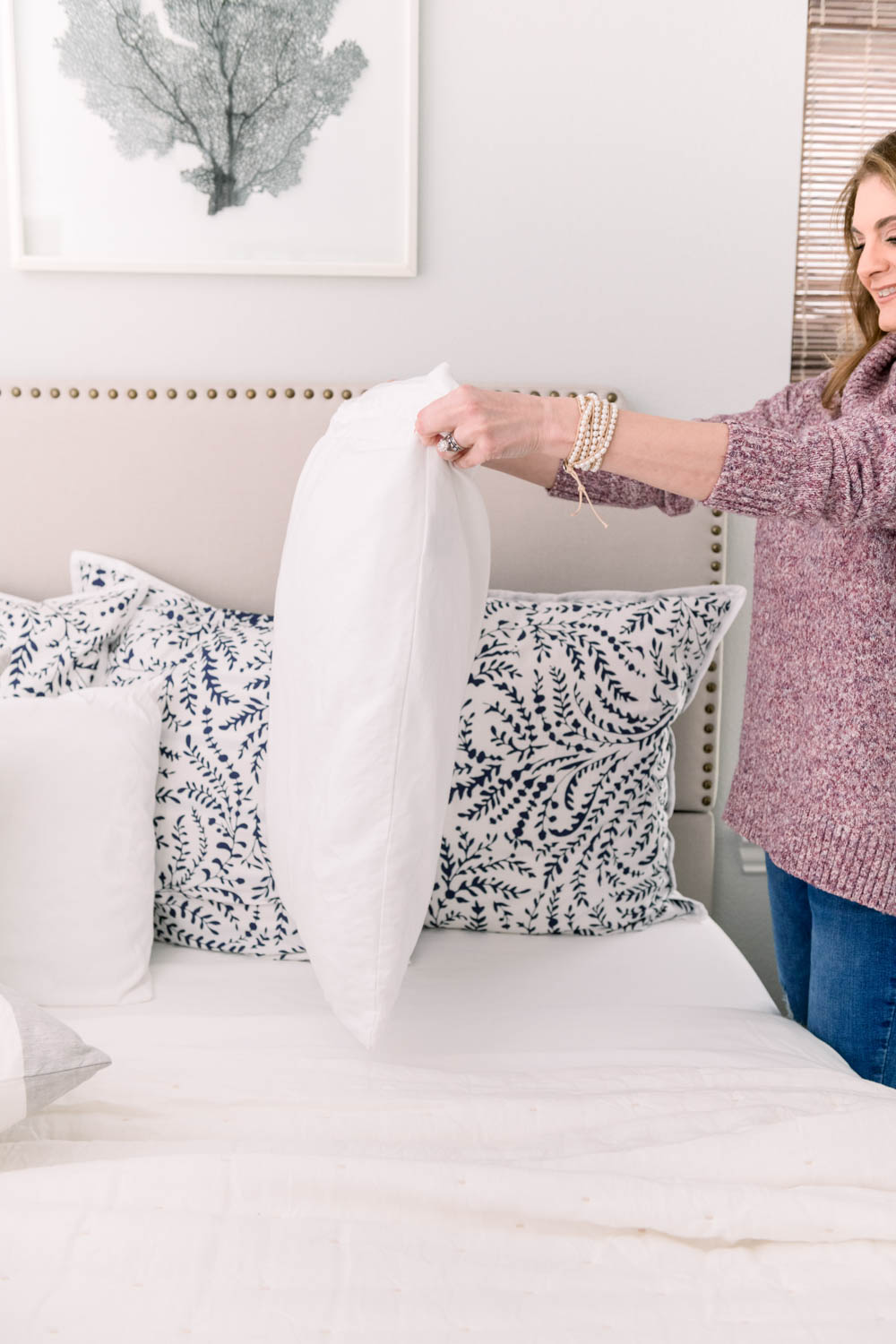 I place them right in front of the euro shams and fluff them really good before you lay them down.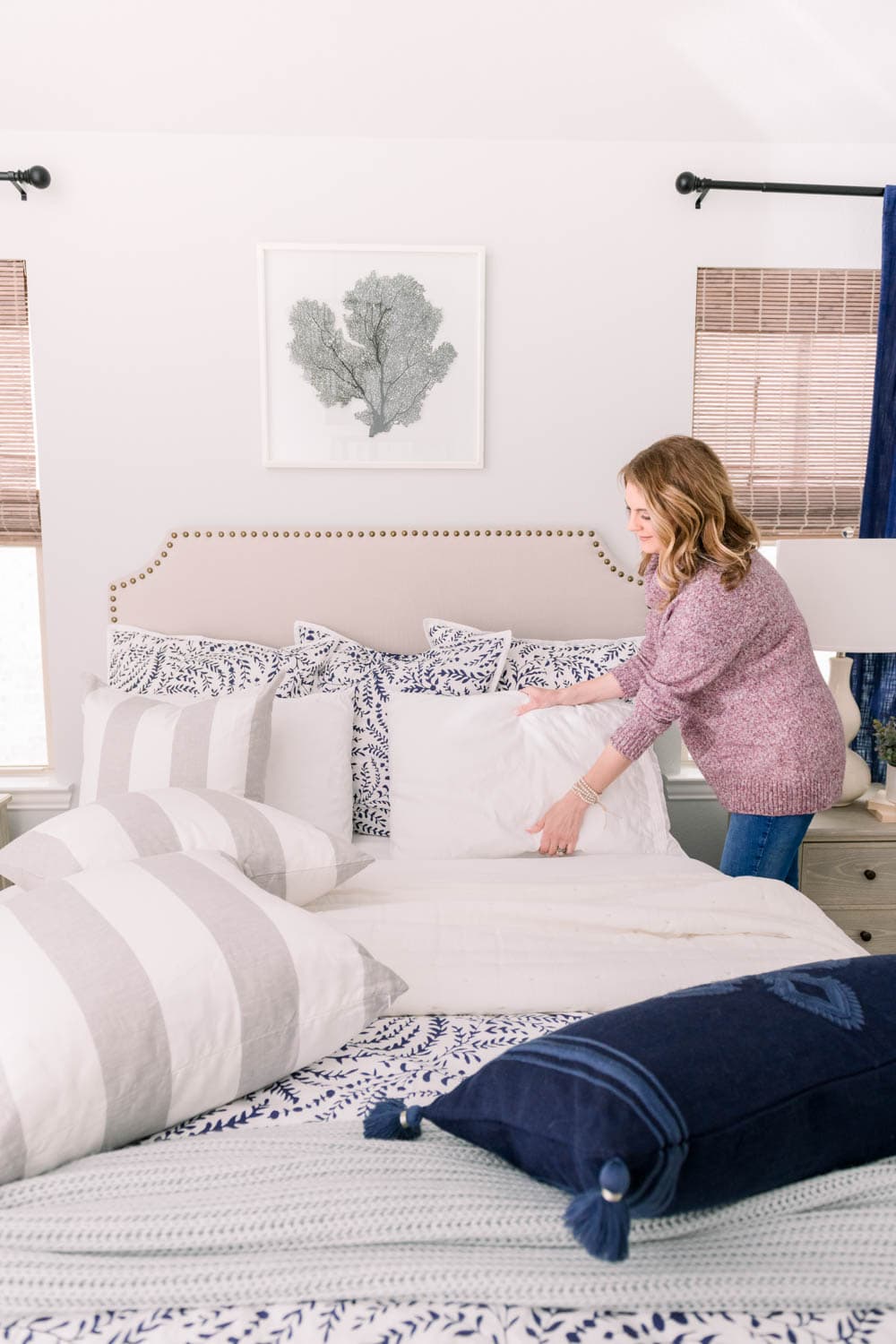 8. Use decorative pillows
Now is the fun part layering in your decorative pillows.
I get asked a lot how many pillows are too many and if you ask my husband he would say they all are! LOL!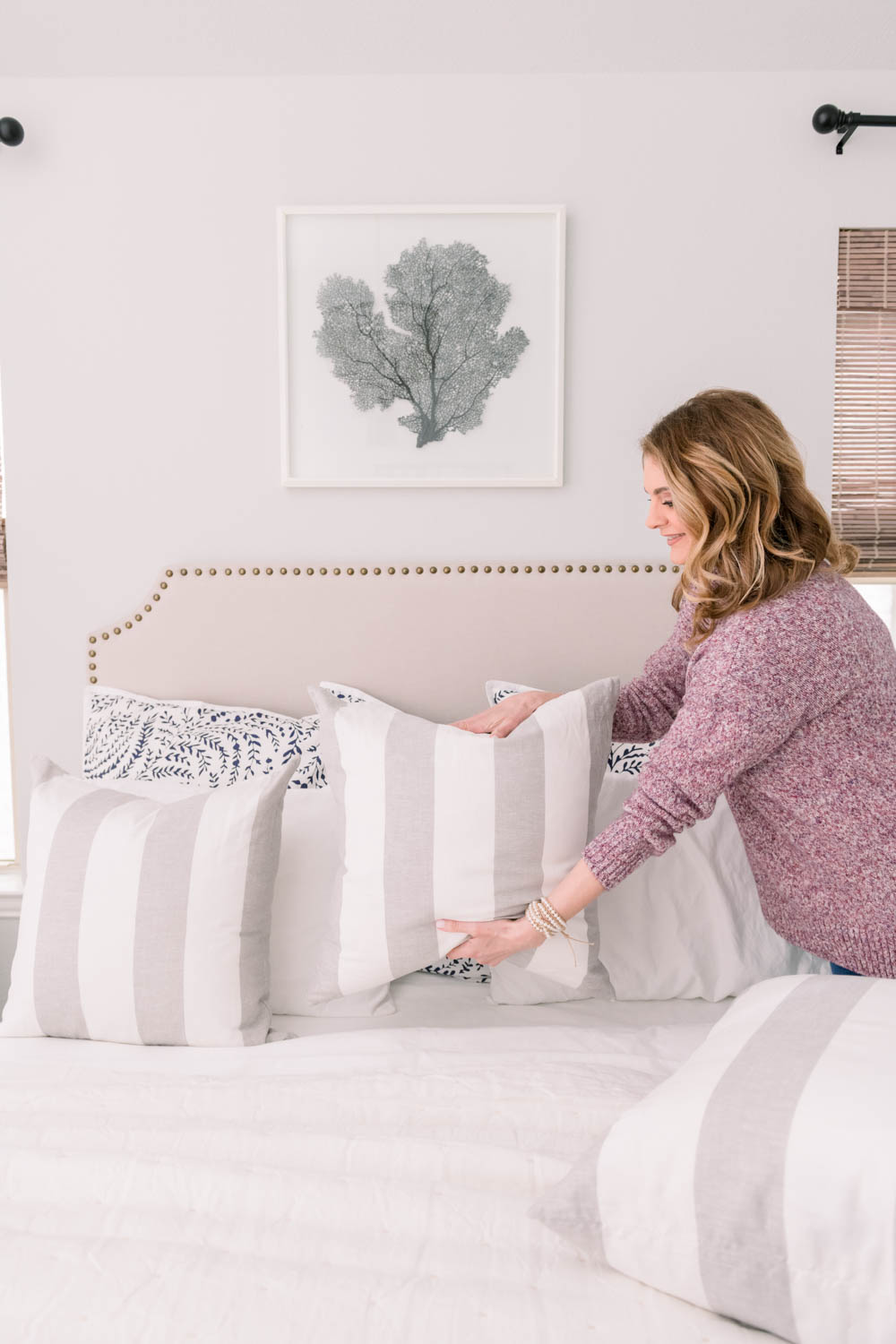 I love to add a stripe or smaller print that ties the bed color scheme together.
On a king/queen-sized bed I use 2-3 pillows here and then one throw pillow in the front.
Have fun with this because this is where you can add your personality in.
9. Drape a throw blanket on the end of the bed
The last thing I add is a lightweight throw blanket.
Having a blanket at the end of the bed makes it is easy to grab and curl up in a reading chair with or pull over the top of you while laying in bed.
Sometimes I even have a little basket in the corner of the room with a few extra ones rolled up.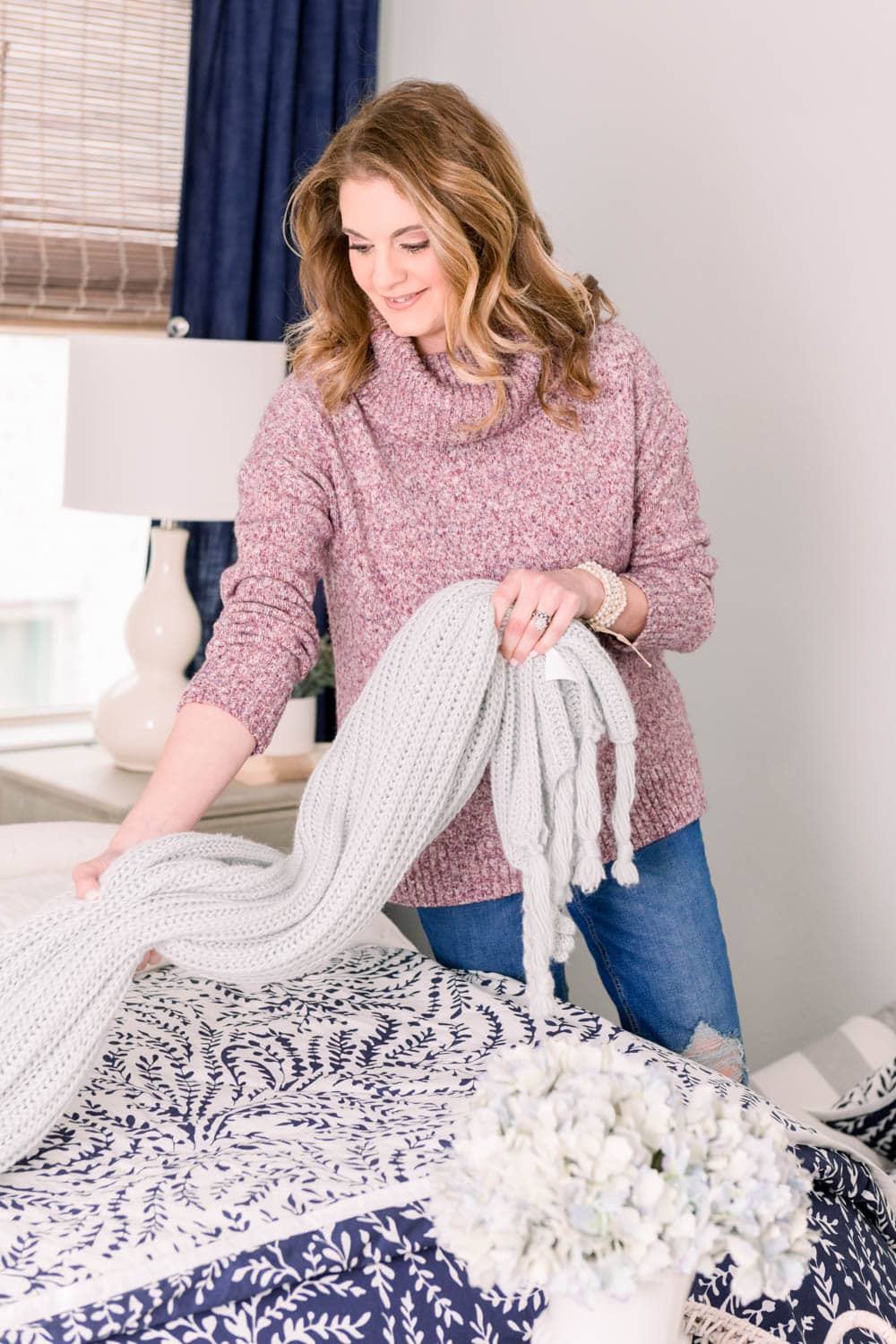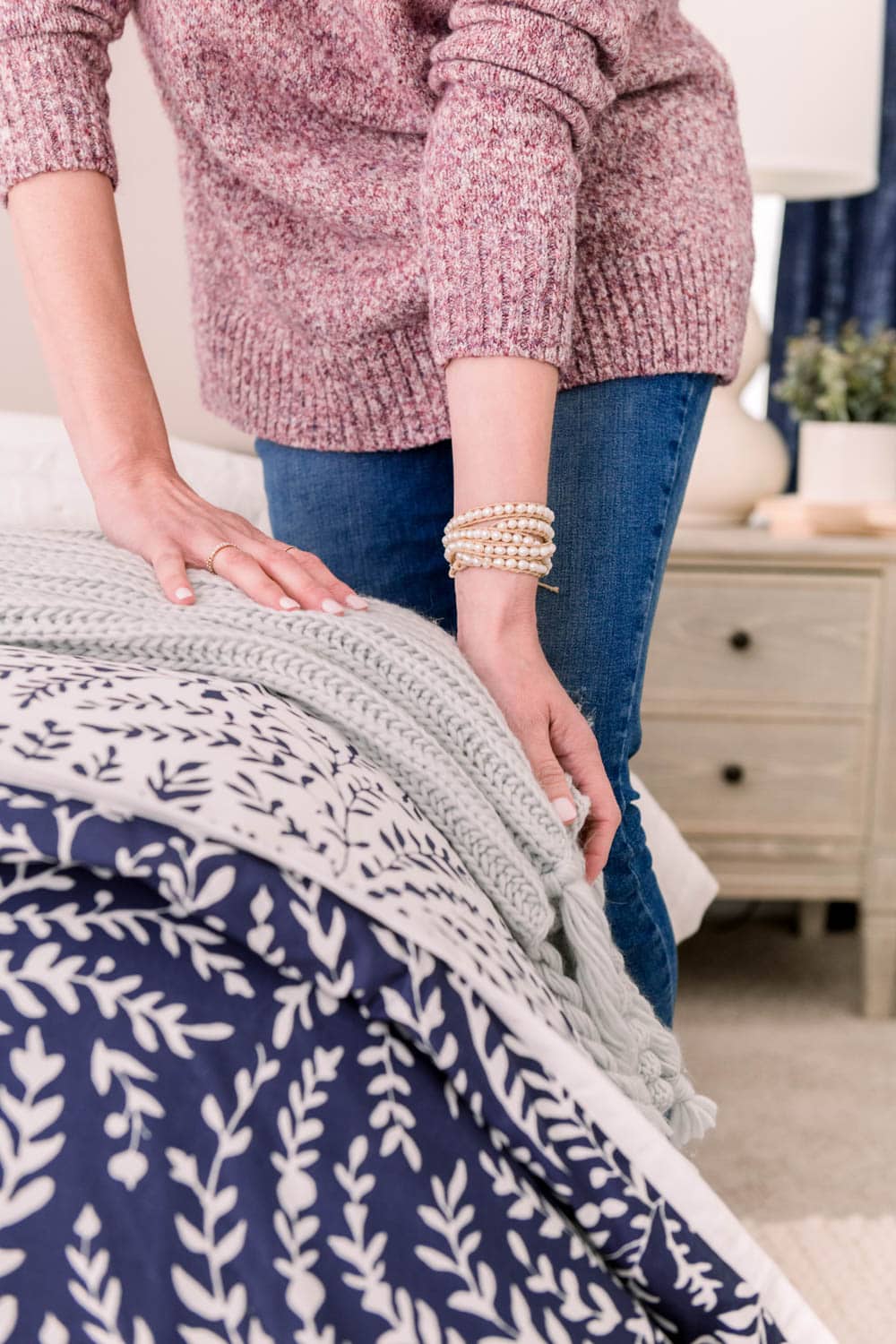 Layering your bed with the right bedding not only makes the bed look full but it is warm and cozy.
Learning how to layer your bed for comfort will make your bedroom feel like a sanctuary!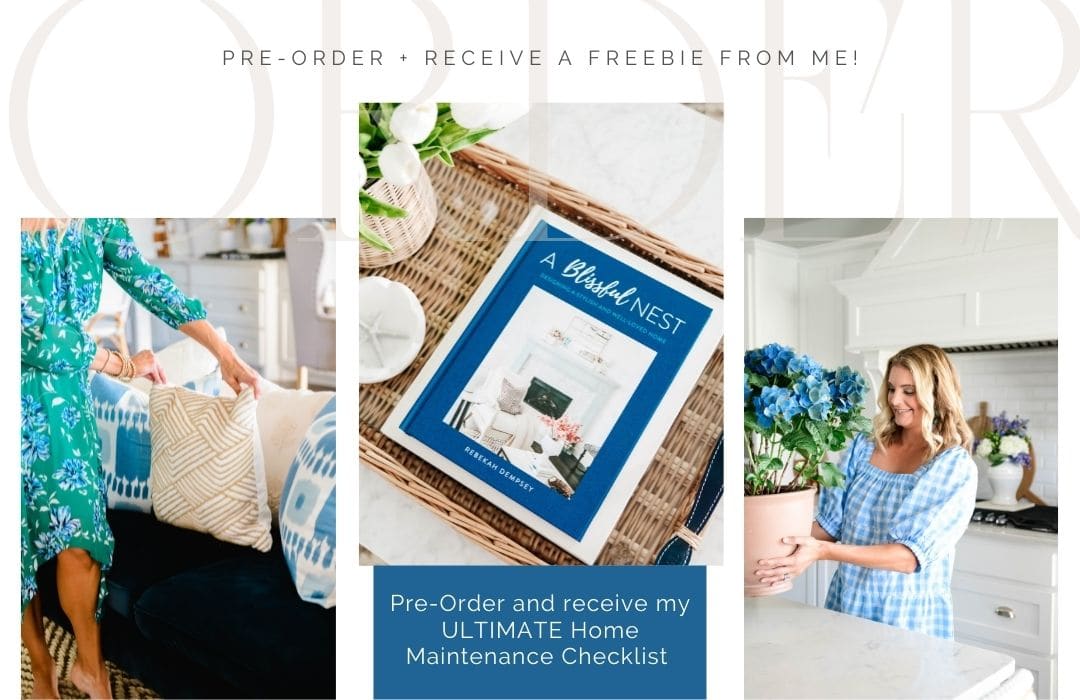 Need to bookmark this for later?
Pin Our Image: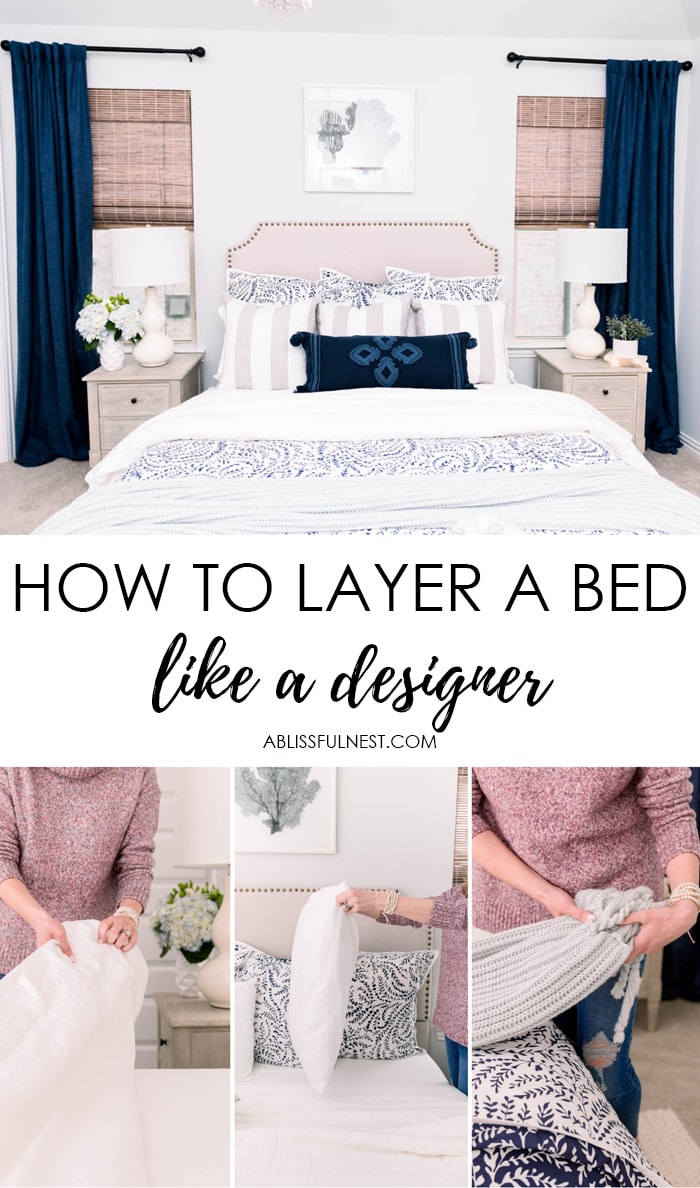 *Photography by Audrie Dollins
Follow along to get more of my tips on home decor, DIY, and lifestyle on the following: