Small Backyard Patio Ideas + My Outdoor Living Space Reveal
This post may contain affiliate links. Please read our disclosure policy.
Sharing some backyard patio ideas to help you reimagine your small backyard into the perfect oasis!
It's starting to warm up here in Dallas and I can't wait to start enjoying our backyard. Many of you still maybe in snow so hold tight and get your planning going so you are ready to go when you thaw out. You know our backyard is what sold us on this lot when we decided to build. We fell in love with the beautiful lake and more country feel to the area. Coming from Los Angeles, it is a great change and one we welcomed whole heartily. You can read more about our building process right HERE. BUT it is not a huge backyard by any means and we needed to really decide how and what we were going to use it for before we started building.
Small Backyard Patio Ideas:
Backyard Patio Before. . . . .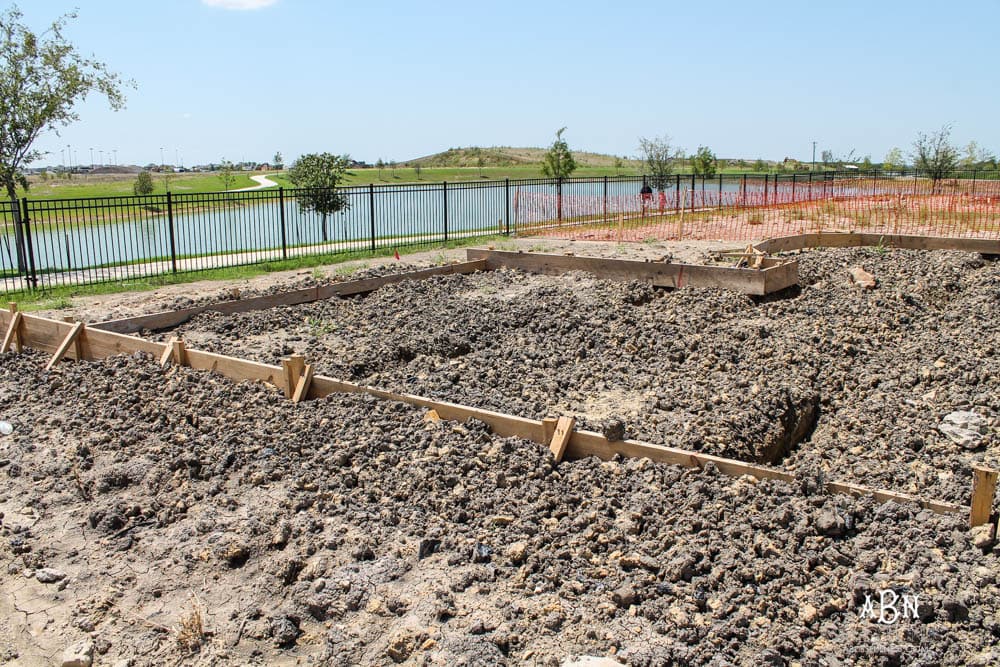 We definitely knew we wanted to be able to spend time on our patio. We wanted to be able to entertain more than we had in the past. We wanted room for our dog to run around and we wanted a dedicated spot to have a dining area. That is a lot to cram into a small backyard space.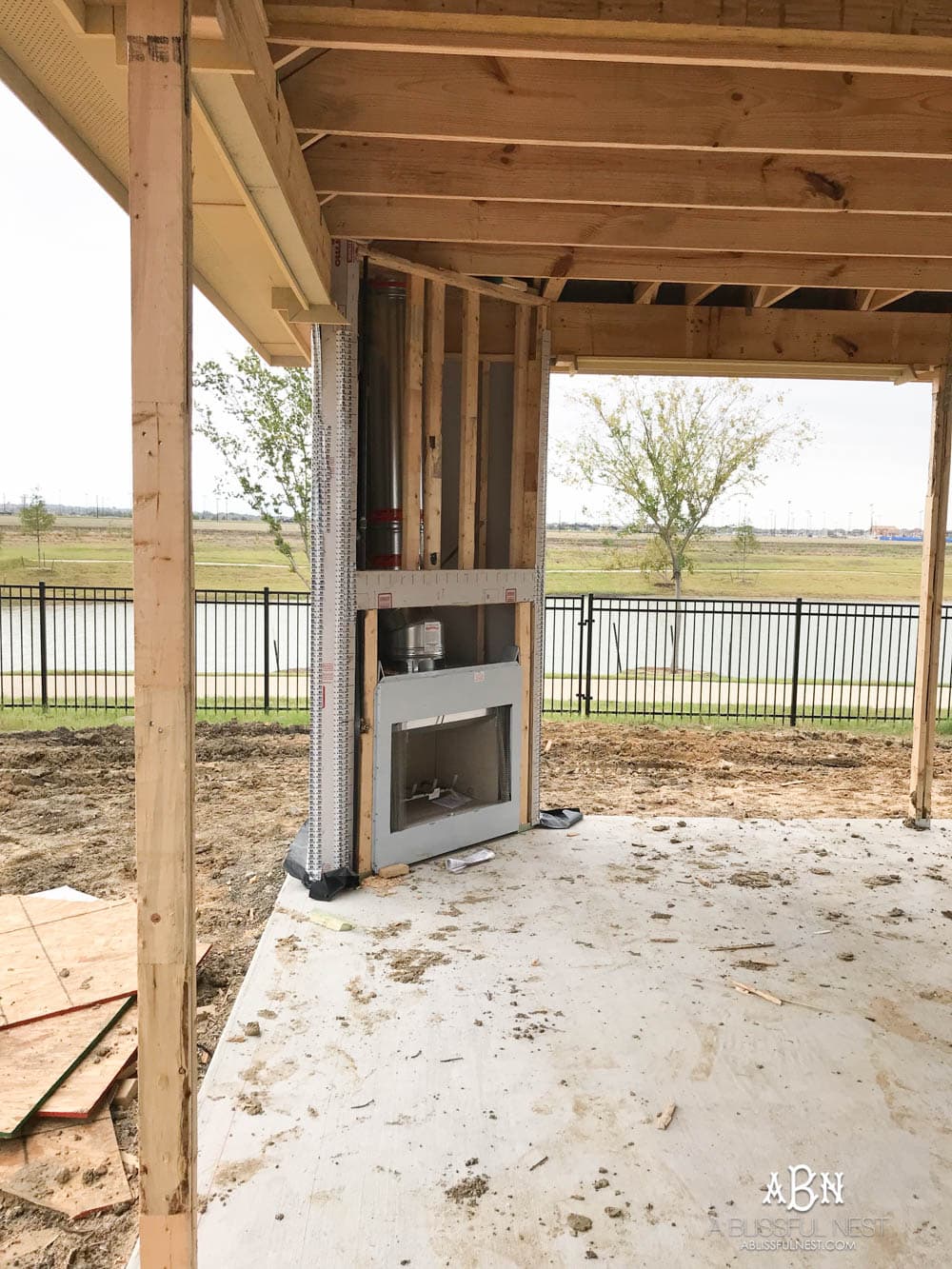 One of the first decisions (keeping all those functional things we had already mapped out above) was to build a fireplace. It is either really cold here or really hot. So we wanted to be able to extend the time on the patio into the cooler months and create a cozy living space. It is nestled into the left corner of the patio and we added a cut out with av wiring for a tv mount. I really tried to keep the "living outdoors" idea when we designed it. I love that this little corner will be more of a family room space than just patio seating.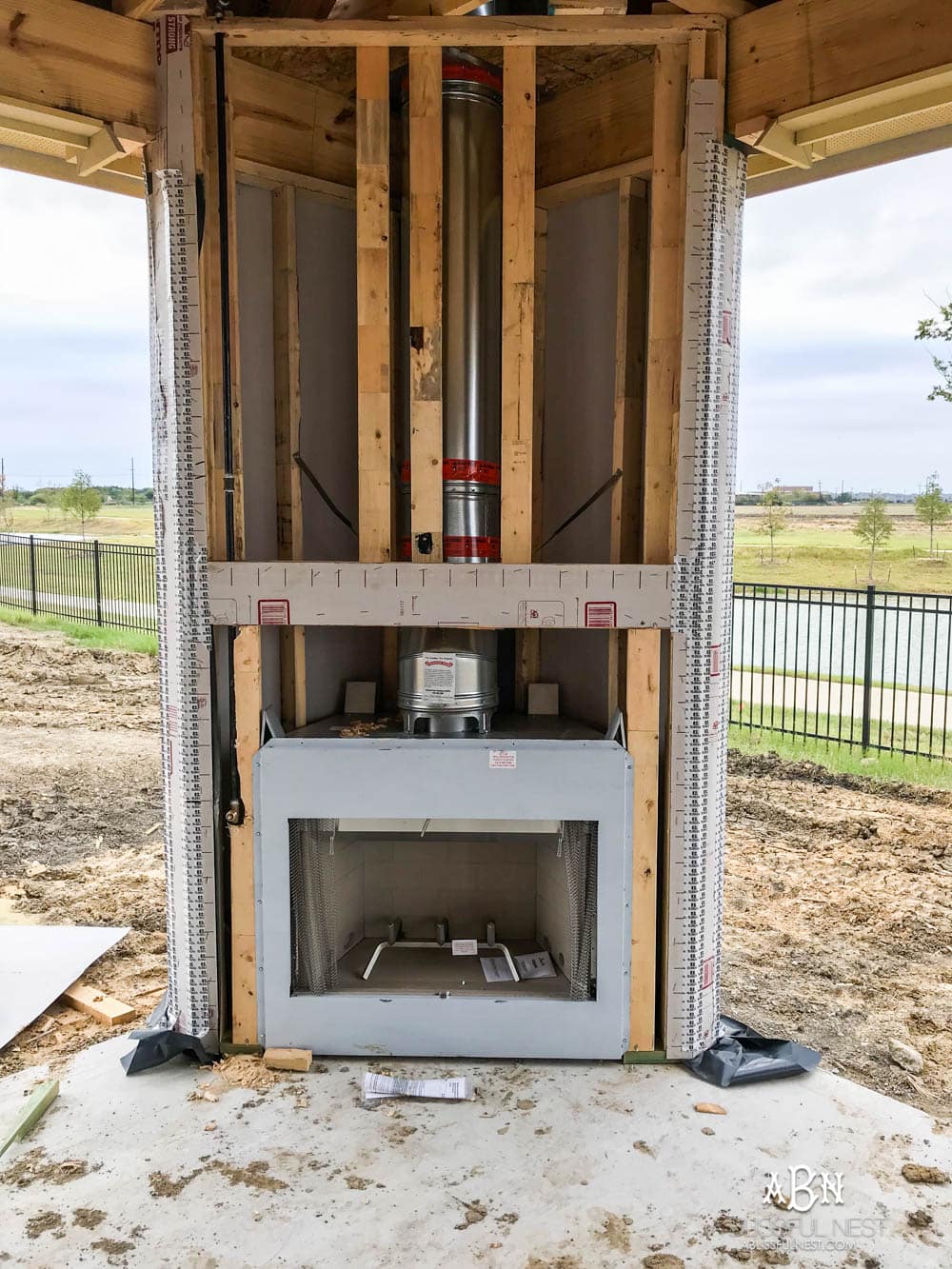 To the right of the space is our incredible view and the lake really opens up more to the right. We definitely did not want to block that and had simple columns made for support. I wanted a old world feel to my brick and you can read more about my brick selection right HERE.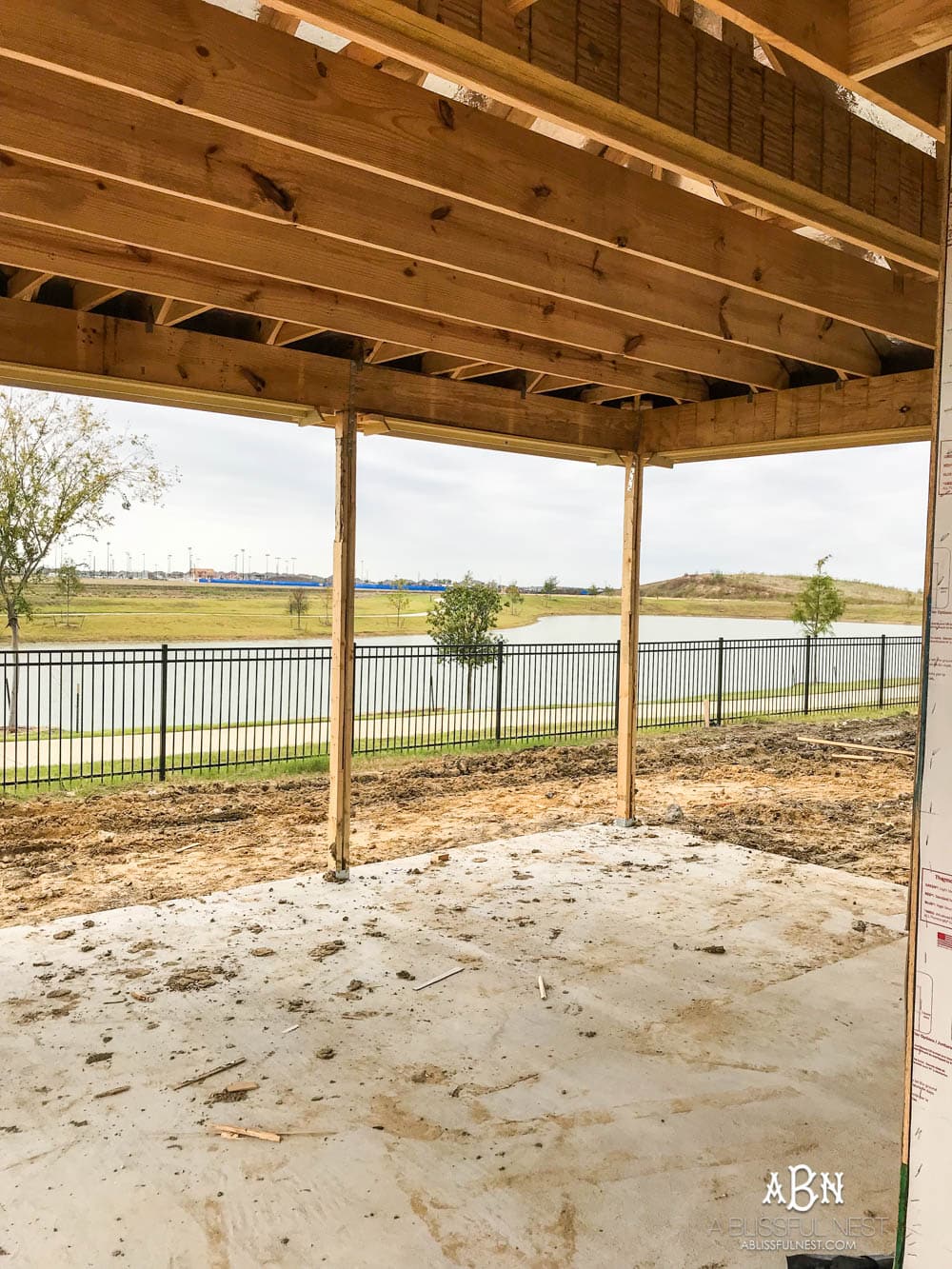 This is the view if your back is to the lake of the whole patio space. It is in a L shape and the door into the house goes right into our living room. These windows are our living room windows so we have a great view through there.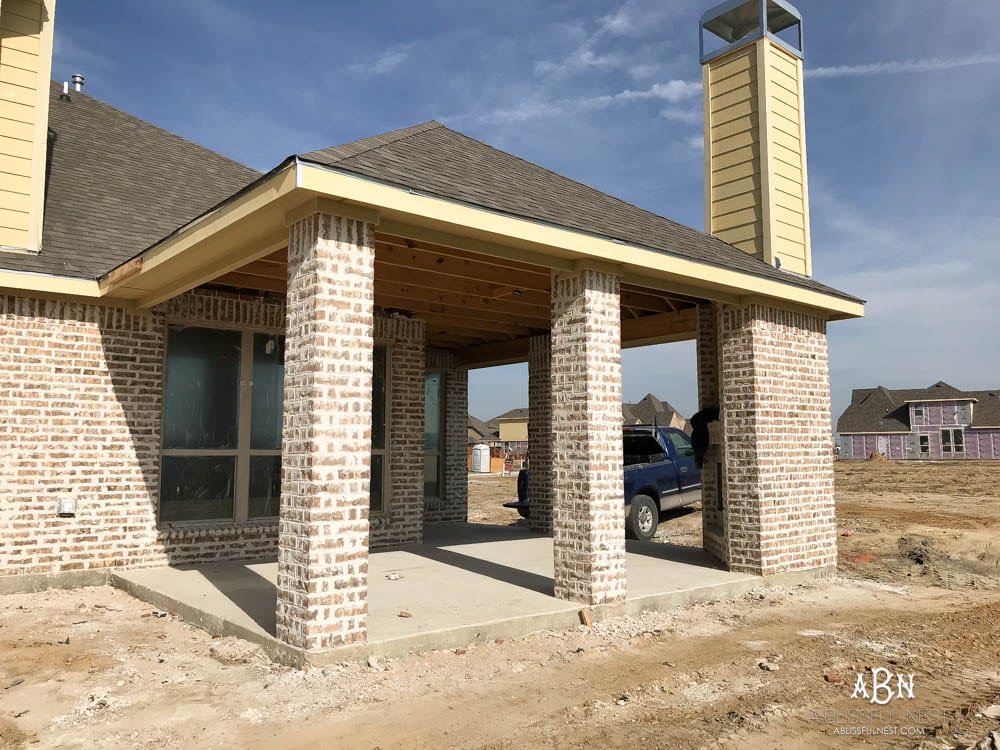 So here is the good stuff!
We created 3 spaces on our patio: dining, living and cooking.
We are not quite complete with the cooking space but I will share that part soon.
My Outdoor Patio Reveal:
Backyard Patio After . . . .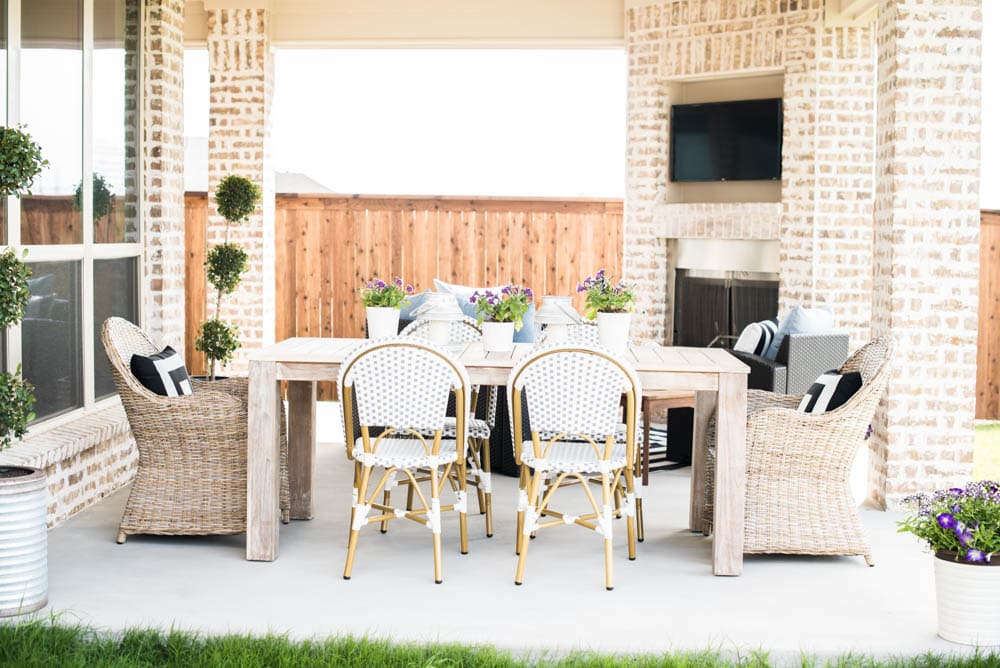 This post contains some affiliate links for your convenience. Click here to read my full disclosure policy.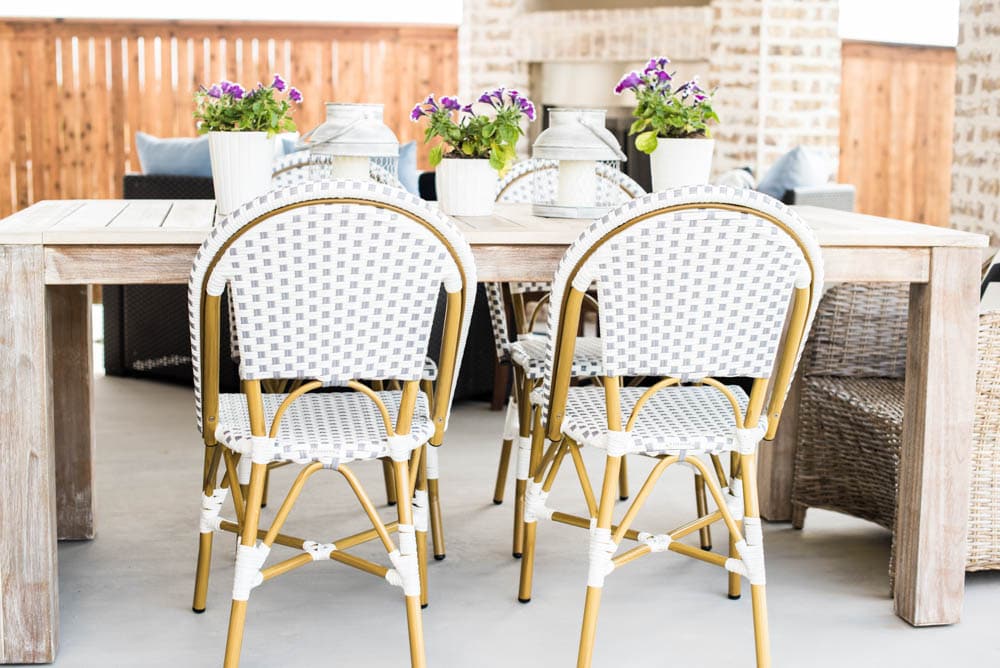 I love having this large table out here that can fit at least 6 people comfortably. That was a big deal to be able to sit out here and have dinner or host a dinner party. I used 4 of these bistro chairs for the side chairs and then these gorgeous grey wicker ones for the ends of the table. These bistro chairs look just like the Serena & Lily ones but are a fraction of the cost. They still feel super durable and I love the grey and white pattern.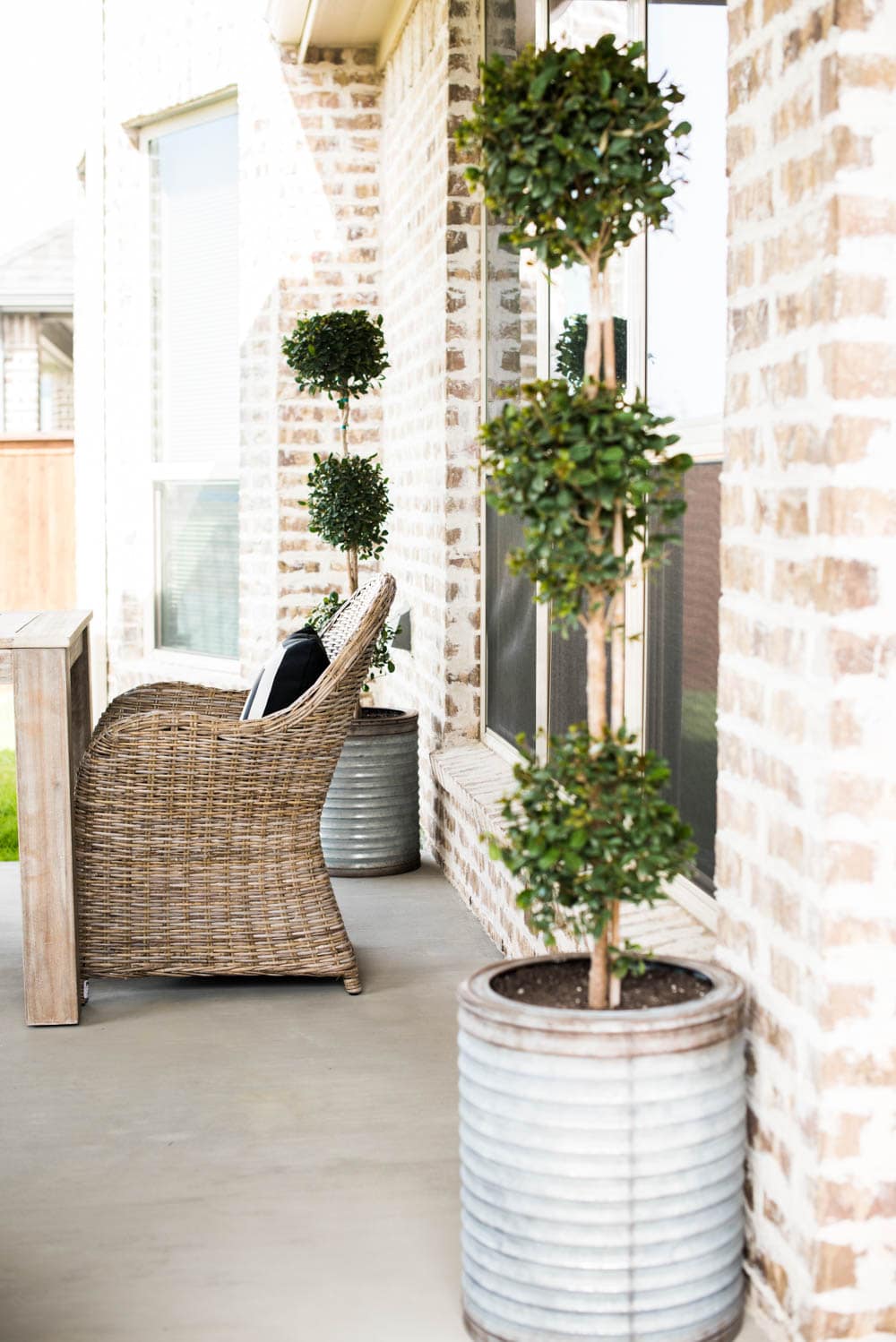 I had been eyeing these wicker chairs forever and actually originally purchased them for our breakfast room. But when I started decorating this space, they were the obvious choice and add a little texture out here. I added these cute geometric outdoor pillows (they are only $15!) to the wicker chairs and some potted flowers with these candle lanterns from Tuesday Morning. I currently have flameless candles in there so I can just turn these on with a remote. So much less mess!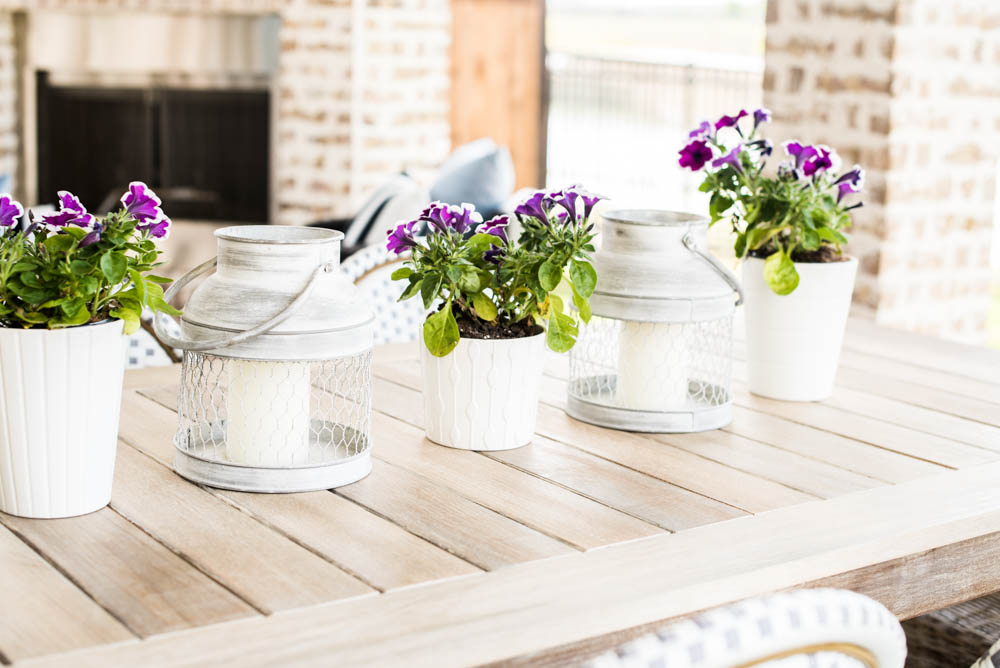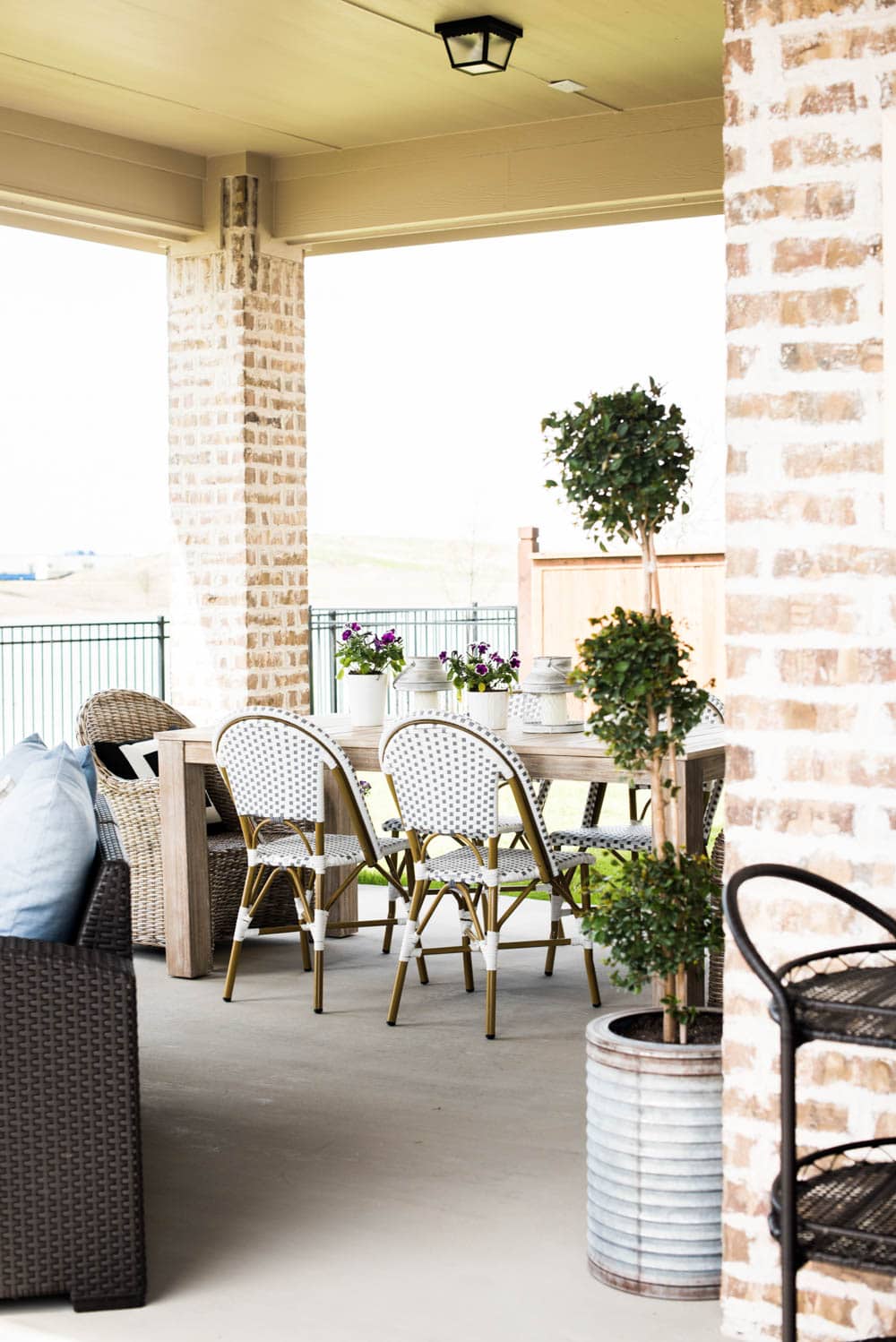 If you've been noticing, I have been posting more and more about topiaries. Let me tell you my love for them is strong . . . . and so is the wind at our new house. I mean it is crazy since there is not much built around us yet. I am hoping my sweet topiaries make it. I got them for a steal this year at Walmart (only $35). So go check there and see if they are not sold out yet.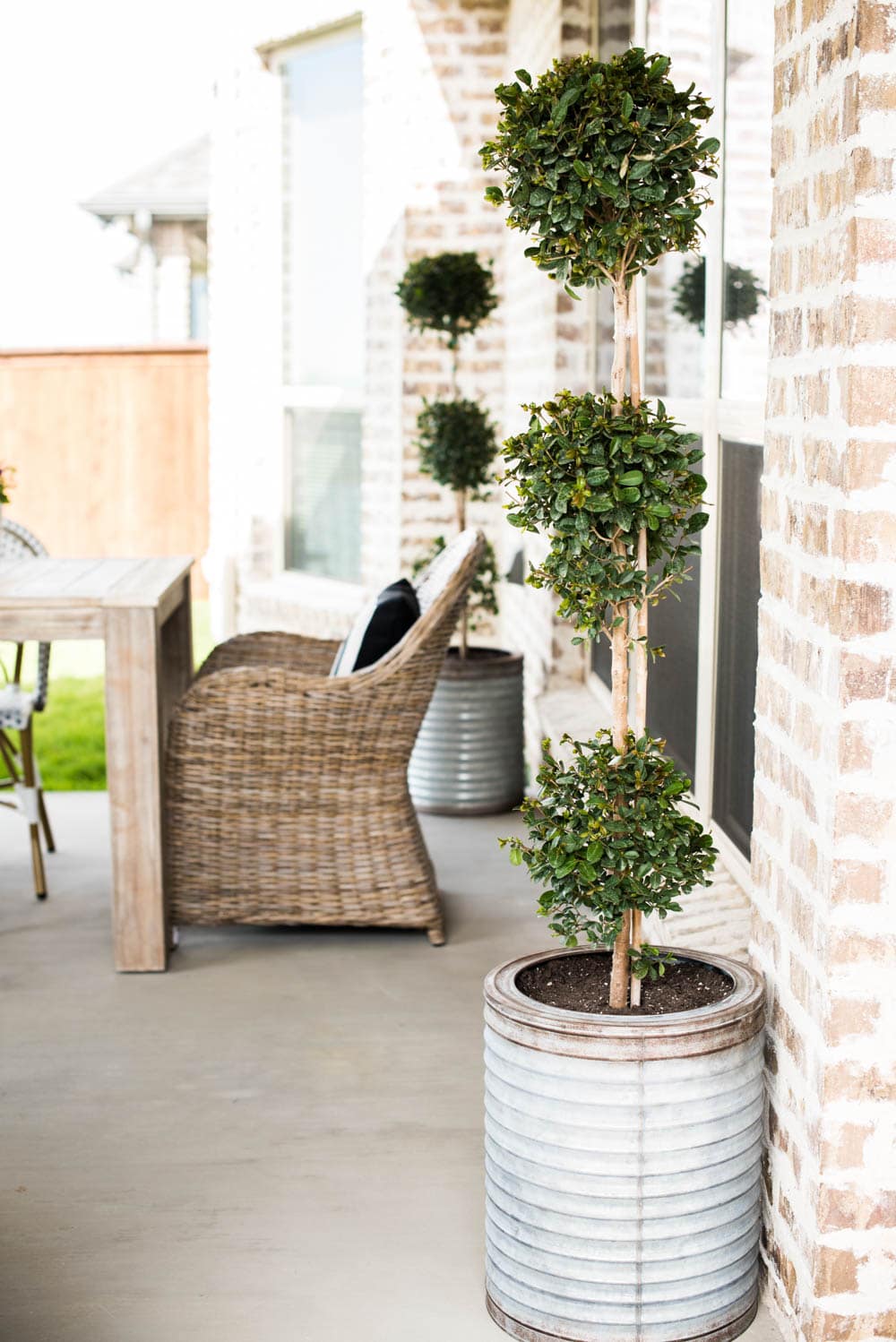 These planters are very industrial looking and give a little farmhouse style edge to the more modern decor of the patio.
Okay on to our living space. I kept this patio furniture from the last house because I love it so much. It is a small sofa and 2 armchairs.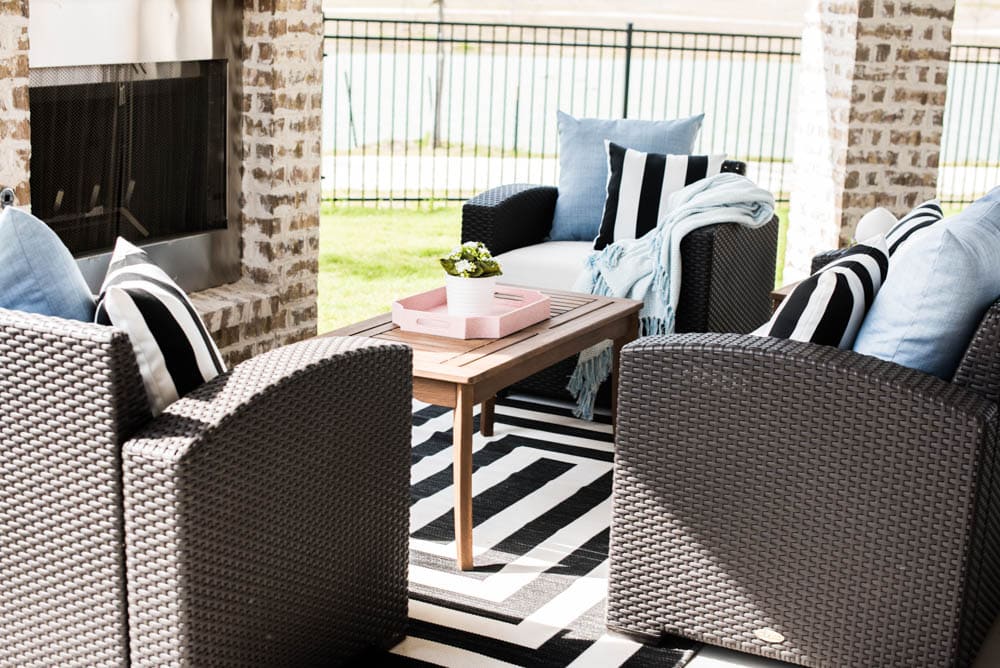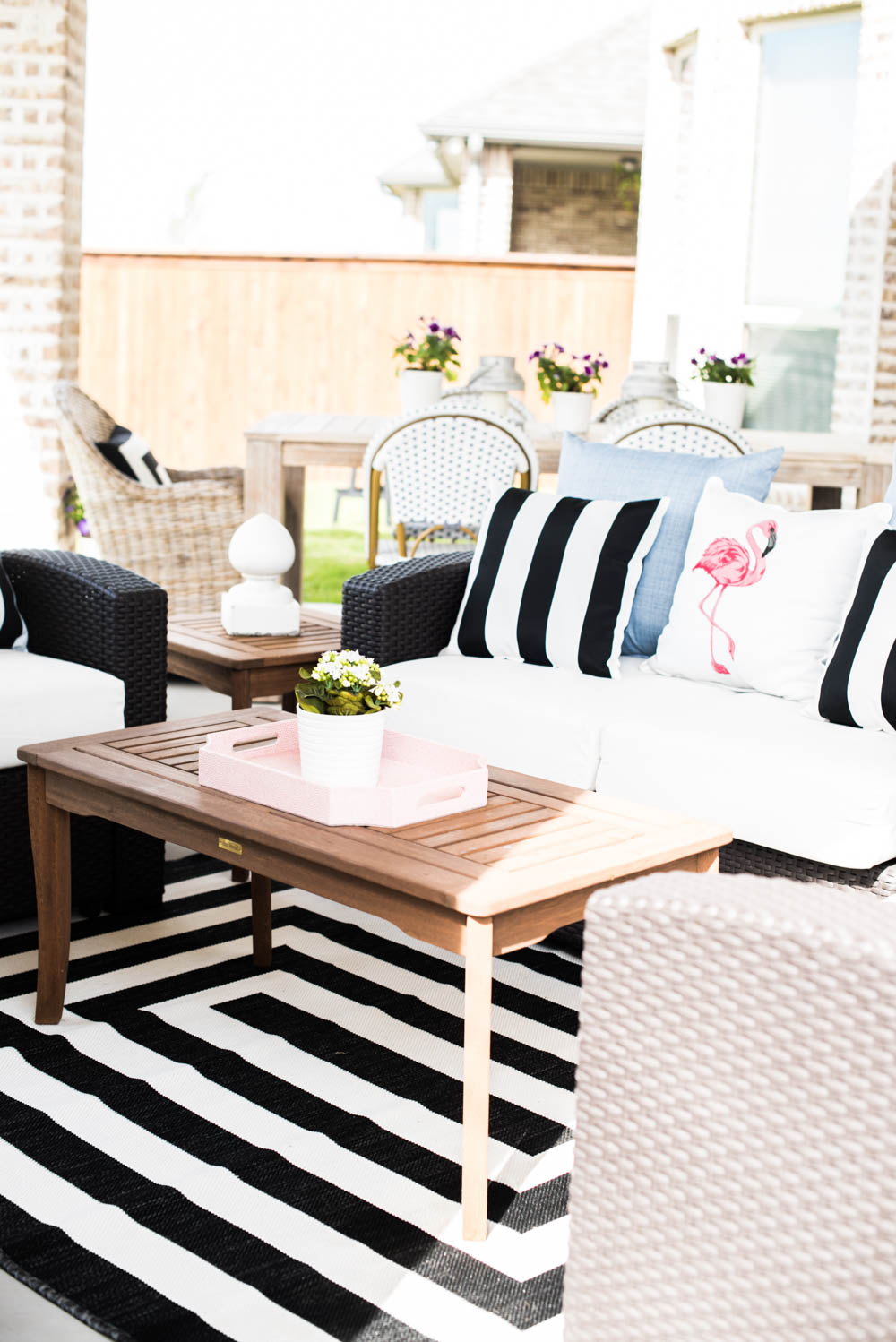 I clustered them around the fireplace and delineated the space with this outdoor area rug. I used a black and white color scheme that I thought would be easy to interchange other colored accessories for when I want to change things up. I found this fun flamingo pillow at Tuesday Morning (HERE is a similar one) for a fun punch of color and used these denim colored pillows as the back pillows.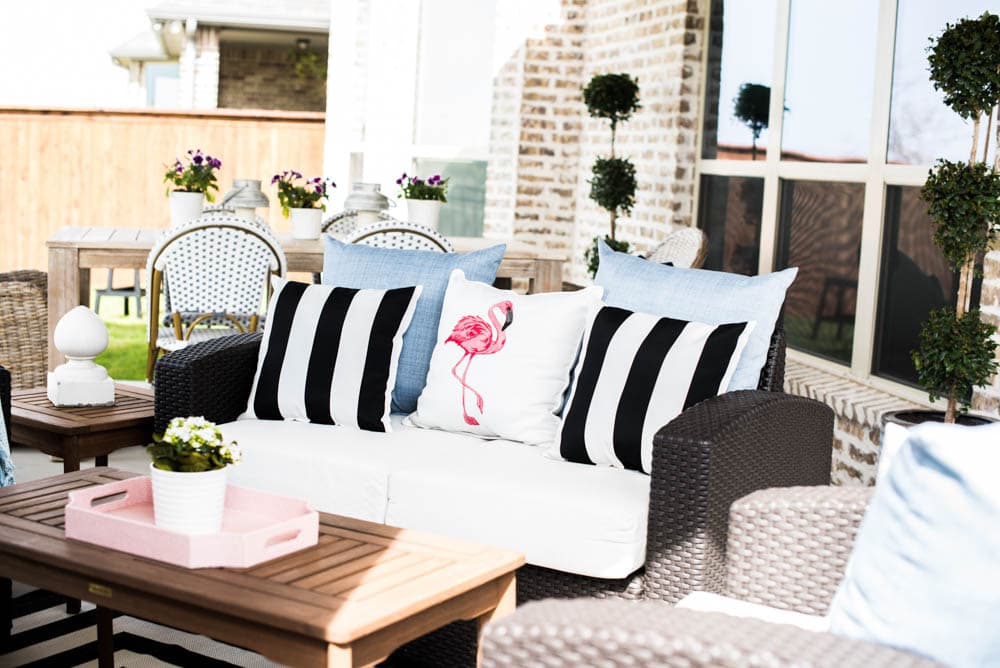 This cute tray with it's pebbled texture is the perfect catch all for out here in the warmer months. Right now I have a simple plant but this is where we will keep matches and the tv remote too.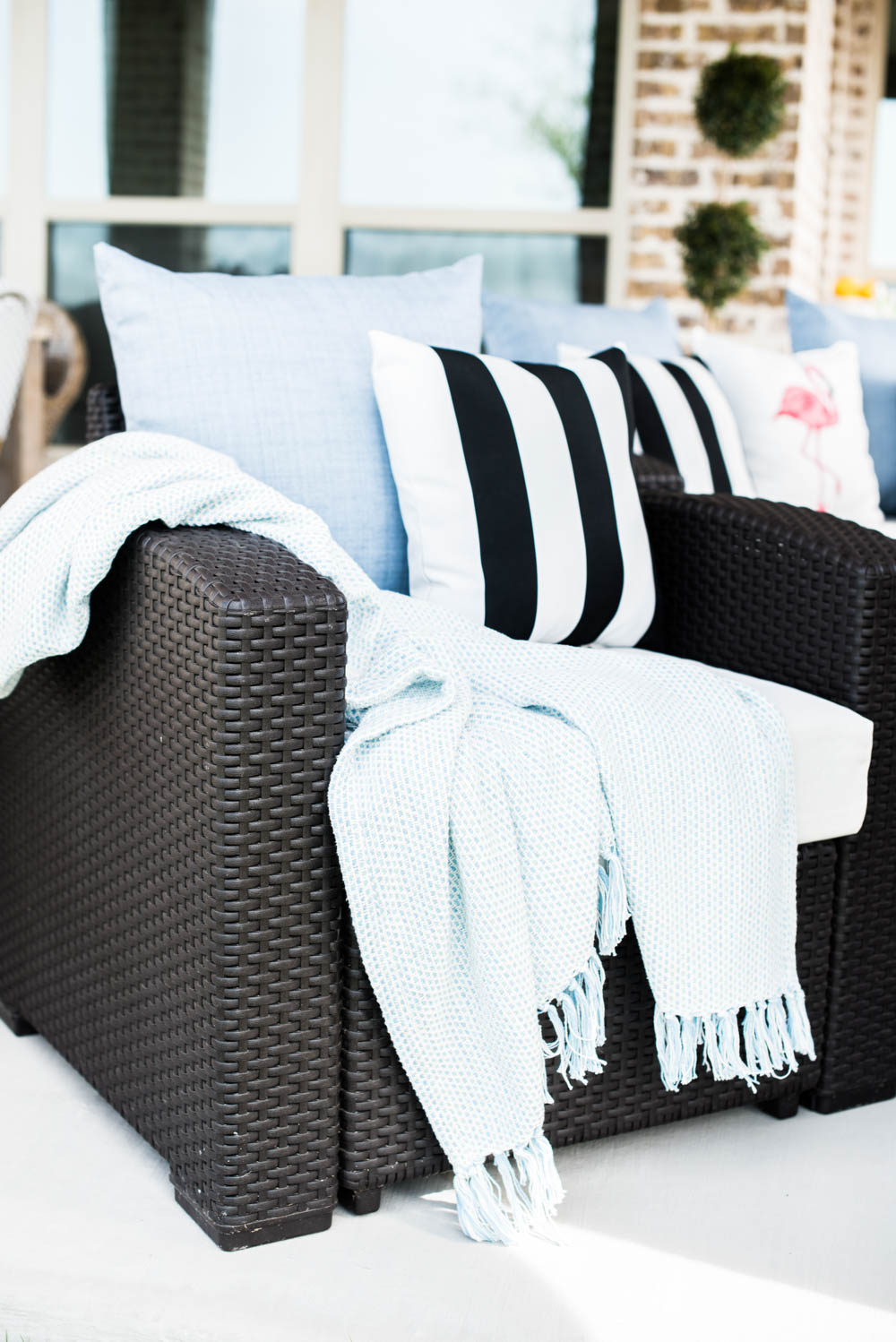 I am forever cold. It's ridiculous. It could be 90 degrees outside and I will still bring a sweatshirt with me because I know I will get cold. For that reason I have a lot of throw blankets and I keep them in baskets and draped over all my chairs so I can easily grab one. This one is lightweight (similar) and perfect for the warmer weather evenings.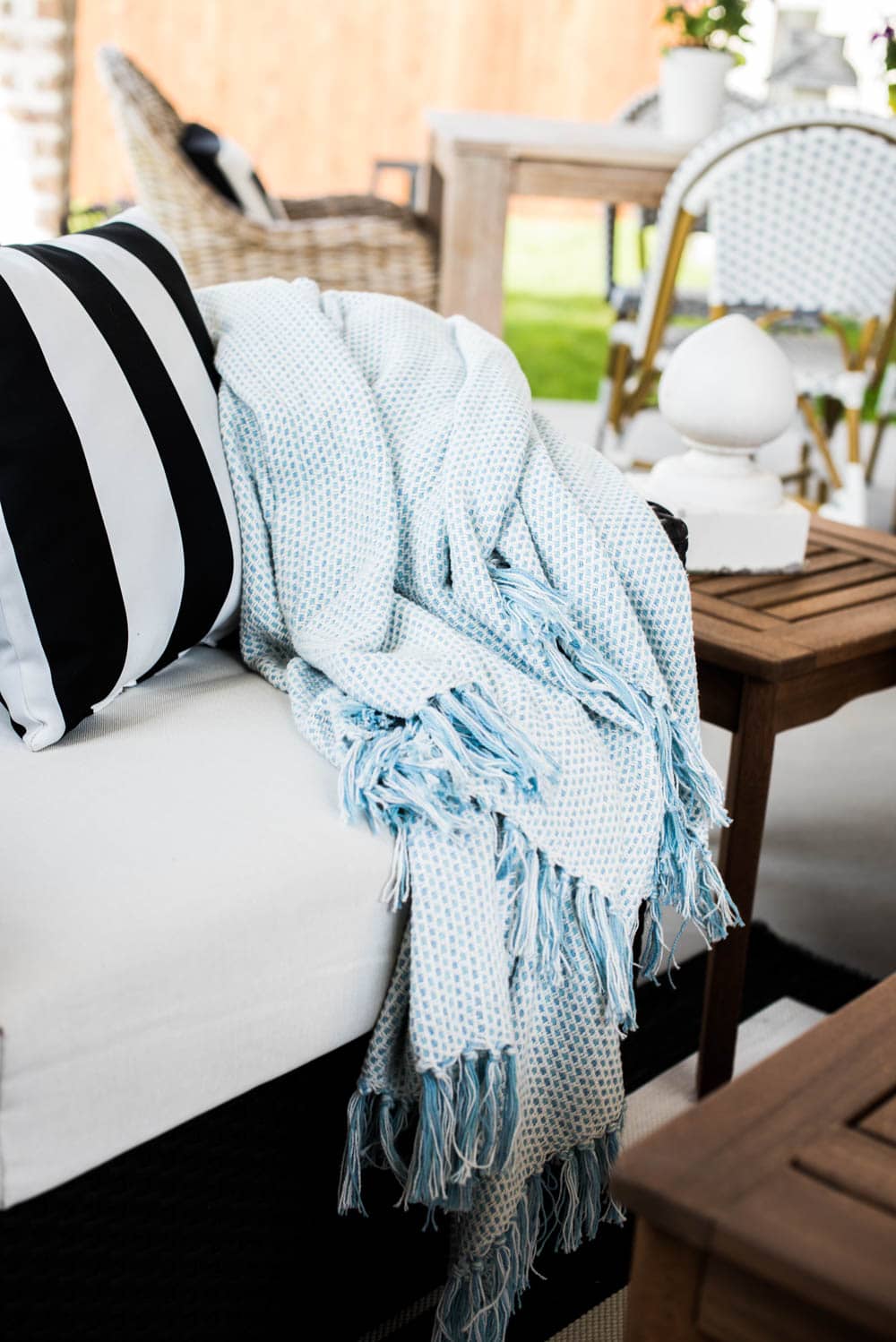 So there you have it! We are so happy with our patio and have already eaten dinner out here once (even though we froze to death!). So now all we need is for it to warm up a bit!
There are still things on our "to do" list to do out here like paint the ceiling and trim a different color but that will get done in time. Hope you loved this and you can see the patio from last spring right HERE.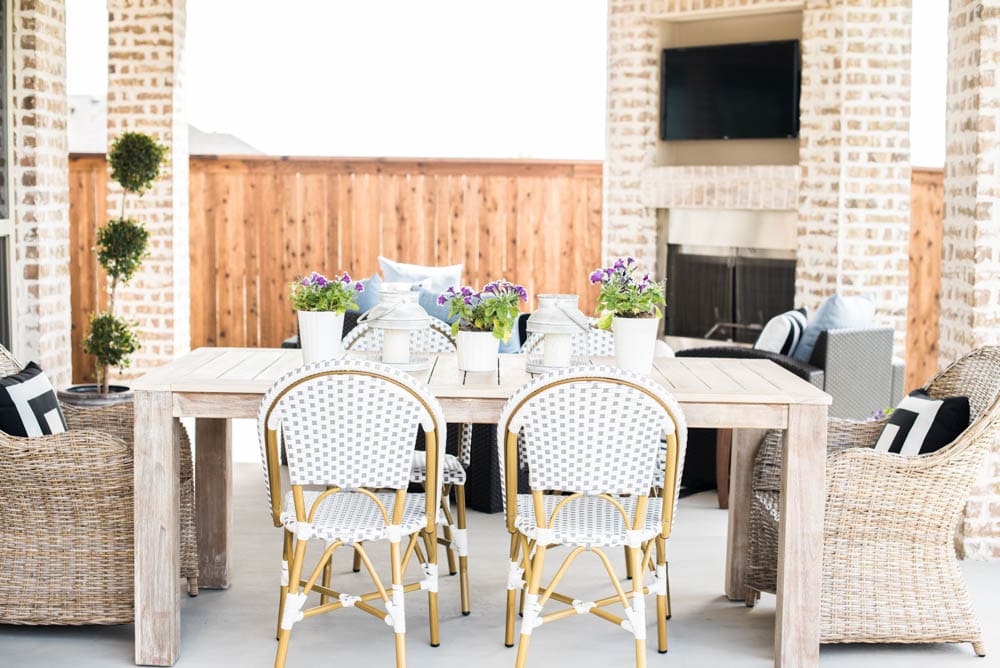 For the outdoor dining space

For the outdoor living space


*Photography by Sweet Memory Photography