Colorful Springtime Party Idea + Best Place To Get Party Essentials
This post is sponsored by Tuesday Morning.
Hope you loved my backyard patio reveal last week because you are going to see more of it today! With the sun starting to come out and warm up for spring, it's time to start spending more time outdoors. That's why we really designed a patio space with 3 main areas for entertaining. We wanted to be able to comfortably enjoy spending time with friends and family in a outdoor living space. So once you have your basic patio set up then it's time to get planning for a springtime party.
Today, I've partnered with Tuesday Morning for a fresh and colorful springtime party idea that I know you and your guests will love. I love shopping at Tuesday Morning because I always find limited edition items at a great price that the buyers travel around the world to find. I know I will get unique items that I won't find anywhere else.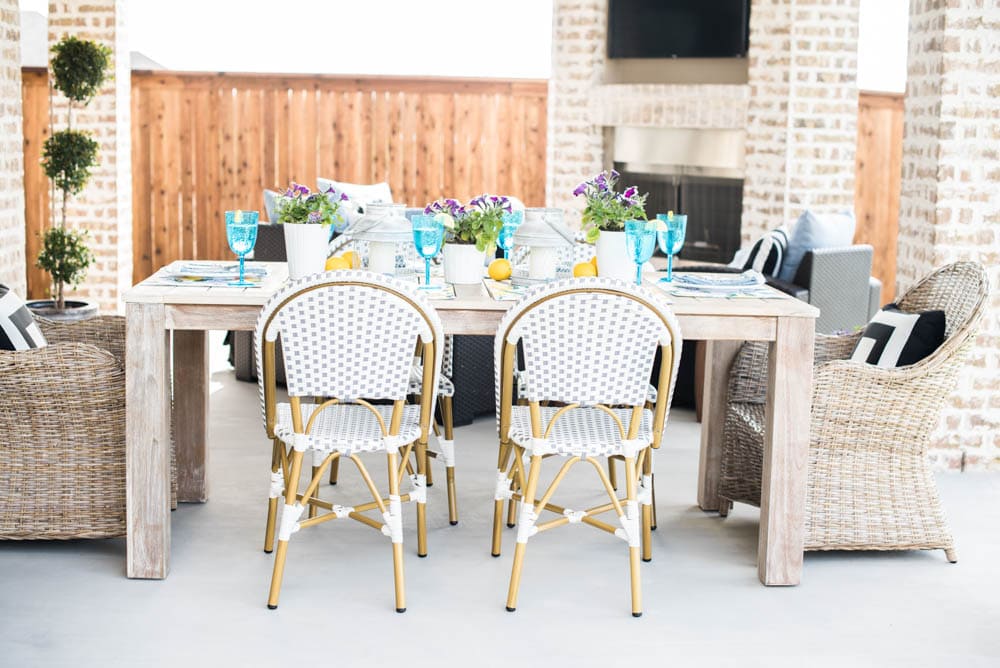 So first. let's talk about the inspiration of my party. 
I like to pick one thing that sets the tone and theme of my party. It can be a tablecloth, fun napkins or in this instance these lemon themed placemats. When I think of lemons, I think of fun fresh and of course spring! They are one of my favorite fruits to decorate with too. Their yellow color makes a statement in any tables decor or centerpiece design.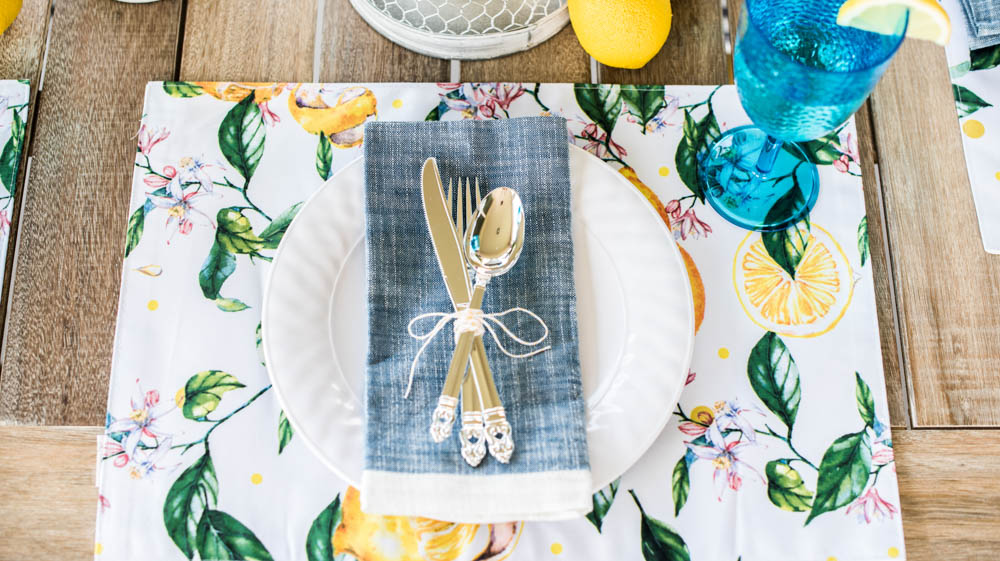 The next thing, is to select an accent color. 
I think every party needs 2 coordinating colors to work with. I love this gorgeous turquoise color in these outdoor glasses and thought the yellow with this would be bold and bright. I love these glasses have a touch of elegance since they have stems but are outdoor friendly.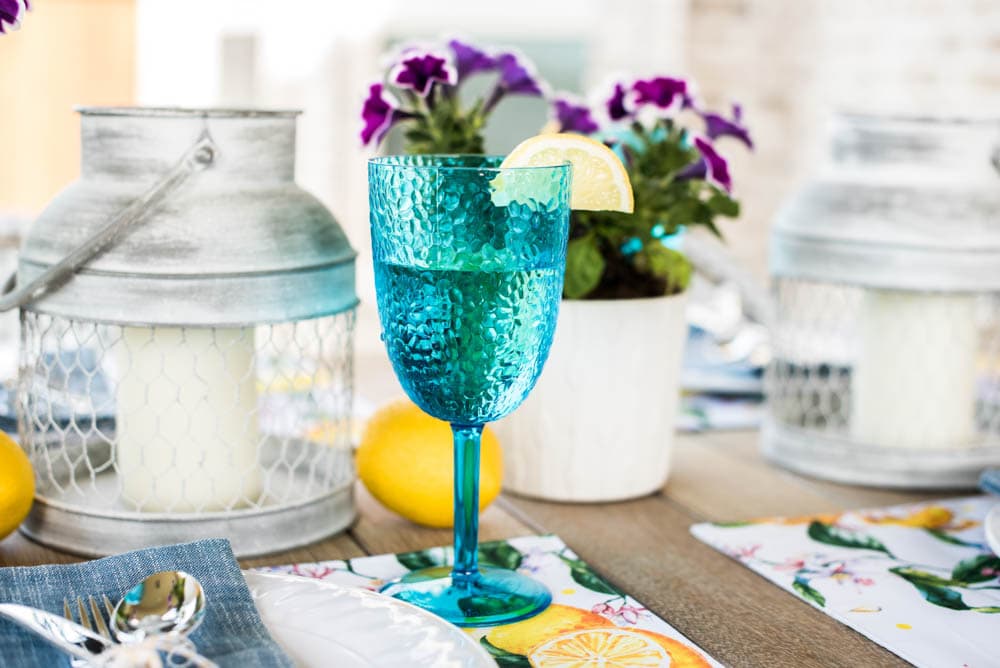 Create a low centerpiece design to evoke conversation with guests.
Keep your design in the center of your table low so people can talk easily and use elements that pop in your color and theme. I chose to add these beautiful lanterns from Tuesday Morning and some lemons. Now don't tell anyone, but these lemons are fake! I can reuse them over and over and I can use these around my kitchen in a bowl when I am done using them for my party.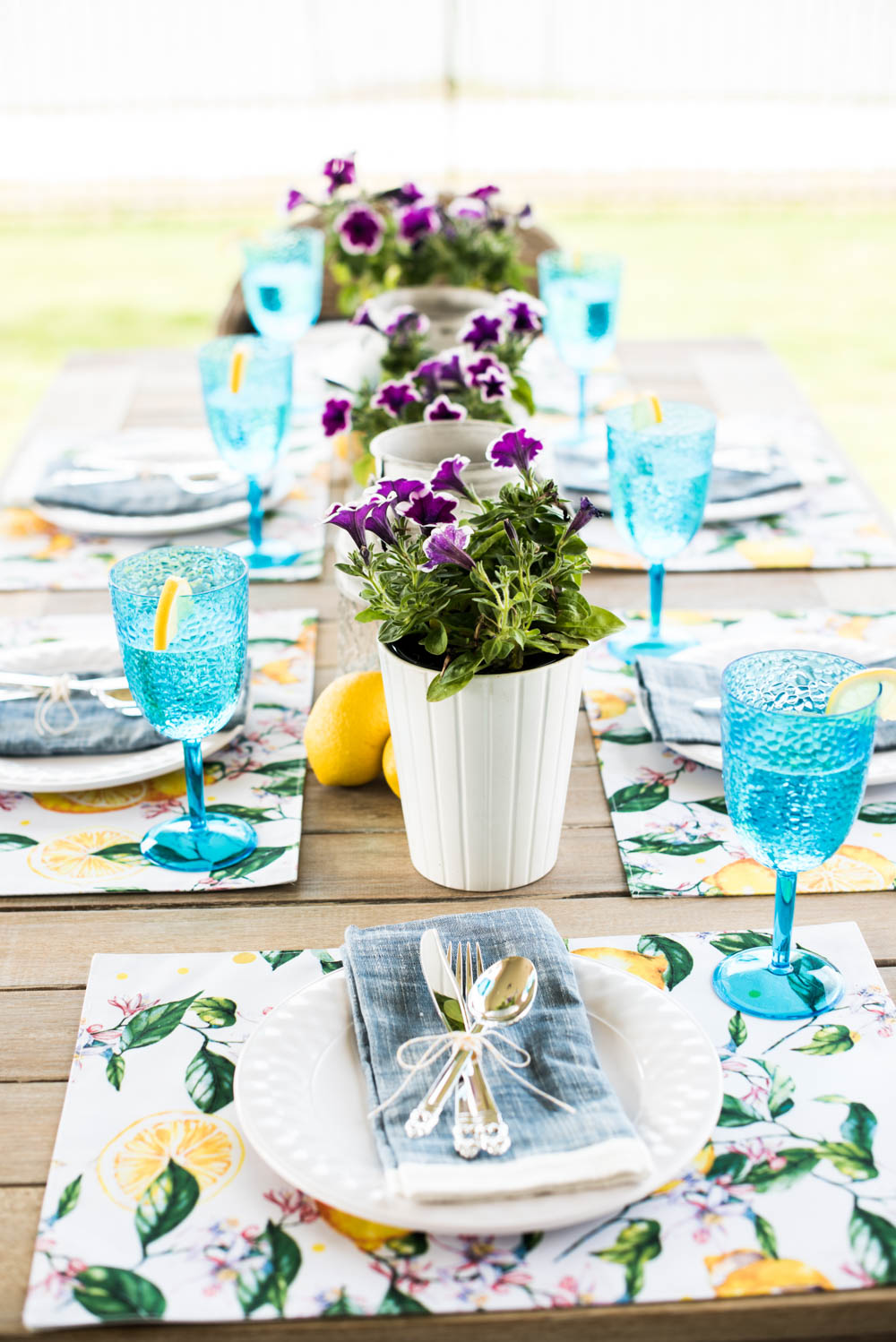 Can we just talk about how gorgeous these lanterns are?! I may get a few more for around the rest of our patio. I added in some flameless candles so they wouldn't make a mess and offer good ambient lighting for when the sun goes down. They come in a few sizes too. These are the smaller ones.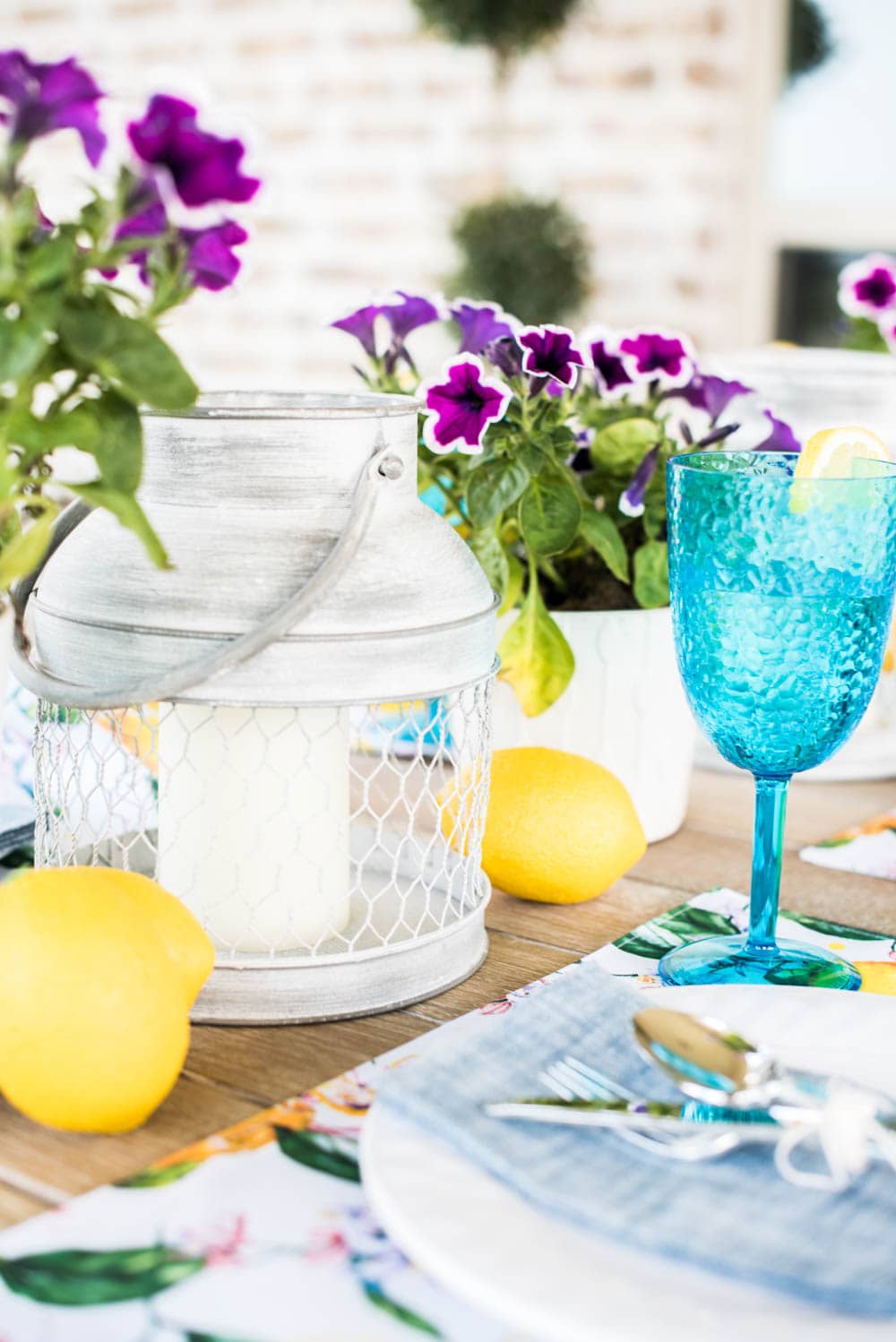 Spread out your appetizers and food you are serving.
If I have learned anything over the years of entertaining it is to not have all the food in one area. People tend to congregate around the food and drinks and then it is a traffic jam. I like to have a few serving areas and use all my flat surfaces to do so.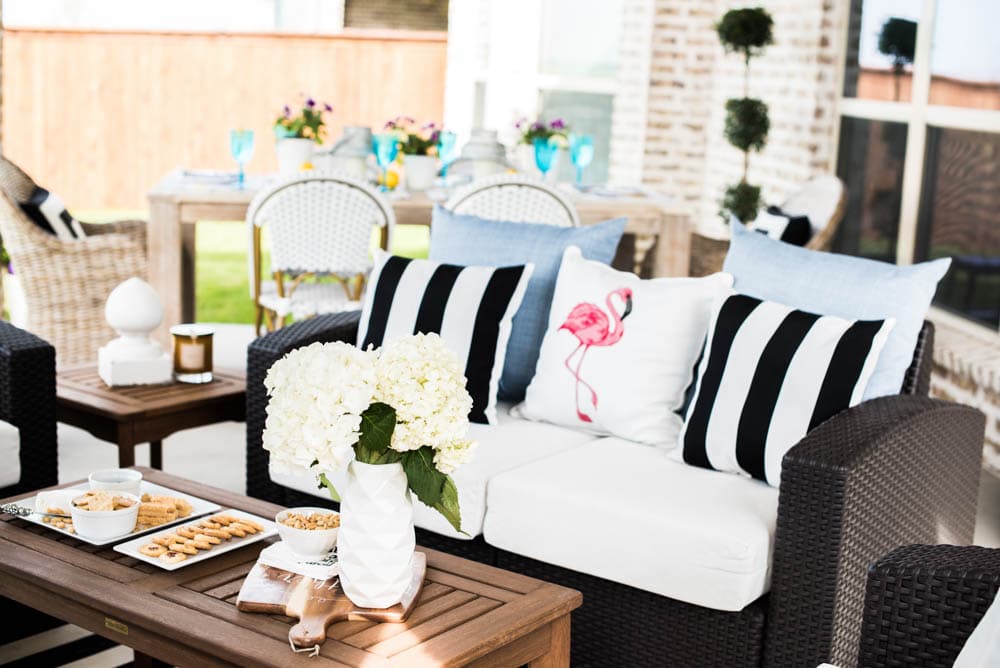 I love to use all white serving dishes and Tuesday Morning has a HUGE selection of them. From bowls to platters, you can find anything you need there. I tend to stay with white because then they will go with anything in the future too.
I also like to use cutting boards to set up food displays. They are easy to carry and quick to clean. I love this one I found at Tuesday Morning because it has such a sweet sentiment.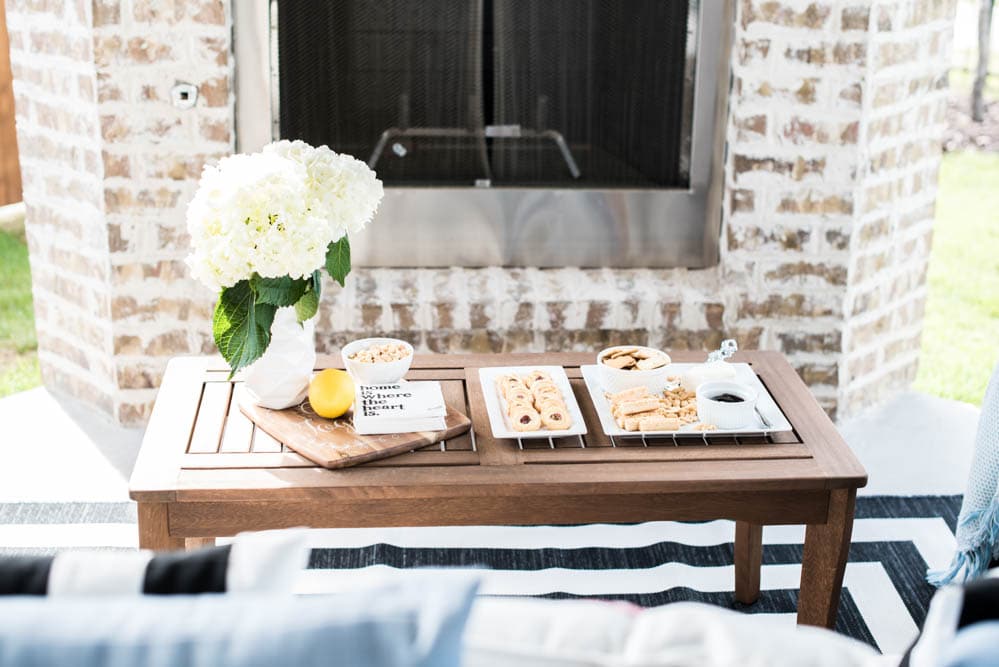 Okay and let's talk about how cute these cocktail napkins are?! Another one of my favorite finds recently. I love this since we just moved into our home. Tuesday Morning always seems to have such adorable fun ones. They come in fun patterns and great typography. I stockpile these and just grab them when I see them. I keep them in my cabinet and pull them out when I need them.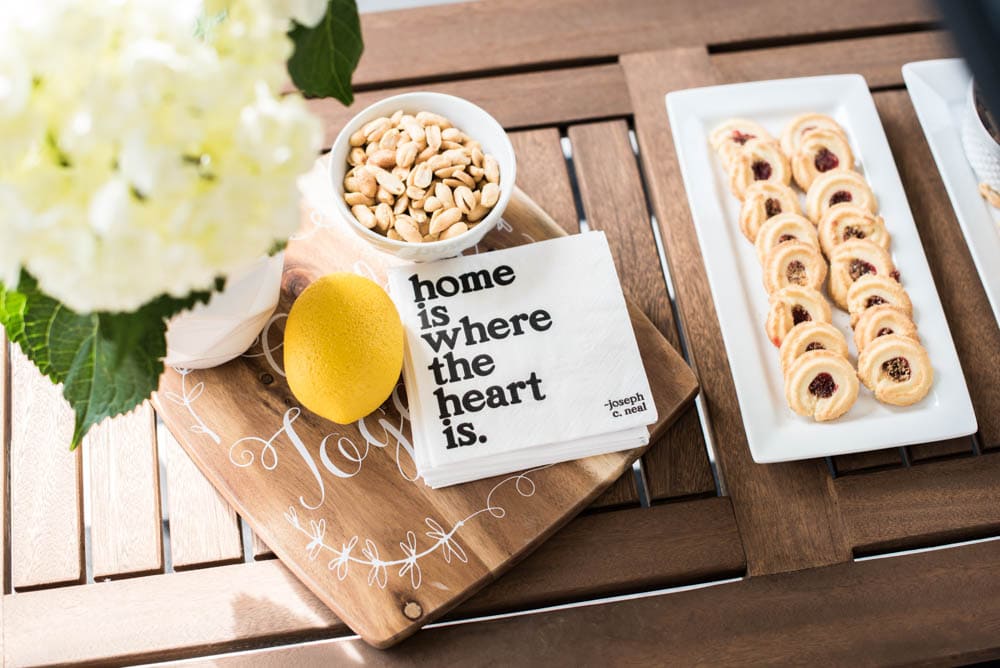 Have a few variations of small bites for guests.
Did you know Tuesday Morning has food too? Last year I met one of the buyers and they were telling me about their buying trips all over the world and how they find the yummiest and freshest food items to stock their stores with. I was so impressed!
I like to serve something sweet and something salty at my parties. These yummy strawberry cookies pair well with salted nuts and these cheddar sticks. I even grabbed some pomegranate jelly to drizzle over the crackers with some goat cheese.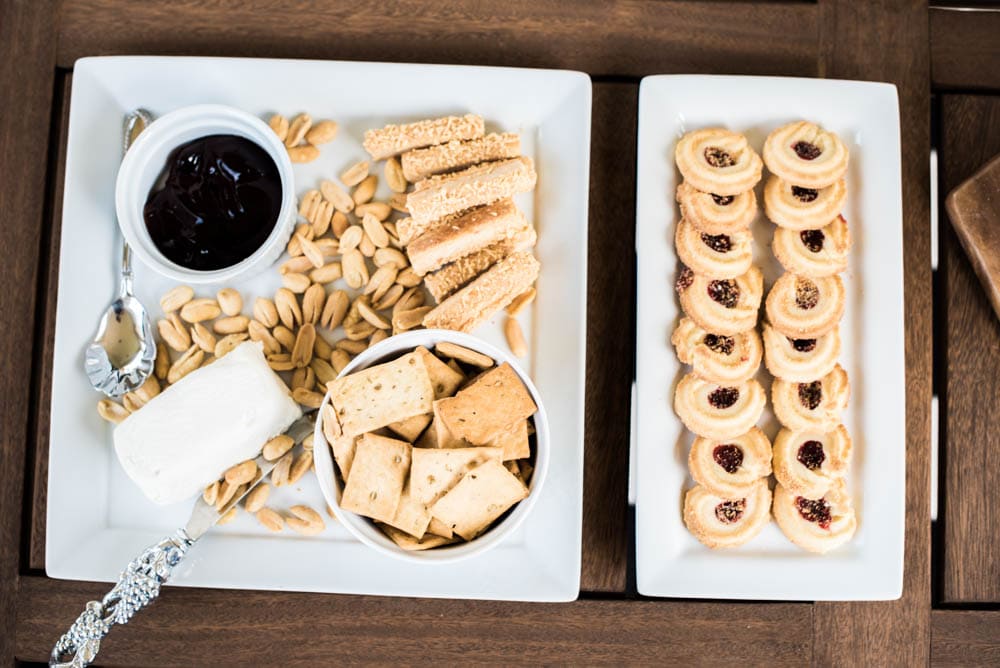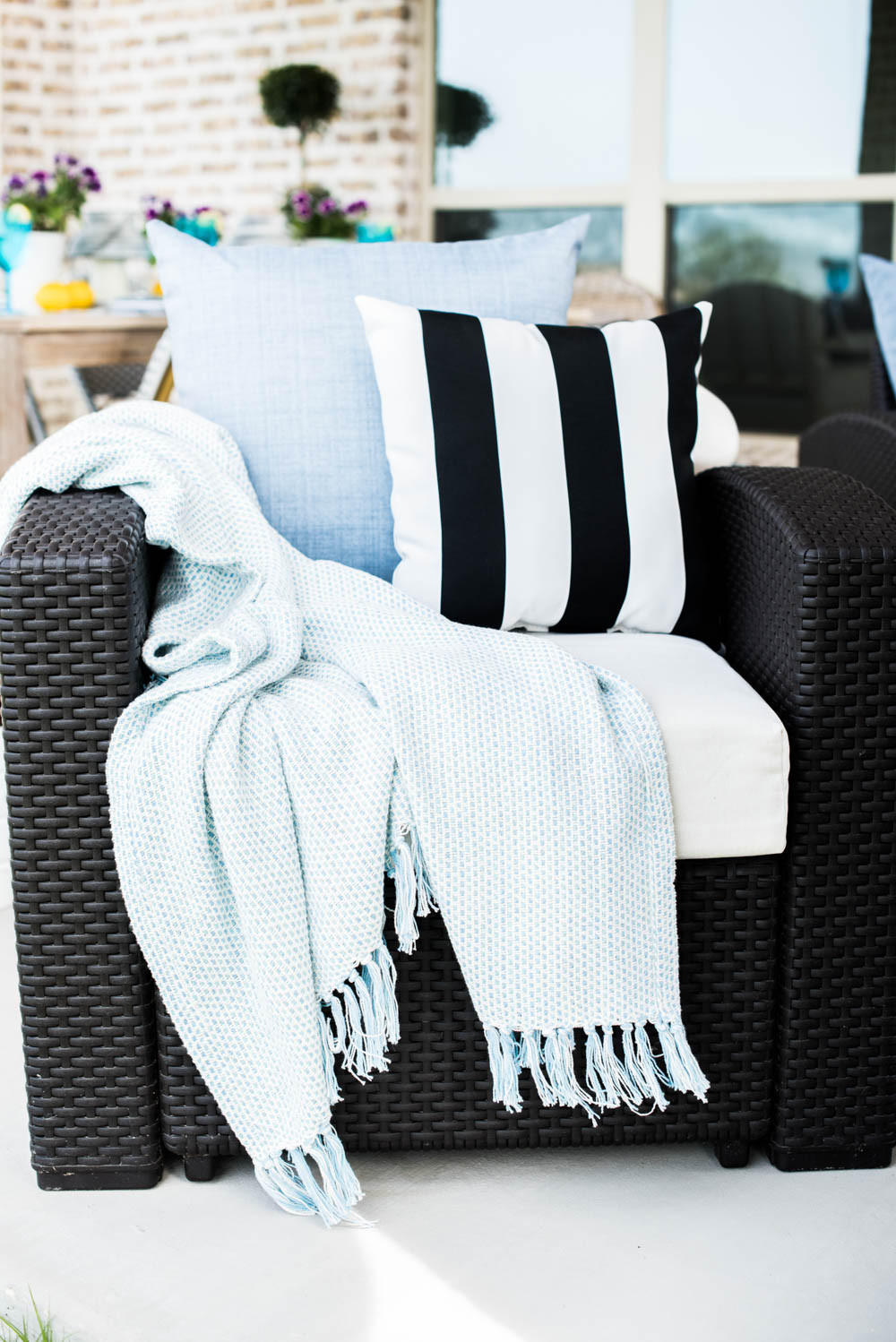 Make your outdoors feel lived in.
Okay what I mean by this is create a comfortable space that your guests can kick their shoes off, have a drink and eat. I add throw blankets and decorative pillows to create a cozy atmosphere. I am in love with the cute flamingo stuff at Tuesday Morning right now and snagged this pillow.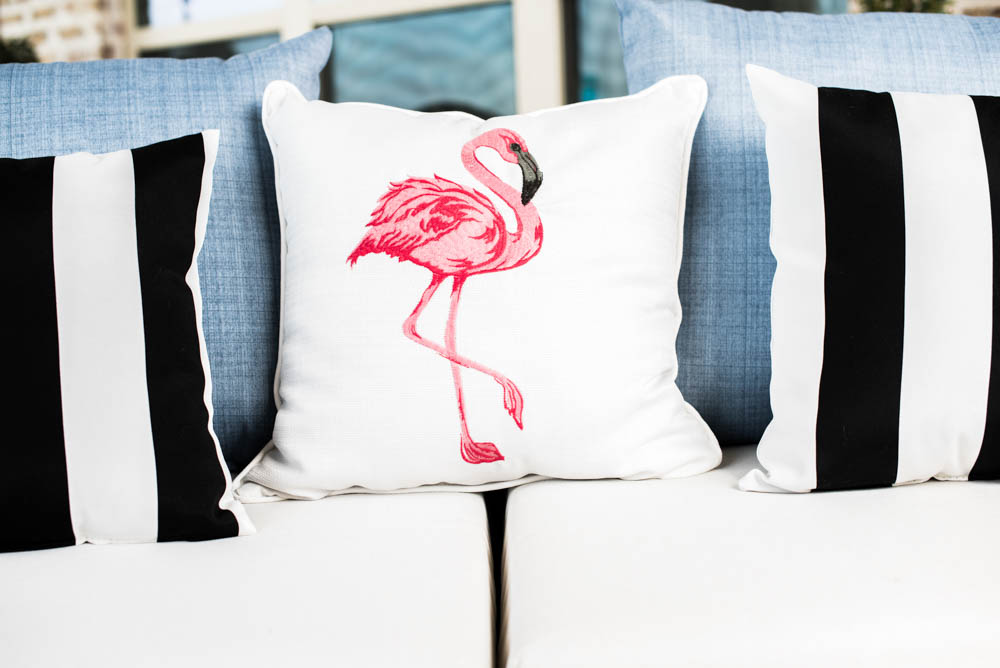 Create a drink station.
I love this bar cart I found on my recent trip to TM and it matches my patio furniture perfectly. It is the perfect outdoor space to set up a drink station. I can roll it around to wherever I would like it placed and it has multiple shelves to stalk all the items my guests need to make a variety of drinks I am offering.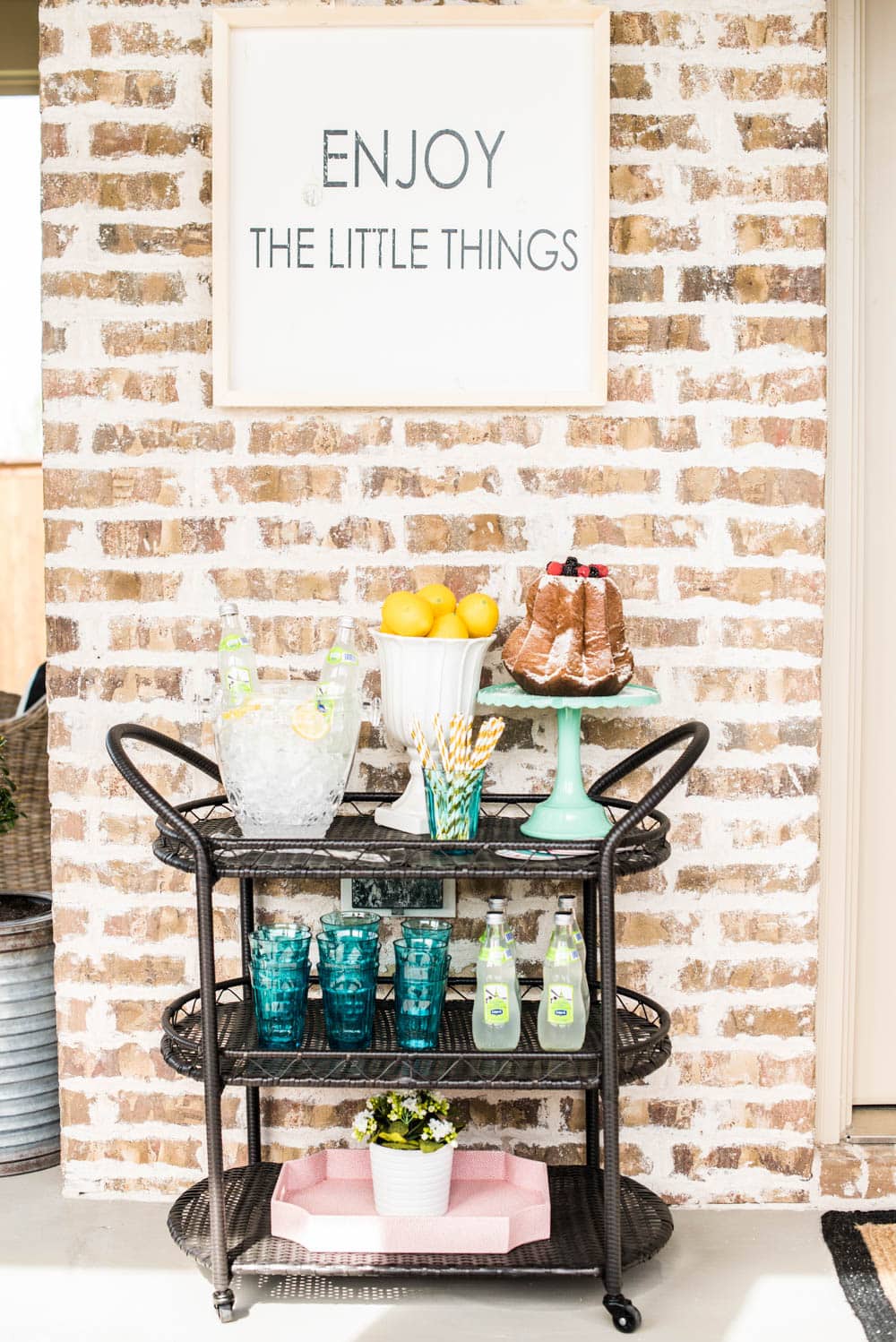 I added more lemons in this gorgeous fluted bowl and a catch all tray below.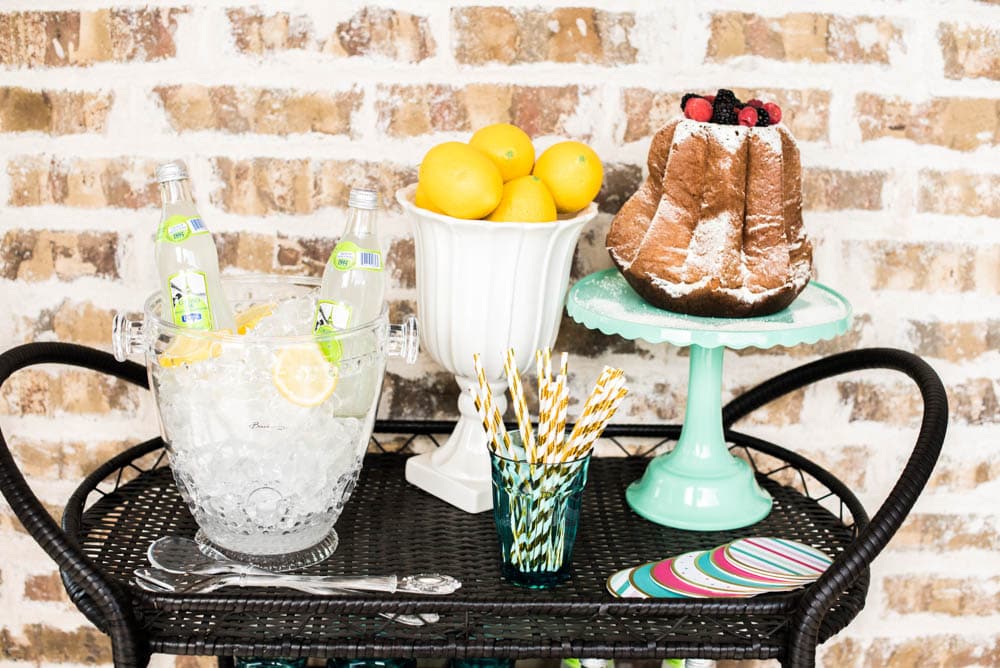 I placed our dessert I got at Tuesday Morning on this melamine cake stand. It is a lemon bundt food cake. I added fresh raspberries and blackberries from the supermarket and sprinkled on the lemon powder sugar (that came with the cake) for an impressive dessert display. It could not have been any easier.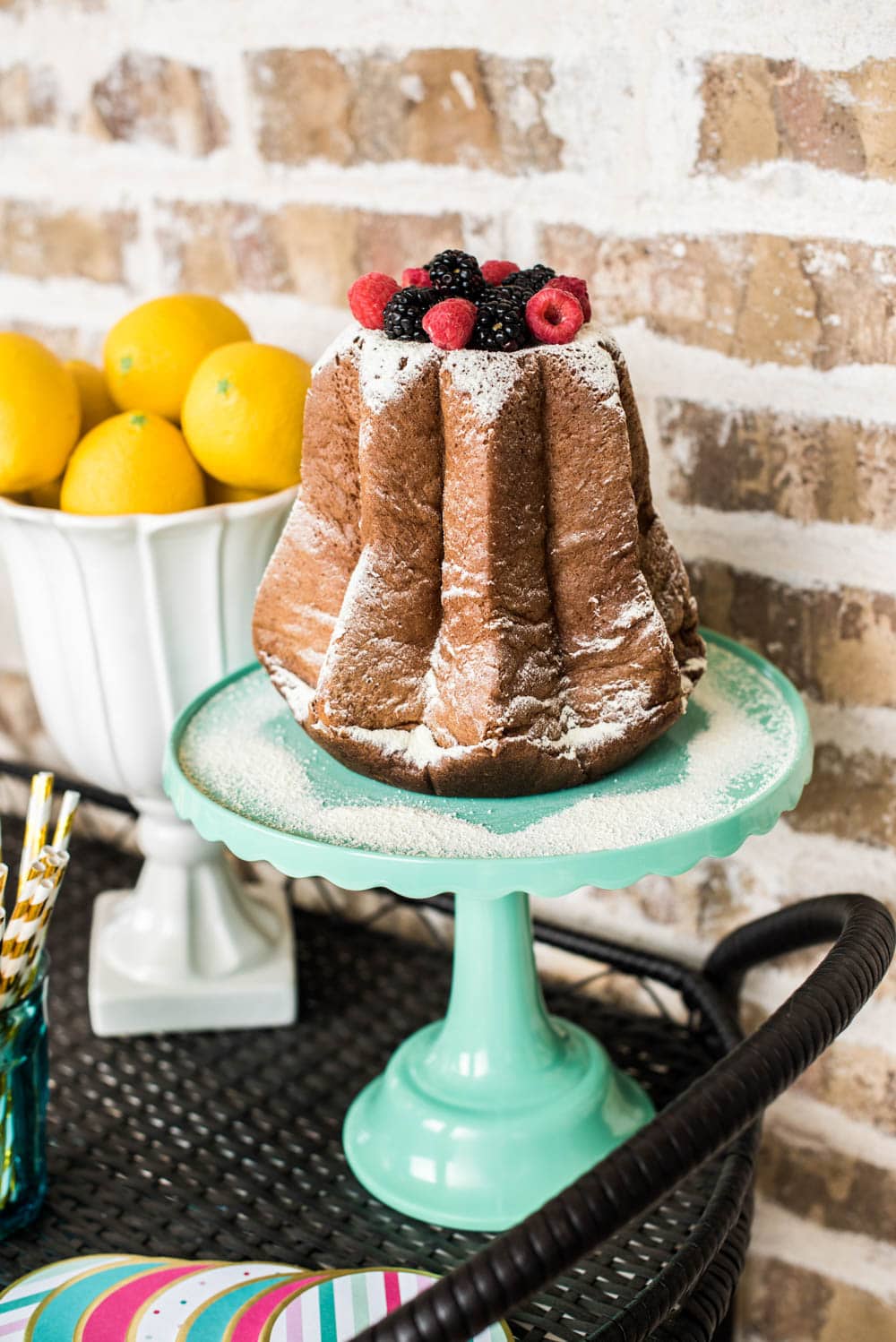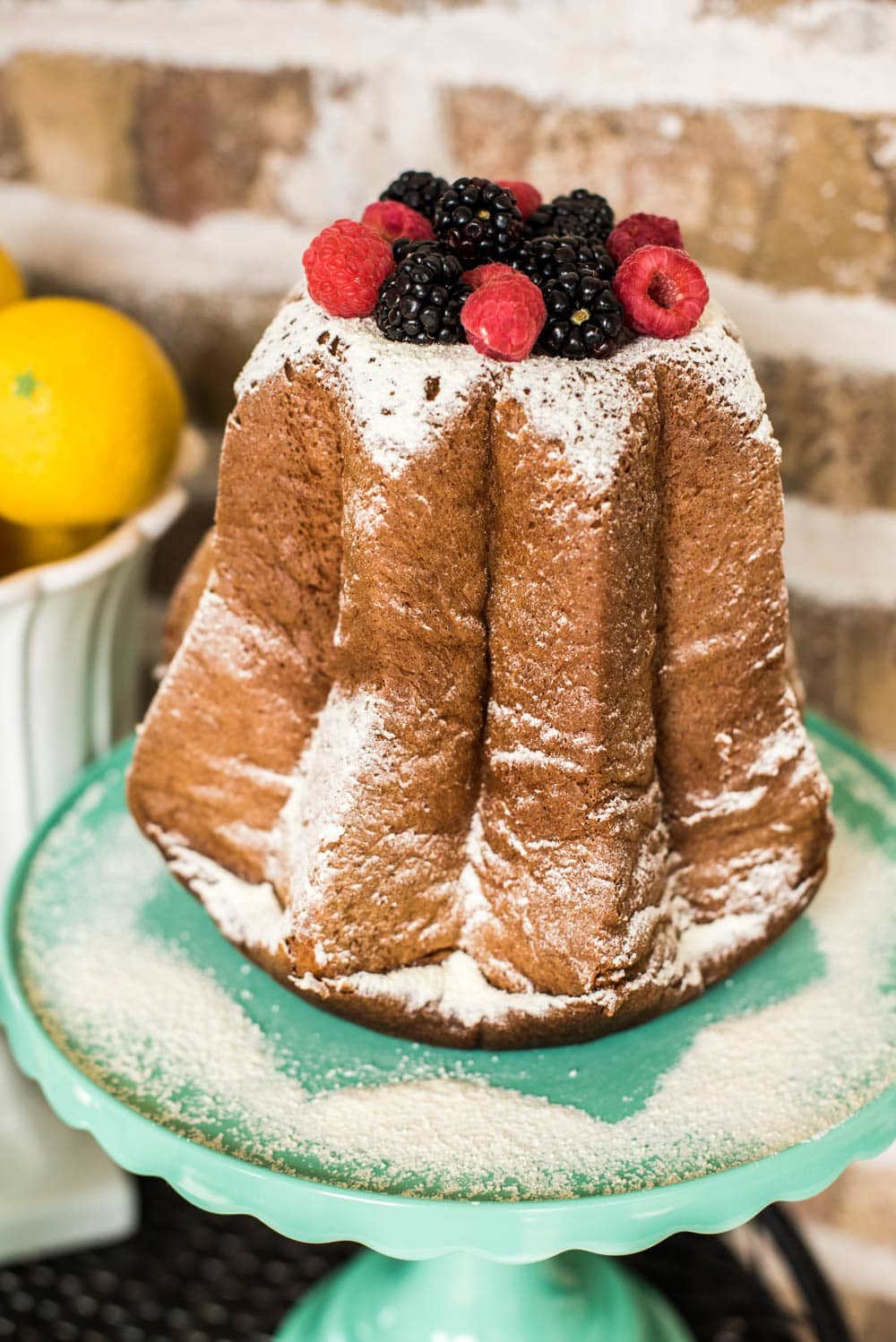 I had a fresh bucket of ice and stuck our bottled coconut lime drinks in them to keep them cool. This ice bucket looks like glass but is also patio friendly!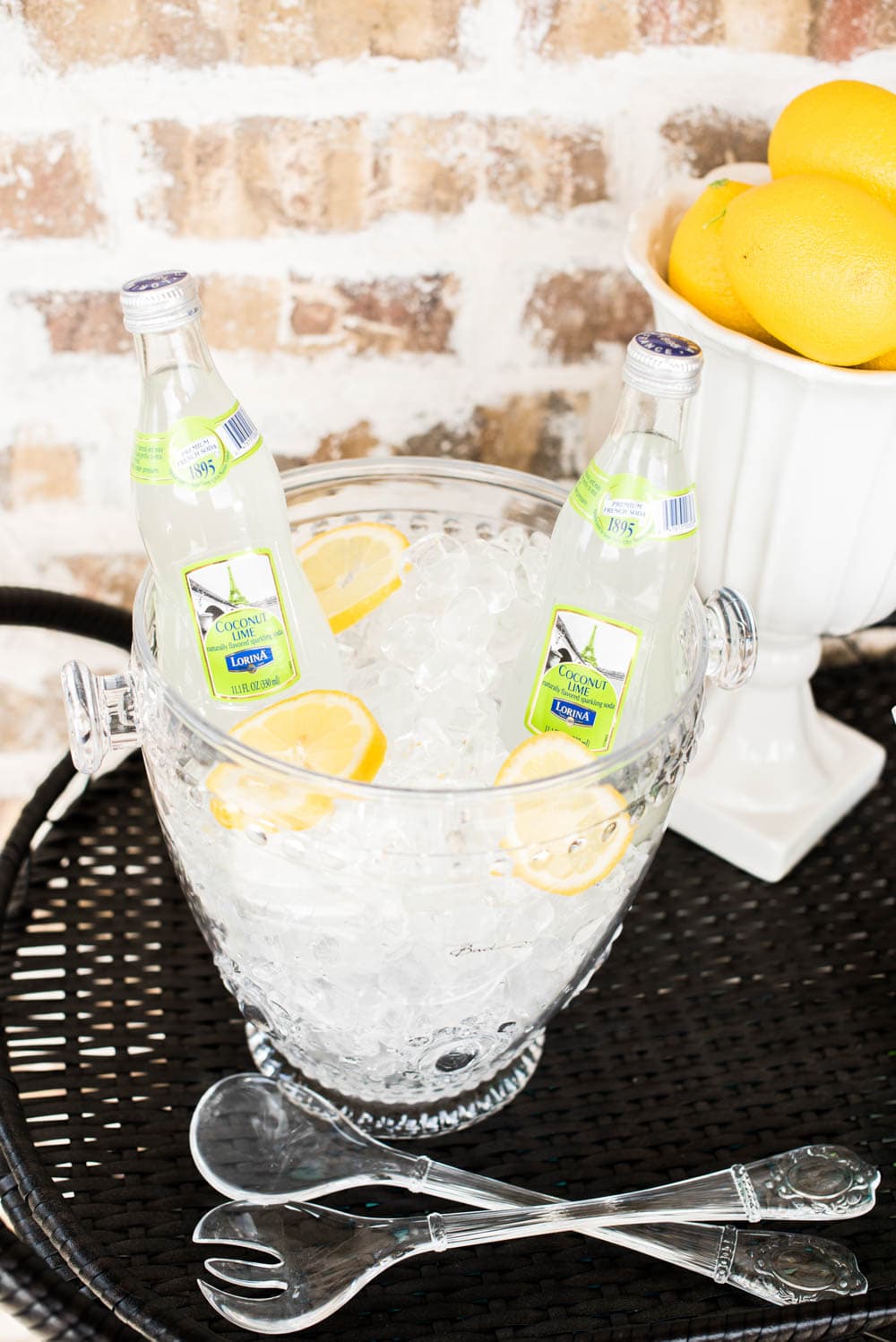 So there you have my tips to create a fresh and colorful springtime party with all your essential items from one of my all time favorite stores, Tuesday Morning!
Make sure to follow Tuesday Morning on Facebook, Twitter, Instagram and Pinterest.
To find the Tuesday Morning location closest to you, click HERE and if you would like to sign up to get their newsletter with all their great deals you can click HERE.
***Photography by Sweet Memory Photography
THIS IS A SPONSORED POST. A BLISSFUL NEST HAS RECEIVED PAYMENT, TRADE, AND/OR PRODUCTS FROM TUESDAY MORNING IN EXCHANGE FOR PROMOTING. HOWEVER, ALL OPINIONS STATED ARE OUR OWN.