Blue and White Breakfast Room Sources + Details
This post may contain affiliate links. Please read our disclosure policy.
FINALLY, I am sharing our details on our breakfast room in our new home. I think I had promised to do this a few weeks ago and it didn't happen with the holidays.
We have now been in our home for 7 months and it is really starting to transform into my dream home. Since we built it, I feel like it is my baby!
You can always catch my home tour at the top of my blog and then go under current home for all the rooms I have revealed so far in our new home.
Blue and White Breakfast Room Reveal:
If you would like to get caught up on our new home build, then you can check out this post HERE. It was such an amazing journey designing and watching our home being built.
Breakfast Room Before: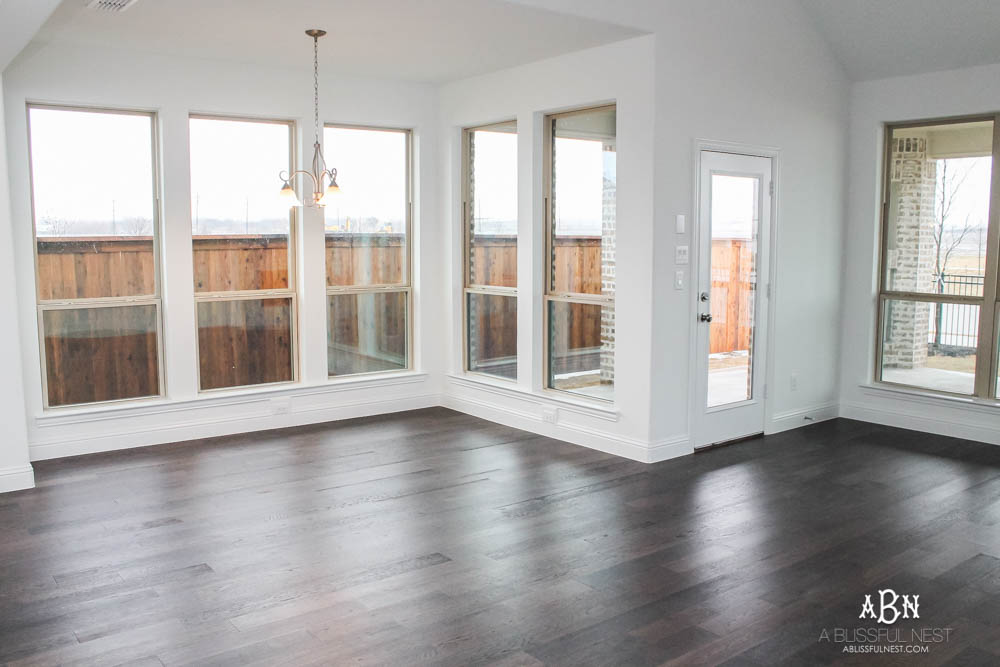 What has started off as a blank white space is now feeling warm and inviting. But just to remind you what it looked like when we moved in, here are a few photos from move-in day.
Our breakfast room is all windows and opens up into the living room and kitchen area.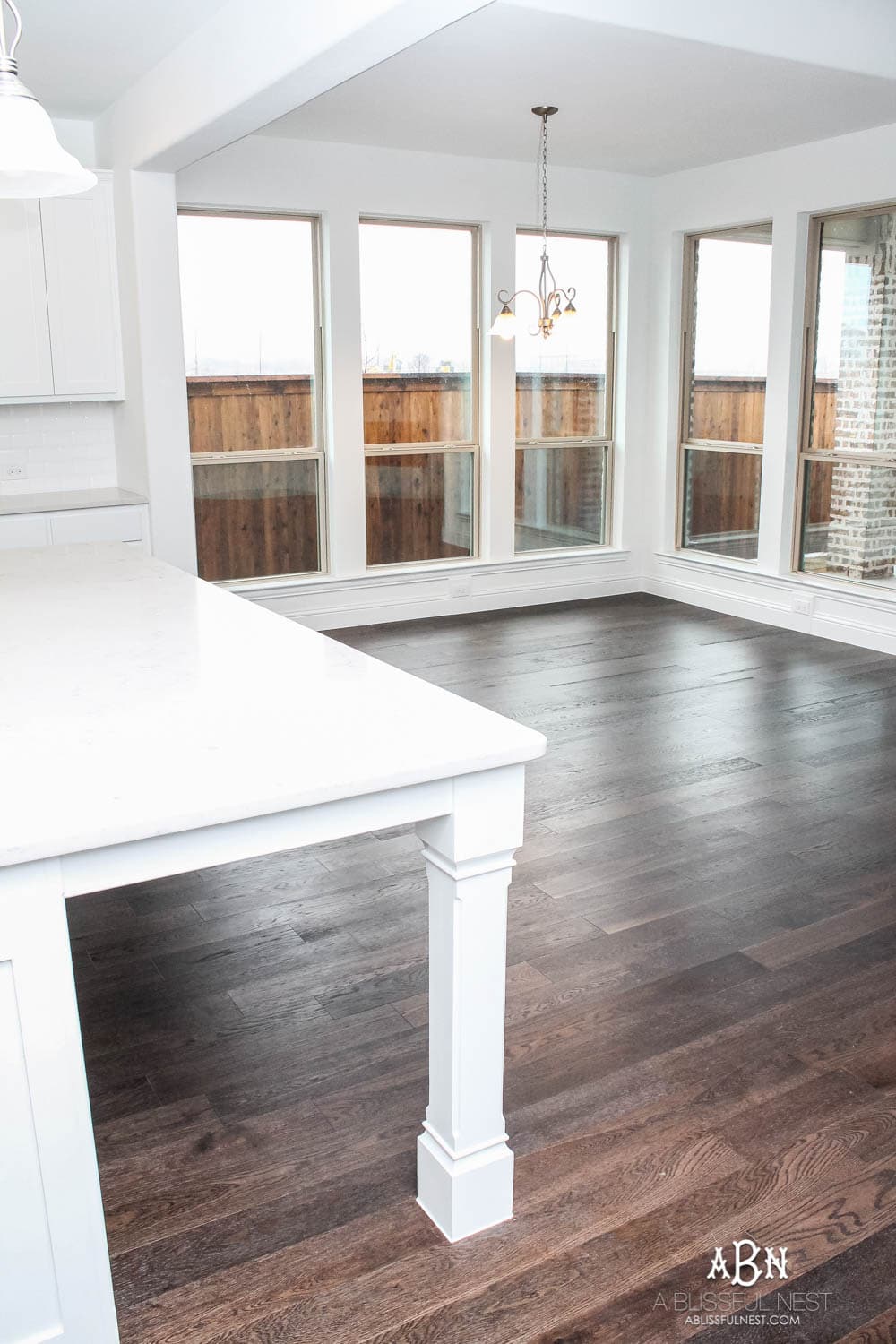 I love the open space concept which can make tight spaces like this one feel much bigger.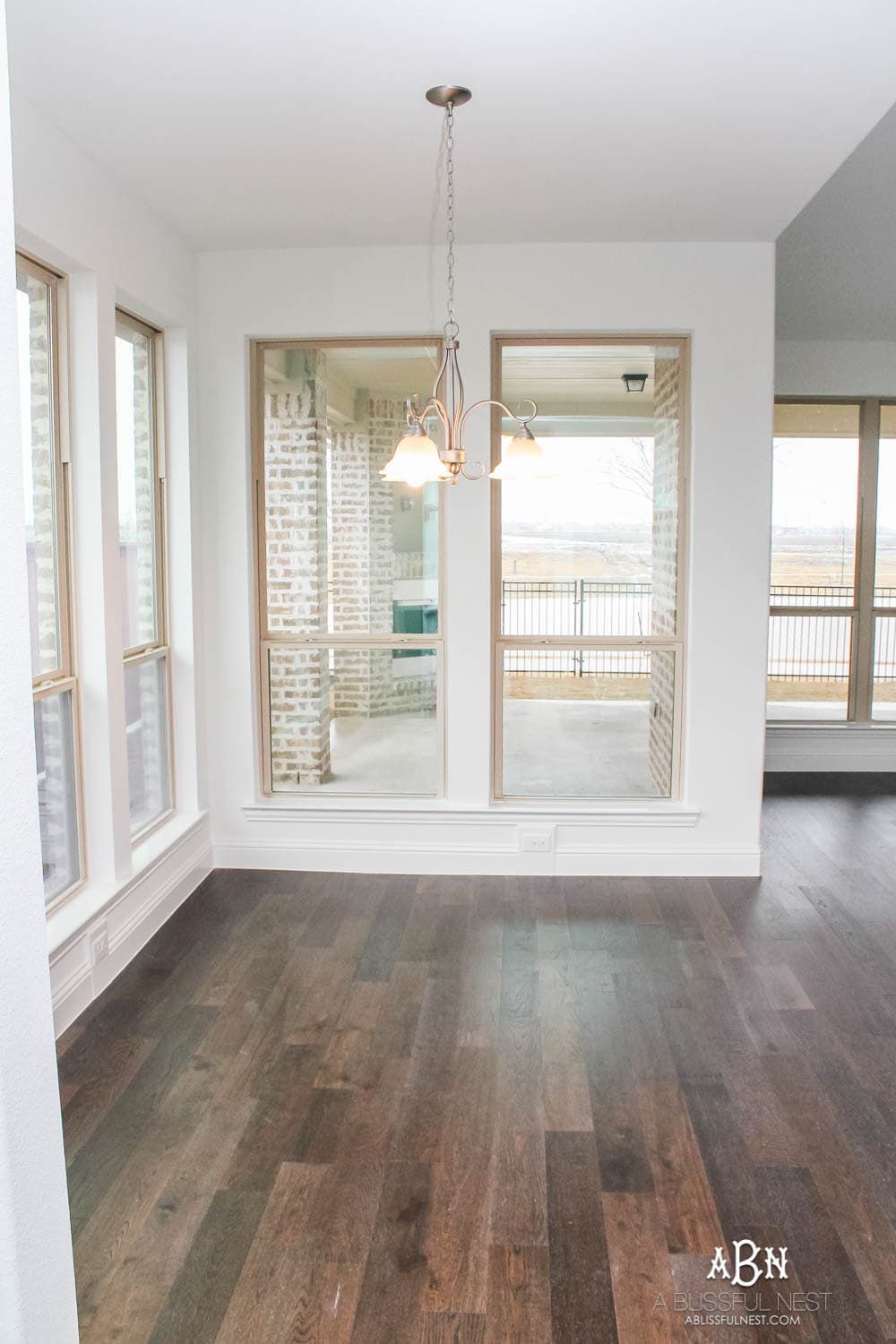 Don't you just love that builder grade lighting?! Ha! It was one of the first lights to go in the house right after we closed.
And that right there on the right is the door to the patio. Originally it was suppose to be where those 2 windows are in the above picture but our amazing contractor suggested we move it and it was one of the best decisions we ever made.
I never would have gotten my table to fit.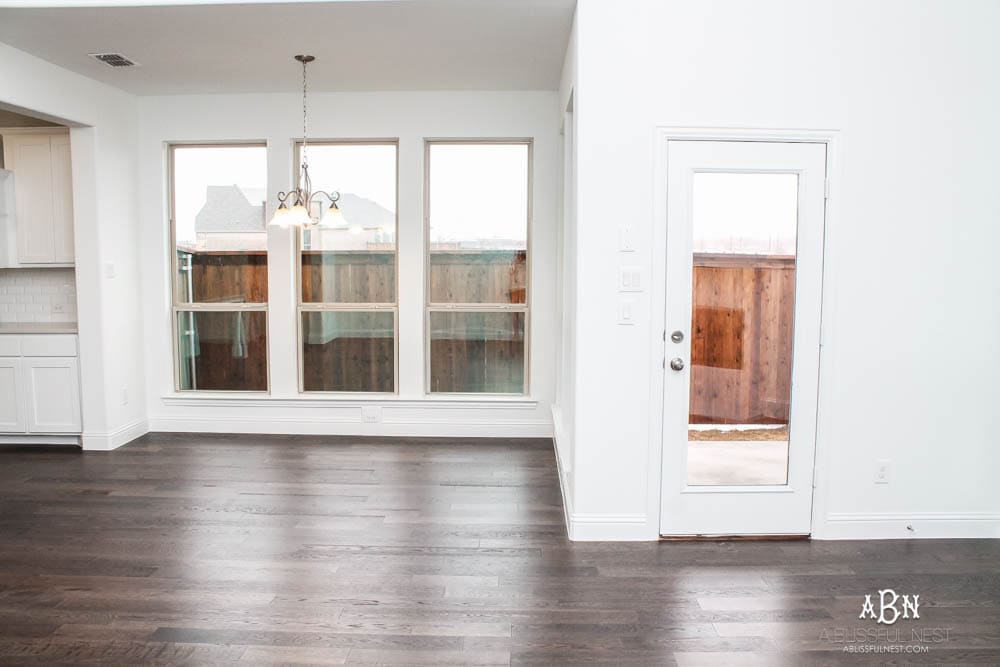 Breakfast Room After:
Okay and this is how it looks now . . . sans the Christmas greenery of course.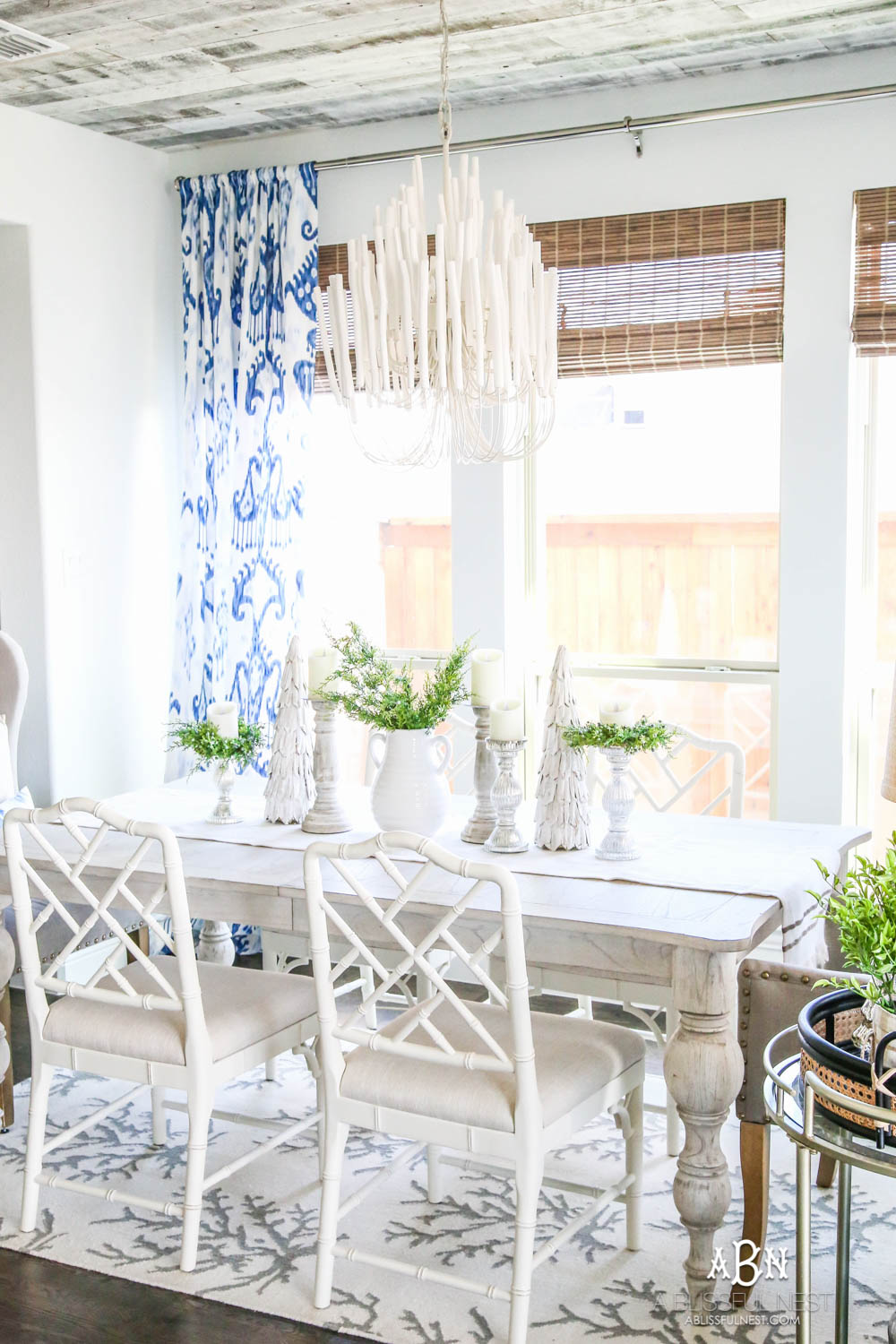 One of the best things you can do in a small tight space like this that opens up into other rooms is to delineate the space with a area rug.
I chose this gorgeous neutral coral print area rug and I love it for it's coastal nod but easy colors to go with just about anything.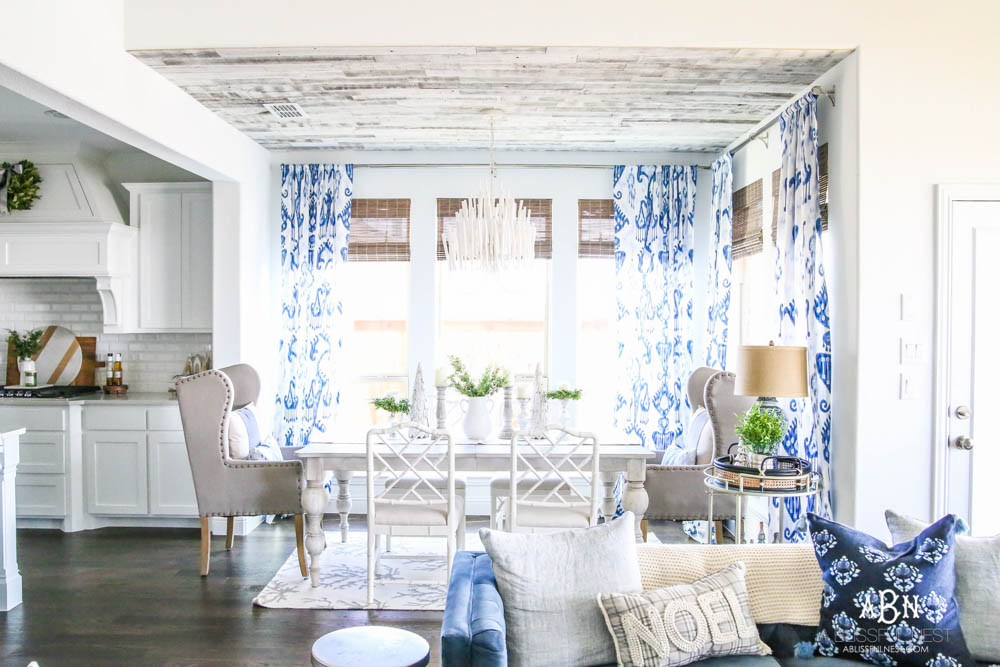 I am sure you remember last month when we redid the ceiling in these gorgeous reclaimed wood planks. You can read more about that HERE. It truly transformed the space and gave it that beachy rustic feel that I was going for.
We also added these bamboo shades to the windows. I love the texture and contrast they bring to the space. They are so well priced and I have them in my guest room, game room and upstairs office. We will be adding them to the living room windows soon too.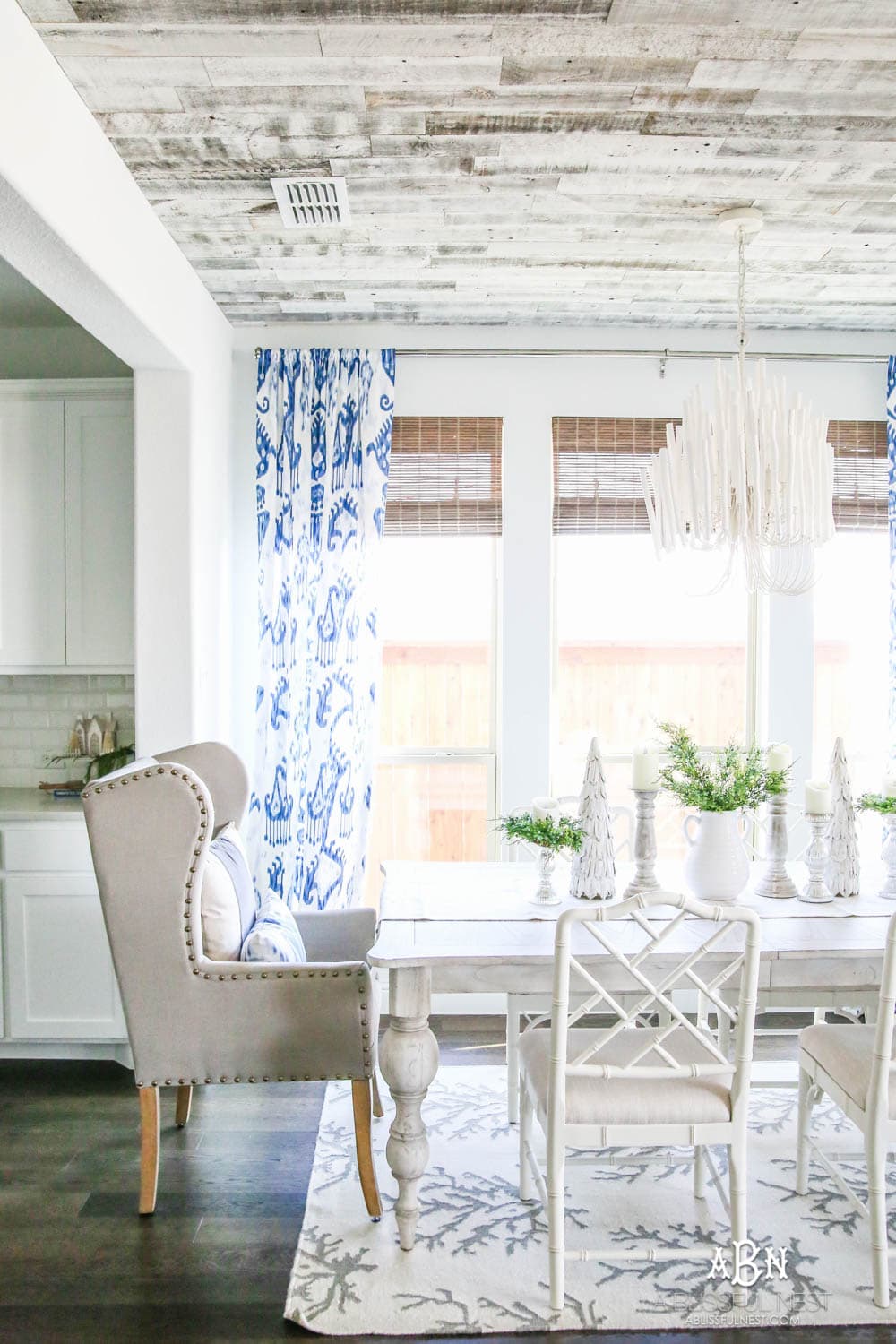 I mixed and matched chairs in our breakfast room too which gives it a more eclectic feel.
I found these grey nailhead wing chairs at Homegoods but HERE are similar ones.
I had been dreaming of these white bamboo chairs for so long and finally got them for this space when we moved into the new home. They are actually very comfortable and I gave them a couple coats of scotch guard jus in case to help with spills since the seats are white.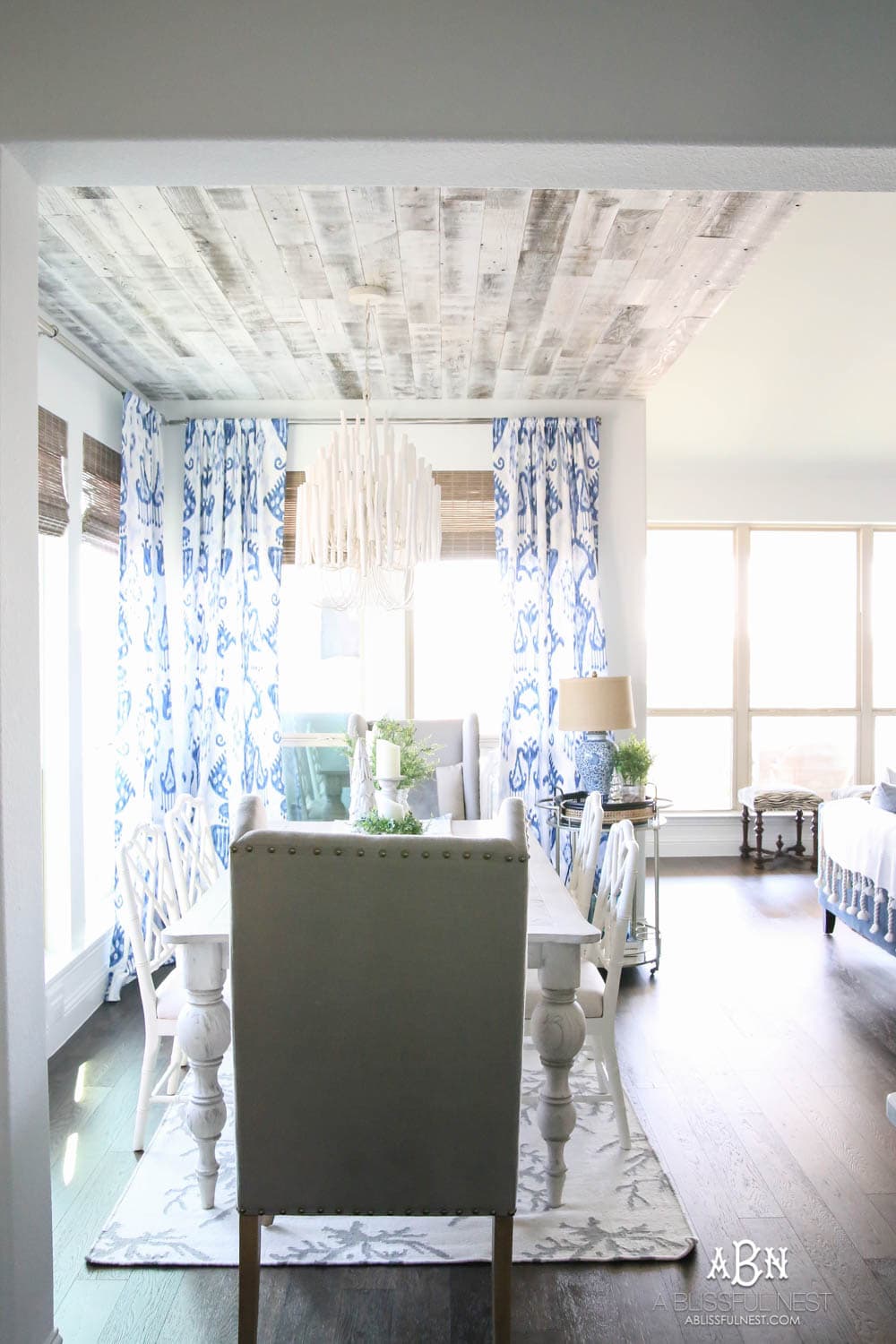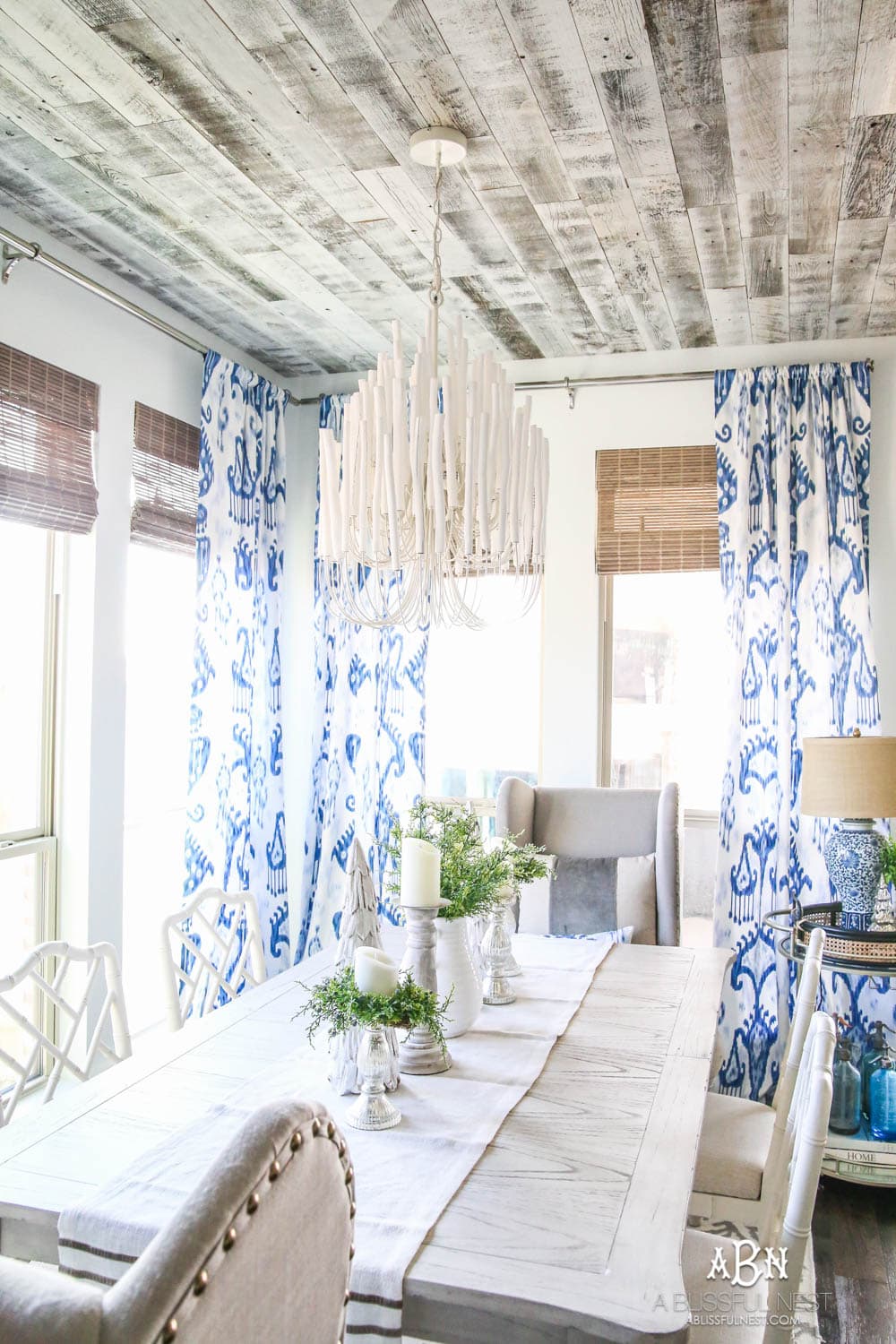 This chandelier was another piece I had dreamed about for so long. It is worth every penny. In person it looks like driftwood on a beach and is so amazing when it is lit up.
It is heavier than I don't know what and I can tell you that for a fact since it fell on my head when my husband and I were install the wood on the ceiling. It was painful but thankfully nothing broke.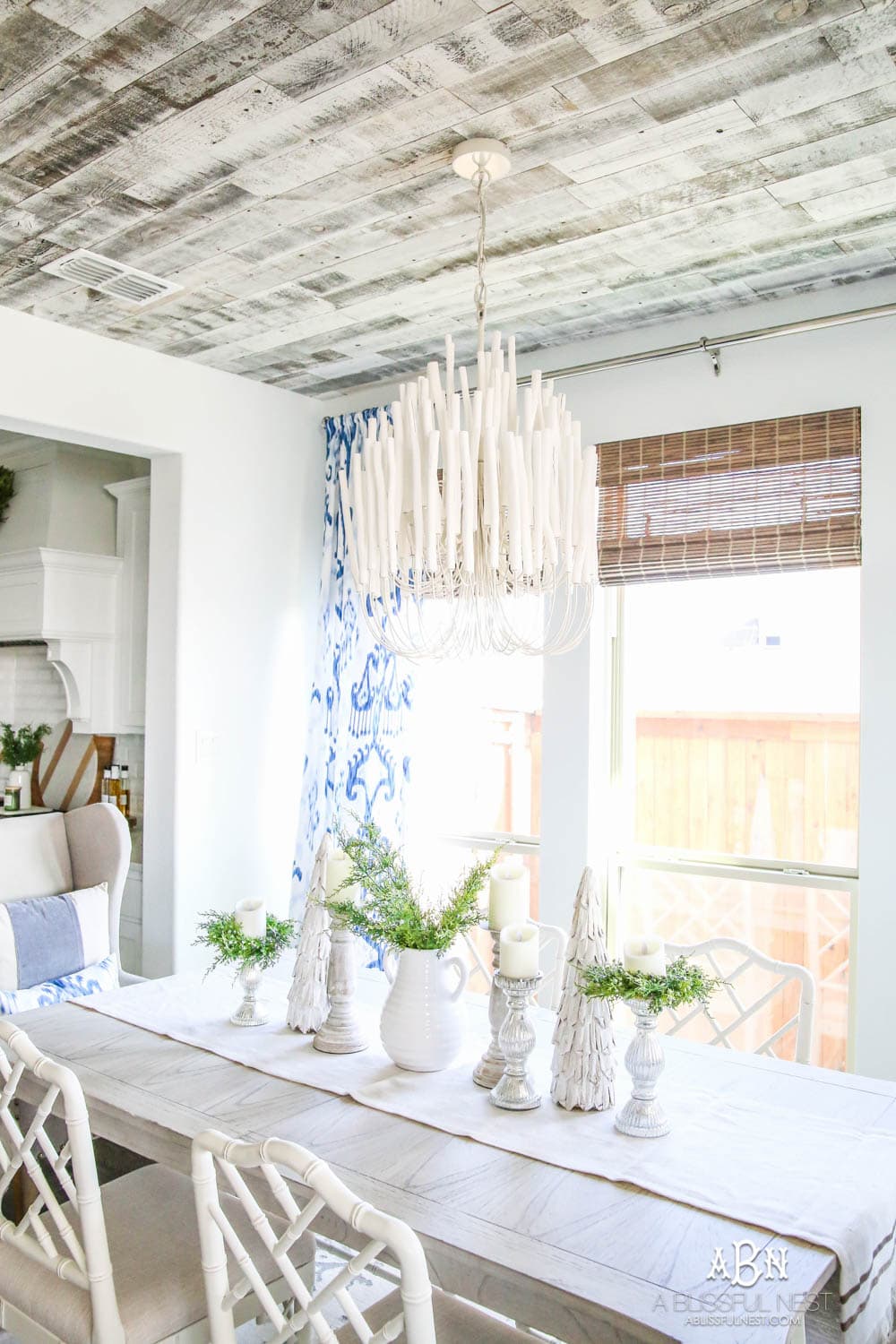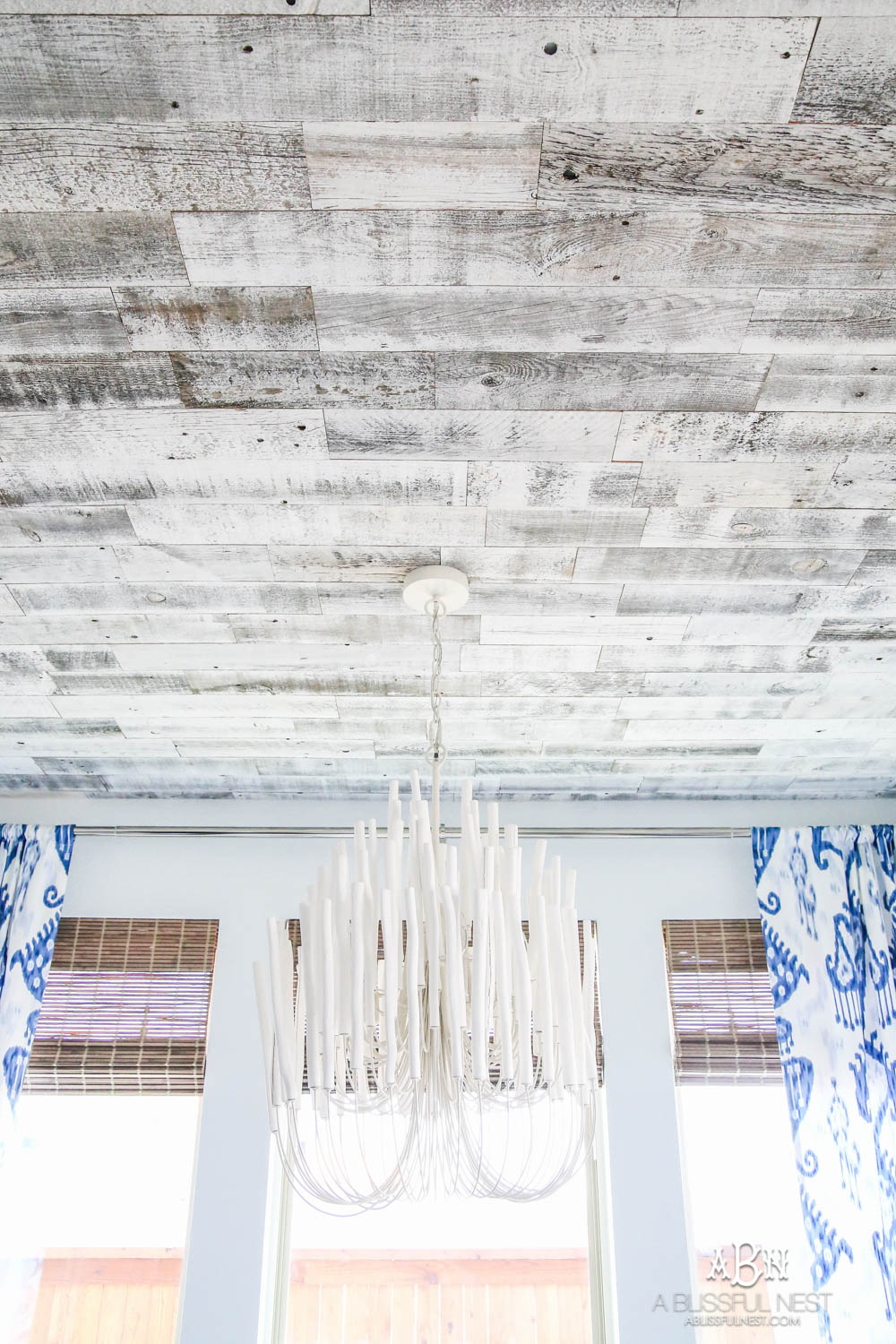 I love this little bar cart and got it a few years ago. Since it is round it can easily tuck into any little space. Currently I have it nestled here with a lamp and some of my favorite vintage seltzer bottles.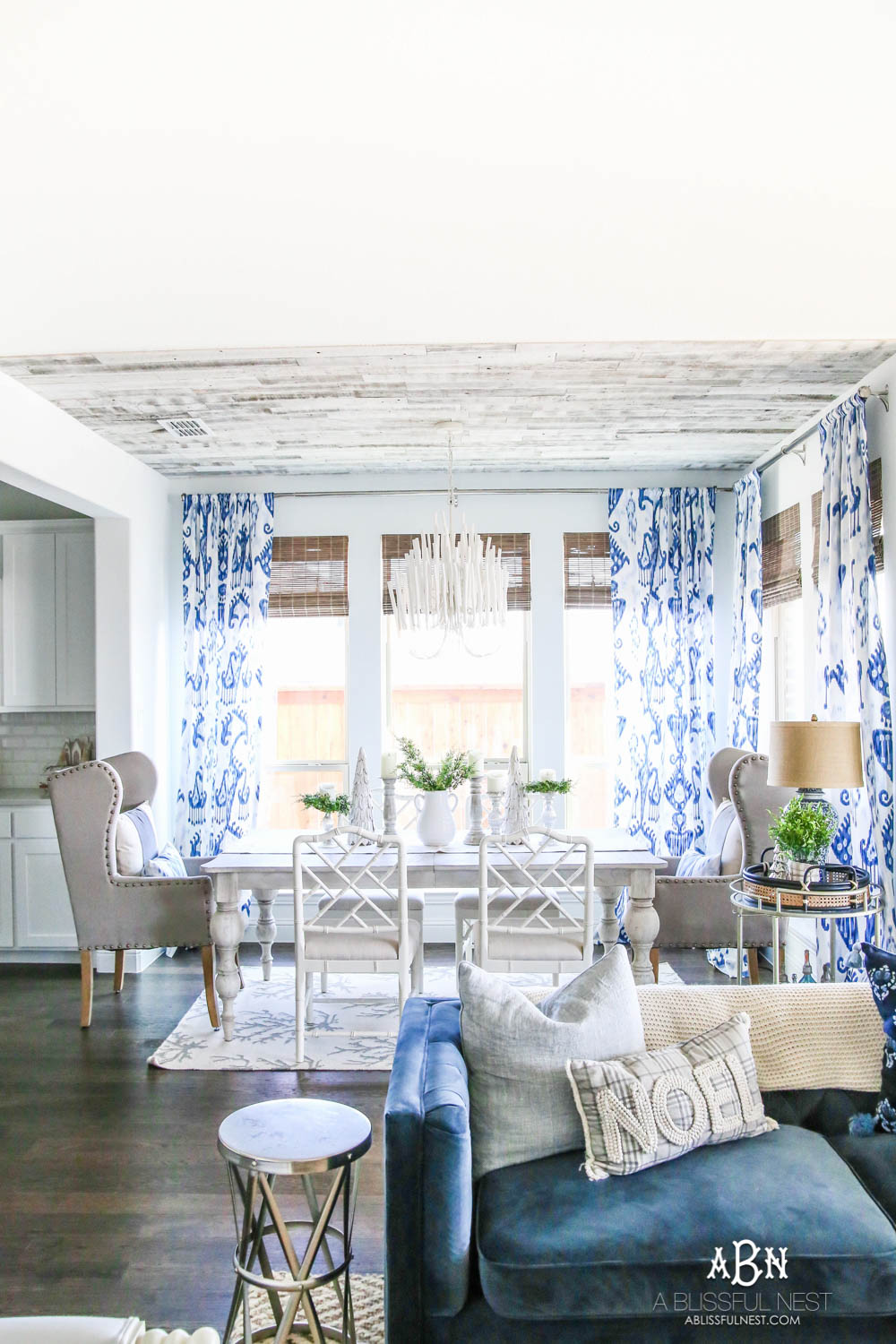 I hope you loved this reveal and I can't wait to share more of our new house soon!
Don't forget that you can check out all the rooms and the sources on my blog in the tab at the top called Home Tour and then go under Current Home Tour.
Source List:
Wall Paint Color: Sherwin Williams – Bright White in Matte
Trim Paint Color: Sherwin Williams – Bright White in Semi Gloss
Ceiling Wood: Stikwood in white weathered reclaimed wood
Flooring:

YOU CAN SHOP ALL THE SOURCES FROM BREAKFAST ROOM BELOW.
{scroll and tap the photos below to shop them}