3 New Year's Resolutions for Your Home You Can Stick To!
This post is sponsored by Opendoor, but all opinions are my own.
With the beginning of the new year, we all make New Year's resolutions. We are so adamant that this year we're going to stick to them . . . . at least I know I do!
I get so excited about them and I am so good at keeping up with them until life happens. You know. School starts back up for the kids, work gets busy, after school sports bleed into family dinner, etc. It seems like a never ending cycle and at that point I just fall into bed each night from exhaustion.
So this year I have partnered with Opendoor, the easiest way to buy or sell your home without the hassle of listing, showings and months of waiting, to share three New Year's resolutions for your home that are specific, attainable, measurable, relevant and timely. I am making your New Year's resolutions for your home come true!
This site contains affiliate links. Please read our disclosure policy. As an Amazon Associate, I earn from qualifying purchases.
Three New Year's Resolutions for Your Home You Can Stick To:
1. Make plans to move into your dream home
I know to most people this might be unattainable which is one of the key components to goal setting as I stated above.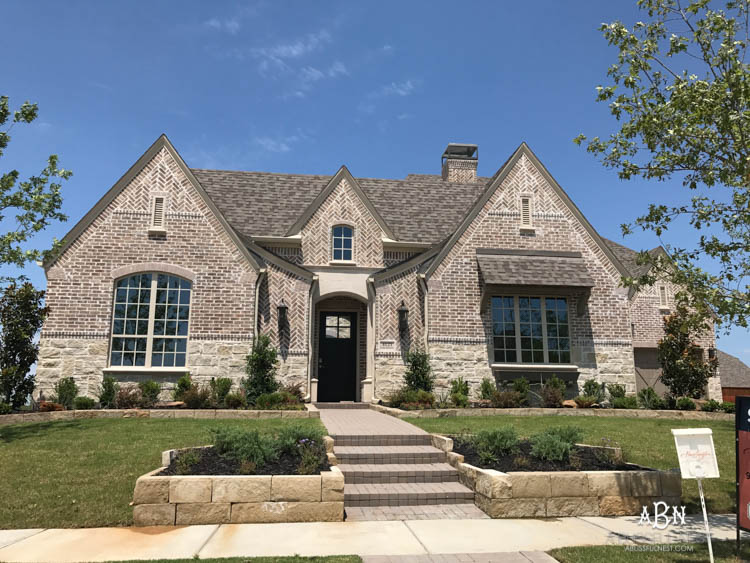 First and foremost, you likely need to sell your existing home which can be a feat in itself to most people.
But I have found the answer to this somewhat lofty goal. With Opendoor, buying and selling your home can be a seamless process and making achieving this rather hard goal much easier and attainable.
Selling your home:
First, visit the Opendoor website, they operate in almost 20 metro areas right now, including Dallas. Enter in your home's address and a few key details and they will make a competitive offer on your home based on the specific info you enter, and their experience of market trends and conditions in your area.
They are very transparent about their service fee (which helps cover property taxes, insurance, maintenance, utilities and marketing costs of holding and selling your home), and will provide an estimate for any repairs needed on the home. You'll even have the option to make the repairs yourself or have Opendoor do the work and deduct the costs at closing.
You don't have to worry about the sale of the home falling through and you can sell it on your own timeline.
Which makes the next step to moving into your home so much easier.
Once you have sold your home with Opendoor, now you are ready to buy the next beautiful home you've been dreaming of.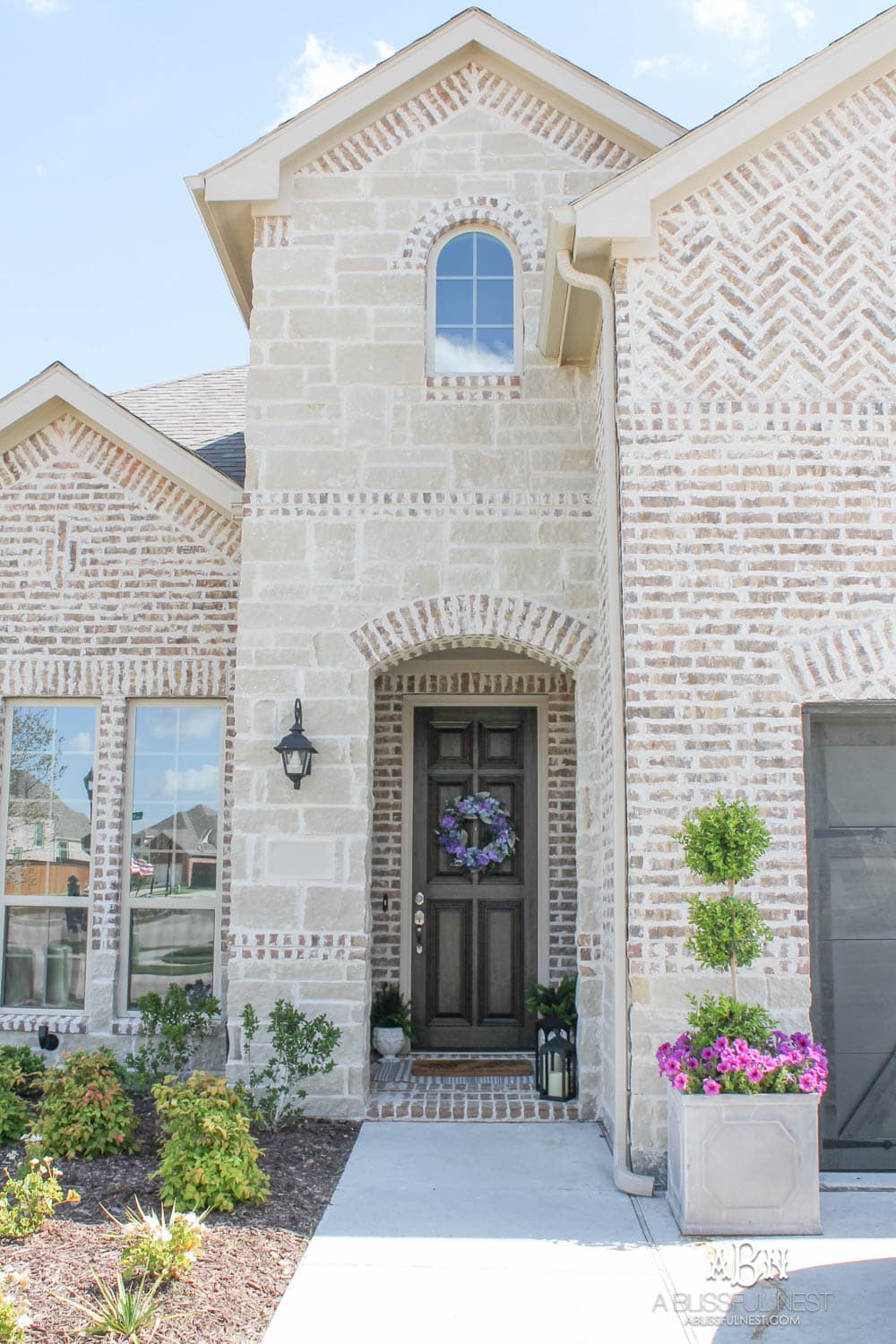 Buying a new home:
This just might be one of my favorite features Opendoor offers.
You can use browse the inventory of for-sale Opendoor homes by viewing them online or in the Opendoor app. Their are over 500 available homes in Dallas right now!
All homes are open to view in person from 6am – 9am daily with no appointments needed. Simply use the app to unlock the home for a self-guided tour.
Once you find your dream home you can even use the Opendoor app to make an offer on your new home.
Can you believe how simple that all is?!
Home buying and selling can be one of the most stressful things a family goes through and Opendoor has streamlined the process to lessen the burden.
2. Update the lighting in your home to add property value
When you move into a new home or maybe you've been living in your home for a while, the lighting fixtures can be outdated or builder grade. They just aren't what you envisioned for your home. This is one of the easiest changes and can be one of the most affordable ways to add property value to your home.
Check out what my home looked like when we moved in last spring.
We had builder grade lighting. It was the wrong scale and not what I envisioned at all. But we had it installed on the front end to save money during our building process.
Before: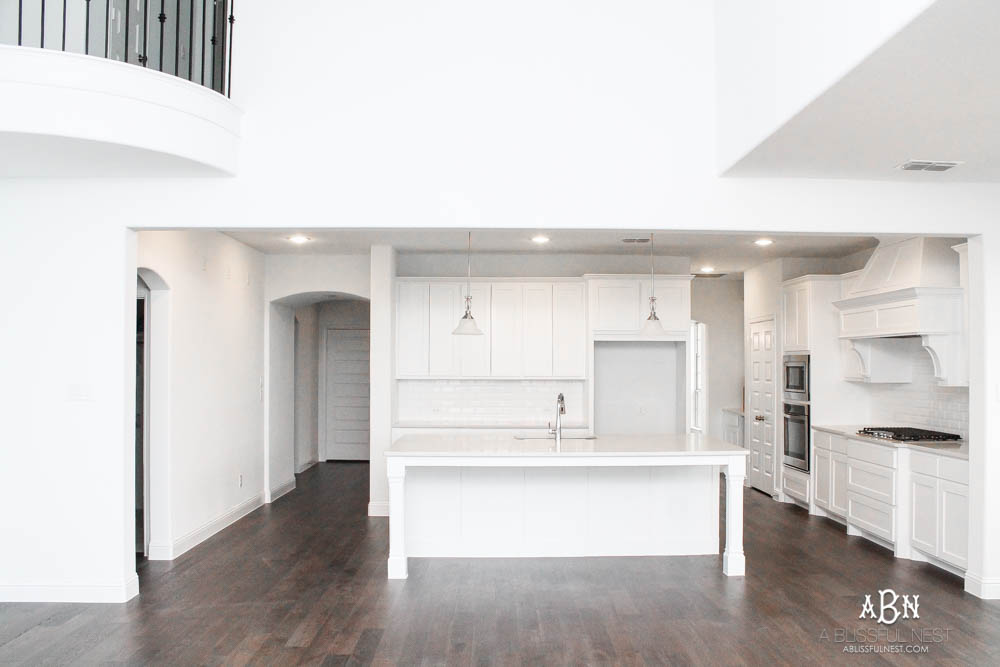 Once we moved in, I found these gorgeous black iron pendants and had them installed which instantly transformed the space.
After:
A good place to start to replace your existing lighting in your home is with the exterior lighting.
Choose new sconces and maybe even a semi flush-mount light for your porch. Even adding some uplighting in front of the windows of your home creates a gorgeous ambience at night, not to mention added security.
Next, work your way from the entry to the main rooms in your home you use the most. Do this as you can afford it, which is why tackling the main rooms in your house like the kitchen, living room and dining room should come first.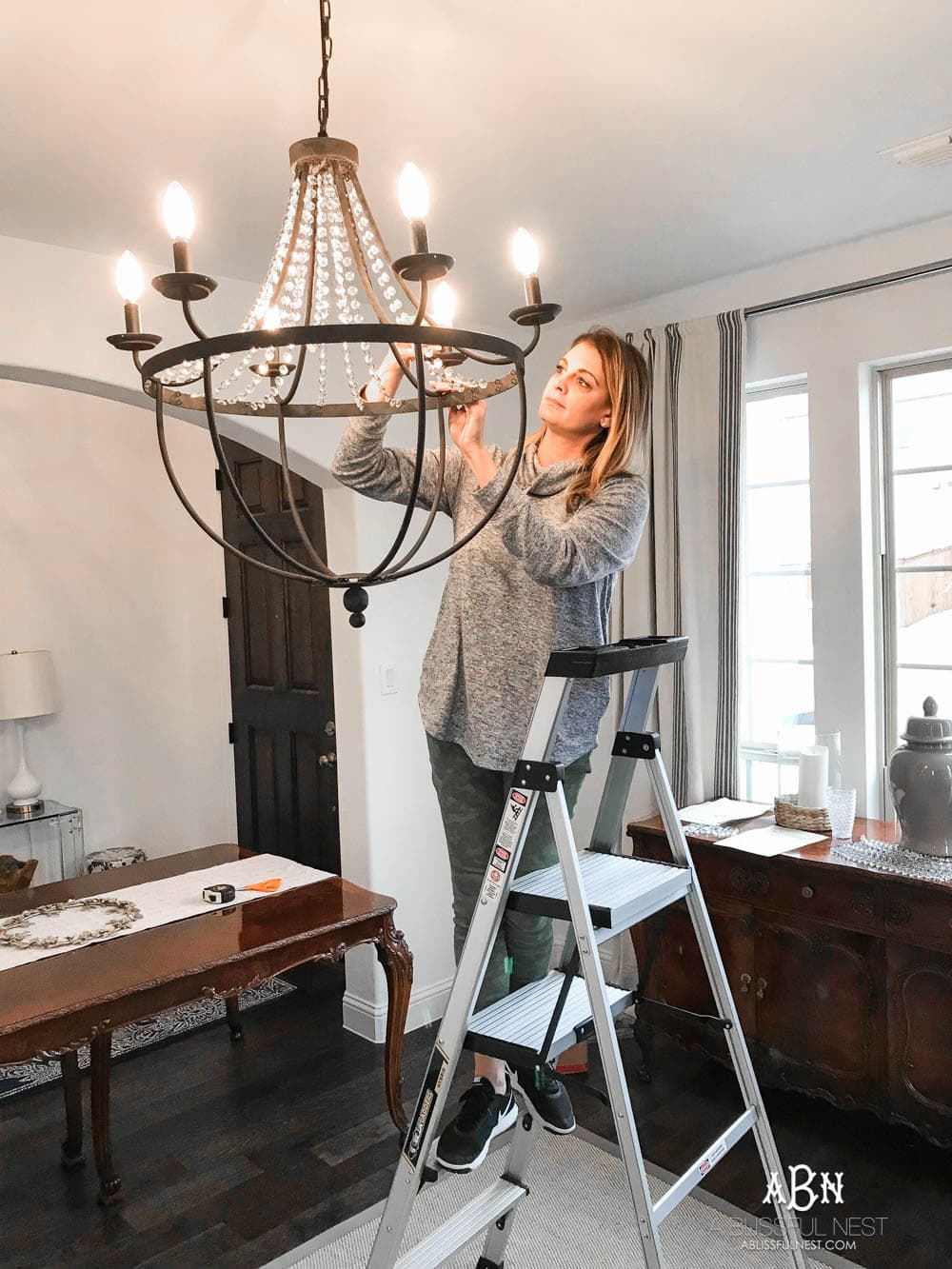 Once you have hit the most used rooms in your home, then start replacing the fixtures in the bedrooms and bathrooms.
When you are done your home will sparkle and catch the eye of not only your guests but new buyers when you decide to sell.
3. Organize & maintain your pantry to make it easy to meal plan for your family.
Ugh the dreaded "O" word! Organization can be the bane of our existence and yet the greatest thing on earth once you do it.
Organization can be the heartbeat of your family and the sanity to your daily needs.
So for that reason, one of the most important places to instill organization in your home is the kitchen. It is THE most used space by everyone in your home.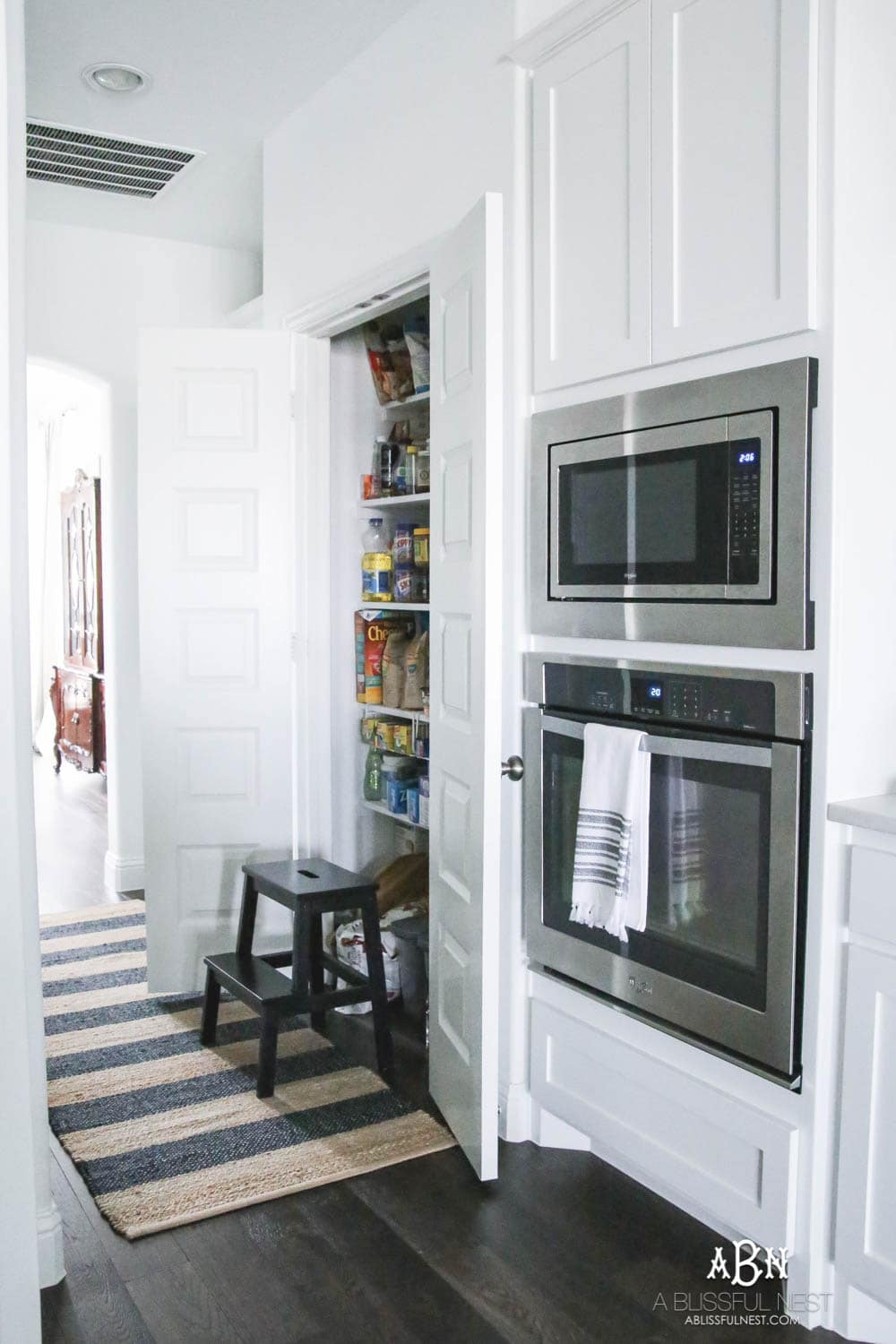 Start in the pantry and work your way into the rest of the cabinetry. I have a great post on top pantry organization ideas HERE.
I like to start in the pantry because there is so much that can accumulate in this one spot over the year. Once you know what you have, then meal planning will be a breeze and save you money.
Steps to Organize Your Pantry:
Step 1: Begin by pulling everything out of your pantry.
Step 2: Look at expiration dates and throw anything away that has expired.
Step 3: Gather baskets and bins to help organize your shelves.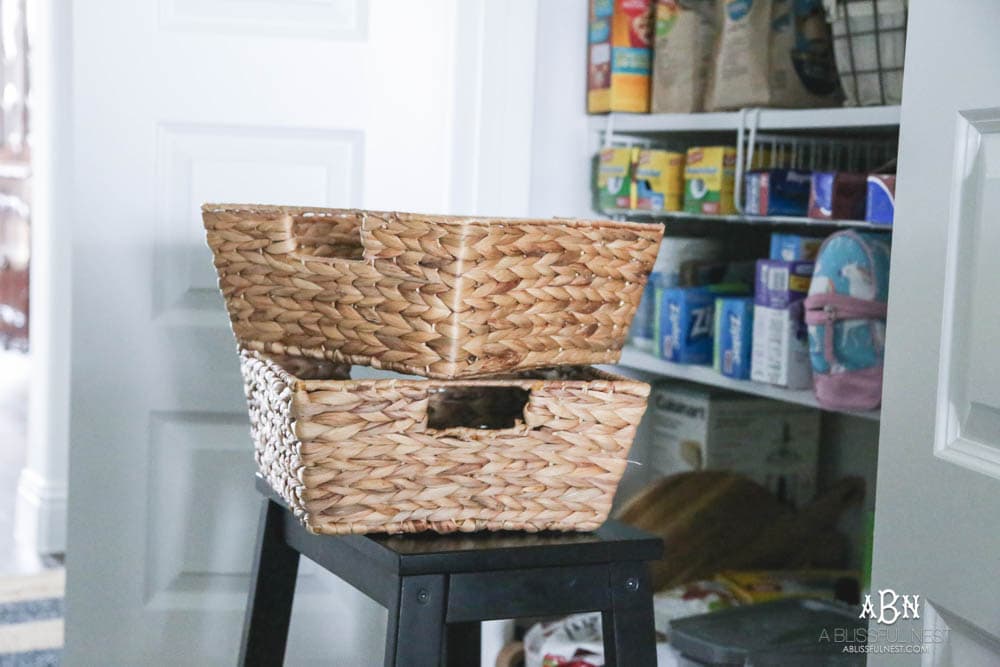 Step 4: Group canned food in one section, baking in another, snacks for the kids in another spot and so on.
Step 5: Use labels to name your bins and baskets so your family can find things easier.
Once you've completed the pantry, move onto the other drawers and cabinets in your kitchen.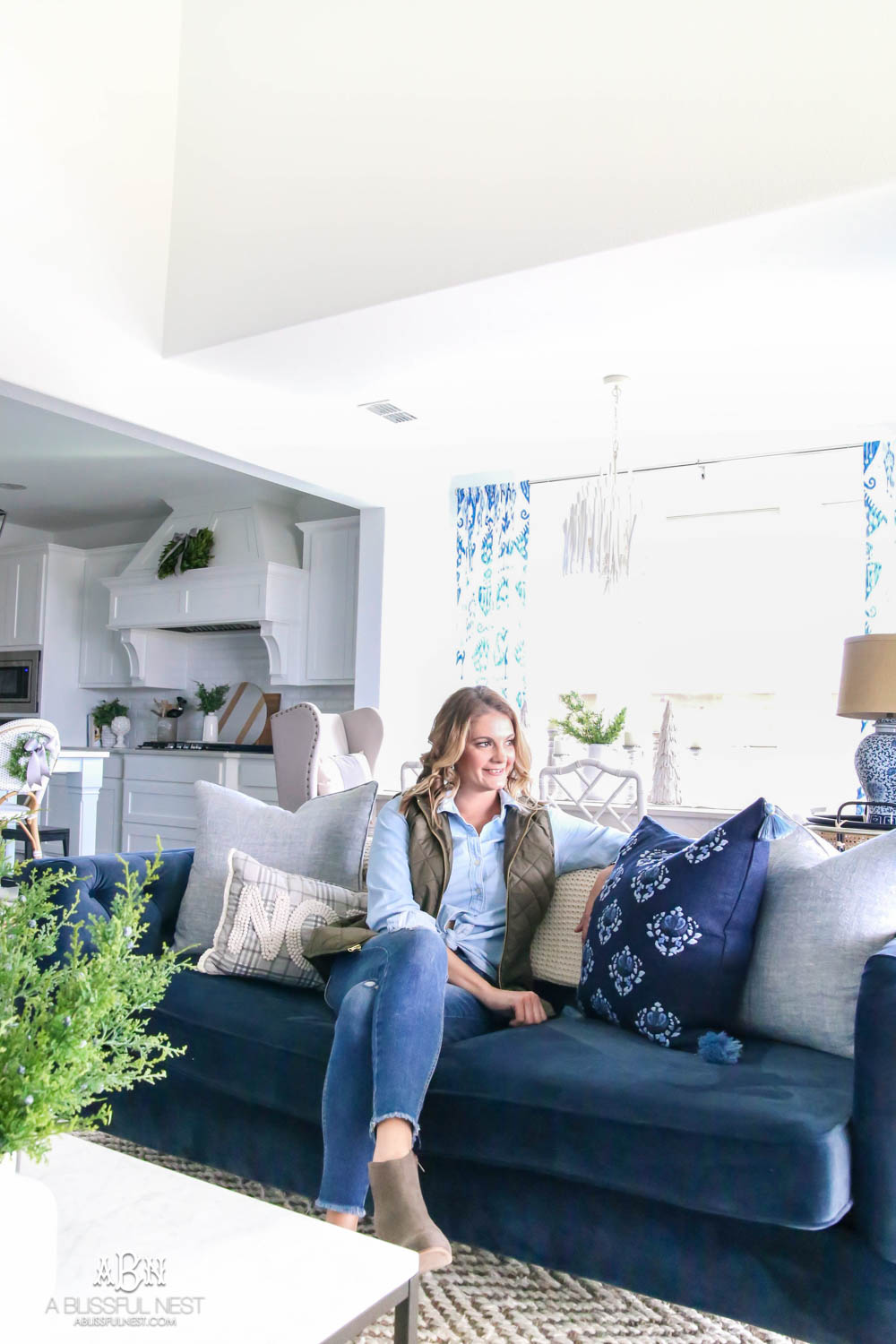 Remember when you set goals for your home for the new year, they need to be specific, attainable, measurable, relevant and timely.
Let Opendoor help you make the transition and process of selling your home and finding a new home for your family simple and stress free and free you up to focus on the things that matter most.
I would love to hear about some of your new year's resolutions for your home so make sure to let me know in the comments!
You can check Opendoor out on their website, Facebook, Instagram, Twitter and Pinterest.
THIS IS A SPONSORED POST. A BLISSFUL NEST HAS RECEIVED PAYMENT, TRADE, AND/OR PRODUCTS FROM OPENDOOR IN EXCHANGE FOR PROMOTING. HOWEVER, ALL OPINIONS STATED ARE OUR OWN.