Three Tips for New Year's Entertaining in Your Home with Easy Spirit
This post may contain affiliate links. Please read our disclosure policy.
This post is sponsored by Easy Spirit, but all opinions are my own.
With Christmas over and all the holiday parties behind us, it is easy to lose our steam to celebrate New Year's Eve.
I mean it totally makes sense when you have been shopping every spare moment to wrap up Christmas gifts and juggling your social calendar for the season, that you would be just a little too tired to host one more party for the year.
But I found the most comfortable and festive shoes from Easy Spirit to get you over that hump and enjoy hosting one of my favorite celebrations of the year! I am also sharing my top 3 tips for a stylish and comfortable entertaining for New Year's Eve in your home so don't miss my party guide!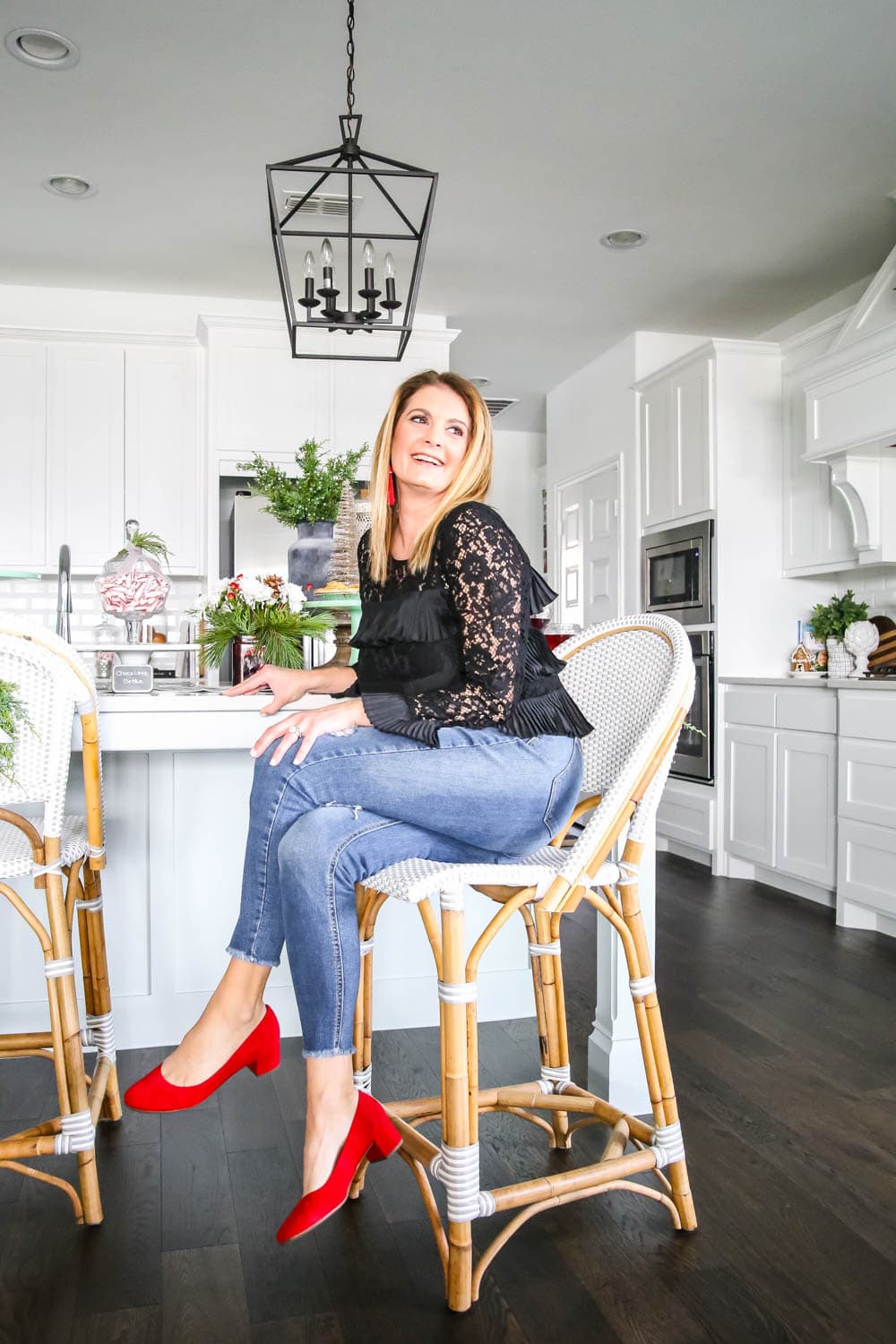 3 Tips for Entertaining in Your Home:
1. Dress Comfortably
Of course we all want to look our best and really it all begins with your feet. I find myself going more and more for flat shoes even though I love my heels and I think it all comes down to comfort which is why I LOVE Easy Spirit shoes.
They are stylish and comfortable so you don't have to sacrifice either of the two. I selected the Ailene Dress Shoe for their classic timeless silhouette. I love a beautiful rounded toe and even though this has a heel, they are so beyond comfortable!
This style comes in three colors and I am just in love with the soft suede on them. They bend and mold right to your foot.
Typically, when I am hosting a party, I am always moving and never sit down. I love the generous padding inside that gives me the support I need to constantly be go go going.
I think this style easily pairs well with jeans and a dressier top like this black ruffle blouse and I can see wearing these with jeans and a sweater for date night. I actually cannot wait to wear these for Valentine's Day too!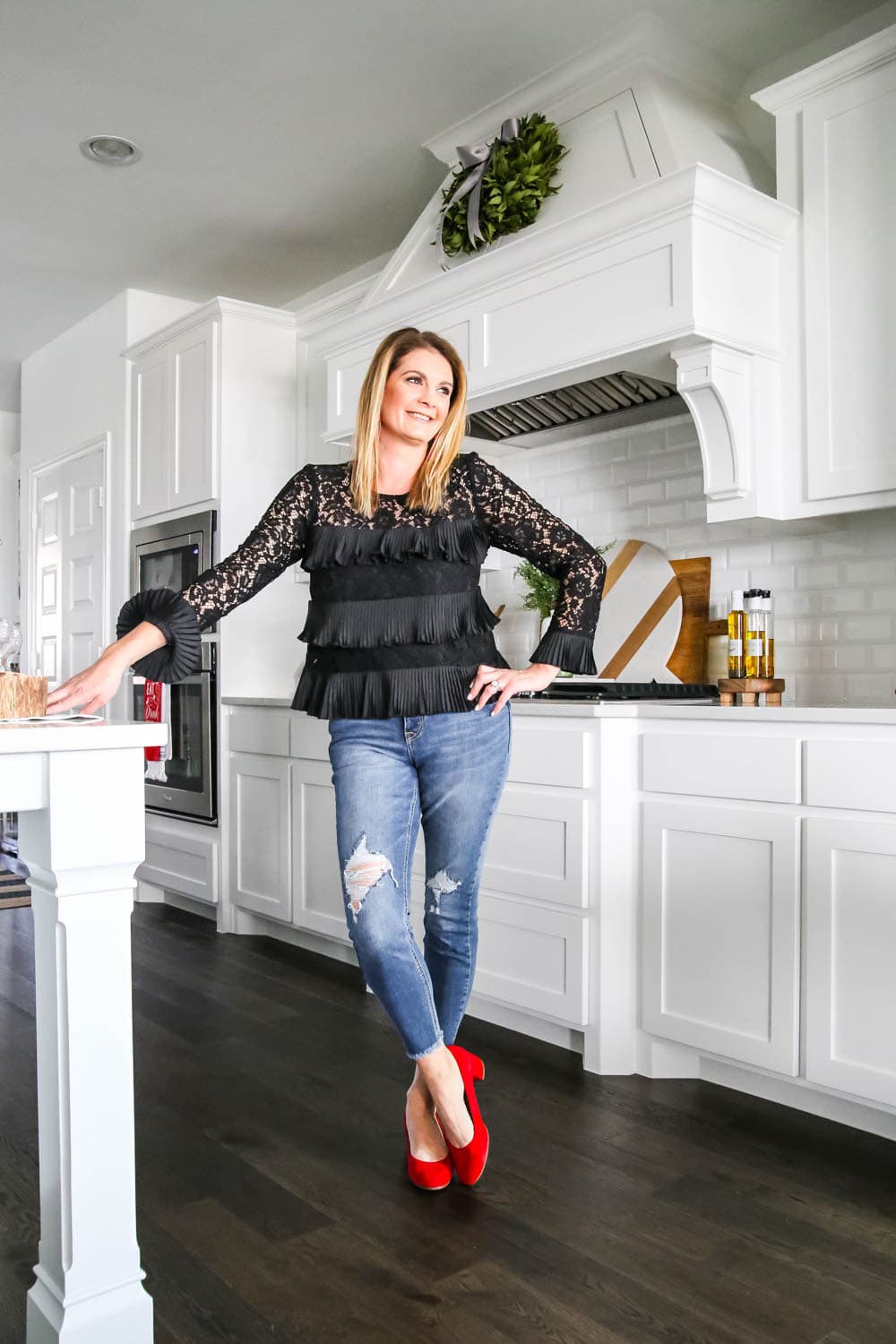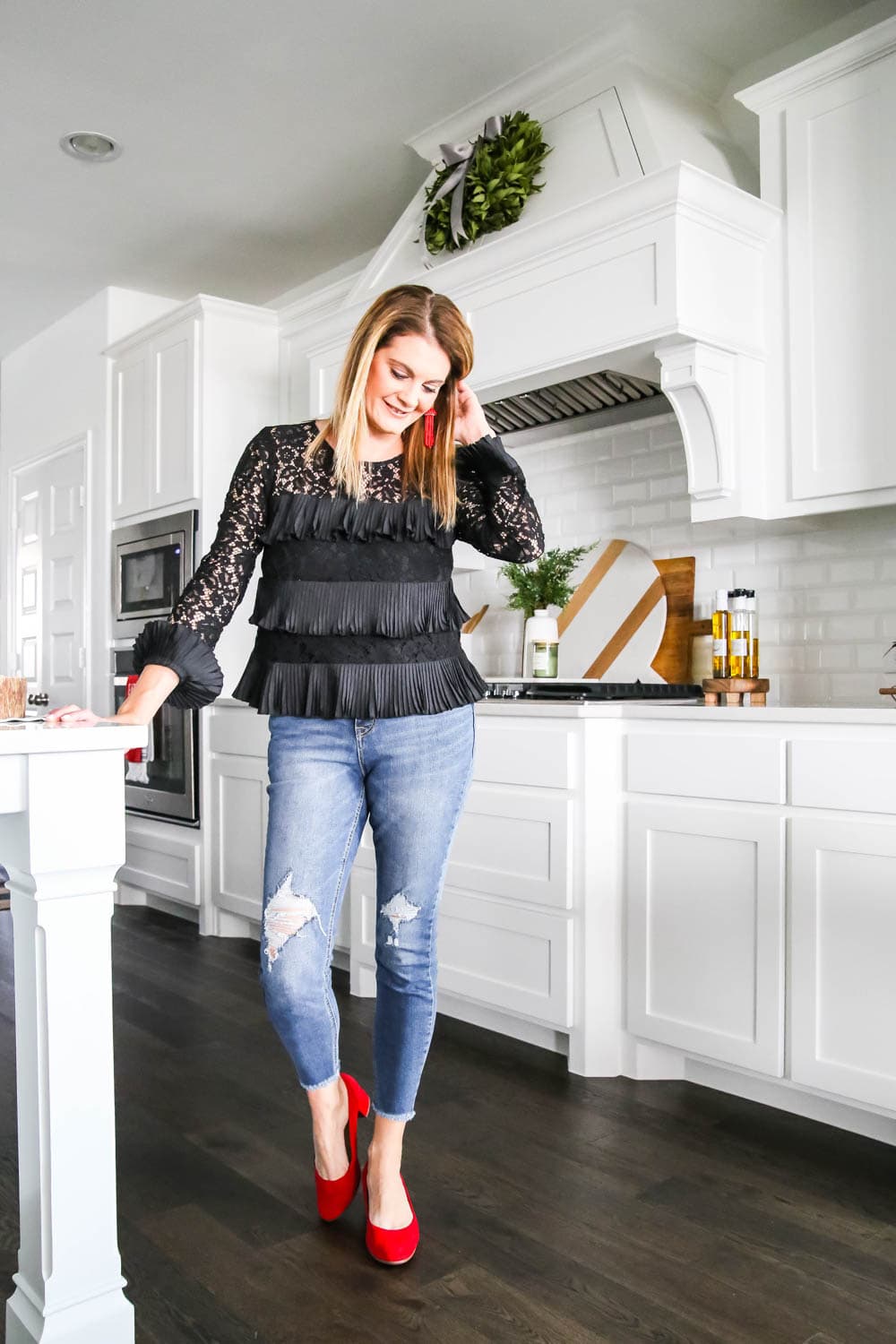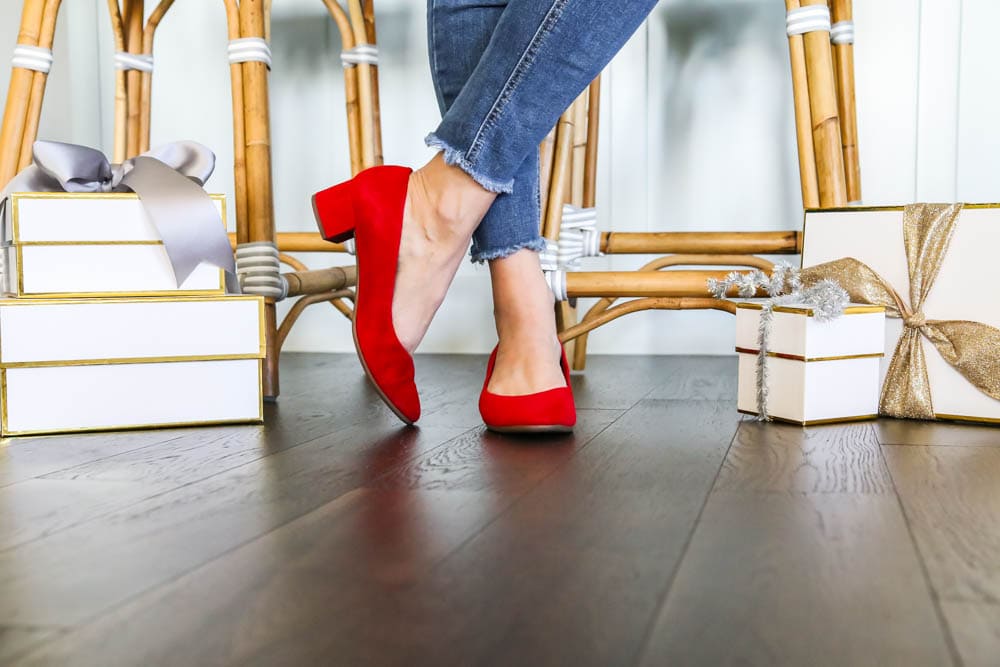 2. Create a Signature Drink
So let's move onto a couple easy tips I always include in my parties – drinks and food!
One of my favorite things to do is to create a signature drink recipe that goes with the theme of my party. If you don't want to be creative and come up with the recipe then I've got plenty HERE for you that you can create and come up with a fun name to match your party theme.
It doesn't need to be elaborate but this really personalizes your party and in a way makes guests feel special that you created something outside of the normal beverages offered at a party.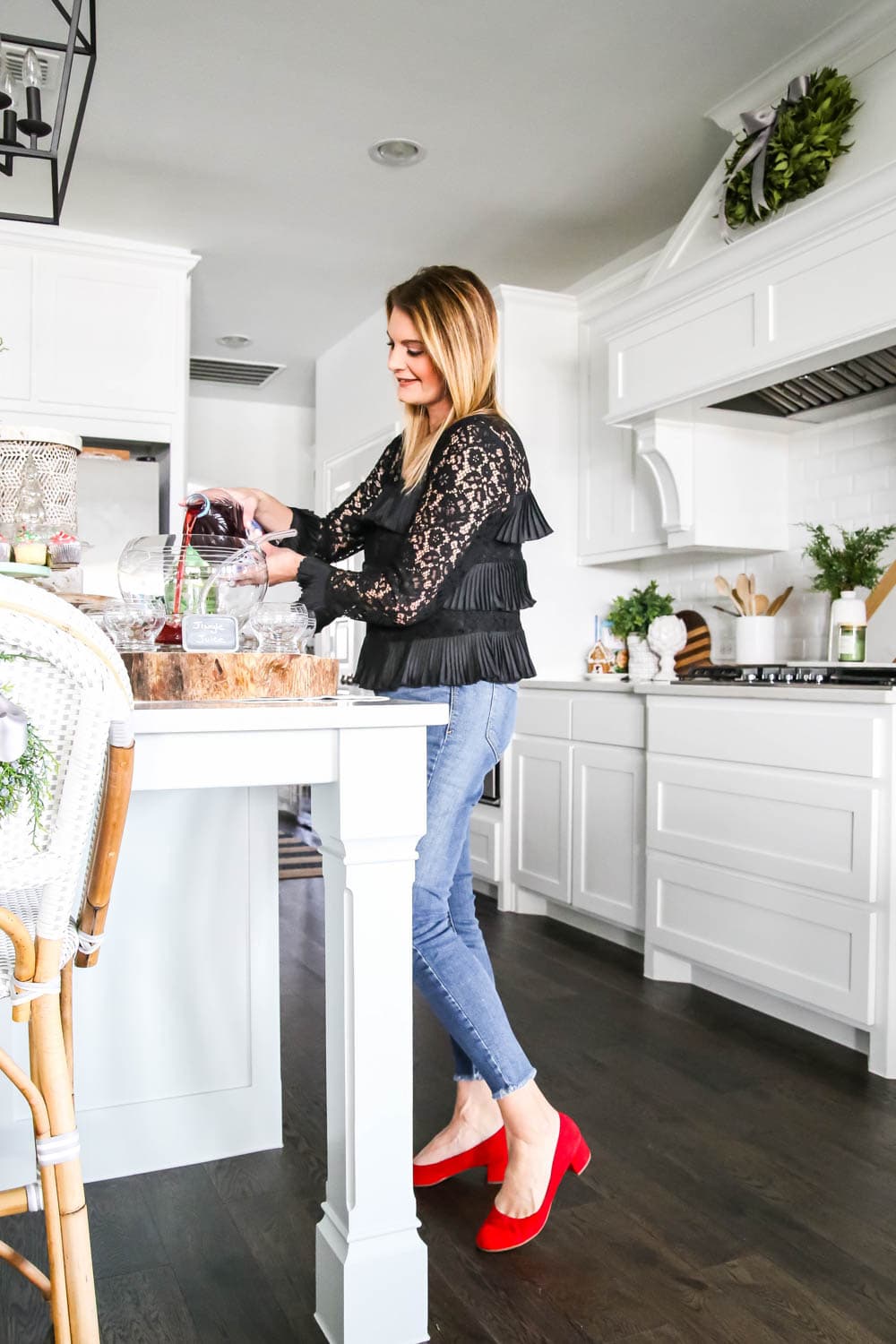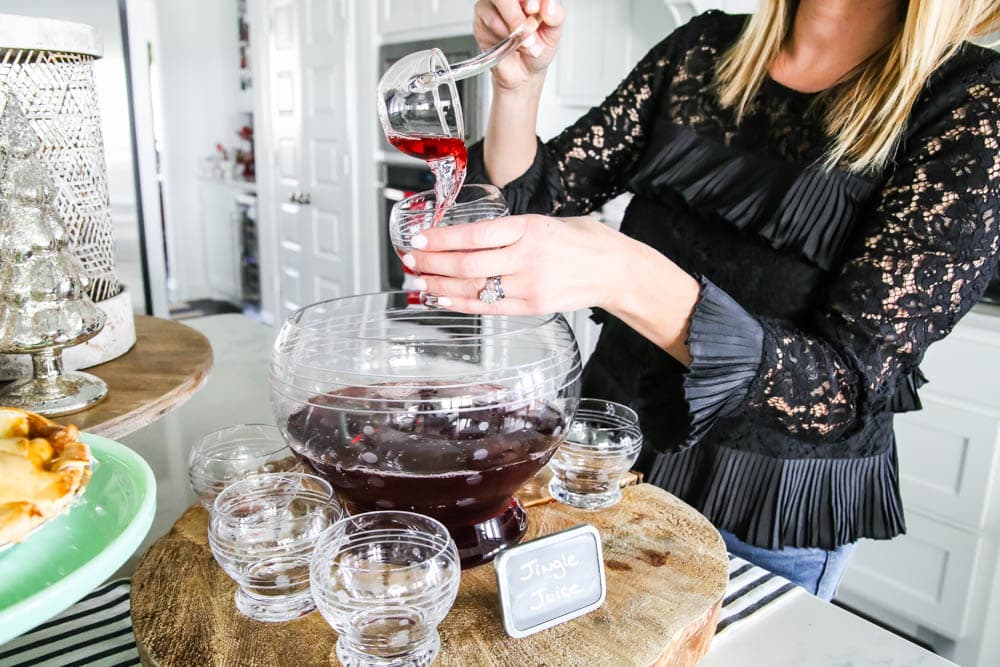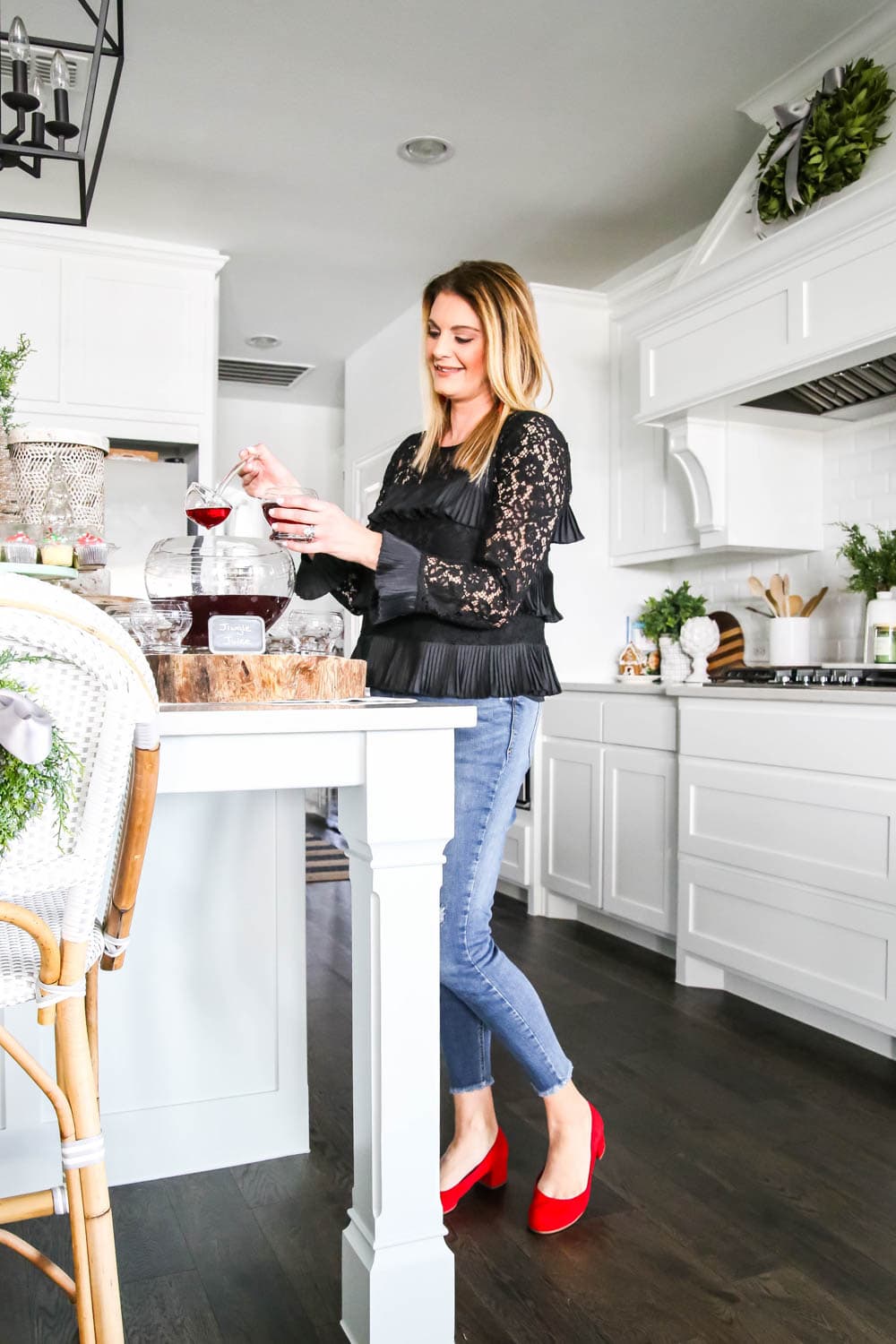 3. Create an Easy Appetizer to Serve
Next, make a meat and cheese board. Trust me these are the easiest appetizers to make and you can get really creative with your board. I created a whole guide HERE with my most favorite items to include.
Charcuterie boards are so impressive when they look full and have sprigs of fresh herbs tucked here are there.
I have a collection of cutting boards with a couple that are oversized, so when we have get togethers I can whip up a meat and cheese board in no time.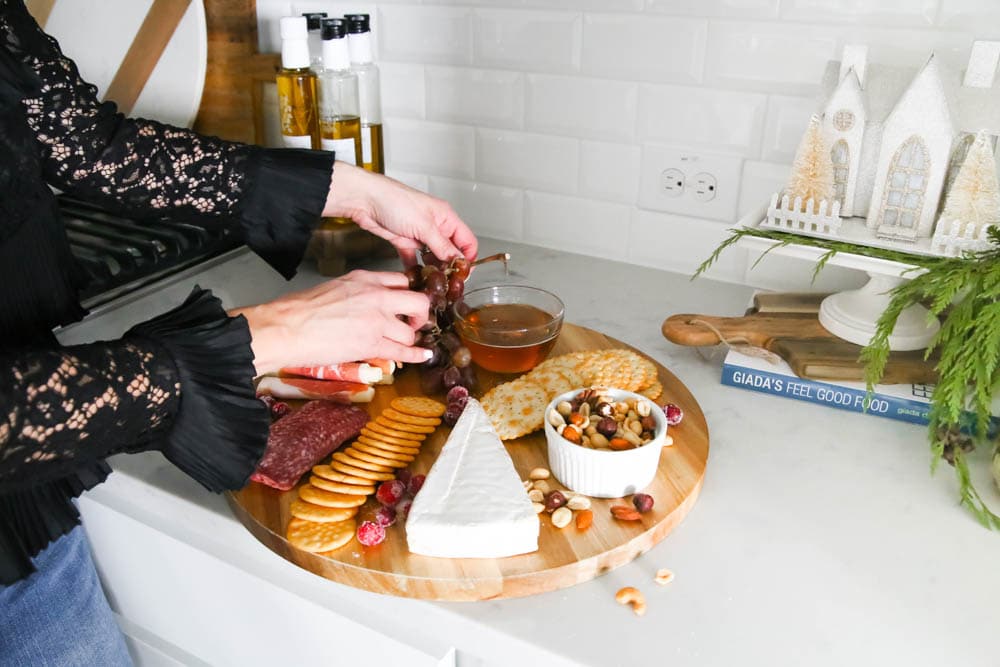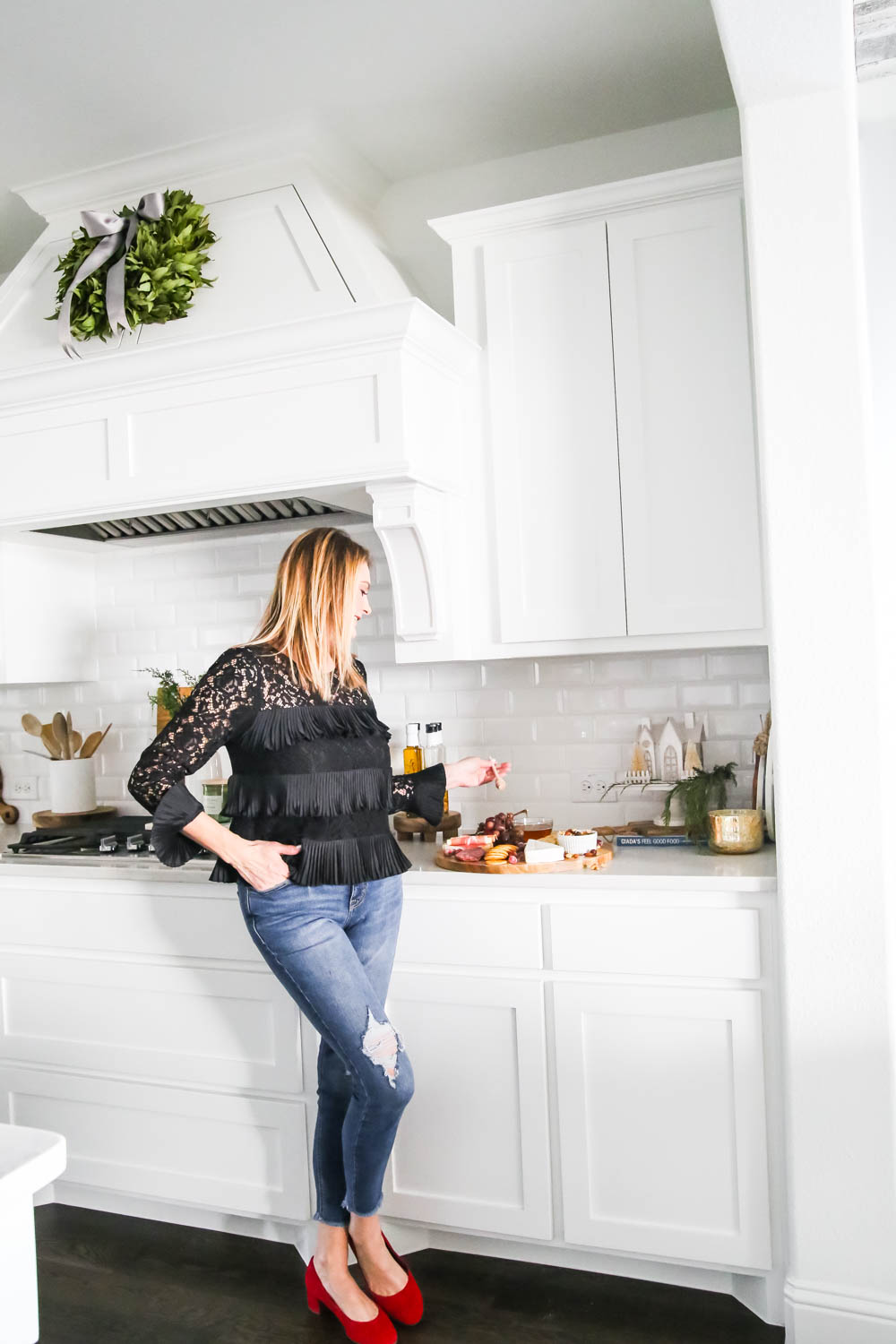 So when creating a New Year's Eve party at the end of a busy holiday season, remember these three things:
Dress comfortably

Create a fun drink recipe with the theme of the party

Put together an easy charcuterie board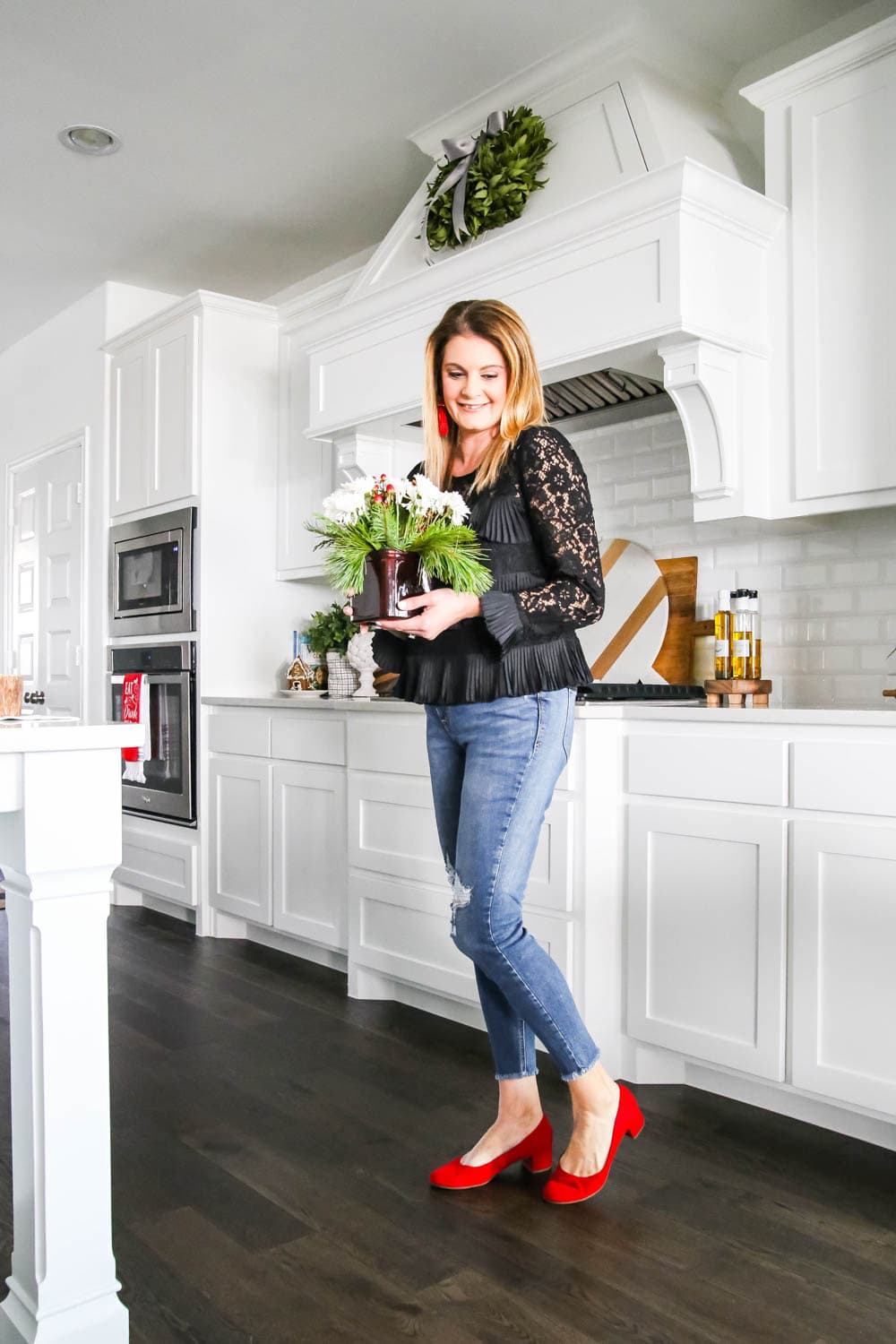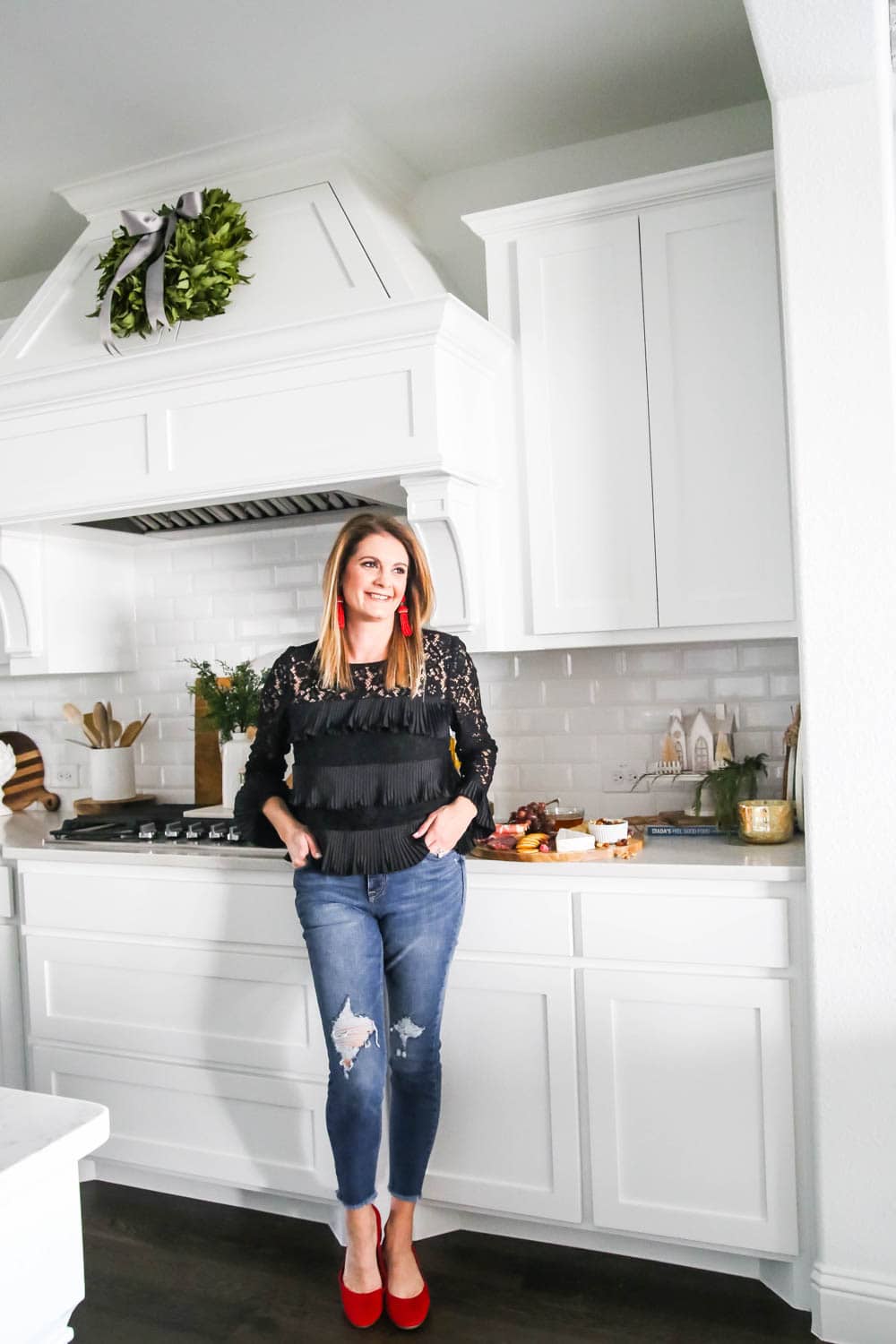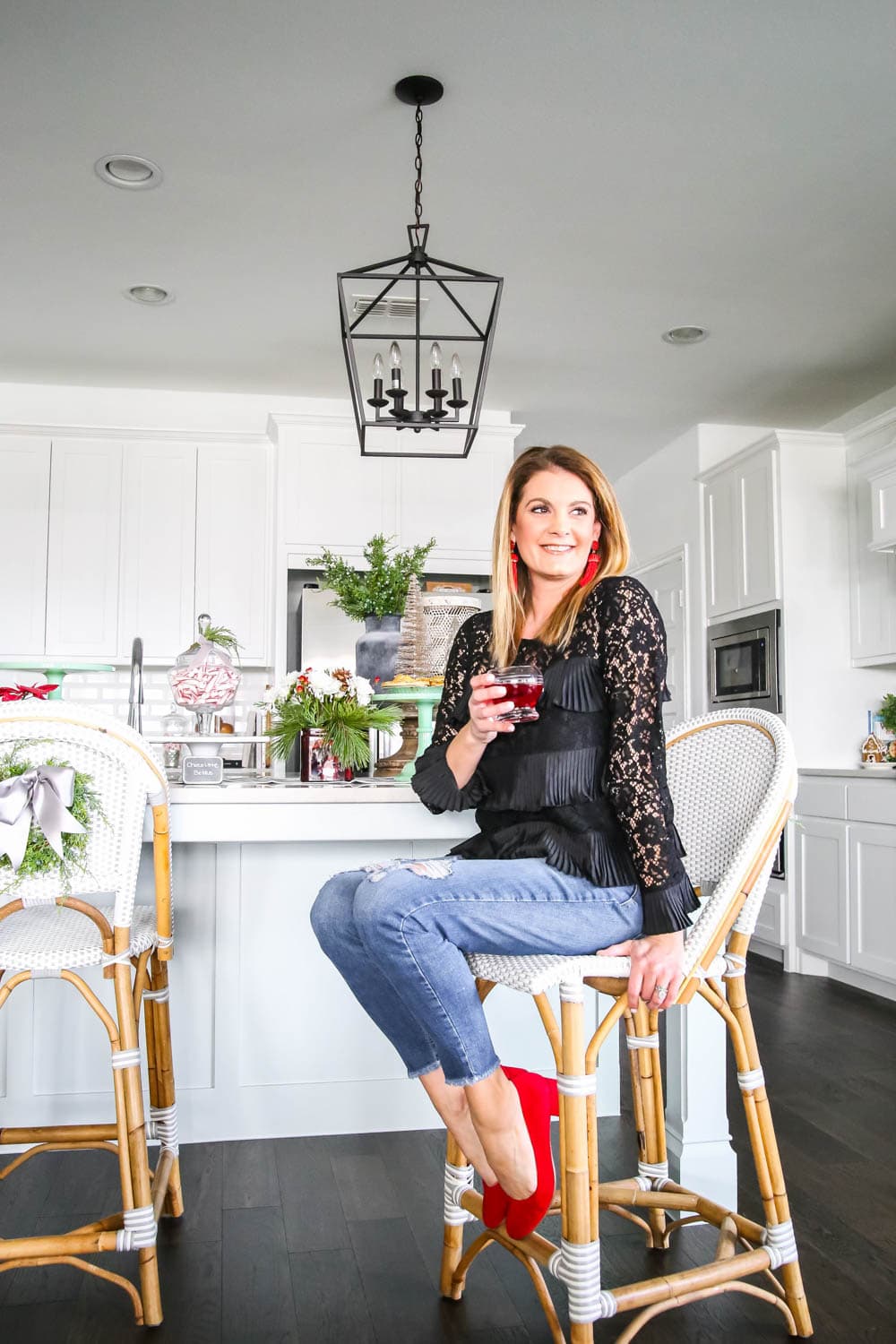 Don't let the crazy holiday season keep you from celebrating one of the best holidays of the year …. New Year's Eve!
You can check out all the amazing selection of shoes from Easy Spirit on their website including these personal favorites the Crandi Casual Flat Mules and the Fly Casual Walking Shoe.
Have an amazing New Year's friends!
THIS IS A SPONSORED POST. A BLISSFUL NEST HAS RECEIVED PAYMENT, TRADE, AND/OR PRODUCTS FROM EASY SPIRIT IN EXCHANGE FOR PROMOTING. HOWEVER, ALL OPINIONS STATED ARE OUR OWN.