20 Best Farmhouse Bathrooms – Ideas and Trends
This post may contain affiliate links. Please read our disclosure policy.
We've got the best farmhouse bathrooms for you!
The farmhouse design trend has been around for a bit but there are some new and elevated features that are transforming this ever-popular style.
Farmhouse decor is such a great way to incorporate vintage pieces and make a space feel cozy.
It is amazing how you can mix and match different styles to come up with a modern rustic look.
From shiplap walls and vintage light fixtures to natural materials like wood and stone, farmhouse bathrooms are all about creating a warm and inviting space that feels like a retreat from the hustle and bustle of everyday life.
Whether you're renovating an existing bathroom or starting from scratch, there are plenty of ways to incorporate farmhouse design elements to create a space that's both functional and stylish.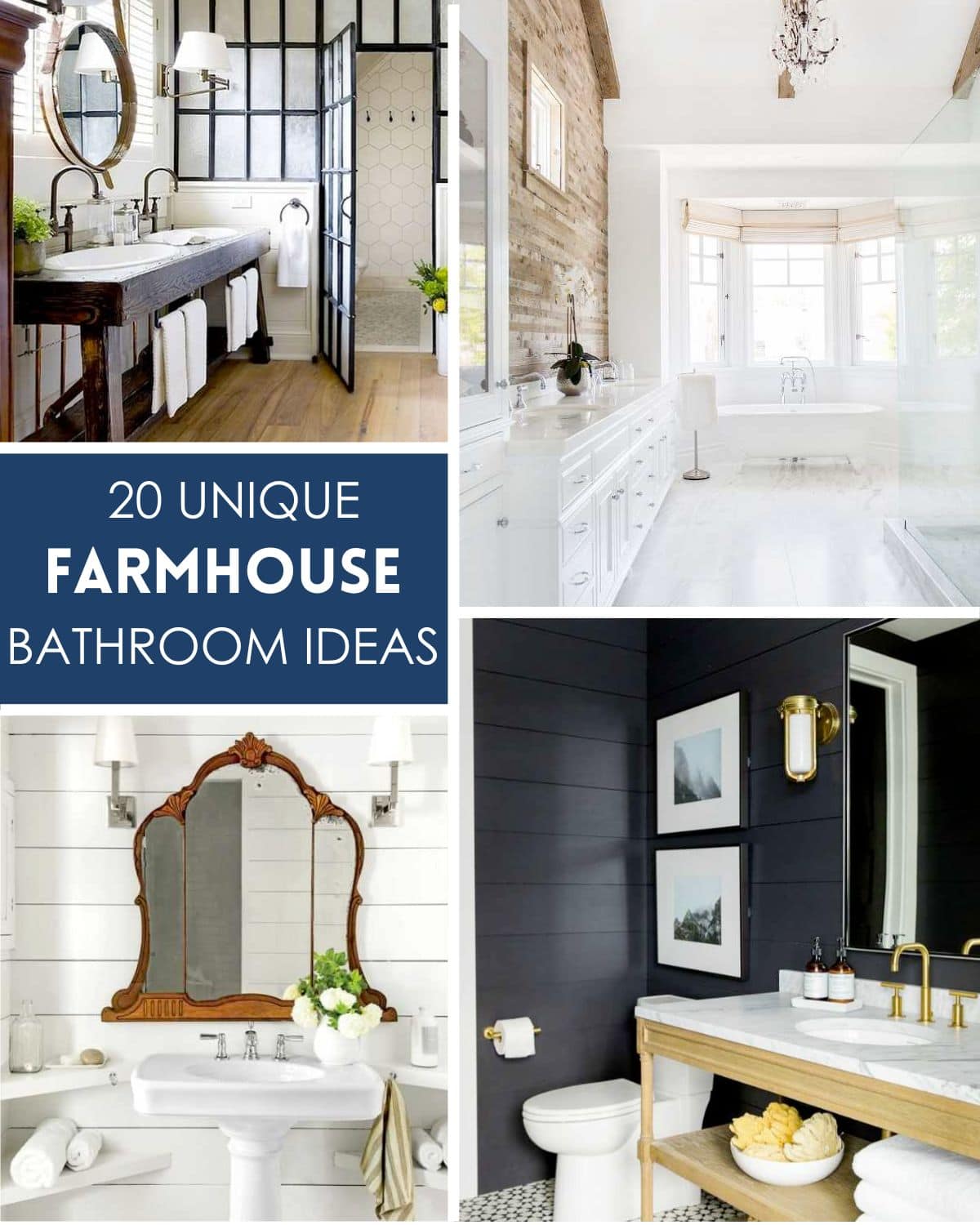 There are many reasons why people love the farmhouse style.
Farmhouse decor is often associated with a simpler, more traditional way of life.
It evokes a sense of nostalgia for a time when things were less complicated and more authentic.
Farmhouse decor is often characterized by handmade or vintage items that add a personal touch to a space.
This allows people to express their individual style and personality in their home decor.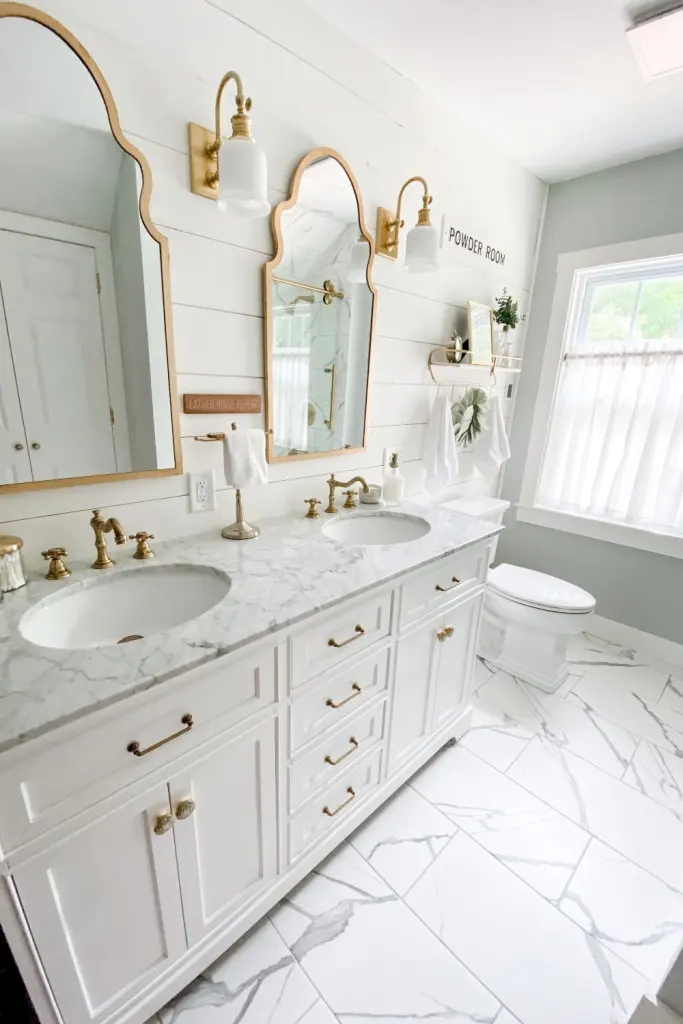 What Is A Farmhouse Style Bathroom
A farmhouse-style bathroom is a type of bathroom design that incorporates rustic, vintage, and natural elements to create a warm, inviting, and charming space.
Antiques and dilapidated wood are key characteristics of the design style.
Recently, farmhouse bathrooms are incorporating more modern elements like gold finishes, matte black tile, and windows with black grids.
How Do You Make A Bathroom Look Farmhouse
Here are some key design elements that are often found in a modern farmhouse bathroom:
Natural materials

: Farmhouse bathrooms often feature natural materials like wood, stone, and metal. These materials add warmth and texture to the space and help create a connection to nature.

Vintage accents

: Vintage accents like antique mirrors, old signs, or repurposed furniture can add character and charm to a farmhouse style bathroom.

Neutral color palette

: Farmhouse bathrooms typically feature a neutral color palette, with shades of white, beige, and gray. This helps create a clean, fresh look that's both calming and timeless.

Shiplap walls

: Shiplap is a type of wooden board that's often used in farmhouse bathrooms to add texture and rustic touch to the walls.

Farmhouse-style sink

: A farmhouse pedestal sink, is a popular choice for this kind of bathroom. It can have a large, deep basin and a distinctive, exposed front that adds a vintage feel to the space.

Vintage lighting

: Vintage light fixtures or lanterns can help create a warm and welcoming atmosphere in a farmhouse style bathroom.
This design style is a timeless and charming look that can make any bathroom feel like a peaceful retreat.
What Colors Are Good For A Farmhouse Bathroom
When it comes to choosing colors for a farmhouse bathroom, the key is to stick to a neutral color palette that creates a fresh, clean, and timeless look.
Here are some colors that work well for a farmhouse style bathroom:
White

: White is a classic farmhouse color that creates a bright, clean, and airy look. It also pairs well with natural wood accents and vintage decor.

Beige

: Beige is another neutral color that works well for a farmhouse style bathroom. It creates a warm, cozy feel and pairs well with rustic accents like reclaimed wood.

Gray

: Gray is a versatile color that can add depth and sophistication to a farmhouse style bathroom. It pairs well with both light and dark wood accents and can create a serene, spa-like atmosphere.

Soft blues and greens

: Soft shades of blue or green can add a calming, coastal feel to a farmhouse style bathroom. They pair well with natural materials like wood and stone and can create a soothing and relaxing atmosphere.

Black

: Black adds contrast and depth to the space while still maintaining a clean and timeless look.
It's best to stick to muted and natural tones for a farmhouse bathroom look.
This creates a soothing, peaceful atmosphere that's perfect for relaxing and unwinding after a long day.
Add in a touch of black for drama and contrast and you will have a unique and dynamic bathroom.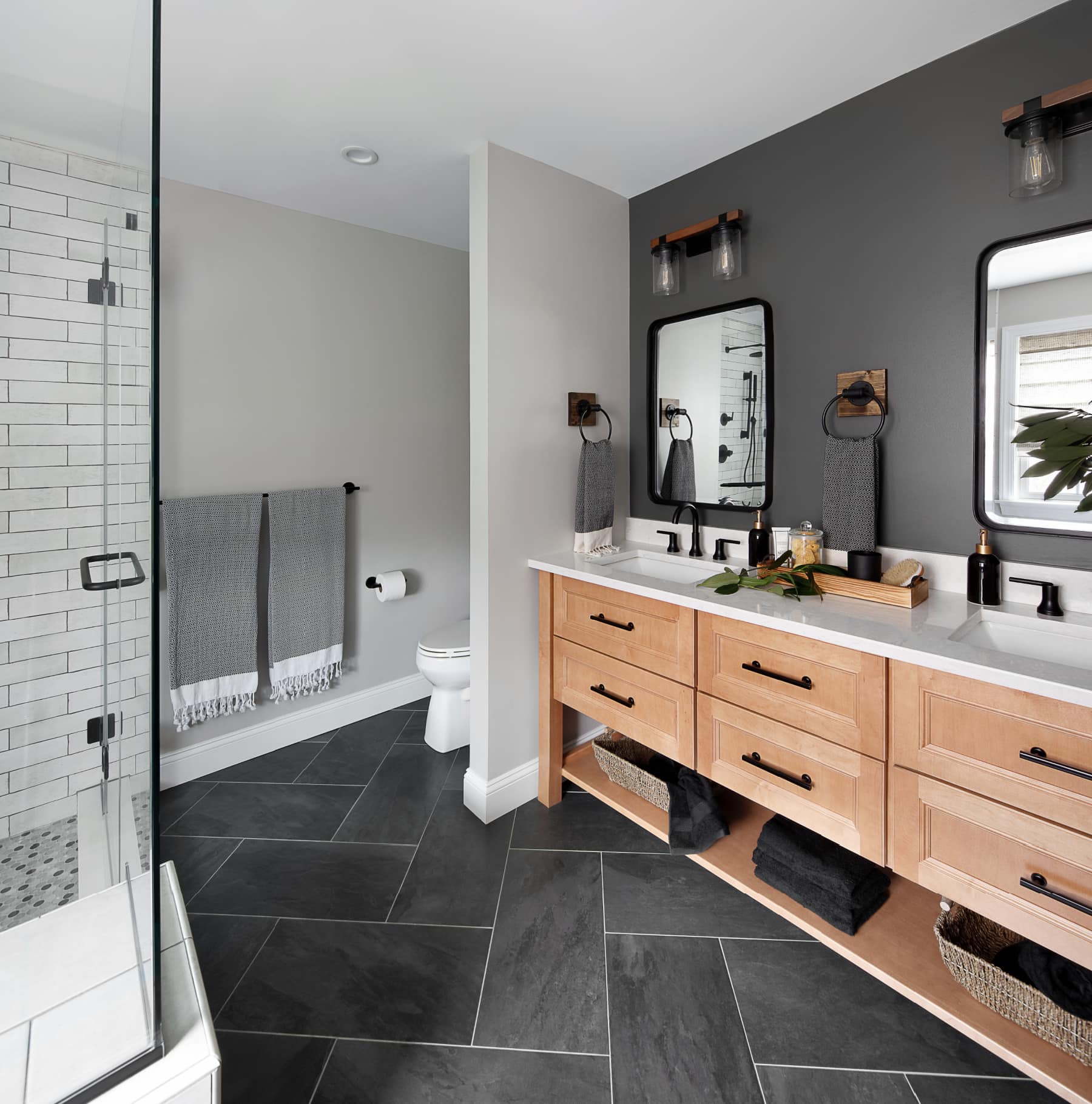 Farmhouse Bathroom Decor To Decorate With
If you would like to add a little farmhouse flare to your bathroom then I have shopped some pieces for you.
Each piece can easily work with other design styles but paired with other pieces in this collection, will help you get that modern farmhouse style you are looking for.
Tap Photos To Shop

20 Best Farmhouse Bathrooms
20 Best Farmhouse Bathrooms
Create your own dreamy farmhouse bathroom with these trends and inspiration from some of the best farmhouse bathrooms.
Each has a unique look with standout features which will be discussed on why it is such a key detail that makes this a farmhouse style bathroom.
I hope that these gorgeous farmhouse bathroom ideas have inspired you to go off and dream about redoing your own bathroom with a rustic farmhouse style!
More Farmhouse Decor And Bathroom Design Ideas + Inspiration