20 Modern Farmhouse Kitchens With Rustic Flare
This post may contain affiliate links. Please read our disclosure policy.
Transform your kitchen into a cozy and stylish space with these modern farmhouse kitchens.
Discover ways to incorporate rustic accents, neutral color palettes, and functional design elements to achieve the perfect balance between modern and classic farmhouse decor style.
Modern farmhouse kitchens include beautiful clean lines, neutral or moody colors, and have a rustic element.
This design style started with Joanna Gaines and Magnolia Home but has transcended into so much more.
Gone are the days of chippy paint and weathered finished kitchen cabinets.
In its place are sleek light fixtures, gold accents, and industrial touches.
Combining modern and farmhouse design styles really does work, and brings the best of both worlds into a space, especially when it comes to the kitchen which is the hub of our homes.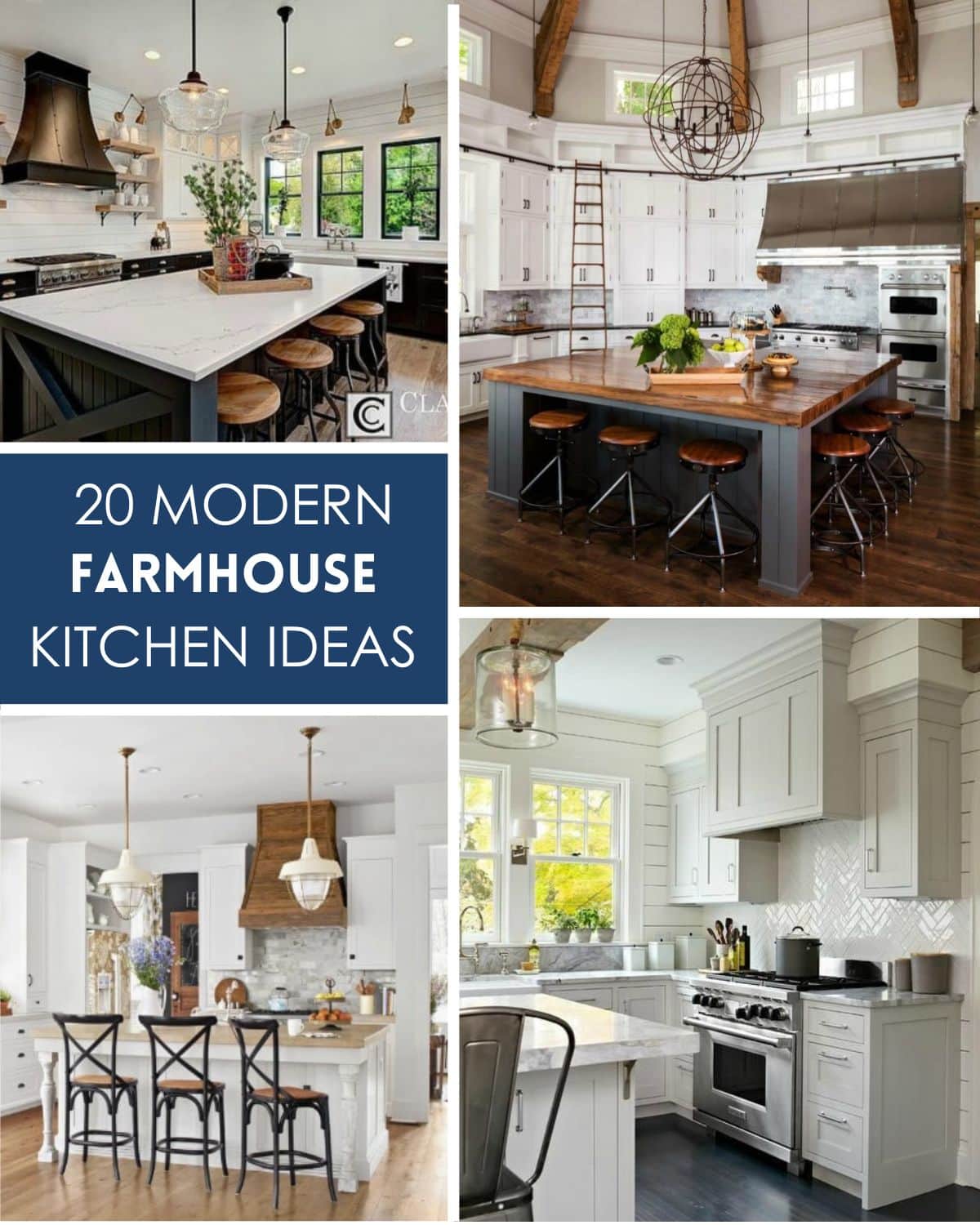 Generally, the aesthetic appeal of a farmhouse kitchen is rooted in its warm, welcoming, and cozy atmosphere.
This style is known for combining traditional elements such as rustic materials, natural textures, and vintage accents with modern design features to create a timeless look.
There are a few things to know before taking the plunge and redecorating your kitchen that will help you get the perfect farmhouse look!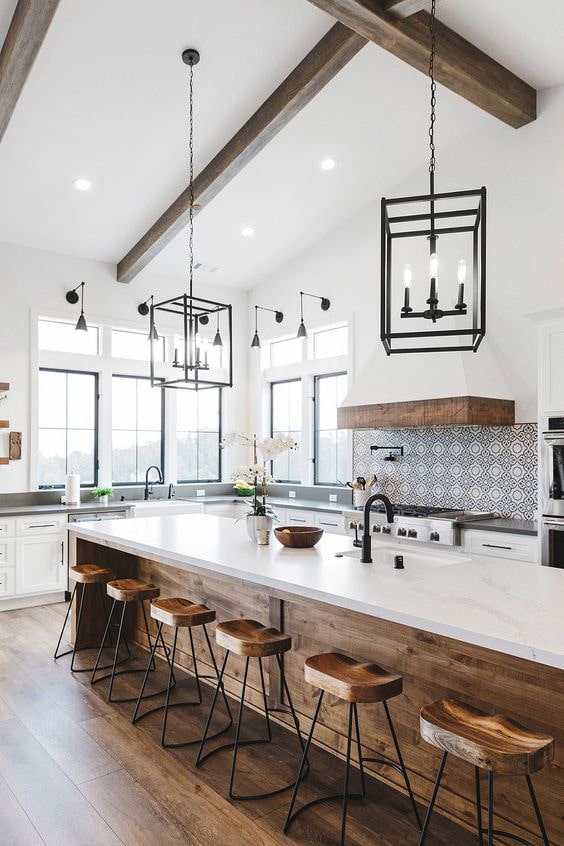 What Makes A Kitchen Modern Farmhouse Style
A modern farmhouse kitchen combines the charm and character of traditional farmhouse style with contemporary design elements to create a fresh, updated look.
A few design elements that make a kitchen more of a farmhouse look are rustic materials like wood, stone, and brick. They really lend to a more warm and inviting atmosphere.
A neutral color palette consisting of white, beige, gray, and other earthy tones is used to create a calming and serene environment. Mix these shades with rustic accents and you have the perfect modern farmhouse kitchen.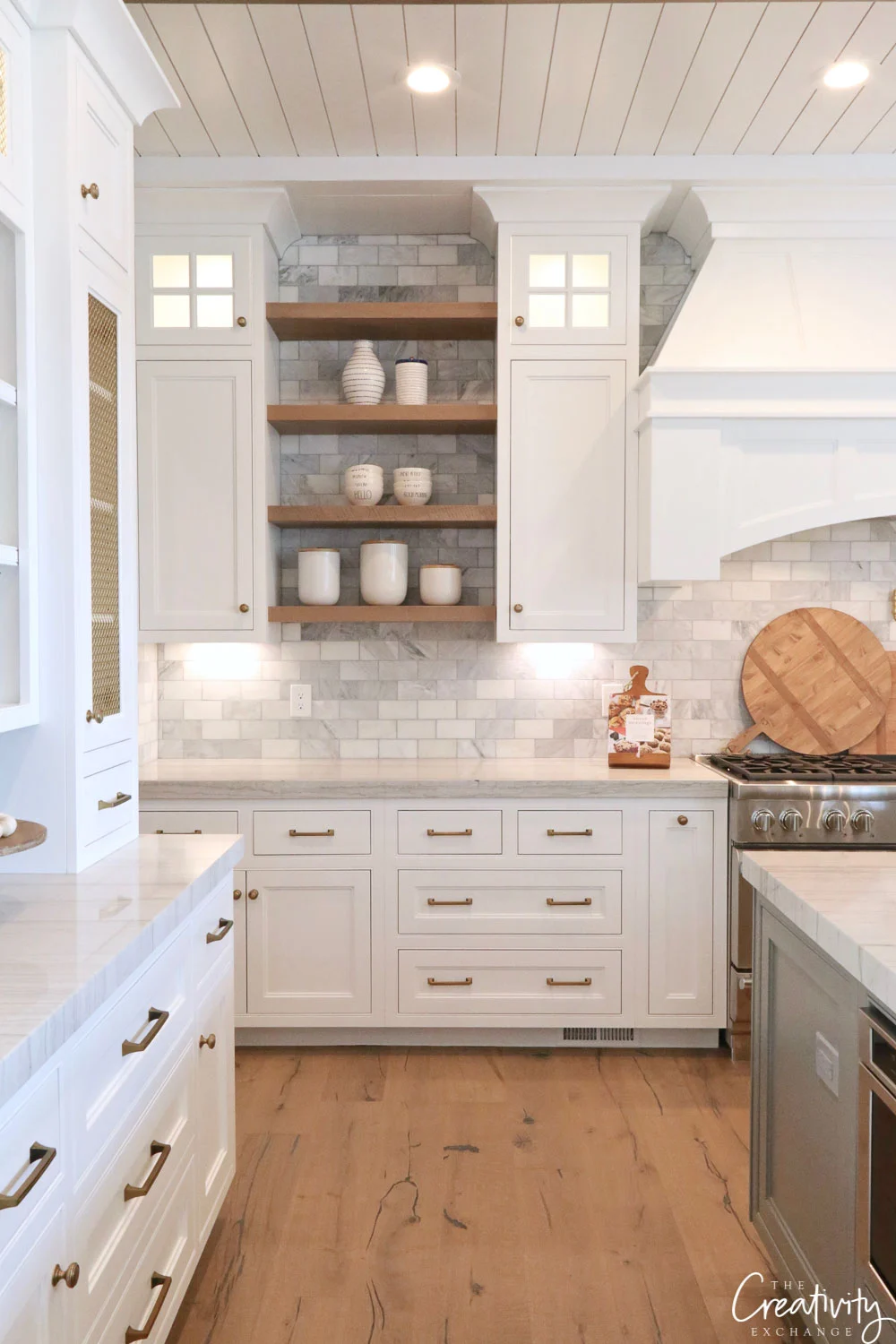 How Do You Make A Kitchen Look Farmhouse
There are a few major design elements that will transform a kitchen into the farmhouse style.
Shaker-style cabinets are a hallmark of farmhouse design, and in a modern farmhouse kitchen, they are often painted in neutral tones such as white or gray. A more modern take will use black or dark grey cabinetry.
A farmhouse sink is also a signature feature of farmhouse design, and in a modern farmhouse kitchen, it is often made of materials such as stainless steel or white porcelain.
Industrial-style lighting fixtures, such as pendant lights or chandeliers, are often used in modern farmhouse kitchens to add a touch of modernity to the space.
Each of these elements are standout features in an industrial rustic style kitchen design.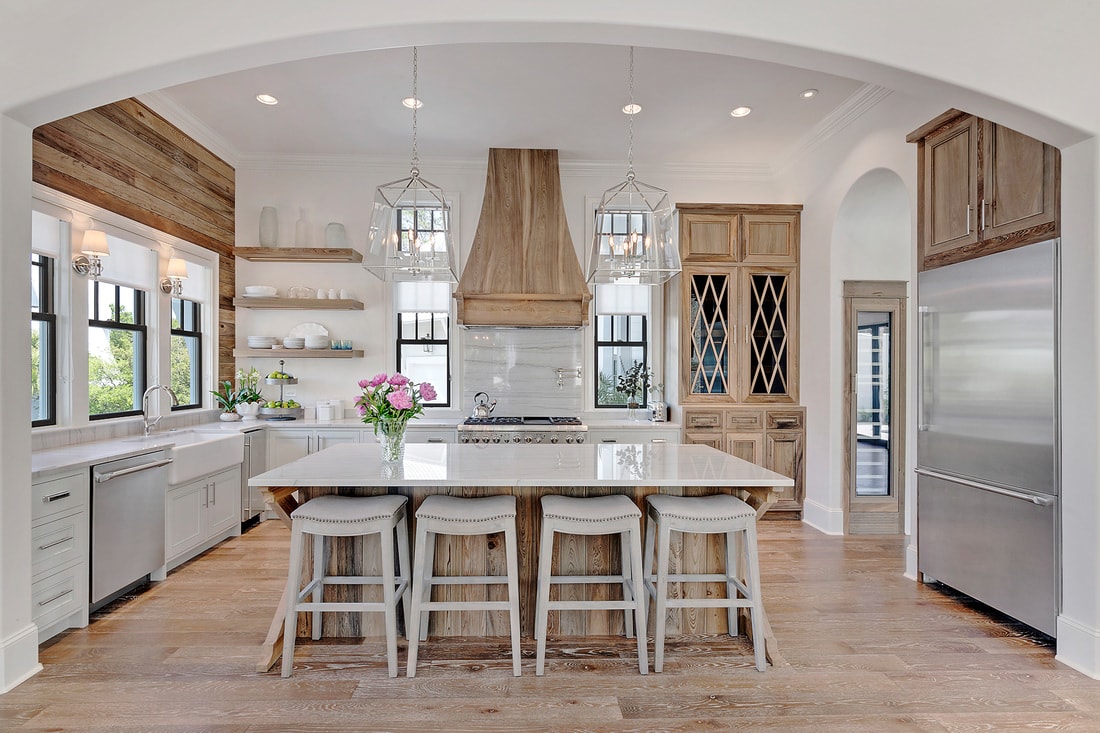 What Color Cabinets Are In Modern Farmhouse Kitchens
In a modern farmhouse kitchen, cabinets are often painted in neutral tones such as white, gray, or beige.
These colors create a timeless and classic look that is both fresh and welcoming.
Some modern farmhouse kitchens may incorporate bold accents, such as navy blue or black, to create a sense of contrast and depth.
These colors can be used for cabinets or as accent pieces, such as a kitchen island or backsplash.
The color of cabinetry used in a modern farmhouse kitchen should create a cohesive and welcoming environment that blends traditional and contemporary design elements.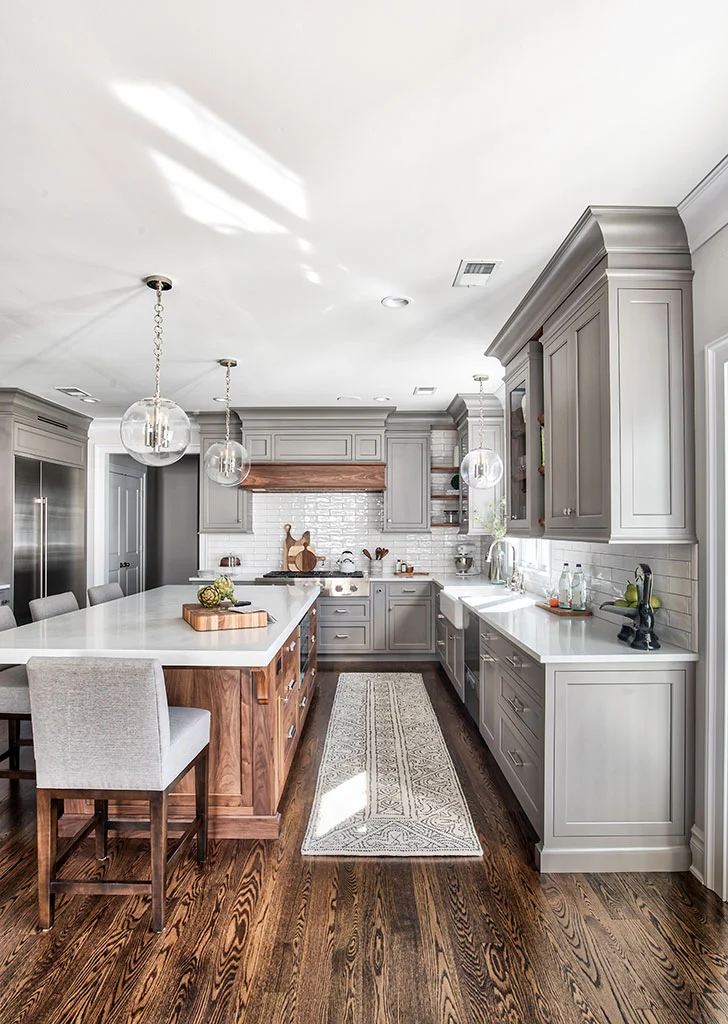 Farmhouse Kitchen Decor To Decorate With
If you would like to add a little farmhouse flare to your kitchen then I have shopped some pieces for you.
Each piece can easily work with other design styles but paired with other pieces in this collection, will help you get that modern farmhouse style you are looking for.

20 Modern Farmhouse Kitchens
Modern Farmhouse Kitchens
A modern farmhouse kitchen incorporates a few main design elements that make it elevated from a traditional farmhouse decor style.
Using shiplap, industrial lighting, modern finishes for hardware, and paint colors can transform any boring kitchen into a dreamy modern farmhouse kitchen!
More Farmhouse Design Ideas + Inspiration