20 Beautiful Kitchen Cabinet Colors
This post may contain affiliate links. Please read our disclosure policy.
These are the most beautiful kitchen cabinet colors to create a timeless kitchen that you will love. This includes top trending kitchen cabinet colors and examples of each color in real-life kitchens.
From classic whites to bold blues and everything in between, these kitchen cabinet colors can help you create a beautiful and functional kitchen that reflects your personal style.
With the right color choice, you can make your kitchen feel bright, modern, and welcoming.
So, whether you're looking to refresh your space with a subtle change or make a bold statement, there's a perfect paint color for your kitchen cabinets waiting for you to discover.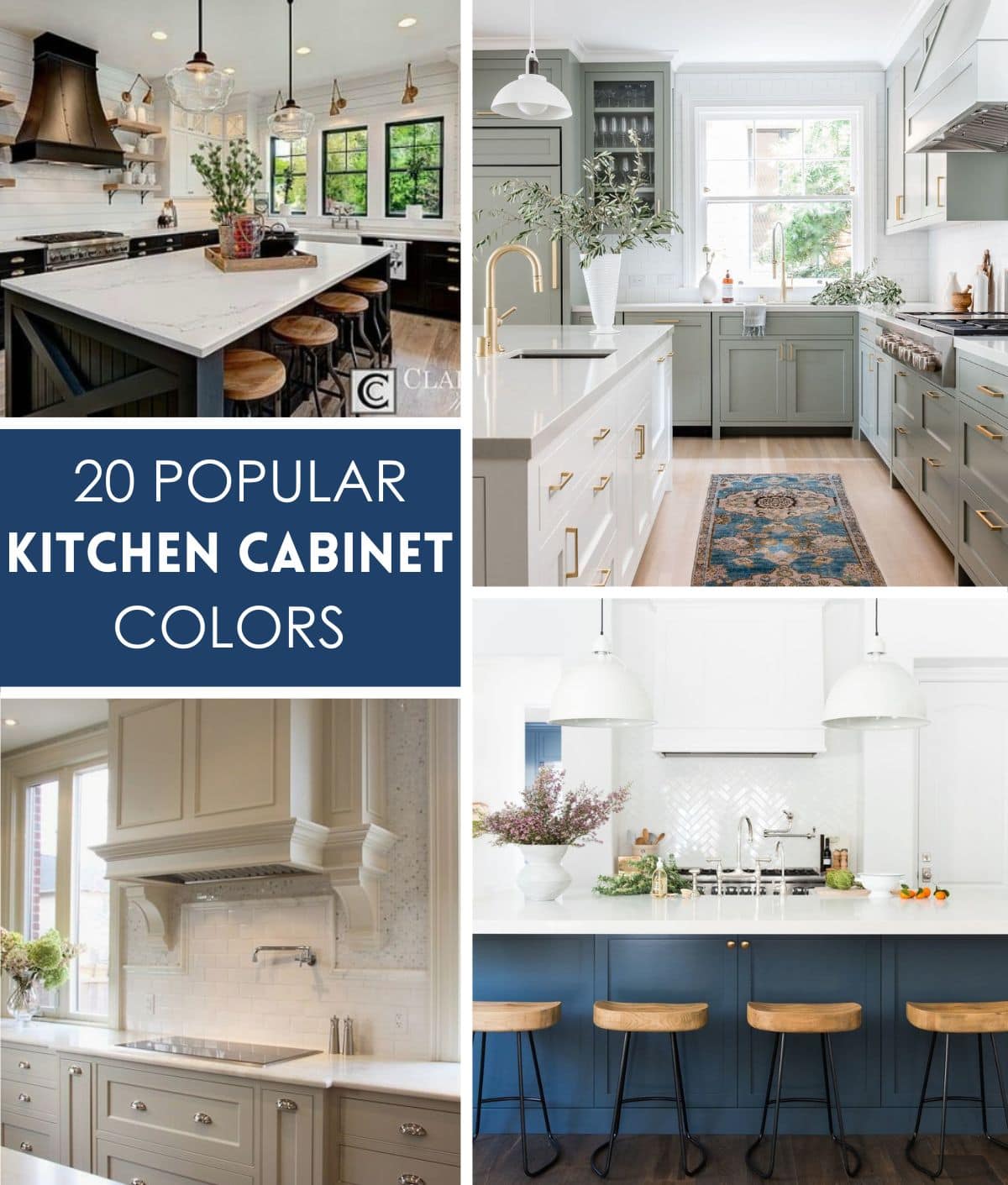 Don't be afraid of bringing color to your kitchen, especially since it is the center of the home. Cabinets don't always have to be white or some other neutral color.
Painting your cabinets can truly make them stand out while adding a burst of energy to the space.
I know it can be hard to imagine the finished product, so today I'm sharing pictures of painted kitchen cabinet ideas to help you visualize it!
How To Choose The Best Kitchen Cabinet Paint Color
Choosing the best kitchen cabinet paint color can be a daunting task, but here are some tips to help you make the right choice:
Consider the overall style and color scheme of your kitchen. The paint color you choose should complement the existing design elements, such as the countertops, backsplash, and flooring.
Think about the mood you want to create in your kitchen. Do you want a bright and cheerful space or a calm and serene one? The paint color you choose can influence the atmosphere of the room.
Test paint samples in your kitchen before committing to a color. Paint colors can look different in different lighting conditions, so it's important to see how the color looks in your kitchen.
Look for inspiration from magazines, websites, and social media platforms. You can find many examples of beautiful kitchen cabinet paint colors that can inspire your own color choices.
Consider the resale value of your home. If you plan to sell your home in the future, choose a paint color that is neutral and appeals to a wide range of buyers.
Consider the resale value of your home. If you plan to sell your home in the future, choose a paint color that is neutral and appeals to a wide range of buyers.
Should Cabinets Be Lighter Or Darker Than Countertops
There is no hard and fast rule that dictates whether cabinets should be lighter or darker than countertops.
The decision ultimately depends on your personal preference and the overall design scheme you're trying to achieve.
If you would like to make the space feel bigger, then you might want to select lighter tones.
Darker tones can create a more dramatic effect and lend to specific design styles.
Ultimately, the choice between lighter or darker cabinets and countertops comes down to personal preference and the overall design scheme you're trying to achieve.
Should Cabinets Be Darker Or Lighter Than Walls
This is another instance of there is no hard fast rule to follow.
It ultimately comes down to the overall look you are going for.
Create contrast with cabinet paint colors and wall paint colors by selecting opposite colors in tone and depth.
Lighter tones on the walls mixed with white kitchen cabinets will make the space feel bigger and airier.
Dark paint colors on kitchen walls will create a more cozy and dramatic feel.
What Is The Kitchen Trend For 2023
Though white kitchen cabinets seem to still be trending high in kitchen designs, people are embracing warm-toned cabinets in honey oak, beige, and two-toned kitchen cabinets.
We are also seeing bold pops of color and more statement paint colors being used in cabinetry.
Scandinavian paint colors and designs are on the rise with a more minimalistic look. White and grey kitchen cabinets with a more modern farmhouse look are still very popular.
What Color Is Best For Low Maintenance Kitchen Cabinets
The easiest cabinet colors to keep clean are grey kitchen cabinets. They can mask the dirt and grime much more than white cabinets can.
Grey cabinet paint colors still can give you that light and bright feeling if you don't want to go with white.
They are easily transitional between design styles too depending on the finishes in lighting and hardware picked for the rest of the space.
There are some amazing products to have on hand in your cleaning closet though to help you keep your kitchen cabinets clean.
More Paint Color Trends Ideas + Inspiration
Beautiful Colors For Kitchen Cabinets
With all these kitchen paint colors and ideas for painting kitchen cabinets, I've included a full list for you with plenty of photos to show you what it will look like.
Kitchen cabinet color trends have come a long way from being very monochromatic. People are embracing bolder colors that make a statement.
So which color trend will you go with? Let's take a look at some of the front runners.
Did you find a color that you can't live without?
I hope these beautiful kitchen cabinet colors have won you over and make you decide to add a splash of color to the kitchen.